Seeking comfort food on our first day in Edinburgh, Scotland we headed over to Whiski Rooms to try eating Haggis, tatties, and neeps while drinking Hot Toddy for the first time in our lives.
After randomly wandering around – for hours on end – during our first morning in Edinburgh we started to crave comfort food to help keep us warm and satiated.
Considering this would be our first meal in Scotland we figured we'd dive right in and try the National dish: Haggis.
Haggis, for those unacquainted, is a savory pudding consisting primarily of sheep's pluck (lungs, heart and liver), oatmeal, minced onion, spices and stock. More often than not it's now encased using a method similar to stuffing a sausage; however, in the past it was stuffed inside the actual animal's stomach.
As the national dish of Scotland, Haggis is typically paired with neeps and tatties (turnips and potato) and is often served with dram (Scotch whisky).
Before taking my first bite, I had serious reservations about whether or not I was going to like this.
Many foods I try overseas are immediate hits with my taste buds; however, there are plenty of foods that are acquired tastes and some simply never make the cut.
First up was a portion of Haggis spring rolls. Spring rolls are side dish we typically devour while traveling around SE Asia in countries such as Vietnam, Thailand and Cambodia. We figured it would be a 'safe' way to try Haggis for the first time.
Audrey's first bite was revealing: "MMMMMmmmm. Haggis is good people!"
My initial thoughts reflected her sentiments: "I think I've found myself my new favorite spring roll."
We both breathed a collective sigh of relief realizing that when our main course of Haggis, tatties and neeps arrived at our table, chances are we were going to love it.
The generous portion of Haggis, neeps and tatties came with a copious side of gravy, which we poured all over the dish.
It was love at first bite. Somehow, eating organs (which is something we tend to avoid) when prepared with the right combination of spices, seasonings and other ingredients is delectable.
This is the type of rich winter dish that as my late Grandfather would say, "Sticks to your ribs."
In need of a dram, we ordered a Hot Toddy consisting of hot water, whisky, lemon and honey.
Audrey, not normally a fan of alcoholic beverages, was initially impressed: "It goes down nice. It's not too strong. It really warms you up. It's very aromatic with the cloves and lemon."
Overall, the meal was fantastic. We're both looking forward to sampling more Haggis during our time exploring the Scottish Highlands before heading back home to Chiang Mai.
How about you? Have you tried Haggis before? Is it something you'd eat? Please let us know in the comments section: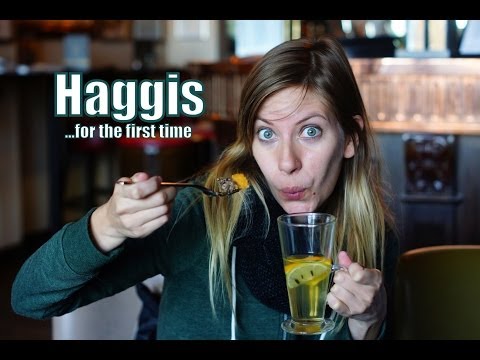 #blogmanay is brought to you by Edinburgh's Hogmanay and is supported by ETAG, EventScotland, Homecoming Scotland,VisitScotland, Edinburgh Festivals, Marketing Edinburgh and co-creators Haggis Adventures. Created and produced by Unique Events. As always, all opinions expressed here are entirely our own.