To enter Tibet there are certain travel documents necessary, all travelers entering Tibet need to do so with an organized and authorized tour company and the tour company can arrange your necessary documents for you. So basically if you book your Tibet tour through a tour company they can help you and take the burden of getting your Tibet documents off of your hands.
Chinese Visa
To enter Tibet from other parts of China like Beijing or Shanghai you will first have to get a visa to enter China. A Chinese visa can be obtained from the Chinese embassy in your home country. Your local Chinese embassy will supply you with an entry visa to China and with that in hand, together with your passport you can travel to China. However to enter Tibet there are additional necessary permits.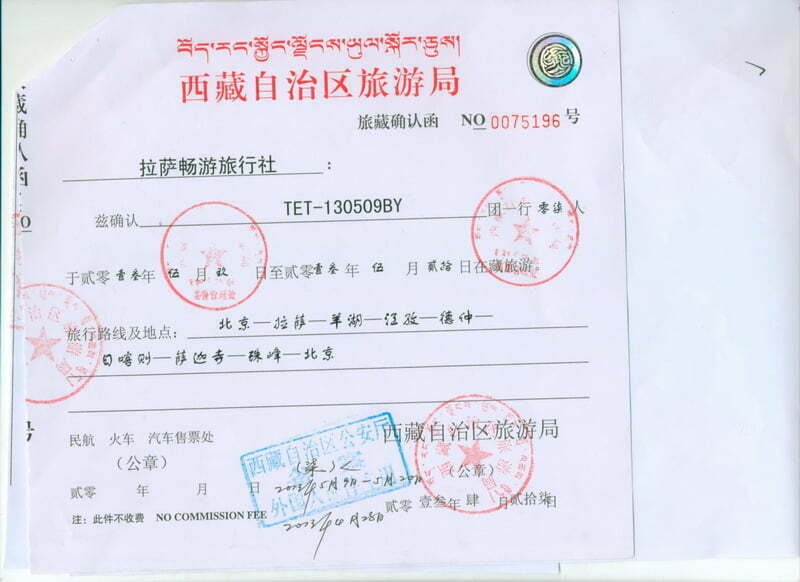 Tibet Travel Permit
All foreign visitors entering Tibet require a Tibet Travel Permit, also called a Tibet visa or TTB; this includes visitors from Taiwan and overseas Chinese tourists. Your Tibet tour company can arrange this permit for you however if you are a diplomat, journalist or government official you will have to arrange your Tibet Travel Permit through the Tibet Foreign Affairs Office. All foreigners arranging a Tibet tour should provide the tour company with copies of their passport and Chinese visa. You will only be able to finalize your Tibet tour once you have your TTP as you cannot book a flight or train to Tibet without first obtaining a TTP.
Aliens' Travel Permit
You Tibet Travel Permit gets you into the Autonomous Region of Tibet but not into all areas of the region. If your Tibet tour will be traveling outside of Lhasa to places like Mt. Everest, Samye Monastery, Lake Manasarovar, Tsaparang, Pomi, Basum-tso, Sakya Monastery, Kubum Stupa, Riwoche, Tengchen, Trundruk Monastery, Yumbulakhang or Mt. Kailash you will need further documentation. The Aliens' Travel Permit (ATP) is issued by the Public Security Bureau, the police. Your Tibet tour operator will submit your passport and Tibet Travel Permit to the Foreign Affairs Division of the Public Security Bureau and obtain your Aliens' Travel Permit for you.
Military Area Entry Permit
There is another permit which you will require if you plan to enter any military sensitive area in Tibet including Mount Kailash and Rowok Lake. The Military Area Entry Permit is issued by the Military Affairs Office. A visit to areas in eastern Tibet requires both a Military Area Permit and a Foreign Affairs Permit which is issued by the Foreign Affairs Office in Lhasa; if you will be visiting Tholing and Tsaparang in Western Tibet you will also need a Cultural Antiquities Department Permit.
So by now, having read all the above you must be feeling a little overwhelmed! Well luckily you don't really have to be bothered with too many of these details as your Tibet tour operator will arrange all the paper work for you. All you have to do is supply your Tibet tour operator with a copy of your passport, Chinese visa and any other papers they may require and the Tibet tour operator will handle the rest. Remember to sign up for your Tibet tour well in advance so that there is enough time to apply for your permits.