Aalborg Travel Guide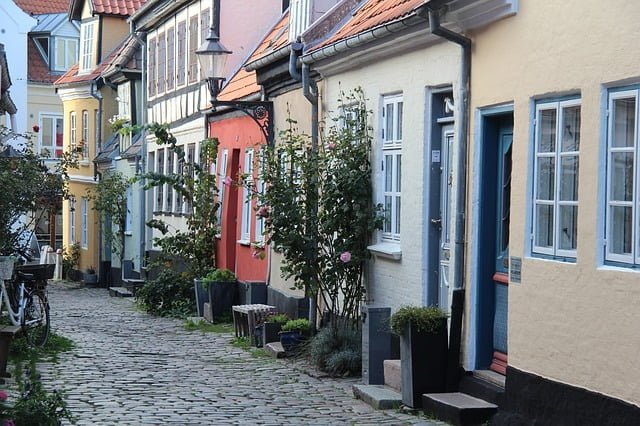 Introduction
Aalborg is the fourth largest city in Denmark and the furthest north in Jutland. Known for its Viking heritage and museums, cultural travellers that venture off-the-beaten-track will find plenty to do here.
In all, you'll find enough to fill two to three days in this Danish coastal city.
Come check out our Aalborg travel guide as we cover the best things to do in Aalborg, Denmark.
Top Attractions
Begin your time in Aalborg with a visit to the Lindholm Hoeje Museum. At this institution, you'll learn about the extensive Viking burial ground located across the street. After walking amidst the weathered stones that mark the final resting place of countless Vikings, venture inside.
Within the museum, you'll find a series of exhibits dedicated to the people who once lived here. Check out uncovered artifacts, detailed dioramas, and even immersive 3D displays. By the end, you'll understand how Vikings in what is now Aalborg went about their daily lives.
One of its most prominent exhibits chronicles a significant fire that struck a Viking farm 2,000 years ago. In it, you'll learn about how archaeologists and forensic experts determined its likely cause, two millennia later.
You'll find this museum located some distance out of town. Fortunately, those who are carless have the option of taking local buses out to the site. Service can be sporadic, though, so note departure times well.
Learn about this region's ties to the sea by spending time at the Aalborg Maritime Museum. As you walk the halls of this institution, you'll find exhibits that mostly show off Danish Navy assets. Ships and submarines steal away most of the attention, but smaller displays show off things like old radios. Many items are left over from the Cold War, making it an excellent place for enthusiasts of that period.
This popular local attraction attracts hundreds of thousands of visits annually. This fact makes the place a zoo on weekends, so plan to visit midweek, if possible.
Fans of visual art will want to visit the Kunsten Museum of Modern Art during their time in Aalborg. Open in the 1970s, it focuses primarily on art created by 20th-century Danish creatives. Within its modernist walls, you'll find countless pieces illuminated by strategically-placed skylights.
As stated above, the vast majority of pieces date from the 20th century. However, this institution's most treasured portrait dates from the late 19th century. J.F. Willumsen created it, getting inspiration for "Two Women Parting After a Chat" from French artist Gaugin.
On the way out, be sure to have a coffee and a bite at the on-site cafe. Many locals come here for brunch on weekends, so do the same if you're here at that time.
Military buffs will want to check out the Defence and Garrison Museum while in Aalborg. Situated in an airplane hangar built by occupying Germans in WWII, it houses all manner of military equipment. As we mentioned earlier, the Navy has its assets on display at the Maritime Museum. At this institution, the Danish Army and Air Force have its old holdings on display. Exhibits also shed light on what life was like in Denmark during the Second World War.
Because this hangar is unheated, it is only open from April thru October. In the off-season, it only opens during Danish winter holidays, and by special arrangement.
Other Attractions
Those looking for a religious landmark in the Aalborg area will want to check out Budolfi Church. The first iteration of this Lutheran church rose in the early 12th century. Although the current church dates from the 14th century, you can still see stones from the original construction in its crypt.
The current church's creators crafted it from painted white bricks in the Gothic style. In the interior, highlights include the organ, pulpit, and baptismal fountain. All date from centuries ago, and are priceless artifacts.
The architect who designed the Sydney Opera House hails from Aalborg. He made the Utzon Center his last project. While he never lived to see its completion, it carries on his legacy. Underneath its curved roofs, programming teaches the youth of Denmark the art of architecture.
A neat feature of this attraction: You can build Lego buildings that museum officials can scan. You can then transfer its likeness into Minecraft, making this feature popular with local kids.
If you're travelling as a family, stop by Aalborg Zoologiske Have for a few hours. Most know this zoo for its successful Siberian Tiger breeding program. In addition to seeing this graceful cat, you'll also find polar bears, giraffes, zebras, and crocodiles.
Its creator crafted all enclosures to closely mimic their home climate to the maximum extent possible. As such, this fact should satisfy those with well-founded concerns.
Relax after a long day of sightseeing in Aalborg in The Park of Music. As the name suggests, this is no ordinary green space. Over the years, musicians have planted dozens of trees here. Beside each one, a musical speaker will allow you to sample various types of music. Visit at Christmas, and the programmed tunes become traditional hymns.