While it may appear to be an unremarkable fishing port at first glance, Abashiri is a popular travel destination for domestic tourists for the oddest of reasons: its frigid winters. It shouldn't be surprising, though, when you consider the bulk of the Japanese population lives on the much milder islands to the south and west.
Here, you'll find scores of museums which reveal this region's past and its tough, yet abundant nature. A visit of 2-3 days is recommended to make the most of your time here.
Come check out our Abashiri travel guide as we cover the best things to do in Abashiri, Japan.
Abashiri City Guide: A Brief History Of Abashiri, Japan
Nestled along the northeastern coast of Hokkaido, Abashiri boasts a rich and complex history that stretches back over a millennium. The land was once inhabited by the indigenous Ainu people, who lived in harmony with the natural environment and thrived on hunting, fishing, and gathering. As the region evolved, the city's strategic location made it a hub for trade and commerce, while its picturesque setting has drawn visitors from around the world to bask in its natural beauty.
Abashiri's story took a dramatic turn with the establishment of a maximum-security prison in the late 1800s. The prison's bleak conditions and brutal treatment of inmates were notorious, and its dark legacy casts a long shadow over the city's past. But despite this, Abashiri also played a key role in the development of Hokkaido's fishing industry, as its port and proximity to rich fishing grounds made it a vital hub for the industry.
In the post-war years, Abashiri experienced a period of rapid reconstruction and growth, and today the city is a vibrant and dynamic destination. Visitors can explore the Ainu Museum to learn about the indigenous culture and way of life, and the Abashiri Prison Museum offers a fascinating insight into Japan's penal history. For those seeking outdoor adventure, skiing, hiking, and fishing are popular activities, while the Okhotsk Ryu-hyo Museum showcases the unique ice floes that form along the Sea of Okhotsk during the winter months.
Abashiri's journey through the centuries has been shaped by a rich tapestry of culture, industry, and resilience. It is a city that has overcome many challenges and flourished, and its unique history and natural beauty make it a truly special destination for any traveler seeking to immerse themselves in Japan's rich cultural heritage.
Abashiri Top Attractions and Best Places to Visit in Japan
There are many museums to tour while in the Abashiri area, but if you are tight on time, make the Abashiri Prison Museum your first stop. The only institution of its kind in all of Japan, it will shed light on how prisoners were incarcerated and rehabilitated in past generations.
Built in the late 19th century, it was initially the place where the country sent its most dangerous criminals, as well as its most troublesome political prisoners. This building became a museum after a modernization drive in the 1980s saw its population moved into ones more in keeping with the times.
Here, you will learn about the daily lives of prisoners in prior generations, which included building roads in what was once an island without this sort of infrastructure. Additionally, you'll get to see their cells, the dolls they made as part of their work duties, and how they were punished for disobedience.
While there are English captions, we recommend making use of the tour guide on staff, as they will provide the context needed to make your visit a deeply educational one.
The island of Hokkaido was once a wilderness, sparsely populated by only indigenous people who lived in harmony with this tough land and its climate. Learn about the Ainu during your visit to Abashiri, as well as their cousins who made a living in the high latitudes at the Hokkaido Museum of Northern Peoples.
This attraction will make an impression on you right from the get-go, as you'll be greeted by a Woolly Mammoth statue soon after entering the museum. While small, it contains info on how the Northern indigenous groups of Japan, Eurasia, and North America managed to not just survive, but thrive in a seemingly inhospitable land.
In its exhibits, you'll find traditional clothing, weapons, tools used to hunt and fish, and implements used in religious and spiritual ceremonies.
Being one of the most northerly communities in all of Japan makes Abashiri a sought-after destination, especially in the dead of winter. When the temperature sinks to -20 degrees Celsius and below, the Sea of Okhotsk begins to freeze, creating floes of drift ice.
This process and other matters related to this ocean during the winter months are covered by the Okhotsk Ryu-Hyo Museum. You'll want to bundle up before heading inside, though, as the interior temperature is kept at -15 degrees to create an immersive experience for museum attendees.
Within, you'll get to touch real drift ice, see animals native to the Abashiri Coast (both in aquariums and as taxidermied models), and watch a documentary on life here during the winter, among other things.
On top of all this, you'll get taught a cool trick, as they will give you a damp towel to spin around in the cold room (spoiler alert: it turns stiff as a rock), and on the roof, you can sample food made from products native to the region as you look out over the coast.
Want to learn more about the past lives of local indigenous peoples? Stop by the Moyoro Kaizuka-kan Museum if you have time. Partially built over the ruins of a former settlement, you'll get to check a shell mound that was once a cemetery for residents aeons ago.
Other Cultural Attractions: Trip to Abashiri, Japan
Love lighthouses and sea views? Make sure that Cape Notoro is included on your itinerary during your visit to Abashiri. Consisting of a massive area of parkland behind a lighthouse situated on a bluff 21 metres above the sea, it is a blissful place to spend an hour or so in the summer, and one of the best spots for austere views of the pack ice in winter.
Visiting Hokkaido in the fall? Make sure you make time for Lake Notoro while sightseeing around the Abashiri area. A saltwater lagoon separated from the Sea of Okhotsk by a sandbar, it is famous for its abundance of coral grass.
While unremarkable in summer, the arrival of autumn is heralded by the turning of this plant from green to a dark crimson red, making it a remarkable sight for nature lovers and photographers alike.
Those who love the outdoors will want to spend an afternoon canoeing the waters of Lake Abashiri. As you do, keep an eye open for ducks, grey herons, and white-tailed eagles, among other avian species.
Finally, take a long drive along the Abashiri Coast if time and cost permits. Its many beaches, bays, and cliffs make for scenic vistas that nature lovers will enjoy. In winter, join the Japanese on an icebreaker cruise, which will take you out into the frigid midst of the pack ice which locks up the coast for months at a time.

source: Bianca Valerio on YouTube
Top 10 Things To Do in Abashiri, Japan For Visitors
Situated in the northeastern corner of Japan's Hokkaido Island, the charming coastal town of Abashiri offers visitors an array of enriching experiences. From exploring the city's historical sites to immersing oneself in the natural beauty of the surrounding landscape, there is no shortage of things to do and see in this captivating destination.
Begin your journey with a visit to the Abashiri Prison Museum, where you can delve into the city's dark past as the location of a maximum-security prison. Gain insight into the harsh conditions and treatment of inmates through the museum's informative exhibits and displays.
For a deeper understanding of the region's cultural heritage, head to the Ainu Museum. Here, you can learn about the indigenous Ainu people and their unique way of life that has been shaped by centuries of living in harmony with nature.
Take to the water with a cruise on Lake Abashiri, offering picturesque views of the stunning landscape and the chance to spot local wildlife. Alternatively, hit the slopes at Mt. Tento, a popular ski resort with runs suitable for all skill levels.
Marvel at the natural wonder of the ice floes that form along the Sea of Okhotsk during the winter months at the Okhotsk Ryu-hyo Museum. This remarkable phenomenon offers visitors a glimpse into the area's unique natural beauty and cultural significance.
Stroll through Abashiri's historic district, where traditional architecture blends seamlessly with modern amenities. Be sure to sample the local cuisine at one of the many restaurants or browse local shops for souvenirs.
Enjoy a day of fishing in the abundant waters off Abashiri's coast, or venture out into the stunning landscape of the Abashiri Quasi-National Park, where picturesque trails lead hikers to breathtaking views of the surrounding mountains and coastline.
For a truly immersive experience, unwind in the natural hot springs of Abashiri's many onsen resorts, renowned for their therapeutic properties. Or, for a taste of local culture, attend the Abashiri Winter Festival, a celebration of winter with food, drink, and traditional cultural activities.
Abashiri is a treasure trove of culture, history, and natural beauty, offering visitors an unforgettable journey of discovery.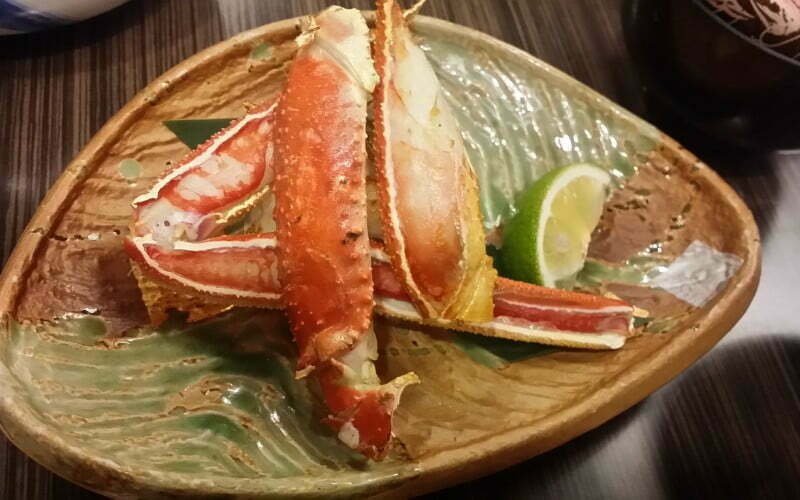 What To Eat and Drink in Abashiri, Japan
Located in the scenic landscapes of Abashiri, travelers can indulge in a gastronomic adventure like no other. The town's rich and diverse culinary scene boasts a myriad of flavors that reflect the bounty of the nearby waters and fertile lands.
Abashiri is renowned for its snow crab, a delicacy that locals and tourists alike can't get enough of. With its sweet, succulent meat, it is often served grilled or boiled, paired with soy sauce or melted butter. The seasonal harvest, typically from November to March, is a highly anticipated event and a testament to the town's rich fishing culture.
The town is also famed for its hotate, or scallops, that are fresh and tender, offering a unique flavor profile that seafood lovers will relish. Grilled or cooked in hotpot and sushi dishes, the scallops offer a taste that is both satisfying and memorable.
For a heartwarming and satisfying meal, the soup curry is a must-try. This signature dish combines an exotic blend of spices, vegetables, and meat to create a deliciously warm and flavorful meal, perfect for those chilly Abashiri nights.
To complement the flavors of the meal, savor the locally produced sake or shochu, both of which are made with pure water from the Tsubetsu River. Sake is a traditional Japanese rice wine, while shochu is a distilled spirit made from various ingredients such as sweet potatoes and buckwheat, offering a unique and distinctive taste.
Finally, for those who have a sweet tooth, Abashiri's desserts are a perfect finish to a gastronomic journey. Savor the creamy ice cream made from the milk of cows that graze on the region's lush pastures, or indulge in the rich and creamy cheese cake made with cheese from local dairies.
In Abashiri, every dish tells a story, and every bite is an invitation to explore the rich and diverse culinary landscape of the town.
Top Restaurants In Abashiri, Japan
Abashiri boasts a rich culinary scene that offers a variety of flavors and experiences for every traveler. From seafood to ramen, this charming city has plenty of dining options that will tantalize your taste buds and leave you wanting more.
One of the must-visit restaurants in Abashiri is Washo Ichiba, a bustling seafood market that serves some of the freshest seafood in the area. Here, you can enjoy a wide array of seafood dishes, from sashimi to grilled seafood, all prepared with the catch of the day. You can also try their signature crab hot pot, made with succulent snow crabs that are caught locally.
If you're in the mood for a hearty bowl of ramen, head to Menya Yuhaku, a popular ramen spot that's known for its rich and savory broth. The noodles are made fresh daily and are perfectly cooked to al dente, and the toppings range from tender slices of pork to a variety of vegetables.
For a more upscale dining experience, visit Abashiri Kaniya, a restaurant that specializes in crab dishes. The restaurant's crab course menu features a range of dishes, including crab sashimi, grilled crab, and crab hot pot. The restaurant also offers a selection of local Hokkaido sake to complement your meal.
If you're looking for a cozy and intimate dining experience, head to Yayoi, a small restaurant that serves Japanese home-style cooking. The menu changes daily, depending on what ingredients are available, but you can expect dishes like grilled fish, tempura, and simmered vegetables.
For a taste of Abashiri's local produce, visit Marukatsu, a restaurant that specializes in meat dishes made with locally-raised Wagyu beef. The menu features a variety of cuts, from tenderloin to ribeye, and each dish is cooked to perfection.
No matter what type of cuisine you're in the mood for, Abashiri has a restaurant that will satisfy your cravings and leave you with lasting culinary memories.
Tours For Visitors To Abashiri, Japan
As a traveler exploring Abashiri, Japan, one cannot help but marvel at the natural beauty and the unique cultural experiences available. However, to fully appreciate the beauty and culture of this area, a well-organized tour is a must. Fortunately, there are several tour options available that cater to various interests and budgets.
For nature lovers, the Abashiri Drift Ice Sightseeing Tour is a must-do. This tour takes visitors to see the spectacular sea of ice that forms along the coast of Abashiri during the winter months. Travelers will board an icebreaker ship and navigate through the frozen ocean while admiring the stunning scenery.
For those interested in history and culture, the Abashiri Prison Museum Tour is an excellent choice. Visitors will learn about the history of Abashiri Prison, which was known for its harsh treatment of prisoners, and explore the restored facilities, including the prison cells, guard tower, and execution chamber. The museum also has exhibits on the Ainu culture and the history of the region.
For a more adventurous experience, the Abashiri River Canoe Tour offers visitors the chance to paddle down the Abashiri River while taking in the breathtaking scenery. Visitors can choose between a half-day or full-day tour, which includes a picnic lunch in the beautiful natural surroundings.
For those seeking a more relaxed and scenic experience, the Abashiri Driftwood Art Museum and Lake Abashiri Tour is a great option. Visitors will enjoy a leisurely walk through the driftwood art museum, where local artists have created stunning pieces from driftwood found on the nearby beaches. Then, visitors can take a boat tour of Lake Abashiri and enjoy the peaceful scenery of the lake surrounded by the lush green mountains.
Finally, for the foodies, the Abashiri Seafood Market Tour is a must. This tour takes visitors to the local seafood market, where they can sample some of the freshest and most delicious seafood in Japan. Visitors can also learn about the local fishing culture and the different types of seafood caught in the area.
Overall, there are plenty of tour options available in Abashiri, catering to different interests and budgets. These tours provide a great opportunity to learn about the history and culture of the area and to experience its natural beauty firsthand.
Abashiri Accommodations: Hotels, Guesthouses and Hostels
As you embark on your journey to the charming city of Abashiri you'll surely want to have the perfect accommodations to complement your travel experience. Luckily, Abashiri offers a wide range of hotels, guesthouses, and hostels to cater to any traveler's preference and budget.
For those seeking luxury accommodations, Abashiri has several top-rated hotels that offer world-class amenities, such as hot springs and spa facilities. These hotels offer breathtaking views of the surrounding mountains and pristine lakes, providing a serene and tranquil setting to unwind and rejuvenate.
If you're on a budget, there are several budget-friendly options such as cozy guesthouses and comfortable hostels. These accommodations offer a warm and inviting atmosphere, perfect for travelers looking for a home-away-from-home experience.
One thing that is consistent across all accommodations in Abashiri is the exceptional hospitality and friendliness of the staff. From the warm welcomes to the helpful recommendations, the staff is always eager to assist in any way possible to ensure that your stay in Abashiri is unforgettable.
No matter which type of accommodation you choose, one thing is certain: Abashiri's serene and idyllic surroundings combined with top-notch hospitality will leave a lasting impression on you long after your trip has ended.
Day Trips From Abashiri, Japan
Abashiri is not just a beautiful destination in its own right, but it also serves as a gateway to a plethora of exciting day trips in the surrounding region. Here are some of the best day trips you can take from Abashiri:
Shiretoko National Park: Located about an hour and a half away from Abashiri, Shiretoko National Park is a UNESCO World Heritage Site that boasts stunning mountain scenery, wildlife, and waterfalls. It's an ideal destination for hiking, bird-watching, and wildlife viewing.
Lake Mashu: Known for its crystal clear water and mesmerizing beauty, Lake Mashu is a must-visit destination that is located about an hour's drive from Abashiri. Take in the scenic views of the lake and enjoy a peaceful picnic surrounded by nature.
Kitami: A charming city located about an hour and a half from Abashiri, Kitami is famous for its beautiful flower fields and delicious confectioneries. Take a stroll through the picturesque fields or indulge in some of the local treats.
Asahikawa: Located approximately two hours from Abashiri, Asahikawa is a bustling city that is famous for its zoo, which is home to over 700 animals from around the world. You can also explore the city's many museums and parks, or take a stroll through its vibrant shopping districts.
Sounkyo Gorge: Located about two hours away from Abashiri, Sounkyo Gorge is a stunning valley that is surrounded by lush forest and dramatic cliffs. Take a hike through the gorge and admire the breathtaking views, or relax in one of the many hot springs that are scattered throughout the area.
No matter which day trip you choose, you'll be able to enjoy the beauty and diversity of Hokkaido while still being able to return to the cozy comforts of Abashiri in the evening.
Abashiri Transportation Guide
Abashiri is a small coastal city located in the northern region of Hokkaido, Japan. It is surrounded by stunning natural scenery and boasts a rich history and cultural heritage. If you're planning a trip to this picturesque city, it's essential to know the best ways to get around.
One of the easiest ways to get to Abashiri is by train. The JR Sekihoku Main Line connects Abashiri to other major cities in Hokkaido, such as Sapporo and Asahikawa. The journey from Sapporo to Abashiri takes around 4.5 hours, and there are several trains running daily. Another option is to take a bus from Sapporo, which takes around 5 hours.
Once you arrive in Abashiri, you can get around the city by bus or taxi. The city has an efficient local bus network, and the buses run regularly to all the major tourist attractions. Taxis are also readily available, but they can be expensive, especially for long-distance journeys.
For a more unique and memorable way to explore Abashiri, consider renting a bicycle. The city has several bicycle rental shops, and cycling is a great way to explore the city's scenic coastal roads and enjoy the fresh sea breeze.
Another option is to rent a car. This is especially convenient if you're planning to explore the surrounding areas or take a day trip to nearby attractions. Many car rental companies operate in Abashiri, and the rates are relatively affordable compared to other parts of Japan.
If you're feeling adventurous, you can also take a ferry from Abashiri to the nearby island of Rishiri. The island is known for its stunning natural beauty and is a popular destination for hiking and cycling.
Abashiri has several transportation options to help you get around and explore this charming city. Whether you prefer to travel by train, bus, bicycle, or car, there is a mode of transportation that suits your needs and budget. With so much to see and do in Abashiri and its surrounding areas, it's worth taking the time to plan your transportation options ahead of time to make the most of your trip.
Where To Visit After Your Trip To Abashiri?
Abashiri is located in the northeastern part of Hokkaido, Japan. While it has plenty to offer, there are also many other exciting destinations nearby that you can explore after your trip to Abashiri. Here are some of the top places to visit:
Shiretoko National Park – This UNESCO World Heritage site is located on the northeastern tip of Hokkaido and is home to diverse wildlife, including brown bears, deer, and foxes. Visitors can take guided hikes and boat tours to explore the park's stunning scenery, which includes waterfalls, lakes, and cliffs.
Sapporo – Hokkaido's capital city is known for its lively atmosphere, delicious food, and winter sports. Visit the Sapporo Beer Museum to learn about the city's brewing history or take a stroll through the historic Odori Park.
Asahikawa – Known for its beautiful flower fields and winter festivals, Asahikawa is a great destination for nature lovers. The Asahiyama Zoo is also a popular attraction, where visitors can see a variety of animals in their natural habitats.
Otaru – This historic port town is known for its charming architecture and picturesque canal. Visitors can stroll through the town's many shops, cafes, and museums, or take a boat tour to see the city from a different perspective.
Lake Akan – This scenic lake is located in eastern Hokkaido and is known for its stunning blue waters and hot springs. Visitors can enjoy boating, hiking, and fishing in the summer or soak in one of the many hot springs during the winter.
No matter where you choose to go after your trip to Abashiri, Hokkaido has a lot to offer travelers. With its natural beauty, rich culture, and delicious food, it's no wonder that Hokkaido is one of Japan's top travel destinations.
Abashiri Travel Guide: Final Thoughts
Abashiri, with its unique blend of natural beauty, historical significance, and modern amenities, is a fascinating destination for travelers seeking an off-the-beaten-path experience in Japan. From exploring the city's history to soaking in its hot springs and savoring its delicious cuisine, there's no shortage of things to do and see in Abashiri.
Whether you're a history buff, a nature lover, or just looking for a relaxing getaway, Abashiri has something to offer. The city's fascinating history and culture, combined with its breathtaking landscapes and natural wonders, make it a must-visit destination in Japan.
As you explore the city, you'll discover a wealth of opportunities to learn about its rich history, from the Abashiri Prison Museum to the Okhotsk Ryu-hyo Museum. You'll also find plenty of opportunities to immerse yourself in nature, from hiking in the nearby mountains to exploring the ice floes of the Okhotsk Sea.
Of course, no trip to Abashiri would be complete without savoring some of the city's delicious cuisine. From fresh seafood to local specialties like Abashiri ramen, the city's culinary scene is sure to satisfy even the most discerning palate.
Whether you're traveling solo, with friends, or with family, Abashiri has something to offer for everyone. With its warm hospitality, rich history, and stunning natural beauty, Abashiri is a truly unforgettable destination that will leave you with memories to last a lifetime. So why not plan your trip today and experience all that this incredible city has to offer?
A land of ice and sea,
Abashiri awaits thee.
In Hokkaido's far north,
A hidden gem that's worth.
The prison museum, dark and bleak,
History lessons it will speak.
While the Okhotsk Ryu-hyo Museum,
Showcases ice formations in the kingdom.
Take a cruise to see the drift ice,
A sight that is truly nice.
Or stroll along the coastline,
And feel the sea breeze divine.
Delight in seafood fresh and sweet,
Abashiri's culinary scene is a treat.
And rest in comfort in the night,
With lodging options that are just right.
Abashiri, a place of wonder and awe,
A destination that will leave you in awe.
So come and discover this northern land,
A journey that will surely be grand.