As the capital city of Ghana, Accra is a likely first destination for those setting out to explore Western Africa. Although it is chaotic by western standards, it is a modern place compared to the other cities in the region.
Safe in most places even after dark (the usual precautions apply), Accra is a great staging post for adventures further afield in this corner of the African continent.
Accra City Guide: A Brief History Of Accra, Ghana
Accra is a vibrant and bustling city located on the coast of Ghana, in West Africa. Its rich history dates back to the 15th century when the Ga people first settled in the area. These industrious people were primarily fishermen and farmers, who established a thriving community along the coast.
In the late 15th century, the Portuguese arrived in the area and established a trading post. This was the beginning of a long and tumultuous relationship between the European colonizers and the indigenous people. The Portuguese traded in gold, ivory, and slaves with the Ga people. Over time, the Dutch, Danes, and British also established trading posts in the area, which fueled the growth of Accra as a center for commerce.
During the 17th century, Accra became a hub for the transatlantic slave trade. The European traders captured and sold millions of Africans, who were shipped across the ocean to work in the Americas. This dark period of history had a profound impact on the people of Accra and the wider continent of Africa. Nevertheless, the city continued to grow and develop.
In the 19th century, Accra became an important center of the British Gold Coast colony. The British built several administrative and commercial buildings in Accra, including the Government House, the Post Office, and the Central Police Station. These imposing structures still stand today and serve as a reminder of the city's colonial past.
During the early 20th century, Accra experienced significant growth and development. The city became the political, economic, and cultural center of Ghana. This was a time of great change and transformation, as the people of Ghana fought for independence from British colonial rule.
In 1957, Ghana gained independence, and Accra became the capital of the new country. This was a momentous occasion, as the people of Ghana celebrated their hard-won freedom. The city continued to grow and modernize throughout the second half of the 20th century, as new neighborhoods were developed, and cultural institutions were established.
Today, Accra is a thriving metropolis, with a population of over two million people. The city is home to several universities, museums, and cultural institutions, including the National Museum of Ghana and the Ghana Academy of Arts and Sciences. It is also a major center for business and commerce in West Africa, with a thriving entrepreneurial spirit that attracts investors and entrepreneurs from around the world.
Despite its rich and complex history, Accra remains a city of hope and possibility. Its people are resilient and resourceful, with a deep sense of pride and connection to their past. As the city continues to grow and evolve, it will undoubtedly play a significant role in shaping the future of Africa and the world.
Accra Top Attractions and Best Places to Visit in Ghana
Once you get settled in Accra, you'll want to make a beeline for the National Museum of Ghana. Opened on the occasion of Ghana's independence from Britain, this institution contains exhibits featuring archaeological and ethnographic artifacts, as well as various pieces of art made by creatives from across Ghana.
Take your time in this place, as there are pieces here that date back to the Stone Age, traditional musical instruments from various Ghanian tribes, and carvings, masks, and paintings from across Western Africa. Budget an entire morning or afternoon so you can fully appreciate this outstanding place.
Next, be sure to pay your respects to Ghana's first president by visiting Kwame Nkrumah Memorial Park. With a striking modernist mausoleum as its centrepiece, this beautiful plaza is a worthy tribute to a political leader that helped ensure a smooth transition of power from British colonial authorities to a government led by native Ghanaians.
With plenty of marble inside and no shortage of fountains outside, its grandeur makes this point of interest worth a look on its own.
Learn about the life of a prominent African American (turned Ghanian) academic by dropping by the W.E.B. Dubois Center. The first African-American to receive a doctorate in the USA, and an active participant in the American civil rights movement, Dubois immigrated to Ghana later in his life, acting as an adviser to Nkrumah's administration before passing away in 1963 at the age of 95.
The home where he spent the last few years of his life is now a museum on the life and times of a man that had a pivotal role in helping shape the Civil Rights Act back in America. Highlights include his personal library, and Dubois' and his wife's grave.
Other Cultural Attractions: Trip to Accra, Ghana
The heat of the city starting to get to you? Take a trip out to Bojo Beach. Situated on the other end of a three-minute boat ride, the lack of access and the rules put in place by the owners restrict the ability of beach touts to disturb you, allowing you to relax on a paradise beach that is never too crowded.
Bojo Beach is sandwiched between a freshwater lagoon and the open Atlantic, allowing weaker swimmers and families to enjoy a swim without the risks that the currents on the ocean side pose to vulnerable individuals.
With food and drink facilities, as well as occasional live entertainment, you may find it hard to leave at the end of the day.
Those that have an appreciation for green spaces will want to take a day trip from Accra out to Aburi Botanical Gardens. Opened in 1890, the towering palm and rubber trees on this 64-hectare estate will set the tone for your visit from the moment you arrive.
Built originally by British colonial authorities to conduct agricultural research, it later played a big role in encouraging the widespread cultivation of cocoa (the plant behind chocolate) throughout Ghana. In addition to the endemic tree and plant life, keep your eyes open for nutmeg and cinnamon plants, both of which are planted here. Don't forget to take a picnic lunch with you, as it is a common activity among locals.
Want to get a feel for everyday life in the streets of Accra? Spend some time touring the stalls of Makola Market, and you'll see residents pulling together food for their meals, buying shoes to replace the worn ones on their feet, and hardware to fix up their homes. The critical mass of people here can be shocking to first-timers, but if you are: welcome to Africa.

source: DW on YouTube
Top 10 Things To Do in Accra, Ghana For Visitors
Accra, the bustling capital of Ghana, is a city full of surprises, with an eclectic mix of cultures, rich history, and exciting attractions that make it a must-visit destination. From the moment you arrive, the vibrant energy of this city is palpable, and you're bound to be swept up in the excitement of it all.
One of the first things you should do when visiting Accra is to head to Independence Square. This landmark is one of the most iconic places in the city, serving as a reminder of Ghana's hard-fought independence from colonial rule. As you stroll around the square, take in the impressive Black Star Gate and the Independence Arch, and imagine what it must have been like on that historic day in 1957 when Ghana gained its freedom.
Next on your list should be the National Museum of Ghana, where you can explore the country's rich history and culture. The museum is home to an impressive collection of artifacts, including ancient pottery, traditional clothing, and beautiful artwork. You'll leave with a newfound appreciation for the incredible diversity and depth of Ghana's cultural heritage.
For a taste of the local culture, head to the Art Center, where you'll find an array of handmade crafts and artwork. This vibrant marketplace is full of energy and color, and it's a great place to pick up a unique souvenir or two. The artisans are happy to chat with visitors and share their techniques, so don't be afraid to strike up a conversation.
No trip to Accra is complete without a visit to Labadi Beach. This stunning stretch of coastline is a popular destination for both locals and tourists, and it's easy to see why. The white sand beach is lined with palm trees and dotted with colorful umbrellas, creating a picturesque setting that's perfect for soaking up the sun or taking a dip in the cool waters of the Atlantic.
If you're in the mood for some history, head to the Osu Castle. This imposing fort dates back to the 17th century and was once a hub for the transatlantic slave trade. Today, it serves as the seat of government in Ghana and offers a fascinating glimpse into the country's past.
As the sun sets on Accra, the city comes alive with a vibrant nightlife scene. From trendy bars to lively nightclubs, there's something for everyone. You can dance the night away to the infectious beat of Afrobeat music or enjoy a chilled cocktail while mingling with the locals.
For a more serene experience, head to the Aburi Botanical Gardens. Located just outside of the city, these gardens offer a peaceful retreat from the hustle and bustle of Accra. Take a leisurely stroll through the lush grounds, admire the beautiful plants and trees, and breathe in the fresh air.
Finally, make sure to explore the James Town neighborhood, one of the oldest in Accra. This historic district is home to landmarks such as the lighthouse and the Ga-Mashie Museum, which tells the story of the Ga people, one of the first to settle in the area.
Accra is a city that will capture your heart and imagination, with its unique blend of history, culture, and excitement. Whether you're looking for adventure, relaxation, or a bit of both, you're sure to find it in this dynamic and fascinating destination.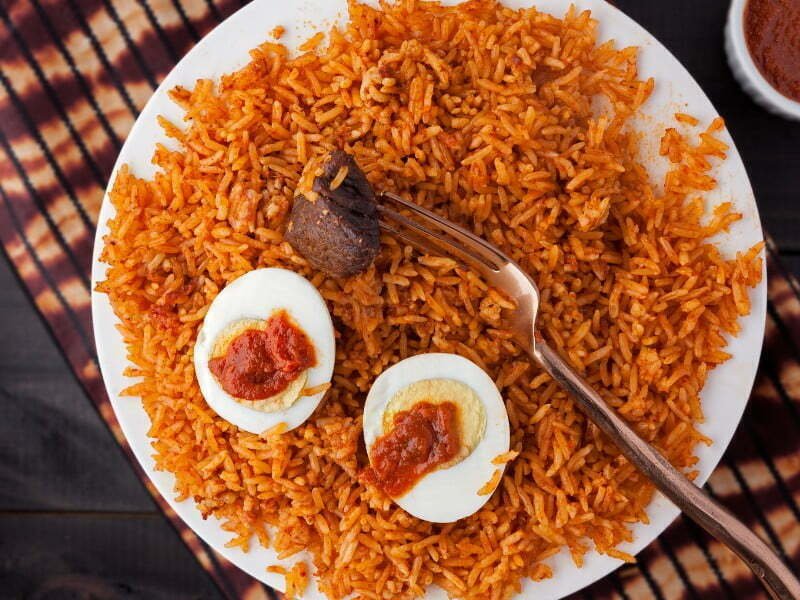 What To Eat and Drink in Accra, Ghana
Accra, the capital city of Ghana, has a rich culinary tradition that reflects its cultural diversity. Here are some of the must-try foods and drinks in Accra:
Jollof Rice: Jollof Rice is a popular West African dish that is made with rice, tomatoes, onions, and spices. It is a staple food in Accra, and you can find it at almost every local restaurant.
Waakye: Waakye is another popular Ghanaian dish that is made with rice and beans. It is often served with a spicy sauce made from tomatoes, onions, and chili peppers.
Banku and Okro Soup: Banku is a starchy dish made from corn and cassava dough, while Okro soup is made from Okro, a vegetable that is similar to spinach. It is a staple dish in Ghana and is often served with fish or meat.
Fried Plantains: Fried plantains are a popular snack in Ghana. They are made from ripe plantains that are sliced and fried until crispy. They are often served with spicy tomato sauce.
Fresh Fruit: Ghana has a wide variety of fresh fruits, including mangoes, papayas, pineapples, and bananas. They are delicious and healthy, and you can find them at any local market.
When it comes to drinks, here are some options to try:
Coconut Water: Coconut water is a refreshing drink that is popular in Accra. You can find it at most street vendors, and it is a great way to stay hydrated.
Palm Wine: Palm wine is a traditional drink in Ghana that is made from the sap of palm trees. It has a sweet, slightly sour taste, and it is often served in a calabash.
Sobolo: Sobolo is a popular drink in Ghana that is made from hibiscus flowers. It is sweet and tangy, and it is often served cold with ice.
Bissap: Bissap is another drink that is made from hibiscus flowers. It is sweet and tart, and it is often served hot or cold.
Pito: Pito is a local beer that is made from fermented millet. It has a slightly sour taste, and it is often served in a calabash.
Top Restaurants In Accra, Ghana
Accra has a thriving food scene, and there are many great restaurants to choose from. Here are some of the top restaurants in Accra:
Buka Restaurant: Buka is a popular restaurant that serves traditional Ghanaian cuisine. The atmosphere is lively and vibrant, and the food is delicious.
Azmera Restaurant: Azmera is a great spot for Ethiopian food. The restaurant has a cozy atmosphere and serves dishes like injera and tibs.
Santoku: Santoku is a Japanese restaurant that is located in the Villagio complex in Accra. It serves a variety of sushi, sashimi, and other Japanese dishes.
Urban Grill: Urban Grill is a steakhouse that is located in the Icon House in Accra. It serves high-quality beef and other meats, as well as seafood and vegetarian options.
Mama Mia: Mama Mia is an Italian restaurant that serves delicious pizza, pasta, and other Italian dishes. It has a great atmosphere and is perfect for a night out.
Sky Bar Rooftop Lounge: Sky Bar is a rooftop bar and restaurant that is located in the Villagio complex in Accra. It has stunning views of the city and serves a variety of cocktails and international cuisine.
The Republic: The Republic is a restaurant and bar that serves a fusion of African and international cuisine. It has a beautiful outdoor seating area and is perfect for a romantic dinner or a night out with friends.
These are just a few of the top restaurants in Accra. There are many other great options to choose from, and you're sure to find something that suits your taste and budget.
Tours For Visitors To Accra, Ghana
Accra, the bustling capital city of Ghana, has been steadily gaining popularity as a tourist destination over the years, and it's easy to see why. This vibrant and diverse city is bursting with life, color, and culture, making it a haven for travelers who want to immerse themselves in the local way of life. For those planning a trip to Accra, there are plenty of exciting tours and activities to indulge in, each offering a unique glimpse into the city's rich history, culture, and natural beauty.
If you're interested in exploring Accra's landmarks and history, a city tour is the perfect way to start your journey. From the iconic Independence Square, where Ghana's first president declared independence in 1957, to the Kwame Nkrumah Memorial Park, a tribute to the country's founding father, you'll discover the city's past and present as you explore its streets. The National Museum of Ghana is another must-visit destination, where you can learn about the country's history, art, and culture through its impressive collection of artifacts and exhibits.
For those who are eager to learn about Ghanaian culture and traditions, a cultural tour of Accra is a must. The Arts Center is a vibrant hub for local artists, craftsmen, and musicians, where you can browse and purchase traditional art and crafts, enjoy live music performances, and even take part in dance lessons. The Center for National Culture is another cultural hub where you can learn about Ghana's diverse cultural heritage through exhibitions, performances, and workshops. And no cultural tour of Accra would be complete without a visit to the Osu Castle, a former slave trade fort that has been transformed into a museum and art gallery.
If you're a foodie at heart, you'll love the food tours of Accra, where you can sample some of the city's most popular dishes and snacks. From the spicy jollof rice, a staple of Ghanaian cuisine, to the savory waakye, a delicious rice and beans dish, to the tangy banku, a fermented corn dough, you'll experience the rich flavors and textures of Ghanaian cuisine at local restaurants and markets.
Nature enthusiasts will also find plenty of exciting tours in and around Accra. The Aburi Botanical Gardens, located just a short drive from the city, is a tranquil oasis where you can stroll through the lush gardens, admire the colorful flowers and plants, and enjoy a picnic under the shade of the trees. The Achimota Forest Reserve, a protected nature reserve, is another natural gem where you can hike through the dense forests, spot local wildlife, and even go birdwatching. And the Sakumo Lagoon, a tranquil lagoon located just outside the city, is a popular spot for canoeing, fishing, and birdwatching.
For those looking for a bit of sun, sea, and sand, the beaches of Accra are the perfect destination. The Labadi Beach, also known as the La Pleasure Beach, is one of the most popular beaches in the city, with its golden sands, clear waters, and lively atmosphere. The Kokrobite Beach, located about an hour's drive from Accra, is a laid-back alternative where you can relax under the sun, enjoy water sports, and take in the beautiful views. And the Bojo Beach, a secluded beach located on an island off the coast of Accra, is a hidden gem where you can escape the crowds and enjoy the peace and quiet of the ocean.
Accra Accommodations Guide: Hotels, Guesthouses and Hostels
Accra, the bustling capital city of Ghana, is a popular destination for travelers from all over the world. As a result, there are a wide range of accommodations available to suit every budget and preference. From luxurious five-star hotels to cozy guesthouses, you'll find plenty of options to choose from in Accra.
If you're looking for the ultimate in luxury and comfort, there are several five-star hotels in Accra that will exceed your expectations. The Kempinski Hotel Gold Coast City, for example, is a stunning hotel that boasts a spa, fitness center, and outdoor pool, as well as several on-site restaurants and bars. The Movenpick Ambassador Hotel Accra is another five-star option, offering beautifully appointed rooms and suites, a rooftop pool, and a range of dining options.
If you're looking for something more mid-range, there are plenty of four-star hotels and guesthouses in Accra that offer great value for money. The Accra City Hotel, for example, is a popular choice that offers modern, comfortable rooms and a range of amenities, including a pool, fitness center, and on-site restaurant. The Labadi Beach Hotel is another great option, offering spacious rooms, a private beach, and several restaurants and bars.
For those on a budget, there are also plenty of affordable accommodations in Accra that offer clean, comfortable rooms at a fraction of the cost of the more luxurious options. The Niagara Hotel, for example, is a budget-friendly hotel that offers basic but comfortable rooms, as well as a restaurant and bar. The Tropical Enclave Hotel is another great budget option, offering cozy rooms and a peaceful garden setting.
If you prefer more independent and home-like accommodations, there are also plenty of guesthouses and apartments in Accra that offer a more personalized experience. The Accra Luxury Apartments, for example, offer spacious, fully equipped apartments in a central location, perfect for those who want to feel at home while they explore the city. The Villa Monticello is another great option, offering stylish and luxurious suites in a quiet residential neighborhood.
No matter what your budget or preferences, you'll find plenty of options for accommodations in Accra. Just be sure to book ahead, especially during peak travel season, to ensure that you get the room and location that you want.
Day Trips From Accra, Ghana
Accra, the vibrant and bustling capital of Ghana, is a city that is teeming with culture, history, and natural beauty. It is no wonder that this city is a popular destination for tourists from all over the world. But beyond the vibrant streets of Accra, lies a plethora of day trip options that are sure to captivate and delight visitors.
One such option is a visit to Cape Coast, located approximately two and a half hours west of Accra. This coastal town is steeped in history, as it was once a hub of the transatlantic slave trade. The Cape Coast Castle, a UNESCO World Heritage site, serves as a somber reminder of this dark past. It was one of the key forts used to hold enslaved Africans before they were shipped off to the Americas. Today, it serves as a museum that offers insight into the harrowing reality of slavery in West Africa.
Another must-visit attraction in Cape Coast is the Elmina Castle, another former slave trading hub. It is said to be the oldest European-built structure in sub-Saharan Africa and has been restored and preserved to offer visitors an understanding of the slave trade era.
For nature enthusiasts, a trip to Kakum National Park is a must. Located just 20 miles from Cape Coast, this park is home to over 40 mammal species, including forest elephants, leopards, and several species of monkeys. Visitors can take a guided tour or traverse the park on their own, enjoying the beauty of the forest and its wildlife.
For a more tranquil escape, a day trip to the Aburi Botanical Gardens is perfect. Just 30 minutes away from Accra, these beautiful gardens provide a peaceful retreat from the hustle and bustle of the city. The gardens are home to a vast array of plants, from towering palm trees to delicate orchids. Visitors can take a guided tour or explore the gardens at their own pace, basking in the beauty of nature.
If you are interested in engineering marvels, a visit to the Akosombo Dam is a must. Located about two hours northeast of Accra, this hydroelectric dam is one of the largest in the world. Visitors can take a guided tour to learn about the engineering behind the dam or take a boat tour of the nearby Volta River. The views from the river are breathtaking, and visitors are sure to marvel at the impressive scale of this man-made wonder.
Finally, for those who love wildlife, a visit to the Shai Hills Resource Reserve is a must. Just 45 minutes from Accra, this reserve is home to several species of wildlife, including baboons, antelopes, and hyenas. Visitors can take a guided tour to explore the park, hike to the top of the Shai Hills for panoramic views, or marvel at the caves and ancient rock formations that are scattered throughout the reserve.
Accra is an excellent base for exploring the many wonders that Ghana has to offer. Whether you're interested in history, culture, or nature, there are plenty of day trip options available that are sure to provide a memorable experience. So, pack your bags, bring your sense of adventure, and let Accra be your gateway to discovering the beauty of Ghana.
Accra Transportation Guide
As the vibrant and bustling capital of Ghana, Accra can be an exciting destination for visitors from all over the world. However, with its winding roads and chaotic traffic, navigating through the city can be an adventure in itself. Fortunately, there are several transportation options available to help travelers get around Accra with ease.
Perhaps the most popular mode of transportation in the city is the taxi. These yellow and black cabs are readily available on almost every street corner in Accra and are a convenient way to travel from one destination to another. However, it is important to note that most taxis in Accra do not have meters, so it's always advisable to negotiate the fare with the driver before starting your journey. Agreeing on a fair price before getting into the taxi can also avoid any confusion later on.
For those who are on a tight budget, tro-tros provide a more affordable option. These minibusses are a staple of public transportation in Ghana, and they can be found throughout the city. Unlike taxis, tro-tros have fixed routes and fares, so passengers don't need to negotiate with the driver. However, they can be quite crowded and uncomfortable, especially during rush hour.
Another option for getting around Accra is by bus. The Metro Mass Transit (MMT) system is the city's primary bus operator and offers reliable and affordable services to several destinations within and outside the city. The buses are well-maintained and air-conditioned, making them a comfortable option for travelers.
If you're looking for a more independent way of getting around Accra, renting a car is an option. There are several car rental companies located throughout the city, and they offer a range of vehicles to suit different budgets and needs. However, driving in Accra can be quite challenging, especially for visitors who are not familiar with the city's roads and traffic. It's always advisable to plan your route before starting your journey and to be cautious while driving.
For shorter trips around the city, motorbikes and bicycles are also available for rent. These options provide a unique perspective on the sights and sounds of Accra, and they're perfect for exploring the city's narrow streets and alleys. However, it's always essential to wear a helmet and other safety gear while riding a motorbike or bicycle.
Finally, for those who prefer a more luxurious option, private car hire services are available in Accra. These services offer comfortable, air-conditioned vehicles and professional drivers who are familiar with the city's roads and traffic. While they may be more expensive than other transportation options, private car hire services offer convenience and comfort, especially for travelers who are short on time.
Getting around Accra can be a challenge, but with the several transportation options available, visitors can navigate the city with ease. Each mode of transportation offers its unique benefits and experiences, so whether you choose to take a taxi, tro-tro, bus, rent a car, or even ride a bike, you're sure to have an exciting adventure in the vibrant streets of Accra.
Where To Visit After Your Trip To Accra?
After exploring the vibrant and dynamic city of Accra, you might find yourself yearning for more of Ghana's unique cultural and natural beauty. Fortunately, there are several destinations in the country that are perfect for extending your travels and delving deeper into its rich history and stunning landscapes.
One such destination is Cape Coast, a city located just a few hours west of Accra. Known for its significant role in Ghana's colonial history, Cape Coast offers visitors the chance to explore some of the country's most iconic landmarks. One such landmark is the Cape Coast Castle, a UNESCO World Heritage site that played a key role in the transatlantic slave trade. Visitors can tour the castle's dark dungeons and learn about the harrowing history of the slave trade. Another must-see attraction in Cape Coast is the Elmina Castle, another historic fortification that offers a glimpse into Ghana's colonial past. For nature lovers, the nearby Kakum National Park is a must-visit destination, offering a canopy walkway and an opportunity to spot rare wildlife.
For those interested in immersing themselves in Ghana's vibrant culture, Kumasi is a must-visit destination. Known as the cultural capital of Ghana, Kumasi is a bustling city that's steeped in tradition. Visitors can explore several museums, including the Manhyia Palace Museum, which tells the story of the Ashanti Kingdom. The city's markets, including the Kejetia Market, are also worth exploring, offering an array of locally made crafts, textiles, and food.
For a true wilderness adventure, Mole National Park is a must-visit destination. Located in the northern part of Ghana, the park is home to a wide range of wildlife, including elephants, baboons, and antelopes. Visitors can take guided walking safaris or opt for a jeep tour to explore the park's vast wilderness.
If you're looking for a peaceful retreat away from the hustle and bustle of city life, the Volta Region is a perfect destination. This scenic region is home to several natural attractions, including the Wli Waterfalls, the highest waterfall in West Africa. Visitors can also explore the Tafi Atome Monkey Sanctuary, a protected area that's home to several species of monkeys.
Finally, for those looking to explore Ghana's northern regions, Tamale is a city that's rich in history and culture. The Tamale Central Market is a hub for local commerce and offers an authentic glimpse into everyday life in northern Ghana. The Tamale Museum is another must-visit attraction, showcasing the history and culture of the Northern Region.
Ghana offers a wealth of destinations for visitors to explore after their time in Accra. From historic landmarks to natural wonders, there's something for everyone in this captivating country. So why not extend your travels and continue your journey of discovery in this fascinating part of West Africa?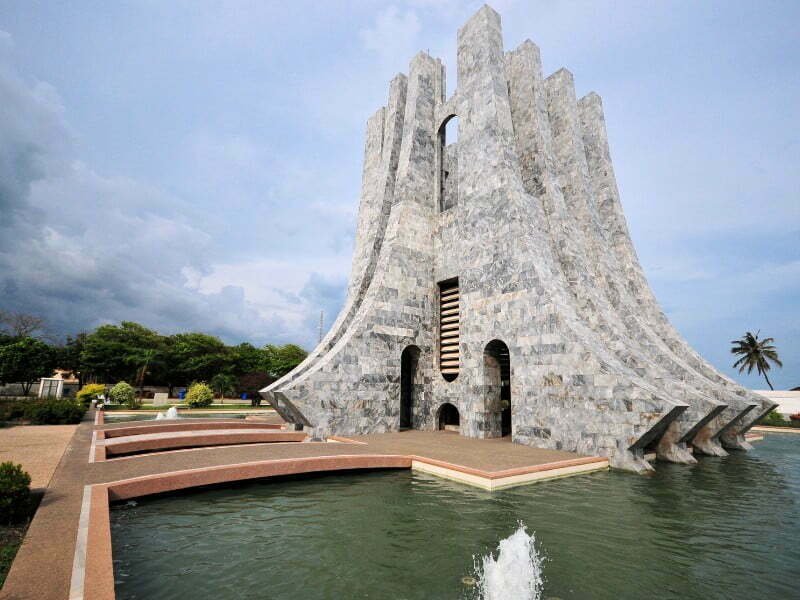 Accra Travel Guide: Final Thoughts
As your time in Accra comes to an end, it's important to take a moment to reflect on your experiences and appreciate the unique culture and warmth of the Ghanaian people. Whether you spent your days exploring historic landmarks, indulging in local cuisine, or immersing yourself in the vibrant arts scene, you undoubtedly gained a deeper appreciation for this dynamic city.
As you prepare to depart, be sure to take the time to say goodbye to the friends you've made and the places you've come to know. Consider picking up a few souvenirs to remind you of your time in Accra, such as locally made crafts or traditional clothing. And don't forget to express your gratitude to those who made your trip memorable, whether it's your hosts, tour guides, or new acquaintances.
As you leave Accra behind, consider extending your travels to explore more of Ghana's diverse regions and landscapes. From the bustling city of Kumasi to the peaceful retreats of the Volta Region, Ghana offers endless opportunities for adventure and discovery.
But most importantly, as you depart Accra, take with you the memories of the warm hospitality, the vibrant energy, and the rich culture that define this unique city. Whether you return to Ghana or carry a piece of it with you in your heart, your time in Accra is sure to leave a lasting impression on you.
In the heart of Ghana lies a city of light, A vibrant hub that dazzles in the night. Accra, oh Accra, a place of wonder, Where the sights and sounds never surrender.
From the bustling markets to the beaches so grand, There's always something new to discover in this land. The aroma of spices and the beat of drums, A kaleidoscope of colors, a symphony that hums.
Explore the history of the slave trade, And the resilience of those who never lost faith. Or embrace the energy of a modern metropolis, With art, music, and food that's truly auspicious.
As you wander through the streets so lively, Embrace the warmth of the people so kindly. Let Accra be your guide on this journey, A city that offers endless discovery.
So come and visit, let your spirit soar, Let the magic of Accra leave you wanting more. For in this city of light, you'll find a part of yourself, And a memory that will stay with you, forever and evermore.