Agrigento is a deeply historic city located on the southern coast of Sicily. Among travellers, Agrigento is best known for being close to The Valley of the Temples, which is home to a collection of ruins dating back to Greek times.
Together with numerous interesting museums, churches, and beaches, Agrigento is a popular tourist destination that you shouldn't miss while in Sicily.
Travel Guide to Agrigento, Sicily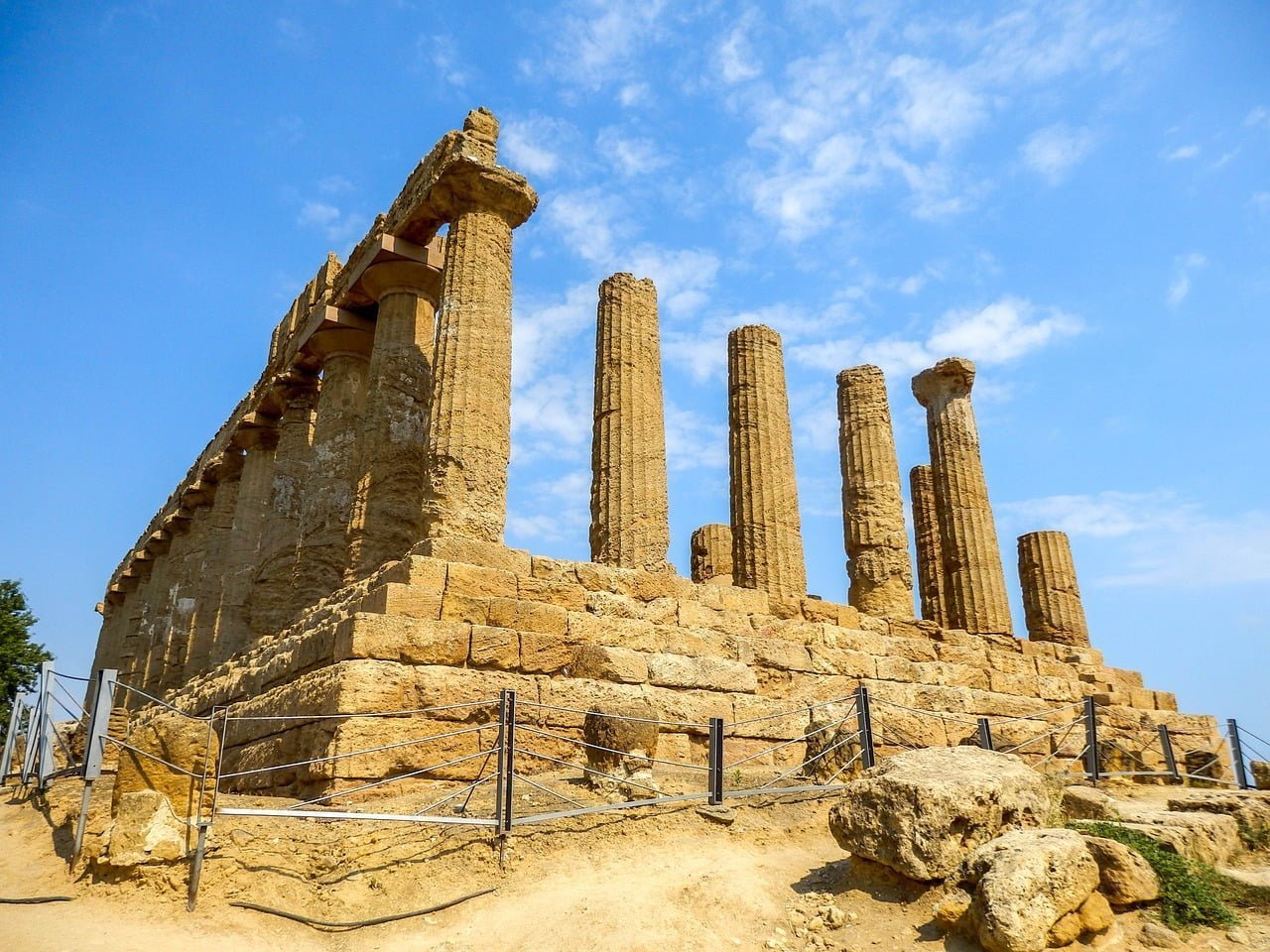 Agrigento Top Attractions and Places To Visit In Sicily
Soon after arriving in Agrigento, check out The Valley of the Temples. Agrigento is one of a few places in Italy where you can see ancient Greek temples. And what temples they were – these present-day ruins are recognized as a UNESCO World Heritage Site.
With some specimens dating back to the 6th century BC, this place is practically mandatory for those visiting Agrigento. But if you are short on time, drop by Tempio della Concordia. This temple is the best-preserved structure in the valley, as its facade and pillars are remarkably intact.
But as impressive as those ruins are, archeologists recovered the artifacts from this site years ago. To view them, you'll have to visit places like the Agrigento Archeological Museum. As you walk its halls, you'll get to see original Greek statues, pottery, coins, and even altars.
Given the scale of the ruins, it follows that there are tonnes of artifacts to see. As such, allow at least three hours to make the most of your visit.
If you are looking for a church to visit in Agrigento, drop into Chiesa di Santa Maria dei Greci. Raised in the 13th-century on the foundations of an Athenian temple, its Byzantine frescoes (and incorporated Greek columns) are its most interesting attributes.
If you love art, make time for a visit to Museo Diocesano di Agrigento. Although it has only been around since the 1960s, this place feels much older than that, as it was set up in Agrigento's former bishop's palace.
But while it does have some exquisite paintings, it also has a collection of artifacts from the Valley of the Temples. Get a combination ticket for this place and the Valley, as it's an excellent way to save if you're travelling on a budget.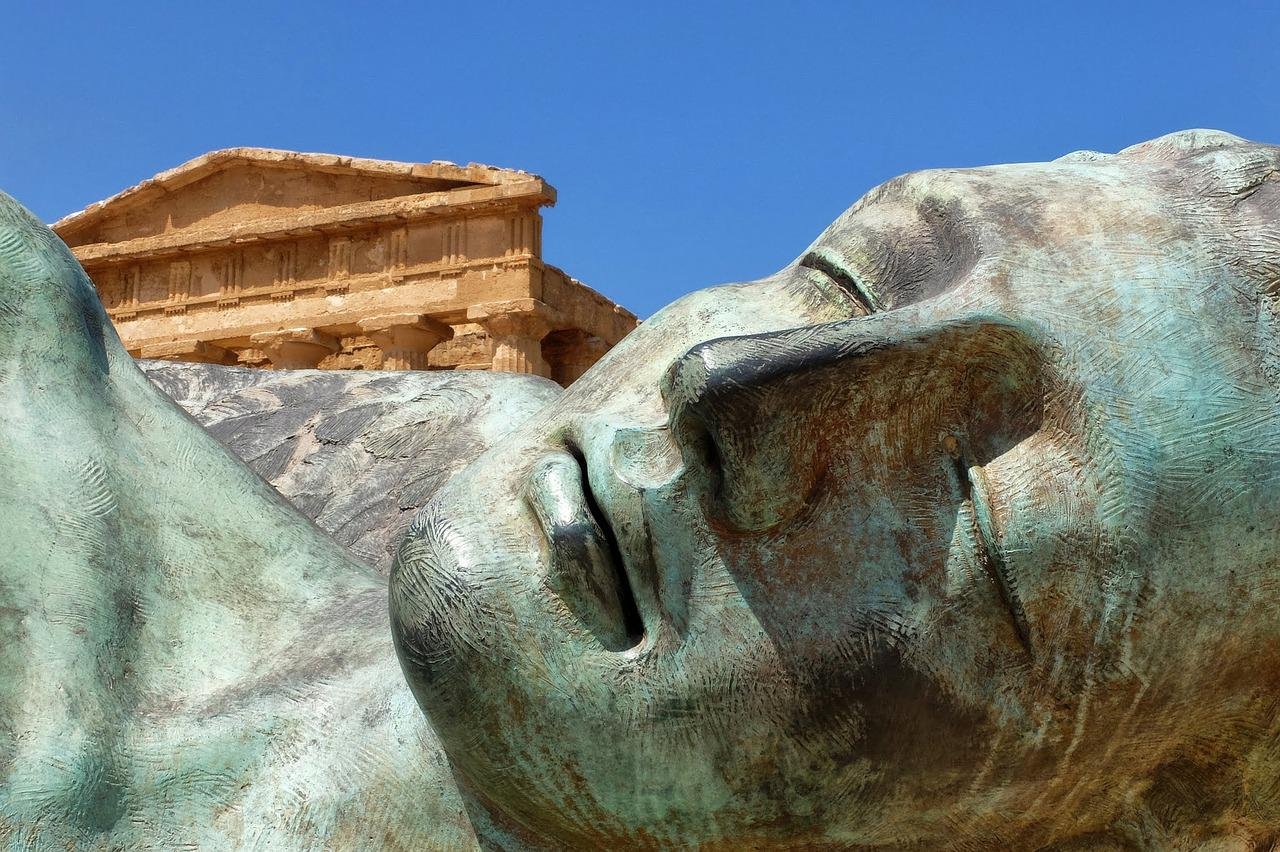 Other Cultural Attractions: Trip to Agrigento, Italy
While Agrigento's biggest attractions are inland, you are only a few kilometres away from some stunning coastline. If you need relief on a hot day, spend a day in Spiaggia San Leone. A short drive from Agrigento, this beach boasts clear waters and brilliant off-white sand.
At this beach, you'll be pleased that it is wide and long, so there is plenty of room to roll out a towel. And with scores of restaurants and coffee shops nearby, you won't go hungry.
Looking for a quieter option? Check out Spiaggia Maddalusa. It's a short distance from San Leone, but it lacks the hordes that descend upon its more popular cousin on a hot summer day.
But if you're looking for a more wild experience, plan a trip out to Riserva Naturale di Punta Bianca. This nature park, set along a rugged stretch of the Sicilian coastline, has loads of rocky outcroppings.
However, choose your vehicle well. Lower vehicles and 2-wheel drive cars fare poorly on the bumpy tracks here, so opt for a 4WD or hire a driver.
Later in the day, take a stroll along Lungomare Falcone – Borsellino. This thoroughfare runs along the coast near Spiaggia San Leone, making it a popular destination on weekends. As such, it is a marvellous place to people-watch, as there are many restaurants, cafes, and bars.
Next, swing by Casa Natale di Luigi Pirandello. This former villa was once the home of Luigi Pirandello, Agrigento's most famous writer. In 1934, he won the Nobel Prize for his literature, but he always found time to return to his family's home during the summer.
In this former residence, you'll find his personal effects, as well as manuscripts and other items related to his writing career.
Agrigento Video Guide: Tour of the Valley of the Temples, Agrigento, Sicily!

Source: The Global Expats channel on YouTube
What To Eat and Drink in Agrigento, Italy
If you are in need of a boost while exploring the Agrigento area, be sure to pack some Arancia di Ribera in your daypack. These fruits are the local variety of orange, and they are best known for their characteristic flesh, which turns red during the ripening process. While great on their own, they also work well in smoothies or as an ingredient in many local dishes.
At dinner, find a restaurant that serves Pasta alla Norma. This dish is one of Sicily's most famous. Only rivalled by Pasta con le Sarde, this dish pairs rigatoni noodles with eggplant, tomato sauce, and basil. It is usually served with grated ricotta salata or Parmesan cheese, which cuts through the richness of the dish for an appetizing finish.
Lastly, if you find yourself in Agrigento during the Easter season, try a slice of Agnello Pasquale. True to its name, bakers shape this cake to look like an Easter lamb. Made with raisins, almonds, and pistachios, and flavoured with lemon vest and vanilla, it's a treat that you won't soon forget.