Ahmedabad Travel Guide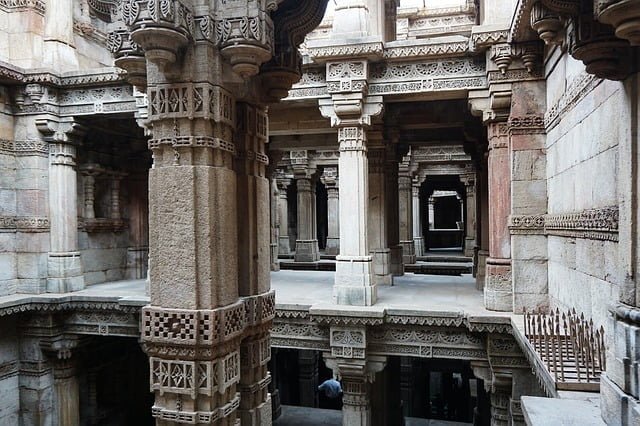 Introduction
Despite being off the beaten path in India, Ahmedabad has more than its share of attractions. Mohandas Gandhi called this place home when he wasn't railing against the establishment.
It has two different temples of significance. A magnificent stepwell is not far from the city centre.
If you're looking to leave the tourist masses behind, there's no better place to do it than here.
Come check out our Ahmedabad guide for tourists as we cover the best things to do in Ahmedabad, India.
Top Attractions
Start your time in Ahmedabad by spending a few hours at the Sabarmati Ashram. Established for Mohandas Gandhi as a place of rest and contemplation, the Indian resistance leader planned many protests here.
After protesting the British Salt Tax, an action which led the British to imprison of his 60,000 followers, Gandhi left the ashram. He vowed not to return until India gained its independence from Britain. Sadly, he never did, as an assassin killed him in 1948 a few years before his dream came true.
Today, the Sabarmati Ashram is home to the Gandhi Smarak Sangrahalaya, a museum dedicated to preserving the memory and legacy of Gandhi's life. Within, you can review letters, books, and photos that show the man he truly was.
After that, don't forget to tour other buildings in the ashram complex. In these structures, you'll find places where Gandhi prayed, gave advice to locals, and planned direct action against the Raj.
While in Ahmedabad, learn about a unique way Indians of yesteryear accessed drinking water by visiting the Adalaj Stepwell. Built in 1498 by Queen Rudadevi to honour her passed husband, it is a breathtaking piece of ancient infrastructure.
Built in the Solanki style, this work of sandstone art descends five storeys to the water table. The level of detail in the reliefs, columns, and pillars is astonishing, especially for something so pragmatic. Located 18 kilometres north of Ahmedabad, this attraction is a must-see during your stay.
Those who are into religious landmarks will want to put Akshardham Temple at the top of their list. It is a Hindu temple, but not a mainstream one. Akshardham is the most important place in the Swaminarayan Hinduism – followers believe liberated souls migrate here after death.
The structure will blow you away with the scale of its columns, pillars, and domes. In addition to these features, it boasts an exhibition hall, gardens, and a water/light show in the evening.
Unfortunately, this pink sandstone masterpiece was also a place of terror and sadness in the recent past. On September 24th, 2002, two gunmen attacked during prayers – 33 people died, and 70 were wounded.
However, the Pramukh Swami, the spiritual leader of Swaminarayan Hinduism, made headlines with his response. Instead of lashing out, he acted in a way that promoted peace, harmony, and reconciliation.
The Ahmedabad area is home to another important temple for a prominent Hindu sect – the Hathee Singh Jain Temple. This faith doesn't believe in harming any animal – don't even step on a bug during your visit.
Started by a merchant in the mid-19th century, his wife oversaw its completion in 1848 after he passed away. It is a stunning work, with walls, arches, pillars, statues, and reliefs all carved from white marble. Be sure not to miss the replica of Rajasthan's Victory Tower. In the calm of early morning, it stands out from the rest of the complex.
Other Attractions
Close to a century ago, cars weren't a means to an end – they were a status symbol. At the Auto World Vintage Car Museum in Ahmedabad, you'll get to see classic models from the past century. You can find more than 100 models in this collection – Model Ts, Rolls Royces, and Cadillacs are all represented.
On days when the Indian monsoon season washes away all your sightseeing plans, salvage your day by going to Ahmedabad One. This modern shopping centre boasts 210 stores, a food court with ample selection, and a six-screen multiplex theatre. Do you want all these services at your fingertips? Stay at the Hyatt, as it is across the street from the mall.
Hang out with Ahmedabad locals by heading down to the Sabarmati Riverfront in the evening hours. Once home to shanty towns and uncontrolled dumping, it is now the place to be after work and on the weekend. Here, you'll find families celebrating birthdays, kids flying kites, and walkers/joggers getting their exercise.
Kankaria Lake is another park popular with locals. Created by Sultan Qutb-ud-Din Ahmad Shah II in the 15th century, it remains a gathering place to this day. Markets, a zoo, an amusement park, and various other family-friendly attractions all grace its two-kilometre long shore. Be sure to visit Nagina Wadi, the island at its centre. Once home to a Mughal palace, it now has a fountain known for its light and sound shows.