Al Ain Travel Guide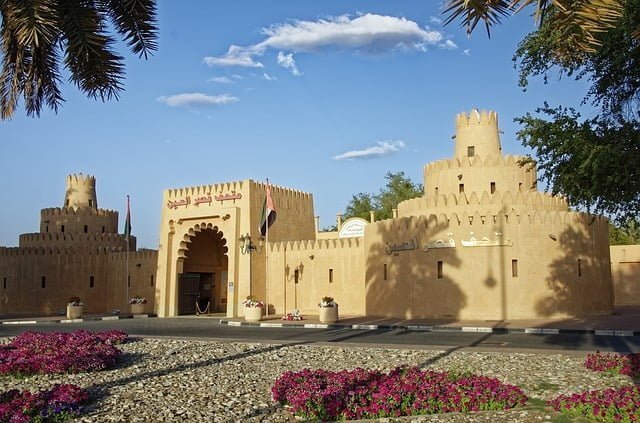 Introduction
There's more to the United Arab Emirates than Dubai or Abu Dhabi. Long before oil-fuelled wealth was a thing, Bedouin tribes populated this region.
Using oases in the Al Ain area, they cultivated dates in addition to maintaining trade routes across the Arabian desert.
In Al Ain, forts, museums, and the wonders of the Emirati desert await you.
Come check out our Al Ain travel guide as we cover the best things to do in Al Ain, United Arab Emirates.
Top Attractions
Start your trip to Al Ain with a visit to the Al Ain Palace Museum. The former home of Sheikh Zayed plays host to this institution, which he occupied up to 1966. This old fort is built in the Bedouin style – appropriate, considering its location out in the Emirati desert.
Throughout its many rooms, you'll see how the founder of the UAE lived in his early days. In the courtyard, you'll find tents commonly used by Bedouin tribes, as well as a period model of the Series II Land Rover. At the end of your time, help yourself to free samples of Arabic coffee. To make the most of your visit, take the guided tour, as it will fill in gaps in your understanding.
Learn about the Emirate of Al Ain by spending a couple of hours at the Al Ain National Museum. Sheikh Zayed opened this institution in 1971, making it the oldest of its kind in the UAE. It houses archaeological finds unearthed by decades of exploration in the Al Ain area.
Notable artifacts include arrowheads, flint tools, weapons, and pottery. Also, you'll find displays that chronicle the evolution of Emirati culture over the ages. Entry to this attraction is free, making it a great place to visit if you're on a budget.
Despite the unforgiving landscape of the Arabian desert, it doesn't lack for threats. To protect local date farmers, ruler Zayed bin Khalifa Al Nahyan commissioned the construction of Al Jahili Fort in 1891. 46-foot high watchtowers complement its walls, which rise 26 feet above the surrounding landscape.
Thanks to diligent refurbishments throughout the years, this structure has won international acclaim. In 2016, it won the Terra Award as the world's best example of Earthen architecture. When you are done admiring this fort's form, be sure to check out an exhibition devoted to Wilfred Thesiger. In the 1940s, this adventurer crossed the Empty Quarter twice and took plenty of photos in the process. As you enjoy the fort, enjoy complimentary dates and coffee, in addition to this attraction's free admission.
In sharp contrast to ultra-modern Dubai and Abu Dhabi, Al Ain is Bedouin country. Watch them haggle over camels and other livestock at the Camel Souk. To take in this spectacle, set your alarm – auctions take place early in the morning. Don't do mornings? You can visit the camels later in the day as well. You'll need to hire a cab to reach this attraction, as it is 25 km outside Al Ain.
Other Attractions
Want to beat the heat while in Al Ain? Jump in the car and make for Jebel Hafeet. It is one of the highest peaks in the UAE, standing almost 4,100 feet above sea level. Up here, the air is more refreshing, and the views over Al Ain are spectacular.
On its lower slopes, you'll find ancient beehive tombs. Created 5,000 years ago, you'll find more than 500 of these structures. Also, keep your eyes open for fossils as you walk in the area. Geologists have made many finds over the years – who knows, you may be the next one!
After coming down from Jebel Hafeet, get in some relaxation at Green Mubazzarah. This place gets its name from the vegetation that grows in the region after a winter rain shower. However, it is best known for the mineral hot spring that bubbles up from the ground here.
Note that it is only deep enough to accommodate feet. However, after a long day hiking in the mountains, it will be a break you'll cherish nonetheless.
Have kids in tow? If so, make time in your schedule for a visit to the Al Ain Zoo. Sheikh Zayed opened this attraction in 1968 at the foot of Jebel Hafeet. Within, you'll find several species endemic to the region – these include the Arabian oryx, Arabian tahr, and sand cats. Additionally, the Al Ain Zoo also houses white tigers, lions, crocodiles, and giraffes.
Later in the day, take a rest in Oasenstadt Al Ain. An oasis is the centrepiece of this city park – as such, it contains plenty of greenery and date palms. With plenty of shade and other attractions nearby, it's a great place to catch your breath during your visit.