Serving as the national capital of Jordan, Amman is a well-ordered city within a peaceful country, which represents completely the opposite of what people expect when thinking about this region. Within its many hills, one can expect to find ruins from the days of the Romans, atmospheric souqs featuring the finest in Jordanian foodstuffs and handicrafts, and charming cafes and restaurants where amazing local cuisine can be enjoyed.
This place hadn't always been the thriving locale it is today though, as it was a much sleepier burg before the occupying Brits dubbed it the capital of Trans Jordan (as the country was then known) in the 1920's.  After this, and then once Israel advanced on Jordan in 1948 and in 1967, the displaced people from what is known as the West Bank moved to Amman to start new lives.
All of this plus the stability of Jordan as a nation have allowed this city to morph into the bustling centre that it is in the present day. While many bemoan Amman for having nothing of interest, it is entirely possible that they are in a rush to get to Petra or the Dead Sea, as those that take a closer look will find plenty of things to love about the Jordanian capital.
Amman City Guide: A Brief History Of Amman, Jordan
Amman is the capital city of Jordan and has a rich history that dates back thousands of years. The city was first inhabited by the Ammonites, who named it Rabbath Ammon. It later became a part of the Seleucid Empire, and then the Nabatean Kingdom. The Roman Empire conquered the city in the 1st century AD and renamed it Philadelphia.
During the Byzantine era, the city became an important Christian center and was the seat of a bishopric. It was also a key location along the trade routes between the Arabian Peninsula, Asia, and Europe.
In the 7th century, the Islamic Rashidun Caliphate took control of the city and it became an important center of Islamic scholarship and learning. The Umayyad Caliphate later made Amman the capital of its province of Bilad al-Sham.
Throughout the centuries, Amman saw various rulers and conquerors, including the Crusaders, Mamluks, and Ottoman Turks. The city remained under Ottoman control until the end of World War I, when it became a part of the British Mandate of Palestine.
Following Jordan's independence in 1946, Amman became the capital of the Hashemite Kingdom of Jordan. The city experienced rapid growth and development during the second half of the 20th century, with a population increase from just 1,000 in the 1920s to over 4 million today.
Today, Amman is a bustling city that blends modern architecture with ancient ruins, offering visitors a glimpse into the rich history of the region.
Amman Top Attractions and Best Places to Visit in Jordan
With a regional history stretching back thousands of years, it shouldn't be terribly surprising that the Romans had a hand in the past history of Jordan and Amman.  Perhaps due to stereotypes surrounding this area of the world though, many find it surprising to find a Roman Theater of excellent condition sitting within the confines of this busy city.
Built into a steep hillside during the second century A.D., it was an excellently constructed facility, allowing for perfect visibility and acoustics even toward the very back of the stands, which have a capacity of roughly 6,000 people. After daydreaming about the visual arts put on in these cultured times, two museums in the rooms preceding the main entrances offer an opportunity to understand the culture of the present, covering the subject matters of local traditions and folklore.
Another Roman era construction worth your time in Amman is the Nymphaeum, a ruins complex that is slowly being uncovered with every passing year. At its peak in 191 AD, this temple paying tribute to the nymphs was festooned with fountains, mosaics, and a centrepiece 600 square metre swimming pool.  At present, it has not been restored to its former glory, though this may change as archeological efforts continue.
Known locally in Arabic as Jabal al-Qal'a, the Amman Citadel is the location of the ancient remains of the fortress walls, temples, tombs and other structures that existed over the seven thousand years of prior history in the Amman area.  Many artifacts from these sites have found their way into the National Archeological Museum, which is found with the premises of this historic area.
Other Cultural Attractions: Trip to Amman, Jordan
If finding a killer deal in the souqs of Amman is high on your list of priorities, taking a stroll through The Balad will go a long way to achieving this end. Situated in the centre of Amman, these stalls containing everything from tea pots to Dead Sea beauty products will vie for your business, and with no posted prices, your knowledge of wholesale prices will definitely come in handy to securing an excellent deal for yourself!
Art lovers will take a liking to the galleries of Darat al Funun, a series of villas that contain many outstanding pieces that combine with a killer view of the lower streets of Amman. This place is an amazing resource for local and visiting artists and their admirers, as this art centre also puts on workshops, films and lectures from visiting experts that those in this genre will find very enlightening.
Finally, if you're looking for a hip area to chill out in before leaving town for Jordan's many attractions outside the capital, spending some time in the Rainbow St area is highly advised. Named for a defunct theatre that used to operate here, the many bars and cafes here will offer a place where you can use caffeine and/or alcohol to while away an afternoon or evening before departing the city for domestic or international destinations.

source: Island Hopper TV on YouTube
Top 10 Things To Do in Amman, Jordan For Visitors
Nestled amid rolling hills and blessed with a rich history and culture, Amman, the capital city of Jordan, has a plethora of experiences to offer to visitors. From exploring ancient ruins and wandering through vibrant markets to indulging in traditional cuisine and taking in the panoramic views, there is no shortage of things to do in Amman. Here are the top 10 experiences to have in this enchanting city:
Visit the Citadel: Perched atop a hill overlooking the city, the Citadel is home to some of the oldest and most significant archaeological sites in Jordan. Wander through the impressive Roman Theatre and the Umayyad Palace and soak in the breathtaking views of the city.
Explore the Roman Amphitheatre: Built in the 2nd century AD, this amphitheatre is an iconic symbol of Amman's Roman heritage. Marvel at the intricate stonework and imagine the gladiators and performers who once graced this ancient stage.
Stroll through Rainbow Street: Lined with boutique shops, trendy cafes, and lively restaurants, Rainbow Street is the place to be for a taste of modern Amman's vibrant and cosmopolitan atmosphere.
Discover the traditional markets: Head to the bustling markets of Downtown Amman and explore the maze-like alleyways filled with handicrafts, spices, and local delicacies. The colorful and aromatic bazaars are a feast for the senses.
Visit the Royal Automobile Museum: Car enthusiasts will love this museum, which showcases the extensive collection of King Hussein's cars, including vintage models and one-of-a-kind vehicles.
Take a cooking class: Jordanian cuisine is renowned for its rich flavors and exotic spices. Learn to cook traditional dishes like mansaf and falafel in a cooking class and savor the flavors of Jordanian hospitality.
Relax at a Turkish Bath: Experience the traditional Ottoman-style of relaxation and pampering at a Turkish bath. Let the steam and heat envelop you as you indulge in a soothing massage and refreshing scrub.
Wander through the Art Galleries: Amman has a thriving art scene, and there are numerous galleries showcasing the works of local and international artists. Admire the paintings, sculptures, and installations and discover the vibrant art community of Amman.
Hike in the Jordanian countryside: Amman is surrounded by rugged hills and mountains, making it an ideal base for hiking and outdoor adventures. Explore the stunning Wadi Rum desert or hike through the lush green hills of Ajloun.
Visit the Dead Sea: Just a short drive from Amman lies the Dead Sea, the lowest point on earth. Float in the mineral-rich waters, slather yourself in healing mud, and marvel at the surreal landscape of this natural wonder.
With its rich history, vibrant culture, and stunning landscapes, Amman is a city that offers something for everyone. Whether you're a history buff, an art lover, or an adventure seeker, you'll find plenty of things to do in this enchanting city.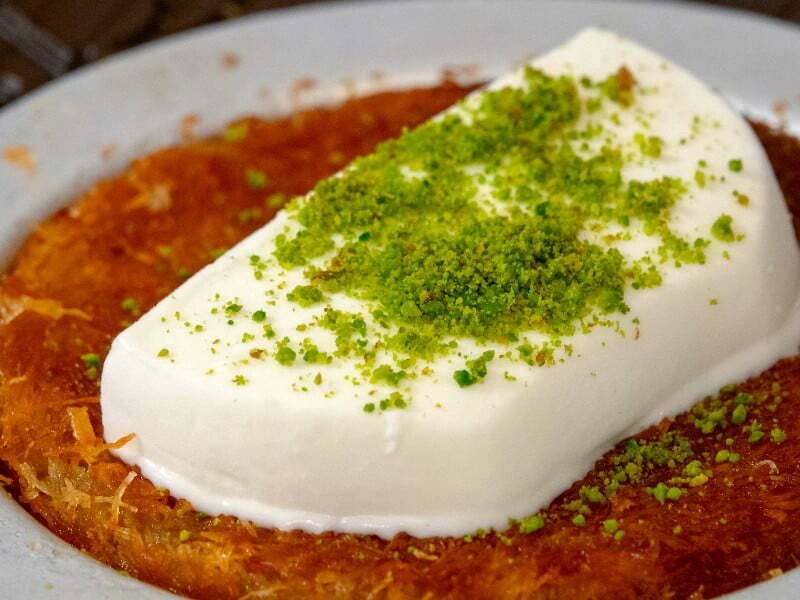 What To Eat and Drink in Amman, Jordan
Amman offers a rich and diverse culinary experience that reflects its unique blend of history, culture, and geography. Here are some of the top dishes and drinks to try during your visit to Amman:
Mansaf: This traditional Jordanian dish consists of tender lamb meat cooked in a creamy sauce of fermented dried yogurt and served on a bed of rice. It is usually eaten with the hands and is often considered the national dish of Jordan.
Falafel: These fried balls of ground chickpeas, onions, and spices are a staple of Middle Eastern cuisine and are particularly popular in Amman. They can be eaten on their own or stuffed into pita bread with hummus and vegetables.
Shawarma: Another popular street food in Amman is shawarma, which is made by grilling thin slices of marinated meat (usually chicken or lamb) and then rolling them into a pita bread with vegetables, sauces, and pickles.
Kanafeh: This sweet pastry is made by layering shredded phyllo dough with sweet cheese and then soaking it in a sweet syrup. It is often served warm and garnished with pistachios.
Kunafa: Similar to kanafeh, this dessert is made with shredded phyllo dough and a cheese filling, but it is baked instead of fried and is typically served with a syrup or honey.
Jordanian mezze: This assortment of small dishes is served as an appetizer and includes hummus, baba ganoush, tabbouleh, stuffed grape leaves, and other savory dips and salads.
Arabic coffee: This strong and aromatic coffee is brewed with cardamom and served in small cups with dates or sweets. It is an important part of Jordanian hospitality and is often served to guests as a welcoming gesture.
Fresh juice: Amman is known for its fresh fruit and vegetable juices, which are made to order and can be found at street stalls and juice shops throughout the city. Popular flavors include orange, carrot, pomegranate, and mixed fruit.
Mint lemonade: This refreshing drink is made by blending fresh mint leaves with lemon juice, sugar, and water. It is perfect for quenching your thirst on a hot day in Amman.
Arak: This traditional alcoholic drink is made from aniseed and is usually served with water and ice. It is a popular choice for social gatherings and is often paired with mezze dishes.
Top Restaurants In Amman, Jordan
Here are some of the top restaurants in Amman worth checking out:
Sufra: Located in the heart of Amman, Sufra offers a contemporary twist on traditional Jordanian cuisine. The menu is filled with classic dishes like mansaf and maqluba, but also includes inventive takes on dishes like hummus and falafel.
Fakhreldin: Known for its elegant atmosphere and fine dining experience, Fakhreldin serves up a mix of Middle Eastern and international cuisine. The menu includes dishes like lamb chops, seafood pasta, and beef tenderloin.
Hashem: A beloved institution in Amman, Hashem has been serving up classic Jordanian dishes for over 50 years. The menu is simple, but the food is delicious and affordable. Don't miss the hummus, falafel, and fuul.
Tawaheen Al Hawa: This family-owned restaurant is known for its authentic Jordanian cuisine, with dishes like stuffed lamb and freekeh. The atmosphere is cozy and welcoming, and the staff are happy to make recommendations.
Beit Sitti: This unique restaurant offers a hands-on cooking experience, where guests can learn to make traditional Jordanian dishes like maqluba and stuffed grape leaves. After the cooking class, guests can enjoy the fruits of their labor with a delicious meal.
Sufism: This elegant restaurant is known for its inventive fusion of Middle Eastern and European cuisine. The menu includes dishes like mushroom risotto and lamb chops with pomegranate sauce.
Joz Hind: If you're looking for a quick and affordable meal, Joz Hind is the perfect spot. The menu includes classic Jordanian dishes like shawarma and falafel, as well as fresh juices and smoothies.
Kan Zaman: This historic restaurant is housed in a restored 19th-century Ottoman mansion, and offers a mix of traditional Jordanian and Levantine cuisine. The menu includes dishes like kebabs, maqluba, and mansaf, as well as vegetarian options.
Levant: This upscale restaurant offers a mix of Lebanese, Syrian, and Palestinian cuisine, with dishes like grilled halloumi and mixed grill platters. The atmosphere is stylish and sophisticated, with a rooftop terrace offering stunning views of the city.
Sufra Restaurant: With a warm and welcoming atmosphere, Sufra offers traditional Jordanian cuisine with a contemporary twist. The menu includes classic dishes like mansaf and musakhan, as well as inventive takes on falafel and hummus. The restaurant also features an extensive selection of Jordanian wines.
Tours For Visitors To Amman, Jordan
Amman is a city with a rich history and culture, and there are plenty of fascinating tours for visitors to explore the best it has to offer. Here are some top tour suggestions for visitors to Amman:
City Tour: A city tour is a great way to get a general overview of Amman's history, culture, and landmarks. You can visit the Roman Theater, the Citadel, the King Abdullah Mosque, and other historical sites.
Food Tour: Amman is a food lover's paradise, and a food tour is an excellent way to sample some of the city's best dishes. You can try traditional Jordanian food like falafel, hummus, and mansaf, and discover some hidden gems in the city's vibrant food scene.
Petra Tour: Petra is one of Jordan's most famous landmarks, and a tour to this ancient city is a must-see for any visitor to Amman. You can explore the ancient tombs, temples, and other structures that make up this UNESCO World Heritage site.
Wadi Rum Tour: Wadi Rum is a stunning desert landscape that has been used as a filming location for many movies. A tour of this area allows visitors to experience the natural beauty of Jordan, including sandstone mountains, canyons, and ancient rock carvings.
Madaba Tour: Madaba is a small town south of Amman that is famous for its mosaics. A tour of Madaba allows visitors to see some of the world's oldest and most intricate mosaic works, including the famous map of Jerusalem.
Jerash Tour: Jerash is an ancient Roman city located north of Amman. A tour of this site allows visitors to explore the well-preserved ruins of temples, theaters, and other structures that date back to the 1st century AD.
Mount Nebo Tour: Mount Nebo is a biblical site located just outside of Amman. A tour of this area allows visitors to see the stunning views of the Jordan Valley and the Dead Sea, and explore the ancient churches and monuments that dot the mountain.
Ajloun Tour: Ajloun is a town north of Amman that is famous for its medieval castle. A tour of this area allows visitors to explore the castle's ruins, as well as the beautiful forests and hills that surround the town.
Baptism Site Tour: The Baptism Site is a biblical site located just east of Amman. A tour of this area allows visitors to see the site where Jesus was baptized by John the Baptist, and explore the nearby monasteries and churches.
Amman by Night Tour: Amman has a vibrant nightlife scene, and a tour of the city by night allows visitors to experience the bustling markets, lively cafes, and other hotspots that come alive after dark.
Amman Accommodations Guide: Hotels, Guesthouses and Hostels
Amman, the capital city of Jordan, is a fascinating blend of ancient history and modernity, and it has much to offer to visitors. When it comes to accommodations, Amman has a wide range of options for every budget and preference, from budget-friendly hostels to luxurious five-star hotels. Here is a guide to help you choose the best accommodation option for your stay in Amman.
Downtown Amman: This area is perfect for travelers who want to be close to the city's major attractions. Here you will find a range of budget-friendly accommodations, including hostels and guesthouses. The area is also known for its lively atmosphere, with plenty of restaurants and cafes.
Jabal Amman: This neighborhood is more upscale than Downtown and is known for its beautiful architecture, narrow streets, and charming cafes. Here, you will find a range of mid-range and luxury hotels, including boutique hotels.
Abdoun: This area is one of the most affluent neighborhoods in Amman and is home to many expats and diplomats. Here, you will find some of the city's most luxurious hotels, including international chains and five-star resorts.
West Amman: This area is ideal for those who prefer a quieter, more suburban atmosphere. It is home to many residential neighborhoods, but there are also a few hotels and guesthouses. West Amman is also known for its green spaces and parks.
Airport Road: This area is perfect for those who need to be close to the airport. It is a relatively new area and is home to a few international hotel chains.
No matter which area you choose, you can expect to find friendly and hospitable staff, comfortable rooms, and a range of amenities to suit your needs. Happy travels!
Day Trips From Amman, Jordan
Amman, the capital city of Jordan, is surrounded by many fascinating sites that make for great day trips. Here are some of the top options:
Petra: A must-visit destination in Jordan, Petra is an ancient city carved into rose-colored rock. It's a UNESCO World Heritage Site and one of the new Seven Wonders of the World. You can easily take a day trip from Amman to Petra, explore the city, and marvel at its magnificent architecture.
Jerash: Known as the "Pompeii of the East," Jerash is one of the most well-preserved Roman cities in the world. Located just an hour's drive from Amman, it's a great place to explore ancient ruins and learn about the history of the region.
Dead Sea: The Dead Sea is the lowest point on earth and a natural wonder that attracts visitors from all over the world. You can take a day trip from Amman to the Dead Sea and enjoy the therapeutic benefits of the mineral-rich water and mud.
Wadi Rum: A unique desert landscape in the south of Jordan, Wadi Rum is a popular destination for adventure enthusiasts. You can take a 4×4 tour or a camel ride to explore the stunning sandstone formations and rock bridges.
Ajloun Castle: Situated on a hilltop overlooking the Jordan Valley, Ajloun Castle is a 12th-century fortress built by the Arab general Saladin to protect against the Crusaders. It's a great place to explore the history of the region and enjoy panoramic views of the surrounding countryside.
Umm Qais: Located in the north of Jordan, Umm Qais is an ancient Roman city that offers breathtaking views of the Sea of Galilee and the Golan Heights. You can explore the ruins of the city and learn about its history.
Madaba: Known as the "City of Mosaics," Madaba is famous for its Byzantine and Umayyad mosaics, including the famous Madaba Map, the oldest surviving map of the Holy Land. You can take a day trip from Amman to Madaba and explore the city's rich cultural heritage.
Dana Biosphere Reserve: For nature lovers, a day trip to the Dana Biosphere Reserve is a must. This protected area is home to a diverse range of flora and fauna, including the rare Nubian ibex and Syrian wolf. You can take a hike through the reserve and enjoy its stunning natural beauty.
Karak Castle: One of the largest and most impressive crusader castles in the region, Karak Castle is a must-visit destination for history buffs. You can explore the castle's many towers and chambers and learn about its fascinating history.
Amman City Tour: Of course, no trip to Amman would be complete without exploring the city itself. You can take a day tour of Amman and visit its many historical and cultural landmarks, including the Citadel, the Roman Amphitheater, and the King Abdullah Mosque.
Amman Transportation Guide
Amman, the capital city of Jordan, offers a variety of transportation options to help visitors navigate the city. Here are some tips to help you get around:
Taxis: Taxis are the most common mode of transportation in Amman. They are easy to find and relatively affordable. Be sure to negotiate the price with the driver before getting in.
Uber/Careem: Ride-hailing services like Uber and Careem are available in Amman and can be a convenient and safe option. They offer both standard and premium options for transportation.
Buses: Amman has a network of public buses that run throughout the city. They are cheap and frequent, but can be crowded and uncomfortable during peak hours.
Rental Cars: Renting a car can be a good option if you plan to explore areas outside of Amman. There are several rental companies in the city, but keep in mind that traffic can be chaotic and parking can be difficult.
Walking: Amman is a very walkable city, especially in the downtown area. Many of the major attractions are located within walking distance of each other, making it easy to explore on foot.
Private Drivers: If you prefer a more personalized experience, you can hire a private driver for the day. This option can be more expensive, but it allows you to set your own itinerary and move at your own pace.
Overall, there are several transportation options available in Amman to help you get around the city and explore all it has to offer.
Where To Visit After Your Trip To Amman?
There are several fantastic destinations to visit after your trip to Amman. Here are some suggestions:
Petra: This ancient city, carved into red sandstone cliffs, is one of the most iconic destinations in Jordan. It's about a three-hour drive from Amman and definitely worth a visit.
Wadi Rum: If you're looking for some adventure, head to Wadi Rum for a unique desert experience. You can take a jeep tour or even spend a night camping under the stars.
Aqaba: This coastal city on the Red Sea is a popular spot for diving and snorkeling. It's also a great place to relax on the beach or explore the nearby mountains.
Dead Sea: This famous saltwater lake is one of the saltiest bodies of water in the world, and its mineral-rich mud is said to have healing properties. You can float in the Dead Sea and visit nearby spas for a luxurious experience.
Jerash: Just an hour's drive from Amman, Jerash is home to some of the best-preserved Roman ruins in the world. You can explore the ancient city and even watch a reenactment of a Roman chariot race.
Madaba: This small town is famous for its Byzantine mosaics, including the famous Madaba Map, a detailed mosaic map of the Holy Land. It's a great place to explore local culture and history.
Dana Biosphere Reserve: If you're looking for some hiking and outdoor adventure, head to the Dana Biosphere Reserve. It's home to diverse wildlife and some stunning natural landscapes.
Ajloun Forest Reserve: This nature reserve is home to some of Jordan's most beautiful forests and wildlife. You can take a hike through the reserve and enjoy some fresh mountain air.
Mount Nebo: This biblical site is said to be the spot where Moses saw the Promised Land. It offers some stunning views of the surrounding area and is a great place to learn about local history and culture.
Umm Qais: This ancient Greco-Roman city offers some fantastic views of the surrounding hills and valleys. You can explore the ruins and learn about the city's history and culture.
Roman Amphitheater: A must-visit for history and architecture lovers, this ancient theater is the most prominent landmark in Amman.
Citadel Hill: Also known as Jabal al-Qal'a, this site contains the ruins of the Temple of Hercules, a Byzantine church, and the Umayyad Palace.
Jordan Museum: A comprehensive museum showcasing the country's history, including archeological finds and ancient art.
Darat al-Funun: A contemporary art gallery showcasing the works of both local and international artists.
Abu Darwish Mosque: A stunning example of Islamic architecture located on the top of a hill, offering fantastic views of Amman.
King Abdullah Mosque: A modern mosque with an impressive blue dome and towering minarets.
Rainbow Street: A trendy street filled with cafes, restaurants, shops, and street art.
Jordan River Baptism Site: A significant religious site where John the Baptist baptized Jesus.
Al-Balad: A historic downtown area featuring traditional architecture, souks, and street vendors.
Royal Automobile Museum: A fascinating museum displaying the extensive collection of cars used by the late King Hussein and his family.
Amman Travel Guide: Final Thoughts
Amman is a captivating destination with a rich history, vibrant culture, and welcoming people. From exploring the ancient Roman ruins to indulging in traditional Jordanian cuisine, there are plenty of things to see and do in Amman.
The city's unique blend of ancient and modern architecture, combined with its bustling markets and lively nightlife, make it a must-visit destination in the Middle East. Whether you're looking to explore the city's historical landmarks or experience its contemporary art scene, Amman has something for everyone.
As you wander through the streets of Amman, you'll be struck by the contrast of the city's ancient ruins and modern buildings. The city's cultural diversity is reflected in its cuisine, with dishes ranging from traditional Arabic fare to international cuisine.
The friendly locals are always eager to share their culture with visitors, making Amman a welcoming and inclusive destination for travelers from all over the world.
Whether you're planning a trip to Amman to explore its rich history or simply to indulge in its vibrant culture and cuisine, you're sure to leave with unforgettable memories and a newfound appreciation for this remarkable city.
In ancient land of Ammon's past, A modern city now stands fast. With hills and ruins, old and new, A world of wonder to pursue.
From citadel high to streets below, The culture's depth begins to show. Souks and mosques, food and art, A feast for senses, a work of heart.
The people kind, the welcome warm, A journey here can do no harm. So come and see, and hear the tales, Of Amman's past, and all that prevails.