Amritsar Travel Guide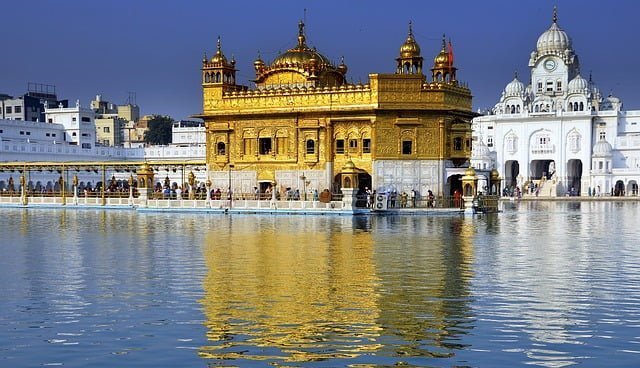 Introduction
Located within proximity to the border, Amritsar will be the first city you'll visit coming from Pakistan. It is a big one, too, as it is home to the Golden Temple, the most significant in Sikhism.
It has also seen unimaginable tragedy – a massacre happened, and it was at the centre of the India-Pakistan partition. In short, don't miss Amritsar on your travels in Northern India.
Come check out our top travel guide to Amritsar as we cover the best things to do in Amritsar, Punjab, India.
Top Attractions
Like Agra, most travellers come to Amritsar for one reason – to see an attraction with worldwide appeal. In this Northern Indian city, that sight is none other than the Golden Temple. Also known as the Sri Harmandir Sahib, which translates into 'Abode of God', it is a sight to behold.
Easily the holiest of all Gurdwaras in Sikhism, pilgrims visit regularly through the calendar year. Its constructors built it around a lake – at its centre sits an inner temple, gilded in gold (hence the name). First completed in 1577 by Guru Ram Das, it has been the target of invaders numerous times. Despite being destroyed and defiled repeatedly, the faithful rebuilt the Gurdwara each time. As a result, it remains a beacon for Sikhs around the world, as well as curious tourists.
Be sure to also stick around for a free meal from their langar. Every day, this kitchen prepares simple vegetarian fare for over 100,000 people. Even as a non-believer, you are welcome to sit and eat with the other pilgrims – don't miss your chance.
Don't leave the grounds of the Golden Temple without checking out the Akal Takht. Over the years, it was here where Jathedars (Sikh head clergy) heard spiritual and earthly concerns. The importance of this building to the Sikh leadership made it a target during Operation Blue Star.
In 1984, the Indian Army descended upon the structure, engaging the armed guards of the Jathedar. The Indian government did this to quash a separatist movement that threatened to create a new region called Khalistan.
Prior visitors to Amritsar have a reason to return, as Gobindgarh Fort is open to the public. Restricted for military use until February 2017, this historic structure has been around since the 18th century. Authorities built the temple to defend the city from invaders and wandering bandits, both significant threats in years past.
Its appearance isn't the only reason to visit – fort managers have hired actors to bring the past to life. Not only can you interact with them, but they also perform a live show in the evening. If you won't be around to catch it, be sure to take in the '7D movie experience' instead.
In central Amritsar, you'll come across a beautiful garden called Jallianwala Bagh. Despite its peaceful, calm atmosphere, it was ground zero for unspeakable horror on April 13th, 1919. In the preceding days, British colonial authorities passed a declaration limiting public gatherings. They had done this to crack down on rising support for Indian independence.
However, colonial authorities have not adequately communicated the ban on public gatherings to the people of Amritsar. On April 13th, people spilt into the Jallianwala Bagh to celebrate Baisakhi (the Sikh New Year). Colonel Reginald Dyer, who was in charge that day, ordered soldiers to open fire on the crowd.
By the time soldiers had fired their last bullet, 379 lay dead, with approximately 1,100 wounded. Today, a memorial honours those who fell. You'll also find markers that show from where soldiers fired, and visible bullet marks on brick walls.
Other Attractions
While in Amritsar, learn about the chaos created by the division of British India at The Partition Museum. In 1947, the UK, in a bid to separate Hindu and Muslims, created Pakistan and East Pakistan (later Bangladesh).
Rather than calm tensions, it created chaos. Overnight, countless millions on both sides of the new borders were forced to pack up their lives and move. They were suddenly subject to violence in what used to be their home, on the road, and in their new country.
When the dust settled, more than one million people had died on both sides. The tension created over this upheaval continues to plague India-Pakistan relations to this day. In this institution, you'll get to take in first-person accounts, see archival footage, and check out displays that bring those chaotic days to life.
If you have time, check out the Durgiana Temple. The most significant Hindu temple in Amritsar, its builder patterned its design after the Golden Temple. This temple honours Goddess Durga (goddess of war), Goddess Laksmi (goddess of wealth), and Vishnu.
Finally, take a moment to get a photograph of the Maharaja Ranjit Singh Statue. This monument honours Maharaja Ranjit Singh, leader of the Sikh Empire in the first half of the 19th century. Found between the Golden Temple and the Partition Museum, it is easy to take in, so don't miss it.