Greetings and welcome to Amsterdam, the city of bikes, canals, and stroopwafels! This vibrant and enchanting city is a true feast for the senses, with its picturesque streets, world-class museums, and lively nightlife.
As you wander the streets, you'll notice the charming architecture of the canal houses, dating back to the Dutch Golden Age. Be sure to take a stroll down the quaint Jordaan neighborhood, with its narrow streets and cozy cafes.
But Amsterdam is not just about sightseeing – it's also a city that embraces pleasure and indulgence. Satisfy your sweet tooth with some delicious Dutch treats like stroopwafels or poffertjes, or indulge in some of the world-famous Dutch cheeses like Gouda or Edam.
In the evening, the city comes alive with its bustling nightlife scene. From trendy cocktail bars to rowdy nightclubs, there's something for everyone. And don't forget to explore Amsterdam's famous coffee shop culture, where you can sample some of the finest cannabis products in the world.
So pack your bags and come explore this vibrant and captivating city – Amsterdam is sure to leave you spellbound!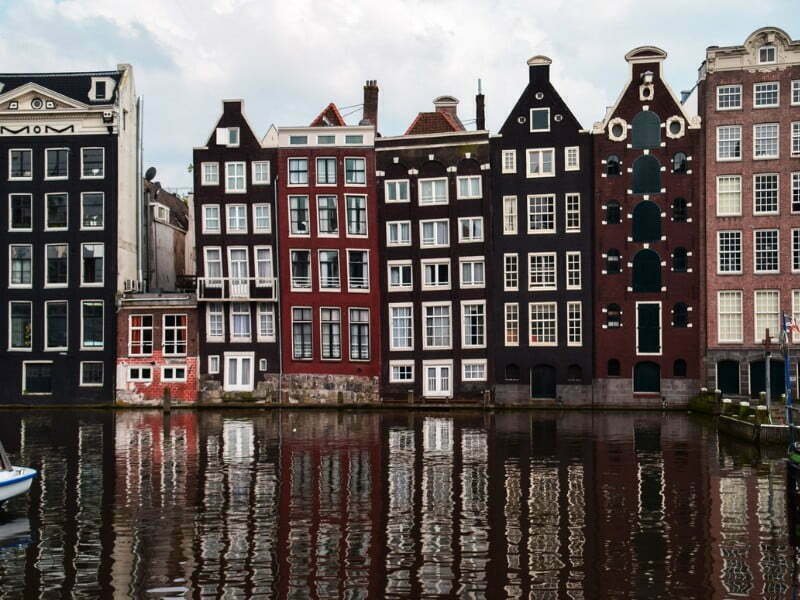 Amsterdam City Guide: A Brief History Of Amsterdam, Netherlands
Amsterdam is a city whose history is as rich and diverse as its architecture. Situated in the heart of the Netherlands, Amsterdam was established in the late 12th century as a small fishing village on the banks of the Amstel River. Over time, the city grew and expanded, becoming a center for trade, culture, and innovation in Europe.
One of the defining moments in Amsterdam's history was during the Dutch Golden Age, which spanned from the late 16th century to the mid-17th century. During this time, Amsterdam emerged as one of the most important centers of global trade and commerce, thanks to its strategic location and its thriving port. This period was also marked by an explosion of artistic and cultural expression, with some of the most iconic masterpieces of Dutch art being produced during this time.
Throughout the centuries, Amsterdam has undergone many transformations, from its development into a hub for finance and business, to its emergence as a cultural capital renowned for its liberal values and progressive attitudes. From the charming, historic streets of the Jordaan district to the futuristic architecture of the Eastern Docklands, Amsterdam remains a city that embraces its past while also looking towards the future.
Amsterdam Top Attractions and Best Places to Visit in the Netherlands
Though it is primarily known by travelers as being a Venice of the North, or as a place to partake in activities that might be considered less than legal back home, Amsterdam is a city filled with culture and beauty for those that actively seek the finer things in life.
While we recommend that you don't ignore the canals, and while we won't judge you if you choose to indulge in a certain plant, the following attractions should be given plenty of room in your itinerary as well, so that you might properly appreciate what the Netherlands' largest city is truly about.
Being the most important city in the Netherlands, it makes sense that a facility of the caliber of The Rijksmuseum exists here.
Serving as the country's national historic and cultural museum, those wishing to learn more about this nation's backstory will want to spend some serious time strolling its hallways.
8,000 pieces of art and artifacts stretching back about 800 years can be found in its exhibits, which contain pieces by Rembrant and the stern of the HMS Royal Charles among its highlights.
Those who only have their taste for fine art awakened by visiting the Rijksmuseum will want to have the Van Gogh Museum next on their list of attractions.
As the name implies, this institution is devoted to the life works of Vincent Van Gogh, who was another one of the many talented artists that this nation has produced over the centuries.
In addition to holding 200 paintings and 400 drawings that he had completed over the years, there are over 700 letters in this museum's archives, which shed light into his personal life.
The Second World War was a horribly tragic event that affected much of Europe and the globe, but in Amsterdam, a teenage girl encapsulated the story of this grim time within the pages of her diary.
She and her family failed in their bid to remain concealed from the Gestapo, and Anne ended up dying in the concentration camps, but her father managed to survive.
Upon recovering her diary, he had it published, turning into one of the best selling books of all time. The building in which they hid in a Secret Annex is known today as Anne Frank House, and is operated as a museum that chronicles the Second World War as her family experienced it, as well as numerous forms of persecution and discrimination that people still suffer in our modern world today.
Other Cultural Attractions: Trip to Amsterdam, Netherlands
If walking amidst the streets of Amsterdam has begun to wear you down, take a break to relax at Vondelpark, one of this city's best loved parks. Many come here to enjoy live theatre through the summer months, as well as picnics and BBQ in the pits scattered throughout the grounds of Vondelpark. If you'd rather have someone else do the hard work instead, there are four restaurants that are tastefully blended into the calming greenery that dominates in this urban oasis.
For those that are unaware, one of the biggest beer brands on the planet was founded in Amsterdam, as Heineken brewed its first batch of beer for sale in 1873 after buying out the owners of what was once the Haystack brewery. 140+ years later, the Heineken Experience details the journey that got them to where they sit in the global beer hierarchy today, as this interactive museum details its path from a microbrew in 19th century Amsterdam to one of the world's giants. Old and present processes that create this brew are explained, and at the end of the tour, two free glasses of its trademark pilsner will be served to every adult above the age of 18.
As fun as it is getting lost amidst the streets of Amsterdam, it's even more fun to do it in the complicated network of waterways that crisscross this metropolis. There are many tour operators that offer canal cruises to some of the most scenic parts of this historic Dutch city, but if you really want a unique travel experience, take advantage of self-hire options that will allow you to explore the canals by yourself. Don't fall in – the water can be a bit on the murky side…!

source: withlocals on YouTube
Top 10 Things To Do in Amsterdam, Netherlands For Visitors
Amsterdam, the capital city of the Netherlands, is a vibrant city that offers endless possibilities for travelers. From its historic canals to its world-class museums, Amsterdam is a must-see destination for any traveler. Here are the top 10 things to do in Amsterdam:
Explore the Canals: Amsterdam is known for its beautiful canals, and exploring them is a must. Take a boat tour, rent a bike, or simply wander the streets to discover the city's stunning waterways.
Visit the Anne Frank House: The Anne Frank House is a moving tribute to one of the most famous victims of the Holocaust. This museum is located in the house where Anne Frank and her family hid during World War II.
Discover the Rijksmuseum: The Rijksmuseum is one of Amsterdam's most famous museums and houses an incredible collection of Dutch art and history. Be sure to see Rembrandt's masterpiece, "The Night Watch."
Visit the Van Gogh Museum: This museum is dedicated to the life and work of Vincent van Gogh, one of the most famous painters in the world. See his famous works such as "The Sunflowers" and "The Bedroom."
Wander through Vondelpark: Vondelpark is a beautiful park in the heart of Amsterdam that offers a peaceful escape from the hustle and bustle of the city. Relax in the grass, go for a jog, or have a picnic with friends.
Shop at the Albert Cuyp Market: This market is a bustling hub of activity where you can find everything from fresh produce to handmade souvenirs. It's the perfect place to pick up a unique gift or a delicious snack.
Explore the Red Light District: This notorious district is home to Amsterdam's legal prostitution and is a popular destination for curious travelers. Take a walk through the area to experience a different side of the city.
Take a day trip to Zaanse Schans: Zaanse Schans is a historic windmill village just outside Amsterdam that offers a glimpse into traditional Dutch life. See working windmills, sample delicious cheese, and explore the charming village.
Visit the Heineken Experience: The Heineken Experience is a museum dedicated to the famous Dutch beer. Learn about the brewing process, sample some beer, and take a tour of the brewery.
Go on a bike tour: Biking is a way of life in Amsterdam, and taking a bike tour is one of the best ways to see the city. Explore the city's famous sights, hidden gems, and charming neighborhoods on two wheels.
These are just a few of the many things to do in Amsterdam. Whether you're interested in history, art, or simply enjoying the city's vibrant atmosphere, Amsterdam is a city that is sure to captivate and inspire.
What To Eat and Drink in Amsterdam, Netherlands
Amsterdam is known for its diverse and delicious food scene. From local Dutch delicacies to international cuisine, the city offers something for every palate. Here are some must-try dishes and drinks in Amsterdam:
Stroopwafel: A beloved Dutch treat, stroopwafels are two thin waffles with a layer of sweet syrup in between. They are best enjoyed freshly made from a street vendor.
Bitterballen: These deep-fried snacks are a staple in Dutch pubs. They are bite-sized balls filled with a hot and savory meat ragout.
Raw herring: A traditional Dutch dish, raw herring is served with chopped onions and pickles. It may sound intimidating, but it's actually quite delicious and worth trying.
Poffertjes: These mini pancakes are served hot and topped with butter and powdered sugar. They are a great snack or dessert option.
Indonesian rijsttafel: Amsterdam's colonial past has left a lasting impact on its food scene, and Indonesian rijsttafel is a perfect example. It's a spread of small dishes, such as satay, curries, and fried rice, that are meant to be shared.
Dutch cheese: Amsterdam is home to many cheese shops, and you can't leave the city without trying some Gouda or Edam cheese. Be sure to try it with some mustard or honey.
Stamppot: This traditional Dutch dish is a hearty mix of mashed potatoes and vegetables, such as kale or carrots. It's often served with sausage or bacon.
Jenever: A Dutch gin, jenever has been around since the 16th century. It's often served with a small glass of beer, and is a popular drink among locals.
Heineken: Amsterdam is home to the famous Heineken brewery, and a visit to the brewery is a must for beer lovers. You can learn about the history of Heineken and enjoy a cold one in the brewery's tasting room.
Dutch apple pie: Made with a buttery crust and filled with sliced apples, cinnamon, and sugar, Dutch apple pie is a delicious dessert that's often served with whipped cream.
Top Restaurants In Amsterdam, Netherlands
Amsterdam, the capital city of the Netherlands, is a gastronomical haven for foodies, with its diverse cuisine and eclectic mix of restaurants. From traditional Dutch cuisine to international flavors, Amsterdam has something to offer for everyone. Here are some of the top restaurants in Amsterdam:
De Kas – This restaurant is situated in a greenhouse and uses freshly picked ingredients from its own garden to prepare delicious meals.
Restaurant Vermeer – This Michelin-starred restaurant serves contemporary French cuisine using fresh, seasonal ingredients.
Breda – This restaurant offers an international cuisine with a Dutch twist, and its dishes are beautifully presented.
Rijks – Located in the Rijksmuseum, this restaurant offers a blend of traditional Dutch and modern cuisine and has an extensive wine list.
Restaurant C – This cozy and intimate restaurant serves a tasting menu of classic French cuisine with a modern twist.
Yamazato – This Japanese restaurant offers traditional Japanese cuisine, including sushi, sashimi, and tempura.
The Seafood Bar – As the name suggests, this restaurant specializes in seafood, with a wide variety of fresh fish and shellfish on the menu.
The Avocado Show – This restaurant serves up creative and Instagram-worthy dishes that all feature avocados, including avocado toast, burgers, and smoothie bowls.
Café Loetje – This restaurant is famous for its tender and juicy steak, which is served with a side of fries and mayonnaise.
Pannenkoekenhuis Upstairs – This restaurant is located in an old Dutch house and serves traditional Dutch pancakes, both sweet and savory.
Whether you're in the mood for some classic French cuisine or want to try some traditional Dutch dishes, Amsterdam has a restaurant to suit your taste buds.
Tours For Visitors To Amsterdam, Netherlands
As one of the most popular tourist destinations in Europe, Amsterdam has a wealth of tours to offer visitors. Whether you're interested in exploring the city's rich history and culture, cruising along its picturesque canals, or indulging in its world-famous nightlife, there's something for everyone.
Canal Cruise – Amsterdam is known for its beautiful canals, and taking a cruise along them is a must-do for any visitor. You'll get a unique perspective of the city as you glide past historic buildings, houseboats, and stunning bridges.
Red Light District Walking Tour – While the Red Light District might not be everyone's cup of tea, it is an integral part of Amsterdam's history and culture. A walking tour with a knowledgeable guide will give you a better understanding of the district's origins and its place in contemporary Dutch society.
Van Gogh Museum – Home to the largest collection of Van Gogh's work in the world, the museum is a must-visit for art lovers. You can view the artist's famous self-portraits, his beautiful landscapes, and some of his lesser-known pieces.
Anne Frank House – The Anne Frank House is a moving tribute to one of Amsterdam's most famous former residents. The museum offers a poignant glimpse into the life of a young girl during the Nazi occupation of Amsterdam.
Bike Tour – Amsterdam is one of the most bike-friendly cities in the world, and exploring the city by bike is a popular activity among locals and tourists alike. You can rent a bike and explore on your own, or join a guided bike tour to see the city's sights.
Heineken Experience – Beer lovers won't want to miss the Heineken Experience, where you can learn about the history of the famous beer brand and even sample some brews for yourself.
Rijksmuseum – The Rijksmuseum is home to a vast collection of Dutch art and history, including works by Rembrandt, Vermeer, and Frans Hals. The building itself is a work of art, with its stunning Gothic and Renaissance architecture.
Food Tour – Amsterdam is home to a wide variety of international cuisine, and a food tour is a great way to experience the city's culinary scene. You can sample traditional Dutch treats like stroopwafels and herring, or explore the city's vibrant street food scene.
A'DAM Lookout – For the best views of Amsterdam, head to the A'DAM Lookout. Located on the top floor of a skyscraper, the lookout offers 360-degree views of the city, as well as an adrenaline-pumping swing that dangles over the edge of the building.
Vondelpark – Amsterdam's largest park is a popular spot for picnics, bike rides, and outdoor concerts. You can rent a bike, take a stroll, or simply relax and people-watch in this beautiful green space.
These are just a few of the many tours and activities available in Amsterdam, and there's sure to be something to suit every taste and budget.
Amsterdam Accommodations Guide: Hotels, Guesthouses and Hostels
Amsterdam is a city that offers a plethora of accommodation options to suit all types of travelers, from backpackers to luxury seekers. Whether you're looking for a budget-friendly hostel or a boutique hotel, there are plenty of options to choose from.
If you're looking for a traditional Dutch experience, then staying in a canal house or a houseboat could be the perfect choice for you. Many of these accommodations offer unique and charming experiences, and the canal houses in particular are quintessential to Amsterdam's identity.
For those who prefer a more luxurious stay, Amsterdam has plenty of high-end hotels and apartments, many of which offer stunning views of the city's canals and skyline. These accommodations often come with upscale amenities, such as spa facilities, fine dining restaurants, and rooftop terraces.
Budget travelers can also find plenty of affordable accommodations in Amsterdam, including hostels, budget hotels, and holiday apartments. Many of these options provide basic amenities and comfortable rooms without breaking the bank.
When choosing your accommodation in Amsterdam, it's worth considering which area of the city you'd like to stay in. The central canal belt is the most popular area for tourists, with plenty of hotels and hostels located along the picturesque canals. The Jordaan neighborhood is also a popular option, with its charming streets and proximity to the city's best attractions.
No matter what type of accommodation you're looking for, Amsterdam has plenty of options to choose from, making it easy to find the perfect place to stay for your trip.
Day Trips From Amsterdam, Netherlands
There are several fantastic day trips that visitors to Amsterdam can take. Here are some options:
Zaanse Schans – This picturesque village is only a short distance from Amsterdam and is famous for its historic windmills, traditional wooden houses, and charming canals.
Keukenhof Gardens – Open from late March to mid-May, the Keukenhof Gardens offer a breathtaking display of tulips and other spring flowers. The park is located just outside of Amsterdam and can be reached by bus or train.
Haarlem – Just a short train ride from Amsterdam, the city of Haarlem is a charming destination with historic architecture, museums, and a vibrant food and drink scene.
Utrecht – This lively university town is known for its stunning cathedral, picturesque canals, and vibrant cultural scene. Utrecht is easily reached by train from Amsterdam.
The Hague – As the seat of the Dutch government and home to many international organizations, The Hague is a fascinating city with world-class museums, stunning architecture, and beautiful beaches.
Rotterdam – Known for its modern architecture and innovative design, Rotterdam is a bustling port city with plenty of cultural attractions and a thriving food scene.
Muiden Castle – Located just outside of Amsterdam, this medieval castle is a fascinating day trip destination. Visitors can tour the castle and explore the beautiful gardens and surrounding countryside.
Enkhuizen – This charming town on the IJsselmeer is home to several historic buildings, a fascinating outdoor museum, and plenty of opportunities for outdoor recreation.
Giethoorn – Known as the "Venice of the Netherlands," Giethoorn is a picturesque village with no roads – instead, visitors can explore the canals by boat or on foot.
Alkmaar – This historic city is known for its traditional cheese market, which takes place every Friday from April to September. Alkmaar also boasts beautiful architecture, historic museums, and lively shopping and dining districts.
Amsterdam Transportation Guide
Amsterdam is a city that is easy to navigate thanks to its extensive public transportation system. The city is famous for its canals, and visitors can take a boat tour or rent a bicycle to explore the city. There are also several modes of public transportation, including trams, buses, and the metro.
The city's public transportation system is run by the GVB, which operates the trams, buses, and metro. The trams are the most popular mode of transportation for tourists, as they provide a scenic view of the city. The metro is another option, and it is especially useful for longer journeys outside of the city center.
Visitors can purchase tickets for the public transportation system at vending machines located at most stations. The OV-chipkaart is a reusable card that can be used to pay for public transportation throughout the Netherlands. This card can be purchased at many locations throughout Amsterdam, including the airport and train stations.
Another popular mode of transportation in Amsterdam is the bicycle. Amsterdam is known for being a bike-friendly city, with a well-developed network of bike lanes and paths. Bicycles can be rented at several locations throughout the city, and many hotels also offer bike rental services.
Taxis are also available in Amsterdam, but they can be expensive. Uber is another option, and it is often cheaper than traditional taxis.
Overall, Amsterdam's public transportation system is convenient and easy to use, making it simple for visitors to explore the city and surrounding areas.
Where To Visit After Your Trip To Amsterdam?
There are many beautiful and interesting destinations to explore after your trip to Amsterdam. Here are 10 suggestions:
Rotterdam: Just an hour away by train, Rotterdam is a modern city with an impressive skyline and a thriving port. Visit the Euromast tower for panoramic views, explore the innovative architecture, and check out the street art scene.
The Hague: The seat of government in the Netherlands, The Hague is home to many museums, parks, and monuments. Take a tour of the Peace Palace, visit the Mauritshuis museum to see Vermeer's Girl with a Pearl Earring, and stroll along the beachfront.
Haarlem: A charming city with beautiful architecture, Haarlem is known for its art museums, cozy cafes, and historic windmills. Rent a bike and explore the surrounding countryside, or take a canal boat tour.
Utrecht: A vibrant university town, Utrecht is full of lively bars, trendy restaurants, and beautiful medieval architecture. Climb the Dom Tower for stunning views, visit the Rietveld Schröder House, or take a boat tour of the canals.
Delft: Famous for its blue and white pottery, Delft is a picturesque town with a rich history. Visit the Royal Delft factory, wander through the beautiful gardens of the Prinsenhof Museum, or take a bike tour of the surrounding countryside.
Kinderdijk: A UNESCO World Heritage Site, Kinderdijk is home to 19 windmills that have been used for centuries to manage water levels in the surrounding landscape. Take a guided tour or explore on your own.
Bruges: Just a short train ride away in neighboring Belgium, Bruges is a beautiful medieval city with winding canals, cobbled streets, and historic buildings. Take a horse-drawn carriage ride, visit the chocolate museum, and sample some of the famous Belgian beer.
Antwerp: Another Belgian gem, Antwerp is a lively port city with a rich cultural history. Visit the Museum Plantin-Moretus to see the world's oldest printing press, explore the Diamond District, or take a stroll through the beautiful botanical gardens.
Cologne: Across the border in Germany, Cologne is famous for its stunning Gothic cathedral, charming Old Town, and bustling shopping streets. Take a river cruise, visit the Chocolate Museum, or climb to the top of the cathedral for breathtaking views.
Paris: Just a few hours away by train, Paris needs no introduction. From the Eiffel Tower to the Louvre Museum, there are countless iconic sights to see in the City of Light. Stroll along the Seine, enjoy a croissant and café au lait at a sidewalk café, and soak up the city's romantic atmosphere.
Brussels, Belgium – Known for its delicious chocolate, waffles, and beer, Brussels is a charming city with a mix of French and Flemish influences. Be sure to visit the Grand Place, the Atomium, and the famous Manneken Pis statue.
Salzburg, Austria – The birthplace of Mozart, Salzburg is a beautiful city known for its baroque architecture, stunning mountain views, and the iconic Hohensalzburg Castle. Take a stroll through the charming Altstadt (Old Town) and indulge in some of the city's famous schnitzel.
Edinburgh, Scotland – A city of rich history and stunning landscapes, Edinburgh is a must-see destination for any traveler. Take a tour of Edinburgh Castle, hike up Arthur's Seat for panoramic views of the city, and explore the Royal Mile for a taste of Scottish culture.
Copenhagen, Denmark – With its colorful buildings, canal views, and world-renowned cuisine, Copenhagen is a city that has it all. Visit the iconic Little Mermaid statue, explore the Tivoli Gardens, and indulge in some of the city's famous smørrebrød (open-faced sandwiches).
Dubrovnik, Croatia – Known as the "Pearl of the Adriatic," Dubrovnik is a stunning coastal city with rich history and beautiful architecture. Walk the ancient city walls, take a cable car up Mount Srđ for panoramic views, and relax on the city's beautiful beaches.
Tallinn, Estonia – A city that perfectly blends medieval charm with modern innovation, Tallinn is a destination like no other. Explore the city's beautiful Old Town, visit the Toompea Castle, and indulge in some of the city's famous black bread.
Marseille, France – With its stunning waterfront views and rich history, Marseille is a city that should not be missed. Visit the iconic Notre-Dame de la Garde, take a stroll through the charming Old Port, and indulge in some of the city's famous bouillabaisse.
Helsinki, Finland – A city that perfectly blends nature with modern design, Helsinki is a destination that will leave you breathless. Visit the stunning Helsinki Cathedral, explore the unique Temppeliaukio Church, and indulge in some of the city's famous rye bread.
Budapest, Hungary – With its stunning architecture, world-renowned spas, and vibrant nightlife, Budapest is a city that has something for everyone. Take a dip in one of the city's famous thermal baths, visit the iconic Fisherman's Bastion, and indulge in some of the city's famous goulash.
Lisbon, Portugal – With its colorful buildings, stunning beaches, and delicious cuisine, Lisbon is a city that will steal your heart. Visit the iconic Belém Tower, take a stroll through the charming Alfama district, and indulge in some of the city's famous pastéis de nata.
Amsterdam Travel Guide: Final Thoughts
Amsterdam is a city that truly captures the heart of anyone who visits. Its vibrant culture, stunning architecture, and relaxed atmosphere make it a must-visit destination for travelers around the world. From the picturesque canals to the famous museums and delicious Dutch cuisine, Amsterdam has something for everyone.
Whether you're a history buff, art lover, or simply looking to relax and enjoy the laid-back lifestyle, Amsterdam has plenty to offer. The city's unique blend of old-world charm and modern innovation make it a one-of-a-kind destination that is sure to leave a lasting impression on anyone who visits.
From the bustling streets of the city center to the peaceful parks and gardens, Amsterdam is a city that is full of surprises around every corner. Its diverse neighborhoods offer a range of experiences, from the trendy bars and restaurants of De Pijp to the quiet streets of Jordaan.
For those looking to experience the best of Amsterdam, there is no shortage of things to see and do. Whether you're exploring the city's iconic museums or simply strolling along the canals, you're sure to find something that will capture your imagination and leave you with memories that will last a lifetime.
Amsterdam, city of canals and bikes A place of art, culture, and never-ending hikes From the Van Gogh museum to Anne Frank's House There's no shortage of sights for curious mouse
Explore the Jordaan's narrow streets And don't forget to grab a bite to eat From stroopwafels to bitterballen You'll never go hungry in this Amsterdam haven
Take a boat tour through the canals so grand And watch the city's beauty on demand Or hop on a bike and ride with the locals Through Vondelpark's green, serene and vocal
The Red Light District, a world of its own An area of Amsterdam that's famously known But there's more to this city than meets the eye Like the Royal Palace, an architectural high
Oh Amsterdam, a city of charm and grace With something for everyone to embrace From history to modern life It's a destination that's truly rife.