Ancona Travel Guide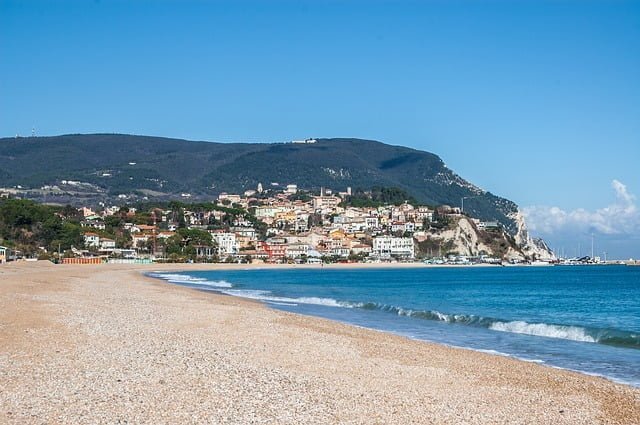 Introduction
Ancona has long been an important port city. However, thanks to its historic centre being lost to bombings in both World Wars, it languishes in the shadow of Rome. However, this off-the-beaten-path destination still boasts churches, monuments, and other sights that are worth a day or two.
Top Attractions
Begin your sightseeing in Ancona by taking in Cattedrale di San Ciriaco. The builders of this basilica laid its foundation in the 11th century, but this place has been here for longer than that. According to archaeologists, a Greek temple honouring Aphrodite existed as far back as the 3rd century BC.
Thanks to countless restorations, this cathedral boasts numerous architectural styles. It was initially built as a Romanesque church but now features Byzantine and Gothic elements. Note that this church sits atop a steep hill – however, you can take a train to the summit for 5 EUR.
San Ciriaco isn't the only Romanesque church in Ancona, though – Santa Maria della Piazza is another excellent specimen. Its builders raised it between the 11th and the 12th centuries, and unlike San Ciriaco, it mostly retains its Romanesque appearance.
However, like its cousin, this church sits atop older sites of worship. Before Santa Maria's building, an older Christian church sat there until the 6th century. So in the basement, you'll find old mosaics that used to reside on the former church's floor.
Learn about the history of the Ancona area by spending some time in Museo Archeologico Nazionale delle Marche. Within its halls, you'll find exhibits that show off artifacts from the prehistoric era through to the times of the Romans.
In these displays, there is everything from tools to jewellery to yarn. However, be aware that not all captions are in English – be sure to have Google Translate handy.
Lastly, be sure to check out Museo Tattile Statale Omero. This museum's curators designed the place to allow those with visual disabilities to experience art. All displays are designed to be touched, making this place a unique attraction.
Other Attractions
Pay your respects to the Italian war dead of WWI by visiting the Monumento ai Caduti. Located near the seashore, it is a beautiful monument that honours those who fell in the First World War. In addition to the striking columns, it also contains inscriptions from Roman-era poets.
At night, this monument is also lit-up. So if you're into photography, this place offers a great venue to practice your night shots.
Next, descend a set of steps from the war memorial to Grotte del Passetto. Located along the seashore at the base of a cliff, they are tunnels burrowed into the bedrock by local fishers. From the early 20th century to the present day, they've served as sheds for their equipment.
These fishers painted the gates of these tunnels a series of brilliant colours. Because of this, they are excellent photo subjects. But even if you aren't big into photography, this spot is a great place to enjoy the seashore with locals, as they often hang out here.
However, as fun as this area can be, it isn't the best place to swim. For that, you'll want to head out to Baia di Portonovo. Out here, you'll find pebble beaches and crystal clear waters. To be clear, this isn't Rimini – you'll want to pack some Aqua shoes.
However, locals love this place, and we think you will too. After enjoying a swim on a hot day, try some local seafood from one of the hole-in-the-restaurants nearby.
End your time in Ancona by spending an evening in Piazza del Plebiscito di Ancona. Along its perimeter, you'll find numerous churches, palaces, and museums. After discovering them, take a seat in a sidewalk cafe and watch Ancona locals go about their lives.
What To Eat/Drink
At some point in your Ancona wanderings, you'll develop an appetite. But if you don't feel like having a full lunch, stop somewhere that serves Salame di Fabriano as a snack. Butchers make this salami from pork shoulder or thigh meat, seasoning it with salt, pepper and sometimes garlic. After that, it gets stuffed in a wine-soaked casing and dried over a fire.
But you'll need something to wash down this treat, so why not go with some local wine? In Ancona, you should get some Lacrima di Morro d'Alba. These wines are mostly dry, but some are sweet. Offering elements of cinnamon and blueberry, it is a fun varietal to try.
Lastly, at dinner time, find a restaurant that serves Brodetto. This meal is a tomato-based seafood stew that features an assortment of ingredients. This is because fishers prepared it with parts of their catch that they couldn't sell. In addition to seafood, onions, garlic, and polenta/bread also accompany this dish.