Located well within the interior of Turkey, Ankara is well off the tourist track. Being the capital of the Republic though, it contains cultural elements that are tragically missed by those unwilling to detour of this nation's beaches and mainstream attractions.
Those looking for an off-the-beaten track experience will not be disappointed though, as the monuments, museums and charming old neighborhoods will reward them for their sense of adventure.
Those seeking out world class attractions should still include this place in their itinerary though, as one of the Middle East's most prominent civilizations had its capital within a short shuttle bus of this modern city. Give Ankara a chance. You'll forget about the slow traffic after visiting any one of the underrated attractions found here.
Ankara City Guide: A Brief History Of Ankara, Turkey
Ankara, the capital of Turkey, is a city with a long and storied history. It has been inhabited for thousands of years, with evidence of human activity dating back to the Paleolithic era. Over the centuries, the city has been ruled by various empires, including the Hittites, Phrygians, Lydians, Persians, Greeks, Romans, Byzantines, and Ottomans.
The city rose to prominence during the Roman era, when it served as a major crossroads on the trade routes between Europe and Asia. After the fall of the Roman Empire, Ankara came under the rule of the Byzantine Empire, which held sway over the region for nearly a thousand years.
In 1073, the Seljuk Turks captured Ankara, and the city became an important center of Islamic culture and learning. The Ottomans captured the city in the 14th century and made it the capital of their empire in the 15th century. During the Ottoman era, Ankara played a key role in the empire's administration and served as a major center of trade and commerce.
Following the collapse of the Ottoman Empire after World War I, Ankara became the capital of the newly established Republic of Turkey. Under the leadership of Mustafa Kemal Atatürk, the founder of the republic, Ankara underwent significant modernization and became the political and administrative center of the country. Today, Ankara is a vibrant and cosmopolitan city, home to millions of people and a thriving cultural, educational, and business hub.
Ankara Top Attractions and Best Places to Visit in Turkey
Being located on the fringes of the Middle East, Turkey has hosted civilizations dating many thousands of years back in history. The Anatolian Civilizations Museum documents the history of human habitation in this part of the world, hosting extensive exhibits of artifacts dating as far back as 10,000 years into the past.
From hunter gatherer tribes to the Assyrians straight through to the Ottoman Turks, the tools, pottery, and statuettes found here can be thought of as the story of humanity itself, reaching back into the earliest days of organized settlement and chronicling the journey to where we find ourselves in the present day.
Those wanting to explore the ancient remains of the Hittite civilization need only take a short shuttle ride from Ankara to Hattusa, which served as its capital during its apex 3,300 years ago. While little remains standing as it was during its glory days, the outlines of temples, defensive ramparts and gates can be easily seen. By hiring a guide, you will be able to fully understand the significance of this once mighty city.
In the wake of the fall of the Ottoman Empire, Turkey began its transition towards becoming a republic. Anıtkabir is a mausoleum that houses the remains of the first democratically elected president, as well as the body of Turkey's second leader.
Defined by its imposing facade and the sweeping courtyard that proceeds in front of it, this site is not merely a place to honor the founders of the Turkic Republic, but to also proclaim the ideals of this nation. Containing symbolic statues, reliefs, and artifacts scattered amidst ten towers, this site is an essential stop for those looking to understand modern-day Turkey.
Other Cultural Attractions: Trip to Ankara, Turkey
Those looking to dive deeper into Turkish history after visiting Anitkabir will want to stop by the Ethnography Museum of Ankara, as it contains displays that offer a deeper insight into the cultures that compose this nation. From clothes to weapons, the origins of Turkish coffee and much more, this highly informative museum lays out the contributions of Turkey to global culture over the many thousands of years of its existence in the world.
Towering on a hill well above the modern city that exists today, the Ankara Citadel is a fortified position that has existed for eons. The date of its construction is a mystery, with guesses ranging from the Middle Ages to the days before the birth of Christ. What isn't in question is the fascination that many have with this weathered outpost, as well as the stunning views it affords of the surrounding area. Be sure to bring plenty of lira with you, as merchants trading in items ranging from carpets to dried fruit ply their trade here. Try your luck at haggling with them and bring home a unique souvenir that your family and friends will love!
End your time in Ankara by spending an afternoon or evening in the Hamamonu Restored Area, which is a world apart from the congested nature of modern Ankara. Possessing architectural styles common in the past couple of centuries, this part of town is a perfect place to sample Turkish cuisine in inspired surroundings, walk amidst narrow streets that exude charm, and shop for unique Turkish handicrafts that will leave you with the perfect reminder of the time you spent in Turkey's capital.

source: Sky Travel on YouTube
Top 10 Things To Do in Ankara, Turkey For Visitors
Here are the top 10 things to do in Ankara:
Anıtkabir: This is the mausoleum of Mustafa Kemal Atatürk, the founder of modern Turkey. It's an important national symbol and a must-see attraction in Ankara.
Kocatepe Mosque: One of the largest mosques in Turkey, Kocatepe Mosque is an impressive structure with a capacity of over 24,000 worshippers.
Museum of Anatolian Civilizations: The museum displays artifacts from various periods of Anatolian history, from the Paleolithic era to the Ottoman period.
Ankara Castle: Built in the 7th century by the Byzantine Empire, the castle is a major landmark in Ankara and offers stunning views of the city.
Atakule Tower: Atakule Tower is a popular observation deck that offers panoramic views of the city. You can also find restaurants and shopping centers in the tower.
Anadolu Medeniyetleri Müzesi: Also known as the Museum of Anatolian Civilizations, it's one of the most important museums in Turkey and showcases the ancient history and culture of Anatolia.
Ulus Square: This is the oldest part of Ankara and has been the city's commercial center for centuries. It's a great place to experience the local culture and enjoy traditional Turkish cuisine.
Gençlik Parkı: A large park in the heart of the city, Gençlik Parkı is a popular spot for picnics, jogging, and other outdoor activities. You can also find a small amusement park and a pond in the park.
Aqua Vega Aquarium: Located in the Armada Shopping Mall, Aqua Vega Aquarium is a great place to see various marine species and learn about marine life.
Ataturk Forest Farm and Zoo: Located in the outskirts of Ankara, Ataturk Forest Farm and Zoo is a popular recreational area with a large zoo, botanical gardens, and a picnic area.
What To Eat and Drink in Ankara, Turkey
Ankara is known for its rich cuisine, influenced by Turkish, Ottoman, and Middle Eastern flavors. Some of the must-try dishes and drinks in Ankara include:
Ankara Tava: This is a traditional lamb or chicken dish that is cooked in a clay pot with potatoes, onions, and tomatoes.
Kebabs: Ankara is famous for its various kebab dishes, including Adana kebab, lamb shish kebab, and Iskender kebab.
Mantı: These are Turkish dumplings filled with spiced minced meat and topped with garlic yogurt and chili sauce.
Lahmacun: This is a Turkish pizza made with thin crust and topped with minced meat, onions, and spices.
Baklava: A sweet pastry made of layers of phyllo dough filled with chopped nuts and sweetened with honey syrup.
Turkish tea: A staple drink in Turkey, tea is usually served in small glasses and is perfect to enjoy with desserts.
Ayran: A traditional yogurt-based drink, Ayran is usually served cold and is perfect to cool down in Ankara's hot summers.
Raki: A popular anise-flavored alcoholic beverage, Raki is often enjoyed as an aperitif or with meals.
Turkish coffee: A strong and flavorful coffee served in small cups, Turkish coffee is a must-try for coffee lovers.
Boza: A thick, sweet, and slightly tangy fermented drink made from wheat or millet, Boza is a unique beverage to try in Ankara.
Top Restaurants In Ankara, Turkey
Still hungry? Let's check out some of the top restaurants in Ankara, Turkey:
Aspava: Aspava is a popular chain of restaurants in Ankara that serves traditional Turkish cuisine. Their specialty is the "döner kebab," a type of meat cooked on a vertical spit and served in a pita bread.
Köşebaşı: Köşebaşı is a high-end restaurant in Ankara that specializes in Turkish cuisine. They have a wide range of dishes on their menu, including grilled meats, mezes, and seafood.
Çıtır Usta: Çıtır Usta is a popular street food joint in Ankara that serves "çıtır kebab," a type of kebab that is crispy on the outside and tender on the inside.
Trilye: Trilye is a seafood restaurant in Ankara that specializes in Aegean cuisine. They have a wide range of seafood dishes on their menu, including grilled octopus, calamari, and shrimp.
Şömine: Şömine is a cozy restaurant in Ankara that has a warm and welcoming atmosphere. They serve a variety of Turkish dishes, including grilled meats, mezes, and stews.
Leman Kültür: Leman Kültür is a trendy café in Ankara that serves breakfast, brunch, and lunch. They have a wide range of dishes on their menu, including Turkish breakfast, sandwiches, and salads.
Ankara Sofrası: Ankara Sofrası is a traditional Turkish restaurant in Ankara that serves hearty, home-style dishes. Their menu includes stews, casseroles, and grilled meats.
Köfteci Yusuf: Köfteci Yusuf is a popular restaurant in Ankara that specializes in "köfte," a type of Turkish meatball. They have a wide range of köfte dishes on their menu, including spicy köfte, cheese-filled köfte, and meatball sandwiches.
Nusr-Et Ankara: Nusr-Et Ankara is a high-end steakhouse in Ankara that is known for its perfectly cooked steaks. They also have a variety of other dishes on their menu, including grilled meats and seafood.
Adana Sofrası: Adana Sofrası is a Turkish restaurant in Ankara that specializes in "Adana kebab," a type of kebab that is spicy and flavorful. They also have a variety of other Turkish dishes on their menu, including mezes and stews.

source: One Pack Wanderers
Tours For Visitors To Ankara, Turkey
There are various tours available for visitors to Ankara, catering to different interests and preferences. Here are some examples:
Ankara Walking Tour: A walking tour is a great way to explore the city and learn about its history and culture. This tour usually covers major landmarks such as Ankara Castle, Anitkabir (Ataturk's Mausoleum), and Kocatepe Mosque.
Anitkabir Tour: For those interested in the life and legacy of Turkey's founding father, a tour of Anitkabir is a must. The tour takes you through the mausoleum's museum, which houses a collection of Ataturk's personal belongings and memorabilia.
Museum Tours: Ankara is home to several museums that are worth a visit, such as the Museum of Anatolian Civilizations, the Ethnographic Museum, and the War of Independence Museum. Guided tours are available for each of these museums.
Food Tours: Ankara has a rich culinary heritage, and a food tour is a great way to experience the city's diverse flavors. The tour usually includes stops at local markets, food stalls, and restaurants, where you can sample traditional dishes and snacks.
Hamam Experience: A visit to a traditional Turkish bathhouse, or hamam, is a unique cultural experience. Many hamams in Ankara offer tours that explain the history and customs of this centuries-old tradition.
Shopping Tours: Ankara is a shopper's paradise, with a variety of markets, bazaars, and shopping malls. A shopping tour can take you to the best places to find traditional Turkish handicrafts, textiles, and jewelry.
Bicycle Tours: Ankara has several scenic bike routes, and a bicycle tour is a great way to explore the city's natural beauty. Some tours even take you outside the city, to nearby lakes and forests.
Wine Tours: Turkey has a burgeoning wine industry, and Ankara is home to several vineyards and wineries. A wine tour takes you through the wine-making process and allows you to sample some of the region's best wines.
Photography Tours: Ankara has many picturesque spots, from its historic landmarks to its natural scenery. A photography tour takes you to the best vantage points and offers tips on capturing the perfect shot.
Nightlife Tours: Ankara has a lively nightlife scene, with a variety of bars, clubs, and music venues. A nightlife tour takes you to the best spots for a night out on the town.
Ankara Accommodations Guide: Hotels, Guesthouses and Hostels
Ankara, the capital of Turkey, is a bustling city that attracts a large number of tourists every year. There are plenty of accommodation options in Ankara to suit all budgets and preferences. Here is a guide to help you choose the best accommodation for your stay in Ankara:
Luxury Hotels: If you are looking for a luxurious stay, Ankara has plenty of 5-star hotels such as Swissotel Ankara, Sheraton Ankara Hotel & Convention Center, and Ankara HiltonSA.
Mid-Range Hotels: If you are on a mid-range budget, there are several 3- and 4-star hotels in Ankara such as Hotel Cinnah, Wyndham Ankara, and Bera Ankara.
Budget Accommodation: Ankara also has plenty of budget accommodation options such as hostels, guesthouses, and apartments. Some of the popular ones are My Apart Ankara, King Hotel Guvenlik, and Eymir Lake Suites.
Airbnb: Airbnb is also a great option if you are looking for a unique and local experience. There are plenty of Airbnb options in Ankara, ranging from private rooms to entire apartments.
Location: Ankara is a big city, so it is important to choose accommodation in a convenient location. The Kavaklidere and Gaziosmanpasa neighborhoods are popular areas for tourists, as they are close to many attractions and have plenty of restaurants and cafes.
Amenities: When choosing accommodation, make sure to consider the amenities offered. Some hotels offer facilities such as a swimming pool, spa, and fitness center, while others offer complimentary breakfast and Wi-Fi.
Reviews: Before booking any accommodation, make sure to read reviews from previous guests. This can give you an idea of the quality of the accommodation and the level of service provided.
Book in Advance: Ankara is a popular destination, especially during peak tourist season. It is recommended to book your accommodation in advance to avoid disappointment.
Safety: Ankara is generally a safe city, but it is always a good idea to choose accommodation in a safe neighborhood and to take necessary precautions to keep your belongings safe.
Hostels: If you're a solo traveler or on a tight budget, hostels are a great option. Ankara has plenty of hostels with dormitory and private rooms, such as Konukevim Ankara, King's Cross Hostel, and Almer Hotel Ankara.
Day Trips From Ankara, Turkey
Ankara is surrounded by numerous interesting destinations for day trips. Here are some popular options:
Göreme National Park: Located in the Cappadocia region, this park is known for its unique landscape, fairy chimneys, and hot air balloon rides.
Hattusa: The former capital of the Hittite Empire, Hattusa is now a UNESCO World Heritage site known for its impressive ruins.
Lake Eğirdir: A beautiful lake surrounded by mountains, perfect for hiking, fishing, and boating.
Safranbolu: A well-preserved Ottoman town with beautiful architecture and cobblestone streets.
Konya: One of the oldest cities in Turkey, Konya is home to the Mevlana Museum, which honors the famous Sufi poet Rumi.
Anıtkabir: The mausoleum of Mustafa Kemal Atatürk, the founder and first president of the Republic of Turkey.
Beypazarı: A charming town known for its traditional Ottoman houses, handicrafts, and local cuisine.
Karain Cave: A prehistoric cave with ancient artifacts and rock formations.
Ihlara Valley: A scenic valley with hiking trails, historic churches, and a river.
Ankara Castle: A historic castle and fortress that offers panoramic views of the city.
Ankara Transportation Guide
Ankara, the capital of Turkey, has a well-developed transportation system, which makes getting around the city quite easy. Here are some modes of transportation available in Ankara:
Metro: Ankara has a modern and efficient metro system with two lines, M1 and M2. The M1 line runs from Kizilay, the city center, to Batikent, while the M2 line runs from Kizilay to Koru. The metro is fast, frequent, and affordable.
Bus: Ankara has an extensive bus network with many lines covering most parts of the city. There are both municipal buses and private buses, with different fare rates.
Minibus (Dolmus): These are shared taxis that operate on specific routes in the city. They are cheaper than regular taxis and are a great option for short distances.
Taxi: Taxis are readily available throughout Ankara, and they are metered. However, make sure the driver turns on the meter before you start your journey.
Ankaray: Ankaray is a light rail system that runs from Dikimevi to AŞTİ. It is faster than buses, and the fare is similar to the metro.
Car Rental: If you prefer to drive yourself, you can rent a car from one of the many rental companies in the city.
Bicycle: Ankara has an expanding network of bicycle lanes, and many people use bicycles for short trips around the city. There are several bike rental services available as well.
Walk: Walking is a great way to explore the city, especially in the old town and city center areas, which have narrow streets and historic buildings.
In summary, Ankara has a range of transportation options to choose from, making it easy to get around and explore the city.
Where To Visit After Your Trip To Ankara?
After visiting Ankara, there are several other destinations worth exploring in Turkey. Here are 10 suggestions:
Istanbul – This vibrant city is home to some of the country's most iconic landmarks, including the Hagia Sophia and Blue Mosque.
Cappadocia – Known for its unique landscape of fairy chimneys and underground cities, Cappadocia is a must-visit destination for nature lovers.
Antalya – This coastal city boasts some of Turkey's most beautiful beaches, as well as ancient ruins and historic landmarks.
Ephesus – This ancient Greek city is home to some of the best-preserved ruins in the country, including the Temple of Artemis.
Pamukkale – This natural wonder features cascading mineral terraces and thermal pools that are said to have healing properties.
Bodrum – A popular vacation spot, Bodrum is known for its beautiful beaches, lively nightlife, and impressive medieval castle.
Fethiye – This seaside town is a great place to enjoy water sports and take in stunning coastal views.
Konya – A center of Islamic culture, Konya is home to the stunning Mevlana Museum and the impressive Karatay Medrese.
Mount Nemrut – This UNESCO World Heritage Site features the ruins of a first-century BC tomb, as well as a stunning collection of giant stone heads.
Black Sea Coast – This region of Turkey is home to lush green forests, stunning waterfalls, and charming seaside towns, making it a great destination for nature lovers and outdoor enthusiasts.
Ephesus: An ancient city located near the Aegean Sea in western Turkey, known for its well-preserved Greek and Roman ruins.
Gallipoli: A peninsula in northwestern Turkey known for its World War I battlefields and memorials.
Safranbolu: A historic town in northern Turkey known for its well-preserved Ottoman-era architecture.
Trabzon: A city on the Black Sea coast known for its historic mosques, monasteries, and natural beauty.
Van: A city in eastern Turkey known for its stunning lake, ancient castle, and Armenian cultural heritage.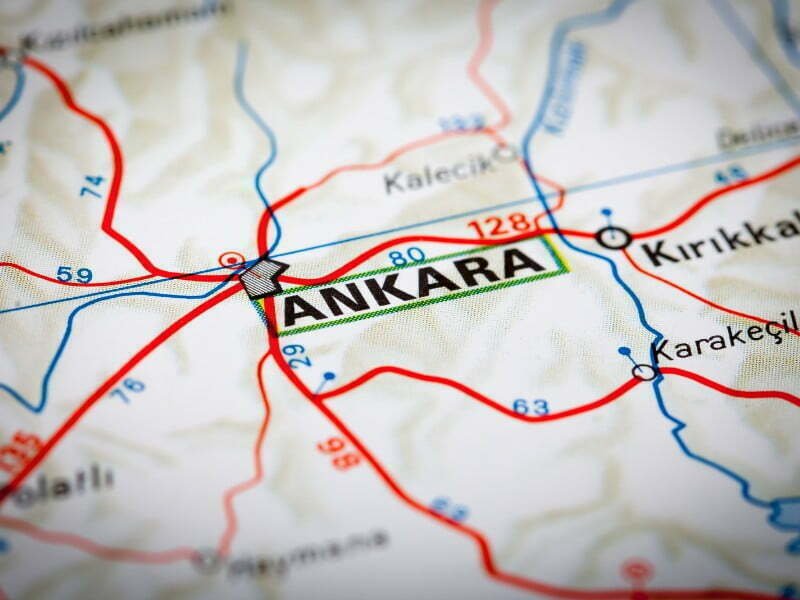 Ankara Travel Guide: Final Thoughts
Ankara may not be the most popular tourist destination in Turkey, but it certainly has a lot to offer. The city is steeped in history, and visitors can explore ancient ruins, impressive museums, and beautiful mosques. The cuisine in Ankara is also worth trying, with a mix of traditional Turkish dishes and modern fusion cuisine. The people of Ankara are friendly and welcoming, making it a great place to visit for anyone looking to experience the culture of Turkey.
While Ankara may not have the same allure as Istanbul or other coastal cities, it is a city with a unique charm that should not be overlooked. Its location in the heart of Turkey makes it an ideal base for exploring the rest of the country, and there is no shortage of interesting day trips to take. From the beautiful natural landscapes of Cappadocia to the ancient city of Ephesus, there is something for everyone in this fascinating and historic country.
In the heart of Turkey, Ankara lies Where ancient history meets modern highs From citadels to museums, there's much to explore With a vibrant culture, you'll never be bored
A city full of life and endless energy A place where everyone can feel free From the bustling markets to the peaceful parks You'll find a true Turkish experience that sparks
The food is amazing, the people are kind The traditions and customs will blow your mind Ankara is a city that will steal your heart And leave you wanting more, right from the start
So pack your bags, and come to Ankara's gate A world of adventure and memories await Let your wanderlust lead the way And embrace everything Ankara has to say.