Welcome to Aomori, a charming city located in the northern part of Japan's main island, Honshu. Known for its unique culture, history, and breathtaking natural scenery, Aomori is a must-visit destination for travelers seeking an authentic Japanese experience.
Aomori is famous for its rich cultural heritage, which is reflected in its many museums, art galleries, and traditional festivals. Its vibrant local food scene is also a highlight, with fresh seafood, delicious apples, and local delicacies like tsugaru-jamisen and nebuta-yaki.
But what truly sets Aomori apart is its natural beauty. From the rugged cliffs of the Tsugaru Strait to the pristine forests of Shirakami-Sanchi, Aomori's landscapes are awe-inspiring. The city is also home to several hot springs, or onsen, where you can relax and unwind while taking in the stunning views.
With so much to see and do, Aomori is the perfect destination for travelers looking to explore Japan off the beaten path. Aomori is more than just the port from which the ferry (and the rail tunnel) to Hokkaido departs.
Home to a nationally famous festival, Neolithic ruins, and outstanding nature, this is a spot that should be on your list of places to visit on a slow north trip towards Hokkaido. Come check out our Aomori travel guide as we cover the best things to do in Aomori, Japan.
Aomori City Guide: A Brief History Of Aomori, Japan
Aomori is a city located in the northern part of Japan, in the Tohoku region. The history of Aomori dates back to the Jomon period, which is considered to be the earliest period in Japan's history. It is said that people lived in the area around Aomori as early as 10,000 BCE, and many artifacts from this time period have been discovered in the area.
During the Edo period (1603-1868), Aomori was an important center for trade and transportation due to its location along the coast of Japan. The city served as a hub for the shipment of goods between northern Japan and other parts of the country. Aomori also played a significant role in Japan's history during the Meiji period (1868-1912), when the city became a major producer of apples, which are still an important crop in the region today.
Throughout the 20th century, Aomori continued to develop and expand as a city, with the construction of new buildings, transportation infrastructure, and cultural institutions. Today, Aomori is known for its rich history, natural beauty, and vibrant culture, making it a popular destination for tourists from around the world.
Aomori Top Attractions and Best Places to Visit in Japan
Plan on travelling to Aomori in the near future? Do your best to time your visit for early August, as it is during this time when the nationally famous Nebuta Matsuri Festival is going off. Throughout the week when this event is occurring, the evening hours will be defined by large, intricate floats that are lit up brilliantly from within.
Accompanied by dancers, musicians, and Taiko drummers, it is a spectacle that draws people from all over the country and is increasingly becoming popular among visiting foreigners. Attendees are invited to join in the dancing, with the only request that you wear a traditional haneto costume.
These can be purchased from local grocery stores for approximately 7000 yen, so if you are feeling bold, this is a great way to participate in the local culture of Aomori.
Those arriving in Aomori outside the time of the festival will still be able to get an idea of what this festival means to the local community by exploring exhibits at the Nebuta Museum. Situated in a stunning building on the waterfront surrounded by curvy red metallic slats, this exhibition space is where you can learn about this event.
This includes getting to see five floats from preceding festivals after they have toured the streets of Aomori for the last time. As you walk through the displays on the second floor, you'll get to see red goldfish lanterns (which are a symbol of this festival) and hear the music and Taiko drumming which give this festival its unique flavour.
Arrive on the weekend, and you may get the chance to see some festival Taiko drummers and dancers perform live for museum attendees.
Civilized life on the islands of Japan dates all the way back to Neolithic times. While in Aomori, check out some of the oldest preserved and restored settlements in the entire country by making a trip out to the Sannai-Maruyama Ruins.
This village was founded during the Jomon period, a time when the people of Japan were simple hunter-gatherers. Here, you'll get to walk into longhouses where villagers once gathered, storage caches, and humble homes.
Check out museum exhibits that don't just let you see Jomon Period clothing, but it also allows you to try on a facsimile of the original finds.
After getting your fill of this immensely historical site, walk next door to the Aomori Museum of Art. Built to resemble the buildings that were unearthed next door, this fine arts institution contains contemporary pieces ranging from massive paintings by Marc Chagall to a giant 8 ½ metre high dog statue.
Other Cultural Attractions: Trip to Aomori, Japan
Get in touch with nature during your visit to Aomori by heading up Mount Hakkoda. A magnet for avid hikers from across the country, it has been lauded as being one of Japan's top 100 peaks. Those wanting to enjoy the view from the top won't need to be in top physical condition to reach the summit, as a tram allows more sedentary visitors to access the alpine heights of this mountain.
In the fall, this peak and surrounding ones get caught up in a blaze of colours, and intense snowfall in winter make this area a great one to hit up for those who are passionate skiers and snowboarders. No matter the season when you visit, be sure to soak your aches away in local hot springs in the area, as there is no better way to end an eventful day in the outdoors.
Get a taste of the local food culture of Aomori by dropping by the Furukawa Fish Market during the early morning hours. While the bounty of the sea is the dominant product available for sale, there are also vegetables one can pick up while they are gathering up the ingredients needed for a meal.
If you want to eat at the market, you can pick up seafood around the market and create your own nokkedon, which is a bowl of cooked rice topped with a number of foods (in this case, seafood).
In previous generations, trains bound for Hokkaido rolled aboard ferries. Travel back to that era by walking onto the Hakkodamaru Memorial Ship. Here, you will learn about the port culture of Aomori, the day to day operations of a vehicle ferry, and the trains that used to go across on the ferry during its heyday.
Need something to do with the kids on a rainy day? Check out the Asamushi Aquarium. With 45 tanks (including some with glass tunnels underneath) containing more than 1,000 marine animals, there is plenty to see here. Don't miss the dolphin show if you have the chance!

source: Top Tourist Places on YouTube
Top 10 Things To Do in Aomori, Japan For Visitors
Aomori is a place of natural and cultural wonders that leaves a lasting impression on every traveler who sets foot on its soil. Whether you're a history buff, a foodie, an outdoor adventurer, or a lover of art and architecture, there is something in this city for you.
From exploring ancient temples to tasting local delicacies, here are the top 10 things to do in Aomori that will help you make the most of your time in this beautiful corner of Japan.
Visit the Nebuta Museum WA-RASSE: This museum showcases the history and art of the famous Nebuta Festival, a summer event in which large illuminated floats are paraded through the streets of Aomori.
Explore Hirosaki Castle: This stunning castle was built in 1611 and is surrounded by cherry blossom trees, making it an especially beautiful sight during sakura season.
Discover the Aomori Bay Bridge: This iconic suspension bridge spans Aomori Bay and provides stunning views of the city and surrounding mountains.
Visit the Sannai-Maruyama Archaeological Site: This ancient site dates back over 5,000 years and provides a glimpse into the lives of Japan's earliest inhabitants.
Take a stroll through the Hakkoda Mountains: This range is known for its beautiful hiking trails and stunning vistas, particularly during the autumn foliage season.
Sample the local cuisine: Aomori is known for its fresh seafood, particularly its scallops and tuna, as well as its delicious apples.
Visit the Aomori Prefectural Museum of Art: This museum houses an impressive collection of contemporary Japanese art, including works by local artists.
Explore the Auga Fresh Market: This lively market is a great place to sample local produce and seafood, as well as pick up souvenirs and gifts.
Attend the Aomori Nebuta Festival: This annual festival takes place in early August and is a lively celebration of traditional Japanese culture, featuring music, dancing, and the famous illuminated floats.
Relax in the Aomori Asamushi Onsen: This hot spring resort is located on the coast and offers stunning views of the sea, as well as a variety of relaxing spa treatments.
What To Eat and Drink in Aomori, Japan
Aomori is famous for its fresh seafood, apples, and sake. Here are some of the must-try dishes and drinks in Aomori:
Nokke-don: a rice bowl topped with fresh seafood, such as salmon, squid, and sea urchin.
Miso soup with scallops: a hearty soup made with local miso and fresh Aomori scallops.
Hittsumi: a traditional Aomori dish of small handmade dumplings served in a hot soup.
Aomori apples: Aomori is Japan's largest producer of apples, so be sure to try some of the local varieties, such as Fuji or Tsugaru.
Sake: Aomori is known for producing high-quality sake, thanks to its cold winters and abundant rice fields. Be sure to try some of the local brews, such as the dry and refreshing Aomori Nebuta Sake.
Hirosaki Neputa: A type of local alcohol made by fermenting apple juice with sake lees, resulting in a fruity and slightly sweet drink.
Sanpachi: A type of local shochu, a distilled beverage made from rice, barley, or sweet potatoes.
Aomori Brewery Beer: A local brewery that produces a range of craft beers, including their popular Aomori Nebuta Ale, made with locally grown hops.
Ika somen: A unique dish of thin slices of raw squid served as noodles, perfect for dipping into a savory sauce.
Hachinohe Senbei-jiru: A hearty soup made with senbei (rice crackers) and vegetables, a traditional dish from the fishing town of Hachinohe.
Here are restaurants to check out in Aomori, Japan:
Ootoya Shimmachidori
Cafe Marron
Michinokuryori Nishimura Aspm
Ippachizushi
Furukawa Market Aomori Gyosai Center Nokkedon
Aji no Sapporo Onishi
Sakanakkui no Den, Shin Aomori Station
Rokube
Kudo Ramen
Tsugaru Jyoppari Isariya Sakaba Aomorihoncho
Tours For Visitors To Aomori, Japan
Aomori, located at the northernmost part of Honshu Island in Japan, is a destination that attracts visitors from all over the world. With its rich cultural heritage, natural beauty, and unique culinary offerings, Aomori has a lot to offer visitors.
One of the best ways to experience all that Aomori has to offer is through tours. There are a wide variety of tours available that cater to different interests and preferences. Here are some of the most popular tours for visitors to Aomori:
Hirosaki Castle and Cherry Blossom Tour
Aomori is known for its beautiful cherry blossoms, and the Hirosaki Castle and Cherry Blossom Tour is the perfect way to experience them. This tour takes visitors to Hirosaki Castle, a famous cherry blossom spot, where they can enjoy the beautiful scenery and learn about the history of the castle.
Nebuta Festival Tour
The Nebuta Festival is one of the most famous festivals in Japan and takes place in Aomori every August. This tour takes visitors to the festival, where they can witness the stunning floats and lanterns that are paraded through the streets.
Seafood Market Tour
Aomori is famous for its seafood, and this tour takes visitors to the local seafood market to sample some of the freshest and most delicious seafood in Japan. Visitors can try a variety of dishes, including sushi, sashimi, and grilled seafood.
Oirase Gorge Tour
The Oirase Gorge is a beautiful natural attraction in Aomori that is perfect for nature lovers. This tour takes visitors on a scenic drive through the gorge, where they can enjoy the beautiful scenery and take a walk along the river.
Tsugaru Shamisen Performance Tour
The Tsugaru Shamisen is a traditional Japanese musical instrument that is unique to Aomori. This tour takes visitors to a performance where they can experience the beautiful sound of the shamisen and learn about its history and cultural significance.
Aomori Apple Orchard Tour
Aomori is famous for its apples, which are considered some of the best in Japan. This tour takes visitors to an apple orchard, where they can pick and taste the delicious fruit.
Samurai Town Tour
Aomori has a rich history of samurai culture, and this tour takes visitors to a town that is famous for its samurai heritage. Visitors can learn about the history of the samurai and experience traditional samurai activities, such as archery and sword fighting.
These are just a few of the many tours available in Aomori. Whether you are interested in nature, culture, or cuisine, there is a tour that will suit your interests. So, if you are planning a trip to Japan, be sure to include Aomori in your itinerary and experience all that this beautiful destination has to offer.
Aomori Accommodations Guide: Hotels, Guesthouses and Hostels
Aomori is a beautiful city located in the northern region of Japan. Known for its scenic beauty, rich history, and delicious local cuisine, it attracts a large number of tourists every year. When planning a trip to Aomori, finding the right accommodation is crucial to ensuring a comfortable and enjoyable stay. With so many options available, it can be overwhelming to choose the perfect place to stay. To help you out, we've put together this Aomori accommodations guide.
Hotel JAL City Aomori
Located in the heart of the city, Hotel JAL City Aomori is a popular choice for tourists visiting the area. It offers modern, spacious rooms with comfortable beds, high-speed internet access, and a range of amenities to make your stay comfortable. The hotel is conveniently located close to the train station, making it easy to explore the city.
APA Hotel Aomori-Ekihigashi
APA Hotel Aomori-Ekihigashi is another excellent option for travelers. It boasts comfortable rooms with modern amenities such as free Wi-Fi, flat-screen TVs, and air conditioning. The hotel is located close to Aomori Station, making it an ideal base for exploring the city.
Toyoko Inn Aomori-eki Shomen-guchi
Toyoko Inn Aomori-eki Shomen-guchi is a great choice for travelers who are looking for affordable accommodation in the heart of the city. The rooms are clean, comfortable, and equipped with all the necessary amenities. The hotel is located within walking distance of Aomori Station, making it an excellent choice for travelers who want to explore the city on foot.
Art Hotel Color Aomori
If you're looking for a more unique and artistic accommodation option, Art Hotel Color Aomori is the perfect choice for you. The hotel features stylish rooms decorated with artwork from local artists. It also has a restaurant, bar, and a gallery showcasing the works of local artists. The hotel is located a short distance from Aomori Station, making it an ideal base for exploring the city.
Hoshino Resorts Aomoriya
For travelers looking for a more luxurious experience, Hoshino Resorts Aomoriya is an excellent choice. It offers spacious rooms with stunning views of the surrounding mountains and forests. The hotel also has a range of facilities such as hot springs, a spa, and a restaurant serving local cuisine. The hotel is located in a secluded area, surrounded by nature, making it the perfect place to relax and unwind.
Hotel Route-Inn Aomori Chuo Inter
Located just outside the city center, Hotel Route-Inn Aomori Chuo Inter is an excellent choice for travelers with a car. The hotel offers comfortable rooms with all the necessary amenities, as well as a restaurant serving delicious local cuisine. The hotel is located close to the highway, making it easy to explore the surrounding area.
Aomori offers a range of accommodation options to suit all budgets and preferences. From budget-friendly options to luxurious hotels, there is something for everyone in this beautiful city. By choosing the right accommodation, you can ensure a comfortable and enjoyable stay in Aomori.
Day Trips From Aomori, Japan
Aomori is a beautiful and historically rich city. With its stunning natural landscapes, delicious cuisine, and numerous cultural attractions, it's easy to see why Aomori is a popular destination for tourists. However, there are also many fantastic day trips you can take from Aomori that will allow you to explore even more of the region. Here are some of the best day trips from Aomori:
Hirosaki Castle: Located just 40 minutes from Aomori by train, Hirosaki Castle is a beautifully preserved castle surrounded by stunning cherry blossom trees. During the cherry blossom season, which usually falls in late April to early May, the castle grounds are transformed into a sea of pink.
Oirase Gorge: Known for its crystal clear streams and lush forests, Oirase Gorge is a must-see destination for nature lovers. The gorge is easily accessible by bus from Aomori and is perfect for hiking and taking in the natural beauty of the area.
Lake Towada: One of the most beautiful lakes in Japan, Lake Towada is located in the Towada-Hachimantai National Park and is surrounded by dense forests and volcanic mountains. The lake is easily accessible by bus or train from Aomori and is a popular destination for hiking and boating.
Hachinohe: Located about 45 minutes from Aomori by train, Hachinohe is a charming coastal city known for its fresh seafood, historic temples, and vibrant festivals. Don't miss the Nebuta Festival, held in early August, which features stunning illuminated floats and traditional Japanese music.
Shirakami Sanchi: A UNESCO World Heritage site, Shirakami Sanchi is a vast forested area located along the border of Aomori and Akita prefectures. The forest is home to a variety of wildlife, including the rare Japanese black bear, and is famous for its beautiful autumn foliage.
Tanesashi Coast: Located in Hachinohe, the Tanesashi Coast is a beautiful stretch of coastline that offers stunning views of the Sea of Japan. The area is known for its rugged cliffs, pristine beaches, and unique rock formations.
Aomori Nebuta Museum: If you're interested in learning more about the famous Nebuta Festival, be sure to visit the Aomori Nebuta Museum. The museum features a variety of exhibits on the festival's history and traditions and even offers workshops where you can create your own Nebuta lantern.
Aomori and its surrounding areas offer a wealth of exciting day trip opportunities. Whether you're interested in nature, history, or culture, there's something for everyone in this beautiful region of Japan.
Aomori Transportation Guide
Aomori is a beautiful prefecture located in the northern part of Honshu, Japan's main island. Getting around Aomori is relatively easy and there are several transportation options available to visitors. Here is a transportation guide to help you navigate Aomori:
Trains: Aomori is well-connected by train services with the rest of Japan. The Tohoku Shinkansen runs from Tokyo to Aomori with stops at other cities like Morioka, Hachinohe, and Shin-Aomori. The Aomori Station is a major hub for several local train lines as well.
Buses: Buses are an affordable and convenient way to travel around Aomori. The prefecture has a comprehensive bus network that covers both urban and rural areas. There are several types of buses available like local buses, express buses, and highway buses. Some of the popular bus routes include the Hakkoda-Maru bus to Mount Hakkoda, the Shimokita Peninsula bus to the northernmost point of Honshu, and the Tsugaru Railway bus to the Tsugaru area.
Taxis: Taxis are readily available throughout Aomori, but they can be quite expensive. They are best suited for short trips around the city or for those traveling in groups. Most taxis have a metered fare, but some may charge a fixed rate for popular tourist destinations.
Rental Cars: Renting a car is a great option for those who want to explore Aomori's countryside or rural areas at their own pace. Several car rental agencies are available at Aomori Station and Aomori Airport. Visitors must have a valid International Driving Permit and be at least 18 years old to rent a car in Japan.
Ferries: Aomori is also well-connected by sea with several ferry services available from the prefecture's ports. The Seikan Tunnel connects Honshu with Hokkaido, and visitors can take a ferry from Aomori Port to Hakodate, a popular tourist destination in Hokkaido.
Airports: The Aomori Airport is the main airport serving the prefecture and is located in the city of Aomori. Several domestic airlines operate flights from Aomori to other parts of Japan, including Tokyo and Osaka.
Aomori has an excellent transportation network that caters to visitors' needs. The train services are efficient, buses are affordable, and rental cars offer flexibility. Visitors should choose the mode of transportation that best suits their needs and budget.
Where To Visit After Your Trip To Aomori?
If you're planning a trip to Aomori, you'll likely have a wonderful time exploring the prefecture's many attractions. But after your trip to Aomori, where should you go next? Here are a few suggestions:
These are just a few of the many destinations you can visit after your trip to Aomori. Whether you're interested in exploring more of Japan's natural landscapes, historic sites, or modern culture, there's something for everyone in Japan.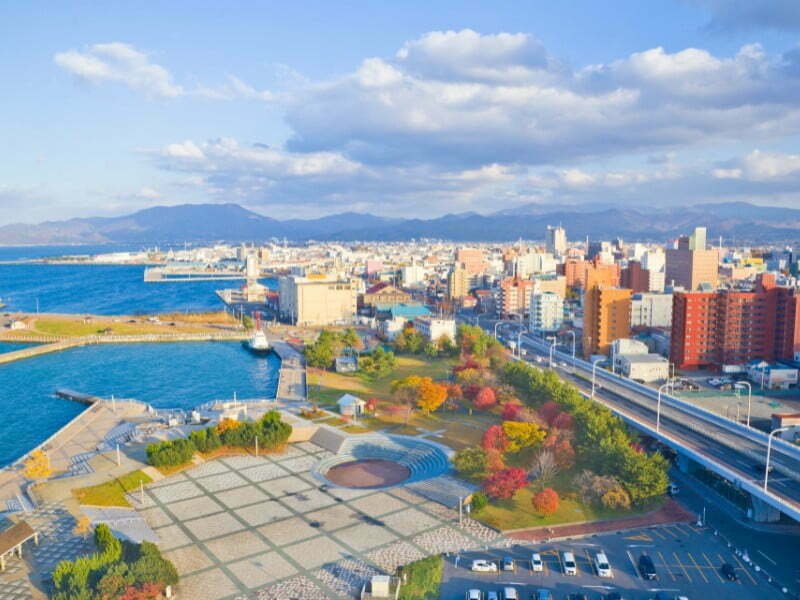 Aomori Travel Guide: Final Thoughts
Aomori is a wonderful destination for anyone looking to experience the natural beauty and rich culture of Japan. From the stunning Hirosaki Castle and its Cherry Blossom Festival to the serene beauty of Lake Towada, there is something for everyone in Aomori.
The local cuisine is also not to be missed, with fresh seafood and delicious regional dishes like nebuta-zushi and apple pie. And with a range of accommodations, transportation options, and day trip possibilities, exploring Aomori and its surrounding areas is easy and accessible.
Whether you're interested in history, art, or simply taking in the breathtaking scenery, Aomori has something for every traveler. So if you're planning a trip to Japan, make sure to include Aomori on your itinerary – you won't be disappointed!
Aomori, land of ancient trees and sea, A place of natural beauty, wild and free. From Hirosaki Castle to the Tsugaru Strait, There's much to see, and it's never too late.
With cherry blossoms in spring, a sea of pink, And snow in winter, a wonder to think. Mt. Hakkoda, where legends say demons roam, And the Nebuta Festival, a sight to bring you home.
Sukayu Onsen, where hot springs abound, And Shirakami-Sanchi, a world heritage to be found. Fujimi Lake, a mirror of the sky, And Osorezan, where souls of the dead lie.
Oirase Stream, a peaceful trail to wander, And Lake Towada, where autumn leaves surrender. Seikan Tunnel, the world's longest rail link, And Sannai-Maruyama, where Jomon history speaks.
Aomori, a land of tradition and pride, Where culture and nature come side by side. Take a trip and you'll never forget, This land of beauty, where your soul will be met.