Welcome to Atlantic City, a captivating seaside resort town nestled along the picturesque Jersey Shore. Known for its vibrant energy, lively casinos, and beautiful beaches, Atlantic City has long been a beloved destination for travelers seeking excitement, entertainment, and relaxation.
Situated on Absecon Island, Atlantic City offers stunning ocean views, a bustling boardwalk, and a plethora of attractions to explore. Whether you're drawn to the exhilarating atmosphere of the casinos, the world-class entertainment, or the outdoor recreational opportunities, there's something for everyone in this dynamic coastal gem.
Step onto the iconic Atlantic City Boardwalk, a four-mile stretch filled with shops, restaurants, and amusement rides. Take a leisurely stroll, breathe in the salty ocean air, and soak up the lively atmosphere. Enjoy a delicious meal at a waterfront restaurant, try your luck at one of the many casinos, or catch a thrilling live show or concert.
Atlantic City is not only a playground for adults but also a family-friendly destination. Bring the kids to the Steel Pier, an amusement park featuring exhilarating rides and games, or visit the Atlantic City Aquarium to discover a fascinating array of marine life.
Of course, the pristine beaches are a major draw in Atlantic City. Sink your toes into the soft sand, soak up the sun, or take a refreshing dip in the Atlantic Ocean. With a variety of beachfront amenities and water activities available, you can create your perfect beach day experience.
For those seeking a break from the excitement, explore the city's rich history and cultural heritage. Visit the Absecon Lighthouse, one of the oldest lighthouses in the country, or immerse yourself in the fascinating exhibits of the Atlantic City Historical Museum.
As the sun sets, Atlantic City comes alive with a vibrant nightlife scene. Dance the night away at trendy nightclubs, enjoy live music performances, or catch a comedy show for some laughs.
With its combination of glitz, glamour, natural beauty, and seaside charm, Atlantic City promises an unforgettable experience for every visitor. So, get ready to be captivated by the energy and allure of this bustling coastal paradise.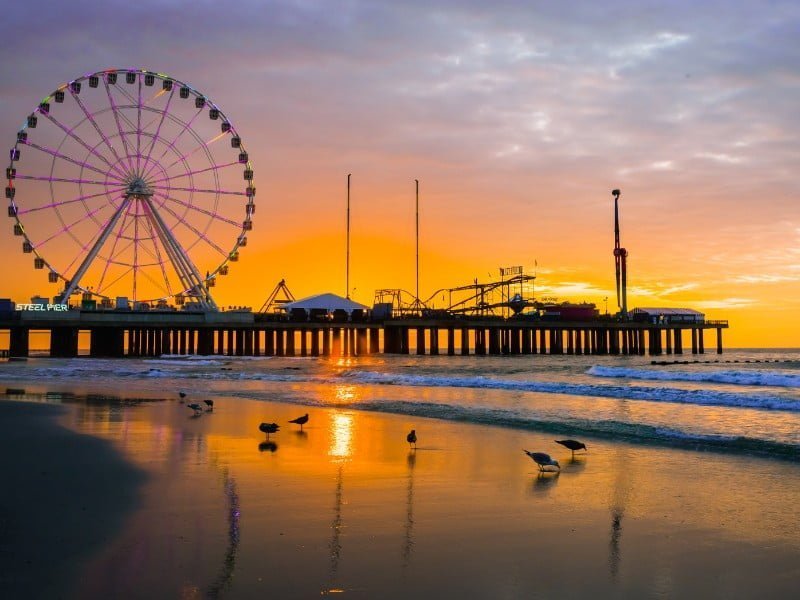 Atlantic City City Guide: A Brief History Of Atlantic City, New Jersey
The history of Atlantic City is a tale of transformation, from a quiet island to a bustling resort town that became a symbol of entertainment and escape. Here is an overview of the history of Atlantic City:
Early Settlement: The area where Atlantic City now stands was originally inhabited by the Lenape Native American tribe. European settlers arrived in the late 17th century, and the city's namesake, Absecon Island, was named after the nearby Absecon Lighthouse.
Development as a Resort: In the mid-19th century, Atlantic City began to develop as a resort destination. Visitors were drawn to the city's pristine beaches, invigorating ocean air, and natural beauty. The Camden and Atlantic Railroad, completed in 1854, made the area easily accessible to tourists.
Boardwalk and First Hotel: In 1870, the world's first boardwalk was constructed in Atlantic City to prevent sand from being tracked into hotels and shops. The same year, the city's first hotel, the Belloe House, opened its doors, initiating the city's transformation into a resort town.
Growth and Prohibition: Atlantic City experienced significant growth in the late 19th and early 20th centuries. Elegant hotels, such as the Marlborough-Blenheim and the Traymore, attracted wealthy visitors seeking luxurious accommodations. However, the enactment of Prohibition in 1920 led to a decline in the city's fortunes as the famous resorts became illegal speakeasies.
Gambling and the Casino Era: In 1976, New Jersey voters approved a referendum legalizing casino gambling in Atlantic City, aiming to revitalize the struggling city. Resorts Casino Hotel became the first legal casino to open in 1978, followed by several others. The introduction of casinos transformed Atlantic City into a popular gambling destination, drawing visitors from near and far.
Decline and Revitalization Efforts: Despite initial success, Atlantic City faced challenges in the late 20th century as neighboring states began legalizing gambling. The city experienced a decline in its casino industry and faced economic struggles. Efforts were made to diversify the city's offerings, including the development of the Atlantic City Convention Center and various entertainment venues.
Ongoing Transformation: In recent years, Atlantic City has undergone a process of revitalization and redevelopment. The city has focused on expanding its entertainment options, hosting events, and diversifying its attractions beyond gambling. Efforts have also been made to improve the city's infrastructure, including the completion of the Atlantic City Gateway Project in 2018.
Today, Atlantic City continues to evolve as a multifaceted destination, offering a mix of casino resorts, entertainment venues, pristine beaches, and a vibrant boardwalk. It remains a symbol of leisure, entertainment, and the allure of the Jersey Shore.
Atlantic City Top Attractions and Best Places to Visit in New Jersey
While Las Vegas may be the self-proclaimed Entertainment Capital Of The World, the idea of getting into an airplane to enjoy the adult delights that this mecca provides can seem like too much work to many East Coasters. In 1853, the first hotels in a rapidly developing beach resort known as Atlantic City opened, taking advantage of some of the choicest beachfront property on the Jersey Shore.
While this means that this town existed well before Vegas broke ground, much of Atlantic City's current appeal and reputation stems from it being the eastern alternative to the former adult paradise. This started to come into being with the imposition of Prohibition in the 1920's, as countless speakeasies quenched the thirst of countless city-folk from both Philadelphia and New York City.
By the time it was lifted, this beachside haven's reputation was firmly established, and when Atlantic City's fortunes began to flag in the middle portions of the 1900's, the approval of legalized casino gambling brought it back from near death, completing its transition into the de facto Vegas of the East.
Like the city it mirrors, Atlantic City has much more to it than poker tables and slot machines; there is a full slate of activities one can pursue here, all within easy reach of two massive megalopolises to its north and south.
Don't rely on HBO's Boardwalk Empire as your source for the backstory of this long time Jersey beach resort. Instead, drop by the Atlantic City Historical Museum, which will fill you in on the story of this burg's colorful characters and businesses, including the real facts behind the reign of Nucky Johnson over Atlantic City's political and business community, who is the central character in the aforementioned television series.
Other features here include factoids on the Monopoly board game, which was based on the streets and real estate of Atlantic City, and the rise of the brand of Mr. Peanut, which was created and sold on the Boardwalk for 40 years before eventually going worldwide.
One fixture that unites and binds coastal communities together are lighthouses, which warn sailors of shoals, reefs, and land that may not be apparent at night. Atlantic City's Absecon Lighthouse is a particularly special specimen, as it is the third tallest of its kind in the United States. Inside this 150+ year old structure, one can find memorabilia from a bygone era, as well as some of the best views of the Atlantic City skyline that can be found in the area.
As this East Coast resort's mojo has returned, so have a flood of A-list entertainers. While many do shows at this cities' casinos, many more pack in the crowds at Boardwalk Hall, a concert venue that will see performers and events as diverse as KISS, Cirque De Soleil, and the Miss America Pageant on its stage through the remainder of 2014.
Other Cultural Attractions: Trip to Atlantic City, USA
A visit to Atlantic City isn't official until you have set foot on The Boardwalk, a promenade that has served as the social locus for this seaside community for generations. Along its length, the Steel Pier (an amusement park set over one thousand feet of water, with rides, restaurants and more) will thrill you with its daring rides, sampling its trademark saltwater taffy will likely give your dentist fits, but will leave your taste buds in a better place, and for those sticking around after park, its critically acclaimed 3D Sound and Light show will dazzle you with the latest in surround sound and video projection magic.
Need to turn over your wardrobe, but unwilling to pay extortionate rates to do so? While the cost of new clothing can add up quickly, Tanger Outlets offers heavy discounts on brand name wear as a direct from factory set of retailers. Tilting the balance even more in your favour is the fact that New Jersey does not tax most forms of clothing, so if your running short on wearable underwear, wait until you come here to stock up!
Finally, this article would not be complete without mentioning the elephant in the room – the fact that Atlantic City is packed with casinos from end to end. Among them, the more famous ones are the Taj Mahal, built by none other than the world-famous real estate mogul Donald Trump, and the Borgata, host to one of the most prestigious poker tournaments in America outside the WSOP, the $3 million dollar guaranteed Borgata Poker Open, as well as some of the best cash games in the city.
If gambling doesn't interest you, you'll probably still spend a fair amount of time in these casinos, as many of best restaurants, nightclubs, and concert venues in Atlantic City can also be found here.

source: ViewCation on YouTube
Top 10 Things To Do in Atlantic City, New Jersey For Visitors
When visiting Atlantic City, there are plenty of exciting activities and attractions to keep you entertained. Here are the top 10 things to do in Atlantic City:
Explore the Atlantic City Boardwalk: Take a leisurely stroll along the iconic boardwalk, lined with shops, restaurants, and amusement piers. Enjoy the ocean views, indulge in some tasty treats, and experience the lively atmosphere.
Hit the Casinos: Try your luck at the famous casinos that have made Atlantic City a gambling destination. Test your skills at blackjack, poker, or roulette, or try your hand at the slot machines.
Relax on the Beaches: Soak up the sun and enjoy the beautiful beaches of Atlantic City. Spread out on the soft sand, take a dip in the Atlantic Ocean, or simply unwind with a good book.
Visit the Absecon Lighthouse: Climb to the top of the historic Absecon Lighthouse, one of the oldest in the United States. Enjoy panoramic views of the city and the coastline from the observation deck.
Take a Ride on the Steel Pier: Experience the thrills and excitement of the Steel Pier amusement park. Enjoy a variety of rides, games, and classic carnival food along this iconic waterfront attraction.
Explore the Atlantic City Aquarium: Discover a fascinating underwater world at the Atlantic City Aquarium. Marvel at the diverse marine life, including sharks, stingrays, and colorful fish, and learn about the importance of ocean conservation.
Catch a Show or Concert: Atlantic City is known for its world-class entertainment. Catch a live performance, concert, or comedy show at one of the many venues, such as the Borgata Event Center or the Hard Rock Hotel & Casino.
Shop at Tanger Outlets: Find great deals and shop till you drop at the Tanger Outlets, located near the Boardwalk. Explore a wide range of stores offering designer brands, apparel, accessories, and more.
Dine at Top Restaurants: Atlantic City boasts a diverse culinary scene with an array of dining options. Indulge in fresh seafood, enjoy gourmet cuisine, or savor international flavors at the city's top-rated restaurants.
Experience Nightlife: Atlantic City comes alive after dark with vibrant nightlife options. Dance the night away at trendy nightclubs, enjoy live music performances, or try your luck at a late-night poker tournament.
These top 10 things to do in Atlantic City offer a mix of entertainment, relaxation, and exploration, ensuring a memorable experience in this lively seaside destination.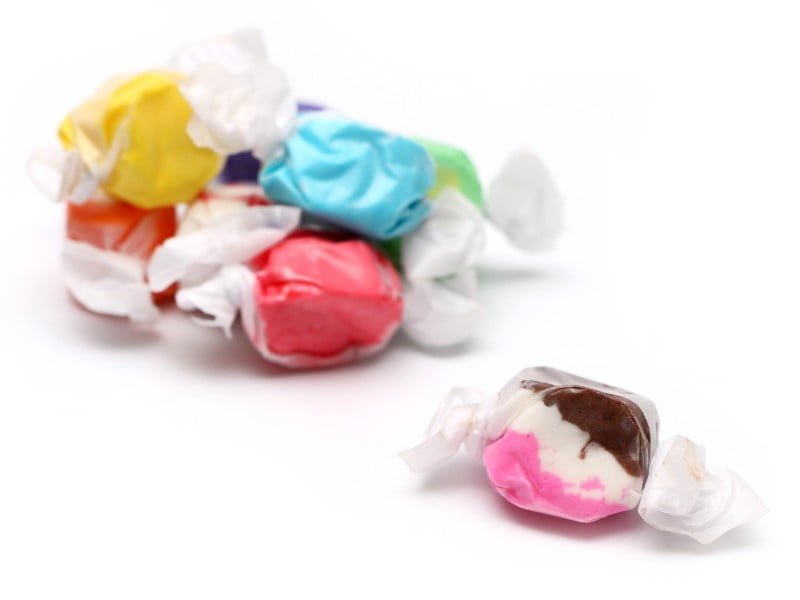 What To Eat and Drink in Atlantic City, USA
When it comes to food and drink, Atlantic City offers a diverse culinary scene that caters to all tastes. Here are some must-try dishes and beverages in Atlantic City:
Saltwater Taffy: No trip to Atlantic City is complete without indulging in the city's famous saltwater taffy. Sample an assortment of flavors from the many candy shops along the Boardwalk.
Fresh Seafood: As a coastal city, Atlantic City is renowned for its fresh seafood. Enjoy dishes like steamed clams, crab cakes, lobster, and locally caught fish prepared in various styles at the city's seafood restaurants.
Boardwalk Treats: Satisfy your sweet tooth with classic boardwalk treats like funnel cake, caramel popcorn, soft-serve ice cream, and deep-fried Oreos.
Italian Cuisine: Atlantic City has a strong Italian influence, and you'll find excellent Italian restaurants throughout the city. Indulge in homemade pasta dishes, wood-fired pizzas, and traditional Italian desserts like cannoli and tiramisu.
Buffets: Atlantic City is known for its expansive casino buffets. Enjoy an array of international cuisines, from Asian specialties to American comfort food, with all-you-can-eat options at the city's top casino resorts.
Craft Cocktails: Atlantic City boasts a vibrant craft cocktail scene. Visit one of the mixology-focused bars or lounges to enjoy expertly crafted cocktails made with fresh ingredients and unique flavor combinations.
Boardwalk Lemonade: Stay refreshed with a classic boardwalk lemonade, a popular and refreshing beverage available in various flavors like original, strawberry, or blueberry.
Irish Pub Fare: Atlantic City has a strong Irish heritage, and you'll find several Irish pubs serving up hearty fare like fish and chips, shepherd's pie, and bangers and mash. Pair your meal with a pint of Guinness or a whiskey flight.
Casino Steakhouse: Treat yourself to a mouthwatering steak at one of the upscale steakhouses within the city's casinos. Savor prime cuts of meat cooked to perfection, accompanied by flavorful sides and a selection of fine wines.
Craft Beer: Atlantic City has a growing craft beer scene, with breweries and brewpubs offering a variety of locally brewed beers. Visit a brewery or beer bar to sample a range of craft beers, from hoppy IPAs to rich stouts.
These culinary delights and libations showcase the diverse flavors of Atlantic City, from classic boardwalk treats to upscale dining experiences. Whether you're seeking seafood, Italian cuisine, pub fare, or craft beverages, Atlantic City has something to satisfy every palate.
Top Restaurants In Atlantic City, USA
Atlantic City is home to a wide array of restaurants that offer diverse culinary experiences. Here are some top-rated restaurants in Atlantic City:
Chef Vola's: This hidden gem is a local favorite known for its classic Italian dishes, warm ambiance, and exceptional service. Make sure to reserve well in advance, as this cozy spot fills up quickly.
Dock's Oyster House: A historic seafood restaurant established in 1897, Dock's Oyster House serves up fresh seafood and traditional American fare. Indulge in their famous oysters, clams, and crab dishes in an elegant setting.
Buddakan: Located within the Pier Shops at Caesars, Buddakan is a trendy Asian-inspired restaurant with an upscale atmosphere. Enjoy creative Asian fusion cuisine and innovative cocktails in a visually stunning space.
Chef Jose Garces' Amada: Experience authentic Spanish cuisine at Amada, helmed by Iron Chef Jose Garces. The menu features a variety of tapas, paellas, and other traditional Spanish dishes in a lively and vibrant setting.
The Iron Room: For a unique dining experience, head to The Iron Room, a gastropub that offers a wide selection of craft beers, fine wines, and spirits. Their menu features delicious small plates and inventive dishes.
Knife & Fork Inn: Housed in a historic building dating back to 1912, Knife & Fork Inn is known for its elegant ambiance and delicious steaks and seafood. Enjoy classic American cuisine and excellent service in a refined setting.
Cafe 2825: This family-owned Italian restaurant in the heart of Atlantic City serves up traditional Italian dishes with a modern twist. From homemade pasta to seafood and meat entrees, Cafe 2825 offers an authentic taste of Italy.
Olón: Located in the Tropicana Casino and Resort, Olón offers a vibrant atmosphere and a menu inspired by the flavors of coastal Ecuador. Enjoy fresh seafood, ceviche, and Latin American-inspired dishes in a stylish setting.
Chart House: Situated on the waterfront in the Golden Nugget, Chart House offers breathtaking views and a menu featuring fresh seafood and prime steaks. Dine while enjoying panoramic views of the marina and skyline.
Angelo's Fairmount Tavern: A local institution since 1935, Angelo's Fairmount Tavern serves up classic Italian-American cuisine in a warm and inviting setting. Enjoy their signature pasta dishes, seafood, and mouthwatering desserts.
These top-rated restaurants in Atlantic City offer a range of culinary experiences, from classic Italian fare and fresh seafood to Asian fusion and gastropub delights. Each establishment provides a unique dining experience and showcases the diverse flavors of the city.
Tours For Visitors To Atlantic City, USA
When visiting Atlantic City, there are several tours available that can enhance your experience and provide a deeper understanding of the city's history, culture, and attractions. Here are some popular tours for visitors to Atlantic City:
Walking Tours: Join a guided walking tour to explore the city's iconic attractions and landmarks. Learn about the history of the Boardwalk, visit historic sites, and discover hidden gems while a knowledgeable guide shares fascinating stories and insights.
Food Tours: Embark on a culinary adventure with a food tour of Atlantic City. Sample a variety of local dishes and specialties from popular restaurants, bakeries, and food stands along the Boardwalk or in different neighborhoods.
Casino Tours: Get an insider's look into Atlantic City's famous casinos with a casino tour. Learn about the history of gambling in the city, explore different gaming areas, and gain insights into the casino industry from knowledgeable guides.
Dolphin-Watching Tours: Take a boat tour along the coast of Atlantic City to spot dolphins in their natural habitat. Enjoy the scenic views of the ocean and learn about the local marine life from experienced guides.
Helicopter Tours: Experience Atlantic City from a new perspective with a thrilling helicopter tour. Soar above the city's skyline, coastline, and iconic landmarks, taking in breathtaking views that you won't get from the ground.
Sunset Cruises: Relax and enjoy the beauty of the Atlantic Ocean with a sunset cruise. Set sail on a boat, yacht, or catamaran, and witness a stunning sunset while taking in the coastal scenery.
Sightseeing Bus Tours: Hop on a sightseeing bus tour to explore the highlights of Atlantic City. Visit famous landmarks, learn about the city's history, and enjoy commentary from knowledgeable guides as you travel through the city's streets.
Trolley Tours: Jump on a trolley tour to discover Atlantic City's attractions and neighborhoods. These guided tours offer a convenient way to explore the city's key points of interest, including the Boardwalk, historic sites, and local hotspots.
Ghost Tours: For those intrigued by the paranormal, join a ghost tour to uncover the haunted history of Atlantic City. Walk through dimly lit streets, hear chilling stories of ghostly encounters, and visit sites with a reputation for paranormal activity.
Wine and Brewery Tours: Indulge in a wine or brewery tour to experience the local beverage scene. Visit wineries or craft breweries in and around Atlantic City, learn about the production process, and sample a variety of wines or beers.
These tours provide unique perspectives and insights into different aspects of Atlantic City, allowing you to delve deeper into its history, culture, and natural beauty. Whether you're interested in food, history, entertainment, or adventure, there's a tour to suit every interest in Atlantic City.
Atlantic City Accommodations Guide: Hotels, Guesthouses and Hostels
When it comes to accommodations in Atlantic City, you'll find a range of options to suit different preferences and budgets. Whether you're looking for luxurious resorts, beachfront hotels, or budget-friendly options, Atlantic City has something for everyone. Here's a guide to help you choose the right accommodations for your stay:
Casino Resorts: Atlantic City is known for its casino resorts, which offer a wide array of amenities and entertainment options. These resorts often feature luxurious accommodations, multiple dining options, lively casinos, spa facilities, and entertainment venues. Popular choices include Borgata Hotel Casino & Spa, Caesars Atlantic City, Tropicana Atlantic City, and Harrah's Resort Atlantic City.
Beachfront Hotels: Enjoy the convenience of staying right on the beach with one of Atlantic City's beachfront hotels. These properties offer stunning ocean views and easy access to the sand and surf. The Ocean Casino Resort, The Claridge – A Radisson Hotel, and The Showboat Hotel Atlantic City are a few options to consider.
Boardwalk Hotels: If you prefer to stay closer to the action, consider a hotel located directly on the Atlantic City Boardwalk. This allows you to be in the heart of the city's vibrant atmosphere, with easy access to shops, restaurants, and attractions. Some popular boardwalk hotels include Resorts Casino Hotel, Hard Rock Hotel & Casino Atlantic City, and Bally's Atlantic City Hotel & Casino.
Non-Casino Hotels: If you prefer a more relaxed atmosphere or want to explore beyond the casino scene, Atlantic City also offers non-casino hotels. These properties provide comfortable accommodations without the casino environment. The Chelsea Pub and Inn, Courtyard by Marriott Atlantic City Beach Block, and The Water Club Hotel are a few options in this category.
Budget-Friendly Options: For those seeking more affordable accommodations, there are budget-friendly hotels and motels available in Atlantic City. These properties often offer comfortable rooms, basic amenities, and convenient locations. Examples include Days Inn by Wyndham Atlantic City Beachblock, Super 8 by Wyndham Atlantic City, and Econo Lodge Beach and Boardwalk.
Vacation Rentals: If you're traveling with a group or prefer the comforts of a home-like setting, consider booking a vacation rental in Atlantic City. Many vacation rental platforms offer a variety of properties, from apartments to beachfront houses, providing more space and flexibility.
When selecting accommodations, consider factors such as location, amenities, budget, and personal preferences. Additionally, be sure to check for any special promotions or package deals that hotels may offer. Keep in mind that rates can vary depending on the season, so it's advisable to book in advance, especially during peak travel times.
With its diverse range of accommodations, Atlantic City provides options to suit various tastes and budgets, ensuring a comfortable and enjoyable stay in this exciting seaside destination.
Day Trips From Atlantic City, New Jersey
If you're looking to venture beyond Atlantic City and explore the surrounding area, there are several fantastic day trip options available. Here are some popular day trips from Atlantic City:
Cape May: Located at the southern tip of New Jersey, Cape May is known for its picturesque Victorian architecture, beautiful beaches, and charming town center. Explore historic Cape May Point State Park, visit the Cape May Lighthouse, and enjoy the laid-back atmosphere of this coastal gem.
Ocean City: Just a short drive north of Atlantic City, Ocean City offers a family-friendly atmosphere and a vibrant boardwalk lined with shops, eateries, and amusements. Relax on the sandy beaches, play mini-golf, or indulge in some delicious saltwater taffy.
Brigantine Beach: Located just across the Absecon Inlet from Atlantic City, Brigantine Beach is a peaceful and pristine stretch of shoreline. Enjoy a quieter beach experience, go fishing off the jetty, or explore the natural beauty of the Edwin B. Forsythe National Wildlife Refuge.
Historic Smithville: Step back in time at Historic Smithville, a charming village located about 30 minutes from Atlantic City. Stroll through the cobblestone streets, browse unique shops, and dine at quaint restaurants. Don't miss the weekly festivals and events held in the village throughout the year.
Edwin B. Forsythe National Wildlife Refuge: Nature lovers can visit this expansive wildlife refuge located a short drive from Atlantic City. Explore the various trails and observe a diverse range of bird species and other wildlife in their natural habitats.
Renault Winery: Wine enthusiasts can head to Renault Winery, New Jersey's oldest active winery, located in Egg Harbor City. Take a tour of the winery, enjoy wine tastings, and dine at the on-site restaurant.
The Noyes Arts Garage: Art enthusiasts should consider a trip to The Noyes Arts Garage in Atlantic City. This former automotive garage now houses art galleries, studios, and shops showcasing the work of local artists.
Edwin B. Forsythe National Wildlife Refuge: Nature lovers can visit this expansive wildlife refuge located a short drive from Atlantic City. Explore the various trails and observe a diverse range of bird species and other wildlife in their natural habitats.
Edwin B. Forsythe National Wildlife Refuge: Nature lovers can visit this expansive wildlife refuge located a short drive from Atlantic City. Explore the various trails and observe a diverse range of bird species and other wildlife in their natural habitats.
Edwin B. Forsythe National Wildlife Refuge: Nature lovers can visit this expansive wildlife refuge located a short drive from Atlantic City. Explore the various trails and observe a diverse range of bird species and other wildlife in their natural habitats.
These day trip options from Atlantic City offer a mix of natural beauty, historical charm, and family-friendly attractions. Whether you're seeking relaxation, outdoor adventures, or cultural exploration, you'll find something to suit your interests within reach of Atlantic City.
Atlantic City Transportation Guide
Getting around Atlantic City is relatively easy, thanks to its accessible transportation options. Here's a transportation guide to help you navigate the city:
Walking: Atlantic City's main attractions, such as the Boardwalk, casinos, and shopping areas, are within walking distance of each other. Walking is a convenient and enjoyable way to explore the city, especially if you're staying in the central area.
Jitneys: Jitneys are small buses that operate along designated routes in Atlantic City. They provide an affordable and efficient mode of transportation, with fixed fares for each ride. Look for the "Jitney" signs at various stops throughout the city.
Taxis: Taxis are readily available in Atlantic City, and you can easily hail them from the street or find them at designated taxi stands. Make sure the taxi is licensed and has a functioning meter. It's a good idea to agree on the fare or ask for an estimated cost before starting your journey.
Ride-Sharing Services: Popular ride-sharing services like Uber and Lyft operate in Atlantic City. Simply download the respective app on your smartphone, set your location and destination, and request a ride. This option offers convenience and flexibility for getting around the city.
Bicycles: Atlantic City has bike-friendly areas, especially along the Boardwalk. You can rent bicycles from various rental shops or consider using bike-sharing services if available. Exploring the city on a bike allows you to cover more ground while enjoying the scenic views.
Atlantic City Jitney Association (ACJA) Shuttle: The ACJA Shuttle is a free transportation service that operates within Atlantic City's tourism district. It connects various casinos, hotels, and attractions, making it a convenient option for moving around the area.
Car Rentals: If you prefer the flexibility of having your own vehicle, several car rental companies have locations in Atlantic City. Renting a car allows you to explore the city at your own pace and also provides the opportunity for day trips to nearby attractions.
Atlantic City Express Service (ACES): If you're traveling to Atlantic City from Philadelphia or other nearby cities, consider the ACES train service. This direct train service offers a convenient and comfortable way to reach Atlantic City without the hassle of driving.
It's worth noting that parking in Atlantic City can be limited and expensive, especially in popular areas like the Boardwalk and casino districts. If you choose to drive, make sure to familiarize yourself with parking regulations and availability in advance.
With these transportation options, navigating Atlantic City and getting to its various attractions should be a breeze, allowing you to make the most of your time in this vibrant seaside destination.
Where To Visit After Your Trip To Atlantic City?
After your trip to Atlantic City, there are several nearby destinations worth visiting to continue your exploration of the region. Here are some places you can consider:
Philadelphia, Pennsylvania: Located about an hour drive from Atlantic City, Philadelphia offers a wealth of historical and cultural attractions. Visit iconic landmarks such as Independence Hall and the Liberty Bell, explore the Philadelphia Museum of Art, and indulge in the city's famous cheesesteaks.
Cape May, New Jersey: Just a short drive south of Atlantic City, Cape May is known for its charming Victorian architecture, beautiful beaches, and quaint downtown area. Take a guided tour of the historic homes, relax on the beach, and savor the town's vibrant culinary scene.
Ocean City, New Jersey: If you're looking for another beach destination, head north to Ocean City. Known for its family-friendly atmosphere, this vibrant town offers a lively boardwalk, amusement rides, and a variety of dining options.
Historic Smithville, New Jersey: Located about 30 minutes from Atlantic City, Historic Smithville is a picturesque village with quaint shops, dining options, and scenic views. Take a leisurely stroll along the cobblestone streets, browse unique boutiques, and enjoy the peaceful surroundings.
Tuckerton Seaport, New Jersey: Immerse yourself in the maritime heritage of the Jersey Shore by visiting Tuckerton Seaport. This living history museum showcases the region's rich maritime traditions through exhibits, demonstrations, and boat rides.
Long Beach Island, New Jersey: Escape to the natural beauty of Long Beach Island, a barrier island known for its pristine beaches and charming beach towns. Enjoy outdoor activities like swimming, boating, and fishing, or explore the unique shops and eateries in towns like Beach Haven and Barnegat Light.
Six Flags Great Adventure, New Jersey: If you're seeking thrills and excitement, consider a visit to Six Flags Great Adventure. Located in Jackson, New Jersey, this amusement park offers a variety of roller coasters, rides, and entertainment options for all ages.
Delaware Water Gap National Recreation Area: If you're up for a nature-filled adventure, head northwest to the Delaware Water Gap National Recreation Area. This expansive park straddles the border between New Jersey and Pennsylvania, offering opportunities for hiking, camping, fishing, and scenic drives.
New York City, New York: Venture north to the vibrant metropolis of New York City, just a few hours away from Atlantic City. Explore famous landmarks like Times Square, Central Park, the Statue of Liberty, and world-class museums and theaters.
Baltimore, Maryland: Journey south to Baltimore, a city rich in history and culture. Visit the historic Inner Harbor, explore the National Aquarium, and immerse yourself in the city's thriving arts and culinary scenes.
Washington, D.C.: Discover the nation's capital and visit iconic landmarks such as the White House, the U.S. Capitol, and the Smithsonian museums. Take a stroll along the National Mall and explore the city's vibrant neighborhoods.
Princeton, New Jersey: Explore the picturesque town of Princeton, home to the prestigious Princeton University. Visit the campus, stroll through the charming downtown area, and enjoy the cultural offerings and dining options.
The Pocono Mountains, Pennsylvania: Retreat to the natural beauty of the Pocono Mountains, a scenic region known for its outdoor activities. Hike through lush forests, kayak on serene lakes, or relax at one of the area's many resorts.
Atlantic Beaches in Delaware: Head south to the beaches of Delaware, such as Rehoboth Beach, Dewey Beach, and Bethany Beach. Enjoy the sandy shores, vibrant boardwalks, and family-friendly attractions.
Annapolis, Maryland: Visit the charming waterfront city of Annapolis, known for its historic colonial architecture and maritime heritage. Take a boat tour, explore the United States Naval Academy, and dine on fresh seafood.
Philadelphia's Countryside, Pennsylvania: Explore the countryside surrounding Philadelphia, known for its picturesque landscapes and charming towns. Visit places like Valley Forge National Historical Park, charming Brandywine Valley, or Bucks County with its quaint villages.
Atlantic Highlands, New Jersey: Experience the beauty of the Jersey Shore at Atlantic Highlands. Enjoy stunning views of the ocean, visit the historic Twin Lights Lighthouse, and savor fresh seafood at local restaurants.
Delaware River Towns: Discover the charming towns along the Delaware River, including Lambertville and New Hope. Explore art galleries, antique shops, and enjoy scenic views while strolling along the riverfront.
Wildwood, New Jersey: Enjoy the classic seaside vibes of Wildwood, known for its expansive beaches, retro boardwalk, and lively amusement parks. Experience the vibrant nightlife and family-friendly attractions.
Hershey, Pennsylvania: Indulge your sweet tooth in Hershey, Pennsylvania, home to the famous Hershey's Chocolate Factory. Visit Hersheypark amusement park, Hershey's Chocolate World, and enjoy the town's chocolate-themed attractions.
These destinations offer a mix of history, culture, outdoor activities, and entertainment, providing a well-rounded experience beyond Atlantic City. Whether you're interested in exploring more of the Jersey Shore, immersing yourself in history, or seeking outdoor adventures, there's something for everyone nearby to continue your journey.
Atlantic City Travel Guide: Final Thoughts
Atlantic City, with its vibrant energy, iconic boardwalk, and lively casinos, offers a captivating experience for visitors. Whether you're seeking relaxation on the beautiful beaches, trying your luck at the casinos, or immersing yourself in the city's rich history and culture, Atlantic City has something for everyone.
The city's entertainment options, including world-class shows, concerts, and events, ensure there's never a dull moment. From fine dining to boardwalk treats, the culinary scene in Atlantic City satisfies every palate, offering a diverse range of flavors and dining experiences.
Atlantic City's proximity to other attractions, such as the charming towns along the Jersey Shore and bustling cities like Philadelphia and New York City, opens up even more possibilities for exploration.
As you navigate the city, you'll find a variety of accommodations to suit your preferences, from luxurious casino resorts to beachfront hotels and budget-friendly options. The city's accessible transportation options make it easy to get around, whether by walking, taking a jitney, or utilizing ride-sharing services.
Atlantic City's lively atmosphere, combined with its rich history and natural beauty, creates a unique destination that leaves a lasting impression on visitors. Whether you're seeking excitement, relaxation, or a mix of both, Atlantic City invites you to indulge in its vibrant ambiance and embrace the allure of the Jersey Shore.
So, immerse yourself in the energy, entertainment, and coastal charm of Atlantic City, and create memories that will last a lifetime.
In Atlantic City, where dreams come alive, A world of excitement, where hopes can thrive. A boardwalk stretching with endless delight, The ocean's embrace, a magnificent sight.
Stroll along the sands, feel the salt in the air, The rhythm of waves, a melody so fair. From sunrise to sunset, the beach is your guide, As laughter and joy echo far and wide.
Casinos aglow, their lights shining bright, Fortunes are tested, luck takes flight. Roulette wheels spinning, cards dealt with care, A dance with destiny, an electrifying affair.
Indulge in the flavors that tempt every taste, From seafood delights to dishes embraced. Boardwalk treats delight, a nostalgic retreat, Saltwater taffy's embrace, memories so sweet.
Explore the history, where tales unfold, From lighthouses standing tall and bold. The echoes of the past, the whispers of time, In every cobblestone, a story to find.
A city of entertainment, concerts in the air, Theater shows and laughter, moments to share. Artistry thrives, with galleries to explore, Expressions of creativity, forevermore.
The skyline shines, a city that never sleeps, A playground for all, where adventure seeps. From festivals and events, the spirit alive, In Atlantic City, there's always a reason to thrive.
So, wander, discover, let your spirit roam, In Atlantic City, you'll find a place to call home. A haven of dreams, where memories are made, In this vibrant city, where joys never fade.