Augsburg Travel Guide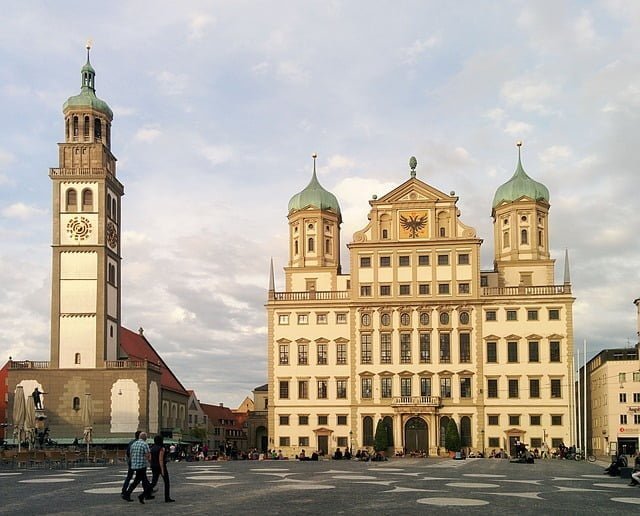 Introduction
In the days of the Holy Roman Empire, Augsburg was a prominent centre. However, in modern Germany, Munich vastly overshadows this (now) hidden gem. From a unique social experiment to the usual palaces and churches, Augsburg has plenty to discover.
Top Attractions
After arriving in Augsburg, make Schaezlerpalais your first stop. Local authorities built this 18th-century gem in the Baroque style, and it shows. As you make your way through its gardens, courtyard, and many rooms, this palace will inspire you.
Locals know this palace for its three fantastic art collections. In the first, you'll find works by local Bavarian artists from the 17th and 18th centuries. The next has works from the 15th and 16th centuries. And in the last gallery, Baroque paintings by masters like Van Dyck and Battista will captivate you.
Throughout history, social housing projects have shielded working people from excessive rents. In Augsburg, you'll get to tour Fuggerei, the world's oldest public housing development.
This experiment in cooperative living began in the 16th century. Back then, a merchant called Jakob Fugger the Younger took interest in the plight of the working class. He built a community of 52 houses, shops, a public square, and a church.
In return, you'd get a home with rent of only 0.88 EUR – per year. That's right – rent has stayed the same for over 500 years. Today, you can tour the place by paying an entrance fee of 6.50 EUR.
If you're looking for a church to check out in Augsburg, visit the Augsburger Dom. Its builders erected it in the 11th century as a Romanesque structure. However, renovations since then have given its plenty of Baroque features. If for no other reason, check this place out for its stained-glass windows.
Lastly, architecture fans will want to drop by the Augsburg Town Hall. Standing seven floors high, this building its one of the most imposing structures built in the Renaissance style in Germany. Check out the Golden Room, which features an ornate coffered ceiling.
Other Attractions
Get an excellent view over Augsburg from the highest point of the Perlach Tower. You'll find this elevated viewpoint in St. Peter am Perlach church. While it serves in this function today, this building actually began life as a watchtower in the 10th century.
To get to the top, you'll need to climb a narrow staircase. At the top, you'll also have to pay an admission fee, so come prepared. Lastly, visit during the work week – crowds make this vantage point tough to enjoy on weekends.
Augsburg is a great place to visit as a travelling family. For starters, it is home to the Augsburg Zoo. This attraction is home to over 1,600 animals representing 300 species, making it one of the top 20 zoos in Germany.
Of note, you'll find a lemur enclosure, as well as one for rhinos and primates. When you've had your fill of checking out the world's various creatures, burn off what remains of your kid's energy on the train ride and at the on-site playground.
After that, treat your children to a visit to the Augsburger Puppentheatermuseum. The creators of this institution based it on a famed puppet show that appeared on German TV for years. After enjoying the cute displays, unwind in the cafe afterwards.
Lastly, green thumbs won't want to leave without checking out Botanischer Garten Augsburg. Over its ten hectares of land, you'll find thousands of species of flora. Within the park, you'll find them organized into a Japanese, rose, a medicinal plant, and a food garden. At the end, there is even a beer garden!
To get in, you'll need to pay an admission fee. However, this charge is a nominal one at only 3.50 EUR per adult.
What To Eat
Kill those lunchtime hunger pangs by getting a Bratwurst Sausage. A Bavarian favourite, this lunch/dinner staple can only contain one of three types of meat – pork, beef, or veal. Get these in a bun from a street vendor, at supper, accompanied by potato salad or sauerkraut.
If you're looking for something hearty for dinner, order some Schweinebraten. This meal is a German-style pork roast that is local to the state of Bavaria. Cooks prepare it by rubbing it with garlic, marjoram, and mustard. Ideally, your restaurant will serve this meal with dumplings and sauerkraut on the side.
After all that eating, you'll want something light for dessert. Bavarian Cream fits this bill perfectly, as this treat is sweet, yet light & airy. This dessert is best when served with fresh fruit and chocolate sauce.