Ayutthaya Travel Guide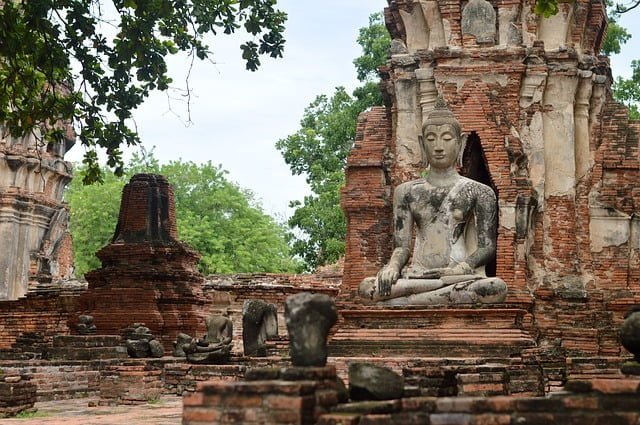 Introduction
Serving as the second capital of Siam from 1350 until its violent destruction in the 18th century by Burmese invaders, the city of Ayutthaya has enough temples to satisfy culture junkies for days. While it is possible to visit this city as a day trip from Bangkok, staying in Ayutthaya proper will allow you to tour its many extensive ruins at a more leisurely pace.
Cultural Attractions
As the former capital of the kingdom of Siam, Ayutthaya is blanketed with ruined and restored temples. Of them, Wat Chaiwatthanaram is the most impressive. Completed in 1630 AD for King Prasatthong, it is best known for being where the royals of the day conducted religious ceremonies – when they died, princes and princesses were cremated here.
As for the structure, there are numerous chedis and prangs throughout the property, as well as Buddha statues beheaded by Burmese raiders when the city was sacked in the 18th century.
Next, make your way over to Wat Phra Sri Sanphet. Considered to be the holiest temple in all of Siam prior to its destruction, this wat held the same status Wat Phra Kaew (the temple residing within the walls of Bangkok's Grand Palace) does today.
Used exclusively for royal ceremonies, no monks resided here. While much of this temple remains in a ruined state, three massive chedis were restored beginning in 1956, so don't forget to take a picture of them before moving on to other wats in the area.
Wat Mahathat should be the next stop on your grand tour of the temples of Ayutthaya. While this series of buildings and chedis are mainly in ruins, the main attraction here is a Buddha head intertwined with the roots of a tree.
According to the story told by local guides, the Burmese guides would routinely chop off the heads of Buddha statues not just as a sign of disrespect, but also due to the rumour which posited that gold was hidden inside them.
One of the lopped-off Buddha heads ended up falling next to a tree – over ensuing generations, its roots encapsulated it, creating a stunning visual which attracts scores of foreign and domestic tourists to this temple every year.
Round out your Ayutthaya temple tour by dropping by the grounds of Wat Yai Chai Mang Khon. Also known as The Monastery of Auspicious Victory, this temple is situated on the eastern end of Ayutthaya Historical Park.
Best known for its impressive Reclining Buddha, visitors will also find an abundance of colourful and glittering rooster statues on its grounds. The latter attraction is meant to honour King Naresuan's love of cockfighting, but their stunning appearance is what enthrals most visitors to this wat.
Other Attractions
Gain a fuller appreciation of the magnificence of the Ayutthaya Kingdom by exploring the exhibits found of Chao Sam Phraya Museum. Here, you'll find many artifacts recovered from the ruins of Ayutthaya by archaeologists.
Behind glass cases, you'll find many sacred implements laden with gold and jewels, Buddha statues cast from bronze, and other finds like swords and ceramics. While English translations may be lacking in places, the sheer fabulousness of what you'll find here will more than make up for this fault.
Don't miss your chance to go on a boat tour on the Chao Phraya during your visit to Ayutthaya. While many go to and from Bangkok, the ones which cruise around the temples in the late afternoon/evening hours are the ones which should interest you.
While dinner and music will make outstanding views of the ruins of old Ayutthaya better, you'll also have a chance to meet Thai locals, as these trips are very popular with day trippers from the Big Mango.
As the former capital of Siam, Ayutthaya used to host a number of expat communities from around the world. The Dutch zone was one of the most prominent, hosting many traders who were there to do business with their Siamese counterparts.
Standing out from the Thai buildings which surround it, Baan Hollanda is a museum dedicated to the history of this nation/kingdom in Thailand. In between bites of bitterballen and other Dutch snacks, this institution will fill you in on 400 years of Thai-Dutch relations.
Finally, end off your visit to Ayutthaya by paying the quaint Thai Boat Museum a visit. A small, family-run operation, this interesting attraction shows off various river boats Thais have been building and using for centuries.
From tiny skiffs used by subsistence fishers to the impressive Royal Barge, you'll learn much during your visit – just be sure to inquire about a visit at the Ayutthaya Visitor Centre beforehand, as viewing this collection is available by appointment only.