Bali is a destination that is steeped in both natural beauty and cultural richness. With its stunning beaches, tropical forests, and vibrant culture, it is no wonder that Bali has become a beloved destination for travelers from all over the world.
The island's rich history and traditions are evident in the countless temples, monuments, and cultural landmarks that dot the landscape. From the ancient Hindu temples of Besakih and Tanah Lot to the iconic rice terraces of Ubud, Bali is a place where history and culture come alive in a truly unique way.
Beyond its rich cultural heritage, Bali is also renowned for its stunning natural beauty. The island's pristine beaches, crystal-clear waters, and verdant forests provide a backdrop for unforgettable adventures and exploration. Bali is home to some of the world's best surf spots, as well as some of the most breathtaking hiking trails and waterfalls. Whether you're looking for relaxation or adventure, Bali has it all.
The people of Bali are known for their warmth and hospitality, and visitors to the island are welcomed with open arms into a culture that is deeply rooted in tradition and spirituality. The Balinese people are proud of their heritage and are always happy to share it with visitors, whether it be through traditional dance performances, artisanal crafts, or the tantalizing flavors of Balinese cuisine.
From luxurious resorts and spas to backpacker hostels and homestays, Bali offers a range of accommodations to suit every traveler's needs and preferences. The island's efficient transportation network also makes it easy to get around and explore all that Bali has to offer.
Bali is a destination that captivates the senses and stirs the soul. With its breathtaking natural beauty, rich cultural heritage, and warm hospitality, it is a place that will stay with you long after you've returned home.
Bali City Guide: A Brief History Of Bali, Indonesia
Bali's history dates back over 2,500 years, with the island's early inhabitants believed to have come from a mix of different ethnic groups from across Southeast Asia. In the early centuries AD, Bali was ruled by a series of small kingdoms, each with its own distinct culture and traditions.
By the 10th century, Bali had developed a sophisticated society centered around agriculture, art, and religion. Hinduism had become the dominant religion on the island, with Bali developing its own unique form of the religion, which incorporated local animist beliefs and traditions.
Over the centuries, Bali continued to develop as a center of art and culture, with the island's rich artistic traditions and complex social hierarchies being reflected in its stunning temples, palaces, and artistic works.
During the 19th century, Bali became a target of Dutch colonialism, with the island falling under Dutch control by the early 20th century. Despite this, Bali's unique culture and traditions continued to thrive, with the island's artistic and religious heritage becoming increasingly celebrated by the wider world.
In the years following Indonesia's independence from the Dutch in 1949, Bali became a popular tourist destination, with visitors flocking to the island to experience its stunning natural beauty and rich cultural heritage. Today, Bali remains one of the world's most popular travel destinations, with its unique blend of ancient traditions and modern sophistication continuing to enchant visitors from around the globe.
Bali Top Attractions and Best Places to Visit in Indonesia
Endowed with a history of Hinduism within a country long dominated by Islamic rulers, Bali stands out as a starkly different place than the rest of Indonesia.  Having fought off invaders from Java for hundreds of years, Bali only fell in the early years of the last century, when holdouts in South Bali fought to the death versus the highly lethal cannons of the Dutch in 1908.
With a fierce independent streak established in their past, the Hindu characteristics of Bali hold fast in the modern Indonesian Islamic state.  This is one of the few places in this country where you'll be able to find pork at the dinner table (indeed, one of Bali's most famous dishes, is babi guling – suckling pig), and nightlife that is hard to find elsewhere throbs on in the famous nightspots of Kuta Beach.
While the island gets a reputation as a place overrun by tourists, there are many places on this large island where one can find their own strip of sand or mountaintop and feel at peace with the nature surrounding them.  Those who crave tourism infrastructure will find themselves well catered for, as this island of four million people offers almost anything you're missing from home, and has an overabundance of tour groups ready to show you the many highlights of this island, if you lack the gumption to do it on your own.
Whatever you seek, whether it is a rollicking ride through some of the liveliest nightlife in Southeast Asia, or a soul-affirming trek through the temples and jungles of the interior, or catching an epic wave on the many quality shore breaks surrounding this island, Bali stands ready to deliver the travel experience of a lifetime whether you're enjoying nature or going for a cheap Bali massage.  Let's go over some of the highlights of this outstanding destination…
Other Cultural Attractions: Trip to Bali, Indonesia
As far as Hindu temples go in Bali, you'll be spoiled for choice at every turn, as the laws governing the island requires each settlement to have at least three temples – one for general worship (pura desa), one at the clean end of the village (pura puseh), and one at the unclean end (pura dalem).  Every one of these temples has festivals surrounding them at different times of the year, meaning those wishing to experience the practice of Hinduism in motion will be in luck just about any time they visit throughout the year.
There are also larger temples at certain directional points on Bali, designed to protect the island from evil forces. Many of these directional temples are ones that are well known by travelers, such as the visually stunning Pura Ulun Danu Bratan.  This temple is located in the central highlands of Bali, and is defined by its multi-tiered roof, and its proximity to a marvellously blue high altitude lake.
Another temple that you should make the effort to visit is Uluwatu Temple, perched atop a steep 70 metre high cliff on the Bukit Peninsula in the south of Bali.  Be sure to visit at sunset for spectacular photo opportunities, but beware of thieving monkeys, as they will steal food and water from those caught unawares.
Tahah Lot is a stunning sight for those who love coastal beauty.  Another directional temple situated on a sea stack just offshore, it can be approached up to the base at low tide, making for an unforgettable sight!
Visitors who have an immense appreciation for the visual arts should make a beeline for the cultural hotspot of Ubud, located in the hills northeast of Kuta Beach.  With the greenery and mountains surrounding this quaint town, it has attracted many artists from across Indonesia and around the world to live here, leading to an explosion of art galleries on offer along its main street.  As well, the markets have many unique crafts for sale, so this place grants the chance to purchase something special for your loved ones back home!
Natural Attractions in Bali, Indonesia
The natural wealth that has been gifted to Bali by nature is simply astounding, with mountains, pristine beaches, thick jungles, and other treats just waiting to be discovered by the outdoor enthusiast.
Those looking to pick up a new sport should spend some serious time on the sands and in the swells of Kuta Beach, where excellent wave conditions year-round have made this island legendary in surfing circles.  This has spawned an abundance of surf schools, where one can learn how to pop up on your board in the water and maintain your balance long enough to ride a breaker before tumbling head over heels into the warm water of the Indian Ocean.
Those looking to get physical with the green interior of Bali should head to Ubud.  Here, numerous outfitters can slap you in a neoprene suit and send you out on a white-water raft to negotiate the many frothing rivers charging down to the ocean from the mountains above, or to tackle the canyons higher up through the adrenaline pumping sport of canyoning (abseiling, sliding, and riding rivers down canyons with no boat!) Afterwards, be sure to have the knots in your muscles kneaded out of you after your intense day in nature at one of the many spas in town.
Finally, if you enjoy roasting in toasty waters, surrounded by the sounds of the jungle and alone with your thoughts, visit Air Banjar in North Bali.  With little/no crowds, exotic garden plants setting the mood, and carved stone mouths pouring blue/green sulfurous hot springs water over your aching body, you'll be convinced that heaven is a place on Earth … and its name is Bali.

source: Samuel and Audrey on YouTube
Top 10 Things To Do in Bali, Indonesia For Visitors
Here are the top 10 things to do in Bali, Indonesia:
Visit Tanah Lot Temple: One of Bali's most famous landmarks, Tanah Lot Temple is situated on a rocky outcrop in the sea, providing stunning views of the ocean and surrounding landscape. The temple is dedicated to the sea gods and is believed to have been built in the 16th century.
Take a dip in the Tegenungan Waterfall: Located in central Bali, Tegenungan Waterfall is a natural wonder surrounded by lush greenery. Visitors can swim in the cool waters at the base of the waterfall or hike to the top for panoramic views of the area.
Explore Ubud's Art Scene: Ubud is known as Bali's cultural hub and is home to a variety of galleries and workshops showcasing traditional Balinese art and crafts. Visitors can also watch traditional dance performances or participate in yoga classes and workshops.
Go surfing in Kuta: Kuta is Bali's most famous surf spot and offers world-class waves for surfers of all levels. The beach town also has a lively atmosphere with plenty of restaurants, bars, and shops.
Hike the rice terraces in Tegallalang: Bali's rice terraces are a testament to the island's rich agricultural heritage and offer stunning views of the surrounding landscape. Tegallalang is one of the most popular areas for hiking and is easily accessible from Ubud.
Visit the Sacred Monkey Forest Sanctuary: Located in Ubud, this protected reserve is home to over 600 macaque monkeys as well as several ancient temples. Visitors can walk through the lush forest and observe the monkeys in their natural habitat.
Explore the underwater world with a scuba diving excursion: Bali is home to some of the world's most beautiful coral reefs and diverse marine life, making it a top destination for scuba diving enthusiasts. Popular spots include Nusa Lembongan, Amed, and Tulamben.
Relax on the beaches of Nusa Dua: This idyllic beach town offers some of Bali's most pristine white sand beaches and crystal-clear waters. Visitors can sunbathe, swim, and participate in a variety of water activities such as snorkeling and parasailing.
Experience traditional Balinese dance performances: Bali is renowned for its vibrant traditional dance scene, with performances taking place regularly across the island. The most popular dances include the Barong and Keris Dance and the Legong Dance.
Take a sunrise hike up Mount Batur: Bali's active volcano is a popular destination for hikers and offers stunning views of the surrounding landscape, especially at sunrise. The hike typically takes around two hours and is best done with a guide.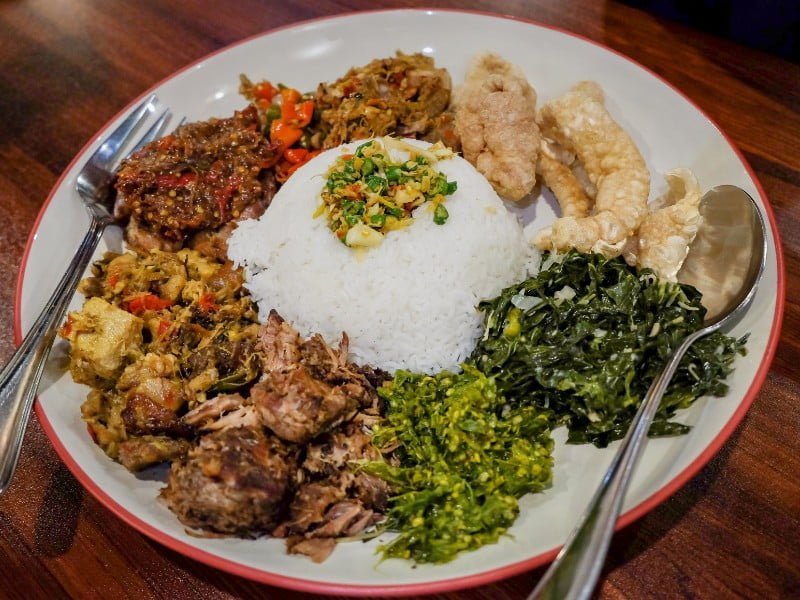 What To Eat and Drink in Bali, Indonesia
Bali's cuisine is a blend of traditional Indonesian dishes and unique Balinese flavors. Here are some must-try dishes and drinks:
Nasi Campur: This traditional Balinese dish consists of rice served with a variety of side dishes such as meat, vegetables, and sambal (spicy sauce).
Babi Guling: This is Bali's signature dish and is a whole roasted suckling pig served with rice and sambal. The skin is crispy and the meat is juicy and flavorful.
Satay: These grilled skewers of meat (usually chicken or pork) are served with peanut sauce and are a popular snack or appetizer.
Lawar: This traditional Balinese dish is a mix of vegetables, grated coconut, and minced meat or seafood, all seasoned with spices and served with rice.
Balinese Coffee: Bali is known for its delicious coffee, which is grown on the island's volcanic slopes. Try it black or with a splash of sweetened condensed milk.
Arak: This traditional Balinese liquor is made from fermented rice or coconut palm sap and is often mixed with fruit juices or soda to make refreshing cocktails.
Bintang Beer: This is Bali's most popular beer and is widely available across the island. It's a light, refreshing lager that pairs well with spicy food.
Jamu: This is a traditional Indonesian herbal drink made from a variety of spices and ingredients such as turmeric, ginger, and tamarind. It's believed to have various health benefits and is a popular drink among locals.
Gado Gado: This is a classic Indonesian salad made with steamed vegetables, tofu, and hard-boiled eggs, all topped with a peanut sauce.
Pisang Goreng: These deep-fried banana fritters are a popular street food snack in Bali and are served with sweet dipping sauce. They're crispy on the outside and soft on the inside, making for a delicious and indulgent treat.
Sate Lilit: These Balinese-style minced meat skewers are wrapped around lemongrass sticks and grilled to perfection. They're usually served with a side of rice and sambal.
Ayam Betutu: This is a traditional Balinese dish of steamed or roasted chicken that's marinated with a blend of local spices and herbs.
Bebek Betutu: Similar to Ayam Betutu, this is a Balinese specialty made with duck instead of chicken.
Nasi Goreng: This popular Indonesian fried rice dish is a staple on menus across Bali. It's made with rice, vegetables, and meat (usually chicken or shrimp), and is often topped with a fried egg.
Sate Padang: Originating from West Sumatra, this dish consists of beef or chicken skewers served with a thick, spicy curry sauce.
Kopi Luwak: This is one of the world's most expensive and rarest coffees. It's made from coffee beans that have been eaten and excreted by the Asian palm civet.
Jaja Bali: These colorful Balinese sweets are made with rice flour, coconut, and palm sugar. They're often shaped like flowers or animals and make for a great snack or souvenir.
Es Campur: This is a traditional Indonesian dessert made with shaved ice, fruit, and sweet syrup. It's a refreshing treat on a hot Bali day.
Brem: This is a traditional Balinese rice wine that's made from fermented sticky rice. It's usually served chilled and has a sweet, slightly sour taste.
Tahu Gejrot: This is a unique dish that originates from West Java but can be found on menus across Bali. It consists of fried tofu served in a spicy, tangy sauce made from palm sugar, chili, and tamarind.
Top Restaurants In Bali, Indonesia
In addition to its natural beauty, Bali is also home to a thriving culinary scene with a wide range of dining options to suit any taste or budget. From luxurious fine dining restaurants to local warungs serving up traditional Indonesian dishes, Bali has something to offer every food lover. In this guide, we'll explore the top restaurants and must-try dishes in Bali, as well as tips on where to stay, how to get around, and what to do during your visit. Whether you're a first-time visitor or a seasoned Bali traveler, this guide has everything you need to plan your perfect culinary adventure.
Locavore: This award-winning restaurant in Ubud offers modern Balinese cuisine using locally sourced ingredients and creative techniques.
Mozaic: Another top-rated restaurant in Ubud, Mozaic offers a fine dining experience with French-inspired cuisine and a focus on local ingredients.
Sardine: Located in Seminyak, this restaurant offers fresh seafood dishes with a beautiful view of rice paddies and a bamboo garden.
Merah Putih: This sleek and modern restaurant in Seminyak offers traditional Indonesian cuisine with a contemporary twist.
Metis: Known for its French Mediterranean cuisine, Metis offers a luxurious dining experience in a beautiful garden setting.
Warung Babi Guling Ibu Oka: This local favorite in Ubud is famous for its roasted suckling pig, or babi guling, and offers a casual dining experience.
Naughty Nuri's Warung: With locations in Seminyak and Ubud, this restaurant is known for its mouth-watering ribs and lively atmosphere.
The Sayan House: Located in Sayan, this restaurant offers a fusion of Japanese and Latin American cuisine with stunning views of the Ayung River.
Mamasan: This trendy restaurant in Seminyak offers pan-Asian cuisine in a chic and stylish setting.
Bambu Restaurant: Located in Seminyak, this restaurant offers traditional Indonesian cuisine in a beautifully designed setting with a peaceful garden.
Tours For Visitors To Bali, Indonesia
Bali offers a variety of tours for visitors to explore the island's natural beauty, culture, and history. Here are some popular tour options:
Ubud Tour: This tour takes you to the cultural heart of Bali, visiting the Ubud Palace, the Tegalalang rice terrace, and the Monkey Forest sanctuary.
Bali Waterfall Tour: Explore Bali's natural beauty with a tour of the island's stunning waterfalls, including Tegenungan Waterfall, Gitgit Waterfall, and Sekumpul Waterfall.
Bali Cooking Class: Learn how to cook traditional Balinese dishes with a cooking class, where you'll visit local markets, prepare ingredients, and learn the art of Balinese cuisine.
Bali ATV Tour: For adventure seekers, an ATV tour is a great way to explore Bali's countryside, rice paddies, and traditional villages.
Bali Temples Tour: Bali is home to many beautiful temples, and this tour takes you to some of the most famous, including the iconic Tanah Lot temple, Uluwatu temple, and Tirta Empul temple.
Bali Sunrise Trekking: Hike up to the top of Mount Batur to watch the sunrise over Bali's stunning landscapes, including panoramic views of Lake Batur and the surrounding mountains.
Bali Water Sports Tour: Bali is also a popular destination for water sports, and this tour offers a variety of activities including snorkeling, diving, and surfing.
Bali Swing Experience: Get a unique perspective of Bali's lush landscapes and rice paddies with a swing experience, where you can swing over the valley and take in the stunning views.
These tours are just a few of the many options available in Bali, and there's something for everyone. Whether you're looking for adventure, relaxation, or cultural experiences, Bali has it all.
Bali Accommodations Guide: Hotels, Guesthouses and Hostels
Bali offers a wide range of accommodation options, from luxurious resorts and villas to budget-friendly hostels and guesthouses. Here are some popular options to consider:
Luxury Resorts: Bali is home to some of the most luxurious resorts in the world, offering private villas, infinity pools, spa facilities, and breathtaking views of the ocean. Some popular options include The Mulia, Four Seasons Resort Bali at Jimbaran Bay, and St. Regis Bali Resort.
Private Villas: Bali is also known for its beautiful private villas, offering privacy, comfort, and luxury. Villas come with private pools, gardens, and staff to cater to your every need. Some popular options include Villa Kubu, Villa Sungai, and The Elysian.
Mid-Range Hotels: Bali also offers a range of mid-range hotels that provide comfortable accommodation without breaking the bank. Some popular options include The Haven Bali Seminyak, Kuta Seaview Boutique Resort & Spa, and Pertiwi Bisma 2.
Budget-Friendly Guesthouses and Hostels: For budget-conscious travelers, Bali has a variety of affordable guesthouses and hostels that offer basic accommodation and amenities. Some popular options include Capsule Hotel Bali, Lay Day Surf Hostel, and Green Garden Hotel.
Boutique Hotels: Bali has a growing number of boutique hotels that offer unique and stylish accommodation options. Some popular options include The Colony Hotel Bali, Artotel Haniman Ubud, and Dash Hotel Seminyak.
No matter what your budget or preferences are, Bali has a range of accommodation options to suit your needs. Make sure to book well in advance, especially during peak travel season, to ensure availability and get the best rates.
Day Trips From Bali, Indonesia
Bali is not just a destination for beach vacations and island hopping. The island is also surrounded by beautiful landscapes and attractions that are perfect for day trips. Here are some popular day trips from Bali:
Ubud: Known as Bali's cultural heart, Ubud is famous for its art, dance, and music. Visitors can visit the Ubud Monkey Forest, explore the rice paddies, and visit the Ubud Palace.
Nusa Penida: Nusa Penida is a small island located southeast of Bali. Visitors can take a day trip to explore the island's stunning cliffs, beaches, and natural pools.
Mount Batur: Mount Batur is an active volcano located in the center of Bali. Visitors can hike to the summit to watch the sunrise and enjoy the stunning views of the surrounding landscapes.
Jatiluwih Rice Terraces: The Jatiluwih Rice Terraces are a UNESCO World Heritage site located in central Bali. Visitors can take a day trip to explore the stunning landscapes and learn about traditional Balinese agriculture.
Tirta Empul Temple: Tirta Empul is a Hindu temple located in the village of Tampak Siring. Visitors can take a dip in the sacred springs and witness the purification rituals.
Tanah Lot: Tanah Lot is a popular tourist attraction located on the southwest coast of Bali. The temple is situated on a rock formation in the sea, providing breathtaking views of the sunset.
Uluwatu: Uluwatu is a temple located on a cliff on the southern coast of Bali. Visitors can enjoy the sunset and watch the Kecak dance performance.
Tegalalang Rice Terraces: The Tegalalang Rice Terraces are a popular tourist attraction located north of Ubud. Visitors can take a day trip to explore the stunning landscapes and learn about traditional Balinese agriculture.
Bali Safari and Marine Park: Bali Safari and Marine Park is a theme park located in Gianyar, Bali. Visitors can enjoy a variety of activities including animal shows, safari rides, and water park attractions.
Waterbom Bali: Waterbom Bali is a water park located in Kuta, Bali. Visitors can enjoy a variety of water slides, pools, and attractions.
Gunung Kawi Temple: Gunung Kawi is an ancient temple located in Tampaksiring, Bali. Visitors can explore the temple's unique rock-cut shrines and learn about Bali's rich history and culture.
Lovina: Lovina is a coastal town located in northern Bali. Visitors can take a day trip to explore the beaches, waterfalls, and hot springs in the area.
Gitgit Waterfall: Gitgit Waterfall is a popular attraction located in Singaraja, Bali. Visitors can take a day trip to explore the waterfall and nearby rice fields.
Menjangan Island: Menjangan Island is a small island located off the coast of Bali. Visitors can take a day trip to enjoy snorkeling and diving in the island's crystal-clear waters.
Kintamani: Kintamani is a village located in the central highlands of Bali. Visitors can take a day trip to enjoy stunning views of Mount Batur and Lake Batur, as well as explore the local markets and temples.
These are just a few of the many day trips that you can take from Bali. There are plenty of tour operators that offer guided tours, or you can rent a car or scooter and explore the island on your own.
Bali Transportation Guide
Getting around Bali can be an adventure in itself. Here are some transportation options to consider during your trip to Bali:
Taxis: Taxis are widely available in Bali, particularly in tourist areas. Bluebird taxis are a reliable option, and they use meters to determine the fare.
Motorbikes: Motorbikes are a popular mode of transportation in Bali, especially for tourists. They can be rented for a daily or weekly rate from various rental shops.
Car rental: Renting a car in Bali can be a good option if you plan on exploring the island on your own. International driver's licenses are required, and traffic in Bali can be hectic, so be prepared for some challenges.
Private drivers: Hiring a private driver is a convenient way to get around Bali, especially if you're traveling in a group or with children. Drivers can be hired for a half-day or full-day rate, and they can take you to various attractions on the island.
Buses: Public buses are available in Bali, but they can be overcrowded and unreliable. Tourist buses are also available for transportation between major tourist destinations.
Boats: If you plan on traveling to other islands in Indonesia, boats are a popular transportation option. You can take a ferry or speedboat to nearby islands such as Nusa Lembongan or the Gili Islands.
Where To Visit After Your Trip To Bali?
Indonesia is a vast country with many destinations worth visiting after your trip to Bali. Here are some ideas:
Jakarta: The capital city of Indonesia is a bustling metropolis with a mix of traditional and modern attractions. Explore museums, shopping centers, and cultural landmarks.
Yogyakarta: This city is known as the cultural heart of Java, with an abundance of temples, palaces, and art galleries. The famous Borobudur and Prambanan temples are located nearby.
Lombok: This island is located east of Bali and offers a more laid-back atmosphere with stunning beaches and waterfalls. Visit the famous Mount Rinjani and the Gili Islands.
Komodo Island: This island is famous for the Komodo dragon, the largest lizard species in the world. Visitors can also enjoy diving and snorkeling in the surrounding waters.
Raja Ampat: Located in Papua, Raja Ampat is a group of islands known for their stunning beaches, coral reefs, and marine life. It's a great destination for diving and snorkeling.
Borneo: This island is known for its rich wildlife and rainforests, including the Orangutan Sanctuary in Tanjung Puting National Park.
Flores Island: This island is home to the famous Komodo National Park, as well as beautiful beaches, waterfalls, and traditional villages.
Bandung: Located in West Java, Bandung is known for its scenic landscapes and cool climate. Visitors can enjoy hiking, shopping, and exploring cultural attractions.
Sulawesi: This island is known for its unique cultural traditions and natural beauty, including the Tana Toraja region, which is famous for its elaborate funeral rituals.
Sumatra: This island is the sixth largest island in the world and offers diverse landscapes, from tropical rainforests to volcanic landscapes. Visit the famous Lake Toba, the Mentawai Islands, or the Bukit Lawang orangutan sanctuary.
Baliem Valley: Located in Papua, Baliem Valley is home to indigenous tribes and offers stunning landscapes, including lush valleys and rugged mountains.
Wakatobi: This remote archipelago in Southeast Sulawesi is known for its world-class diving sites and coral reefs.
Mount Bromo: Located in East Java, Mount Bromo is an active volcano that offers breathtaking views and a unique hiking experience.
Belitung Island: This island is known for its white sandy beaches, crystal-clear waters, and unique rock formations.
Tana Toraja: This region in South Sulawesi is known for its unique architecture, burial customs, and cultural traditions.
Karimunjawa Islands: Located off the coast of Central Java, these islands offer stunning beaches, coral reefs, and a relaxed atmosphere.
Tanjung Lesung: This coastal area in West Java offers beautiful beaches, water sports, and a range of accommodation options.
Derawan Islands: Located off the coast of East Kalimantan, these islands offer incredible diving and snorkeling opportunities, as well as stunning beaches and mangrove forests.
Togean Islands: This remote archipelago in Central Sulawesi is known for its pristine coral reefs and diverse marine life.
Nusa Penida: This island is located southeast of Bali and offers stunning beaches, rugged cliffs, and unique natural attractions, including the famous Kelingking Beach.
Manado: Located in North Sulawesi, Manado offers world-class diving and snorkeling, as well as a unique blend of cultures and cuisine.
Raja Ampat Islands: This archipelago in West Papua is considered one of the most beautiful and pristine places on earth, offering incredible diving, snorkeling, and birdwatching opportunities.
Komodo National Park: This UNESCO World Heritage site in East Nusa Tenggara is home to the famous Komodo dragons and offers incredible natural scenery, including pink sand beaches and stunning coral reefs.
Lake Toba: Located in North Sumatra, Lake Toba is the largest volcanic lake in the world and offers stunning scenery, cultural experiences, and water activities.
Tanjung Puting National Park: This national park in Central Kalimantan is home to wild orangutans and offers unique opportunities to see these incredible primates up close.
Bukit Lawang: This small village in North Sumatra is a gateway to the Gunung Leuser National Park, where visitors can go trekking to see orangutans in their natural habitat.
Sumba Island: This lesser-known island in East Nusa Tenggara offers stunning beaches, cultural experiences, and unique architecture.
Toraja Land: This region in South Sulawesi is known for its unique architecture, burial customs, and cultural traditions, including elaborate funeral ceremonies.
Mentawai Islands: This remote archipelago off the coast of West Sumatra offers world-class surfing, unique culture, and pristine natural beauty.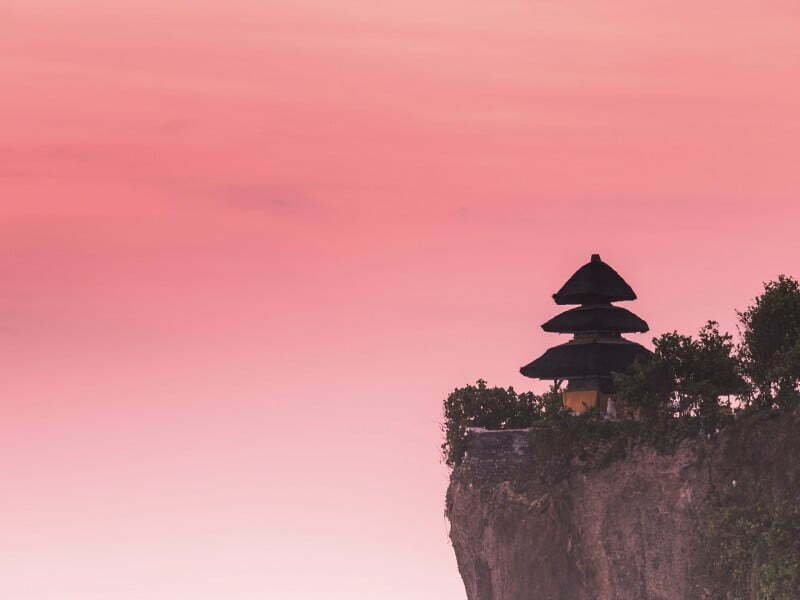 Bali Travel Guide: Final Thoughts
Bali is a destination that captures the hearts and imaginations of travelers from all over the world. With its breathtaking natural beauty, rich culture, and warm hospitality, it's easy to see why Bali is often called the "Island of the Gods." Bali is an island of contrasts, where you can find both tranquil beaches and bustling cities, traditional villages and modern amenities, ancient temples and trendy restaurants.
The island's history is fascinating and complex, shaped by a blend of Hindu, Buddhist, and Muslim influences over the centuries. Bali's unique culture is evident everywhere, from its colorful festivals and ceremonies to its traditional arts and crafts, including intricate wood carvings, woven textiles, and vibrant paintings.
But Bali isn't just about culture and history – it's also a paradise for nature lovers, with lush forests, sparkling waterfalls, and of course, the world-famous beaches and coral reefs. Surfing, diving, and snorkeling are just a few of the activities that draw visitors from all over the world.
Bali's cuisine is also a highlight, with a wide variety of dishes that reflect the island's diverse cultural influences. From spicy curries to fresh seafood, there's something to suit every taste.
Whether you're seeking adventure, relaxation, or a bit of both, Bali has plenty to offer. From exploring ancient temples and rice paddies to lounging on pristine beaches and indulging in luxury spa treatments, there's something for every traveler. With its warm climate, friendly people, and stunning natural beauty, Bali is truly a destination like no other.
Amidst the crashing waves and golden sand, Lies a paradise that's truly grand. Bali, the island of the gods, Where nature and culture intertwine with ease.
The scent of incense in the air, The sound of gamelan fills the square. Temples and shrines, adorned with gold, Tales of ancient wisdom, to be told.
Jungle and rice terraces, a sight to see, With monkeys and birds, wild and free. Surfing and diving, a thrill to behold, The ocean's beauty, to be explored.
The food, oh the food, a feast for all, Spices and flavors, exotic and bold. From the sizzling satay to the crispy duck, A culinary journey, that's worth a look.
Bali, a land of warmth and grace, A place to find your inner peace. With every sunset and every dawn, A new adventure to be drawn.
So pack your bags, and take the leap, To Bali, where the memories keep. A journey of a lifetime, that's for sure, In Bali, where the soul can endure.