Bamberg Travel Guide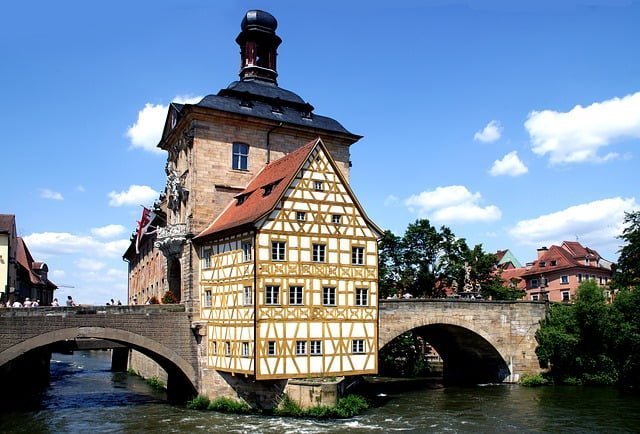 Introduction
Built on an island in the Regnitz River, Bamberg has a long history of trade and commerce. From its signature cathedral to its medieval town centre, plan on spending a few days here on your travels in Bavaria.
Top Attractions
As alluded to in the intro, the Bamberg Cathedral is an impressive sight to see. This Romanesque/Gothic hall of worship has welcomed parishioners since the dawn of the 2nd Millennium. It was at that time when King Heinrich II commissioned its building.
As with many old churches, the original structure isn't the one that has survived to see the present day. After burning a couple of times, authorities rebuilt the church, with the current iteration dating from the 13th century. Here, you'll find the grave of Pope Clement II, as well as numerous works of art.
Like many other corners of Bavaria, you'll find cool castles during your time in Bamberg. Make the Altenburg your first stop. Sitting atop the highest hill overlooking the city below, it served admirably in its defence since the 12th century.
Apart from that role, it also served as a prison during the 16th century. Today, it is more than a popular tourist attraction – you'll also find a locally-beloved restaurant inside. While you can drive to this landmark, you can also reach via a 30-minute walk from town.
Neue Residenz Bamberg is another castle worth seeing during your visit to this corner of Bavaria. From the start of the 17th century, this palace served as the home of the Bamberg prince-bishops. While its art and architecture will impress, its rose garden steals the show with its beauty.
To make the most of your visit, opt for the guided tour. On it, a knowledgeable local will relay stories that will bring the things you see to life.
While in the Old Town, photographers should not miss the Altes Rathaus. Its exterior is worth a quick snap, but be sure to check out the frescoes and porcelain collection inside.
Other Attractions
If you have spare time during your time in Bamberg, drop by the Alte Hofhaltung. Located inside the Altes Rathaus, this museum contains art, pottery, and porcelain that once belonged to leading families in Bamberg.
Over the generations, repeated donations built up the collection that exists today. Apart from the highlights mentioned above, exhibits also show coins, astronomy tools, and clocks dating back to the 16th century. Tours are available, but the commentary is in German – if you can, bring a bilingual friend.
Still in the mood to check out museums? If so, make time for the Naturkunde-Museum of Bamberg. If you have kids, this is a wonderful place, as this institution takes a general approach to natural history. In particular, it focuses on fauna, with taxidermied animals and fossil displays being the highlight.
Like many attractions in Germany off-the-beaten-track, captions are in German only. Because of this, come with Google Translate queued up on your phone, or bring along a German-speaking friend. Note that curators charge an admission fee of 3.50 EUR.
If you're into religious points of interest, take a trip to St. Martin's Church. Unlike other churches in the city, this place is Bamberg's only Baroque structure. Jesuits built this Christian hall of worship back in the 17th century.
Unlike other churches in Bamberg, this one flies under the radar. As a result, you can come here and be relatively certain of having a peaceful place to pray and reflect. Also, feel free to attend mass, as local parishioners welcome those from out-of-town to join them.
Spend your final hours in town enjoying the atmosphere of Bamberg Altstadt. Translating into English as the Bamberg Old Town, you'll find medieval-style architecture at every turn. After getting in some sightseeing, find a cafe, get a coffee and watch the world go by.
What To Eat
While you are sat down at a pub in the Old Town of Bamberg, get yourself a spread of Obazda. This platter of cheese combines soft cheeses like Brie or Limburger with butter, onions, and paprika. Pair it with a pretzel and a beer, and you may end up in heaven.
Speaking of beer, Rauchbier is the local variant you'll find in the Bamberg area. Translating roughly as "smoked beer", this lager has a taste profile that matches its description. This is no accident, as brewmasters make this drink using dried malt. In the days before drum kilns, they dried the malt using an open flame, giving the malt a smoky flavour.
After that, order a Hendl for dinner. This dish is roasted chicken – a simple yet satisfying meal when you've been drinking all afternoon in a beer garden. Basted with butter, it practically melts in your mouth. Have it with some potato salad on the side.