Welcome to the enchanting city of Birmingham, nestled in the heart of England, where the echoes of history harmonize with the vibrancy of modernity. As you step into this captivating urban landscape, you'll find yourself immersed in a symphony of cultural diversity, architectural marvels, and a thriving arts and culinary scene.
Birmingham, as the second-largest city in the United Kingdom, boasts an illustrious past that has shaped its present-day allure. From its humble beginnings as a medieval market town to its pivotal role in the Industrial Revolution, the city has emerged as a testament to human ingenuity and resilience. As you wander through its streets, adorned with a seamless blend of historic buildings and contemporary structures, you'll witness the stories of centuries unfold before your eyes.
Prepare to be mesmerized by the city's iconic landmarks, each standing as a proud testament to its heritage. The majestic Birmingham Cathedral, with its stunning stained-glass windows and awe-inspiring Gothic architecture, invites you to bask in its serene atmosphere. The magnificent Aston Hall, a splendid Jacobean mansion, offers a glimpse into the opulent lifestyles of the past. And let's not forget the world-renowned Library of Birmingham, a striking modern masterpiece that houses a treasure trove of knowledge and creativity.
Beyond its architectural wonders, Birmingham beckons with an array of experiences to tantalize your senses. Indulge in a culinary odyssey through its diverse neighborhoods, where you'll savor tantalizing flavors from around the world. From Michelin-starred restaurants to quirky street food markets, Birmingham's gastronomic scene is a true melting pot of tastes and traditions.
For the culture enthusiasts, a visit to the Birmingham Museum and Art Gallery is a must. Delve into the extensive collection of art and artifacts that span centuries, unveiling the city's profound cultural heritage. And let's not overlook the vibrant theater and music scene, where world-class performances take center stage, captivating audiences with their artistic brilliance.
Shopaholics will find their paradise in Birmingham's bustling retail districts. From the luxurious boutiques of the Mailbox to the eclectic mix of high-street brands and independent stores in the Bullring, the city offers a shopping experience that caters to every taste and style.
As you navigate the streets of Birmingham, you'll encounter a tapestry of diverse communities, each contributing their own unique flavor to the city's cultural fabric. Embrace the warmth and friendliness of its residents, who embody the true spirit of Midlands hospitality.
In this captivating urban symphony, Birmingham invites you to embark on a journey of discovery and immersion. Lose yourself in its rich history, indulge in its culinary delights, marvel at its architectural wonders, and find inspiration in its vibrant arts scene. Whether you seek moments of reflection, culinary delights, artistic wonders, or simply a vibrant urban experience, Birmingham promises to captivate your heart and leave an indelible impression on your soul.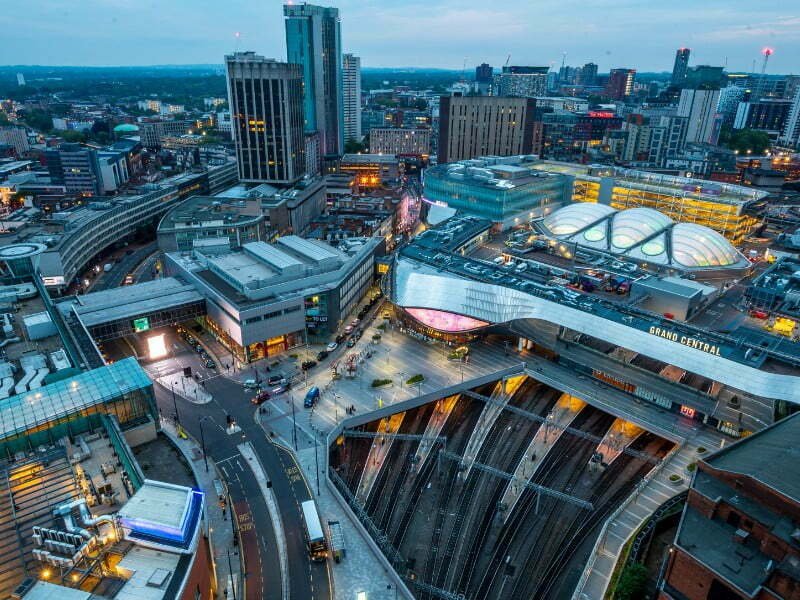 Birmingham City Guide: A Brief History Of Birmingham, England
As you explore the vibrant city of Birmingham, it's impossible to ignore the echoes of its rich and diverse history that have shaped its present-day identity. From its humble beginnings as a small medieval market town to its transformation into a global industrial powerhouse, Birmingham's history is a tapestry of innovation, resilience, and cultural evolution.
Birmingham's story can be traced back to the early 12th century when it emerged as a market town in the heart of England. Its strategic location at the crossing of important trade routes provided the foundation for its economic growth. By the 16th century, Birmingham had gained a reputation for its skilled metalworkers and craftsmen, establishing itself as a center for metalworking and the production of fine goods.
However, it was during the Industrial Revolution in the 18th and 19th centuries that Birmingham truly flourished. The city's abundance of natural resources, such as coal and iron ore, coupled with its skilled workforce, propelled it to the forefront of industrial innovation. Birmingham became a hub of manufacturing and engineering, producing a wide range of goods, including machinery, textiles, jewelry, and firearms. This rapid industrialization led to a surge in population and the expansion of the city's infrastructure.
Birmingham's industrial prowess was also closely tied to its canal network. The construction of canals, such as the Birmingham Canal and the Warwickshire Canal, facilitated the transportation of raw materials and finished products, further fueling the city's economic growth.
The city's commitment to education and intellectual pursuits also played a significant role in its development. In the late 19th century, the University of Birmingham was established, fostering a culture of learning and research that continues to thrive today.
Birmingham's history is also intricately linked to the fight for social and political rights. During the 19th century, the city became a hotbed of radicalism and activism, with individuals like Joseph Chamberlain championing social reforms and advocating for workers' rights.
In more recent years, Birmingham has undergone a remarkable transformation. The post-war period brought challenges and opportunities for the city, leading to significant urban redevelopment projects and the revitalization of its cultural and artistic scene. The construction of iconic landmarks such as the Bullring Shopping Centre and the Library of Birmingham has breathed new life into the city's landscape, blending modern architectural marvels with its historic charm.
Today, Birmingham is a vibrant, multicultural city that embraces its rich heritage while embracing the future. Its diverse communities, eclectic culinary scene, world-class cultural institutions, and thriving business sector make it a dynamic destination for visitors from around the globe.
As you explore Birmingham, let the echoes of its past guide you through its streets, where you'll discover the stories of resilience, innovation, and cultural diversity that have shaped this remarkable city. From its industrial heritage to its modern-day reinvention, Birmingham's history is a testament to human ingenuity and the spirit of progress.
Birmingham Top Attractions and Best Places to Visit in England
While Birmingham is the second largest city in Britain, it often gets overshadowed by its big brother further south. Located in the Midlands of England, it was situated at the heart of the emergence of the Industrial Revolution in the 19th century, which led to it having a blue collar identity that has caused it to being snubbed by some.
Those that look closer though will find a city that has embraced its hard working past and its status as the centre of England's chocolate and luxury goods industry. Combine that with cultural institutions that have been growing markedly over the past few decades, and you have a hidden gem that is just waiting to be admired by a traveler just like yourself.
Birmingham's claim to fame has long revolved around its luxury goods industry, as it retains a 40% share of all jewelry made in Europe.
Before touring the rest of the district that gives this attraction its name, make The Museum of the Jewellery Quarter your first stop, as it chronicles the history and role that this city has played in the production of the shiny, pretty things that we all love to receive as gifts from our significant others.
Free of charge for visitors, this place represents a great value for those watching their travel budget closely, as you will touring a gold jeweler's workshop that has been preserved perfectly after the owners retired from the business in 1981.
Tools, machines and personal effects from that age remain in the back, allowing you to glimpse back into the past when this shop was producing shiny baubles for those with money to burn.
This city was also involved in a whole host of other blue collar industries that sprung up in the wake of the Industrial Revolution.
In order to house the working classes economically, townhomes without any space between them were built throughout the city, though some did have a communal courtyard.
The Birmingham Back to Backs were the last preserved example of this type of building, as it managed to dodge a date with the bulldozer that most others succumbed to in the urban renewal projects of the 1960's.
Today, volunteers have recreated how life was in these modest dwellings, with examples ranging from the 1840's to the 1970's.
If you have a craving to consume some fine culture while in town, the Birmingham Hippodrome is a fine place to satisfy your need for dance and/or theatre productions. Attracting over 600,000 paying customers every year, it is one of the most popular venues for touring acts in the United Kingdom, making it a great place to check out if you are looking for a quality performing act.
Other Cultural Attractions: Trip to Birmingham, England
Those looking to learn more about the marine animals that inhabit the waters off the coasts of the British Isles and elsewhere will enjoy a visit to the National Sea Life Centre. Its one million litre ocean tank contains sharks, turtles and other sea life that make it the perfect place to go if you are traveling with children, as a survey commissioned by the Good Britain Guide named it one of the nation's best family attractions.
Chocolate lovers will be in heaven once they discover that Birmingham is home to Cadbury World, an interactive experience that profiles how the British chocolatiers of the same name create the sweet treats that are savored by people the world over. Over 14 zones, visitors will learn the history of chocolate, the story of how Cadbury came to be, and how its trademark products are made.
Finally, if you find yourself in Birmingham during the warmer months of the year, and you love spending time outdoors, taking a stroll through the Winterbourne Botanic Garden will be the perfect way to take a great from its busy city centre. Spread over seven acres on a former estate of a member of England's upper classes, it is a rare example of a 20th century Victorian style villa garden. Both the red brick mansion and the gardens themselves are open to the public, with the home having been restored to its Victorian period heyday. After exploring the varied gardens (which includes an arid house for desert plants) outside, be sure to spend some time in the former dining room for a spot of high tea.

source: Travel Max on YouTube
Top 20 Things To Do in Birmingham, England For Visitors
Here are the top 10 things to do in Birmingham:
Visit the Birmingham Museum and Art Gallery: Immerse yourself in the rich cultural heritage of Birmingham through its extensive collection of art, history, and archaeology. Explore the fascinating exhibits that showcase the city's past and present, including the renowned Staffordshire Hoard and a diverse range of artwork.
Explore Cadbury World: Indulge your sweet tooth at Cadbury World, a chocolate lover's paradise. Take a guided tour to learn about the history of Cadbury and the chocolate-making process. Discover interactive exhibits, sample delicious treats, and even create your own personalized chocolate.
Wander through the Birmingham Botanical Gardens: Escape the hustle and bustle of the city and immerse yourself in the serene beauty of the Birmingham Botanical Gardens. Stroll through the various themed gardens, including the Tropical House and the Japanese Garden, and marvel at the stunning array of plant species.
Take a canal boat tour: Discover Birmingham's rich canal network, often referred to as the "Venice of the North," on a relaxing canal boat tour. Admire the picturesque scenery, historic buildings, and vibrant street art as you glide along the waterways, gaining a unique perspective of the city.
Experience the Jewellery Quarter: Step into a world of craftsmanship and elegance in the Jewellery Quarter, home to Europe's largest concentration of jewelry businesses. Explore the fascinating museums, browse the independent boutiques, and perhaps even design and create your own bespoke piece of jewelry.
Visit the Birmingham Wildlife Conservation Park: Encounter a variety of exotic and endangered species at the Birmingham Wildlife Conservation Park. From red pandas to lemurs, meerkats to reptiles, this park provides a unique opportunity to get up close to fascinating animals while supporting conservation efforts.
Explore the vibrant markets: Immerse yourself in the vibrant atmosphere of Birmingham's markets. Visit the historic Bull Ring Indoor Market, where you can find a wide range of fresh produce, clothing, and local crafts. Don't miss the bustling outdoor markets like the Birmingham Rag Market, offering an eclectic mix of fashion, textiles, and accessories.
Discover the Custard Factory: Step into the creative heart of Birmingham at the Custard Factory, a thriving arts and media quarter. Explore the independent shops, art galleries, and studios, and soak up the vibrant and eclectic atmosphere of this vibrant cultural hub.
Take a tour of the Birmingham Back to Backs: Step back in time with a guided tour of the Birmingham Back to Backs, a preserved courtyard of 19th-century working-class houses. Gain insight into the lives of the families who lived there and experience the sights, sounds, and smells of this fascinating historical site.
Enjoy a performance at the Birmingham Hippodrome: Treat yourself to a night of entertainment at the Birmingham Hippodrome, one of the UK's busiest and most prestigious theaters. From musicals to ballets, comedy shows to live music concerts, there is always something captivating happening on the stage of this iconic venue.
Marvel at the Aston Hall: Step into the grandeur of Aston Hall, a Jacobean mansion surrounded by picturesque gardens. Explore the opulent interiors, admire the stunning architecture, and learn about the history of this magnificent stately home.
Experience the thrill of the National SEA LIFE Centre: Dive into an underwater adventure at the National SEA LIFE Centre, home to a mesmerizing array of marine life. Get up close to sharks, turtles, penguins, and more as you journey through interactive exhibits and underwater tunnels.
Immerse yourself in history at the Black Country Living Museum: Venture just outside of Birmingham to the Black Country Living Museum, an open-air museum that brings the region's industrial past to life. Explore reconstructed buildings, interact with costumed characters, and learn about the area's industrial heritage.
Enjoy a leisurely walk in Cannon Hill Park: Escape the urban hustle and unwind in Cannon Hill Park, one of Birmingham's largest and most beautiful green spaces. Take a leisurely stroll around the park's tranquil lakes, admire the vibrant flower displays, and perhaps even rent a boat for a relaxing paddle on the water.
Discover the Barber Institute of Fine Arts: Delve into the world of art at the Barber Institute of Fine Arts, located within the University of Birmingham. Admire a remarkable collection of European art, including works by renowned artists such as Van Gogh, Monet, and Picasso.
Get a bird's-eye view from the Library of Birmingham: Ascend to the rooftop terrace of the Library of Birmingham and enjoy panoramic views of the cityscape. Take in the stunning vistas, snap some memorable photos, and gain a unique perspective on Birmingham's urban landscape.
Explore the medieval marvel of Birmingham Cathedral: Visit Birmingham Cathedral, a beautiful medieval church that dates back over 300 years. Admire the stunning stained glass windows, discover the rich history of the cathedral, and take a moment of tranquility in this serene place of worship.
Uncover the secrets of the Pen Museum: Delve into the fascinating world of pen manufacturing at the Pen Museum. Learn about Birmingham's important role in the pen industry, explore interactive exhibits, and even try your hand at calligraphy.
Indulge in retail therapy at the Bullring: Shop 'til you drop at the Bullring, one of the UK's most iconic shopping destinations. Browse through a wide array of high-street and designer stores, explore the vibrant markets, and treat yourself to a delicious meal at one of the many restaurants and cafes.
Take a trip to the vibrant Balti Triangle: Embark on a culinary adventure in the Balti Triangle, renowned for its authentic Indian and Pakistani cuisine. Sample mouthwatering dishes from a variety of restaurants, savor the aromatic flavors, and discover why Birmingham is hailed as the curry capital of the UK.
These are just a few of the many experiences that await you in Birmingham. Whether you're interested in history, culture, nature, or simply soaking up the vibrant atmosphere, this city has something to offer every traveler.
What To Eat and Drink in Birmingham, England
When it comes to culinary delights, Birmingham offers a vibrant and diverse food scene that caters to every palate. Here are some must-try dishes and drinks to savor during your visit:
Birmingham Balti: Indulge in the city's famous Balti cuisine, a savory and aromatic curry dish that originated in Birmingham's Balti Triangle. These spicy curries are traditionally cooked and served in a thin, steel wok-like pan, resulting in a distinctive and flavorsome meal.
Gourmet Burgers: Sink your teeth into a gourmet burger from one of Birmingham's many trendy burger joints. Enjoy a juicy patty made from locally sourced ingredients, topped with a variety of delicious toppings and served in a freshly baked bun.
Cadbury Chocolate: Birmingham is home to the iconic Cadbury chocolate brand, and a visit to the city wouldn't be complete without sampling some of their delectable treats. Visit the Cadbury World attraction for an immersive chocolate experience and indulge in their famous Dairy Milk chocolate bars.
Traditional Fish and Chips: Treat yourself to a classic British dish of fish and chips. Head to a local fish and chip shop where you can enjoy crispy battered fish, golden chips, and mushy peas, all served with a sprinkle of salt and a dash of vinegar.
Craft Beer: Birmingham boasts a thriving craft beer scene, with numerous breweries and pubs offering a wide selection of locally brewed beers. Sample a range of flavorful brews, from hoppy IPAs to rich stouts, and discover the city's unique beer culture.
Indian Cuisine: Birmingham is known for its fantastic Indian restaurants, thanks to its large South Asian population. Indulge in aromatic curries, flavorful biryanis, and freshly baked naan breads at one of the city's many authentic Indian eateries.
Midlands Pie: Delight in a hearty Midlands pie, a beloved regional specialty. These savory pies are filled with a variety of ingredients, such as tender meats, vegetables, and rich gravy, all encased in a flaky pastry crust.
Afternoon Tea: Experience the British tradition of afternoon tea in one of Birmingham's elegant tea rooms or hotels. Savor an assortment of finger sandwiches, freshly baked scones with clotted cream and jam, and a selection of delicate pastries, all accompanied by a steaming pot of tea.
Craft Cocktails: Birmingham's cocktail scene is thriving, with many stylish bars and mixologists crafting unique and inventive cocktails. Sip on expertly crafted concoctions made with premium spirits, fresh ingredients, and innovative flavor combinations.
Peaky Blinders-inspired Drinks: Birmingham is the hometown of the popular TV series Peaky Blinders, and you can embrace the spirit of the show by enjoying a drink inspired by the era. Visit a speakeasy-style bar and order a classic whiskey cocktail or a gin-based concoction, reminiscent of the 1920s.
Birmingham Balti Triangle: Explore the vibrant Balti Triangle and indulge in a variety of authentic Pakistani and Kashmiri dishes, including aromatic biryanis, flavorful kebabs, and deliciously spiced curries.
Vegetarian and Vegan Delights: Birmingham is known for its excellent vegetarian and vegan dining options. Visit one of the city's plant-based eateries to savor innovative dishes made from fresh, locally sourced ingredients.
International Street Food: Experience a world of flavors by visiting Birmingham's bustling street food markets. Discover a wide range of global cuisines, from Mexican tacos and Lebanese falafel to Vietnamese banh mi and Caribbean jerk chicken.
Traditional English Afternoon Tea: Treat yourself to a quintessential English afternoon tea experience in one of Birmingham's elegant tea rooms or historic hotels. Enjoy a selection of finely brewed teas, delicate finger sandwiches, homemade scones, and exquisite pastries.
Digbeth Dining Club: Visit Digbeth Dining Club, one of the city's premier street food events held every week. Explore a diverse range of food trucks and stalls offering tantalizing dishes from around the world, accompanied by live music and a vibrant atmosphere.
Craft Gin: Birmingham has seen a surge in craft gin distilleries and bars. Sample a variety of locally produced gins, each with its unique blend of botanicals, and enjoy refreshing gin and tonic combinations.
Chocolate Treats: Discover artisan chocolatiers in Birmingham and indulge in handcrafted chocolates and truffles made from the finest cocoa beans. Try unique flavor combinations and treat yourself to a luxurious chocolate experience.
Brummie Curry: Birmingham's multicultural identity is reflected in its incredible curry scene. Sample traditional Brummie curries influenced by Indian, Pakistani, and Bangladeshi flavors, showcasing the city's love for spice and aromatic spices.
Craft Coffee: Birmingham has a thriving specialty coffee scene. Visit independent coffee shops and roasteries to enjoy expertly brewed cups of coffee made from carefully selected beans, sourced from around the world.
Local Craft Cider: Birmingham's surrounding countryside is home to a variety of orchards, producing delicious local ciders. Visit a traditional cider house or pub to taste refreshing ciders made from locally grown apples and pears.
From local specialties to international flavors, Birmingham offers a tantalizing array of food and drink options that will satisfy every culinary craving. Embark on a gastronomic journey and discover the diverse tastes and flavors that make Birmingham's dining scene so remarkable.
Top Restaurants In Birmingham, England
Here are some of the top restaurants in Birmingham, England, known for their exceptional culinary experiences:
Adam's: This Michelin-starred restaurant offers a refined dining experience with a focus on modern British cuisine. Enjoy meticulously crafted dishes made with the finest ingredients and exceptional attention to detail.
Carters of Moseley: Known for its innovative and creative approach to food, Carters of Moseley offers a unique tasting menu experience. The restaurant showcases seasonal produce and local ingredients in dishes that are both elegant and full of flavor.
Purnell's: Helmed by renowned chef Glynn Purnell, Purnell's offers a modern and inventive take on classic British cuisine. The restaurant boasts a sophisticated ambiance and a menu that combines bold flavors with culinary artistry.
Opheem: Led by chef Aktar Islam, Opheem is a stylish and contemporary restaurant that celebrates the flavors of India with a modern twist. The menu features imaginative dishes that showcase a fusion of traditional Indian spices and local ingredients.
The Wilderness: This avant-garde restaurant pushes the boundaries of traditional dining with its experimental and unconventional approach. The Wilderness offers an ever-evolving menu that incorporates unexpected ingredients and creative techniques.
The Oyster Club: Specializing in seafood and oysters, The Oyster Club provides a luxurious dining experience. Indulge in fresh oysters, succulent seafood platters, and expertly prepared fish dishes in a sophisticated setting.
Harborne Kitchen: With its focus on seasonal and locally sourced ingredients, Harborne Kitchen offers a constantly evolving menu that highlights the best of British produce. The restaurant provides a relaxed and welcoming atmosphere.
Simpsons: Located in a beautiful Georgian building, Simpsons is a fine dining establishment known for its elegant cuisine and impeccable service. The restaurant offers a tasting menu that showcases the talents of the kitchen team.
Lasan: As one of Birmingham's premier Indian restaurants, Lasan delivers a modern and sophisticated take on traditional Indian flavors. The restaurant offers a menu filled with aromatic spices and expertly balanced dishes.
The Plough: Located in the countryside just outside of Birmingham, The Plough is a charming gastropub that serves delicious seasonal fare. Enjoy hearty dishes made with locally sourced ingredients and relax in the cozy and rustic surroundings.
These top restaurants in Birmingham represent the city's diverse culinary scene, offering a range of dining experiences from Michelin-starred establishments to innovative and contemporary eateries. Whether you're seeking refined gastronomy, creative flavors, or comforting pub classics, Birmingham has a restaurant to suit every taste and occasion.
Tours For Visitors To Birmingham, England
For those seeking to explore the city via tour here are some suggestions:
Birmingham City Sightseeing Tour: Explore the highlights of Birmingham on a guided city sightseeing tour. Visit iconic landmarks such as Birmingham Cathedral, the Bullring shopping center, and the Jewellery Quarter while learning about the city's history and culture from a knowledgeable guide.
Peaky Blinders Tour: Immerse yourself in the world of the popular TV series "Peaky Blinders" with a guided tour that takes you to key filming locations in Birmingham. Walk in the footsteps of the Shelby family and discover the real-life history behind the show.
Birmingham Canal Cruise: Embark on a relaxing canal cruise and see Birmingham from a different perspective. Cruise along the city's historic canals, passing by charming waterfronts, vibrant neighborhoods, and picturesque scenery. Learn about the canal's significance to Birmingham's industrial heritage.
Cadbury World: Indulge your sweet tooth with a visit to Cadbury World, a popular tourist attraction that offers a behind-the-scenes look at the famous Cadbury chocolate brand. Take a tour of the factory, learn about the chocolate-making process, and enjoy delicious samples along the way.
Birmingham Ghost Walk: Discover the dark and mysterious side of Birmingham on a ghost walk tour. Explore haunted streets, listen to chilling tales of ghostly encounters, and learn about the city's eerie legends and paranormal activity.
Street Art Walking Tour: Birmingham is home to a vibrant street art scene, and a guided walking tour will take you through the city's most colorful and striking murals. Learn about the artists behind the artworks and gain insight into Birmingham's urban culture.
Aston Villa Stadium Tour: For football enthusiasts, a tour of Aston Villa Stadium is a must. Explore the historic stadium, visit the changing rooms, walk through the players' tunnel, and get a glimpse of the club's prestigious past.
Birmingham Back to Backs: Step back in time and explore the preserved Victorian back-to-back houses, offering a glimpse into the lives of working-class families in the 19th and 20th centuries. Take a guided tour to learn about the living conditions and social history of the time.
Jewellery Quarter Tour: Delve into Birmingham's rich jewelry-making heritage with a tour of the historic Jewellery Quarter. Visit jewelry workshops, discover the craftsmanship behind exquisite pieces, and browse the independent shops and galleries in the area.
Birmingham Botanical Gardens: Take a leisurely stroll through the beautiful Birmingham Botanical Gardens. Enjoy the serene surroundings, explore the glasshouses showcasing a variety of plant species, and learn about the botanical wonders from knowledgeable guides.
These tours offer a range of experiences for visitors to Birmingham, whether you're interested in history, culture, art, sports, or simply exploring the city's charming attractions.
Birmingham Accommodations Guide: Hotels, Guesthouses and Hostels
When visiting Birmingham, England, you'll find a wide range of accommodations to suit your preferences and budget. Whether you're looking for luxury hotels, budget-friendly options, or unique boutique stays, Birmingham has something for everyone. Here's a guide to help you find the perfect accommodation for your stay:
Luxury Hotels: Birmingham boasts several luxury hotels known for their impeccable service, elegant interiors, and top-notch amenities. These hotels often feature spacious rooms, fine dining options, spa facilities, and stunning views of the city. Some of the top luxury hotels in Birmingham include The Hyatt Regency, Hotel du Vin & Bistro, and The Edgbaston.
Boutique Hotels: For a more intimate and personalized experience, consider staying in one of Birmingham's boutique hotels. These stylish and unique properties often feature individually designed rooms, artful decor, and a cozy ambiance. The Staying Cool at the Rotunda and Malmaison Birmingham are popular boutique hotel choices in the city.
Budget-Friendly Options: If you're looking for affordable accommodations, Birmingham has a variety of budget-friendly options. From budget chain hotels to cozy guesthouses and bed and breakfasts, there are plenty of choices that provide comfortable stays without breaking the bank. Some budget-friendly accommodations in Birmingham include Premier Inn Birmingham City Centre, Ibis Birmingham Centre New Street, and Hatters Hostel Birmingham.
Serviced Apartments: If you prefer the convenience of a self-catering option, consider booking a serviced apartment. These fully furnished apartments provide a home-away-from-home experience, with amenities such as a kitchenette, living area, and often additional facilities like a gym or laundry services. SACO Birmingham – Brindleyplace and Staycity Aparthotels Birmingham are popular choices for serviced apartments in the city.
Guesthouses and Bed and Breakfasts: Birmingham has a selection of charming guesthouses and bed and breakfasts that offer cozy accommodations and a warm welcome. These properties often provide a personal touch, home-cooked breakfasts, and a comfortable atmosphere. Elmdon Lodge Guest House and The High Field Town House are well-regarded guesthouses in Birmingham.
Airport Hotels: If you have an early or late flight, or simply prefer to stay near the airport for convenience, Birmingham has a range of hotels in close proximity to Birmingham Airport. These hotels often offer shuttle services and are suitable for both business and leisure travelers. Some airport hotels in Birmingham include Novotel Birmingham Airport and Holiday Inn Birmingham Airport.
Central Location: If you prefer to stay in the heart of the city, there are many hotels located in Birmingham's city center. Staying in this area allows for easy access to major attractions, shopping areas, restaurants, and entertainment venues. The Clayton Hotel Birmingham and Macdonald Burlington Hotel are centrally located options worth considering.
When choosing your accommodation in Birmingham, consider factors such as location, amenities, and your specific preferences. It's advisable to book in advance, especially during peak travel seasons, to secure the best rates and availability.
Day Trips From Birmingham, England
While exploring Birmingham, England, you'll find yourself in a prime location to embark on exciting day trips to nearby destinations. Here are some fantastic options for day trips from Birmingham that offer unique experiences and memorable adventures:
Stratford-upon-Avon: Just a short distance from Birmingham, Stratford-upon-Avon is the birthplace of William Shakespeare and a charming town filled with Tudor-style buildings. Visit Shakespeare's Birthplace, explore the Royal Shakespeare Theatre, and take a leisurely stroll along the scenic River Avon.
Warwick Castle: Immerse yourself in history by visiting Warwick Castle, a well-preserved medieval fortress located in the town of Warwick. Discover the castle's rich heritage, witness medieval reenactments, and explore the beautiful grounds and gardens.
The Cotswolds: Experience the picturesque beauty of the Cotswolds, an area renowned for its idyllic countryside, charming villages, and honey-colored stone cottages. Take a leisurely drive through the rolling hills, visit quaint towns like Bourton-on-the-Water and Chipping Campden, and indulge in traditional English cream tea.
Ironbridge Gorge: Step back in time at the Ironbridge Gorge, a UNESCO World Heritage Site known as the birthplace of the Industrial Revolution. Explore the Victorian town of Ironbridge, visit the Ironbridge Gorge Museum, and walk across the iconic Iron Bridge itself.
Oxford: Discover the prestigious university city of Oxford, famous for its stunning architecture and rich academic history. Take a guided tour of the university colleges, visit the Bodleian Library, and explore the city's museums and historic landmarks.
The Peak District: Nature lovers will delight in a day trip to the Peak District National Park, located just a short drive from Birmingham. Marvel at the breathtaking landscapes, go hiking or cycling along the scenic trails, and visit charming villages like Bakewell and Castleton.
Cadbury World: Satisfy your sweet tooth with a visit to Cadbury World, a chocolate-themed attraction located in Bournville, just outside of Birmingham. Take a guided tour, learn about the history of chocolate, and indulge in delicious samples.
Shropshire Hills: Escape to the serene beauty of the Shropshire Hills, an Area of Outstanding Natural Beauty. Enjoy peaceful walks in the countryside, visit the historic market town of Shrewsbury, and explore the fascinating Iron Age hill fort at The Wrekin.
Liverpool: If you're a fan of music and culture, consider a day trip to Liverpool, the hometown of The Beatles. Visit The Beatles Story exhibition, explore the vibrant Albert Dock area, and soak up the city's rich musical heritage.
Stratford Butterfly Farm and Hatton Country World: Perfect for families, these two attractions offer a fun-filled day out. Discover a tropical paradise at the Stratford Butterfly Farm, where you can observe hundreds of colorful butterflies, and enjoy a range of family-friendly activities at Hatton Country World, including animal encounters and farmyard fun.
These day trips from Birmingham offer a diverse range of experiences, from history and culture to nature and family-friendly adventures. Plan your itinerary based on your interests and make the most of your time exploring the fascinating destinations surrounding Birmingham.
Birmingham Transportation Guide
Getting around Birmingham, England, is easy and convenient, thanks to its well-connected transportation system. Here's a comprehensive transportation guide to help you navigate the city:
Train: Birmingham boasts excellent rail connections, making it a convenient hub for exploring the UK. The city has three major train stations: Birmingham New Street, Birmingham Snow Hill, and Birmingham Moor Street. These stations provide regular services to various destinations across the country.
Tram: The West Midlands Metro operates a modern tram system that connects Birmingham with Wolverhampton and other neighboring areas. Trams are a reliable and efficient mode of transportation, with frequent services and stops at key locations throughout the city center.
Bus: Birmingham has an extensive bus network operated by National Express West Midlands. Buses are a convenient way to get around the city and reach destinations not served by trams or trains. You can find bus stops throughout the city, and electronic displays at the stops provide real-time information about bus arrivals.
Cycling: Birmingham is becoming increasingly cycle-friendly, with dedicated cycle lanes and a bike-sharing scheme called West Midlands Cycle Hire. You can rent a bike from various docking stations across the city and enjoy cycling along the designated routes and canal towpaths.
Walking: Birmingham's city center is relatively compact and easy to explore on foot. Many attractions, shops, and restaurants are within walking distance of each other, making it an enjoyable way to immerse yourself in the city's vibrant atmosphere.
Taxi and Ride-Hailing Services: Taxis are readily available throughout the city, and you can easily hail one on the street or find them at designated taxi ranks. Additionally, ride-hailing services like Uber operate in Birmingham, providing another convenient option for getting around.
Park and Ride: If you're driving into the city, consider using the Park and Ride facilities located on the outskirts. These designated parking areas provide a convenient way to avoid city center congestion and offer regular bus or tram services into the heart of Birmingham.
Car Rental: If you prefer to explore the region at your own pace, renting a car is a viable option. Several car rental companies operate in Birmingham, and you can find them at the airport and throughout the city. Keep in mind that traffic and parking can be challenging in the city center, so plan accordingly.
Airport Transfers: Birmingham Airport is well-connected to the city center, with several transportation options available. You can take the Air-Rail Link from the airport terminal to Birmingham International train station, where you can connect to the city's rail network. Additionally, taxis, ride-hailing services, and buses provide direct transfers from the airport to various destinations.
Accessibility: Birmingham's transportation system is designed to be accessible for individuals with mobility challenges. Buses, trams, and trains have provisions for wheelchair users, and most stations and public areas are equipped with accessibility features.
By utilizing the various transportation options in Birmingham, you can easily navigate the city and its surrounding areas, allowing you to make the most of your visit and explore all that this vibrant city has to offer.
Where To Visit After Your Trip To Birmingham?
After exploring the wonders of Birmingham, England, there are several captivating destinations nearby that are well worth visiting. Here are some suggestions for places to visit after your trip to Birmingham:
Stratford-upon-Avon: Immerse yourself in the birthplace of William Shakespeare by visiting Stratford-upon-Avon. Explore the renowned playwright's birth house, walk along the charming streets, and experience live performances at the Royal Shakespeare Theatre.
Warwick Castle: Journey back in time at Warwick Castle, a magnificent medieval fortress located in Warwickshire. Discover its rich history, explore the grand interiors, and witness exciting reenactments and events.
The Cotswolds: Embark on a picturesque journey to the Cotswolds, an area of outstanding natural beauty. Explore the quaint villages with their honey-colored cottages, stroll through rolling hills, and savor the idyllic countryside charm.
Oxford: Known for its prestigious university and captivating architecture, Oxford is a must-visit destination. Take a guided tour of the historic colleges, wander through the charming streets, and visit iconic landmarks like the Bodleian Library and Christ Church College.
Bath: Experience the Roman heritage and stunning Georgian architecture in the historic city of Bath. Marvel at the ancient Roman Baths, explore the well-preserved Georgian streets, and unwind in the city's thermal spas.
The Peak District National Park: Nature lovers will be enthralled by the rugged beauty of the Peak District National Park. Embark on hiking trails, discover enchanting villages, and enjoy breathtaking views of rolling hills and stunning landscapes.
Stratford-upon-Avon Canal: For a peaceful and scenic escape, consider taking a canal boat trip along the Stratford-upon-Avon Canal. Cruise through picturesque countryside, pass by charming locks, and enjoy the tranquil ambiance of the waterway.
Ironbridge Gorge: Step into the birthplace of the Industrial Revolution at Ironbridge Gorge, a UNESCO World Heritage Site. Explore the Iron Bridge, visit fascinating museums, and learn about the pioneering industries that shaped the modern world.
Shropshire Hills: Discover the natural splendor of the Shropshire Hills, an Area of Outstanding Natural Beauty. Enjoy scenic walks, visit historic market towns like Ludlow, and take in the breathtaking landscapes of rolling hills and hidden valleys.
Liverpool: Venture northwest to the vibrant city of Liverpool, known for its rich musical heritage, iconic waterfront, and thriving arts scene. Explore The Beatles' history, visit the historic Albert Dock, and soak in the vibrant atmosphere of this cultural hub.
Cambridge: Immerse yourself in the prestigious university city of Cambridge, known for its exquisite architecture, charming riverside scenery, and world-renowned colleges. Take a punt along the River Cam, explore historic landmarks like King's College Chapel, and soak up the vibrant academic atmosphere.
The Lake District: Escape to the breathtaking landscapes of the Lake District National Park. Discover picturesque lakes, towering mountains, and charming villages. Enjoy outdoor activities like hiking, boating, and wildlife spotting in this tranquil and scenic region.
York: Step back in time with a visit to the historic city of York. Walk along its medieval walls, explore the narrow, winding streets of the Shambles, and visit the impressive York Minster. Don't forget to learn about the city's Viking past at the Jorvik Viking Centre.
Stratford-upon-Avon: Delve into the world of William Shakespeare once again by visiting Stratford-upon-Avon. Tour the playwright's family homes, watch a performance by the renowned Royal Shakespeare Company, and wander through the charming streets of this literary town.
Chester: Discover the rich history and unique charm of Chester, a city renowned for its well-preserved Roman walls and medieval architecture. Explore the stunning Chester Cathedral, stroll along the Rows—a series of historic two-level shopping galleries—and visit the impressive Chester Zoo.
Snowdonia National Park: Embark on a journey to Snowdonia, a breathtaking national park in Wales. Hike to the summit of Mount Snowdon for panoramic views, explore ancient castles, and enjoy outdoor activities like cycling, kayaking, and rock climbing.
Edinburgh: Venture north to Scotland's capital, Edinburgh, and experience its captivating blend of history, culture, and stunning architecture. Visit the iconic Edinburgh Castle, stroll along the historic Royal Mile, and take in panoramic views from Arthur's Seat.
Bristol: Discover the vibrant city of Bristol, known for its thriving arts scene, maritime history, and iconic Clifton Suspension Bridge. Explore the vibrant harborside, visit the interactive exhibits at the SS Great Britain, and indulge in the city's diverse culinary offerings.
The Jurassic Coast: Explore the stunning Jurassic Coast, a UNESCO World Heritage Site that stretches along the southern coast of England. Discover ancient fossils, admire dramatic cliffs, and relax on picturesque beaches in this geological marvel.
Windsor Castle: Conclude your journey with a visit to Windsor Castle, the oldest and largest inhabited castle in the world. Marvel at the opulent State Apartments, witness the Changing of the Guard, and stroll through the charming town of Windsor.
These destinations near Birmingham offer a diverse range of experiences, from history and culture to natural beauty and relaxation. Extend your journey beyond Birmingham and delve into the fascinating wonders that await in the surrounding areas.
Birmingham Travel Guide: Final Thoughts
As you conclude your journey through Birmingham, England, take a moment to reflect on the vibrant tapestry of experiences you've encountered. From its rich history and cultural heritage to its modern attractions and culinary delights, Birmingham has captivated visitors with its unique charm.
Immerse yourself in the city's diverse cultural scene, exploring renowned museums and art galleries that showcase its artistic prowess. Wander through historic streets lined with beautiful architecture, such as the impressive Birmingham Cathedral or the iconic Library of Birmingham. Experience the city's vibrant music scene, with its deep roots in genres like heavy metal and reggae.
Indulge your taste buds with a culinary adventure, savoring a range of international cuisines and locally-inspired dishes. From traditional pub fare to innovative gastronomic creations, Birmingham's dining scene offers something for every palate.
Uncover the city's history through visits to historic landmarks like Aston Hall, the Birmingham Back to Backs, or the Jewellery Quarter, where craftsmanship and creativity intertwine. Explore the city's canals, once a bustling hub of industry, now transformed into picturesque walkways dotted with cafes, shops, and narrowboats.
Venture beyond the city limits and discover the natural beauty that surrounds Birmingham. Explore the lush countryside, picturesque villages, and stunning parks that offer opportunities for outdoor activities and peaceful retreats.
Throughout your journey, you'll be embraced by the warm hospitality of the locals, who take pride in their city and are eager to share its hidden gems and stories. Engage with the vibrant community, attending events and festivals that celebrate Birmingham's cultural diversity and creativity.
As you bid farewell to Birmingham, take with you memories of its vibrant energy, its historical significance, and its modern reinvention. Reflect on the moments of awe-inspiring beauty, the flavors that delighted your taste buds, and the connections you made with the people who call Birmingham home.
Whether you leave with a sense of fulfillment or a desire to return, know that Birmingham has left an indelible mark on your travel journey. May the spirit of this dynamic city inspire you as you continue to explore the world and create lasting memories. Safe travels, and until we meet again on the road less traveled.
In the heart of England, a city of grace, Where history and modernity embrace, Birmingham stands with pride and might, A captivating destination, shining bright.
With bustling streets and vibrant soul, It welcomes travelers from afar, whole, A symphony of cultures, colors, and sound, A tapestry of stories waiting to be found.
Amidst the grandeur of architectural delight, The Birmingham skyline reaches great heights, From ancient cathedrals to modern marvels, Each structure a testament to human marvels.
Stroll through the Jewellery Quarter's gleam, Where craftsmanship's brilliance truly beams, Sparkling gems and treasures untold, A testament to artisans, skillful and bold.
In museums and galleries, history unfurls, Unveiling tales of the city's past, it swirls, From the Industrial Revolution's fiery blaze, To the modern art that captures endless gaze.
Canals weave through the heart of the land, Whispering tales of commerce, hand in hand, Wander their banks, a tranquil retreat, A moment of peace in the urban beat.
Indulge in flavors from around the globe, Birmingham's culinary scene, a treasure trove, From traditional pubs to fine dining delights, Each bite a symphony of tastes and sights.
The soulful melodies, the beats that entwine, Birmingham's music scene, a rhythm divine, From reggae to rock, jazz to soul, A city that dances to its own unique role.
And as you wander through its vibrant streets, Engage with locals, share moments sweet, For it's the people who make a city's heart, Their warmth and stories, a priceless art.
So, travelers, let Birmingham inspire, Uncover its secrets, let your spirits aspire, Embrace the magic that lies within, A city of dreams, where adventures begin.
In Birmingham's embrace, your journey unfolds, A symphony of experiences, stories untold, May its spirit ignite a wanderer's flame, As you carry its essence, in your heart, the same.