Bishkek Travel Guide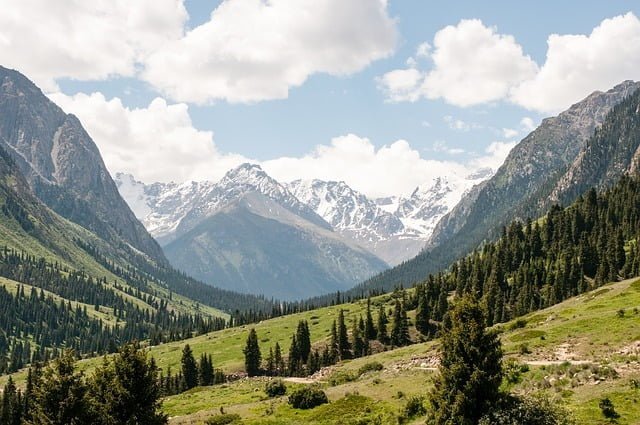 Introduction
Bishkek is the capital of the Republic of Kyrgyzstan. As such, it is home to this nation's cultural assets, like museums and art galleries. However, it also boasts bustling markets, and outside its limits, you can access the best mountains in the country.
Top Attractions
Before diving deep into the urban fabric of Bishkek, spend a day out at Ala Archa National Park. Kyrgyzstan is becoming known for its breathtaking mountain scenery – in this park, you'll find that in spades.
This park got its name from archa juniper bushes that grow in abundance on its alpine slopes. In the fall, they set avalanche paths ablaze with colour – you'll see this if you go in September/October. Otherwise, be sure to hike its gorges, which boast crystal-clear glacier-fed streams at their base.
If you're fortunate, you might get to see a snow leopard. Rare and incredibly elusive, locals last captured it on film via a trail camera in May 2017.
Back in Bishkek, cultural travellers will want to make plans to see the State Museum of Fine Arts. While this blocky slab of concrete (typical of Soviet Brutalist architecture) will fail to inspire, its contents upstage it.
Of particular interest is their collection of Kyrgyz rugs and embroidery. Beyond that, this museum also features paintings, jewellery, and sculptures. Additionally, travelling exhibitions from abroad also stop here regularly. Captions are in Russian or Kyrgyz, so bring along a local, or download a Russian phrasebook from Google Translate.
Next, you'll want to spend some time discovering the Mikhail Frunze Museum. This museum centres around Mikhail Frunze, a key figure in the Bolshevik Revolution. Its concrete exterior hides the home where Mikhail grew up.
He devoted his adult life to politics. He was a member of Russia's socialist party in the early 20th century, and a member of the Politburo just before his death. In between, he served as a general, winning notable military victories in the Ukraine and Uzbekistan.
In the museum, you'll find papers, photos, and personal effects in his childhood home. Additionally, exhibits chronicle his military and political exploits. Captions are in Russian and Kyrgyz, so bring a translator, be it local or smartphone-powered.
Bishkek has numerous bustling markets, but none are as busy as the Dordoy Bazaar. Massive in scale, it compares to massive marketplaces like the Grand Bazaar in Istanbul. It is comprised almost entirely of shipping containers, stacked atop each other in pairs.
With dozens of streets and thousands of stalls, it can be easy to get lost. Embrace it – just be aware of pickpockets, as environments like these are prime pickings for these criminals.
Other Attractions
Are you eager to explore more of the natural wonders that surround Bishkek? Make plans to explore Issyk Ata Gorge during your visit. Like the gorges in Ala Archa National Park, mountains rise around you, and clear streams fill their base.
However, this place is also home to hot springs. According to legend, a local woman bathed in them daily. As her friends and family grew older, though, she remained young. Soon, everyone she knew passed away, and she became a hermit. Using the power of the springs, she became known for her healing powers.
There's no guarantee that these waters are the long-sought Fountain of Youth – but it wouldn't hurt to try. Don't forget your swimsuit!
Plan on visiting the Bishkek region in winter? Take in the best snowsports its mountains have to offer by spending a day at Too-Ashuu Ski Resort. While facilities aren't up to European standards – just two lifts are servicing three slopes – crowds are nonexistent.
If you're a skilled skier or boarder, however, the backcountry around Bishkek is the stuff of legends. Guides in the region can set you up with heli or ski-touring adventures that will create lifelong memories.
Back in Bishkek, Osh Bazaar is another busy market that you should visit if you have time. Unlike Dordoy Bazaar, Osh is focused more on everyday needs. Here, you'll find Kyrgyz food items (especially photogenic breads), clothing, appliances, and other household goods.
As a result, the people-watching here is excellent. Not forget, however, that this place, like all markets, is a target-rich environment for pickpockets. Keep valuables secure in your front pockets, and maintain situational awareness at all times.
Bishkek can be a hectic city to walk around. After a jam-packed day of sightseeing, kick back and relax at Panfilov Park. The park gets its name from Commander Ivan Vasilyevich Panfilov, who served in World War II. He played a huge role in defence of Moscow during a 1941 battle against Hitler's Nazi forces. He died in this confrontation, leading Bishkek officials to name this park in his honour.
Today, it is a popular place for families to gather on weekends. With an amusement park, it is a great place to take your kids if you're travelling as a family.