Bohol Travel Guide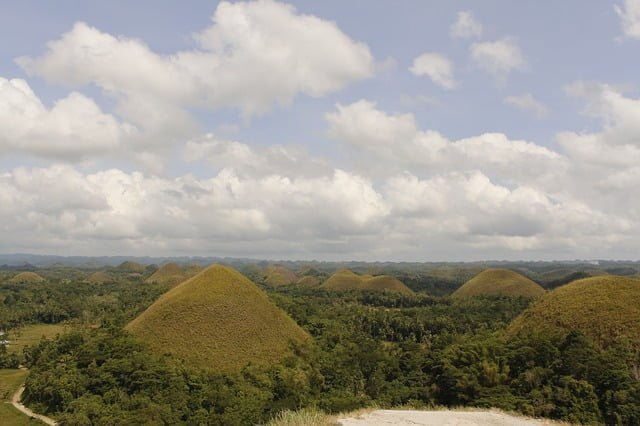 Introduction
Regarded as the Philippines' top eco-tourism destination, the island of Bohol may not be the best place for beach snobs to visit, but in every other regard, it should not be missed.
From a geological formation unlike anything else you'll find in Asia to being home to one of the smallest monkeys on the face of the planet, you'll come away with a ton of pictures and memories from your time in Bohol.
Top Attractions
Of all the attractions in Bohol, none define this island more than the Chocolate Hills. Named for a series of limestone karst hills coated in vegetation which turns brown in the dry season (hence the name), it is a rare geological formation only found in a few other choice places in the world.
There are over 1,200 hills in this formation, creating a dramatic sight for those viewing them either the official government-run viewing station (built on two of the formations) or from the summit of Sagbayan Peak (a much quieter and outdoor enthusiast friendly alternative eighteen kilometres away).
Bohol is also famous for being home to the Tarsier, one of the world's smallest primates. If you don't have time to go on a jungle trek in search of this quiet, elusive mammal, you'll get a chance to see them up close at the Tarsier Conservation Area.
Situated on the road to/from the Chocolate Hills, it is a practically a mandatory stop for Bohol day tours. Can't find them? Guides will be happy to point them out to you as you move through the trails in this park.
Just be sure not to get too close or make noise while taking photographs – these little guys get stressed out easily and have died from being crowded by tourists in the past. Needless to say, it is the perfect occasion to break out the long-range lens for your DSLR, so don't forget it at the hotel.
In October 2013, a massive earthquake registering 7.2 on the Richter scale struck the island of Bohol, causing widespread damage. The Baclayon Church, known to be the 2nd oldest church in the Philippines (built in 1727), was heavily compromised by the event, causing it to be shut down to parishioners and visitors until it could be restored.
In the past year, though, renovations have wrapped up, clearing the way for locals and travellers alike to enjoy its neoclassical architecture. Made of coral stone and boasting an intricate altar, beautiful stained glass, and a lofty bell tower, it is well worth spending a half hour appreciating its best features.
There are many stunning bodies of water in the tropics, but few are as transfixing at first sight than the Loboc River. A stunning shade of aquamarine as opposed to the muddy brown waters one often sees in inland waterways, it will grab your attention, begging you to come closer.
Those wanting to explore it will have it easy, as there are guided boat tours which will take you up this magical river, which lazily flows between lush greenery on its way to the Bohol Sea. Offering a buffet lunch and ending at a waterfall, it is a scenic and tranquil experience you shouldn't miss.
Other Attractions
Learn more about the history of this island in the Visayas by spending an hour or so exploring the exhibits contained within the Bohol National Museum. A small but free attraction (donations are accepted), this institution will educate you on the natural and human history of Bohol through its fossils, artifacts, art, exhibits about the Tarsier, its most famous mammalian species.
Cool off and admire yet another amazing natural sight in Bohol by making a trip out to Can-umantad Falls. Tumbling from a 60-metre height before hitting a narrow plateau before descending the remainder of the drop to a swimmable gorge, this awesome waterfall will make the long journey by bike across the island worth it.
With no tourists around, you'll be able to enjoy this fantastic place and the surrounding rice terraces without having to worry about wading through crowds like you might at the Chocolate Hills.
On the way back from the Chocolate Hills, you may end up passing through the Bilar Man-Made Forest. Standing apart from the typical tropical jungle which can be found throughout the Philippines and Southeast Asia, this tall stand of mahogany trees lines each side of the Loay Interior Road for about two kilometres.
Planted in 1947 as part of a reforestation plan to help recover the landscape of the Loboc watershed after internal refugees slash and burnt the virgin trees for farmland after being driven from their homes in World War II, the seedlings have grown into towering giants, shading the road and creating many an opportunity for selfies by domestic and foreign tourists.
The island of Bohol is not famed for its beaches, though, there are a few along its coasts suitable for surfers. For those looking to go for a casual swim on a beach with swaying palms, the adjoining island of Panglao offers a number of beaches suited to this purpose.
Of them, Alona Beach is the most popular, as it has powdery white sand, and no shortage of bars, restaurants, ice cream stands, and other services which will make your stay convenient.
If you are looking for something less commercial, Dumaluan Beach is where you'll want to go. Owned by a high-end resort, you'll have to pay a nominal fee to access it, but this keeps things quieter and less developed. Combined with amazing beach vistas, it is a spot we can heartily recommend.