Welcome to Bohol, a tropical paradise located in the Philippines! Known for its stunning natural landscapes, pristine beaches, and rich cultural heritage, Bohol is a must-visit destination for travelers seeking a unique and unforgettable experience.
Bohol is an island province situated in the Central Visayas region of the Philippines. It is blessed with an abundance of natural wonders, including the famous Chocolate Hills, a geological formation of over 1,000 perfectly cone-shaped hills that turn chocolate brown during the dry season. These iconic hills create a breathtaking sight that attracts visitors from around the world.
In addition to its geological marvels, Bohol is home to an incredible diversity of flora and fauna. One of its most beloved inhabitants is the Philippine tarsier, one of the world's smallest primates. These adorable creatures can be found in the tarsier sanctuaries around the province, where visitors can observe them in their natural habitat.
For beach lovers, Bohol offers a plethora of white sandy shores and crystal-clear waters. Alona Beach in Panglao Island is particularly popular, offering a vibrant beach scene, water sports activities, and a vibrant nightlife. Other notable beaches include Dumaluan Beach, Anda Beach, and Balicasag Island, each with its own unique charm.
Bohol is also a cultural hotspot, with a rich history and heritage deeply rooted in Spanish colonization and indigenous traditions. The Baclayon Church, one of the oldest stone churches in the Philippines, stands as a testament to the province's historical significance. The Blood Compact Shrine, a monument commemorating the first treaty of friendship between the Spanish explorer Miguel López de Legazpi and the Filipino chieftain Sikatuna, is another must-visit site.
Exploring the countryside of Bohol offers a chance to discover charming towns and rural landscapes. The Loboc River Cruise takes visitors on a relaxing boat ride along the scenic river, while the man-made Mahogany Forest provides a picturesque backdrop for photographs. You can also visit the enchanting Hinagdanan Cave or take a river paddleboard tour in the Abatan River.
Bohol's vibrant markets and local cuisine are a delight for food enthusiasts. Don't miss the opportunity to taste local delicacies such as the famous Boholano peanut kisses, calamay (sticky rice cake), and the deliciously sweet mangoes that the province is known for.
Whether you're seeking adventure, relaxation, or a cultural immersion, Bohol has something to offer every traveler. Its natural wonders, pristine beaches, rich history, and warm hospitality make it an ideal destination for an unforgettable vacation. So pack your bags and get ready to explore the wonders of Bohol!
Bohol Travel Guide: A Brief History Of Bohol, Philippines
For travelers interested in the history of Bohol, the province has a rich and fascinating past that adds an extra layer of significance to its attractions and cultural heritage. Here's a brief overview of the history of Bohol:
Pre-Colonial Era: Before the arrival of Spanish colonizers, the island of Bohol was already inhabited by indigenous people known as the Boholanos or Bol-anons. They were part of the wider Visayan ethnic group, which populated the central region of the Philippines. The Boholanos had their own distinct culture, traditions, and social structures.
Spanish Colonization: In the 16th century, the Spanish explorer Miguel López de Legazpi arrived in Bohol and claimed the island for Spain. The Spanish colonization period significantly influenced the island's history, culture, and architecture.
During this time, the Spanish built several stone churches throughout Bohol as part of their efforts to convert the native population to Christianity. The Baclayon Church, constructed in 1595, is one of the oldest stone churches in the Philippines and stands as a testament to the province's colonial past.
The Blood Compact: One significant event in Bohol's history is the Blood Compact, or Sandugo, which took place in 1565. The Blood Compact was a traditional ceremony of friendship and alliance between the Spanish explorer Miguel López de Legazpi and the Filipino chieftain Datu Sikatuna. A monument called the Blood Compact Shrine commemorates this historic event and is a popular attraction for visitors.
The Dagohoy Rebellion: Bohol is also known for the Dagohoy Rebellion, one of the longest recorded rebellions in Philippine history. It was led by Francisco Dagohoy, a Boholano chieftain, who initiated the uprising in 1744 as a response to Spanish oppression. The rebellion lasted for about 85 years until it was finally suppressed by the Spanish authorities in 1829. The Dagohoy Marker in the town of Danao serves as a reminder of this significant chapter in Bohol's history.
World War II: During World War II, Bohol was not exempt from the conflict that engulfed the Philippines. The province experienced Japanese occupation and witnessed several battles and skirmishes. The Bohol Provincial Capitol, which was used as a garrison by the Japanese forces, still stands today as a historic building.
Exploring the historical sites and landmarks in Bohol provides travelers with a deeper understanding of the province's past and its cultural roots. From the centuries-old churches to the remnants of World War II, these historical attractions offer a glimpse into Bohol's journey through time.
Bohol Top Attractions and Best Places to Visit in Philippines
Regarded as the Philippines' top eco-tourism destination, the island of Bohol may not be the best place for beach snobs to visit, but in every other regard, it should not be missed.
From a geological formation unlike anything else you'll find in Asia to being home to one of the smallest monkeys on the face of the planet, you'll come away with a ton of pictures and memories from your time in Bohol.
Of all the attractions in Bohol, none define this island more than the Chocolate Hills. Named for a series of limestone karst hills coated in vegetation which turns brown in the dry season (hence the name), it is a rare geological formation only found in a few other choice places in the world.
There are over 1,200 hills in this formation, creating a dramatic sight for those viewing them either the official government-run viewing station (built on two of the formations) or from the summit of Sagbayan Peak (a much quieter and outdoor enthusiast friendly alternative eighteen kilometres away).
Bohol is also famous for being home to the Tarsier, one of the world's smallest primates. If you don't have time to go on a jungle trek in search of this quiet, elusive mammal, you'll get a chance to see them up close at the Tarsier Conservation Area.
Situated on the road to/from the Chocolate Hills, it is a practically a mandatory stop for Bohol day tours. Can't find them? Guides will be happy to point them out to you as you move through the trails in this park.
Just be sure not to get too close or make noise while taking photographs – these little guys get stressed out easily and have died from being crowded by tourists in the past. Needless to say, it is the perfect occasion to break out the long-range lens for your DSLR, so don't forget it at the hotel.
In October 2013, a massive earthquake registering 7.2 on the Richter scale struck the island of Bohol, causing widespread damage. The Baclayon Church, known to be the 2nd oldest church in the Philippines (built in 1727), was heavily compromised by the event, causing it to be shut down to parishioners and visitors until it could be restored.
In the past year, though, renovations have wrapped up, clearing the way for locals and travellers alike to enjoy its neoclassical architecture. Made of coral stone and boasting an intricate altar, beautiful stained glass, and a lofty bell tower, it is well worth spending a half hour appreciating its best features.
There are many stunning bodies of water in the tropics, but few are as transfixing at first sight than the Loboc River. A stunning shade of aquamarine as opposed to the muddy brown waters one often sees in inland waterways, it will grab your attention, begging you to come closer.
Those wanting to explore it will have it easy, as there are guided boat tours which will take you up this magical river, which lazily flows between lush greenery on its way to the Bohol Sea. Offering a buffet lunch and ending at a waterfall, it is a scenic and tranquil experience you shouldn't miss.
Other Cultural Attractions: Trip to Bohol, Philippines
Learn more about the history of this island in the Visayas by spending an hour or so exploring the exhibits contained within the Bohol National Museum. A small but free attraction (donations are accepted), this institution will educate you on the natural and human history of Bohol through its fossils, artifacts, art, exhibits about the Tarsier, its most famous mammalian species.
Cool off and admire yet another amazing natural sight in Bohol by making a trip out to Can-umantad Falls. Tumbling from a 60-metre height before hitting a narrow plateau before descending the remainder of the drop to a swimmable gorge, this awesome waterfall will make the long journey by bike across the island worth it.
With no tourists around, you'll be able to enjoy this fantastic place and the surrounding rice terraces without having to worry about wading through crowds like you might at the Chocolate Hills.
On the way back from the Chocolate Hills, you may end up passing through the Bilar Man-Made Forest. Standing apart from the typical tropical jungle which can be found throughout the Philippines and Southeast Asia, this tall stand of mahogany trees lines each side of the Loay Interior Road for about two kilometres.
Planted in 1947 as part of a reforestation plan to help recover the landscape of the Loboc watershed after internal refugees slash and burnt the virgin trees for farmland after being driven from their homes in World War II, the seedlings have grown into towering giants, shading the road and creating many an opportunity for selfies by domestic and foreign tourists.
The island of Bohol is not famed for its beaches, though, there are a few along its coasts suitable for surfers. For those looking to go for a casual swim on a beach with swaying palms, the adjoining island of Panglao offers a number of beaches suited to this purpose.
Of them, Alona Beach is the most popular, as it has powdery white sand, and no shortage of bars, restaurants, ice cream stands, and other services which will make your stay convenient.
If you are looking for something less commercial, Dumaluan Beach is where you'll want to go. Owned by a high-end resort, you'll have to pay a nominal fee to access it, but this keeps things quieter and less developed. Combined with amazing beach vistas, it is a spot we can heartily recommend.

source: Jan and Ann on YouTube
Top 20 Things To Do in Bohol, Philippines For Visitors
Here's a list of the top 20 things to do in Bohol:
Visit the Chocolate Hills: Explore the breathtaking landscape of the Chocolate Hills, a collection of over 1,000 cone-shaped hills that resemble chocolate kisses. Climb the viewing deck to witness the panoramic view and marvel at this natural wonder.
Explore Panglao Island: Spend a day at Panglao Island, known for its pristine beaches and crystal-clear waters. Relax on Alona Beach, go snorkeling or diving to discover vibrant coral reefs, and indulge in beachfront dining and nightlife.
Encounter Tarsiers: Head to the Tarsier Conservation Area or the Philippine Tarsier Sanctuary to catch a glimpse of the world's smallest primate, the Philippine tarsier. Observe these adorable creatures in their natural habitat and learn about their conservation efforts.
Take a Loboc River Cruise: Embark on a leisurely river cruise along the Loboc River. Enjoy a buffet lunch or dinner on a floating restaurant while being serenaded by local musicians. Take in the scenic views of the lush surroundings and watch cultural performances at stops along the way.
Visit the Baclayon Church: Step back in time at the Baclayon Church, an important historical and religious site. Admire the well-preserved Spanish colonial architecture, intricate woodwork, religious artifacts, and ancient frescoes that depict religious scenes.
Go island hopping: Discover the beauty of nearby islands with an island hopping tour. Visit Balicasag Island, known for its colorful coral reefs and snorkeling spots. Explore Virgin Island, a pristine sandbar surrounded by crystal-clear waters, perfect for swimming and sunbathing.
Dive in Balicasag Island: Dive into the waters of Balicasag Island and explore its vibrant underwater world. Marvel at the diverse marine life, including turtles, reef fish, and stunning coral formations. Snorkeling is also a great option for non-divers.
Relax at Dumaluan Beach: Unwind on the soft white sands of Dumaluan Beach, a tranquil haven away from the crowds. Take a dip in the clear turquoise waters, stroll along the shore, or simply bask in the sun while enjoying the peaceful atmosphere.
Discover Hinagdanan Cave: Venture into the mystical depths of Hinagdanan Cave, an enchanting limestone cave with a natural skylight that illuminates the crystal-clear underground pool. Admire the unique rock formations and learn about the cave's geological history.
Visit the Blood Compact Shrine: Learn about a significant event in Bohol's history at the Blood Compact Shrine. This monument commemorates the historic Blood Compact, a symbolic ritual sealing friendship between Spanish explorer Miguel López de Legazpi and Filipino chieftain Datu Sikatuna.
Explore Anda Beach: Escape to Anda Beach, a hidden gem with pristine white sands and clear turquoise waters. Enjoy swimming, sunbathing, beachcombing, and stunning sunset views. The beach is often less crowded, offering a serene and peaceful ambiance.
Discover the Man-made Mahogany Forest: Drive through the captivating Man-made Mahogany Forest, a stretch of densely planted mahogany trees that form a green canopy overhead. The towering trees create a refreshing and cool atmosphere, perfect for a scenic drive or photo opportunity.
Go dolphin watching: Join a dolphin-watching tour in Pamilacan Island and witness these graceful marine mammals in their natural habitat. Cruise through the waters and be mesmerized as dolphins swim alongside the boat, showcasing their playful antics.
Enjoy adventure at Danao Adventure Park: Indulge in thrilling activities at Danao Adventure Park, such as zip-lining, rappelling, river kayaking, and the famous plunge, where you freefall into a deep pool. This park is perfect for adrenaline junkies seeking an exciting outdoor experience.
Dive at Anda's Coral Garden: Discover the underwater paradise of Anda's Coral Garden. Dive into the clear waters and explore the vibrant coral reefs teeming with marine life, including colorful fish, sea turtles, and various species of coral. Snorkeling is also a great option for those who prefer to stay near the surface.
Visit the Bohol Bee Farm: Immerse yourself in organic farming practices and savor healthy and delicious food at the Bohol Bee Farm. Take a guided tour of their organic gardens, learn about sustainable farming methods, and sample their delectable homemade products, such as honey, spreads, and ice cream.
Explore the Bilar Man-made Forest: Drive through the scenic Bilar Man-made Forest, a stretch of densely planted mahogany trees that form a picturesque canopy along the road. Capture stunning photographs, enjoy the refreshing ambiance, and appreciate the beauty of nature.
Relax at Virgin Island: Escape to the secluded paradise of Virgin Island, a tiny sandbar surrounded by azure waters. Wade in the shallow waters, go snorkeling to spot colorful fish and coral, or simply lay back on the soft sand and soak up the sun in this idyllic tropical setting.
Discover the Rajah Sikatuna National Park: Immerse yourself in nature at the Rajah Sikatuna National Park, a protected area known for its lush forests, diverse wildlife, and scenic trails. Embark on a guided hike and encounter various bird species, butterflies, and endemic flora. The park offers a peaceful retreat for nature lovers and avid hikers.
Experience the Loboc Eco-Tourism Adventure Park: Get your adrenaline pumping at the Loboc Eco-Tourism Adventure Park. Zip-line across the lush forest canopy, take a thrilling cable car ride, or go trekking on their scenic trails. This park offers a perfect blend of adventure and nature exploration.
With these 20 activities, you'll have a wide range of experiences to enjoy in Bohol, from natural wonders and cultural landmarks to exciting adventures and tranquil beach escapes. Whether you're a nature enthusiast, history buff, or adventure seeker, Bohol has something for everyone to create unforgettable memories.
What To Eat and Drink in Bohol, Philippines
Bohol offers a delectable array of dishes and beverages that showcase the province's culinary delights. Here are some must-try foods and drinks in Bohol:
Boholano Peanut Kisses: These bite-sized, peanut-flavored cookies are a popular treat and make for a perfect souvenir. They are made from crushed peanuts, sugar, and egg whites, resulting in a crunchy and sweet delicacy.
Calamay: A sticky rice cake made from glutinous rice, coconut milk, and sugar, Calamay is a popular native sweet delicacy in Bohol. It comes in various flavors like chocolate, peanut, and vanilla, and offers a delightful taste and texture.
Boholano Lechon: Indulge in the famous Boholano version of roasted suckling pig, known for its crispy skin and flavorful meat. The pig is seasoned with a special blend of herbs and spices, making it a mouthwatering centerpiece of any feast or celebration.
Sikwate and Budbud: Experience a traditional Boholano breakfast with Sikwate, a rich and thick hot chocolate made from locally sourced cacao beans. Pair it with Budbud, a sticky rice cake wrapped in banana leaves, for a delightful combination.
Fresh Seafood: Being an island province, Bohol offers an abundance of fresh seafood. Feast on succulent grilled fish, shrimps, crabs, and squid prepared in various ways, either at beachside restaurants or local eateries.
Kinilaw: A Filipino-style ceviche, Kinilaw features fresh fish or seafood marinated in vinegar, calamansi (local citrus fruit), onions, ginger, and chili peppers. It is a refreshing and tangy dish that highlights the natural flavors of the seafood.
Boholano Halo-Halo: Beat the tropical heat with Bohol's version of halo-halo, a delightful dessert made with a mix of shaved ice, sweetened fruits, jellies, beans, and topped with a scoop of ice cream. It's a colorful and refreshing treat to cool off on a hot day.
Fresh Mangoes: Bohol is known for its sweet and juicy mangoes, often referred to as the "queen of mangoes." Enjoy them fresh, as a topping on desserts, or in refreshing mango shakes and smoothies.
Tubâ: A traditional Filipino alcoholic beverage, Tubâ is made from the sap of coconut trees. It is mildly sweet and has a low alcohol content. Enjoy this refreshing drink as a local favorite or try it in cocktails and mixed drinks.
Coconut Water: Quench your thirst with the refreshing and hydrating coconut water straight from freshly picked coconuts. It's a perfect natural beverage to enjoy on the beach or while exploring the province.
While exploring Bohol, make sure to indulge in these delightful local specialties and savor the unique flavors that the province has to offer. From sweet treats to savory delights, Bohol's culinary scene promises a memorable gastronomic adventure.
Top Restaurants In Bohol, Philippines
Bohol is home to a vibrant culinary scene, offering a diverse range of restaurants that cater to various tastes and preferences. Here are some of the top restaurants in Bohol known for their exceptional food and dining experiences:
Gerarda's Restaurant: Located in Tagbilaran City, Gerarda's Restaurant is renowned for its authentic Boholano and Filipino cuisine. Enjoy signature dishes like Chicken Binakol, Kare-Kare, and their famous Sizzling Pochero.
The Buzzz Café: Situated in Alona Beach, The Buzzz Café is a popular spot known for its fusion of Boholano and international flavors. They serve a variety of dishes using locally sourced ingredients, along with refreshing fruit shakes and smoothies.
Loboc River Cruise Floating Restaurants: While cruising along the Loboc River, dine on board the floating restaurants that serve a buffet of Filipino dishes. It's not only a dining experience but also a chance to enjoy the scenic beauty of the river.
Bohol Bee Farm Restaurant: Located in Panglao Island, the Bohol Bee Farm Restaurant offers a unique dining experience with a focus on organic and healthy cuisine. Try their farm-to-table dishes made with fresh ingredients, including their famous Malunggay (Moringa) Ice Cream.
Linaw Beach Resort and Restaurant: Situated in Panglao Island, Linaw Beach Resort and Restaurant boasts a beachfront location and offers a picturesque dining experience. Enjoy a wide range of dishes, including fresh seafood, grilled specialties, and international favorites.
Pearl Restaurant at Henann Resort: Located in Panglao Island, Pearl Restaurant at Henann Resort offers a fine dining experience with a selection of international and Asian cuisines. Indulge in their buffet spreads or à la carte options while enjoying breathtaking ocean views.
Bohemia Café and Bistro: Situated in Tagbilaran City, Bohemia Café and Bistro is known for its cozy ambiance and delicious comfort food. They offer a variety of dishes, including pasta, burgers, sandwiches, and refreshing beverages.
Garden Café at Chocolate Hills Complex: Found near the Chocolate Hills, the Garden Café offers a beautiful setting surrounded by lush greenery. Enjoy a range of Filipino and international dishes, along with their specialty shakes and desserts.
Shaka Bohol: Located in Panglao Island, Shaka Bohol is a health-conscious café known for its fresh and nutritious offerings. Enjoy their smoothie bowls, fresh salads, wraps, and organic juices made from locally sourced ingredients.
Tarsier Paprika Restaurant: Situated in Corella, near the Tarsier Conservation Area, Tarsier Paprika Restaurant serves a mix of international and Filipino dishes. Their menu features fresh seafood, grilled specialties, and delectable desserts.
These are just a few of the top restaurants in Bohol, offering a diverse culinary experience that ranges from traditional Boholano cuisine to international flavors. Whether you're seeking local specialties or international delights, Bohol has something to satisfy every palate.
Tours For Visitors To Bohol, Philippines
Bohol offers a wide range of tours and experiences that allow visitors to explore its natural wonders, cultural heritage, and thrilling adventures. Here are some popular tours for visitors to Bohol:
Countryside Tour: This full-day tour takes you on a journey through Bohol's countryside, visiting top attractions such as the Chocolate Hills, Tarsier Conservation Area, Baclayon Church, Loboc River Cruise, and the man-made Mahogany Forest. It's a comprehensive tour that showcases the best of Bohol's natural and cultural highlights.
Panglao Island Hopping: Embark on a boat tour around Panglao Island, visiting picturesque spots like Balicasag Island, Virgin Island, and Pamilacan Island. You can snorkel or dive to explore vibrant coral reefs, swim with turtles, and enjoy the pristine beauty of these islands.
Dolphin Watching and Island Hopping: Start your day with an early morning boat trip to spot dolphins frolicking in the waters around Bohol. Afterward, continue with an island hopping tour to explore scenic spots like Balicasag Island and Virgin Island, where you can snorkel, swim, and relax on secluded beaches.
Loboc River Adventure: Enjoy a leisurely cruise along the enchanting Loboc River, surrounded by lush greenery. Feast on a buffet lunch or dinner while being entertained by local musicians and dancers. It's a relaxing tour that immerses you in the natural beauty and cultural heritage of Bohol.
Anda Day Tour: Discover the unspoiled beauty of Anda with a day tour to this tranquil town in Bohol. Explore attractions like Anda Beach, Cabagnow Cave Pool, Combento Cave, and the stunning Lamanok Island. This tour offers a mix of natural wonders and off-the-beaten-path adventures.
Danao Adventure Park: If you're an adventure enthusiast, a trip to Danao Adventure Park is a must. Experience thrilling activities like zip-lining, rappelling, river kayaking, river tubing, and the adrenaline-pumping plunge. The park is known for its exciting adventures set in a beautiful natural setting.
Bohol Bee Farm Tour: Visit the Bohol Bee Farm, an organic farm that promotes sustainable agriculture and showcases local produce. Take a guided tour of their farm, learn about organic farming practices, and sample their delicious organic food products, including their famous spreads and ice cream.
Firefly Watching: Experience the magic of firefly watching along the Abatan River. Board a traditional paddleboat and glide through the mangrove forests while witnessing the enchanting display of fireflies lighting up the night sky.
Chocolate Hills ATV Adventure: Explore the Chocolate Hills in a thrilling way by joining an ATV (all-terrain vehicle) adventure tour. Ride through the trails and hills, reaching scenic viewpoints and enjoying an adrenaline-filled experience.
Balicasag Island Snorkeling: Join a snorkeling tour to Balicasag Island, known for its crystal-clear waters and vibrant coral reefs. Snorkel alongside colorful fish, encounter turtles, and marvel at the underwater beauty of this marine sanctuary.
These tours provide a variety of experiences, catering to different interests and preferences. Whether you're seeking natural wonders, cultural immersion, or adventure, there's a tour in Bohol to suit your taste and make your visit memorable.
Bohol Accommodations Guide: Hotels, Guesthouses and Hostels
When visiting Bohol, you'll find a wide range of accommodations to suit various budgets and preferences. From luxury resorts to budget-friendly guesthouses, here's a guide to the different types of accommodations in Bohol:
Luxury Resorts: Bohol boasts several luxury resorts that offer world-class amenities, stunning beachfront locations, and exceptional services. These resorts often feature luxurious rooms or villas, multiple swimming pools, spa facilities, fine dining restaurants, and various recreational activities. Some popular luxury resorts in Bohol include Henann Resort Alona Beach, Amorita Resort, and South Palms Resort Panglao.
Beachfront Hotels and Resorts: For those seeking direct access to the beach, Bohol has numerous beachfront hotels and resorts. These accommodations provide convenience and stunning ocean views, along with comfortable rooms, swimming pools, beachside restaurants, and easy access to water sports activities. Popular options include Alona Beach Resort, Eskaya Beach Resort and Spa, and Bohol Beach Club.
Boutique Hotels and Inns: Bohol offers charming boutique hotels and inns that provide a more intimate and personalized experience. These accommodations often feature stylish rooms with unique designs, cozy common areas, and personalized services. Some noteworthy options include Amun Ini Beach Resort and Spa, The Peacock Garden, and The Bellevue Resort.
Guesthouses and Budget Accommodations: Travelers on a budget can find affordable guesthouses, budget hotels, and backpacker hostels in Bohol. These accommodations offer comfortable rooms, shared facilities, and a friendly atmosphere. They are ideal for budget-conscious travelers who prioritize affordability and basic amenities. Some popular choices include Bohol Coco Farm, Bohol Coco Loco Hostel, and Chill-Out Guesthouse.
Eco-Resorts and Nature Lodges: Nature enthusiasts and eco-conscious travelers will find eco-resorts and nature lodges that embrace sustainability and offer unique experiences in harmony with the environment. These accommodations often blend seamlessly with their natural surroundings, providing eco-friendly features, organic food options, and activities like nature walks and bird watching. Examples include Natura Vista, Kayla'a Beach Resort, and Bohol Bee Farm.
Vacation Rentals and Apartments: Another option for travelers is vacation rentals or apartments, especially for longer stays or those traveling in groups. These self-catering accommodations offer more space, kitchen facilities, and the flexibility to create your own itinerary. Websites like Airbnb and Booking.com provide a wide range of options to choose from.
When selecting accommodations in Bohol, consider factors such as location, proximity to attractions, amenities, and budget. It's advisable to book in advance, especially during peak travel seasons, to secure your preferred choice. Whether you're looking for luxury, beachfront access, or budget-friendly options, Bohol offers a variety of accommodations to suit every traveler's needs.
Day Trips From Bohol, Philippines
While Bohol itself offers a plethora of attractions and activities, there are also several nearby destinations that make for fantastic day trips. Here are some recommended day trips from Bohol:
Cebu City: Catch a ferry from Bohol to Cebu City, the capital of the neighboring province of Cebu. Explore historical landmarks like Magellan's Cross and the Basilica Minore del Santo Niño, visit the iconic Taoist Temple, and indulge in the bustling markets and street food scene. Don't miss the opportunity to take a side trip to the stunning Kawasan Falls in Badian, known for its turquoise waters and cascading waterfalls.
Oslob: Experience the incredible opportunity to swim with whale sharks in Oslob, located on the southeastern coast of Cebu. Join a guided tour that allows you to get up close and personal with these gentle giants in their natural habitat. Afterward, you can also visit the nearby Tumalog Falls, a beautiful cascading waterfall nestled in a lush forest.
Dumaguete: Take a ferry from Bohol to Dumaguete City, located on the neighboring island of Negros Oriental. Known as the "City of Gentle People," Dumaguete offers a laid-back atmosphere and attractions like Silliman University, Rizal Boulevard, and the bustling Dumaguete Public Market. Don't miss a visit to the nearby Apo Island, a renowned marine sanctuary famous for its vibrant coral reefs and sea turtle encounters.
Camiguin Island: Travel by ferry from Bohol to Camiguin Island, known as the "Island Born of Fire." Explore its volcanic landscapes, hot springs, and stunning waterfalls, including the Katibawasan Falls and Tuasan Falls. Visit the sunken cemetery, hike up Mount Hibok-Hibok for panoramic views, and relax on the island's pristine beaches.
Siquijor Island: Hop on a ferry from Bohol to Siquijor Island, a mystical destination known for its healing traditions and enchanting ambiance. Discover its stunning waterfalls like Cambugahay Falls, explore the centuries-old Balete Tree, and immerse yourself in the island's folklore and spiritual practices. Siquijor is also famous for its beautiful beaches and snorkeling spots.
Anda, Bohol: Venture to the municipality of Anda, located on the eastern part of Bohol. Enjoy the serene beaches of Anda, such as Anda Beach and Quinale Beach, known for their powdery white sand and crystal-clear waters. Visit the Combento Cave, a cave complex with stunning rock formations, and explore the mystical Can-Umantad Falls, one of the tallest waterfalls in Bohol.
Chocolate Hills Adventure Park (CHAP): Just a short distance from the famous Chocolate Hills, CHAP offers adrenaline-pumping activities like zip-lining, bike ziplines, and rope courses. Experience breathtaking views and exciting challenges as you soar above the Chocolate Hills and treetops.
These day trips from Bohol offer unique experiences, from swimming with whale sharks to exploring vibrant cities and discovering other enchanting islands. Each destination showcases its own natural wonders, cultural heritage, and adventurous activities, allowing you to make the most of your time in the region.
Bohol Transportation Guide
When it comes to transportation in Bohol, there are several options available to help you navigate the province and reach your desired destinations. Here's a transportation guide for getting around in Bohol:
Tricycles: Tricycles are a common mode of transportation in Bohol. These motorized three-wheeled vehicles can accommodate up to three passengers. Tricycles can be found throughout the towns and are ideal for short trips within a specific area. Negotiate the fare with the driver before starting the journey, as tricycles generally do not have meters.
V-Hires: V-Hires, short for "van for hire," are a popular mode of transportation for longer distances and group travel. These air-conditioned vans operate on fixed routes and can be found at designated terminals. V-Hires are a convenient option for traveling between major towns and attractions in Bohol.
Jeepneys: Jeepneys, iconic in Philippine transportation, are also available in Bohol. These colorful, modified jeeps serve as public transportation and follow designated routes. Jeepneys can be crowded but offer an affordable way to get around, especially within towns or between neighboring municipalities.
Rental Cars and Motorcycles: Renting a car or motorcycle gives you the freedom to explore Bohol at your own pace. Rental agencies can be found in major towns and tourist areas. However, keep in mind that traffic conditions and road signage may be different from what you're used to, so exercise caution and familiarize yourself with local driving regulations.
Tourist Vans and Shuttles: Many hotels, resorts, and tour operators provide private vans and shuttles for organized tours and transfers. These services offer convenience and comfort, allowing you to explore Bohol's attractions with a knowledgeable guide or driver.
Trains and Buses: Bohol does not have a train system, and the bus network is limited. Buses primarily serve transportation routes between major towns and cities in the region. However, buses are not as commonly used for local travel within Bohol.
Ferries and Boats: To reach neighboring islands or to explore destinations like Cebu or Siquijor, you can utilize ferry services. Bohol has multiple ports where you can catch ferries to other destinations. These services offer a scenic and enjoyable way to travel between islands.
It's important to note that transportation options and availability may vary depending on your location, time of day, and specific destinations within Bohol. Always consider travel time, costs, and convenience when choosing the most suitable mode of transportation for your needs. Additionally, it's advisable to plan your transportation in advance, especially during peak travel seasons, to ensure smooth and hassle-free journeys.
Where To Visit After Your Trip To Bohol?
After your trip to Bohol, there are several nearby destinations worth considering for further exploration. Here are some popular destinations that you can visit after your Bohol adventure:
Cebu City: As one of the major cities in the Philippines, Cebu City offers a mix of historical and modern attractions. Explore landmarks like Magellan's Cross and the Basilica Minore del Santo Niño, visit the renowned Taoist Temple, and indulge in the vibrant food scene and shopping districts. Cebu City is easily accessible from Bohol by ferry or domestic flights.
Siargao Island: Known as the surfing capital of the Philippines, Siargao Island is a paradise for water sports enthusiasts. Experience world-class surfing breaks, explore pristine beaches like Cloud 9, and swim in the crystal-clear waters of Sugba Lagoon. Siargao Island is accessible from Bohol via flights or ferry connections from nearby Surigao City.
Dumaguete City: Located in Negros Oriental, Dumaguete City offers a laid-back atmosphere and is often referred to as the "City of Gentle People." Visit popular attractions like Silliman University, Rizal Boulevard, and the historic Dumaguete Cathedral. Don't miss the opportunity to explore the stunning marine sanctuary of Apo Island, known for its vibrant coral reefs and sea turtle encounters.
Camiguin Island: Known as the "Island Born of Fire," Camiguin is a volcanic island with natural wonders such as hot springs, waterfalls, and beautiful beaches. Visit attractions like the Sunken Cemetery, Katibawasan Falls, and the mesmerizing White Island. Camiguin Island can be reached by ferry from Bohol or by flights from Cebu.
Siquijor Island: Considered a mystical island, Siquijor offers an enchanting experience with its pristine beaches, waterfalls, and a rich folklore of healing traditions. Explore attractions like the Cambugahay Falls, Lazi Church and Convent, and the century-old balete tree. Siquijor Island is accessible by ferry from Bohol or Dumaguete City.
Palawan: If you're seeking breathtaking natural beauty, consider extending your trip to Palawan, renowned for its stunning landscapes and pristine islands. Explore the world-famous Underground River in Puerto Princesa, island-hop in El Nido's Bacuit Archipelago, or unwind in the idyllic beaches of Coron. Flights connect Bohol to major cities in Palawan.
Boracay Island: Known for its stunning white sand beaches and vibrant nightlife, Boracay is a popular destination for beach lovers. Enjoy water sports, relax on the beach, and explore the island's lively atmosphere. Boracay can be reached by flights from Bohol or via ferry and land transfer.
Iloilo City: Located in the neighboring province of Iloilo, Iloilo City offers a mix of Spanish colonial architecture, cultural heritage, and delectable cuisine. Visit landmarks like the Jaro Cathedral and Molo Mansion, indulge in the famous La Paz Batchoy, and experience the Dinagyang Festival. Iloilo City is accessible from Bohol by flights or ferry connections.
Davao City: Located in Mindanao, Davao City is known for its rich biodiversity, the iconic Philippine eagle, and the majestic Mount Apo. Explore the vibrant city, visit the Davao Crocodile Park, and immerse yourself in the local culture. Davao City can be reached from Bohol by flights.
Coron, Palawan: Coron is famous for its pristine beaches, crystal-clear lakes, and world-class diving spots. Discover the breathtaking beauty of Coron Island, snorkel in the vibrant coral reefs, and explore sunken Japanese shipwrecks. Flights connect Bohol to Coron.
Manila: The bustling capital city of the Philippines, Manila, offers a mix of historical landmarks, modern shopping districts, and a vibrant culinary scene. Explore Intramuros, visit the National Museum, and enjoy the lively atmosphere of Makati and Bonifacio Global City. Flights connect Bohol to Manila.
Batanes: For a unique and remote experience, consider visiting the stunning landscapes of Batanes. Explore the rolling hills, rugged coastlines, and stone houses of this picturesque province. Batanes can be reached by flights from Bohol or other major cities in the Philippines.
Vigan: Immerse yourself in the colonial charm of Vigan, a UNESCO World Heritage Site in Ilocos Sur. Walk along the cobblestone streets, admire the well-preserved Spanish architecture, and try local delicacies like Vigan longganisa and empanada. Flights connect Bohol to nearby Laoag or Vigan can be reached via land travel.
Sagada: Located in the Mountain Province of Luzon, Sagada is known for its stunning landscapes, hanging coffins, and adventurous activities like spelunking and trekking. Explore the picturesque Echo Valley, visit the Sumaguing Cave, and witness the sunrise at Kiltepan Peak. Sagada can be reached via land travel from Manila or nearby Baguio.
Banaue Rice Terraces: Marvel at the iconic Banaue Rice Terraces, often referred to as the "Eighth Wonder of the World." Explore the terraces, learn about the indigenous Ifugao culture, and immerse yourself in the scenic beauty of this UNESCO World Heritage Site. Banaue can be reached via land travel from Manila or Baguio.
Dumaguete City: Located in Negros Oriental, Dumaguete City offers a mix of historical landmarks, a vibrant food scene, and access to nearby attractions like Apo Island and Twin Lakes. Enjoy the laid-back atmosphere, visit Silliman University, and indulge in local delicacies. Dumaguete City can be reached by ferry or flights from Bohol.
Bacolod City: Known as the "City of Smiles," Bacolod offers a mix of cultural heritage, delicious cuisine, and vibrant festivals. Visit The Ruins, a famous mansion-turned-ruin, explore the Negros Museum, and indulge in Bacolod's mouthwatering local delicacies, including chicken inasal and piaya.
Guimaras Island: Just a short boat ride from Iloilo City, Guimaras Island is known for its sweet mangoes and scenic landscapes. Explore pristine beaches, visit the Guimaras Windmills, and take a tour of mango orchards and processing facilities to learn about the island's famous fruit.
Sipalay City: Located in Negros Occidental, Sipalay City boasts beautiful beaches, crystal-clear waters, and stunning marine biodiversity. Relax on Sugar Beach, go snorkeling or diving to discover vibrant coral reefs, and enjoy a laid-back beach getaway in this serene coastal destination.
Antique Province: Experience the unspoiled beauty of Antique Province, known for its rugged mountains, waterfalls, and natural attractions. Trek to the mesmerizing Bugtong Bato Falls, hike Mount Madja-as, and explore the unique landscapes of the Siraan Hot Springs and Malumpati Cold Spring.
Each of these destinations offers its own unique attractions and experiences, whether it's exploring cultural heritage, indulging in outdoor adventures, or immersing in idyllic island vibes. Plan your itinerary and travel arrangements in advance to make the most of your post-Bohol exploration.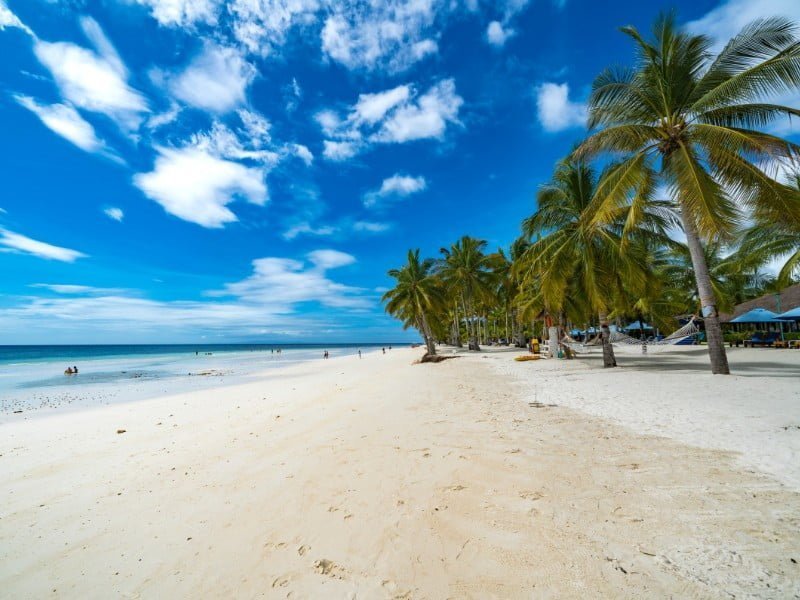 Bohol Travel Guide: Final Thoughts
Bohol, an enchanting province in the heart of the Philippines, beckons travelers with its captivating landscapes, rich cultural heritage, and an array of unforgettable experiences. As you embark on your Bohol adventure, you will be immersed in a tapestry of wonders, where nature's masterpieces unfold at every turn, and the warm hospitality of the Boholano people leaves an indelible mark on your heart.
Prepare to be mesmerized by the famous Chocolate Hills, an otherworldly landscape that stretches as far as the eye can see, with more than a thousand perfectly symmetrical mounds rising from the earth. These geological formations, reminiscent of giant chocolate drops, evoke a sense of awe and wonder as you stand atop the viewing deck, taking in the panoramic vista that unfolds before you.
But Bohol's wonders do not end there. Venture into the lush forests and find yourself in the presence of the tarsiers, the world's smallest primates. These endearing creatures, with their large round eyes and distinctive features, captivate visitors with their unique charm. A visit to the Tarsier Conservation Area or the Philippine Tarsier Sanctuary allows you to witness these gentle creatures in their natural habitat, fostering a deeper appreciation for the importance of their conservation.
Indulge in the delights of Panglao Island, where pristine white sands meet turquoise waters, creating a tropical paradise that beckons you to unwind and rejuvenate. Alona Beach, with its vibrant atmosphere, offers a perfect blend of relaxation and entertainment. Immerse yourself in the crystal-clear waters, snorkel among colorful marine life, or simply bask in the sun's warm embrace, savoring the idyllic beauty that surrounds you.
As you journey along the Loboc River, be transported into a realm of tranquility and natural splendor. A river cruise on a floating restaurant unveils the picturesque scenery, with verdant landscapes, towering trees, and the gentle flow of the river as your backdrop. Savor the flavors of Boholano cuisine during a delectable buffet lunch or dinner, while local musicians serenade you with their melodies, and traditional cultural performances add to the enchantment of the experience.
Delve into Bohol's rich history as you visit the Baclayon Church, an architectural masterpiece that stands as a testament to the province's Spanish colonial heritage. Admire the intricate woodwork, ancient frescoes, and religious artifacts that adorn the church, offering a glimpse into the past and the enduring faith of the Boholano people.
Embark on island-hopping adventures that take you to captivating destinations such as Balicasag Island, a haven for underwater enthusiasts with its vibrant coral reefs and diverse marine life. Swim with turtles, marvel at the kaleidoscope of colors beneath the waves, and let the wonders of the ocean leave an indelible imprint on your soul. And don't miss the opportunity to visit Virgin Island, a secluded sandbar surrounded by crystal-clear waters, where time seems to stand still, and tranquility permeates the air.
Bohol beckons the adventurous souls, offering experiences that will quicken your pulse and ignite your sense of exploration. Journey to the Danao Adventure Park, where adrenaline junkies can soar through the skies on zip-lines, conquer challenging rope courses, and embrace the thrill of river kayaking. Feel the rush of excitement as you take the plunge into adventure, surrounded by the breathtaking beauty of nature.
Nourish your senses with the gastronomic delights of Bohol. Savor the famous Boholano Peanut Kisses, delectable cookies made from crushed peanuts, and relish the distinct flavors of local cuisine. Try the mouthwatering delicacies like Calamay, a sticky rice cake infused with coconut milk and sweetened with sugar, or sample the savory Boholano Lechon, a succulent roasted suckling pig that tantalizes the taste buds with its crispy skin and tender meat. Indulge in a cup of Sikwate, a rich and thick hot chocolate made from locally sourced cacao beans, paired perfectly with the traditional Budbud, a sticky rice cake wrapped in banana leaves. Let the flavors of Bohol dance on your palate, as each bite unveils a culinary heritage that reflects the richness of the land and the creativity of its people.
In the realm of accommodations, Bohol offers a diverse range of options to suit every traveler's needs and desires. Luxury resorts, perched along the coastlines, invite you to immerse yourself in opulence and relaxation. Bask in the lavish amenities, indulge in spa treatments, and savor world-class cuisine, all while being surrounded by breathtaking views of the sea. Alternatively, cozy beachfront hotels and boutique guesthouses offer a more intimate and personalized experience, where you can unwind in tranquility and connect with the essence of Bohol.
Transportation in Bohol is easily accessible, with tricycles and vans readily available for shorter journeys within the towns. V-Hires, or vans for hire, offer a comfortable and convenient mode of transport for longer distances, allowing you to explore the province at your own pace. Ferries and boats connect Bohol to neighboring islands, opening a gateway to further adventures and discoveries in the surrounding regions.
As your Bohol travel comes to an end, the journey does not have to conclude. Extend your exploration to nearby destinations that beckon with their own allure. Immerse yourself in the vibrant streets of Cebu City, discover the wonders of Siargao Island's surfing paradise, or embark on a cultural journey in Vigan's colonial charm. The Philippines' rich tapestry of destinations awaits, ready to weave new chapters of wonder and enchantment into your travel story.
In Bohol, you will find a symphony of natural wonders, cultural treasures, and warm hospitality that will resonate with you long after you leave its shores. Let the Chocolate Hills inspire awe, the tarsiers steal your heart, and the pristine beaches soothe your soul. Allow yourself to be swept away by the magic of Bohol, where every moment is a celebration of the beauty and diversity that this remarkable province has to offer.
In the heart of Philippines, where wonders unfold, Lies a land of enchantment, a traveler's stronghold. Bohol, a gem nestled in the azure sea, Beckoning adventurers, come and be free.
Beneath the cerulean skies, where the sun shines bright, Stands the Chocolate Hills, a mesmerizing sight. A thousand mounds, like chocolate kisses in the land, Nature's sweet masterpiece, crafted by a loving hand.
Amidst the verdant forests, where magic resides, The tarsiers dwell, with their round, sparkling eyes. Tiny and shy, these creatures of the night, Captivate our souls with their curious plight.
Panglao's shores invite us to unwind and explore, White sands, turquoise waters, a paradise to adore. Beneath the waves, a kaleidoscope of life unfolds, As coral reefs dance, with colors manifold.
Along the Loboc River, a tranquil melody plays, A symphony of nature, as the water gently sways. Cruise on a floating restaurant, indulge in culinary delights, As melodies and laughter create unforgettable nights.
Baclayon Church, a testament to the past, Stands tall, a symbol of faith that will forever last. In its ancient walls, whispers of history are found, Echoing stories that have long been renowned.
Adventure awaits in Danao's thrilling embrace, Zip-lines, rope courses, a heart-pounding chase. Feel the rush of adrenaline, as you conquer the sky, Embracing the daring spirit that's ready to fly.
Boholano cuisine, a feast for the senses, From Peanut Kisses to Lechon, each dish immense. Savor the flavors, the rich and diverse, A gastronomic journey, your taste buds traverse.
As twilight descends, painting the sky with gold, Bohol's beauty becomes a story yet untold. But in the hearts of travelers, memories will reside, Forever treasured, with Bohol as our guide.
So come, wanderers, seekers of bliss, Bohol awaits with its magical kiss. Let your spirit soar, in this land divine, Bohol, the traveler's haven, where dreams align.