Bolzano Travel Guide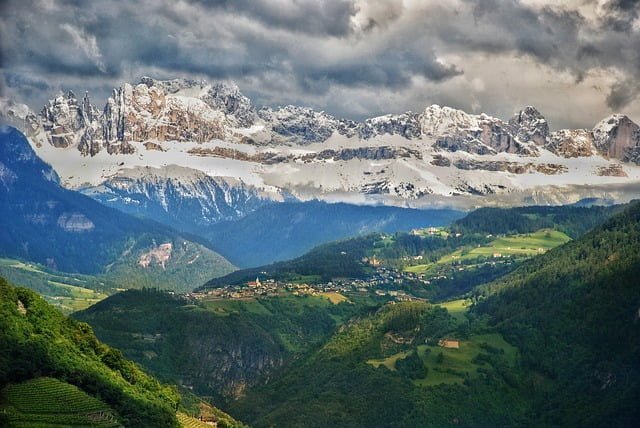 Introduction
Deep in the Italian Alps, Bolzano is a city much unlike the rest of the country. This doesn't just refer to its surroundings but the makeup of its population. According to recent statistics, about a quarter of people in Bolzano province speak German as a first language.
Accordingly, this place has a unique culture. Combine mountainous surroundings with a mix of German and Italian heritage, and you have a destination worth checking out for a couple of days.
Top Attractions
Not all that long ago, this region made headlines. The reason? In the 1990s, researchers found the preserved remains of Ötzi, a 5,000-year-old mummy. You'll find an exhibit dedicated to him at the South Tyrol Museum of Archaeology.
This institution stores Ötzi himself in a special room that replicates his glacial prison. Meanwhile, you'll get to check out his extensive gear collection, which includes an axe, a quiver of arrows, and a fire starter set.
Next, make your way over to Runkelstein Castle. Although this place sits in modern-day Italy, this castle had been possessed by German nobles. Starting in the 13th century, the Lords of Wangen got permission from the Prince Bishop of Trent to build a castle here.
But despite its formidable positioning, this keep got embroiled in several conflicts over its life. But it was an accidental magazine explosion that led to its abandonment. Thankfully, by the 19th century, King Ludwig of Bavaria restored it. In addition to the castle itself and its views, this place is worth seeing for the frescoes found within.
After that, check out Duomo Maria Assunta. This Gothic cathedral attracts attention for its iconic tiled roof and its spire. Given its ornate appearance inside and out, it's hard to believe that this building sustained damage in WWII. Enjoy your time here, but be respectful of those who are praying.
Lastly, if you can, try and plan your Bolzano trip during the holiday season. If you do, you'll get to see the Bolzano Christmas Market. Being one of the most wintry cities in Italy, it's no surprise this festival is the biggest in the country. It runs from late November until early January, so check it out.
Other Attractions
Bolzano is nestled in the Italian Alps. As such, nature is never far away, but we suggest taking a day trip to Parco Naturale Puez Odle. In the summer, it offers the iconic picture of the Dolomites that everyone sees in online photo galleries.
Meanwhile, in winter, you can take shots of snow-laden peaks. Or, if you're looking to do something active, you can go snowshoeing or sledding.
Indeed, Bolzano is an alpine playground. But even if you aren't the mountaineering type, you can gain a greater appreciation for the sport by visiting the Messner Mountain Museum. In one of its six locations, you'll learn about the history of mountains as a form of recreation.
But that isn't all, as this institution goes deeper than that. They also cover the geopolitical history of mountains, their significance in religion, and much more.
If even the thought of climbing mountains makes you sweat, you can opt to drink wine instead at Weingut Loacker. Since the 1970s, they have grown wine grapes on the slopes of the Dolomites. And as they have done it, they've held fast to biodynamic and homeopathic principles.
But modern agriculture hasn't made growing here a recent achievement. According to historical records, their predecessors had successfully cultivated wine grapes in the region since the 14th century. This vineyard produces several wine varietals, but St. Magdalener is one of the most noteworthy.
End your visit to Bolzano by spending an evening in Piazza Walther. This square takes its name from poet Walther von der Vogelweide, who is honoured by a statue. You'll find many spectacular buildings here, including Duomo Maria Assunta.
In winter, the Christmas Market is also here, but this place is bursting with life in any season.
What To Eat/Drink
In Bolzano, you'll get to sample many amazing Italian dishes. But take time to try some Canederli, which is a local speciality. These are bread dumplings, which you'll find served with grated cheese and Speck.
Specifically, we recommend having your Canederli with Speck Alto Adige. This bacon isn't as aggressively smoky and salty as its Germanic cousins, but it's stronger than those found in the lowlands.
In addition to the wine that you (hopefully) bought earlier, we recommend rounding out your dinner with wedges of Stelvio. Dried for 60 days after being made from milk sourced from local cows, this cheese is buttery and tangy.