Welcome to Bonn, a city steeped in history, culture, and natural beauty. Situated on the banks of the Rhine River in western Germany, Bonn is a captivating destination that seamlessly blends its rich heritage as a former capital with a vibrant modern charm.
As the birthplace of Ludwig van Beethoven, one of the world's most renowned composers, Bonn is a city that celebrates its musical legacy. Immerse yourself in the melodies that echo through its streets and visit the Beethoven House, a museum dedicated to the life and work of this musical genius.
Bonn's historical significance extends beyond its musical heritage. From its days as the capital of West Germany from 1949 to 1990, the city retains a wealth of architectural gems, including the grand Baroque-style Electoral Palace and the iconic Bonn Minster. Explore the charming streets of the old town, where half-timbered houses, quaint squares, and vibrant cafes invite you to stroll and discover.
Nature lovers will find solace in Bonn's picturesque surroundings. The Rhine River offers scenic boat trips and leisurely walks along its promenades, while the nearby Siebengebirge mountains beckon with their lush forests and breathtaking vistas. Don't miss the opportunity to visit the Drachenfels, a majestic hill crowned by the ruins of a medieval castle, providing panoramic views of the Rhine Valley.
Bonn is also home to numerous museums, showcasing diverse art collections, historical artifacts, and scientific discoveries. The Museum Mile along the banks of the Rhine houses prominent institutions like the Art and Exhibition Hall of the Federal Republic of Germany and the Museum of Contemporary Art.
With its thriving culinary scene, Bonn tantalizes taste buds with a variety of international cuisines and regional specialties. Savor traditional German dishes, such as bratwurst and sauerkraut, paired with a refreshing glass of Kölsch, the local beer.
Transportation in Bonn is convenient, with an efficient public transportation system comprising buses, trams, and trains. The city's central location allows for easy day trips to nearby attractions, including the majestic Cologne Cathedral and the picturesque town of Ahrweiler in the Ahr Valley.
Whether you're drawn to Bonn for its history, music, natural beauty, or simply its warm hospitality, this city has something to captivate every traveler. Get ready to immerse yourself in the enchanting world of Bonn, where tradition and innovation harmoniously coexist, and memorable experiences await at every turn.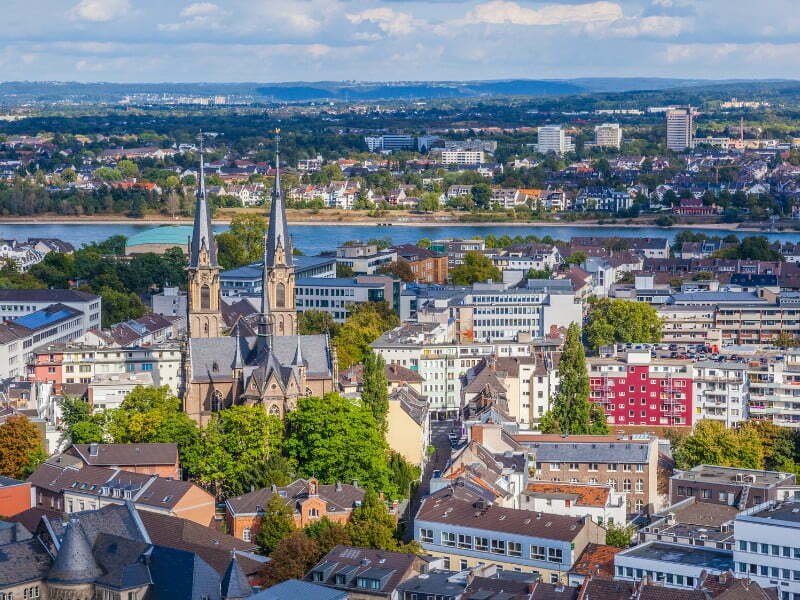 Bonn City Guide: A Brief History Of Bonn, Germany
The history of Bonn is rich and diverse, spanning over two thousand years. The city's origins can be traced back to Roman times when it served as a military outpost along the Rhine River. Known as "Bonna," it flourished as a key settlement within the Roman province of Germania Inferior.
In the Middle Ages, Bonn became an important ecclesiastical and cultural center. It gained prominence as the seat of the Archbishopric of Cologne and the University of Bonn, which was established in 1818. The city's strategic location near the Rhine River contributed to its growth and prosperity as a trading hub.
One of Bonn's most significant periods came in 1770 when Ludwig van Beethoven, one of the world's greatest composers, was born in the city. Beethoven's legacy is deeply intertwined with Bonn, and his birthplace, the Beethoven House, now serves as a museum dedicated to his life and work.
During the early 19th century, Bonn played a pivotal role in the political landscape of Germany. In 1815, it became the capital of the Kingdom of Prussia's Rhine Province. Then, from 1949 to 1990, following World War II, Bonn became the provisional capital of West Germany, known as the Federal Republic of Germany. The city served as the political center for government institutions and international diplomacy during this period.
The reunification of Germany in 1990 led to the restoration of Berlin as the capital, but Bonn continued to thrive as a vibrant cultural and administrative center. It transitioned into a hub for international organizations, including the United Nations and the Secretariat of the UN Framework Convention on Climate Change (UNFCCC).
Today, Bonn stands as a captivating blend of history, culture, and innovation. Its well-preserved historic buildings, such as the Electoral Palace and the Bonn Minster, bear witness to its past. The city's Museum Mile showcases a wealth of artistic and historical treasures, while its renowned university and research institutions contribute to its intellectual vibrancy.
As a testament to its rich history and cultural significance, Bonn was designated a UNESCO World Heritage Site for its outstanding universal value related to the period of Enlightenment and its influence on European intellectual and political developments.
Bonn's unique historical tapestry, from its Roman roots to its prominent role in German politics, has shaped the city's identity. It continues to attract visitors who are drawn to its fascinating past, vibrant present, and the enduring legacy of Ludwig van Beethoven.
Bonn Top Attractions and Best Places to Visit in Germany
During the Cold War, Germany wasn't Germany. Instead, geopolitics split it into West and East. At that time, West Germany's leaders decided to run their new territory from Bonn.
Today, Bonn is no longer a federal capital. However, it is still home to numerous museums, outstanding parks, and other worthwhile attractions.
Begin your visit to Bonn by spending a morning/afternoon at the Haus der Geschichte. This museum is one of Germany's most popular, as it covers its history. In particular, it covers Germany's time as a republic, stretching from the post WWII period to the present.
Most displays focus on the histories of West/East Germany, and how they compared up to Reunification. However, one of this museum's most popular exhibits focuses on political cartoons 75,000 pieces in all.
Admission is free. However, loads of visitors show up annually – about one million to be exact. As such, we recommend visiting during the week to avoid crowds.
Famous composer Ludwig Von Beethoven once called Bonn home. Learn more about his life by paying a visit to Beethoven House. When you walk into this place, you're setting foot where Beethoven's parents raised their budding prodigy.
From this plain townhouse rose one of the world's musical giants. Here, you'll learn about the world Beethoven grew up in, how he composed, and his many accomplishments. The admission fee is a reasonable 9 EUR, with a 2.50 EUR for an audio guide. Check out the gift shop on the way out, which includes CDs packed with Beethoven's works.
Before Reunification, Bonn was the capital of West Germany. Consequently, its Altes Rathaus (or Old Town Hall) entertained many dignitaries through the 20th century. From Queen Elizabeth to U.S. President John F. Kennedy, Western leaders rallied around this precarious democracy. Today, this Rococo-style structure is fodder for many amateur and professional photographers alike.
After that, check out Bonn's Roman Catholic church – the Bonner Münster. Its makers built it between the 11th and 13th centuries – making it one of the oldest in Germany. Currently, this basilica is under renovation – hopefully, it'll be open when you visit.
Other Cultural Attractions: Trip to Bonn, Germany
Want to learn more about our natural world? Spend some quality time exploring Museum Koenig. Named for famed naturalist Alexander Koenig, this museum opened in the 1930s. Within, you'll learn about biomes all over the world – Europe, the poles, deserts are just a few.
This place doesn't hold back on displays – you'll find stuffed animal specimens through the facility. However, when it comes to value, this place delivers. Adults pay 5 EUR, while seniors get in for 2.50 EUR.
Love gummy bears? Well, you're for a treat, as Bonn is home to the HARIBO Factory. In 1922, HARIBO created the gummy bear as we know it. From there, it went on to become one of the world's most beloved snacks.
Sadly, HARIBO does not allow visitors to tour the factory. However, their factory store allows you to buy up bags of the famed candy. So, take advantage of the savings and stock up!
At some point, you'll need to take a break from sightseeing. When that time comes, spend it relaxing at Rheinaue. This park the most popular green space in Bonn – in all, it spans over 160 hectares. If you're restless, take a walk on its 45 kilometres of paths or check out its gardens.
In particular, locals know the Rheinaue best for its Japanese and Rose Gardens. The former boasts bonsai trees and a pagoda, while the latter bursts with blooms in spring.
If you have flexibility in your schedule, try to visit Bonn during the holiday season. At that time, it hosts the Bonner Weihnachtsmarkt or Bonn Christmas Market. In all, 170 stalls fill the city square, along with a massive Christmas tree.
The festival runs from the end of November up to December 23rd. If you go, grab some gluhwein for us!

source: theTravellers on YouTube
Top 18 Things To Do in Bonn, Germany For Visitors
Here are the top things to do in Bonn:
Visit Beethoven House: Immerse yourself in the life and music of Ludwig van Beethoven at Beethoven House, the composer's birthplace. Explore the museum's extensive collection of artifacts, manuscripts, and instruments, offering a comprehensive glimpse into Beethoven's extraordinary legacy.
Stroll along the Rhine Promenade: Take a leisurely walk along the idyllic Rhine Promenade, where the tranquil waters of the Rhine River provide a serene backdrop. Enjoy the vibrant atmosphere, stop by charming cafes for a refreshing drink, and savor the stunning views of passing boats and riverside scenery.
Explore the Old Town (Altstadt): Lose yourself in the enchanting ambiance of Bonn's Old Town. Wander through narrow cobblestone streets flanked by beautifully preserved half-timbered houses, small boutiques, and cozy cafes. Discover hidden gems like Sternstraße, a picturesque alley adorned with colorful umbrellas.
Bonn Minster: Marvel at the architectural splendor of Bonn Minster, a majestic Romanesque basilica that has stood for over a millennium. Step inside to admire its towering columns, ornate stained glass windows, and tranquil atmosphere, offering a moment of contemplation and peace.
Beethoven Monument: Pay homage to Beethoven at the iconic Beethoven Monument, a grand bronze statue standing in Münsterplatz. Admire the striking depiction of the renowned composer, surrounded by green spaces and the historical charm of the square.
Museum Mile: Embark on a cultural journey along Bonn's Museum Mile, a stretch of museums offering a treasure trove of artistic and historical experiences. Explore the Art and Exhibition Hall of the Federal Republic of Germany, where rotating exhibitions showcase contemporary art, or delve into German history at the House of History.
Poppelsdorf Palace: Step into the opulence of Poppelsdorf Palace, an exquisite Baroque gem nestled amidst lush gardens. Admire its elegant facade, explore its halls filled with historical artifacts, and take a leisurely stroll through the surrounding botanical garden, a haven of serenity and natural beauty.
Rhineland Museum (Rheinisches Landesmuseum): Uncover the fascinating history of the Rhineland at the Rhineland Museum. From prehistoric artifacts to medieval treasures, the museum's extensive collection provides a captivating journey through time, offering insights into the region's rich heritage.
Rheinaue Park: Retreat to the expansive Rheinaue Park, a verdant oasis that invites relaxation and recreation. Explore its picturesque landscapes, peaceful ponds, and manicured gardens. Rent a bike, have a picnic by the waterfront, or simply bask in the tranquility of this urban retreat.
Haus der Geschichte: Immerse yourself in the history of post-war Germany at Haus der Geschichte. Engage with interactive exhibits, multimedia presentations, and a vast collection of historical artifacts, gaining a deeper understanding of Germany's political, social, and cultural evolution.
Take a Rhine River Cruise: Embark on a captivating Rhine River cruise, allowing you to appreciate the stunning landscapes and historic landmarks from a different perspective. Sail past vineyards, medieval castles, and charming riverside villages as you relax aboard a boat and soak in the beauty of the scenic Rhine Valley.
Botanical Gardens: Discover the beauty of the Botanical Gardens of the University of Bonn, a botanical paradise boasting a diverse range of plant species. Meander through themed gardens, from the Mediterranean to the tropical, and marvel at rare blooms, exotic foliage, and tranquil ponds, creating an oasis of serenity and natural splendor.
Bonn Women's Museum: Celebrate the achievements and contributions of women at the Bonn Women's Museum (Frauenmuseum Bonn). This unique institution sheds light on the remarkable accomplishments, struggles, and stories of women throughout history. Engage with thought-provoking exhibitions, art installations, and interactive displays that celebrate women's empowerment, fostering dialogue and inspiring change.
Drachenfels: Embark on an unforgettable excursion to the nearby Drachenfels, a captivating hill crowned by the ruins of Drachenfels Castle. Ascend the hill by foot or take the nostalgic cogwheel train for panoramic vistas of the Rhine Valley, the river winding through lush landscapes, and the majestic Siebengebirge mountains.
Carnival Museum (Rheinisches Karnevalsmuseum): Immerse yourself in the vibrant spirit of Carnival at the Rheinisches Karnevalsmuseum. Discover the colorful traditions, elaborate costumes, and energetic music that define this exuberant festival. Delve into the history, customs, and festivities that make Carnival a cherished cultural celebration in the Rhineland region.
Haribo Factory Outlet: Delight your taste buds at the Haribo Factory Outlet, a paradise for candy lovers. Indulge in a wide array of sweet treats, from gummy bears to licorice, and explore the store's selection of confections at discounted prices. Experience the joy and nostalgia that these beloved candies bring.
Beethoven Festival: If you have the opportunity to visit Bonn in autumn, don't miss the prestigious Beethoven Festival. Immerse yourself in a month-long celebration of classical music, with performances by renowned orchestras, acclaimed soloists, and talented up-and-coming musicians. Experience the power and beauty of Beethoven's compositions in the city that shaped his musical journey.
Rheinaue Open-Air Cinema: During the summer months, indulge in a unique cinematic experience at the Rheinaue Open-Air Cinema. Settle into a comfortable seat under the starlit sky and enjoy a diverse selection of films, ranging from classics to recent releases. Let the magic of cinema envelop you in this enchanting outdoor setting.
With these 18 diverse and captivating experiences, Bonn promises to be an unforgettable destination. Whether you're immersing yourself in the world of Beethoven, exploring historical landmarks, embracing nature's beauty, or engaging with the city's cultural offerings, Bonn invites you to discover its rich tapestry of history, art, and vibrant experiences.
What To Eat and Drink in Bonn, Germany
Bonn is in Westphalia. This region boasts a rich culinary tradition, with many unique dishes. If you're visiting at a cooler time of year, try to track down some Grunkohl. Made from kale and sausage that cooks stew for long periods, this meal will warm you up.
Out of luck? At any time of year, it should be easy to find some Rheinlandische Sauerbraten. Chefs slow cook this pot roast with onions, apples, raisins, and a load of spices. Served with potatoes and red cabbage, you may not have room for dessert.
But, definitely try – you'll want to sample some Bienenstich. Translating directly into English as "bee sting cake", you won't find an ounce of honey in this treat. Instead, it contains vanilla, buttercream, and almonds.
So, what's up with the name? Back in the 15th century, legend states that locals came under attack from raiders. To chase them off, they three beehives at the intruders. To celebrate a successful defence, a pastry chef cooked up the cake you're about to enjoy.
When it comes to culinary delights, Bonn offers a variety of delicious dishes and beverages that showcase the flavors of the Rhineland region and beyond. Here are some local specialties and must-try treats in Bonn:
Rheinischer Sauerbraten: This iconic dish consists of marinated beef, typically from the shoulder or rump, slow-cooked with aromatic spices, and served with a tangy sauce made from the marinade. It is often accompanied by potato dumplings (Klöße) or boiled potatoes and red cabbage.
Rheinischer Döppekooche: This traditional potato dish is similar to a gratin or casserole. It is made by layering thinly sliced potatoes, bacon, and onions in a baking dish, then baking it until the potatoes are tender and the top is crispy. It is often enjoyed with apple sauce or a side of green salad.
Himmel un Ääd: Translated as "Heaven and Earth," this regional specialty combines mashed potatoes (the earth) with stewed apples (the heaven). It creates a unique sweet and savory combination that is both comforting and satisfying.
Rheinischer Zwiebelkuchen: This savory onion tart is a popular treat during autumn. It features a yeasted dough crust filled with a mixture of caramelized onions, bacon, eggs, and cream. The result is a rich and flavorful dish perfect for pairing with a glass of local wine.
Königswinterer Pralinen: Indulge your sweet tooth with Königswinterer Pralinen, handmade chocolates from a local confectionery. These delectable treats come in a variety of flavors, from classic dark chocolate to innovative combinations like caramel with sea salt or truffle with champagne.
Kölsch: While not exclusive to Bonn, Kölsch beer holds a special place in the hearts of Rhinelanders. This light and refreshing beer is traditionally served in small, cylindrical glasses called "Stangen." Enjoy a glass of Kölsch at one of the many cozy pubs and beer gardens throughout the city.
Apfelwein: Also known as apple wine or cider, Apfelwein is a popular drink in the Rhineland region. Made from fermented apples, it offers a crisp and fruity flavor. Try it chilled or mix it with sparkling water for a refreshing Apfelwein spritzer.
Bonn wine: Bonn is located in the heart of the German wine region, and the local vineyards produce a variety of exceptional wines. Sample the crisp and aromatic white wines, such as Riesling and Müller-Thurgau, or the full-bodied red wines, like Spätburgunder (Pinot Noir).
Bonn Beethoven Coffee: Celebrate the city's musical heritage with a cup of Bonn Beethoven Coffee. This specialty coffee blend is named after Ludwig van Beethoven and offers a rich and aromatic experience.
Bonn gingerbread (Bönnsche Printe): Treat yourself to the famous Bonn gingerbread, known as Bönnsche Printe. These spiced cookies have a distinctive flavor and are often enjoyed during the holiday season. They come in various shapes and sizes, and some are even decorated with icing.
Street Food Market: Explore the diverse flavors of Bonn at one of the city's street food markets. From international cuisine to local specialties, these bustling markets offer a wide range of delicious options, including gourmet burgers, artisanal pizzas, Asian street food, and much more.
Bonn Butter Cake (Butterkuchen): Sink your teeth into a slice of Bonn Butter Cake, a delectable pastry made with a yeast dough base topped with a generous layer of butter, sugar, and almonds. This sweet delight is perfect for a cozy afternoon treat with a cup of coffee.
Reibekuchen: These crispy potato pancakes are a popular street food in Bonn. Made from grated potatoes mixed with flour and spices, they are fried until golden brown and served with a dollop of sour cream or applesauce. Enjoy them as a snack or side dish.
Mettbrötchen: A true German classic, Mettbrötchen is an open-faced sandwich topped with Mett, which is minced raw pork seasoned with onions, salt, and pepper. It is often garnished with pickles or onions and enjoyed as a savory snack.
Bonn Cherry Cake (Bönnsche Kersch): Indulge in the flavors of summer with a slice of Bonn Cherry Cake. This delightful dessert features a buttery crust filled with sweet, juicy cherries, creating a burst of fruity goodness with every bite.
Bonn Bratwurst: No visit to Germany is complete without trying a traditional bratwurst. Enjoy a Bonn Bratwurst, grilled to perfection and served in a fresh bun. Add some mustard and sauerkraut for an authentic taste experience.
Bonn Rhenish Tart (Rheinischer Dattelkuchen): Satisfy your sweet cravings with a slice of Bonn Rhenish Tart. This delicious pastry is made with a yeast dough, sweetened with honey, and studded with dates and almonds. Its unique combination of flavors makes it a delightful treat.
Bonn Apple Pie (Bönnsche Apfelkuchen): Experience a classic dessert with a Bonn twist. Bonn Apple Pie is made with a buttery pastry crust filled with slices of fresh apples, cinnamon, and sugar. Enjoy it warm with a scoop of vanilla ice cream or a dollop of whipped cream.
Bonn's culinary offerings provide a delightful journey through the flavors and traditions of the Rhineland region. Whether you're exploring the city's historic sites, wandering through the charming streets, or simply indulging in the local cuisine, Bonn invites you to savor each bite and sip, creating lasting memories of culinary pleasure.
Top Restaurants In Bonn, Germany
Bonn boasts a diverse culinary scene, offering a wide range of dining options that cater to various tastes and preferences. Here are some top restaurants in Bonn that promise exceptional food and memorable dining experiences:
Godesburg: Located within the walls of the historic Godesburg Castle, this elegant restaurant offers panoramic views of Bonn and the Rhine Valley. Indulge in creative gourmet cuisine, featuring seasonal ingredients and a carefully curated wine selection.
Ox & Klee: Situated in the heart of Bonn's Old Town, Ox & Klee is a Michelin-starred restaurant that takes diners on a culinary journey with its imaginative dishes. Chef Daniel Gottschlich's innovative cuisine showcases a modern interpretation of German and international flavors.
Restaurant Kaspars: Known for its refined ambiance and attentive service, Restaurant Kaspars offers a sophisticated dining experience. The menu features a fusion of French and Mediterranean cuisine, with an emphasis on fresh, locally sourced ingredients.
Anno Pomm: This charming restaurant captures the essence of traditional German cuisine. Anno Pomm specializes in hearty dishes such as schnitzel, sausages, and regional specialties, all prepared with care and served in a cozy, rustic setting.
Heising & Adelmann: With its elegant interior and attentive staff, Heising & Adelmann is a renowned restaurant known for its sophisticated French cuisine. From expertly prepared seafood to flavorful meat dishes, each plate is a work of culinary art.
Sternerestaurant Johanns: Located just outside Bonn in the picturesque town of Waldkirchen, Sternerestaurant Johanns is a destination for gastronomic excellence. Chef Johannes King presents a menu inspired by regional ingredients, offering an exceptional fine dining experience.
Weinhaus Blücher: Set in a historic building in Bonn's Old Town, Weinhaus Blücher combines traditional charm with exquisite German cuisine. Enjoy a wide selection of local wines and savor hearty dishes such as sauerbraten or freshly caught fish.
Restaurant Bönnsch: Embrace the cozy atmosphere of Restaurant Bönnsch, where you can taste regional and international dishes made from high-quality, locally sourced ingredients. The menu showcases a mix of traditional and modern flavors, accompanied by a curated wine list.
Sankt Ambrosius: Situated in the picturesque district of Bad Godesberg, Sankt Ambrosius offers a delightful blend of modern and regional cuisine. With a focus on seasonal and sustainable ingredients, their dishes are creative and beautifully presented.
Restaurant Zur Kipp: Located in the village of Plittersdorf, just outside Bonn, Restaurant Zur Kipp is renowned for its authentic German cuisine and warm hospitality. Enjoy classic dishes such as sausages, pork knuckle, and potato pancakes in a cozy, traditional setting.
These restaurants in Bonn represent a small selection of the city's culinary offerings, each providing a unique and memorable dining experience. Whether you seek gourmet creations, traditional German flavors, or international cuisine, Bonn's restaurants promise to satisfy your palate and leave you with a lasting impression of culinary excellence.
Tours For Visitors To Bonn, Germany
For visitors to Bonn, there are various tours available that provide a deeper understanding of the city's history, culture, and surrounding attractions. Here are some popular tours to consider:
Bonn City Tour: Take a guided walking or cycling tour through Bonn's historic center to explore its iconic landmarks, such as Beethoven House, Bonn Minster, and Poppelsdorf Palace. Learn about the city's rich history, architectural heritage, and famous residents.
Beethoven Tour: Delve into the world of Ludwig van Beethoven with a specialized Beethoven-themed tour. Visit key sites associated with the composer's life, including his birthplace, the Beethoven House, and the Beethoven Monument. Gain insights into his music, influences, and lasting impact.
Rhine River Cruise: Embark on a scenic boat tour along the Rhine River, which offers breathtaking views of the surrounding landscapes and picturesque towns. Choose from short sightseeing cruises or longer excursions that take you to nearby attractions like the Drachenfels Castle or the Siebengebirge mountains.
Siebengebirge Hiking Tour: Join a guided hiking tour in the Siebengebirge mountains, located just outside Bonn. Explore the region's enchanting trails, discover ancient ruins, and enjoy panoramic vistas of the Rhine Valley. Learn about the area's geological significance and legends associated with its peaks.
Wine Tasting Tour: Venture into the nearby vineyards of the Ahr Valley or the Mittelrhein region for a wine tasting tour. Sample the finest regional wines, learn about the winemaking process, and immerse yourself in the cultural heritage of German viticulture.
Bonn Beer Tour: Beer enthusiasts can indulge in a guided beer tour, visiting local breweries and beer gardens to taste a variety of regional beers. Learn about the brewing traditions, the history of Bonn's beer culture, and enjoy a fun and interactive experience.
Bonn Nighttime Ghost Tour: Experience the city's darker side with a night tour that explores Bonn's haunted history and intriguing legends. Walk through atmospheric streets, hear spine-chilling stories, and uncover the secrets of Bonn's past.
Cologne Day Trip: Take a day trip to nearby Cologne and discover its stunning cathedral, charming old town, and vibrant atmosphere. Join a guided tour to learn about the city's Roman heritage, visit the world-renowned Cologne Chocolate Museum, and cruise along the Rhine River.
Drachenfels Railway Tour: Board the nostalgic Drachenfels Railway and journey to the summit of the Drachenfels hill. Enjoy stunning views of the Rhine Valley, explore the castle ruins, and learn about the area's folklore and history.
Bonn Food Tour: Embark on a culinary adventure with a guided food tour of Bonn. Sample regional specialties, visit local markets, and learn about the culinary traditions that shape the city's gastronomy. From street food to fine dining, this tour offers a delightful experience for food lovers.
These tours offer different perspectives on Bonn, whether you're interested in its cultural heritage, natural beauty, musical legacy, or culinary delights. Choose the ones that resonate with your interests to enhance your visit to this captivating city.
Bonn Accommodations Guide: Hotels, Guesthouses and Hostels
When it comes to accommodations in Bonn, you'll find a range of options to suit different preferences and budgets. Whether you're looking for luxury hotels, cozy guesthouses, or budget-friendly hostels, Bonn has something for everyone. Here's a guide to help you find the perfect place to stay:
Bonn City Center: If you want to be in the heart of the action, consider staying in the city center. This area is dotted with hotels that offer convenient access to major attractions, restaurants, and shopping streets. It's an ideal choice for those who prefer to be within walking distance of Bonn's historical landmarks.
Bad Godesberg: Located on the banks of the Rhine, the district of Bad Godesberg offers a quieter and more relaxed atmosphere. It features elegant hotels with scenic views of the river and easy access to parks and gardens. This area is perfect for those seeking a tranquil retreat.
Poppelsdorf: Situated near the University of Bonn, Poppelsdorf is a lively neighborhood with a vibrant atmosphere. It offers a mix of accommodations, including boutique hotels and guesthouses. This area is ideal for travelers who want to be close to the university, botanical gardens, and the Poppelsdorf Palace.
Beuel: Across the Rhine River from the city center, Beuel is a charming district with a distinct character. It offers a variety of accommodations, ranging from budget-friendly options to upscale hotels. Beuel provides a more residential feel and allows visitors to experience a different side of Bonn.
Serviced Apartments: For those seeking a more home-like experience, Bonn has several serviced apartments available for short or long-term stays. These apartments typically offer kitchenettes or fully equipped kitchens, allowing you to enjoy the flexibility and comfort of a self-catered accommodation.
Budget Accommodations: If you're traveling on a budget, there are hostels and budget hotels available in Bonn. These options provide affordable rates without compromising on comfort. They are great for backpackers, solo travelers, or those looking to save on accommodation costs.
Luxury Hotels: Bonn is home to several luxury hotels that offer exceptional service, elegant rooms, and upscale amenities. These hotels often boast beautiful views, spa facilities, fine dining restaurants, and convenient locations in the city center or along the Rhine River.
When booking accommodations in Bonn, consider factors such as location, amenities, and budget. It's advisable to book in advance, especially during peak travel seasons or when major events are taking place in the city. Don't forget to check reviews and compare prices to find the best option that suits your needs.
Ultimately, whether you choose to stay in the city center, by the Rhine River, or in one of Bonn's charming districts, your accommodations will serve as a comfortable base from which to explore the city's attractions and immerse yourself in its unique ambiance.
Day Trips From Bonn, Germany
Bonn's central location in Germany's Rhineland region makes it an excellent base for exploring the surrounding areas. From charming towns to historical landmarks and natural wonders, here are some captivating day trip options from Bonn:
Cologne: Just a short train ride away, Cologne is a must-visit destination. Explore the magnificent Cologne Cathedral (Kölner Dom), a UNESCO World Heritage site, stroll along the picturesque Old Town, and visit the renowned Museum Ludwig to admire its impressive art collection.
Aachen: Discover the historic city of Aachen, famous for its stunning Aachen Cathedral, another UNESCO World Heritage site. Explore the intricate architecture of the cathedral and learn about its significance in European history. Don't miss the opportunity to try some of Aachen's beloved sweet treats, such as Aachener Printen.
Drachenfels: Venture to the Drachenfels, a hill located near the town of Königswinter. Ascend to the summit by hiking or taking the nostalgic cogwheel train and be rewarded with panoramic views of the Rhine Valley. Explore the ruins of Drachenfels Castle and take in the natural beauty of the surrounding Siebengebirge mountains.
Moselle Valley: Embark on a scenic drive along the picturesque Moselle Valley, renowned for its vineyards, charming towns, and historic castles. Visit towns such as Cochem and Bernkastel-Kues, sample the exquisite wines of the region, and soak up the idyllic ambiance along the winding Moselle River.
Siegburg: Take a short trip to Siegburg, a quaint town known for its picturesque old town and the majestic Michaelsberg Abbey. Explore the narrow streets lined with half-timbered houses, visit the Abbey to enjoy its splendid views, and indulge in some traditional German cuisine at one of the local restaurants.
Phantasialand: For a day of family-friendly fun and excitement, head to Phantasialand, a thrilling theme park located in Brühl. Experience exhilarating rides, captivating shows, and themed lands inspired by different cultures and eras. It's a fantastic destination for both kids and adults alike.
Drachenburg Castle: Visit the enchanting Drachenburg Castle, perched atop the Drachenfels hill near Königswinter. Admire the Neo-Gothic architecture, explore the opulent interiors, and wander through the castle's surrounding parklands, which offer stunning views of the Rhine River.
Siegen: Discover the charming town of Siegen, nestled in the picturesque Siegerland region. Visit the Upper Castle (Oberes Schloss), a striking Renaissance-style castle that now houses a museum, and explore the historic old town with its cobblestone streets and timber-framed houses.
Eifel National Park: Nature lovers will delight in a visit to Eifel National Park, where dense forests, rolling hills, and picturesque lakes await. Enjoy hiking trails that wind through the park's scenic landscapes, spot wildlife, and take in the tranquility of this protected area.
Monschau: Journey to the idyllic town of Monschau, renowned for its well-preserved medieval architecture. Stroll through the charming streets lined with half-timbered houses, visit the imposing Monschau Castle, and enjoy the picturesque setting along the Rur River.
These day trips from Bonn offer a diverse range of experiences, from cultural exploration to natural beauty. Whether you're interested in history, stunning landscapes, or family-friendly attractions, you'll find a variety of options to suit your interests and make your visit to the Rhineland region even more memorable.
Bonn Transportation Guide
Getting around Bonn is convenient and efficient, thanks to its well-connected transportation system. Here's a guide to help you navigate the transportation options in Bonn:
Public Transportation: Bonn has an extensive network of buses and trams operated by the local transportation authority, SWB. These services cover the city and surrounding areas, making it easy to reach various attractions and neighborhoods. Tickets can be purchased from ticket machines at tram stops or from bus drivers. Day passes and multi-day passes are available for unlimited travel within a specified time frame.
Bonn Hauptbahnhof (Central Station): Bonn's main train station, Bonn Hauptbahnhof, is a major transportation hub with excellent connections to regional and national destinations. It serves as a gateway to explore other cities in Germany and neighboring countries. From here, you can take trains to Cologne, Düsseldorf, Frankfurt, and other major cities.
Bicycles: Bonn is a bicycle-friendly city, and cycling is a popular mode of transportation. You can rent bicycles from various rental shops or use the city's bike-sharing system, nextbike. Cycling lanes are well-maintained, and many attractions in Bonn can be easily reached by bike.
Taxis and Ride-Sharing: Taxis are readily available throughout Bonn. You can find them at designated taxi stands or book one by phone. Ride-sharing services like Uber are also available in the city, providing an alternative option for getting around.
Car Rental: If you prefer to have more flexibility and independence, car rental services are available in Bonn. Several international and local rental companies have branches in the city. However, keep in mind that parking in the city center can be limited and expensive, so it's advisable to check parking options in advance.
Walking: Bonn's city center is compact and easily walkable. Many of the main attractions, shops, and restaurants are within walking distance of each other. Exploring the city on foot allows you to soak up the atmosphere and discover hidden gems along the way.
Rhine River Ferries: During the warmer months, you can take advantage of the Rhine River ferries that connect Bonn with neighboring towns along the Rhine. These ferry services provide scenic transportation options and allow you to enjoy the beauty of the river and its surroundings.
It's worth noting that Bonn is part of the Verkehrsverbund Rhein-Sieg (VRS), a regional transportation network that integrates various modes of transport. VRS tickets and passes are valid on buses, trams, trains, and some ferry services within the VRS network, offering seamless travel options.
Before embarking on your journey, it's helpful to plan your routes and check public transportation schedules for the most convenient and efficient way to reach your desired destinations. The combination of reliable public transportation, cycling infrastructure, and walking-friendly streets makes getting around Bonn a breeze, allowing you to make the most of your visit to this vibrant city.
Where To Visit After Your Trip To Bonn?
After your trip to Bonn, there are several captivating destinations nearby that you can explore. Here are some suggestions for places to visit in the vicinity of Bonn:
Cologne (Köln): Just a short distance from Bonn, Cologne is a city that deserves its own dedicated visit. Marvel at the breathtaking Cologne Cathedral (Kölner Dom), wander through the charming Old Town, visit the Chocolate Museum, and enjoy the lively atmosphere along the Rhine River.
Aachen: Travel to Aachen, a historic city known for its impressive Aachen Cathedral, a UNESCO World Heritage site. Explore the cathedral's stunning architecture, visit the Palatine Chapel, and take a stroll through Aachen's picturesque old town. Don't forget to indulge in some Aachener Printen, the city's famous gingerbread.
Koblenz: Located at the confluence of the Rhine and Moselle Rivers, Koblenz offers a captivating mix of history and natural beauty. Take a cable car ride to the Ehrenbreitstein Fortress for panoramic views, explore the charming old town, and witness the meeting point of the two rivers at the Deutsches Eck (German Corner).
Drachenfels and Königswinter: Ascend the Drachenfels hill near Königswinter to enjoy stunning views of the Rhine Valley. Explore the ruins of Drachenfels Castle, take a leisurely walk through the Siebengebirge mountains, or enjoy a relaxing boat ride along the Rhine River.
Siegburg: Visit the town of Siegburg, known for its picturesque old town and the majestic Michaelsberg Abbey. Explore the abbey's beautiful architecture and enjoy panoramic views from its elevated location. Stroll through the charming streets, browse local shops, and savor regional cuisine in one of the town's cozy restaurants.
Eifel National Park: Nature lovers should consider a trip to Eifel National Park, a picturesque area known for its forests, lakes, and hiking trails. Explore the diverse landscapes, visit the charming town of Monschau, and immerse yourself in the tranquility of this protected natural area.
Phantasialand: If you're traveling with family or seeking some adventure, a visit to Phantasialand in Brühl is highly recommended. This theme park offers thrilling rides, captivating shows, and themed areas that cater to all ages.
The Romantic Rhine Valley: Embark on a scenic drive or take a leisurely boat cruise along the Romantic Rhine Valley, a UNESCO World Heritage site. Admire the stunning castles perched atop hills, picturesque vineyards, and charming riverside villages like Bacharach and St. Goar.
Maastricht: Cross the border into the Netherlands and explore the charming city of Maastricht. Wander through its historic center, visit the iconic Vrijthof Square, explore the underground tunnels of the Fort Sint Pieter, and indulge in Dutch delights at local cafes and restaurants.
Siegen: Venture to Siegen, a picturesque town surrounded by rolling hills and timber-framed buildings. Explore the Upper Castle (Oberes Schloss), visit the Siegerland Museum to learn about the region's history, and take a stroll along the banks of the Sieg River.
Monschau: Discover the idyllic town of Monschau, known for its well-preserved half-timbered houses and narrow cobblestone streets. Explore the charming old town, visit the Red House Museum, and enjoy picturesque views of the Rur River.
Düsseldorf: Travel to the vibrant city of Düsseldorf, known for its modern architecture, fashion scene, and vibrant nightlife. Explore the waterfront promenade along the Rhine River, visit the iconic Rheinturm for panoramic views, and indulge in high-end shopping on Königsallee.
The Black Forest (Schwarzwald): Embark on a scenic journey to the Black Forest region, famous for its dense forests, picturesque villages, and cuckoo clocks. Take in the natural beauty, hike through the trails, visit the charming town of Triberg, and taste the region's famous Black Forest cake.
Koblenz and the Moselle Valley: Explore Koblenz and then venture into the beautiful Moselle Valley. Discover the vineyards, charming towns like Cochem and Bernkastel-Kues, and enjoy boat trips along the scenic Moselle River.
Marburg: Visit Marburg, a historic university town known for its medieval architecture and charming atmosphere. Explore Marburg Castle, stroll through the narrow streets of the old town, and enjoy panoramic views from the Landgrave's Tower.
Wuppertal: Experience the unique city of Wuppertal, famous for its suspended monorail system, the Wuppertal Schwebebahn. Take a ride on this iconic transportation system and explore the city's cultural attractions, parks, and botanical gardens.
Westerwald: Head to the Westerwald region, characterized by rolling hills, picturesque villages, and serene nature. Enjoy hiking or cycling through the scenic landscapes, visit historic castles, and savor the local cuisine.
Zons: Discover the medieval town of Zons, situated on the banks of the Rhine River. Wander through its well-preserved walls, explore the narrow streets lined with timber-framed houses, and visit the Zons Museum to learn about the town's history.
Ahr Valley: Venture into the Ahr Valley, a charming wine region known for its picturesque vineyards and red wine production. Take a scenic drive or bike ride along the Ahr River, visit wineries for tastings, and explore the delightful towns of Bad Neuenahr-Ahrweiler and Altenahr.
Xanten: Explore the ancient Roman city of Xanten, home to impressive archaeological sites and well-preserved ruins. Visit the Archaeological Park, which showcases reconstructed Roman buildings, and explore the charming town center with its Gothic cathedral.
Sauerland: Experience the natural beauty of the Sauerland region, known for its forests, mountains, and picturesque landscapes. Enjoy outdoor activities like hiking, cycling, or skiing, and visit charming towns like Winterberg and Willingen.
These destinations near Bonn offer a range of experiences, from cultural and historical attractions to natural wonders and family-friendly entertainment. Each place has its own unique charm, allowing you to continue your journey of exploration and discovery in the enchanting Rhineland region.
Here are 19 international destinations to consider visiting after your trip to Bonn:
Amsterdam, Netherlands: Explore the vibrant capital of the Netherlands, known for its picturesque canals, historic architecture, world-class museums, and vibrant cultural scene.
Brussels, Belgium: Visit the cosmopolitan city of Brussels, where you can discover the famous Grand Place, indulge in Belgian chocolate and waffles, and explore the European Quarter.
Paris, France: Embark on a journey to the romantic city of Paris, known for iconic landmarks like the Eiffel Tower, Louvre Museum, Notre-Dame Cathedral, and charming neighborhoods like Montmartre.
Luxembourg City, Luxembourg: Discover the charming capital city of Luxembourg, with its medieval old town, stunning fortifications, and picturesque valleys. Don't miss the opportunity to visit the grand Luxembourg Palace.
Zurich, Switzerland: Experience the vibrant city of Zurich, surrounded by beautiful Lake Zurich and the Swiss Alps. Enjoy the city's cultural offerings, world-class shopping, and take a stroll along the charming Bahnhofstrasse.
Vienna, Austria: Immerse yourself in the imperial elegance of Vienna, with its grand palaces, opulent opera houses, and rich musical heritage. Explore the historic center, visit Schönbrunn Palace, and indulge in Viennese coffee and pastries.
Prague, Czech Republic: Journey to the enchanting city of Prague, known for its stunning architecture, including Prague Castle, Charles Bridge, and the Astronomical Clock. Discover the rich history and vibrant atmosphere of this European gem.
Budapest, Hungary: Explore the captivating city of Budapest, divided by the Danube River into Buda and Pest. Admire the Parliament Building, relax in the thermal baths, and take in the panoramic views from Fisherman's Bastion.
Krakow, Poland: Discover the historic city of Krakow, known for its well-preserved medieval architecture, including the iconic Wawel Castle and the historic Old Town. Don't miss the opportunity to visit the nearby Auschwitz-Birkenau Memorial and Museum.
Copenhagen, Denmark: Experience the trendy and lively city of Copenhagen, known for its colorful waterfront, modern design, and cycling culture. Visit the famous Little Mermaid statue, explore the Tivoli Gardens, and wander through the charming streets of Nyhavn.
Stockholm, Sweden: Venture to Stockholm, the capital of Sweden, spread across a series of islands. Explore the medieval old town of Gamla Stan, visit the Royal Palace, and enjoy the city's vibrant culinary and cultural scene.
Helsinki, Finland: Visit the modern and design-centric city of Helsinki, located on the shores of the Baltic Sea. Explore the unique architecture, visit the stunning Helsinki Cathedral, and discover the bustling market square.
St. Petersburg, Russia: Immerse yourself in the rich history and cultural heritage of St. Petersburg. Explore the magnificent Hermitage Museum, marvel at the grandeur of the Peterhof Palace, and soak in the beauty of the city's canals and architecture.
Edinburgh, Scotland: Travel to the historic and picturesque city of Edinburgh, known for its medieval old town, Edinburgh Castle, and the annual Edinburgh Festival. Take a stroll along the Royal Mile and enjoy panoramic views from Arthur's Seat.
Dublin, Ireland: Discover the vibrant capital of Ireland, Dublin, with its lively pub culture, historic landmarks like Dublin Castle and Trinity College, and charming streets filled with music and literature.
Barcelona, Spain: Experience the colorful and dynamic city of Barcelona, known for its unique architecture, including the iconic Sagrada Familia and Park Güell.
Rome, Italy: Journey to the eternal city of Rome and immerse yourself in its ancient history and rich culture. Visit iconic landmarks such as the Colosseum, Roman Forum, and Vatican City, and indulge in delicious Italian cuisine.
Athens, Greece: Explore the birthplace of democracy and delve into ancient history in Athens. Visit the iconic Acropolis and its majestic Parthenon, explore the Plaka neighborhood, and savor authentic Greek cuisine.
Istanbul, Turkey: Experience the vibrant city of Istanbul, where East meets West. Explore the historic Sultanahmet district, home to iconic landmarks like the Hagia Sophia and Blue Mosque, and savor the flavors of Turkish cuisine in the bustling markets.
Marrakech, Morocco: Venture to the enchanting city of Marrakech, where you can explore the bustling souks, visit stunning palaces like the Bahia Palace, and immerse yourself in the vibrant atmosphere of the Jemaa el-Fnaa square.
These international destinations offer a diverse range of cultures, historical landmarks, natural beauty, and unique experiences that will further enrich your travels beyond Bonn.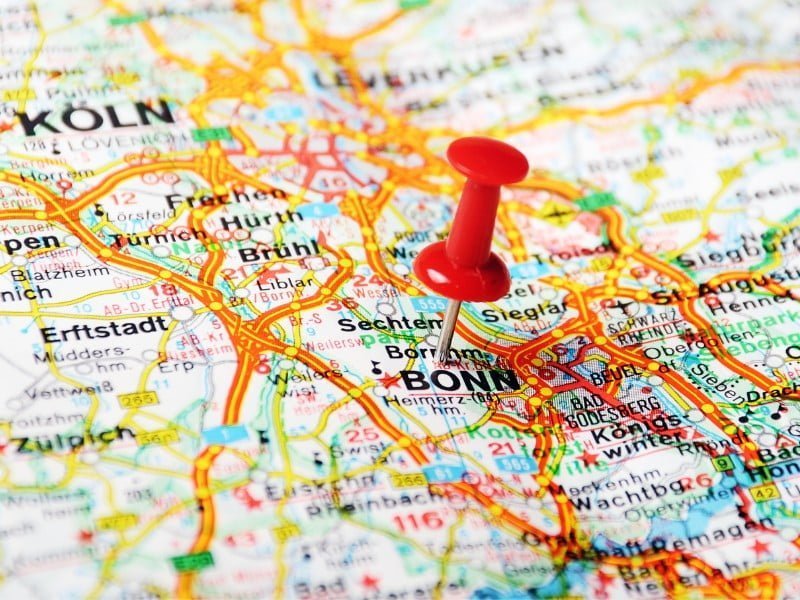 Bonn Travel Guide: Final Thoughts
Bonn is a captivating city that effortlessly blends rich history, cultural heritage, and natural beauty. From its historical landmarks and museums to its charming streets and scenic river views, Bonn offers a memorable experience for travelers. Immerse yourself in the city's musical legacy with a visit to Beethoven House or explore its vibrant cultural scene in the Museum Mile. Indulge in the local cuisine, sample regional wines, and take part in the lively festivals that dot the annual calendar.
Venturing beyond Bonn, you'll discover a plethora of day trip options to explore the Rhineland region, including the enchanting Cologne, picturesque river valleys, historic towns, and breathtaking natural landscapes. From the romantic Rhine River to the historic sites of Aachen and the charm of the Moselle Valley, the surrounding areas offer a diverse range of experiences.
Transportation in Bonn is convenient, with an efficient public transportation system, including buses and trams, making it easy to navigate the city and reach neighboring destinations. Bicycles are also a popular mode of transportation, and the city's bike-friendly infrastructure makes cycling a pleasant and eco-friendly option.
When it comes to accommodations, Bonn caters to various budgets and preferences, offering a range of hotels, guesthouses, and serviced apartments. The city center and districts like Bad Godesberg and Poppelsdorf are popular choices, providing easy access to attractions, dining options, and shopping.
As you explore Bonn and its surroundings, be sure to savor the local cuisine, from traditional German dishes to regional specialties like Bonn Butter Cake and Ahr Valley wines. Visit the local markets, dine in cozy restaurants, and immerse yourself in the gastronomic delights that the city has to offer.
Whether you're a history buff, a music lover, or a nature enthusiast, Bonn's blend of culture, history, and natural beauty will captivate you. Soak in the charming ambiance, discover the city's hidden gems, and create lasting memories in this captivating destination.
In Bonn, where history and melodies intertwine, A city of culture and charm, a gem so fine. Beethoven's birthplace, a musical haven, Where his notes still echo, a timeless haven.
Stroll through the streets, where history unfolds, Past elegant buildings, stories waiting to be told. Be embraced by the Rhine, its waters so serene, Reflecting the beauty of Bonn, a sight to be seen.
Museums and galleries, a cultural delight, Museum Mile's treasures, a captivating sight. Discover Beethoven's legacy, his genius alive, In the Beethoven House, where his spirit thrives.
The city center beckons, with its vibrant allure, Cafes and boutiques, each moment pure. Savor the flavors, the local cuisine, From hearty dishes to a glass of wine so serene.
Godesburg's grandeur, a castle in the sky, Unveiling vistas that make your heart fly. Drachenfels' ruins, a story to be told, Amidst Siebengebirge's beauty, a sight to behold.
Bonn's warmth embraces you, its spirit so kind, A city of connections, where hearts intertwine. Explore its surroundings, day trips in store, To Cologne, Aachen, and so much more.
Bonn, a symphony of history and grace, Where travelers find solace in every embrace. Immerse yourself in its cultural embrace, And let Bonn's beauty leave an indelible trace.