Brasov Travel Guide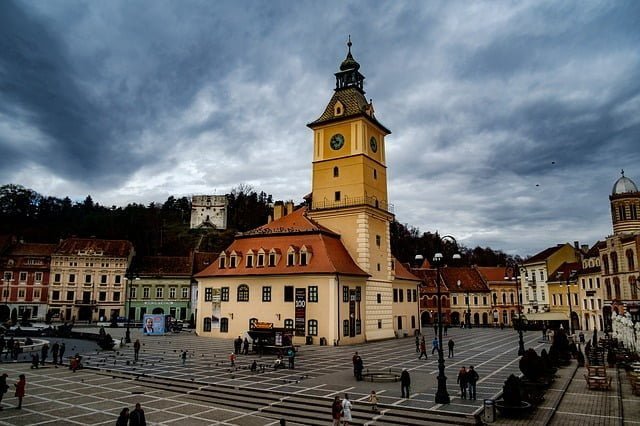 Introduction
Nestled amidst the Carpathian Mountains, Brasov is a popular tourist destination in Romania. You'll immediately notice its stunning medieval architecture. However, it is most significant for being the birthplace of the modern Romanian language.
It can get a bit crowded during high season, and it is pricey by Eastern European standards. Despite these negatives, a trip here is well worth the effort.
Come check out our Brasov travel guide as we cover the best things to do in Brasov, Romania.
Top Attractions
Start your time in Brasov by checking out the First Romanian School Museum. This institution was home to the first school where teachers taught what is now the current Romanian language. Once its founders established it, every village in Transylvania would raise money to pay for one person to attend.
Upon their return, they taught the Romanian language to those in their home communities. And so, this place was responsible for a critical component of the present-day identity of Romania. In addition to the exhibits about the school itself, you'll also get to see the first Romanian printing press. Of the 39 books it created, the most notable was the oldest Romanian bible (also on display).
Guided tours are available. We recommend getting one, as they will bring this centuries-old building to life with enlightening commentary.
Next, make your way over to the Biserica Neagra. Also known as the Black Church, this Gothic beauty is one of the most prominent Lutheran churches in Romania. It started its life in the late 1300s as a Roman Catholic church.
It survived the Protestant Reformation intact. However, it got its name during the Great Turkish War. When Brasov came under attack, the cathedral caught fire, razing much of the structure. It took the better part of a century for builders to repair the damage inflicted by the invaders.
Today, this church has several claims to fame. Its massive 4,000 pipe organ and its six-ton bell (largest in Romania) stand out. Note that there is an entrance fee of roughly 2 EUR or 10 lei.
During your visit to historic Brasov, ensure to walk through Catherine's Gate. The Tailor's Guild built this structure to replace the old city gate, which was destroyed by flooding. Its fairytale-like appearance makes it a favourite among the selfie crowd. However, this place does have historical significance.
During Saxon times, it was the only entrance Romanians that the rulers permitted them to use. Even worse, they had to pay a toll for the "privilege" of selling their crops within. While you see this place on your own, note that local guides cover this place in their walking tours.
Walk down the narrowest lane in Europe – check out Rope Street. When Brasov was under significant expansion in the 15th century, builders created this utilitarian lane. The reason? To provide fire brigades with a quick way to get between the city's two main thoroughfares.
Measuring less than four feet wide at its narrowest point, some people can touch both walls. This fact makes it popular among those taking creative photos. As a result, be patient when strolling through it.
Other Attractions
Get a great view of Brasov by taking a cable car up Mount Tampa. When you get off at the top station, you'll be 400 metres above the city – excellent sightlines abound. After you finish snapping photos of Brasov, turn your attention to the mountain itself.
Much of this park is a protected nature reserve. Of note is its butterfly population – you can only find 35% of Romania's endemic species here. However, you may also see wolves, lynx, and bears as you hike around.
Want to challenge yourself while satisfying your thirst for adrenaline? Spend a day at Parc Aventura Brasov. This park boasts two major highlights – a ropes course, and a series of zipline tracks. The rope bridges will put your courage, balance, and decision-making skills to the test. Meanwhile, the zipline tracks will give you a quick way to let off some serious steam.
Back in Brasov, spend some time hanging out in Council Square. Historically, this public space had two main functions. Most of the time, it served as a location for a sizable market. People from the surrounding countryside would come here to sell their wares to city residents.
However, it was also a place where authorities subjected lawbreakers to humiliating corporal punishments. Today, locals continue to come here to relax and participate in city events. As such, it is a great place to people-watch while you eat lunch.
End your time in this Romanian city by checking out the Historical Centre of Brasov. After checking out major attractions like the Black Church, relax in its many cafes and restaurants. Afterwards, randomly wander its streets to find multiple photo opportunities. To make the most of your time here, take a walking tour.