Bregenz Travel Guide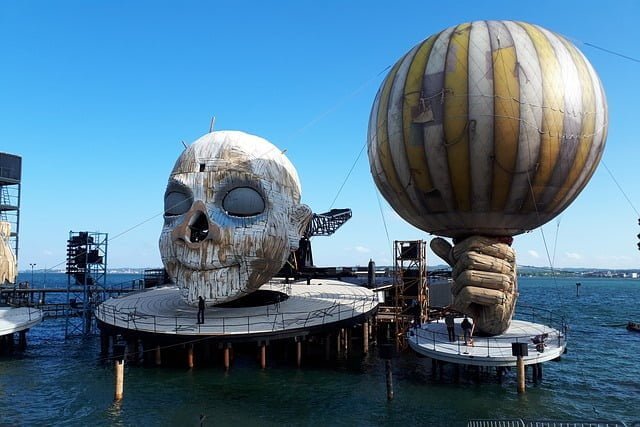 Introduction
Bregenz is a stunner of a destination. It sits on Lake Constance, which boasts views of the Alps and its foothills.
While most come here to enjoy this area's natural surroundings, historical and cultural attractions do exist. From an iconic granary to a summer performing arts festival known throughout Europe, there is plenty to see and do.
Come check out our Bregenz travel guide for foreign first timers as we cover the best things to do in Bregenz, Austria.
Top Attractions
If you're looking to satisfy your itch for art, make time for a visit to Kunsthaus Bregenz. While it doesn't really feature local artists, it is an excellent place to check out travelling exhibitions. In particular, this gallery focuses on contemporary visual art pieces.
No two visits are the same – every couple of months, they change out the pieces. They feature the hottest contemporary artists of the moment, as well as the legends. However, the building itself is a work of art. Standing out from the rest of downtown, its glass panels offer a post-modernist vision of the future.
On your way out, be sure to stop at the cafe for refreshments. Admission to the museum is 9 EUR per person. If you have a large party, be sure to take that into account.
Next, make your way over to the Vorarlberg Museum. This institution chronicles the arts, culture, and history of the Austrian state of Vorarlberg. Its galleries focus on the archaeology, history, art history, and folklore of this region.
In particular, its exhibit on Roman settlement in the Bregenz area is quite interesting. It also features an expansive collection of Celt artifacts and religious art. On your way out, its cafe will give you a chance to digest all that you have learned. Note that many displays are not in English. Either take a local guide with you or download the German library on Google Translate before visiting.
Of all the old buildings in Bregenz, the Martinsturm is one of the best. Local authorities built this landmark at the turn of the 17th century. It originally served as a granary, but in modern times, it is a tourist draw. This place is so iconic, you can find it on the back of old 20 Austrian Shilling coins.
At the top, you'll find a chapel called Martin Chapel. Covered in frescoes, it is a place of solace amidst the tourist frenzy. From the upper floor, a 360-degree view of Bregenz is possible, so don't forget your camera.
If you plan on visiting Bregenz from late July-late August, make plans to take in the Bregenz Festival. This spectacle, which features everything from operas to plays/musicals, is the highlight of summer in Bregenz. Its trademark draw – performances that take place on a floating stage. The audience watches them from the shores of Lake Constance, as the day ebbs into the evening.
If you plan on attending, be ready for weather-related interruptions. Occasionally, rain can cancel or delay performances. However, this eventuality can also lead to unforgettable moments. Case in point – there's nothing better than an amazing play with lightning/thunder in the distance.
Other Attractions
If you're a food lover, you simply must travel the Bregenzerwald Cheese Road during your visit to Bregenz. Along this path, watch as farmer's harvest the milk that will eventually become this region's world-famous cheese. Then, make your way to cheese cellars where keepers age wheels.
Finally, go from one cheese shop to the next, where merchants offer cheese tastings. Expect to stuff yourself silly – their products are that good!
While Downtown Bregenz is a lively, happening place, it does tend to be on the touristy side. If you need a break, break away from the crowd to check out Oberstadt Bregenz. Here, you'll find buildings that are on the older side.
Now, this doesn't sense – aren't the older parts of European cities touristy by definition? Usually, that's the case – but not here. To be sure, there are attractions in the Upper Town, like Martinsturm. Aside from that, though, you'll be free to wander amidst this city's older buildings without feeling crowded. The old town hall, the old prison, city walls, and character houses all await you here.
Want to get sweeping views over the entirety of Bregenz? Head up Pfanderbahn, this city's cable car. This tram will take you to the upper slopes of Pfander, a mountain close to Bregenz city centre. Here, stunning panoramas of Bregenz and Lake Constance are possible.
Views aren't the only thing on offer – you'll also find a restaurant and a small wildlife park. The former serves great schnitzel are fair prices, while latter features goats and reindeer milling about.
To celebrate an amazing day of sightseeing in Bregenz, spend an evening on the Seepromenade. Here, you can enjoy a meal or beverages while you watch the locals pass by. If the spirit moves you, you can enjoy a casual stroll along Lake Constance here.