Welcome to Bremen, a charming city in northern Germany that seamlessly blends historical heritage with a vibrant modern atmosphere. Situated on the banks of the Weser River, Bremen is known for its rich maritime history, medieval architecture, and thriving cultural scene. Whether you're captivated by fairy tales and folklore, intrigued by Hanseatic trade traditions, or simply seeking a delightful getaway, Bremen offers a range of experiences that will leave a lasting impression.
Bremen's historical significance dates back over 1,200 years when it was founded as a trading settlement. The city's iconic landmarks, such as the UNESCO-listed Bremen Town Musicians statue and the grand Town Hall, stand as testaments to its past prosperity and continue to enchant visitors today. As you explore the narrow cobblestone streets of the enchanting Schnoor district or stroll along the picturesque waterfront, you'll find a blend of architectural styles that span the centuries.
Art and culture thrive in Bremen, with numerous museums, galleries, and theaters to satisfy even the most discerning enthusiasts. The Kunsthalle Bremen showcases an impressive collection of European art, while the Übersee-Museum takes you on a journey through cultures from around the world. Bremen's music scene is equally impressive, with renowned orchestras and an array of live venues offering diverse performances.
For those seeking a taste of local cuisine, Bremen has plenty to offer. From traditional hearty dishes like Labskaus and Grünkohl to delectable fish specialties from the nearby coast, the city's culinary scene is diverse and delicious. Don't forget to try a glass of local beer or a schnapps from one of Bremen's charming taverns.
Beyond its urban attractions, Bremen also offers natural beauty and recreational opportunities. The expansive Bürgerpark is a serene oasis within the city, ideal for picnics, leisurely walks, or bike rides. If you're up for an adventure, consider exploring the nearby Teufelsmoor nature reserve, a unique wetland area that offers breathtaking landscapes and opportunities for birdwatching.
Whether you're a history buff, an art lover, a nature enthusiast, or simply seeking a delightful city break, Bremen has something for everyone. So, pack your bags, immerse yourself in the city's captivating ambiance, and get ready to create lasting memories in this fascinating German gem.
Bremen City Guide: A Brief History Of Bremen, Germany
The history of Bremen is a tale that stretches back over a millennium, characterized by trade, Hanseatic influence, and a rich cultural heritage. Here is an overview of the key historical milestones in the city's development:
Early Settlement: Bremen's origins can be traced back to the 8th century when it was established as a Frankish settlement along the Weser River. The location provided access to the North Sea and the lucrative trading routes of the time.
Trading Powerhouse: In the 12th century, Bremen became a significant member of the Hanseatic League, a powerful trading alliance of merchant cities in Northern Europe. The city's strategic location and thriving trade routes brought wealth and prosperity, allowing it to flourish as a center of commerce and maritime activity.
Free Hanseatic City: Bremen gained independence from the Archbishopric of Cologne in 1186 and was recognized as a Free Hanseatic City, granting it autonomy and the ability to govern itself. This status enabled Bremen to engage in international trade and establish its own legal and political systems.
The Bremen Roland and the Town Hall: In the 14th century, Bremen's iconic symbol, the Bremen Roland statue, was erected as a symbol of the city's independence and jurisdiction. The Roland stands in front of the magnificent Town Hall, a UNESCO World Heritage Site and one of the finest examples of Brick Gothic architecture in Europe.
Reformation and the Thirty Years' War: Bremen adopted Protestantism during the Reformation in the 16th century. However, the city was heavily impacted by the devastation of the Thirty Years' War (1618-1648) as it faced occupation, economic decline, and population loss.
Industrial Revolution and Modernization: Like many European cities, Bremen experienced significant growth and industrialization during the 19th century. The Weser River played a crucial role in the city's industrial development, facilitating trade and the establishment of shipbuilding and manufacturing industries.
World Wars and Reconstruction: Bremen, like the rest of Germany, endured the challenges of the two World Wars in the early 20th century. The city was heavily bombed during World War II, resulting in the destruction of much of its historical architecture. However, extensive efforts were made in the post-war period to reconstruct and restore the city's landmarks and infrastructure.
Contemporary Bremen: Since the end of World War II, Bremen has emerged as a vibrant cultural and economic hub in northern Germany. It is home to numerous universities, research institutions, and technological enterprises, contributing to its reputation as a center of innovation and knowledge.
Today, Bremen preserves its historical legacy while embracing modernity. Visitors can explore its medieval architecture, such as the Schnoor district and the Cathedral of St. Peter, while also enjoying its thriving arts scene, diverse culinary offerings, and picturesque waterfront areas.
Overall, the history of Bremen reflects its resilience, adaptability, and the enduring spirit of a city that has played a significant role in regional trade and cultural exchange throughout the centuries.
Bremen Top Attractions and Best Places to Visit in Germany
With a history stretching back to the Hanseatic League, Bremen is a marvellous place for culture hounds.
While the Second World War took its tolls on its building stock, much of it also survived.
From its iconic town hall to its soaring cathedral, there is much to take in.
However, Bremen isn't a destination that's top of mind for many travellers. But don't worry, as taking the train in Germany is a breeze – within a couple of hours, you can get here from Berlin, Hamburg, and other cities.
With that settled, check out our Bremen travel guide as we cover the best things to do in Bremen, Germany.
Begin your visit to this northern German city by paying a visit to Bremen Town Hall. Locals and visitors alike consider this UNESCO World Heritage Site the most beautiful building in the city.
It almost didn't make it to the present day – in World War II, air raids razed 60% of Bremen's preexisting buildings. Thanks to diligent efforts by the city's fire brigade, this elegant structure made it through with only minor damage.
For centuries, this place didn't just serve as an administrative centre – it was also a locus of trade. That's the purpose its lower hall served for generations – here, merchants pedalled luxury goods like spices.
If you're looking for rich architecture, though, head to the Golden Chamber. Everything in here was redone in the Art Nouveau style at the turn of the 20th century. Everything from the door handles to the chandeliers reflect this choice.
To get the most out of your time here, be sure to go on a guided tour. They speak English, and with experiences that last up to three hours, architecture buffs will be in heaven.
Next, make your way over to St. Peter's Cathedral. Christian churches have sat on this spot since the 8th century. However, the structure that stands in Bremen today traces its roots to the 13th century. Over the years, renovations has given this cathedral Gothic, Romanesque, and even Neo-Byzantine characteristics.
The naves that grace this church's aisles is certainly of its most astounding features. But be sure to check out its crypts as well. As the name suggests, this place is where church officials buried some parishioners in past centuries. The western crypt, which dates back to the 11th century, is the oldest structure in all of Bremen.
Not all of the history of Bremen is charming. The Valentin Submarine Pens was slated to supply Nazi Germany with scores of new U-Boats. In 1945, this facility was under construction, with thousands of POWs and slave labourers working on it.
It never went into service. Allied air raids, which escalated dramatically in 1945, put the nearly-complete factory out of commission. Today, visitors can tour the bunker-like facility. We recommend getting an audio tour, as it will provide insight to what can be a visually threadbare experience.
If you want to learn more about cultures half a world away from Bremen, visit the Ubersee Museum. This institution is an ethnographic and natural history museum that focuses on lands beyond Germany. In particular, it profiles the culture, plants, and animals of Africa, Asia, the Americas, and the South Pacific.
The interesting displays and dioramas here will keep you busy on a rainy day. However, note that this place is aimed at locals. Not all exhibits are in English – take Google Translate or a German friend with you.
Other Cultural Attractions: Trip to Bremen, Germany
Bremen has managed to hold onto some of its older building stock. To check it out, be sure to take a stroll through the neighbourhood of Schnoor. It may seem posh these days, but back when Bremen was a Hanseatic city, it was home to seafarers.
This working-class neighbourhood became known for the strength of its ropes and cables. Because of this, the area became known as Schnoor, German for "strong". In 1959, the city decided to restore the neighbourhood back to its Medieval glory.
Today, its narrow streets are a treat to walk around. As you go, you'll find countless souvenir and Christmas shops. Of course, this is to say nothing of this area's many photo opportunities.
If you're looking for a cool selfie spot, check out the Town Musicians of Bremen. It is a metal sculpture of four domestic animals, standing atop each other. Its creators based it on the Brothers Grimm fairy tale of the same name.
In this story, these four animals, in their old age, decided head into Bremen to entertain the locals. Along the way, they encountered a band of robbers. As the tale goes, they hoodwinked them, stole their goods, and squatted in their home. This bronze statue is truly a sight to see. If you like lighthearted sights, be sure not to miss capturing it on camera.
If you find yourself getting tired during your time in Bremen, take some time in Burgerpark to relax. Its old trees, nice lakes, and jogging paths will provide ample opportunity for recreation. If you have kids, take them to the mini-zoo on-site.
Before leaving Bremen, spend some time people-watching at Marktplatz. As you can surmise from the name, this place used to host many markets in Bremen. Today, though, locals enjoy coffee and gather for special events here, especially during the holiday season.

source: Travel Gretl on YouTube
Top 20 Things To Do in Bremen, Germany For Visitors
Here's a list of 20 top things to do in Bremen:
Explore the Bremen Town Musicians statue: Take a leisurely stroll to the heart of Bremen's Market Square and discover the enchanting bronze statue of the Bremen Town Musicians. Based on the Brothers Grimm fairytale, this iconic sculpture captures the spirit of adventure and resilience. Don't miss the opportunity to rub the donkey's hooves for good luck!
Admire the Bremen Roland: Stand in awe of the mighty Bremen Roland, a UNESCO World Heritage Site and a symbol of Bremen's sovereignty. This 600-year-old statue represents freedom and justice. It stands tall in the Market Square, overlooking the hustle and bustle of the city.
Discover the Bremen Cathedral: Immerse yourself in history as you visit the Bremen Cathedral, also known as St. Peter's Cathedral. Marvel at its stunning Gothic architecture and intricate details. Step inside to explore the tranquil interior, where the vaulted ceilings and stained glass windows create a serene ambiance.
Wander through the Schnoor district: Transport yourself back in time as you wander through the picturesque Schnoor district. Lose yourself in the narrow, winding streets lined with colorful, half-timbered houses that date back to the 15th century. Explore the charming boutiques, art galleries, and cozy cafes tucked away in this enchanting neighborhood.
Visit the Bremen City Hall: Step into history at the Bremen City Hall, a remarkable Gothic building with a Renaissance facade. Join a guided tour to admire the ornate council chamber, the Golden Chamber, and the Hall of Mirrors. Learn about the city's governance and the fascinating stories behind this architectural gem.
Explore the Kunsthalle Bremen: Delve into the world of art at the Kunsthalle Bremen. Marvel at its extensive collection of European paintings, sculptures, and graphic arts spanning from the Middle Ages to the present day. Admire works by renowned artists such as Rembrandt, Rubens, Monet, and Picasso.
Experience the Universum Science Center: Feed your curiosity at the Universum Science Center, an interactive museum where science comes alive. Engage with hands-on exhibits and experiments that cover topics like physics, biology, and technology. Challenge your mind and have fun exploring the wonders of the natural world.
Discover the Übersee-Museum: Embark on a cultural journey at the Übersee-Museum, an ethnographic museum showcasing artifacts, exhibitions, and interactive displays from different continents. Immerse yourself in the traditions, history, and biodiversity of various cultures, from Africa to Asia and the Americas.
Take a boat tour on the Weser River: Experience the beauty of Bremen from a different perspective on a relaxing boat tour along the Weser River. Admire the city's skyline, historical landmarks, and charming waterfront areas while listening to fascinating stories and historical facts from the knowledgeable guides.
Visit the Böttcherstraße: Explore the remarkable Böttcherstraße, a street with unique expressionist architecture and cultural attractions. Marvel at the ornate facades, including the famous Glockenspiel House, adorned with 30 bells that chime melodiously throughout the day. Explore the Paula Modersohn-Becker Museum and the Ludwig Roselius Museum to delve into art and cultural history.
Enjoy the Bürgerpark: Escape the urban buzz and find tranquility in the Bürgerpark, a vast green oasis in the heart of Bremen. Take a leisurely stroll through lush gardens, enjoy a picnic by the lakeside, or rent a paddleboat for a serene water excursion.
Explore the Universum Bremen: Unleash your inner scientist at the Universum Bremen, an interactive science museum that makes learning fun for all ages. Engage with hands-on exhibits, participate in experiments, and discover fascinating aspects of physics, technology, and the natural world.
Shop at the Viertel district: Immerse yourself in Bremen's vibrant and trendy Viertel district. This lively neighborhood is known for its eclectic mix of boutiques, vintage shops, and unique stores. Explore the colorful streets, browse through local artwork, and uncover hidden gems while enjoying the district's lively atmosphere.
Visit the Botanika: Immerse yourself in the beauty of nature at the Botanika. This botanical garden offers themed areas such as the tropical rainforest, desert landscapes, and lush gardens filled with exotic plants. Explore interactive exhibits, learn about biodiversity, and take a moment to relax in the tranquil surroundings.
Discover the Focke Museum: Dive into the history and culture of Bremen and the surrounding region at the Focke Museum. Delve into the fascinating exhibits that cover art, artifacts, and historical objects, offering insights into the city's past and its impact on the wider world.
Attend a performance at the Theater Bremen: Immerse yourself in the world of performing arts at the Theater Bremen. Experience a captivating play, a mesmerizing ballet performance, an enchanting opera, or a soul-stirring concert. The theater's diverse program ensures there's always something to suit your artistic taste.
Explore the Weser Stadium: If you're a sports enthusiast, don't miss the chance to visit the Weser Stadium, home to the Werder Bremen football club. Immerse yourself in the vibrant atmosphere of a live match or take a guided tour to learn about the club's history, explore the facilities, and walk in the footsteps of football legends.
Visit the Bremer Geschichtenhaus: Step into Bremen's past at the Bremer Geschichtenhaus, an interactive museum where costumed actors bring history to life through captivating storytelling. Journey through different eras and listen to tales of the city's legends, folklore, and historical events, providing a unique and immersive experience.
Experience the Botanischer Garten: Discover a haven of tranquility at the Botanischer Garten, Bremen's botanical garden. Stroll through the beautifully landscaped grounds, featuring an array of plants, flowers, and trees from around the world. Explore the various themed gardens, greenhouses, and peaceful walking paths for a peaceful retreat in nature.
Discover the Beck's Brewery: Immerse yourself in the world of beer at the Beck's Brewery, one of Germany's largest and most renowned breweries. Take a guided tour to learn about the beer-making process, visit the historic brewhouse, and enjoy a tasting session to savor the flavors of this beloved Bremen brew.
With these diverse activities, Bremen offers a wealth of experiences that cater to history lovers, art enthusiasts, nature explorers, and those seeking vibrant cultural encounters.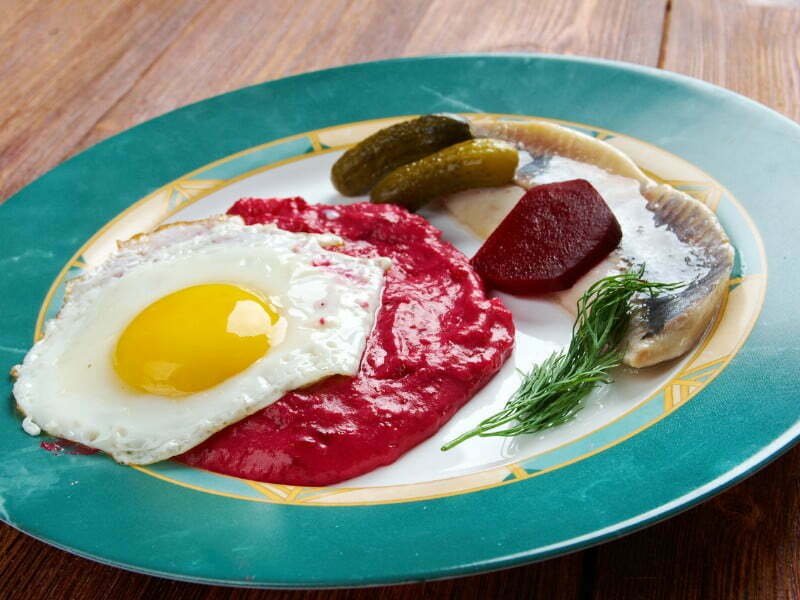 What To Eat and Drink in Bremen, Germany
When it comes to culinary delights, Bremen offers a variety of traditional dishes and beverages that showcase the flavors of northern Germany. Here are some must-try food and drink options in Bremen:
Labskaus: A hearty and traditional sailor's dish, Labskaus consists of minced corned beef or salted fish, mashed potatoes, onions, and beetroot. It is often served with pickles, fried eggs, and rollmops (pickled herring).
Grünkohl: Grünkohl, or kale, is a popular winter dish in Bremen. It is cooked with smoked pork, sausages, and spices, resulting in a flavorful and comforting meal. Served with boiled potatoes and mustard, it is a true taste of regional cuisine.
Knipp: Knipp is a regional specialty made from smoked pork belly, bacon, and oats. It is typically served as a spread or on bread, often enjoyed for breakfast or as a snack.
Bremer Ratskeller: Visit the historic Bremer Ratskeller, located beneath the Bremen Town Hall, for a taste of traditional Bremen cuisine. Enjoy dishes like Bremer Hochzeitssuppe (wedding soup), Bremer Kluten (potato dumplings), and local fish specialties.
Fischbrötchen: Bremen's proximity to the North Sea means that fresh seafood is abundant. Don't miss the chance to try a Fischbrötchen, a delicious fish sandwich filled with pickled herring, smoked salmon, or shrimp, served on a fresh bun.
Klaben: A traditional Christmas fruit bread, Klaben is a sweet treat made with raisins, almonds, candied citrus peel, and spices. It is often enjoyed during the holiday season and pairs perfectly with a cup of hot tea or coffee.
Bremer Knippkohl: This dish combines the flavors of kale (Grünkohl) and Knipp, a smoked pork and oat specialty. It's a comforting winter dish that showcases the rich flavors of Bremen's culinary heritage.
Bremer Babbeler: For a sweet souvenir, pick up some Bremer Babbeler. These hard candies are a local specialty, known for their caramel flavor and creamy texture.
Bremen Beer: Bremen has a rich brewing tradition, and its local beer is renowned. Enjoy a glass of the iconic Beck's beer, which has been brewed in Bremen since the 19th century. You can also explore other regional craft beers and traditional German styles.
Bremen Schnapps: Complete your culinary experience with a shot of Bremen Schnapps. Whether it's a classic herb-based schnapps or a fruit-infused variation, this strong spirit is a popular way to toast and enjoy the flavors of the region.
Bremer Knipp: This local specialty is made from a mixture of chopped smoked pork belly, bacon, onions, and oats. It is pan-fried until crispy and often served with potatoes and applesauce, creating a satisfying and flavorsome dish.
Bremen Labskaus mit Rollmops: Labskaus is taken to another level by adding a Rollmops, a pickled herring fillet wrapped around a pickle. This combination adds a tangy and briny element to the dish, making it a unique and tasty experience.
Matjes: Bremen's proximity to the North Sea makes it an ideal place to try Matjes, young herring that is traditionally served marinated with onions, dill, and a tangy cream sauce. It is a delicacy best enjoyed during the herring season.
Bremer Knippkohl mit Pinkel: Another traditional kale dish, Bremer Knippkohl combines kale with Pinkel, a smoked sausage made from oatmeal, pork fat, and spices. The combination of flavors creates a hearty and delicious meal.
Rote Grütze: Indulge in a delightful dessert known as Rote Grütze, a red fruit compote made from a mix of berries, such as raspberries, red currants, and cherries. It is typically served with vanilla sauce or whipped cream.
Bremer Butterkuchen: Satisfy your sweet tooth with a slice of Bremer Butterkuchen, a buttery and rich yeast cake topped with sweet crumbles. It pairs perfectly with a cup of coffee or tea.
Bremen Coffee: Treat yourself to a cup of Bremen Coffee, a local specialty. This coffee is typically served with a small glass of Korn, a regional schnapps made from fermented grain. It's a unique way to enjoy your coffee with a little extra kick.
Bremen Bratwurst: Don't miss the opportunity to try the local Bremen Bratwurst. These grilled sausages are typically made from pork and seasoned with a blend of spices. Enjoy them in a bun with mustard or as part of a hearty meal.
Königsberger Klopse: Although not native to Bremen, Königsberger Klopse is a beloved German dish that can be found in many local eateries. These tender meatballs are cooked in a creamy caper sauce and traditionally served with potatoes or rice.
Bremer Kaffeebrot: Indulge in a sweet treat with Bremer Kaffeebrot, a pastry filled with marzipan, nuts, and spices. It's a popular accompaniment to a cup of coffee or tea, perfect for a leisurely break during your explorations.
When in Bremen, indulge in these traditional dishes, savor the local flavors, and raise a glass to the rich culinary heritage of the city. Prost!
Top Restaurants In Bremen, Germany
Bremen is home to a vibrant culinary scene, offering a variety of restaurants that cater to diverse tastes and preferences. Here are some top restaurants in Bremen where you can indulge in delicious cuisine:
Restaurant Paula: Located in the heart of the Schnoor district, Restaurant Paula offers a cozy atmosphere and a menu showcasing regional specialties with a modern twist. Enjoy dishes like Bremer Labskaus, seafood creations, and seasonal delights.
Hafenrundfahrt: Situated by the Weser River, Hafenrundfahrt specializes in fresh seafood and fish dishes. The menu features a variety of fish prepared in different styles, including classic grilled options and creative interpretations.
Restaurant Übersee: Nestled in the Überseestadt district, Restaurant Übersee offers a fusion of international flavors and modern cuisine. Their menu features a range of dishes using fresh, locally sourced ingredients, creating a unique culinary experience.
Spicery: For lovers of Indian cuisine, Spicery is a must-visit. Located in the Viertel district, this restaurant serves authentic Indian dishes bursting with aromatic spices and flavors. From curries to tandoori specialties, Spicery offers a delightful culinary journey.
Einfach Lecker: This charming restaurant in the city center focuses on traditional German cuisine with a contemporary twist. With a menu that changes seasonally, Einfach Lecker offers dishes prepared with fresh, locally sourced ingredients, ensuring a delightful dining experience.
Villa Sponte: Set in a beautifully restored villa, Villa Sponte provides a sophisticated setting for a memorable dining experience. The restaurant offers a refined menu featuring a combination of regional and international dishes, expertly prepared and presented.
Michels: As one of Bremen's renowned fine dining establishments, Michels delights guests with its elegant ambiance and exquisite cuisine. The restaurant offers a gourmet menu that highlights the best of regional and international flavors, creating a culinary journey for the senses.
Emma am See: Enjoy a picturesque setting at Emma am See, a restaurant located on the banks of Lake Starnberger. This waterfront eatery specializes in fresh seafood, offering a variety of fish dishes, salads, and other delectable options while providing scenic views.
Meierei Bremen: Located in the Bürgerpark, Meierei Bremen combines a charming cafe atmosphere with delicious food. Indulge in homemade cakes, pastries, and light meals, accompanied by beautiful views of the park and lake.
Restaurant Esszimmer: Situated in a historic building, Restaurant Esszimmer offers a refined dining experience with a focus on regional and seasonal ingredients. The menu features creative dishes crafted with precision and attention to detail.
BREMENSteakhaus: Meat lovers will appreciate BREMENSteakhaus, a restaurant specializing in high-quality steaks cooked to perfection. From tender cuts of beef to juicy pork and poultry, this establishment offers a meaty feast for discerning palates.
Taj Mahal: Taj Mahal is a popular Indian restaurant in Bremen, serving a wide range of authentic and flavorful Indian dishes. From aromatic curries to tandoori specialties and vegetarian options, Taj Mahal offers a diverse menu to satisfy Indian cuisine enthusiasts.
N°4: N°4 is a trendy restaurant and bar located in the heart of Bremen's Viertel district. It offers a fusion of international flavors and creative dishes in a stylish and vibrant setting, making it a popular choice for those seeking a lively dining experience.
La Paz: Craving Mexican cuisine? La Paz is a vibrant Mexican restaurant that serves a variety of flavorful dishes, including tacos, burritos, and enchiladas.
Vinum: Wine lovers will appreciate Vinum, a cozy wine bar and restaurant that offers an extensive selection of wines from around the world. Enjoy a glass of your favorite wine accompanied by a cheese platter, charcuterie, or a range of delicious small plates.
Caprioli: Caprioli is a popular Italian restaurant known for its authentic flavors and warm hospitality. Indulge in classic Italian dishes like pasta, risotto, and wood-fired pizzas, all prepared with fresh ingredients and traditional techniques.
Istanbul Restaurant: Experience the vibrant flavors of Turkish cuisine at Istanbul Restaurant. From aromatic kebabs and savory mezze platters to mouthwatering desserts like baklava, this restaurant offers a taste of Turkey in the heart of Bremen.
Gasthaus Schüttinger: For a taste of Bremen's brewing heritage, head to Gasthaus Schüttinger, a historic brewery and restaurant. Sample their selection of locally brewed beers, paired with traditional German dishes such as schnitzel, sausages, and hearty stews.
The L'Orient: Embark on a culinary journey to the Middle East at The L'Orient. This restaurant offers a menu of flavorful Lebanese and Mediterranean dishes, including falafel, hummus, grilled meats, and aromatic rice dishes.
Sudhaus: Beer enthusiasts should not miss Sudhaus, a brewery and restaurant that brews its own craft beers onsite. Enjoy a selection of freshly brewed beers while savoring hearty pub-style dishes like burgers, sausages, and schnitzel.
These top restaurants in Bremen showcase the city's diverse culinary scene, offering a range of flavors and dining experiences to suit every palate. Whether you're in the mood for traditional German cuisine, international flavors, or a taste of the exotic, Bremen has a restaurant to satisfy your cravings.
Tours For Visitors To Bremen, Germany
When visiting Bremen, there are several tours available that provide unique insights into the city's history, culture, and attractions. Here are some tour options to enhance your experience in Bremen:
Historical City Tour: Join a guided walking tour to explore the historical heart of Bremen. Learn about the city's rich heritage as you visit iconic landmarks such as the Bremen Town Musicians, Bremen Roland, and the UNESCO-listed Town Hall. Dive into fascinating stories and legends that bring the city's history to life.
Schnoor District Tour: Embark on a guided tour through the charming Schnoor district. Wander the narrow alleys, marvel at the picturesque medieval houses, and hear tales of the district's past. Discover hidden courtyards, unique boutiques, and artisan workshops while immersing yourself in the district's enchanting ambiance.
River Weser Cruise: Take a leisurely boat cruise along the scenic River Weser. Admire Bremen's skyline from a different perspective as you glide along the water. Learn about the city's maritime history and enjoy panoramic views of riverside landmarks, such as the Weser Stadium and the Bremen Harbor.
Bremen Brewery Tour: Beer enthusiasts can join a guided brewery tour to discover Bremen's brewing traditions. Visit local breweries, learn about the beer-making process, and sample a variety of traditional and craft beers. Dive into the flavors and stories behind Bremen's beloved beverage.
Culinary Tour: Embark on a culinary tour to savor the flavors of Bremen's cuisine. Explore local food markets, visit specialty food shops, and taste traditional dishes and regional delicacies. Engage with local food experts who will introduce you to the city's gastronomic delights.
Weser Renaissance Architecture Tour: Bremen is known for its impressive Weser Renaissance architecture. Join a guided tour that takes you through the city's historic quarters, showcasing the unique architectural styles and intricate details of buildings such as the Schütting and the Rathscafé.
Bremen Music Tour: Immerse yourself in Bremen's musical heritage with a guided music tour. Explore venues where famous composers and musicians have performed, visit iconic music institutions such as the Glockenspiel House, and learn about Bremen's contributions to the world of music.
Bremen Street Art Tour: Discover Bremen's vibrant street art scene with a guided tour through its colorful neighborhoods. Explore hidden murals, graffiti art, and urban installations while learning about the artists and the stories behind their creations.
Bremen Science Tour: Delve into the world of science with a tour of Bremen's scientific institutions. Visit the Universum Science Center, space technology centers, and research facilities to learn about Bremen's contributions to science, technology, and innovation.
Bremen Museum Tour: Explore Bremen's museums with a guided tour that showcases the city's cultural heritage. Visit museums such as the Kunsthalle Bremen, the Übersee-Museum, and the Focke Museum, which offer insights into art, global cultures, and regional history.
These tours provide a range of experiences, allowing visitors to delve deeper into Bremen's history, culture, gastronomy, and various aspects of its vibrant city life. Choose the tours that interest you the most and uncover the hidden gems and stories that make Bremen such a captivating destination.
Bremen Accommodations Guide: Hotels, Guesthouses and Hostels
When visiting Bremen, you'll find a variety of accommodation options to suit different preferences and budgets. Here's a guide to help you choose the right place to stay:
Luxury Hotels: Bremen boasts several luxury hotels that provide top-notch amenities, impeccable service, and a refined experience. These hotels often feature elegant rooms, spa facilities, fine dining restaurants, and convenient locations near major attractions. Examples include the Dorint Park Hotel Bremen, Swissôtel Bremen, and Hotel Atlantic Grand.
Mid-Range Hotels: Bremen offers a wide range of mid-range hotels that strike a balance between comfort and affordability. These hotels provide comfortable rooms, modern amenities, and convenient locations. Examples include the Radisson Blu Hotel Bremen, Best Western Hotel Bremen City, and Select Hotel City Bremen.
Boutique Hotels: For a more unique and personalized experience, consider staying at one of Bremen's boutique hotels. These charming and stylish accommodations often feature individually designed rooms, personalized service, and a cozy atmosphere. Examples include Hotel Classico, Hotel Residence Bremen, and Hotel Munte am Stadtwald.
Budget Hotels: Bremen also offers budget-friendly options for travelers looking for affordable accommodations. These hotels provide comfortable rooms, essential amenities, and a convenient base for exploring the city. Examples include ibis Bremen City, Hotel Hanseat, and Hotel NordRaum.
Bed and Breakfasts: Bremen has a selection of cozy bed and breakfast establishments that offer a homely atmosphere and personalized service. These accommodations often include a hearty breakfast and provide a chance to interact with local hosts. Examples include GastHaus Bremer Backpacker Hostel, Pension Geist im Viertel, and Gästehaus Stephani.
Apartment Rentals: If you prefer a self-catering option or need more space, consider renting an apartment or holiday home in Bremen. These accommodations offer the convenience of a fully equipped kitchen, allowing you to prepare your meals and live like a local. Websites like Airbnb and Booking.com offer a variety of options to choose from.
Hostels: Bremen has several hostels that provide budget-friendly accommodations, particularly suitable for solo travelers, backpackers, or those seeking a social atmosphere. These establishments often offer shared dormitory-style rooms, communal areas, and organized activities. Examples include Townside Hostel Bremen, Hostel Falkenberg, and a&o Bremen Hauptbahnhof.
When choosing your accommodation, consider factors such as location, proximity to attractions or public transportation, amenities, and the overall ambiance that suits your preferences. Additionally, make sure to check guest reviews and ratings to get an idea of the experiences of previous visitors.
Day Trips From Bremen, Germany
If you're looking to venture beyond Bremen and explore the surrounding areas, there are several exciting day trip options to consider. Here are some recommended day trips from Bremen:
Bremerhaven: Located on the North Sea coast, Bremerhaven is just a short distance from Bremen and offers a range of fascinating attractions. Visit the German Emigration Center to learn about the history of German emigration, explore the Maritime Museum with its impressive ship exhibits, or enjoy the fresh seafood at the Fischereihafen (fishing harbor). Don't miss the opportunity to visit the Klimahaus, an interactive museum that takes you on a journey around the world to explore different climates.
Worpswede: Known as an artists' colony, Worpswede is a charming village nestled in the countryside. It has been a hub for creative inspiration for over a century, attracting artists, writers, and musicians. Explore the village's art galleries, visit the homes and studios of famous artists, and immerse yourself in the picturesque landscape that inspired their works.
Cuxhaven and the Wadden Sea: Experience the unique ecosystem of the Wadden Sea, a UNESCO World Heritage Site, by visiting Cuxhaven. Take a walk on the mudflats during low tide, join a guided tour to learn about the rich biodiversity, or relax on the sandy beaches. Cuxhaven also offers scenic promenades, historical sites, and seafood restaurants.
Stade: Located on the banks of the River Elbe, Stade is a picturesque town with well-preserved medieval buildings. Explore its narrow streets, visit the Stade Museum to learn about its history, and climb the tower of St. Cosmae Church for panoramic views. Stade is also known for its traditional half-timbered houses and lively festivals.
Lüneburg: Journey south to the charming town of Lüneburg, famous for its well-preserved medieval architecture and its salt mining history. Stroll through the picturesque old town, visit St. Michaelis Church, and explore the historic saltworks at the German Salt Museum. Lüneburg's vibrant atmosphere, quaint shops, and delightful cafes make it a worthwhile day trip.
Hamburg: If you're looking for a larger city experience, head to Hamburg, Germany's second-largest city. Explore its vibrant neighborhoods, visit the historic Speicherstadt district, enjoy a boat tour on the Alster Lake, and immerse yourself in the city's rich cultural offerings, including museums, theaters, and lively nightlife.
Bremen's Nature Parks: Discover the natural beauty surrounding Bremen by exploring its nearby nature parks. Head to the Wildeshauser Geest Nature Park, where you can hike through forests, heathlands, and rolling hills. Alternatively, visit the Osterholz-Scharmbeck Moor Nature Park to experience the unique wetland landscape and observe diverse bird species.
These day trip options offer a mix of cultural, natural, and historical attractions, providing a chance to explore the diverse offerings of the region surrounding Bremen. Whether you're interested in art, nature, history, or simply enjoying coastal scenery, these destinations are well worth a visit.
Bremen Transportation Guide
Getting around Bremen is convenient and easy, thanks to its well-developed transportation system. Here's a guide to navigating transportation in Bremen:
Tram and Bus: Bremen has an extensive tram and bus network operated by Bremer Straßenbahn AG (BSAG). Trams and buses cover the entire city and connect various neighborhoods, attractions, and suburbs. You can purchase tickets directly from ticket machines at tram stops or on buses. Single tickets are valid for a specified duration, allowing transfers within that timeframe.
Bremen Card: Consider getting a Bremen Card, which provides unlimited travel on public transportation within the city and offers discounts on admission to various attractions. The card is available for different durations, ranging from 24 hours to several days.
Bremen Hauptbahnhof (Main Train Station): Bremen's central train station, Hauptbahnhof, is a major transportation hub. It provides connections to regional, national, and international destinations. Trains run frequently, offering convenient options for day trips or longer journeys. The train station is well-connected to the tram and bus network, making it easy to reach other parts of the city.
Bicycle: Bremen is a bicycle-friendly city with a well-developed network of bike paths and rental services. Renting a bicycle is a great way to explore the city and its surroundings at your own pace. Several rental shops offer bikes for hourly or daily rates, and bike-sharing services are also available.
Taxi: Taxis are readily available in Bremen, and you can either hail one on the street or find them at designated taxi stands. Taxis can also be pre-booked through taxi companies or via ride-hailing apps.
Car Rental: If you prefer to explore the region by car, various car rental companies have branches in Bremen. You can rent a car at the airport or in the city center. However, keep in mind that Bremen has an efficient public transportation system, and parking in the city center can be limited and expensive.
Airport: Bremen Airport (Flughafen Bremen) is located about 3.5 kilometers south of the city center. It offers domestic and international flights, providing convenient access to and from Bremen. From the airport, you can take a tram, bus, taxi, or rental car to reach your destination.
Walking: Bremen's city center is compact and pedestrian-friendly, making walking a pleasant and convenient way to explore the main attractions, shops, and restaurants. Many of the city's landmarks are within walking distance of each other, allowing you to take in the sights at a leisurely pace.
Remember to check transportation schedules, plan your routes in advance, and validate your tickets when using public transportation in Bremen. The city's transportation system is reliable, efficient, and designed to make it easy for visitors to navigate their way around the city and its surroundings.
Where To Visit After Your Trip To Bremen?
After your trip to Bremen, there are several fascinating destinations nearby that you can consider visiting. Here are some suggestions for places to explore:
Hamburg: Located about 120 kilometers (75 miles) north of Bremen, Hamburg is Germany's second-largest city and offers a wealth of attractions. Explore the vibrant neighborhoods, visit the famous Speicherstadt (warehouse district), take a boat tour on the Alster Lake, and immerse yourself in the city's rich cultural scene, including museums, theaters, and music venues.
Lübeck: Situated about 170 kilometers (105 miles) northeast of Bremen, Lübeck is a charming city known for its well-preserved medieval architecture. Explore the picturesque old town, visit the iconic Holsten Gate, and indulge in the city's famous marzipan delicacies. Lübeck's rich history and cultural heritage make it a worthwhile destination.
Hanover: Located approximately 120 kilometers (75 miles) southeast of Bremen, Hanover is the capital city of the state of Lower Saxony. Discover the city's blend of historical and modern architecture, explore the Royal Gardens of Herrenhausen, visit museums and art galleries, and enjoy the vibrant atmosphere of this dynamic city.
Schwerin: Situated around 180 kilometers (112 miles) east of Bremen, Schwerin is known for its stunning castle that sits on an island in Lake Schwerin. Explore the fairytale-like Schwerin Castle, wander the charming old town, and enjoy the natural beauty of the surrounding lakes and forests.
North Sea Islands: If you're looking for a coastal getaway, consider visiting the North Sea islands off the coast of Lower Saxony. Norderney, Langeoog, and Wangerooge are among the popular islands that offer beautiful sandy beaches, dunes, and nature reserves. These islands provide an opportunity to relax, enjoy outdoor activities, and experience the unique island culture.
Osnabrück: Situated about 100 kilometers (62 miles) southwest of Bremen, Osnabrück is a historic city with a rich cultural heritage. Explore its well-preserved old town, visit the impressive Osnabrück Castle, and discover its diverse museums and art galleries.
Bremerhaven: If you didn't have a chance to visit during your stay in Bremen, consider taking a day trip to Bremerhaven. Located on the North Sea coast, it offers attractions such as the German Emigration Center, the Maritime Museum, and the Climate House. Explore the maritime history, enjoy fresh seafood, and take in the coastal atmosphere.
Münster: Located approximately 170 kilometers (105 miles) southeast of Bremen, Münster is a picturesque city known for its well-preserved historic center. Explore the beautiful Prinzipalmarkt square, visit the stunning Münster Cathedral, and discover the city's vibrant cultural scene.
Celle: Situated about 130 kilometers (80 miles) southeast of Bremen, Celle is a charming town famous for its half-timbered houses and picturesque streets. Stroll through the old town, visit the Celle Castle, and enjoy the town's relaxed atmosphere.
Oldenburg: Situated around 50 kilometers (31 miles) northwest of Bremen, Oldenburg is a vibrant city with a rich cultural heritage. Discover its impressive Oldenburg Castle, stroll through the charming old town, and visit the State Museum for Art and Cultural History.
Heligoland: If you're seeking a unique island experience, consider visiting Heligoland. Located in the North Sea, this remote island is known for its stunning cliffs, rugged landscapes, and unique red sandstone formations. Enjoy hiking, birdwatching, and the tranquil atmosphere.
Bremen Wümme Valley Nature Park: Discover the natural beauty of the Bremen Wümme Valley Nature Park, located south of Bremen. Explore the picturesque countryside, enjoy outdoor activities such as hiking and cycling, and visit charming villages along the Wümme River.
Harz Mountains: Head southeast from Bremen to the Harz Mountains, a beautiful mountain range offering scenic landscapes, charming towns, and outdoor activities. Explore the historic town of Goslar, take a ride on the Harz Narrow Gauge Railway, or hike to the summit of Brocken, the highest peak in the region.
Schaumburg Castle: Visit Schaumburg Castle, situated approximately 100 kilometers (62 miles) southwest of Bremen. This fairytale-like castle is perched on a hilltop and offers stunning views of the surrounding countryside. Explore the castle's interior, wander through the gardens, and learn about its history.
Kiel: Journey north to the coastal city of Kiel, located about 220 kilometers (137 miles) from Bremen. Enjoy the maritime atmosphere, explore the bustling harbor, visit museums such as the Kieler Förde Maritime Museum, and take a stroll along the scenic waterfront promenade.
Goslar: Situated in the Harz Mountains, Goslar is a UNESCO World Heritage Site known for its well-preserved medieval architecture. Wander through its narrow streets, admire the half-timbered houses, and visit the Imperial Palace, a magnificent Romanesque structure.
Lüneburg Heath: Discover the natural beauty of Lüneburg Heath, located northeast of Bremen. This vast heathland offers scenic landscapes, hiking and cycling trails, and the opportunity to witness the blooming heather in late summer. Explore charming towns like Lüneburg and enjoy the tranquility of the countryside.
Rügen Island: Travel north from Bremen to Rügen Island, the largest island in Germany. Known for its stunning beaches, chalk cliffs, and picturesque seaside resorts, Rügen offers a perfect blend of natural beauty and charming towns. Visit the famous Königsstuhl cliff, explore the Jasmund National Park, and relax in the seaside towns of Binz and Sellin.
Hildesheim: Located southeast of Bremen, Hildesheim is renowned for its medieval architecture and UNESCO-listed St. Mary's Cathedral and St. Michael's Church. Wander through the well-preserved old town, admire the unique half-timbered houses, and visit the Roemer- und Pelizaeus-Museum, known for its ancient Egyptian artifacts.
Osnabrücker Land: Visit the Osnabrücker Land region, located south of Bremen. Explore the historic town of Osnabrück, wander through the botanical gardens of the University of Osnabrück, and enjoy the natural beauty of the Teutoburg Forest and the Wiehengebirge hills.
Harburg: Travel south to Harburg, a charming town known for its medieval castle perched on a hilltop. Explore the well-preserved old town, visit the historic Harburg Castle, and enjoy panoramic views of the surrounding countryside.
Sylt: If you're looking for a luxurious island getaway, consider visiting Sylt, a popular North Sea island known for its beautiful beaches, dunes, and upscale resorts. Enjoy long walks on the sandy shores, indulge in spa treatments, and savor fresh seafood in charming seaside villages.
Berlin: Venture eastward to Berlin, Germany's vibrant capital city. Explore its rich history, visit world-class museums and galleries, stroll through iconic landmarks like the Brandenburg Gate, and experience the city's vibrant nightlife and diverse cultural scene.
Oldenburgisches Münsterland: Discover the Oldenburgisches Münsterland region, located southwest of Bremen. This area is known for its rural charm, picturesque villages, and historic windmills. Explore the countryside, indulge in regional cuisine, and visit attractions like the Open Air Museum Cloppenburg, which showcases the region's rural heritage.
Wilhelmshaven: Travel northwest to Wilhelmshaven, a coastal town known for its maritime history and beautiful beaches. Visit the German Maritime Museum to learn about the city's naval past, relax on the sandy shores of the South Beach, and enjoy the views from the iconic Kaiser Wilhelm Bridge.
Harz National Park: Venture southeast to the Harz National Park, a nature reserve spanning parts of Lower Saxony, Saxony-Anhalt, and Thuringia. Explore dense forests, hike to picturesque viewpoints, and visit the famous Brocken, the highest peak in the Harz Mountains. The park is home to diverse wildlife and offers numerous outdoor activities.
Oost-Friesland: Cross the border into the Netherlands and explore the picturesque region of Oost-Friesland (East Frisia). Discover charming villages, visit historic windmills, explore the beautiful coastline, and immerse yourself in the unique culture and traditions of this neighboring region.
Rostock: Travel northeast to the city of Rostock, located on the Baltic Sea coast. Explore the charming old town with its beautiful architecture, visit the impressive Rostock University, and relax on the beaches of Warnemünde. Rostock is also a gateway to the nearby seaside resorts and islands of the Mecklenburg-Vorpommern region.
Mecklenburg Lake District: Journey east to the Mecklenburg Lake District (Mecklenburgische Seenplatte), a region characterized by a network of lakes, rivers, and canals. Enjoy boating, kayaking, or sailing on the pristine lakes, and explore the picturesque landscapes, charming towns, and historic castles.
Spreewald: Explore the enchanting Spreewald region, located southeast of Berlin. This unique biosphere reserve is known for its intricate network of canals, verdant forests, and traditional wooden houses. Take a boat tour, sample local specialties, and immerse yourself in the peaceful ambiance of this natural gem.
These destinations offer a range of experiences, from cultural and historical exploration to coastal beauty and vibrant city life. Whether you're interested in architecture, museums, natural landscapes, or unique cultural experiences, these nearby places provide exciting opportunities to continue your journey after visiting Bremen.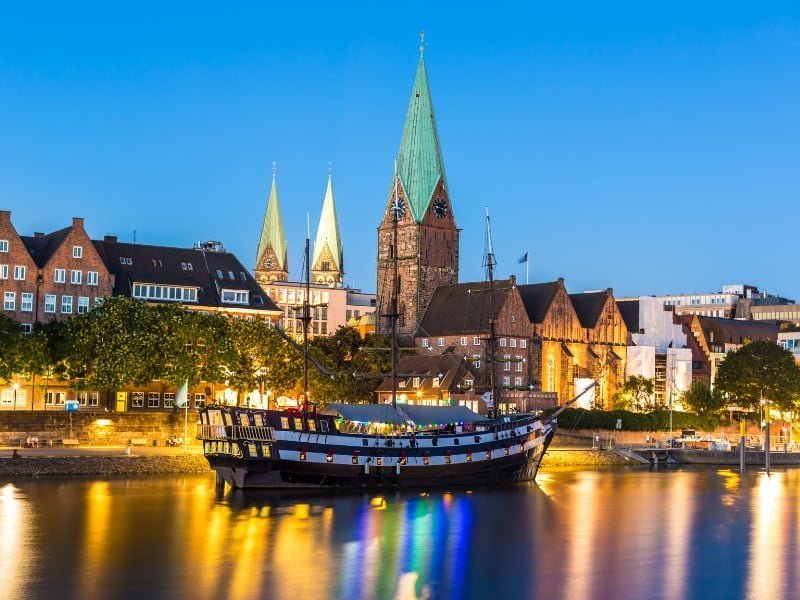 Bremen Travel Guide: Final Thoughts
Bremen offers a rich tapestry of history, culture, and charm that beckons travelers from around the world. Nestled along the Weser River, this vibrant city showcases a seamless blend of medieval heritage and modern sophistication.
One of Bremen's most iconic landmarks is its UNESCO-listed Town Hall (Rathaus), a stunning example of Gothic and Renaissance architecture. The intricate façade, adorned with ornate sculptures and elaborate details, is a testament to the city's prosperous past. Inside, the opulent ceremonial hall and the Roland statue, a symbol of civic freedom, are must-see highlights.
Adjacent to the Town Hall is the charming Böttcherstrasse, a narrow street lined with unique shops, art galleries, and museums. This atmospheric alleyway is famous for its expressionist architecture, including the iconic Glockenspiel House, where mechanical figurines come to life to reenact scenes from Bremen's history.
A short stroll from Böttcherstrasse will lead you to the Schnoor district, a medieval neighborhood characterized by narrow, winding alleyways and picturesque half-timbered houses. This enchanting area is home to artisan boutiques, cozy cafes, and art studios, allowing visitors to immerse themselves in the bohemian atmosphere and appreciate the creativity that permeates the district.
No visit to Bremen would be complete without encountering the legendary Bremen Town Musicians. The bronze statue, located near the Town Hall, depicts the famous characters from the Brothers Grimm fairy tale and has become a symbol of the city's whimsical spirit. Rubbing the donkey's hooves is said to bring good luck, so be sure to participate in this charming tradition.
Bremen's cultural scene is vibrant and diverse, with a range of museums and galleries showcasing art, history, and science. The Kunsthalle Bremen is a must-visit for art enthusiasts, housing an impressive collection of European masterpieces spanning several centuries. The Übersee-Museum offers a journey through different cultures, with exhibits on natural history, ethnography, and world exploration.
As you explore Bremen, take time to savor the local cuisine and culinary traditions. Bremen is renowned for its hearty dishes, such as the Bremer Labskaus, a savory mix of mashed potatoes, beef, onions, and pickles. Sample freshly caught seafood at the Fischereihafen, and don't miss the opportunity to indulge in a traditional buttered sugar waffle, known as a Bremer Knipp.
To experience the natural beauty surrounding Bremen, venture into the nearby countryside. The Wildeshauser Geest Nature Park offers idyllic landscapes of rolling hills, ancient forests, and tranquil lakes. Explore hiking trails, discover archaeological sites, and encounter the region's diverse flora and fauna.
For those seeking coastal delights, a visit to the neighboring town of Bremerhaven is highly recommended. Explore the German Emigration Center to learn about the journeys of German immigrants, visit the fascinating Maritime Museum, or enjoy the fresh seafood at the lively Fischereihafen.
Bremen's transportation system is efficient, making it easy to navigate the city and its surroundings. Trams and buses connect various neighborhoods and attractions, while the central train station (Hauptbahnhof) provides convenient access to regional and international destinations.
As you plan your visit, consider the time of year. Bremen's Christmas markets, held in the historical town square, offer a magical atmosphere during the holiday season. The summer months bring festivals, outdoor concerts, and lively street performances.
With its captivating history, vibrant cultural scene, and warm hospitality, Bremen invites visitors to immerse themselves in its unique atmosphere. From exploring its architectural treasures to savoring its culinary delights, Bremen promises a truly memorable travel experience.
To make the most of your time in Bremen, consider delving deeper into the city's cultural offerings. Attend a performance at the esteemed Theater Bremen, which hosts a diverse repertoire of theater, opera, and ballet productions. For music enthusiasts, the Glocke Concert Hall is a must-visit venue known for its exceptional acoustics and world-class performances.
Bremen also boasts a vibrant nightlife scene. The Viertel district is a hub for trendy bars, live music venues, and cozy pubs, offering a lively atmosphere for socializing and enjoying local craft beers or cocktails.
If you're seeking a tranquil retreat, take a leisurely stroll along the banks of the Weser River or explore Bürgerpark, a sprawling urban park with lush greenery, serene lakes, and charming bridges. The park's highlight is the Hollersee, a picturesque lake where you can rent paddleboats or simply relax by the water.
For day trips from Bremen, consider exploring the enchanting countryside and neighboring towns. Worpswede, a nearby artists' colony, is a haven for creativity and inspiration. Visit the homes and studios of famous artists, admire their works in local galleries, and immerse yourself in the peaceful ambiance of this idyllic village.
Nature lovers can venture to the Osterholz-Scharmbeck Moor Nature Park, where wooden walkways meander through the pristine wetland landscape. Observe rare bird species, discover unique flora, and breathe in the fresh air while enjoying the tranquility of this natural gem.
If you're a history enthusiast, a visit to the nearby city of Verden is worthwhile. Explore the Verden Cathedral, a magnificent Romanesque structure, and delve into the city's medieval past at the Verden Historical Museum.
Lastly, a trip to the picturesque town of Stade is highly recommended. Wander through its well-preserved old town, characterized by half-timbered houses and charming squares. Visit the Schwedenspeicher Museum, which tells the story of Stade's history and its connections to Sweden.
In conclusion, Bremen offers a captivating blend of history, culture, and natural beauty. Immerse yourself in the city's architectural wonders, indulge in its culinary delights, and explore the surrounding areas to uncover the hidden gems of this enchanting region. Whether you're interested in art, history, nature, or simply seeking a memorable travel experience, Bremen promises to leave a lasting impression.
In Bremen's ancient streets, a tale unfolds, Where history and charm interweave, untold. A city of legends, where the past comes alive, Bremen welcomes you with open arms, ready to thrive.
Upon the cobblestones, I wander and explore, Discovering treasures, at every corner, in store. The Town Hall stands tall, a symbol of might, With Gothic spires piercing the sky, reaching for light.
Böttcherstrasse beckons, a passage of delight, Expressionist art, enchanting both day and night. Through Schnoor's narrow lanes, I stroll with glee, Half-timbered houses whisper secrets to me.
The Bremen Town Musicians, a statue so grand, Symbolizing courage, unity, across the land. Their presence brings luck, as traditions dictate, A touch on their hooves, my wishes resonate.
Kunsthalle's masterpieces, brushstrokes that inspire, I lose myself in beauty, my heart set afire. The Weser flows gently, embracing the city's grace, Its waters a reminder of Bremen's maritime embrace.
I savor the flavors, the culinary delight, Bremer Labskaus and buttered waffles, a sheer delight. The scent of fresh seafood, the aroma so grand, Bremen's gastronomy, a feast at my command.
Beyond the city's borders, adventures await, To Bremerhaven's shores, I navigate. From coastal bliss to historic tales, Bremen's surroundings unveil their diverse trails.
In Worpswede's art colony, creativity thrives, As artists' dreams come alive, through vibrant strokes and dives. Nature's embrace in the Osterholz-Scharmbeck Moor, Where serenity reigns, and tranquility soars.
Stade's half-timbered beauty, a step back in time, Strolling its ancient streets, memories intertwine. Each destination, a tapestry unique, A symphony of experiences, for travelers to seek.
Bremen, a city that captures the soul, With its rich heritage and stories untold. Embrace its allure, let your wanderlust soar, In Bremen's embrace, unforgettable memories pour.
So, dear traveler, heed my poetic call, Let Bremen's magic enchant you, enthrall. Immerse yourself in its treasures, let your spirit roam, Bremen awaits, to welcome you home.