Welcome to Buenos Aires, the enchanting capital of Argentina, known for its captivating blend of European grandeur and Latin passion. This sprawling metropolis, often referred to as the "Paris of South America," is a city of contrasts, where cosmopolitan sophistication meets a fiery spirit, and where tradition and innovation seamlessly weave together to create a unique urban tapestry.
Nestled on the western shore of the Rio de la Plata, Buenos Aires is a city that beats to the rhythm of tango, the passionate dance that originated in its working-class barrios. As the sun sets, the pulse of the bandoneón spills from the milongas, the traditional dance halls, and the city transforms into a sensual spectacle of dance and music. This vibrant rhythm is the lifeblood of the city, connecting its past to its present and permeating every aspect of its culture, from its bustling nightlife to its vivid arts scene.
The city's architecture is a testament to its rich and eclectic history. Buenos Aires boasts a stunning array of architectural styles, from the elegant Belle Époque and Beaux-Arts buildings of the Recoleta district to the brightly painted houses of the El Caminito street in La Boca, a living canvas that tells the tale of the city's immigrant roots. The grandeur of the Teatro Colon, one of the world's most prestigious opera houses, stands as a symbol of the city's cultural refinement, while the modern skyscrapers of Puerto Madero reflect its dynamic progress.
Gastronomy in Buenos Aires is an affair of the heart. Argentine cuisine, with its succulent grass-fed beef, world-renowned Malbec wines, and delectable pastries, is a celebration of the country's agricultural bounty and culinary heritage. The city's parillas (steakhouses) offer a carnivorous feast, while its traditional cafés, known as cafés notables, serve up delicious medialunas (croissants) and the beloved yerba mate tea, a local ritual that is as much about camaraderie as it is about refreshment.
Buenos Aires is a city of neighborhoods, each with its unique character. The historic heart of the city, Plaza de Mayo, is surrounded by iconic sites such as the pink-hued Casa Rosada, the presidential palace, and the Metropolitan Cathedral. San Telmo, with its cobblestone streets, antique shops, and tango parlors, exudes an old-world charm, while Palermo, with its lush parks, chic boutiques, and trendy restaurants, is a testament to the city's contemporary creativity.
The Porteños, as the residents of Buenos Aires are known, are a passionate and welcoming lot, infusing the city with an energy and vivacity that is infectious. Whether it's through their ardent devotion to football, their lively political debates in cafés, or their warm hospitality towards visitors, the Porteños embody the essence of Buenos Aires – a city that embraces its paradoxes and wears its heart on its sleeve.
Navigating Buenos Aires can be an adventure in itself, with its extensive bus network, the Subte (subway), and plentiful taxis. But the city is also a joy to explore on foot, revealing hidden gems at every corner, from impressive murals and street art to impromptu tango performances.
As you delve into the depths of Buenos Aires, you'll discover a city that pulsates with life, a city that seduces with its elegance and energy, its history and its hopes. A city where the passion of tango, the aroma of asado, and the charm of its neighborhoods conspire to create an experience that is truly unforgettable. Welcome to Buenos Aires – a city that is not just visited, but lived with intensity and ardor.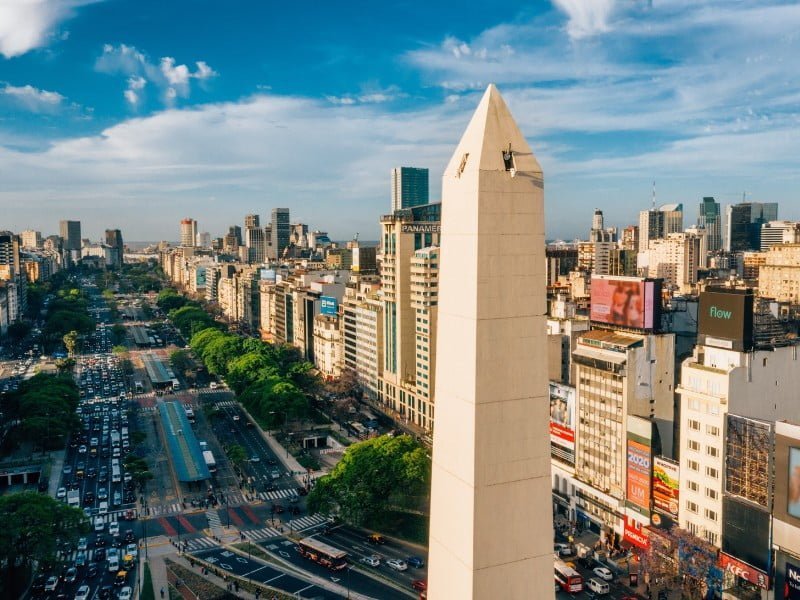 Buenos Aires City Guide: A Brief History Of Buenos Aires, Argentina
In the heart of Argentina, along the western bank of the Río de la Plata, sits Buenos Aires, a city of pulsating energy and undeniable charm. The city, a rich tapestry woven from threads of varied and vibrant hues, is a testament to the trials and triumphs of its past. To truly understand Buenos Aires, we must embark on a journey back in time, tracing the footprints of those who shaped the city into the thriving metropolis it is today.
Buenos Aires' story begins in the early 16th century, with the arrival of Spanish explorer Juan Díaz de Solís. The initial settlement, established in 1536 by Pedro de Mendoza, was named Nuestra Señora Santa María del Buen Ayre. However, hostile indigenous resistance led to its abandonment just five years later. It wasn't until 1580 that Juan de Garay successfully established the city once again, laying the groundwork for Buenos Aires' transformation into a critical hub of Spanish colonial power.
For much of its early history, Buenos Aires was a city of strategic insignificance to the Spanish Crown, which favored the wealthier Viceroyalty of Peru. This oversight, however, fostered a culture of resilience and resourcefulness among its inhabitants. The 17th and 18th centuries witnessed the growth of a flourishing contraband trade, as Porteños (as residents of Buenos Aires are known) sought economic prosperity through illicit exchanges with British and French colonies in the Caribbean.
The 19th century brought waves of political and social change. Inspired by revolutions across the Atlantic, Buenos Aires became the epicenter of the struggle for independence from Spain. On May 25, 1810, the city established its own government, an event that sparked the Argentine War of Independence. The city was the birthplace of many of the country's early political figures, including the iconic José de San Martín, a key leader in the liberation of South America from Spanish rule.
Throughout the 19th and 20th centuries, Buenos Aires experienced periods of intense growth and transformation. The city became a magnet for immigrants, primarily from Italy and Spain, who sought new opportunities in this burgeoning metropolis. This influx of new cultures and ideas deeply influenced Buenos Aires' social fabric, contributing to the emergence of tango, the passionate dance that became synonymous with the city.
Buenos Aires' journey through the 20th century was marked by political turbulence and social change. The city was the stage for the rise and fall of Juan Domingo Perón and his wife, Eva "Evita" Perón, who left an indelible mark on Argentine politics and society. The latter half of the century was marred by military dictatorships, including the infamous "Dirty War," a period of state terrorism that left deep scars on the city's collective memory.
Despite these challenges, Buenos Aires has continually reinvented itself, showcasing a resilience and vibrancy that reflects the spirit of its people. Today, the city stands as a symbol of Argentina's historical resilience and dynamic culture, a place where the past coexists with the present, and where every street corner whispers stories of the epochs gone by.
From the cobblestone streets of San Telmo, echoing with the rhythms of tango, to the grand boulevards of Recoleta, lined with elegant Belle Époque architecture, Buenos Aires is a living testament to its rich and complex history. As you explore this captivating city, you are not just witnessing the legacy of its past, but also participating in the ongoing narrative of its present and future. Buenos Aires, with its pulsating heart and passionate soul, invites you to delve deep into its history and embrace the beguiling journey it offers.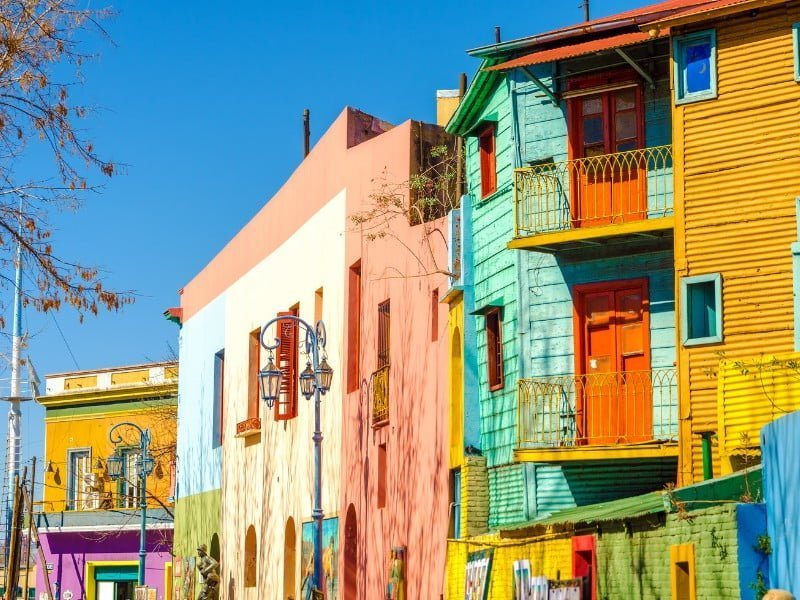 Buenos Aires Top Attractions and Best Places to Visit in Argentina
Known by locals and travellers as the Paris of South America, the culture of Buenos Aires matches closely with what can be found in Europe.
While there are key differences between this city and what can be found back in the old world, it cannot be denied that Portenos have a love of life that wouldn't be out of character in a place like Paris or Rome.
From elaborate cemeteries to restaurants that don't come alive until very late in the evening, the city has an energy that will draw you in, making it very hard to move on to your next destination when the time comes.
It may seem strange, but one of the most popular tourist attractions in all of Buenos Aires is none other than La Recoleta Cemetery. Considered by many travel experts to be one of the top five places of eternal rest in the world, this beautiful plot is home to some of the most beautiful tombs and grave sites that you will ever see.
Some of Argentina's most notable people, including the unforgettable Eva Peron, have been laid to rest within the bounds of this cemetery, and their unforgettable tributes to those left behind are truly works of art that will leave an impression on you long after you have exited through La Recoleta's gates.
Spending several hours tramping around a cemetery doesn't sound like your idea of fun? If so, then perhaps a trip to MALBA (Museo de Arte Latinoamericano de Buenos Aires) will suit you better.
Opened in 2001, this museum focuses exclusively on pieces of art that have been created since the start of the 20th century up to the present day, making it an excellent place to check out this region's best modern art.
With over a million annual visits, it's a good idea to hit this place early or later in the day, as well as during the work week, as locals and school groups congest this place during the weekend and at midday.
If you prefer the performing arts, then you are certainly in for a treat during your visit to Buenos Aires. This city's premier venue for Theatre, Opera, and ballet is Teatro Colón, Which is ranked by National Geographic to be the third best opera house in the world, and is one in the top five for acoustics.
Recently renovated after a multi-decade period of decline, Teatro Colón's old world charm shines through in the present as it did well over a hundred years ago when it opened for the very first time.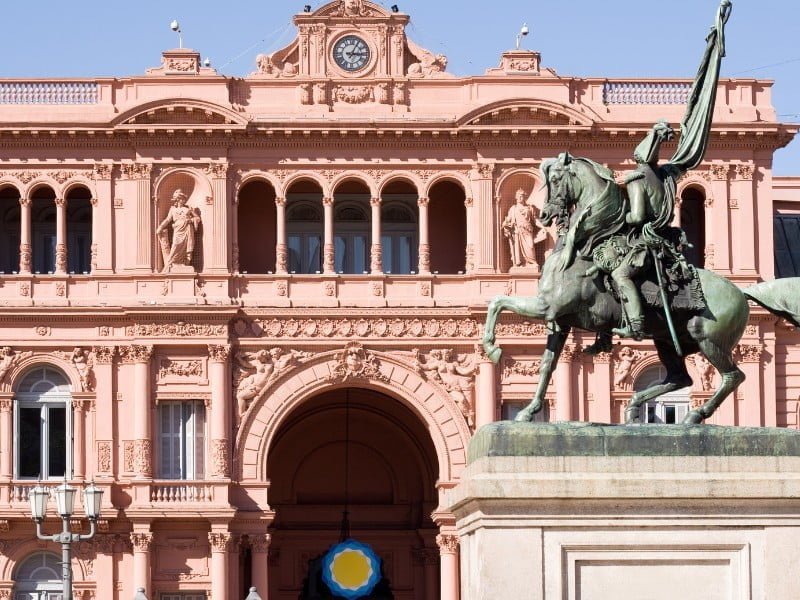 Other Cultural Attractions: Trip to Buenos Aires, Argentina
Those wishing that check out the official residence of the president of Argentina will want to head to Casa Rosada. Known for its characteristically pink hue, as well as being the home of the most famous first lady in modern history (Eva Peron), it is just one fabulous building in a city filled with stunning specimens.
If you're looking for a place to begin your sightseeing of central Buenos Aires, you could hardly pick a better place than this one.
Heading south from the city center will eventually land you on the cobblestoned streets of San Telmo. This neighborhood is one of the oldest parts of town, and it is filled with Parisian-style mansions, which used to be home to this city's wealthiest residents.
However, an outbreak of Cholera in the late 19th century resulted in the elite citizens of this city pulling up stakes and moving to barrios such as Recoleta and Palermo, thereby leaving these fabulous homes to be inhabited by the middle and working classes.
Here, there are many restaurants that underscore the diverse and rich culinary history of Buenos Aires; from pizza joints to sidewalk parrillas that serve up some of the juiciest steaks and choripan in the city, you won't ever have to worry about going hungry.
When the time comes to burn off some of those calories that you just ingested, then make your way to Plaza Dorrego. Especially on Sundays, there are many tango dancers that put on a show for locals and tourists alike, and there are opportunities to get up and try your hand at this graceful mode of artistic expression.
Finally, there is a flea market in the Square and up and down Calle Defensa that also occurs on this day, so if you're looking for souvenirs prior to leaving for home, this is a great place to come.
One of the most iconic sites in Buenos Aires can be found in the working-class neighborhood of La Boca. well known for its multi-colored houses, this part of Buenos Aires is well-loved by photographers.
Those looking to take in a football match during their time in Argentina they want to do so here, as the Boca Juniors have a massive stadium here, and play in front of a vigorously supportive crowd.
Getting to La Boca is not the easiest task, as it is not accessible by subway; the best way to access this part of town is by city bus or by taxi. Do not attempt to walk to La Boca from San Telmo, as street crime in this part of the city is considerably higher than in the central neighborhoods.
The main parts of La Boca is perfectly safe, but visitors should take care not to stray onto the side streets away from heavily trafficked areas.
Consider yourself a bookworm? If so, you owe it to yourself pay a visit to El Ateneo Grand Splendid, which is considered by many to be one of the most beautiful bookstores in the world. Pushing a hundred years old, This building open doesn't theater in 1919, and was converted to a cinema in 1929.
However, it became disused after a number of years, until it was leased in the year 2000 by Grupo Ilhsa, who converted it into a bookstore.
While the theater seating was removed, key features such as the fresco on the ceiling and the stage curtains have been retained, making it a truly beautiful place to thumb through a book on a rainy day.

source: Samuel and Audrey on YouTube
Top 10 Things To Do in Buenos Aires, Argentina For Visitors
Here are the top 10 things to do in Buenos Aires:
Visit the Teatro Colón: Start your exploration with a visit to one of the world's best opera houses, the Teatro Colón. The stunning seven-tier auditorium, known for its exceptional acoustics, is adorned with plush red velvet seats, golden balconies, and a grand chandelier. Take a guided tour to appreciate the architectural grandeur and rich history of this cultural landmark.
Explore La Boca: Visit the vibrant neighborhood of La Boca, renowned for its brightly colored houses, made from corrugated metal and painted in a myriad of hues. Wander along the iconic El Caminito street, watching tango dancers perform, exploring artisanal markets, and indulging in traditional Argentine cuisine.
Stroll through San Telmo: Discover the oldest neighborhood in Buenos Aires, San Telmo. Its cobbled streets, colonial buildings, and antique shops echo with tales from the past. Don't miss the bustling San Telmo Market, where you can find everything from fresh produce to antique curios.
Relax in Palermo's Parks: Spend a leisurely afternoon exploring the green spaces of Palermo, the largest neighborhood in Buenos Aires. Visit the Buenos Aires Botanical Garden, the Parque Tres de Febrero, and the Japanese Garden, each offering a tranquil escape from the city's bustling pace.
Experience Recoleta Cemetery: Wander through the labyrinth of elaborate mausoleums at Recoleta Cemetery, the final resting place of Argentina's rich and famous, including Eva Perón. Each ornate tomb tells a story of the person interred within, providing a unique perspective on the country's history.
Admire MALBA: Dive into Latin American art at the Museo de Arte Latinoamericano de Buenos Aires (MALBA). The museum houses an impressive collection of modern and contemporary artworks, offering insight into the region's cultural evolution.
Visit Plaza de Mayo: Explore the historic heart of Buenos Aires, Plaza de Mayo, home to significant landmarks such as the Casa Rosada, the Metropolitan Cathedral, and the Cabildo. This square has been the stage for many of Argentina's political events, including revolutions, protests, and celebrations.
Experience a Tango Show: Immerse yourself in the passionate world of tango. Attend a show or take a dance lesson at one of the city's many milongas. The Tango Porteño and Café de los Angelitos are just a couple of places where you can experience this integral part of Argentine culture.
Savor Argentine Steak: Indulge in a succulent Argentine steak at one of the city's renowned parrillas (steakhouses). Don Julio and La Cabrera, both located in Palermo, offer a quintessential Buenos Aires dining experience.
Explore the Ecological Reserve: For a taste of nature within the city, head to the Reserva Ecológica Costanera Sur. This extensive nature reserve, located on the banks of the Río de la Plata, offers numerous trails for walking or cycling, abundant birdlife, and beautiful views of the city skyline.
10 Underrated Things to do in Buenos Aires, Argentina
Each of these experiences contributes to the multifaceted charm of Buenos Aires, a city that elegantly marries the old with the new, the tranquil with the passionate, creating an atmosphere that captivates every traveler who steps onto its vibrant streets.
Visit El Zanjón de Granados: This architectural gem in San Telmo is a meticulously restored residence that sits atop a labyrinth of tunnels and ruins dating back to the 16th century. A guided tour offers a fascinating glimpse into Buenos Aires' complex history.
Explore the Carlos Thays Botanical Garden: While not as famous as the parks in Palermo, this botanical garden is a lush oasis filled with thousands of plant species, old greenhouses, and charming statues. It's a tranquil spot to escape the city's hustle and bustle.
Discover the Pasaje Lanín: This cobblestone street in the Barracas neighborhood is an open-air art gallery adorned with mosaic tiles. The brainchild of local artist Marino Santa María, the vibrant facades are a well-kept secret of Buenos Aires.
Visit the Museo Xul Solar: This museum is dedicated to the work of Xul Solar, an Argentine surrealist painter and sculptor. While not as famous as MALBA, it offers an intriguing look at the artist's unique style and innovative ideas.
Stroll through the Chinese Neighborhood: Belgrano's Chinatown, or 'Barrio Chino,' is a small but vibrant area offering a rich array of Asian cuisine and goods. The neighborhood's lively atmosphere during the Chinese New Year celebrations is particularly worth experiencing.
Experience the Feria de Mataderos: Off the beaten tourist track, this Sunday fair celebrates Argentina's gaucho (cowboy) culture. Traditional folk music, dance performances, craft stalls, and regional foods make for a unique cultural experience.
Admire the Floralis Genérica: While the Recoleta Cemetery gets most of the attention, nearby is this large metallic sculpture of a flower. It's particularly captivating at sunrise and sunset when the petals open and close in sync with the natural light.
Visit the Palacio Barolo: This early 20th-century building, inspired by Dante's Divine Comedy, was once the tallest in South America. Guided tours are available to explore the symbolism in its architecture, culminating in a panoramic view of the city from the lighthouse at the top.
Explore the CCK (Kirchner Cultural Centre): Housed in the former central post office, the CCK is one of the largest cultural centers in the world. Besides its exhibitions and concerts, the building's grand architecture, including a stunning glass atrium, is worth a visit.
Walk along the Paseo de la Historieta: This fun route through San Telmo and Puerto Madero takes you past statues of famous Argentine comic strip characters, such as Mafalda, Isidoro, and Patoruzú. It's a delightful way to explore these neighborhoods and the country's rich tradition of graphic humor.
These underrated attractions provide a unique perspective on Buenos Aires and offer a deeper understanding of the city's diverse cultural and historical layers. By venturing beyond the well-trodden tourist trails, you can unearth the hidden gems that truly encapsulate the city's spirit.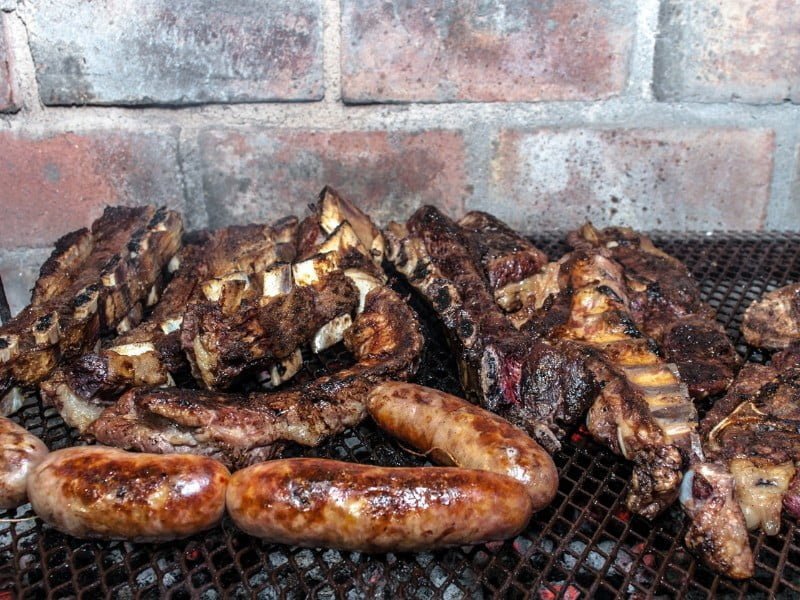 What To Eat and Drink in Buenos Aires, Argentina
Buenos Aires, the gastronomic heart of Argentina, invites you on a culinary journey that is as diverse and vibrant as its cultural tapestry. This city, where European techniques meet South American flavors, offers a culinary landscape that is both rich in tradition and innovative in its approach. Let us embark on a sensory exploration of Buenos Aires, discovering the flavors, aromas, and textures that define its gastronomic identity.
Begin your culinary exploration with the quintessential Argentine experience – the asado. More than a method of grilling meat, asado is a social ritual, a celebration of Argentina's agricultural heritage and communal spirit. Venture into a local parrilla (steakhouse), such as Don Julio or La Cabrera, and savor the succulent cuts of beef, such as the bife de chorizo (sirloin steak) or the ojo de bife (rib-eye), cooked to perfection over the open flame. Each bite, seasoned simply with salt, offers a taste of Argentina's fertile pampas and the skill of the asador, the grill master.
While the asado may be king in Buenos Aires, it is by no means the only culinary delight on offer. Discover the city's Italian roots through its pasta dishes, available in traditional trattorias like Il Matterello or La Alacena. Savor homemade tagliatelle served with slow-cooked ragù, or indulge in pillowy gnocchi, a dish traditionally eaten on the 29th of each month in honor of the city's immigrant past.
Buenos Aires also offers a world of flavors beyond meat and pasta. Venture into the city's vibrant neighborhoods and you'll find empanadas, the quintessential Argentine hand pies. Whether filled with juicy beef, tender chicken, or melted cheese, these pastry pockets are a flavorful testament to Argentina's culinary creativity. Explore further and you'll find choripán, a simple yet delicious sandwich of grilled chorizo served in a crusty bread roll, typically accompanied by chimichurri, a tangy sauce of herbs, vinegar, and oil.
The culinary journey through Buenos Aires would not be complete without experiencing its pastries. Visit a local bakery and savor a medialuna, an Argentine croissant, its delicate layers offering a sweet start to your day. Or, explore the city's cafes, known as cafés notables, and discover the tradition of the merienda, the Argentine teatime. As you enjoy a cup of café con leche paired with a slice of budín (a buttery loaf cake), you are participating in a cherished Porteño ritual.
Argentina is renowned for its wines, and Buenos Aires offers ample opportunities to sample this national treasure. Visit a local wine bar, such as Pain et Vin in Palermo, and delve into the world of Argentine viticulture. Experience the full-bodied Malbecs of Mendoza, the aromatic Torrontés of Salta, and the elegant Pinot Noirs of Patagonia. Alternatively, explore the city's burgeoning craft beer scene, with local breweries such as Antares and Bierlife offering an array of artisanal brews.
No exploration of Buenos Aires' culinary scene would be complete without the yerba mate, Argentina's national drink. More than a beverage, mate (pronounced 'mah-teh') is a social ritual, a symbol of hospitality and camaraderie. The bitter infusion, sipped from a hollowed-out gourd through a metal straw, offers a taste of Argentine culture that is as authentic as it is unique.
From the sizzling grills of the parrillas to the aromatic coffee houses, Buenos Aires invites you to feast on its culinary delights.

source: Samuel and Audrey on YouTube
Top Restaurants In Buenos Aires, Argentina
Let's delve deep to discover some of the top restaurants in Buenos Aires:
Don Julio: Known for its excellent beef, Don Julio is a classic Argentine parrilla (steakhouse) located in Palermo. The restaurant prides itself on using only the finest grass-fed beef, and the quality shines through in the flavor of each cut.
Tegui: Tegui, located behind an unassuming graffiti-covered wall in Palermo, offers a gourmet dining experience with a regularly changing menu of innovative dishes. Chef Germán Martitegui is considered one of Argentina's finest culinary talents, and Tegui consistently ranks among Latin America's top restaurants.
El Baqueano: This innovative restaurant in San Telmo is known for serving 'cocina autoctona', or native Argentine cuisine. Chef Fernando Rivarola showcases lesser-known local ingredients, including meats from native animals such as rhea, yacare (a type of caiman), and llama.
La Cabrera: With a reputation as one of the best steakhouses in Buenos Aires, La Cabrera in Palermo is a must-visit for meat lovers. Its enormous portions, great variety of cuts, and extensive list of complementary side dishes make for a memorable dining experience.
Chila: Overlooking the docks in Puerto Madero, Chila offers an upscale dining experience with a focus on Argentine ingredients and flavors. Chef Pedro Bargero's creative tasting menus are paired with an excellent selection of local wines.
Sarkis: This Armenian restaurant in Villa Crespo is a favorite among locals. Known for its generous portions and delicious dishes like lamb kebabs, stuffed vine leaves, and hummus, Sarkis delivers a delightful gastronomic journey to the Middle East.
i Latina: This closed-door restaurant (a concept unique to Buenos Aires, where chefs open their homes to diners) offers an exquisite seven-course tasting menu inspired by Latin American cuisine. The brother-sister team of Santiago and Laura Macías create a warm, intimate atmosphere that complements the beautifully presented dishes.
Proper: This casual, industrial-chic spot in Palermo is led by Chef Leo Lanussol. The open-kitchen concept focuses on locally sourced ingredients cooked over a wood-fired oven and grill. The menu changes regularly, but the innovative, flavorful dishes consistently impress.
El Preferido de Palermo: A neighborhood bodegón (tavern), El Preferido de Palermo is an institution in Buenos Aires. It's the place to go for traditional Argentine comfort food like provoleta (melted provolone cheese), milanesa (breaded meat cutlet), and matambrito a la pizza (flank steak prepared pizza-style).
Parrilla Peña: This unpretentious local steakhouse in Recoleta is popular for its quality meats, reasonable prices, and friendly atmosphere. Parrilla Peña delivers a true local parrilla experience, complete with excellent beef, house-made chimichurri, and a bustling, no-frills dining room.
Each of these restaurants provides a unique window into Buenos Aires' diverse culinary scene. Whether you're seeking a luxurious gourmet experience, a traditional Argentine parrilla, or an exploration of global flavors, Buenos Aires' restaurants deliver unforgettable dining experiences.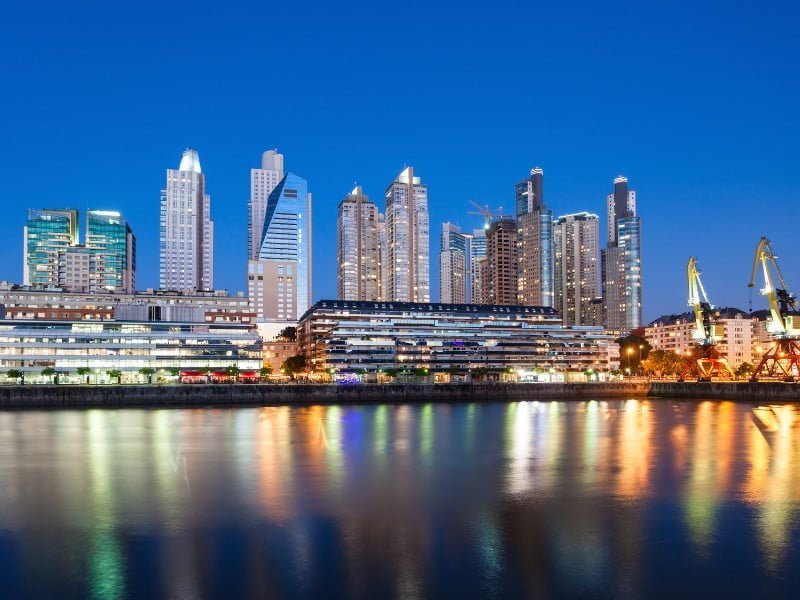 Tours For Visitors To Buenos Aires, Argentina
Buenos Aires, Argentina's vibrant capital, is a city rich in history, culture, and culinary delights. A tour can be an excellent way to delve deeper into what this city has to offer. Here are some tour options that visitors to Buenos Aires might consider:
City Tours: There are various city tours available that cover the main attractions of Buenos Aires, such as Plaza de Mayo, San Telmo, La Boca, Recoleta, and Palermo. These tours provide an overview of the city's diverse neighborhoods and significant landmarks.
Bike Tours: Buenos Aires is a bike-friendly city with many parks and bike paths. Bike tours offer a unique way to explore the city, covering areas like Puerto Madero, Reserva Ecológica, and the vibrant streets of Palermo and Recoleta.
Tango Tours: The tango is an integral part of Buenos Aires' cultural identity. A tango tour might include a visit to a milonga (a venue where people dance tango), a tango show, or even a tango dance lesson. Some tours also delve into the history and cultural significance of tango.
Food and Wine Tours: Argentine cuisine, particularly its world-renowned beef and wine, is a highlight for many visitors. Food and wine tours allow you to visit local restaurants, steakhouses, and wine bars, with the opportunity to learn about and sample Argentine culinary specialties.
Street Art Tours: Buenos Aires is known for its vibrant street art scene. Guided tours can take you through the city's backstreets and alleyways to discover hidden murals and graffiti artworks, with insights into the local art scene and the stories behind the artworks.
Historical Tours: For history buffs, tours that focus on specific periods in Argentina's history are available. These may cover significant historical sites and provide a deeper understanding of events such as the country's independence, the Perón era, or the Dirty War.
Day Trips to Estancias: To experience the Argentine countryside and gaucho (cowboy) culture, consider a day trip to an estancia (ranch). These tours typically include horseback riding, a traditional asado (barbecue), and folkloric music and dance performances.
Feria de Mataderos Tour: This tour takes you to the Mataderos Fair, a lively celebration of gaucho and folk culture on the outskirts of Buenos Aires. You'll have the chance to see traditional music and dance, sample regional foods, and browse handicraft stalls.
Opera House Tours: The Teatro Colón is one of the world's most beautiful opera houses. A guided tour allows you to explore the opulent interiors of this architectural masterpiece and learn about its significance in Argentina's cultural scene.
River Plate Football Match: For soccer fans, attending a match at the iconic River Plate Stadium can be an unforgettable experience. Some tours offer match tickets, transfers, and a guide to help you navigate the passionate world of Argentine soccer.
These are just a few of the tour options available in Buenos Aires. Each offers a unique perspective on this multifaceted city and can enhance your understanding and appreciation of its rich culture and history.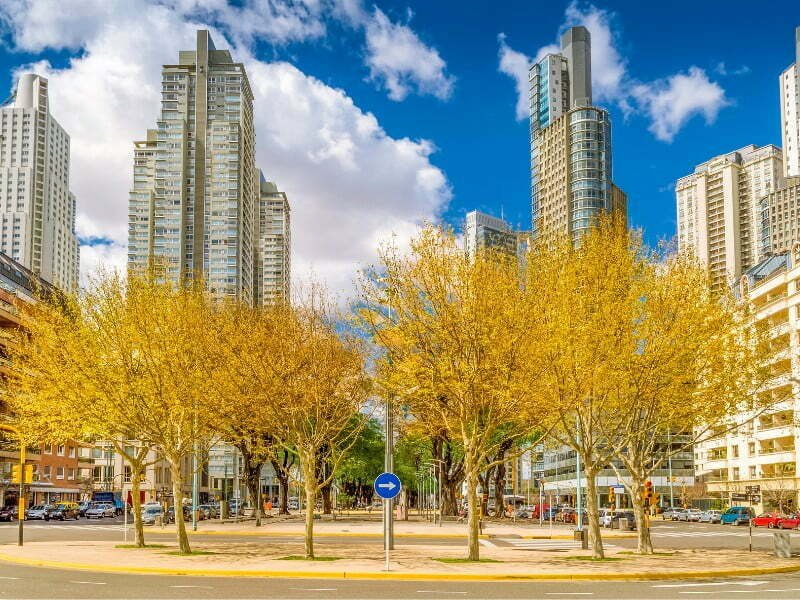 Buenos Aires Accommodations Guide: Hotels, Guesthouses and Hostels
In the heart of South America, Buenos Aires, a city of passion and energy, offers a wide array of accommodations to suit every traveler's taste and budget. From lavish 5-star hotels to charming boutique inns and affordable hostels, the city's accommodations are as diverse and captivating as its neighborhoods.
Luxury Hotels:
Alvear Palace Hotel: Situated in the upscale neighborhood of Recoleta, this historic hotel exudes grandeur and sophistication. Each room is elegantly furnished, reflecting classic European luxury. The hotel boasts top-notch amenities, including a rooftop terrace with panoramic city views, a world-class spa, and the refined L'Orangerie restaurant.
Palacio Duhau – Park Hyatt Buenos Aires: This hotel is a blend of the old and the new, with a 1930s Neoclassical palace and a modern building. Located in Recoleta, it features stunning gardens, an art gallery, a luxury spa, and gourmet dining options. The rooms and suites offer an elegant mix of classic and contemporary designs.
Faena Hotel Buenos Aires: Situated in the trendy Puerto Madero district, the Faena Hotel is a luxurious option. Designed by Philippe Starck, it offers opulent rooms, a world-class spa, an infinity pool, and several dining options, including the famed El Mercado restaurant. It is also home to the Rojo Tango show, one of the city's best tango performances.
Boutique Hotels:
Vitrum Hotel: Located in the hip Palermo Soho district, Vitrum Hotel is a stylish boutique hotel surrounded by art galleries, boutiques, and restaurants. Its rooms are modern and spacious, and the hotel boasts a beautiful glass exterior, a cozy library, a spa, and a garden with a pool.
Home Hotel: Also in Palermo, this hotel offers a chic, laid-back ambiance. The mid-century modern design, lush garden with a pool, and renowned restaurant make it a favorite among travelers seeking a boutique experience.
Fierro Hotel Boutique: Situated in Palermo Hollywood, Fierro Hotel is a contemporary boutique hotel offering spacious suites, a rooftop terrace with a pool, and a renowned restaurant, Uco, known for its excellent brunch and sophisticated Argentine cuisine.
Budget Accommodations:
Milhouse Hostel Avenue: This lively hostel in the city center is a great option for budget and solo travelers. It offers a mix of dormitory and private rooms, a bar, and organizes various activities and tours for guests.
America Del Sur Hostel: Located in San Telmo, this modern hostel offers private and shared rooms, a communal kitchen, and a friendly environment. Its helpful staff and great location make it a popular choice for budget travelers.
Art Factory Palermo: A hostel and art space in one, Art Factory Palermo offers a bohemian vibe, with its colorful murals and eclectic furnishings. Dorms and private rooms are available, and it's a short walk from the vibrant nightlife of Palermo Soho.
Whether you're seeking a taste of Buenos Aires' historic elegance, the chic sophistication of its modern design, or the camaraderie of its lively hostels, the city's accommodations offer a warm welcome and a comfortable base from which to explore all that this captivating city has to offer.
Day Trips From Buenos Aires, Argentina
Buenos Aires is a city that captivates with its vibrant culture, intricate architecture, and tantalizing cuisine. Yet, the areas surrounding this lively metropolis offer equally intriguing experiences, from quiet, cobblestone towns to verdant landscapes and historical estancias. Here are some worthwhile day trips from Buenos Aires:
Tigre and the Paraná Delta: Just an hour north of Buenos Aires, Tigre is a charming riverside town. It's the gateway to the Paraná Delta, a network of islands and waterways ideal for boat trips. Explore the Puerto de Frutos, a bustling market selling artisan goods, or visit the Paseo Victorica for a picturesque walk along the river.
San Antonio de Areco: A journey to San Antonio de Areco offers a glimpse into Argentina's gaucho (cowboy) culture. This small town, about a two-hour drive from Buenos Aires, is known for its traditional estancias (ranches) where you can experience horseback riding, folkloric music and dance, and an authentic Argentine asado (barbecue).
Colonia del Sacramento, Uruguay: A short ferry ride across the Rio de la Plata takes you to Colonia del Sacramento, a UNESCO World Heritage Site. This quaint town, with its cobblestone streets and colonial-era buildings, is perfect for a leisurely day of exploration.
La Plata: Just an hour from Buenos Aires, La Plata is the capital city of Buenos Aires Province. Key attractions include the impressive Neogothic Cathedral, the Natural Science Museum, and the Republica de los Niños, a theme park that inspired Walt Disney to create Disneyland.
Luján: Luján is a small city known for its stunning neo-Gothic Basilica, a pilgrimage site for devout Catholics. The city also hosts the Enrique Udaondo Museum, where you can see historical artifacts, including the carriage of San Martín, a key figure in Argentina's fight for independence.
Estancia Santa Susana: A day trip to Estancia Santa Susana, one of Argentina's traditional ranches, offers a taste of the country's rural heritage. You can enjoy horseback riding, a traditional gaucho party, folk dancing, and a delicious asado.
Temaikén Biopark: This is a fantastic day trip for families. Located in Belén de Escobar, this zoo and botanical garden is home to a variety of animals in environments that replicate their natural habitats.
These day trips offer an enriching break from the bustling city and a deeper understanding of the region's history, culture, and natural beauty. Whether you're fascinated by gaucho traditions, colonial history, or the tranquil beauty of the Paraná Delta, there's a day trip from Buenos Aires that's perfect for you.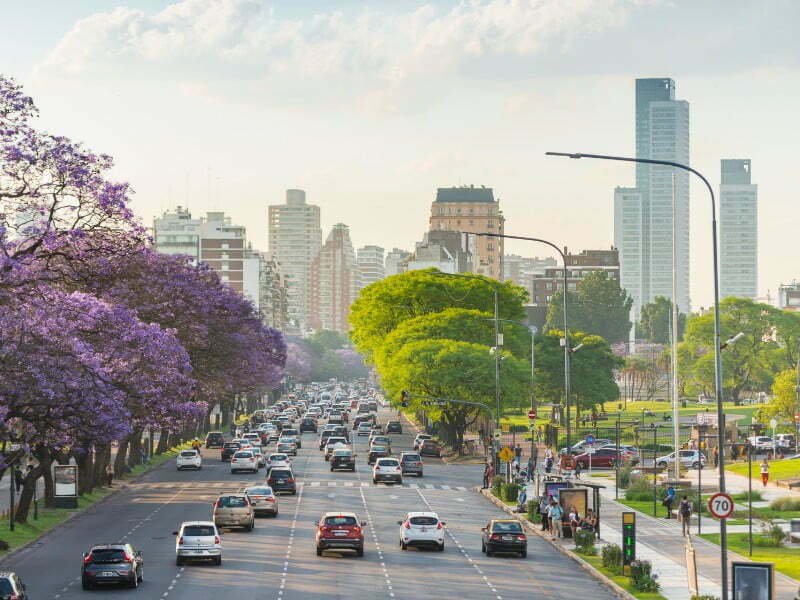 Buenos Aires Transportation Guide
Navigating Buenos Aires, the bustling capital of Argentina, can seem daunting at first. However, with a comprehensive network of public transportation, getting around the city and its surrounding areas is relatively straightforward. Here's an in-depth guide to Buenos Aires' transportation system:
Subte (Subway):
The Buenos Aires underground system, known as the Subte, is the quickest way to navigate around the city. With six lines (A to E and H), the Subte covers much of the city, including many key tourist areas. Trains usually run every 3-6 minutes from approximately 5 AM to 10 PM on weekdays, with reduced hours on weekends and public holidays. You'll need a SUBE card, a rechargeable card that you can buy and top up at subway stations, kiosks, and some convenience stores.
Buses (Colectivos):
Buenos Aires has an extensive bus network that runs 24/7, making it the most flexible form of public transportation. Buses can get you to areas not covered by the Subte, but they can be slower due to traffic, especially during rush hours. Buses use the same SUBE card as the Subte. Make sure to tell the driver where you're going when you board so they can calculate the fare.
Taxis and Remises:
Taxis are plentiful in Buenos Aires. They're relatively inexpensive compared to many other global cities, and they're easy to hail on the street. Buenos Aires taxis are black and yellow and have a red 'LIBRE' sign in the window when available. Alternatively, remises (private hire cars) can be booked over the phone or through hotels. While usually a bit more expensive than taxis, they offer the advantage of a set price agreed upon before the trip.
Rideshare Apps:
Uber operates in Buenos Aires, offering a familiar option for many international travelers. Other local ridesharing apps, like Cabify and Beat, are also available and can be handy for getting around the city. Keep in mind that these services exist in a legal gray area and might not be as reliable as in other cities.
Biking:
Buenos Aires is increasingly bike-friendly, with numerous bike lanes and a public bike-sharing program called Ecobici. This service is free and operates at various stations across the city. You can register for Ecobici online or through their app. For longer rides or guaranteed availability, you might consider renting a bike from a local shop.
Walking:
Buenos Aires is a great city for walking, with many of its attractions close together, especially in areas like Palermo, Recoleta, and San Telmo. Just remember to be mindful of traffic; Buenos Aires can be busy, and drivers may not always yield to pedestrians.
Ferries:
For trips outside the city, such as to the city of Tigre or even across the border to Uruguay, you can use ferry services. Companies like Buquebus and Colonia Express offer regular services, with the latter being the fastest way to get to the charming city of Colonia del Sacramento in Uruguay.
Trains:
There are several train lines connecting Buenos Aires with its suburbs and nearby cities like Tigre and Luján. The Mitre, San Martín, Roca, Sarmiento, Belgrano Sur, and Urquiza lines depart from various stations in the city. Trains are a convenient and affordable way to explore beyond the city, especially for destinations not accessible by Subte.
Car Rental:
Renting a car is generally not recommended for getting around Buenos Aires due to heavy traffic, scarce parking, and the city's comprehensive public transportation system.

source: Samuel and Audrey on YouTube
1 Day (24 Hours) In Buenos Aires Itinerary
A single day in Buenos Aires may not be enough to uncover all of its enchanting facets, but it is more than enough to fall in love with the city's unmistakable spirit. Here's a detailed itinerary to help you make the most of your 24 hours in Buenos Aires:
Morning (8:00 AM – 12:00 PM)
Begin your day in Buenos Aires by fueling up with a traditional Argentine breakfast. Visit a local café and order a "medialuna" (a croissant-like pastry) and a "café con leche" (coffee with milk). A popular choice could be the historical Café Tortoni on Avenida de Mayo, which has been a Buenos Aires institution since 1858.
After breakfast, take a stroll down the grand boulevard of Avenida de Mayo, a street that encapsulates the city's architectural splendor. At one end of this avenue, you'll find the iconic Casa Rosada, the pink-hued Presidential Palace that overlooks Plaza de Mayo. The plaza itself is historically significant, having been the site of countless political demonstrations.
From here, make your way to the neighborhood of San Telmo. On Sundays, there's a bustling market, Feria de San Telmo, that is worth a visit, but even on other days, the area's cobbled streets and antique shops are charming.
Afternoon (12:00 PM – 5:00 PM)
For lunch, indulge in a traditional Argentine asado (barbecue) at a local "parrilla". Popular choices include Don Julio in Palermo or La Brigada in San Telmo.
After lunch, take a short taxi ride to La Boca, a neighborhood known for its vibrant, multicolored buildings and for being the birthplace of tango. Here, you can wander around El Caminito, a street museum lined with colorful houses, tango dancers, and art stalls.
Next, head to the modern neighborhood of Puerto Madero. This revitalized dockland area offers a stark contrast to the historical charm of La Boca. Take a leisurely walk along the waterfront, enjoy the views, and visit the Puente de la Mujer, an iconic rotating footbridge.
Evening (5:00 PM – 8:00 PM)
From Puerto Madero, make your way to the upscale neighborhood of Recoleta. Visit the famous Recoleta Cemetery, the final resting place of notable Argentinian figures, including Eva Perón.
After the cemetery, take a stroll through the adjacent Plaza Francia and visit the Centro Cultural Recoleta, where you might catch an art exhibition or a cultural event.
Night (8:00 PM – onwards)
Argentinians dine late, so a typical dinner time would be around 9 PM or even later. For a truly memorable meal, consider booking a table at one of Buenos Aires' top restaurants, such as Tegui or Pura Tierra.
Cap off your day in Buenos Aires with a live tango show, a quintessential Buenos Aires experience. Places like El Viejo Almacén or Café de los Angelitos offer dinner and show options that will allow you to immerse yourself in the passionate world of tango.
Remember, this itinerary is a suggestion and can be tailored to your interests. Buenos Aires is a city that rewards those who explore, so don't be afraid to deviate from the plan and follow your curiosity.

source: Samuel and Audrey on YouTube
3-4 Days in Buenos Aires Itinerary
Spending three to four days in Buenos Aires gives you a wonderful opportunity to explore the city's diverse neighborhoods, indulge in its culinary scene, and immerse yourself in its vibrant culture. Here's a detailed itinerary:
Day 1: Downtown Buenos Aires and San Telmo
Begin your journey in the heart of Buenos Aires. Start at the historic Plaza de Mayo, where you'll find iconic buildings like the Casa Rosada, the Metropolitan Cathedral, and the Cabildo. Wander down Avenida de Mayo, soaking in the European-style architecture.
Have lunch at a classic café like Café Tortoni or El Federal, both of which serve traditional Argentine fare. Afterward, head toward San Telmo, one of the city's oldest neighborhoods. Explore the cobbled streets, antique stores, and the fascinating San Telmo Market.
In the evening, dine at a local parrilla (grill) like La Brigada, known for its superb steaks. If you're there on a Sunday, don't miss the Feria de San Telmo, a bustling antique and flea market.
Day 2: La Boca and Puerto Madero
Start your day in the colorful neighborhood of La Boca. Visit the famous El Caminito, a vibrant street museum, and La Bombonera, the home stadium of Boca Juniors football team.
For lunch, head over to the chic Puerto Madero district, where you can enjoy upscale dining by the waterfront. Spend the afternoon exploring the ecological reserve, Reserva Ecológica Costanera Sur, for a breath of fresh air in the city.
In the evening, consider a visit to the Faena Arts Center, followed by dinner at one of Puerto Madero's many high-end restaurants, such as Sottovoce or Chila.
Day 3: Palermo and Recoleta
Begin in the vast neighborhood of Palermo. Visit the beautiful Bosques de Palermo (Palermo Woods), which includes the Rosedal (Rose Garden), the Japanese Garden, and the Buenos Aires Botanical Garden.
Have lunch at a trendy Palermo café, then visit MALBA (the Latin American Art Museum of Buenos Aires) for a dose of culture. If shopping appeals, explore the boutiques of Palermo Soho.
In the evening, head to the sophisticated Recoleta neighborhood. Visit the famous Recoleta Cemetery and the Centro Cultural Recoleta. For dinner, consider Fervor, known for its excellent Argentine cuisine.
Day 4: Cultural Experiences
If your stay extends to four days, dedicate this day to deepen your cultural immersion. You might visit the Teatro Colón, one of the world's best opera houses, or the Museo Nacional de Bellas Artes, with its excellent collection of Argentine and international art.
Consider a visit to one of the city's lesser-known neighborhoods, like the bohemian Almagro or the historic Belgrano.
In the evening, book a tango show. Many, like Café de los Angelitos or El Viejo Almacén, offer dinner packages. This would be a fitting finale to your Buenos Aires journey, encapsulating the passion and energy that defines this remarkable city.
Remember to pace yourself, take time to relax in the city's many parks and plazas, and don't forget to sample the city's culinary delights along the way – from empanadas and pizza to gelato and alfajores. Buenos Aires is a city to be savored.
1 Week in Buenos Aires Itinerary
A week in Buenos Aires provides an opportunity to fully immerse yourself in the city's rich culture, vibrant neighborhoods, and delectable cuisine. Here's a detailed itinerary:
Day 1: Microcentro
Begin your adventure in the city's downtown district, Microcentro. Explore Plaza de Mayo, home to the Casa Rosada, and the Metropolitan Cathedral. Stroll along Avenida de Mayo, and enjoy a traditional Argentine breakfast at Café Tortoni. In the afternoon, visit the Obelisco and Teatro Colón, one of the world's most beautiful opera houses.
Day 2: San Telmo and La Boca
Spend your second day in the historic San Telmo neighborhood, exploring its charming streets, antique shops, and the vibrant San Telmo Market. Have lunch at a classic parrilla before heading to La Boca. Visit El Caminito, and if you're a football fan, stop by La Bombonera, the home stadium of Boca Juniors.
Day 3: Puerto Madero
Start your day in Puerto Madero, the city's newest neighborhood. Walk along the docks, visit the Puente de la Mujer, and explore the Reserva Ecológica Costanera Sur. Have lunch at a waterfront restaurant. In the evening, enjoy a show at the Faena Art Center.
Day 4: Recoleta
Explore the elegant neighborhood of Recoleta. Visit the famous Recoleta Cemetery, the Centro Cultural Recoleta, and the Museo Nacional de Bellas Artes. Take a leisurely stroll in the beautiful parks and gardens, and enjoy a sophisticated dinner at one of the neighborhood's top restaurants.
Day 5: Palermo
Dedicate this day to Palermo, Buenos Aires' largest neighborhood. Visit the Bosques de Palermo, the Buenos Aires Botanical Garden, and the Evita Museum. Explore the trendy boutiques and art galleries of Palermo Soho, and enjoy a late dinner at a local hotspot.
Day 6: Day Trip to Tigre
Take a day trip to Tigre, a picturesque town on the Parana Delta. Enjoy a boat trip on the delta, visit the Puerto de Frutos market, and explore the Museo de Arte de Tigre. Return to Buenos Aires in the evening for dinner.
Day 7: Cultural Immersion
Spend your last day in Buenos Aires soaking in the city's culture. Visit any museums or landmarks you missed earlier, like the MALBA or the Museo de Arte Moderno. Consider taking a tango lesson or watching a football match for a unique Argentine experience. End the day with a farewell dinner at a traditional Argentine steakhouse, and a tango show at a renowned venue like Café de los Angelitos or El Viejo Almacén.
This itinerary gives you a comprehensive taste of what Buenos Aires has to offer, but remember to adapt it to your personal interests and pace. The city's charm lies in its vibrant streets, so take the time to sit in a café, people-watch, and soak in the atmosphere. There's no better way to truly experience Buenos Aires.

source: Samuel and Audrey on YouTube
When Is The Best Time To Visit Buenos Aires?
Choosing the best time to visit Buenos Aires, Argentina's vibrant capital, largely depends on your personal preferences for weather, crowd sizes, and events. The city experiences a temperate climate with four distinct seasons, each with its own charm.
Spring (September to November)
Spring is arguably the most beautiful time to visit Buenos Aires. The city blooms with jacaranda trees, painting the streets in vibrant hues of purple. Temperatures are comfortable, usually ranging from 15°C to 25°C (59°F to 77°F), making it ideal for outdoor activities and sightseeing. It's also the season for the city's famous international film festival, Festival Internacional de Cine de Mar del Plata, and the renowned Buenos Aires Fashion Week. However, spring can be quite rainy, so pack an umbrella or raincoat.
Summer (December to February)
Summers in Buenos Aires can be hot and humid, with temperatures often exceeding 30°C (86°F). This may not be the most comfortable time for sightseeing, especially if you're not accustomed to the heat. However, it's worth noting that many locals leave the city for their vacations during this time, resulting in fewer crowds and quieter streets. If you can tolerate the heat, you'll find the city's parks and outdoor cafés inviting. During the summer, the city also hosts the Buenos Aires Tango Festival, a treat for dance enthusiasts.
Autumn (March to May)
Autumn sees milder temperatures, typically between 10°C and 20°C (50°F to 68°F), and the city's foliage offers a beautiful array of colors. This is an excellent time for strolling through the city's parks and botanical gardens. In terms of events, the city hosts the Buenos Aires International Independent Film Festival (BAFICI) in April, a haven for indie film lovers.
Winter (June to August)
Winters are relatively mild in Buenos Aires, with temperatures generally between 8°C and 15°C (46°F to 59°F). While you won't see snow in the city, it can get quite chilly, especially at night, so you'll want to pack warm clothing. This is the low tourist season, so you might find fewer crowds at popular attractions and better deals on accommodations. The city's café culture is particularly enjoyable during this season – it's the perfect time to settle into a cozy café with a book and a hot drink.
Ultimately, the best time to visit Buenos Aires depends on your personal preferences. Each season has its own unique charm and hosts different cultural events. Regardless of when you visit, Buenos Aires is sure to enchant with its rich culture, delectable cuisine, and vibrant energy.

source: Samuel and Audrey on YouTube
Is It Safe To Visit Buenos Aires?
Safety is a complex and multifaceted issue, and Buenos Aires, as a major global city, is no exception. It's important to remember that safety can vary greatly depending on the area of the city and the time of day, and individual experiences can also vary widely.
Buenos Aires is generally safe for tourists, but it does have crime, much like any large city. The most common crimes against tourists are petty thefts such as pickpocketing and bag snatching, particularly in crowded areas like public transportation and tourist hotspots. However, violent crime is less common, especially towards tourists.
Here are some tips to help ensure a safe trip to Buenos Aires:
Stay Alert: Like in any large city, it's important to be aware of your surroundings, especially in crowded places where pickpockets might operate. Be cautious of any strangers who approach you, even if they seem friendly or in need of help. Some scams involve creating a distraction in order to steal from unsuspecting tourists.
Secure Your Belongings: Carry only what you need for the day, and keep your money and valuable items secure and out of sight. Avoid displaying expensive items such as jewelry, cameras, or smartphones in public. If you're sitting in a café or restaurant, keep your bag in your lap or looped around your leg.
Choose Safe Transportation: Taxis and ride-sharing services are generally safe, but it's best to book them through a reputable company or app. Be wary of unofficial taxis that could overcharge you or take you to an unintended destination.
Stick to Well-traveled Areas: Buenos Aires has many safe neighborhoods to explore, including Recoleta, Palermo, Belgrano, and Puerto Madero. However, some areas can be less safe, particularly at night. It's best to stick to well-lit, busy streets and avoid any areas that seem deserted or run-down.
Respect Local Laws and Customs: Understanding and respecting the local laws and customs can also contribute to a safe and enjoyable visit.
Travel Insurance: It's recommended to have travel insurance that covers theft and medical expenses. This can provide peace of mind during your travels.
If you do encounter an emergency, the nationwide emergency number in Argentina is 911.
While Buenos Aires has its share of crime, most visitors have safe and enjoyable visits. Taking sensible precautions can help ensure that your trip is memorable for all the right reasons. It's always a good idea to research current conditions closer to your travel date, as situations can change.
Buenos Aires Major Festivals and Events in Argentina
Buenos Aires, the bustling capital city of Argentina, hosts a wide range of exciting festivals and events throughout the year. These celebrations showcase the country's rich cultural heritage, vibrant music and dance traditions, and passionate spirit. Here are some major festivals and events held in Buenos Aires:
Carnival (February/March): Buenos Aires comes alive with the vibrant and colorful spirit of Carnival. The city's neighborhoods burst with energy as parades, music, and dancing fill the streets. The most famous Carnival celebration takes place in the neighborhood of Barracas, where murgas (street bands) perform their lively music and compete for the best performance.
Buenos Aires Tango Festival and World Championship (August): This internationally acclaimed festival celebrates the sultry and passionate Argentine tango. Renowned tango dancers, musicians, and enthusiasts gather in Buenos Aires for workshops, performances, concerts, and the prestigious Tango World Championship, where couples from around the world compete for the title.
Feria Internacional del Libro de Buenos Aires (Buenos Aires International Book Fair) (April/May): Book lovers and literary enthusiasts flock to this massive book fair, which is the largest of its kind in the Spanish-speaking world. The fair features an extensive collection of books from various genres, author talks, signings, literary workshops, and cultural activities.
Buenos Aires International Film Festival (April): Film aficionados and industry professionals gather for this prestigious film festival, which showcases a diverse selection of local and international films. Screenings, premieres, retrospectives, and Q&A sessions with filmmakers create a vibrant atmosphere that celebrates the art of cinema.
La Noche de los Museos (Night of the Museums) (November): On this enchanting night, museums, galleries, and cultural institutions open their doors to the public for free. Visitors can explore art exhibitions, historical artifacts, and interactive displays while enjoying live music, performances, and guided tours. The city comes alive with a buzz of cultural activity.
Festival Internacional de Jazz de Buenos Aires (Buenos Aires International Jazz Festival) (November/December): This highly anticipated event attracts renowned jazz musicians from around the world. Jazz enthusiasts gather to enjoy captivating performances, jam sessions, workshops, and masterclasses. The festival showcases various jazz styles, from traditional to contemporary, and takes place in iconic venues across the city.
Festival Internacional de Buenos Aires (International Festival of Buenos Aires) (February/March): Known as FIBA, this vibrant festival brings together a diverse range of performing arts, including theater, dance, music, and visual arts. Local and international artists showcase their talent through innovative and thought-provoking performances, installations, and exhibitions. The festival turns Buenos Aires into a hub of creativity and cultural exchange.
These are just a few examples of the major festivals and events that make Buenos Aires a vibrant and culturally rich city. Visitors to Buenos Aires have the opportunity to immerse themselves in the lively atmosphere, experience the country's traditions and artistic expressions, and witness the passion that flows through the city's veins.

source: Samuel and Audrey on YouTube
Where To Visit After Your Trip To Buenos Aires?
After exploring the vibrant city of Buenos Aires, there are numerous destinations within Argentina and beyond that offer unique experiences. Depending on your interests, you might consider the following:
Iguazu Falls: These spectacular waterfalls on the border between Argentina and Brazil are one of the most awe-inspiring natural wonders in South America. The Argentine side lets you get up close with the falls via a series of walkways.
Mendoza: If you're a wine enthusiast, a trip to Mendoza is a must. Known for its world-class Malbec wines, Mendoza offers numerous vineyards for touring and tasting. The city is also a gateway to the Andes Mountains, with opportunities for hiking, horse riding, and rafting.
Bariloche: Nestled in the Andes in Argentina's Lake District, Bariloche is renowned for its Swiss-style architecture, chocolate shops, and stunning natural surroundings. It's a paradise for outdoor enthusiasts, with skiing in winter and hiking and kayaking in summer.
Ushuaia: Known as the "End of the World," Ushuaia is the southernmost city in the world. It's the gateway to Antarctica and offers unique wildlife viewing, hiking in Tierra del Fuego National Park, and boat trips along the Beagle Channel.
El Calafate and El Chaltén: These towns in Southern Patagonia are the gateways to the Los Glaciares National Park, home to stunning landscapes including the Perito Moreno Glacier, one of the most accessible glaciers in the world. El Chaltén is also known as Argentina's trekking capital, with trails leading to the towering peaks of Mount Fitz Roy and Cerro Torre.
Córdoba: Argentina's second largest city, Córdoba is known for its colonial architecture, vibrant student population, and surrounding sierras offering hiking and horseback riding opportunities.
Montevideo, Uruguay: A short ferry ride from Buenos Aires, Montevideo is a charming city with a laid-back atmosphere, beautiful beaches, and a picturesque old town. It offers a different pace of life compared to Buenos Aires.
Santiago, Chile: Consider a trip across the Andes to Santiago, Chile's cosmopolitan capital. With a rich history, a burgeoning food scene, and nearby vineyards and ski resorts, Santiago is a fascinating destination in its own right.
Rio de Janeiro, Brazil: For a taste of Brazil's exuberant culture, consider a trip to Rio de Janeiro. Famous for its stunning beaches, iconic landmarks like Christ the Redeemer and Sugarloaf Mountain, and the annual Carnival, Rio is a city that knows how to celebrate life.
Salta: Known for its Spanish colonial architecture and vibrant local culture, Salta is also the gateway to the stunning landscapes of Argentina's northwest, such as the multicolored hills of the Quebrada de Humahuaca.
Rosario: Argentina's third-largest city, Rosario boasts beautiful neoclassical architecture, riverside beaches, and a vibrant arts scene.
Punta del Este, Uruguay: A glamorous seaside resort town, Punta del Este is often called the "Monaco of South America" for its beautiful beaches, upscale hotels, and nightlife.
Colonia del Sacramento, Uruguay: A UNESCO World Heritage Site, this charming town offers cobblestone streets lined with colonial-era buildings and a relaxed, old-world atmosphere.
Mar del Plata: Argentina's premier beach resort city features miles of sandy beaches, a lively cultural scene, and numerous restaurants and nightclubs.
Pampas: Visit the Argentine countryside and experience gaucho (cowboy) culture on a traditional estancia (ranch).
Puerto Madryn: This seaside city is the gateway to Peninsula Valdés, a wildlife sanctuary where you can see whales, seals, and penguins.
Parque Nacional Los Alerces: Known for its ancient alerce trees, some of the oldest living beings on Earth, this national park also offers beautiful lakes and hiking trails.
Tucumán: Known as the "Garden of the Republic," Tucumán is rich in history and offers access to the stunning landscapes of the Valles Calchaquíes.
San Ignacio Mini, Misiones: Visit the ruins of a 17th-century Jesuit mission, a UNESCO World Heritage Site, surrounded by lush subtropical rainforest.
São Paulo, Brazil: One of the world's largest cities, São Paulo boasts a vibrant cultural scene, excellent shopping, and the largest Japanese community outside of Japan.
Lima, Peru: A culinary hotspot, Lima also offers colonial architecture, fascinating museums, and is the gateway to exploring the ancient Incan city of Machu Picchu.
Bogotá, Colombia: Colombia's capital is a mix of colonial charm and modern sophistication, with world-class museums, diverse dining, and vibrant nightlife.
Buenos Aires Province: Explore the wider region around the capital, with destinations like the charming town of San Antonio de Areco and the lively seaside resort of Pinamar.
Asunción, Paraguay: Off the beaten path, Asunción offers a laid-back atmosphere, colonial architecture, and a chance to discover Paraguayan culture.
La Paz, Bolivia: Sitting at a dizzying elevation, La Paz offers a blend of indigenous and Spanish influences, vibrant markets, and is the gateway to exploring the surreal landscapes of the Uyuni Salt Flats.
Villa La Angostura, Neuquén: This picturesque village in the Andean foothills is known for its Swiss-style architecture and the natural beauty of the nearby Los Arrayanes National Park.
Foz do Iguaçu, Brazil: On the Brazilian side of the Iguazu Falls, this city also offers attractions like the Itaipu Dam, one of the world's largest hydroelectric plants.
Santa Cruz, Bolivia: A vibrant city known for its unique Eastern Bolivian culture, Santa Cruz is also a good starting point for trips to the Jesuit Missions of Chiquitos, a UNESCO World Heritage Site.
Cafayate, Salta: Located in the Calchaquí Valleys, Cafayate is known for its vineyards producing excellent high-altitude wines, especially Torrontés. The town is surrounded by dramatic landscapes, including the striking rock formations of the Quebrada de las Conchas.
Torres del Paine National Park, Chile: One of the most breathtaking natural wonders in South America, this park in Patagonian Chile offers rugged mountain landscapes, turquoise lakes, and magnificent glaciers.
Remember, the best destination depends on your interests, whether they are in nature and outdoor activities, food and wine, history and culture, or urban exploration. This list provides a variety of options across South America, each offering a unique perspective and experience that contrasts and complements the vibrant city life of Buenos Aires.
Buenos Aires Travel Guide: Final Thoughts
A journey through Buenos Aires is a sensory feast, a whirlwind of color, sound, taste, and touch. The city's energy is infectious, its rhythm inescapable. The capital of Argentina is a place where tradition meets innovation, where the old and the new coexist in a dynamic dance. This travel guide hopes to have illuminated the city's diverse offerings, its rich history, and its unique culture.
Buenos Aires, often referred to as the "Paris of South America," is a city that thrives on its cultural vibrancy. The city's architectural grandeur reflects a storied past, a testament to the periods of prosperity and hardship that have shaped its identity. From the elegant mansions of Recoleta to the brightly painted houses of La Boca, each neighborhood tells its own tale, inviting you to explore and discover its secrets.
The city's history, from its founding to the modern era, is woven into the fabric of everyday life. Every monument, every street, every building in Buenos Aires has a story to tell, from the colonial period, through the days of independence and dictatorship, to the present day. It's a city that demands your attention, inviting you to delve beneath the surface and uncover the layers of its past.
Buenos Aires is also a city for the senses. The tantalizing aroma of asado grilling on a parilla, the smooth taste of Malbec, the melodious strains of tango music filling the air, the sight of elegantly attired portenos going about their day – all contribute to the city's vibrant and unique atmosphere. The culinary scene is another highlight, offering a diverse selection of dining experiences, from traditional Argentine fare to international cuisines.
The city's rich cultural scene provides endless entertainment options. Buenos Aires is a city that never sleeps, with a nightlife that caters to every taste. From the electrifying tango shows to the pulsating nightclubs of Palermo, there's always something to do when the sun goes down. And during the day, the city's many museums, art galleries, and theaters offer a rich array of cultural experiences.
Buenos Aires is also a city of contrasts. The bustling central districts contrast with the peaceful green spaces, such as the Reserva Ecológica and the numerous parks and plazas. The bustling commercial streets of Microcentro stand in stark contrast to the tranquil, leafy streets of Palermo. And the glitz and glamour of Puerto Madero is a world away from the gritty authenticity of San Telmo.
Navigating Buenos Aires can be a challenge, but the city's comprehensive public transportation network makes it easier. From the Subte and buses to taxis and bikes, there are numerous ways to get around. And beyond the city, there are endless opportunities for exploration, whether you choose to visit the Pampas, the beaches of Uruguay, or the spectacular Iguazu Falls.
Buenos Aires is more than just a city; it's a feeling, an experience, a state of mind. It's a place that gets under your skin, that stays with you long after you've left. It's a city that invites you to immerse yourself in its rhythms, to become a part of its ebb and flow. It's a city that dares you to dance to its beat, to lose yourself in its streets, to fall in love with its charm.
Buenos Aires offers a rich tapestry of experiences that cater to all types of travelers. Whether you're a history buff, a foodie, a culture vulture, or simply a curious explorer, Buenos Aires has something to offer you. This guide is but a gateway, an invitation to discover the city's many delights.
In the heart of Argentina's embrace, A city of passion and vibrant grace. Buenos Aires, where dreams take flight, Where travelers find their spirits ignite.
From grand boulevards to narrow lanes, Each corner of the city, a story remains. In Recoleta, the elegance of old, Where Evita's legacy weaves its bold.
San Telmo's cobbled streets come alive, With tango rhythms that make hearts strive. La Boca's colors paint a joyful scene, Where art and football reign supreme.
Palermo's parks offer respite and green, A tranquil escape from the urban sheen. And in Puerto Madero, by the water's edge, Modernity and history gently merge.
From Plaza de Mayo's historic might, To the soaring Obelisco, standing in sight. Buenos Aires, a city that sings, Where passion and culture are woven in strings.
Savor the flavors of an Argentine feast, Asado and Malbec, a divine feast. Empanadas, dulce de leche delight, Tantalizing your senses both day and night.
Dance the tango, feel its fiery embrace, Let the music guide you, leaving no trace. In milongas, the rhythm takes hold, As you sway and spin, becoming bold.
Buenos Aires, a city that enchants, Where travelers find their souls enhanced. In every step, in every heartfelt gaze, A journey of discovery that forever stays.
So wander its streets, embrace the unknown, Let Buenos Aires into your heart be sown. For in this vibrant city, you'll find, A place where memories are forever entwined.