Catania, located on the eastern coast of Sicily, is a beautiful city rich in history and culture. Within this city are numerous historical and cultural attractions worth visiting, which include cathedrals, castles, and spectacular architecture.
With several beautiful parks and gardens, this city also appeals to nature lovers. But all of this pales in comparison to the mighty Mount Etna. Lording over this place like a giant, it is a place all travellers should visit before moving on to their next destination.
Catania Travel Guide To Catania, Sicily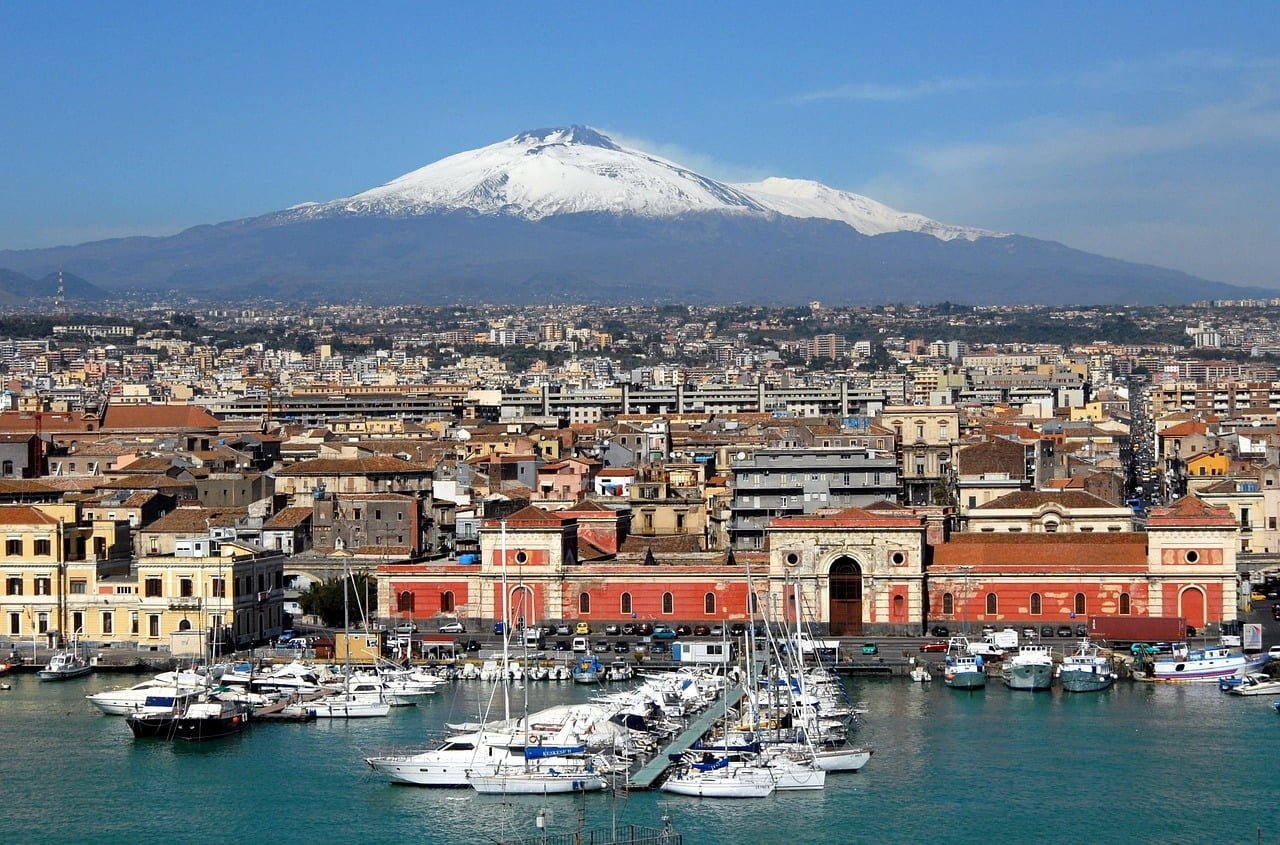 Catania Top Attractions and Places to Visit in Sicily
Begin your trip by visiting Catania Cathedral. Construction on it began in 1078, making it one of the oldest cathedrals in Sicily. However, a vicious cycle of earthquakes and volcanic eruptions means the present-day structure is not the one that existed nearly one thousand years ago.
Because of this, this Norman church features Baroque design elements throughout. Inside, you'll find several beautiful artworks, including pieces by Guglielmo Borremans. The Catania Cathedral also houses the tombs of several members of Aragonese royalty, including Kings Frederick III and Louis the Child.
After exploring Catania Cathedral, head over to Castello Ursino. It started its life as the home of King Frederick II and went on to serve as the home of the Sicilian Parliament. Today, it is a museum that showcases artifacts from local Roman ruins.
In its exhibits, you'll find statues, pottery, remains of stone columns, and more. This museum also covers other aspects of local history. From medieval times to paintings by regional artists, this place is a must for museum fans.
And before you carry on elsewhere in Sicily, get to know Mount Etna up close. Now, Catania is literally built at its base. But somehow, Catania has survived numerous eruptions, making it one of the few cities in the world where you can watch a volcano erupt in real-time.
Leisure travellers will want to visit Parco dell'Etna. This national park surrounds Mount Etna and offers casual visitors multiple opportunities to get up-close views of this majestic mountain. And look in the opposite direction and you'll enjoy panoramic views of Catania below.
And if you're active, there are even opportunities for hiking up Mount Etna. Just remember to bring appropriate climbing gear, and to follow safety directives issued by local authorities.
Catania, Italy Video Guide: Top 10 Things to do in Catania, Sicily

Source: The Global Expats channel on YouTube
Other Cultural Attractions: Trip to Catania, Italy
Catania is jam-packed with attractions. And because of that, it can be easy to miss amazing places like the Monastero dei Benedettini. This medieval monastery dates back to the 16th century and was once the second-largest Benedictine monastery in Europe.
Although this structure isn't in the best shape, it's still an impressive building that is worth seeing. However, be aware that English tours can be limited – confirm times with site staff before committing to a tour.
Shoppers will also want to check out Catania's A' Piscaria Mercato del Pesce. Translating to English as the Catania Fish Market, this morning market is a vibrant and colourful place. Here, you'll find Catania locals selling not just seafood, but fresh produce as well. Don't forget your camera, as you'll find action shots everywhere.
During your time in Catania, you'll likely get quite tired, especially on a hot summer's day. So, be sure to swing by Villa Bellini during your stay. This park was formerly a garden maze for Prince Ignazio of Biscari, but in the 19th century, local authorities converted it into an urban park.
Today, it is the most beloved green space in Catania, as it combines Roman ruins, fountains, and greenery to create a relaxing spot in this city's centre.
End your time in Catania by spending an evening in Piazza del Duomo. This square is Catania's largest and features many historic buildings along its edges. During holidays, it is a centre of celebrations, and is a popular evening/weekend gathering spot the rest of the year. Take a seat at a cafe here, and watch the world go by.
What To Eat and Drink in Catania, Sicily
Catania is well-known for its pasta dishes like Pasta alla Norma. However, while you're here, sample some more off-beat fare, such as Polpette di Cavallo. This street snack is a meatball crafted from ground horse meat and breadcrumbs and is seasoned with lemon zest, parmesan cheese, parsley, salt, and pepper. Its origins may turn some off, but locals have enjoyed this treat for generations, so give it a go.
In Italy, it can often be a challenge to find traditional dishes that appeal or vegetarians or vegans. There are exceptions, though, as there are several restaurants in Catania that specialize in Caponata. Caponata is a veggie-friendly dish where eggplant and tomatoes are the star ingredient. Combined with onions, olives, celery, and bell peppers, it's a refreshing mix that'll recharge your batteries.
For a sweet treat after your meal, have some Rame di Napoli. Coated in decadent dark chocolate, these sugary cookies are a treat that you'll find around All Souls' Day, so keep an eye out if you visiting then.