Welcome to Cebu City, a captivating destination in the Philippines that seamlessly blends historical charm, vibrant city life, and natural beauty. As the oldest city in the country, Cebu City serves as a gateway to the stunning island of Cebu, offering a multitude of experiences for every traveler. Whether you're seeking historical sites, bustling markets, breathtaking beaches, or mouthwatering cuisine, Cebu City has it all.
Steeped in rich history, Cebu City proudly showcases its colonial heritage. As you explore the city, you'll encounter remnants of the Spanish era, such as the majestic Basilica Minore del Santo Niño, where the revered Santo Niño image resides. Immerse yourself in the past as you wander through the historic district of Colon Street, the oldest street in the Philippines, lined with centuries-old buildings and vibrant markets.
Cebu City is also known for its lively street life and bustling markets. Dive into the vibrant atmosphere of Carbon Market, the city's largest and oldest market, where locals gather to buy fresh produce, seafood, and an array of goods. Indulge in the flavors of Cebu's street food scene, savoring local delicacies like lechon (roast pig), pusô (rice wrapped in coconut leaves), and dried mangoes.
Beyond the city's urban landscape, Cebu offers a natural paradise. Escape to the pristine white sands and turquoise waters of nearby Mactan Island, where you can indulge in water sports, island hopping, and beachfront relaxation. Dive enthusiasts will find a haven in Moalboal, renowned for its vibrant coral reefs and the famous sardine run. For a thrilling adventure, head to Osmeña Peak, the highest point in Cebu, and hike through scenic trails with breathtaking panoramic views.
Cebu City is also a gateway to nearby cultural and natural wonders. Take a boat ride to the captivating island of Bohol, where you can witness the fascinating Chocolate Hills and meet the adorable tarsiers, one of the world's smallest primates. Or venture further to Kawasan Falls in Badian, where you can swim in crystal-clear blue waters surrounded by lush tropical landscapes.
As you explore Cebu City and its surroundings, you'll be embraced by the warmth and hospitality of its people, known as Cebuanos. Their friendly nature and welcoming smiles will make your visit all the more memorable.
With its vibrant city life, historical treasures, stunning beaches, and captivating natural beauty, Cebu City invites you to embark on an unforgettable journey through the heart of the Philippines. Whether you're seeking cultural immersion, adventure, or relaxation, Cebu City promises a travel experience that will leave a lasting impression and inspire you to discover the wonders of this remarkable region.
Cebu City Guide: A Brief History Of Cebu, Philippines
Cebu City, located in the Central Visayas region of the Philippines, is a city steeped in history and cultural significance. As the oldest city in the Philippines, Cebu City has played a pivotal role in shaping the nation's history and identity.
The story of Cebu City dates back to the arrival of the Spanish explorer Ferdinand Magellan in 1521. It was during this time that the first Catholic mass in the Philippines was held on the shores of Cebu, marking the beginning of Christianity in the archipelago. Magellan's landing in Cebu also led to the conversion of Rajah Humabon, the local chieftain, and his followers to Christianity.
Under Spanish rule, Cebu City became a significant port and trading hub in the region. The city prospered, with Spanish colonizers establishing a strong presence and constructing notable structures such as Fort San Pedro, a military defense fortress that still stands today as a reminder of the city's colonial past.
In the 19th century, Cebu City experienced a surge in economic activity, particularly in the sugarcane and tobacco industries. The city's strategic location and natural resources contributed to its growth as a commercial center, attracting both local and foreign traders.
During World War II, Cebu City witnessed the impact of the Japanese occupation. The city was heavily bombed and suffered considerable damage. However, after the war, Cebu City quickly recovered and resumed its development, becoming a thriving urban center.
In recent decades, Cebu City has experienced rapid urbanization and economic growth. It has emerged as a key center for commerce, industry, and tourism in the Philippines. The city boasts modern infrastructure, bustling markets, shopping centers, and a vibrant nightlife.
Cebu City is also renowned for its cultural heritage and festivals. The Sinulog Festival, held every January, is a grand celebration honoring the Santo Niño, the patron saint of Cebu. It attracts visitors from all over the world and showcases colorful street parades, traditional dances, and religious processions.
Today, Cebu City continues to evolve as a cosmopolitan hub, blending its rich history and traditions with modern progress. It offers travelers a unique opportunity to delve into the cultural tapestry of the Philippines and discover the vibrant spirit that defines Cebu City.
Cebu Top Attractions and Best Places to Visit in Philippines
The second largest, oldest and fastest growing city in the Philippines, Cebu City is the economic centre of the Visayas, a series of numerous small islands spread out between the major isles of Luzon in the north and Mindanao in the south. Sitting on trade routes between Spanish ruled Mexico and China, this settlement became the place where the Christianization, and eventual colonization of the Philippines by the Spanish would begin.
Being an island city in the middle of the Visayas, it probably shouldn't be surprising that there are some nice white sand beaches in the greater Cebu area. In any event, it adds to the charm of this metropolis in paradise.  While you are likely on your way to somewhere a bit more deserted and secluded, stick around for a few nights and discover the more laid back urban atmosphere of the Philippines' second city, as it is a worthy introduction to a region with a million possibilities.
As the site where Christianity came ashore in the Philippines, Cebu is a significant place for those fond of studying this religion.  Start your day at the Basilica of Santo Niño, which was built and opened way back in 1565.  This cathedral contains an aged statue of the Santo Nino (the Christ Child), which happens to be the oldest religious relic in the entire Philippines.  Pilgrims over the years have brought offerings of jewelry and clothing to dress the statue, much of which is on display at the adjoining museum related to this church.
Keeping with the deep Christian history of this area, head over to see Magellan's Cross next.  It is said that this symbol of Christianity was erected in commemoration of Spanish explorer Ferdinand Magellan, who is credited with converting the natives of this island to his religion.  While it is also claimed the wood of the cross encases the original wood of this monument, rumor has it the locals used it for firewood at some point in the past 400+ years, and thus, the cross is not authentic.
There is a significant population of Chinese in Cebu City, and despite the forced Christianization of many of their compatriots, some has managed to retain their old religious traditions over the years. In Cebu, you can see the spiritual life of Chinese Taoists unfold at the Taoist Temple, located in the hills of the city in the Beverly Hills Subdivision.  If you arrive at the temple on either a Wednesday or Sunday, you can climb the 81 steps to where the temple's monks reside.  At the top, you can light joss sticks as one of the monks reads your fortune.  Any other day, you can still participate in a ritual where you can attempt to pray to the gods to grant your wish.  You are given two wooden blocks: if they both land face up, you are free to make a wish.  If you are unlucky, it is deemed that is not the right time for your wish to be granted.
Leaving the temples and churches of Cebu, behind, head to Fort San Pedro, which acted as a Spanish garrison during the era of colonization, protecting Cebu from attack by hostile forces.  Inside, check out the collection of recovered treasures from the holds of sunken Spanish galleons … do try to refrain from pulling off your best impersonation of Lara Croft here though; there are police that will put a stop to that spot of fun in a hurry!
Other Cultural Attractions: Trip to Cebu City, Philippines
Being situated on an idyllic tropical island in a vast archipelago of idyllic tropical islands, there is much more to do here than skulk around from one church to the next.  For starters, there are powdery white sand beaches just a stone's throw from the downtown core.  Mactan Island lies just offshore of Cebu City, which is easily reached by a quick ferry boat.  You may be concerned by water pollution, but there is no need to worry about that, as the beaches of Mactan are located on the opposite side of the island.
Fancy a swim underneath a waterfall?  Then a quick trip to the Kawasan Waterfalls, southwest of the city, will fill the bill nicely.  There is a series of three waterfalls, each containing a gorge of water that is coloured powder blue.  Unlike the bathtub warm waters of the tropical sea off Cebu, this will be a more refreshing experience, and with the sounds of the jungle and lush vegetation, it will be one that you are unlikely soon to forget!
Finally, if you want to indulge yourself in the comforts of the city before striking out to some deserted island for a week, there are many urban delights in Cebu just waiting to be enjoyed.  Start off by stocking up on supplies at the second largest mall in the Philippines, the SM City Cebu.  With 700 shops and services, including an IMAX theatre, you'll be able to find just what you need, and catch up on the latest in Hollywood flicks.  Downtown on Gen. Mexilom Ave., Fuenta Rotunda and Osmeña Blvd., there are many bars, restaurants and nightclubs to party the night away before you catch your bus/ferry the next day in search of the perfect island in the Cebu region of the Philippines!

source: Ian and Ana on YouTube
Top 27 Things To Do in Cebu City, Philippines For Visitors
Here are the top 27 things to do in Cebu City:
Explore Fort San Pedro: Visit the oldest triangular fortress in the Philippines, built by Spanish colonizers in the 16th century. Explore its historical exhibits and enjoy panoramic views of the city.
Basilica Minore del Santo Niño: Pay a visit to the Basilica, home to the revered Santo Niño, a religious icon of great significance. Attend a mass and immerse yourself in the rich Catholic heritage of Cebu.
Magellan's Cross: Witness the symbolic cross planted by Ferdinand Magellan upon his arrival in Cebu in 1521. It represents the birth of Christianity in the Philippines and is housed in a small chapel.
Tops Lookout: Enjoy breathtaking views of Cebu City from Tops Lookout, perched high on the hills. Watch the cityscape come alive as the sun sets, creating a magical ambiance.
Taoist Temple: Experience the tranquility of the Taoist Temple, a beautifully ornate place of worship. Ascend its grand staircase and admire the intricate architecture and serene surroundings.
Cebu Metropolitan Cathedral: Marvel at the architectural splendor of the Cebu Metropolitan Cathedral, a magnificent church that showcases the city's deep religious roots.
Casa Gorordo Museum: Step back in time at this well-preserved ancestral house-turned-museum. Learn about Cebuano history and culture as you explore its rooms filled with artifacts and memorabilia.
Sirao Flower Garden: Admire the vibrant colors of Sirao Flower Garden, also known as the "Little Amsterdam" of Cebu. Stroll through the fields of blooming flowers and capture memorable photos.
Cebu Heritage Monument: Delve into Cebu's past at the Heritage Monument, a larger-than-life sculpture depicting significant historical events. Take a moment to appreciate the artistry and symbolism it represents.
Yap-Sandiego Ancestral House: Step into the Yap-Sandiego Ancestral House, a 17th-century residence turned museum. Discover antique furniture, religious artifacts, and cultural treasures that provide insights into Cebu's heritage.
Lapu-Lapu Shrine: Visit the Lapu-Lapu Shrine in Mactan, dedicated to the Filipino hero Lapu-Lapu, who defeated Ferdinand Magellan in the Battle of Mactan. Learn about this significant event in Philippine history.
Tops Skyline Garden: Take in panoramic views of Cebu City from the Tops Skyline Garden, a hilltop viewpoint that offers sweeping vistas of the cityscape and surrounding mountains.
Cebu IT Park: Immerse yourself in the vibrant atmosphere of Cebu IT Park, a bustling hub of technology, entertainment, and dining. Enjoy a meal at one of the trendy restaurants or unwind in a lively bar.
Cebu Taoist Temple: Discover another Taoist temple in Cebu, known for its colorful architecture and peaceful ambiance. Explore its ornate interiors and soak in the serenity of the surroundings.
Carbon Market: Immerse yourself in the lively atmosphere of Carbon Market, Cebu's oldest and largest market. Engage with the locals, sample local delicacies, and shop for fresh produce, clothing, and handicrafts.
Magellan's Marker: Visit the Magellan's Marker, located in Punta Engaño, Mactan Island. This site commemorates the spot where Ferdinand Magellan was believed to have been killed during the Battle of Mactan.
Cebu Ocean Park: Dive into the underwater world at Cebu Ocean Park. Explore various exhibits showcasing marine life, enjoy interactive displays, and even swim with sharks and rays in a controlled environment.
Tops of Cebu: Experience a thrilling adventure at Tops of Cebu, an outdoor recreational park situated atop the hills. Enjoy exhilarating activities such as ziplining, rappelling, and horseback riding while reveling in panoramic views.
Cebu Safari and Adventure Park: Embark on a safari adventure at Cebu Safari and Adventure Park. Encounter a wide array of animals, including giraffes, zebras, tigers, and more, in their natural habitats.
Jumalon Butterfly Sanctuary: Immerse yourself in the captivating world of butterflies at Jumalon Butterfly Sanctuary. Learn about different species, witness their life cycle, and stroll through lush gardens.
Temple of Leah: Marvel at the grandeur of the Temple of Leah, a tribute to undying love and devotion. This Roman-inspired structure showcases exquisite sculptures, intricate designs, and offers stunning views of the city.
Cebu Taoist Temple: Explore the peaceful Cebu Taoist Temple and discover its serene surroundings, ornate architecture, and cultural significance. Take part in rituals and enjoy sweeping views of Cebu City.
Sky Experience Adventure: Get your adrenaline pumping at Sky Experience Adventure, located at the Crown Regency Hotel. Try thrilling activities such as the Edge Coaster and the Sky Walk Extreme, offering breathtaking views from atop a skyscraper.
Cebu Happy World Museum: Unleash your inner child at the Cebu Happy World Museum, an interactive museum filled with colorful exhibits, optical illusions, and fun installations perfect for photo opportunities.
Island Hopping: Take a boat tour and explore the picturesque islands surrounding Cebu City. Discover hidden beaches, swim in crystal-clear waters, and snorkel or dive in vibrant coral reefs teeming with marine life.
Lapu-Lapu City Hall: Visit the Lapu-Lapu City Hall, a unique architectural marvel shaped like a lapu-lapu (grouper fish). Admire the intricate design and learn about the local government's initiatives.
Cebu Walking Tour: Join a walking tour to discover the city's hidden gems and local hotspots. Experience the vibrant street life, learn about Cebu's culture and history from knowledgeable guides, and sample delectable street food along the way.
These top attractions and activities offer a glimpse into the rich cultural heritage, natural beauty, and modern vibrancy of Cebu City. Embrace the spirit of adventure and embark on a journey that will leave you with lasting memories of this dynamic destination.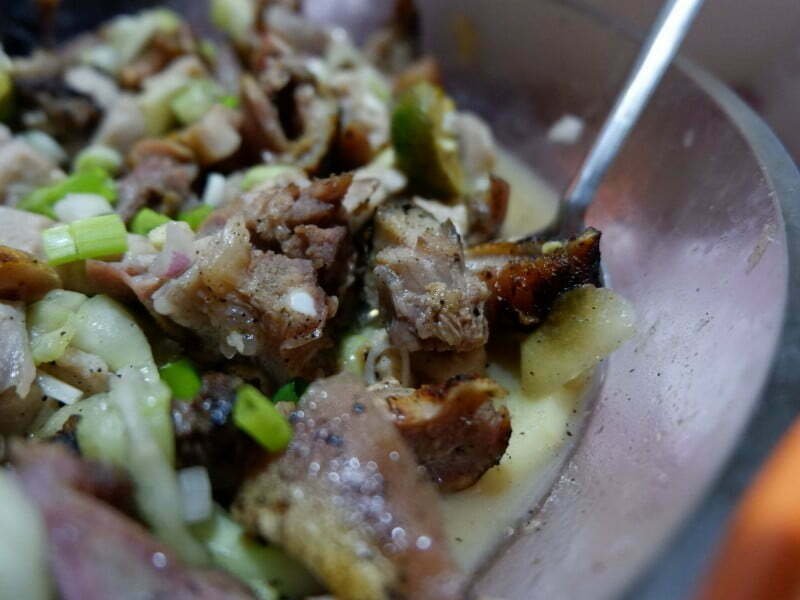 What To Eat and Drink in Cebu, Philippines
When it comes to culinary delights, Cebu City offers a treasure trove of flavors that will tantalize your taste buds. Here are some must-try dishes and beverages that showcase the unique culinary heritage of Cebu:
Lechon: Cebu is renowned for its succulent roasted pig, known as lechon. Indulge in the crispy skin and tender meat, infused with aromatic herbs and spices. A visit to Cebu is incomplete without savoring this iconic dish.
Sinuglaw: Sinuglaw is a delightful fusion of two popular dishes – sinugba (grilled meat) and kinilaw (raw seafood marinated in vinegar). This refreshing and tangy dish combines grilled pork belly or fish with marinated raw fish, onions, chili, and calamansi juice.
Cebuano Chorizo: Sample Cebu's flavorful chorizo, a distinctive sausage made from ground pork seasoned with native spices and garlic. Enjoy it grilled, fried, or as an ingredient in various dishes.
Danggit: Taste Cebu's famous dried fish, known as danggit. These sun-dried and salted fish are typically served for breakfast, accompanied by rice, eggs, and vinegar. Their savory flavor and crispy texture make them a local favorite.
Puso: Puso, or hanging rice, is a unique way of cooking rice in Cebu. It is wrapped in coconut leaves, giving it a distinct triangular shape. Puso is commonly served with grilled meats and seafood, making it a staple in local meals.
Ginabot: If you're craving a savory and crispy snack, try ginabot. These deep-fried pork intestines are seasoned with spices and served with a side of vinegar or spicy sauce. It's a popular street food in Cebu.
Sutukil: Experience the best of Cebu's seafood by trying sutukil, a combination of three cooking methods: sugba (grilled), tuwa (soup), and kilaw (ceviche). Choose your favorite seafood, and have it prepared in any of these styles for a flavorful and satisfying meal.
Balut: For the adventurous foodie, consider trying balut, a fertilized duck egg with a partially developed embryo inside. It's a popular street food that locals enjoy as a savory snack.
Chicharon: Indulge in Cebu's crunchy and flavorful chicharon, a snack made from deep-fried pork rinds. It's a delightful treat to enjoy on its own or paired with a vinegar dip.
Mangoes: Cebu is famous for its sweet and juicy mangoes. Whether you have them fresh, in desserts like mango float or mango sago, or in the form of dried mangoes, savor the tropical goodness of Cebu's mangoes.
When it comes to drinks, Cebu offers refreshing and unique options to quench your thirst:
Fresh Buko Juice: Sip on the refreshing juice of young coconuts, known as buko juice. It's a hydrating and healthy beverage that perfectly complements the tropical climate of Cebu.
Sago't Gulaman: Enjoy a classic Filipino drink made with sago (tapioca pearls), gulaman (gelatin), brown sugar syrup, and crushed ice. It's a sweet and satisfying drink that provides a delightful burst of flavors.
Tablea Hot Chocolate: Warm up with a comforting cup of tablea hot chocolate, made from locally sourced cacao tablets. Rich, creamy, and slightly bitter, it's a traditional Filipino beverage that offers a taste of indulgence.
Cebu Craft Beers: If you're a beer enthusiast, don't miss the opportunity to try Cebu's craft beers. The city boasts a burgeoning craft beer scene with breweries offering a variety of locally brewed beers, from refreshing ales to flavorful stouts. Sample different brews and savor the unique flavors created by local brewers.
Tsokolate Eh: Experience the traditional Filipino hot chocolate, known as Tsokolate Eh. Made from tablea (roasted cocoa beans), it's a rich and velvety drink that embodies the comforting flavors of chocolate. Pair it with local delicacies like puto (steamed rice cake) or sikwate (dipping rice cake) for a truly delightful experience.
Cebuano Coffee: Cebu is also known for its coffee culture. Savor a cup of locally grown and freshly brewed coffee, showcasing the rich flavors of Cebuano coffee beans. Whether you prefer a classic brew or specialty coffee concoctions, Cebu's coffee shops offer a range of options to satisfy your caffeine cravings.
Halo-Halo: Cool down with a refreshing bowl of halo-halo, a popular Filipino dessert. This delightful concoction combines crushed ice, sweetened fruits, jellies, beans, and a scoop of ice cream, all topped with evaporated milk. It's a colorful and indulgent treat that captures the tropical flavors of Cebu.
Fruit Shakes: Cebu's abundance of tropical fruits makes it the perfect place to enjoy fresh fruit shakes. Sip on a refreshing blend of mango, pineapple, watermelon, or any combination you desire, and experience the vibrant flavors of the region.
Cebuano Cocktails: Treat yourself to Cebuano-inspired cocktails that feature local ingredients and flavors. Whether it's a mango mojito, calamansi margarita, or a unique creation by talented mixologists, Cebu's cocktail scene offers a diverse range of libations to elevate your drinking experience.
Sugarcane Juice: Quench your thirst with a glass of freshly extracted sugarcane juice. This natural and revitalizing drink is a perfect way to cool down and enjoy the natural sweetness of Cebu's sugarcane.
In Cebu, the culinary landscape is a celebration of flavors, showcasing the region's diverse cultural influences and abundant natural resources. From mouthwatering dishes to refreshing beverages, Cebu's food and drink scene promises a delightful journey of taste and exploration. Embrace the local flavors, indulge in the traditional favorites, and create unforgettable gastronomic memories during your visit to Cebu.
Top Restaurants In Cebu, Philippines
Here are some of the top restaurants in Cebu:
Abaca Baking Company: Known for its artisanal bread, pastries, and all-day breakfast options, Abaca Baking Company offers a cozy ambiance and delectable dishes that cater to various dietary preferences.
Anzani: Anzani is a fine dining restaurant that combines Mediterranean and Asian flavors to create a unique culinary experience. With its elegant setting and innovative dishes, it is a favorite among food enthusiasts.
La Vie Parisienne: This charming French bakery and wine shop is a haven for those seeking authentic French pastries, bread, and a selection of wines. Enjoy a cozy ambiance and indulge in their delectable treats.
Maya Mexican Restaurant: Maya offers a vibrant and flavorful Mexican dining experience in Cebu. From classic tacos and quesadillas to tantalizing margaritas, it's a go-to spot for Mexican cuisine lovers.
Lantaw Native Restaurant: Perched on a hilltop, Lantaw Native Restaurant offers stunning panoramic views of Cebu City while serving delectable Filipino dishes. Feast on traditional favorites such as crispy pata, kinilaw, and grilled seafood.
Circa 1900: Housed in a restored ancestral house, Circa 1900 offers a fusion of European and Filipino cuisine. With its elegant setting and a menu that highlights fresh ingredients, it promises a memorable dining experience.
Zubuchon: Known for its mouthwatering lechon (roast pig), Zubuchon has gained popularity for its succulent and flavorful roast. Pair it with their homemade sauces and local side dishes for a true Cebuano feast.
The Pig & Palm: Led by renowned Chef Jason Atherton, The Pig & Palm offers a modern and innovative dining experience. The menu features a blend of international and local flavors, with a focus on fresh and seasonal ingredients.
Casa Verde: A Cebu institution, Casa Verde is famous for its generous portions of American comfort food. From their signature Brian's Ribs to mouthwatering burgers and desserts, it's a favorite among locals and tourists alike.
Ipar's Restaurante y Bar de Tapas: Indulge in authentic Spanish flavors at Ipar's, where you can savor a variety of tapas, paella, and traditional Spanish dishes. The cozy ambiance and warm hospitality add to the overall dining experience.
Mooon Cafe: Mooon Cafe is a casual dining spot that offers a mix of Mexican, American, and Filipino dishes. Enjoy their extensive menu, lively atmosphere, and signature dishes like sizzling fajitas and cheesy nachos.
The Social: With its chic and trendy setting, The Social offers a fusion of international flavors and creative cocktails. It's a popular spot for brunch, lunch, and dinner, with an inviting ambiance and attentive service.
Chika-an sa Cebu: Chika-an sa Cebu showcases the best of Cebuano cuisine, serving classic Filipino dishes with a local twist. From seafood specialties to traditional Filipino favorites, it's a place to savor the flavors of the region.
Anzani Prime: Anzani Prime offers a sophisticated dining experience with its selection of prime steaks, seafood, and international cuisine. The elegant ambiance and attentive service make it a top choice for special occasions.
Shaka: For those seeking healthy and refreshing options, Shaka is a go-to place for smoothie bowls, fresh juices, and vegan delights. Embrace the tropical vibes and nourish your body with their wholesome offerings.
These top restaurants in Cebu showcase the city's diverse culinary landscape, ranging from international cuisine to traditional Filipino favorites. Each establishment offers a unique dining experience, highlighting the diverse flavors and culinary expertise found in Cebu. Whether you're looking for fine dining, casual eateries, or international cuisine, Cebu has a restaurant to satisfy every palate. Embark on a gastronomic adventure and indulge in the vibrant culinary scene that Cebu has to offer. From savoring succulent lechon to delighting in Mediterranean delicacies, these top restaurants in Cebu will leave you with a memorable and satisfying dining experience.
Tours For Visitors To Cebu, Philippines
Here are some tour ideas for visitors to Cebu:
Cebu City Tour: Explore the highlights of Cebu City with a guided tour that takes you to historical landmarks such as Magellan's Cross, Basilica Minore del Santo Niño, and Fort San Pedro. Learn about the city's rich history and immerse yourself in its cultural heritage.
Mactan Island-Hopping Tour: Discover the stunning islands and pristine beaches surrounding Mactan Island on a day tour. Hop aboard a boat and visit popular spots like Nalusuan Island, Hilutungan Island, and Pandanon Island. Snorkel, swim, and bask in the natural beauty of the marine sanctuaries.
Oslob Whale Shark Encounter: Embark on an exciting adventure to Oslob and witness the gentle giants of the sea – whale sharks. Swim alongside these magnificent creatures and get up close to observe their beauty and grace.
Kawasan Falls Canyoneering: For adrenaline junkies, the Kawasan Falls Canyoneering tour is a must-do. Traverse through canyons, jump off cliffs, swim in natural pools, and marvel at the cascading waterfalls of Kawasan.
Bohol Countryside Tour: Take a day trip to Bohol and explore its scenic countryside. Visit the famous Chocolate Hills, meet the adorable tarsiers at the Tarsier Sanctuary, cruise along the Loboc River, and explore the centuries-old Baclayon Church.
Badian Island Hopping and Pescador Island Snorkeling: Experience the natural wonders of Badian with an island-hopping and snorkeling tour. Discover the vibrant marine life around Pescador Island, relax on the pristine beaches, and enjoy a picnic lunch on the islands.
Olango Island Wildlife Sanctuary: Embark on a bird-watching adventure at the Olango Island Wildlife Sanctuary. Observe various bird species, including migratory birds, as they rest and feed in this protected area.
Cebu Highlands Tour: Escape the city and venture into the scenic Cebu highlands. Visit the Sirao Flower Farm, enjoy panoramic views from Tops Lookout, and experience the cool mountain breeze in Busay.
Pescador Island and Moalboal Sardine Run: Dive into the underwater paradise of Moalboal and witness the famous sardine run. Swim amidst thousands of sardines as they create mesmerizing formations in the crystal-clear waters.
Cebu Culinary Tour: Indulge in a culinary adventure and sample Cebu's diverse flavors. Join a food tour that takes you to local markets, street food stalls, and iconic eateries, where you can taste Cebu's signature dishes and delicacies.
Cebu Safari Adventure Park: Embark on a wildlife safari adventure at Cebu Safari Adventure Park. Get up close to a variety of animals, including giraffes, tigers, and zebras, and enjoy thrilling activities such as the Skywalk and Zip Line.
Bantayan Island Day Tour: Escape to the picturesque Bantayan Island on a day tour. Relax on the pristine white sand beaches, snorkel in the clear waters, and savor a fresh seafood lunch.
Cebu River Cruise: Take a leisurely river cruise along the tranquil waters of the Loboc River. Enjoy a buffet lunch on board while being serenaded by local musicians and taking in the lush scenery.
Moalboal Island Hopping: Explore the enchanting islands near Moalboal, including Pescador Island and Turtle Point. Snorkel alongside sea turtles, marvel at the vibrant coral reefs, and enjoy the beauty of the underwater world.
Simala Shrine Pilgrimage: Embark on a spiritual journey to the Simala Shrine, located in Sibonga, Cebu. This iconic shrine is a popular pilgrimage site known for its miraculous statue of the Virgin Mary. Explore the beautifully designed complex, attend a mass, and offer prayers for your intentions.
Cebu Chocolate and Coffee Tour: Delve into the world of chocolate and coffee production in Cebu with a specialized tour. Visit local farms and plantations to learn about the cultivation and processing of these delectable treats. Engage in tasting sessions and discover the rich flavors and aromas that make Cebu's chocolate and coffee unique.
Cebu Cultural Village Tour: Immerse yourself in Cebu's rich cultural heritage with a visit to a cultural village. Experience traditional dances, music performances, and local crafts demonstrations. Learn about the indigenous cultures that have shaped the island's identity.
Cebu Street Art Tour: Embark on a walking tour to explore Cebu's vibrant street art scene. Wander through neighborhoods adorned with colorful murals, graffiti, and art installations. Learn about the stories behind the artwork and gain insights into the local artistic community.
Cebu Hiking Adventure: Lace up your hiking boots and conquer the scenic trails of Cebu. Explore mountains like Osmena Peak, the highest point in Cebu, or Mount Manunggal, known for its historical significance. Enjoy breathtaking views and immerse yourself in nature's beauty.
Cebu Island Motorcycle Tour: Discover the stunning landscapes of Cebu on a thrilling motorcycle tour. Ride through winding coastal roads, explore hidden beaches, and venture into the countryside to experience the island's diverse scenery.
Cebu Handicrafts and Souvenir Shopping Tour: Take a tour of Cebu's renowned handicraft and souvenir shops. Browse through a wide selection of locally made products, including handmade crafts, fashion accessories, home decor, and traditional Filipino items. Find the perfect memento to commemorate your visit to Cebu.
Cebu Waterfalls Adventure: Embark on an adventure to chase waterfalls in Cebu. Visit enchanting cascades such as Kawasan Falls, Tumalog Falls, and Mantayupan Falls. Swim in refreshing pools, hike through lush forests, and capture the natural beauty of these stunning water features.
Cebu Sunset Cruise: Set sail on a romantic sunset cruise along the coast of Cebu. Enjoy panoramic views of the skyline as the sun dips below the horizon, painting the sky with hues of orange and pink. Indulge in a sumptuous dinner and raise a toast to an unforgettable experience.
Cebu Bike Tour: Explore Cebu's urban and rural areas on a bike tour. Pedal through city streets, coastal paths, and countryside trails, immersing yourself in the local scenery and culture. Discover hidden gems and experience Cebu from a unique perspective.
Cebu Diving Expedition: Dive into Cebu's underwater paradise with a diving expedition. Explore vibrant coral reefs, encounter diverse marine life, and discover the beauty of underwater ecosystems. Cebu offers numerous dive sites suitable for both beginners and experienced divers.
These tours provide a range of experiences, allowing you to immerse yourself in the natural beauty, cultural heritage, and adventurous spirit of Cebu. Choose the ones that resonate with your interests and preferences to make the most of your visit to this captivating destination.
Cebu Accommodations Guide: Hotels, Guesthouses and Hostels
Cebu offers a wide range of accommodations to suit every traveler's needs, from luxurious hotels to budget-friendly options. Here's a guide to help you find the perfect place to stay in Cebu:
Luxury Hotels: For those seeking ultimate comfort and luxury, Cebu boasts several high-end hotels with world-class amenities and impeccable service. Some popular luxury hotels include Shangri-La's Mactan Resort and Spa, Radisson Blu Cebu, and Marco Polo Plaza Cebu.
Beach Resorts: Cebu is renowned for its stunning beaches, and there are numerous beachfront resorts where you can enjoy sun, sand, and sea. Resorts like Plantation Bay Resort and Spa, Crimson Resort and Spa Mactan, and Bluewater Maribago Beach Resort offer private beaches, water sports activities, and luxurious accommodations.
City Center Hotels: If you prefer to stay in the heart of Cebu City, there are plenty of hotels conveniently located near major attractions, shopping centers, and dining establishments. Recommended options include Cebu City Marriott Hotel, Quest Hotel and Conference Center, and Harolds Hotel.
Boutique Hotels: For a unique and intimate experience, consider staying in one of Cebu's boutique hotels. These properties offer stylish and personalized accommodations, often reflecting the local culture and design. Some noteworthy boutique hotels in Cebu include The Henry Hotel, Circa 1900 Casa Dos, and La Gloria Residence Inn.
Budget-Friendly Accommodations: Cebu also offers numerous budget-friendly options for travelers on a tight budget. Hostels and guesthouses are available in various locations, providing affordable and comfortable accommodations. Check out options like Sugbutel Bed and Bath, Murals Hostel, and Islands Stay Hotel – Uptown.
Serviced Apartments: If you're planning an extended stay or prefer the convenience of a fully equipped kitchen and living area, serviced apartments are a great choice. Properties like Bai Hotel Cebu, Avenir Condominium, and Alicia Apartelle provide spacious and well-appointed apartments with hotel-like amenities.
Bed and Breakfasts: Experience warm Filipino hospitality by staying in a cozy bed and breakfast. These establishments often offer personalized service and a homey atmosphere. Consider options like Casa Escano Bed and Breakfast, Cebu Guesthouse, and Balay Bakasyunan Boutique Hostel.
Eco-Lodges and Nature Retreats: For nature enthusiasts, there are eco-lodges and nature retreats in Cebu that provide a serene and environmentally friendly setting. Places like Buwakan ni Alejandra, Camp Marina Adventure Park, and Tubod Flowing Waters Resort offer a unique escape into nature.
When choosing your accommodation, consider factors such as location, proximity to attractions, amenities, and budget. Cebu's diverse range of accommodations ensures that there is something for everyone, whether you're seeking luxury, convenience, or a unique experience. Book your preferred accommodation in advance to secure the best options and make your stay in Cebu memorable and comfortable.
Day Trips From Cebu, Philippines
Cebu is a gateway to many exciting day trip destinations that showcase the natural beauty, cultural heritage, and adventure opportunities in the region. Here are some popular day trips from Cebu:
Bohol Island: Take a ferry from Cebu to Bohol and explore its stunning attractions. Visit the iconic Chocolate Hills, see the adorable tarsiers at the Tarsier Conservation Area, cruise along the Loboc River, and visit the centuries-old Baclayon Church.
Oslob: Head to Oslob to swim with whale sharks, an incredible and unforgettable experience. You can also visit the nearby Tumalog Falls, a picturesque waterfall where you can cool off and enjoy the natural beauty of the surroundings.
Moalboal: Discover the underwater wonders of Moalboal, known for its vibrant coral reefs and marine biodiversity. Go snorkeling or diving at Pescador Island, where you can encounter turtles and a variety of colorful fish.
Bantayan Island: Escape to the pristine shores of Bantayan Island, known for its crystal-clear waters and powdery white sand beaches. Relax under the sun, swim in the turquoise sea, and savor fresh seafood.
Camotes Islands: Visit the picturesque Camotes Islands, a tropical paradise with beautiful beaches, caves, and rock formations. Explore the stunning Santiago Bay, dive into the crystal-clear waters of Tulang Diot Island, and discover the enchanting beauty of Buho Rock.
Malapascua Island: Known for its beautiful coral reefs and the chance to spot thresher sharks, Malapascua Island is a haven for diving enthusiasts. Dive into the vibrant underwater world and explore the diverse marine ecosystem.
Sumilon Island: Experience the beauty of Sumilon Island, located off the southeastern coast of Cebu. Relax on its pristine white sand beaches, snorkel along the coral reefs, and take a dip in the stunning blue lagoon.
Kawasan Falls: Take a trip to Badian and marvel at the majestic Kawasan Falls. Swim in the refreshing turquoise waters, go bamboo rafting, or trek through the lush jungle to reach the higher tiers of the falls.
Olango Island: Visit Olango Island, a paradise for birdwatchers. Explore the Olango Island Wildlife Sanctuary and witness the migratory birds that make their stopover here during their long journeys.
Simala Shrine: Journey to the Simala Shrine in Sibonga, a famous pilgrimage site in Cebu. Admire the grand architecture, ornate interiors, and religious artifacts while immersing yourself in the serene atmosphere.
Cebu Safari and Adventure Park: Embark on a wildlife adventure at Cebu Safari and Adventure Park. Encounter a wide variety of animals, including giraffes, tigers, zebras, and more, as you explore this vast animal sanctuary.
Sirao Flower Farm: Experience a burst of vibrant colors at the Sirao Flower Farm. Stroll through fields of beautiful blooms, including the iconic celosia flowers, and capture stunning photos amidst the colorful landscape.
Temple of Leah: Visit the Temple of Leah, a grand structure inspired by ancient Roman architecture. Marvel at its intricate design, statues, and sweeping views of the city.
Whale Shark Watching in Tanawan: Head to Tanawan and have a thrilling encounter with whale sharks in their natural habitat. Witness these gentle giants up close and learn about their conservation efforts.
Cebu White Water Rafting: Experience an adrenaline-pumping adventure with white water rafting in Cebu. Navigate through the rapids of Cebu's rivers, surrounded by lush landscapes and breathtaking scenery.
These day trips from Cebu offer a diverse range of experiences, allowing you to explore the natural wonders, cultural treasures, and thrilling activities that the region has to offer. Whether you're seeking beach relaxation, wildlife encounters, underwater exploration, or cultural immersion, there's something for everyone.
When planning your day trips, consider factors such as travel time, transportation options, and the specific activities or attractions you're interested in. Some trips may require advance booking or guided tours, while others can be easily explored independently.
Remember to bring essentials such as sunscreen, comfortable footwear, swimwear, and a camera to capture the memorable moments. Additionally, be mindful of local customs and regulations, such as respecting wildlife and following safety guidelines for water activities.
Cebu's proximity to numerous stunning destinations makes it an ideal base for day trips, allowing you to make the most of your time and create lasting memories. So, pack your sense of adventure, immerse yourself in the beauty of the surroundings, and embark on unforgettable day trips from Cebu.
Cebu Transportation Guide
Getting around Cebu is relatively easy, thanks to the various transportation options available. Here's a transportation guide to help you navigate the city:
Taxis: Taxis are a convenient mode of transportation in Cebu. You can easily hail a taxi on the street or find them at taxi stands in popular areas. Make sure the taxi driver uses the meter or agree on a fare before starting your journey.
Grab: Grab is a popular ride-hailing service in Cebu, similar to Uber. Simply download the Grab app on your smartphone, register, and book a ride to your desired destination. Grab offers a range of vehicle options, including cars and motorcycles, for different budgets and group sizes.
Jeepneys: Jeepneys are a unique and iconic mode of public transportation in the Philippines. These brightly colored, elongated jeeps operate along specific routes and can be hailed along the roadside. Jeepneys are an affordable option for short distances within the city and are a part of the local culture.
Buses: Cebu has a network of buses that connect different parts of the city and neighboring towns. There are both air-conditioned and non-air-conditioned buses available. Bus terminals are located in various areas, such as the Cebu North Bus Terminal and Cebu South Bus Terminal.
V-Hire/Van Services: V-Hires, or vans for hire, are another option for getting around Cebu. These vans operate on fixed routes and offer a faster and more comfortable alternative to buses. V-Hires can be found at designated terminals or can be chartered for private group transportation.
Motorcycles: For short distances or exploring narrow streets, motorcycles or motorbike taxis known as habal-habal can be a convenient option. Negotiate the fare before the ride and ensure you have the necessary safety gear, such as helmets.
Rental Cars: If you prefer the freedom and flexibility of having your own vehicle, you can rent a car from various rental agencies in Cebu. Make sure you have a valid driver's license and familiarize yourself with local traffic rules and regulations.
Tricycles: Tricycles are commonly found in local neighborhoods and offer a convenient way to navigate smaller streets and barangays (villages). They can accommodate up to three passengers and are a popular choice for short trips.
It's important to note that traffic conditions in Cebu can be congested, particularly during peak hours. Plan your travel accordingly, allowing extra time for potential delays.
When using public transportation, always be aware of your belongings and practice caution. It's advisable to carry small denominations of cash for fare payments and have a map or GPS navigation app to help you navigate the city.
By utilizing the various transportation options available in Cebu, you can easily explore the city's attractions, embark on day trips, and have a smooth and convenient travel experience.
Where To Visit After Your Trip To Cebu?
After your trip to Cebu, there are several incredible destinations in the Philippines that you can consider visiting. Here are some popular options:
Bohol: Just a short ferry ride from Cebu, Bohol offers a mix of stunning natural landscapes and cultural attractions. Explore the famous Chocolate Hills, visit the tarsier sanctuary, cruise along the Loboc River, and relax on the white sand beaches of Panglao Island.
Palawan: Known as the "Last Frontier" of the Philippines, Palawan is a tropical paradise renowned for its pristine beaches, crystal-clear waters, and breathtaking landscapes. Discover the underground river in Puerto Princesa, island-hop in El Nido, or dive into the rich marine life of Coron.
Siargao: For surf enthusiasts, Siargao is a must-visit destination. Known as the "Surfing Capital of the Philippines," Siargao offers world-class waves, pristine beaches, and a laid-back island vibe. Enjoy surfing, island-hopping, and exploring the unique rock formations of the island.
Boracay: Famous for its powdery white sand beaches and vibrant nightlife, Boracay is a popular tourist destination. Relax on the beautiful beaches, engage in water sports activities, and indulge in the island's lively dining and entertainment scene.
Dumaguete: Located in Negros Oriental, Dumaguete is known for its friendly atmosphere and easy access to beautiful natural wonders. Visit the stunning Casaroro Falls, explore the marine biodiversity of Apo Island, or take a relaxing stroll along Rizal Boulevard.
Camiguin: Known as the "Island Born of Fire," Camiguin boasts a unique landscape with volcanoes, waterfalls, and natural springs. Experience the island's hot and cold springs, visit the Sunken Cemetery, and enjoy the tranquility of White Island's pristine sandbar.
Iloilo and Guimaras: Explore the rich cultural heritage of Iloilo City, known for its Spanish colonial architecture and vibrant festivals. From Iloilo, you can take a short ferry ride to Guimaras Island, famous for its sweet mangoes and idyllic beaches.
Siquijor: Known for its mystic charm, Siquijor is an enchanting island with beautiful beaches and lush forests. Discover waterfalls, dive into vibrant coral reefs, and immerse yourself in the island's fascinating folklore and healing traditions.
Manila: As the capital city of the Philippines, Manila offers a blend of historical sites, modern attractions, and bustling city life. Explore the historic walled city of Intramuros, visit iconic landmarks like Rizal Park and Manila Ocean Park, and indulge in the city's vibrant food scene and shopping districts.
Batanes: If you're looking for a unique and remote destination, consider visiting Batanes. This group of islands in the northernmost part of the Philippines is known for its picturesque landscapes, rugged coastlines, and traditional Ivatan stone houses. Experience the tranquility of the rolling hills, explore ancient Ivatan villages, and take in the breathtaking views of the Pacific Ocean.
Dumaguete: Known as the "City of Gentle People," Dumaguete is a charming university town that offers a laid-back atmosphere and access to beautiful natural attractions. Visit the stunning Casaroro Falls, take a dip in the enchanting Pulangbato Falls, or embark on a dolphin-watching tour in nearby Bais City.
Davao City: Located in the southern part of the Philippines, Davao City is known for its natural beauty and vibrant culture. Explore Mount Apo, the highest peak in the Philippines, visit the Philippine Eagle Center, and indulge in the city's abundant fruits, including the famous durian.
Vigan: Step back in time with a visit to Vigan, a UNESCO World Heritage Site famous for its well-preserved Spanish colonial architecture. Take a leisurely stroll along Calle Crisologo, visit the historic Vigan Cathedral, and explore the ancestral houses that line the streets.
Camiguin: Known as the "Island Born of Fire," Camiguin is a volcanic island with stunning natural attractions. Visit the Katibawasan Falls, soak in the hot and cold springs of Ardent Hot Spring, and take a dip in the soda water pool of Sto. Niño Cold Spring.
Cagayan de Oro: For adventure seekers, Cagayan de Oro is the gateway to thrilling outdoor activities. Experience white-water rafting along the Cagayan River, go ziplining at Dahilayan Adventure Park, or explore the majestic Maria Cristina Falls.
Coron, Palawan: Coron is a tropical paradise known for its pristine beaches, crystal-clear lagoons, and breathtaking underwater landscapes. Explore the stunning Kayangan Lake, snorkel or dive among World War II shipwrecks, and take a dip in the enchanting Twin Lagoon.
Sagada: Escape to the mountainous region of Sagada, located in the province of Mountain Province. Discover the Hanging Coffins, go spelunking in the Sumaguing Cave, and witness the mesmerizing sunrise at Kiltepan Viewpoint. Sagada is also known for its rich cultural traditions and vibrant local community.
Sipalay: Experience the laid-back atmosphere of Sipalay, a coastal town in Negros Occidental. Relax on the pristine beaches, explore the marine biodiversity through snorkeling or diving, and marvel at the stunning sunsets that paint the sky with vibrant colors.
Pampanga: Indulge in the culinary delights of Pampanga, known as the "Culinary Capital of the Philippines." Experience a gastronomic adventure by trying iconic dishes such as sisig, kare-kare, and halo-halo. You can also visit historical sites like the San Guillermo Parish Church and the Nayong Pilipino Clark.
Zamboanga City: Discover the cultural heritage and natural beauty of Zamboanga City. Explore the historic Fort Pilar, stroll along the vibrant Paseo del Mar, and visit the mesmerizing pink sand beach of Sta. Cruz Islands. Immerse yourself in the unique blend of Filipino, Spanish, and Muslim cultures that shape the city's identity.
Dumaluan Beach, Panglao: Head to Dumaluan Beach in Panglao, Bohol, and unwind on its pristine white sand shores. Enjoy water sports activities, take a leisurely walk along the coast, and savor fresh seafood at beachside restaurants.
Batad Rice Terraces: Journey to the picturesque Batad Rice Terraces in Banaue, Ifugao. Marvel at the awe-inspiring rice terraces carved into the mountainside, hike to Tappiya Falls, and immerse yourself in the indigenous culture of the Ifugao people.
Malapascua Island: Visit Malapascua Island, known for its beautiful coral reefs and the chance to encounter thresher sharks. Dive into the rich marine ecosystem, relax on the pristine beaches, and enjoy the laid-back island vibe.
Apo Island: Experience a marine sanctuary like no other by visiting Apo Island, located off the coast of Dumaguete. Snorkel or dive to witness the vibrant coral reefs, swim with sea turtles, and appreciate the island's commitment to marine conservation.
Hinatuan Enchanted River: Discover the mystical beauty of Hinatuan Enchanted River in Surigao del Sur. Marvel at the enchanting turquoise waters, go swimming or snorkeling, and witness the river's unique phenomenon where fish mysteriously appear during feeding time.
These destinations offer a diverse range of experiences, from stunning natural beauty to cultural immersion. Whether you're seeking adventure, relaxation, or exploration, each place has its unique charm and attractions to captivate your senses.
Consider factors such as travel time, budget, and your specific interests when planning your post-Cebu trip. Each destination has its own transportation options and accommodations to suit your needs.
Whichever destination you choose, the Philippines promises unforgettable experiences and warm hospitality, allowing you to continue your exploration of this beautiful country beyond Cebu.
Cebu Travel Guide: Final Thoughts
Cebu, known as the "Queen City of the South," is a captivating destination in the Philippines that offers a mix of natural beauty, cultural heritage, and vibrant city life. With its pristine beaches, historic sites, and warm hospitality, Cebu has something for every traveler.
Immerse yourself in the rich history of Cebu by exploring landmarks like Magellan's Cross, Fort San Pedro, and the Basilica Minore del Santo Niño. Dive into the vibrant underwater world by snorkeling or diving in Moalboal or Malapascua Island. Relax on the stunning beaches of Mactan or Bantayan Island and experience the lively atmosphere of Cebu City's bustling markets and shopping districts.
Savor the local flavors of Cebu through its diverse culinary scene, from mouthwatering lechon (roasted pig) to fresh seafood delicacies. Don't miss the opportunity to try the famous Cebuano street food and indulge in the unique combination of flavors that Cebuano cuisine offers.
As you navigate Cebu, you'll find a variety of transportation options to suit your needs, from taxis and ride-hailing services to jeepneys and buses. Plan your day trips to nearby destinations like Bohol, Oslob, or the Camotes Islands to expand your exploration beyond the city limits.
When it comes to accommodations, Cebu offers a range of options to cater to different budgets and preferences. Choose from luxury hotels, beach resorts, boutique accommodations, or budget-friendly guesthouses and hostels, ensuring a comfortable and enjoyable stay.
Throughout your journey, embrace the warmth and friendliness of the Cebuano people, known for their hospitality and welcoming nature. Be respectful of the local culture and customs, and take the time to immerse yourself in the local way of life.
Whether you're seeking adventure, relaxation, or cultural experiences, Cebu has it all. From its historical sites and natural wonders to its vibrant food scene and warm-hearted people, Cebu is a destination that will leave a lasting impression on your travel memories.
So pack your bags, embark on your Cebu adventure, and allow yourself to be captivated by the beauty and charm of this remarkable destination in the Philippines.
In the heart of the Philippines, a gem so grand, Lies Cebu, a traveler's wonderland. With pristine beaches, kissed by azure seas, And a vibrant culture that fills the breeze.
Step foot on its shores, where white sands embrace, As the sun's golden rays paint a heavenly space. Dive into waters teeming with vibrant life, Where coral gardens dance, a true delight.
Magellan's Cross, a symbol of history's embrace, Tells tales of the past, a captivating place. Basilica Minore del Santo Niño stands tall, A sanctuary of faith, inviting one and all.
Savor the flavors that Cebuano cuisine brings, Lechon's succulent taste, fit for kings. From fresh seafood delights to street food delights, A culinary journey that ignites.
From the bustling city, where markets come alive, To the quiet countryside, where nature thrives, Cebu's landscapes unfold, a breathtaking sight, Mountains, waterfalls, a true natural delight.
Bohol's Chocolate Hills beckon with grace, Oslob's whale sharks leave memories in their trace. Moalboal's reefs, a colorful paradise, And Bantayan's beaches, where serenity lies.
Embrace the warmth of the Cebuano smile, As locals greet you, going the extra mile. Experience festivals, vibrant and grand, Sinulog's dance, a spectacle so grand.
So, wanderer, let Cebu capture your soul, Let its beauty and charm make you whole. From adventure to serenity, it offers it all, Cebu, a destination that will enthrall.