Cetinje Travel Guide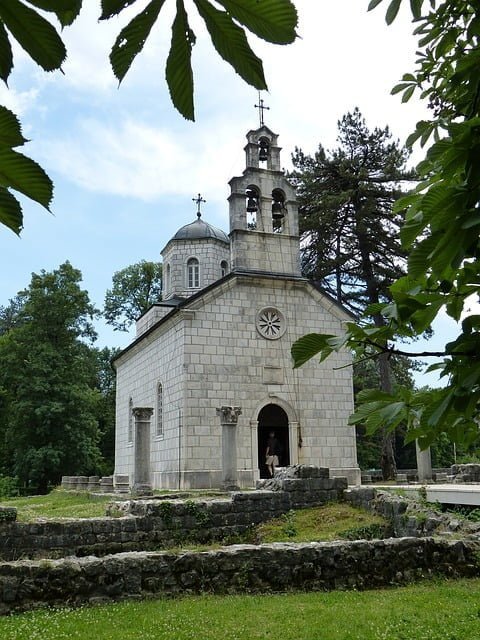 Introduction
While Podgorica is the the capital of Montenegro, Cetinje used to be the seat of the royal family. Today, it's a town rather than a city, but it contains many attractions of historical and cultural value. From museums to monasteries to national parks, there's much to see here.
Come check out our Cetinje travel guide as we cover the best things to do in Cetinje, Montenegro.
Top Attractions
Cetinje is an important city in Montenegro with much to see. However, you should head out of town to see Lovcen National Park first. This protected area preserves Mount Lovcen, which served as the inspiration for the name "Montenegro". Monte means mountain, and negro means black – that's the colour of the rock which composes this peak.
While this park is home to numerous cycling and hiking trails, it also has tremendous historical importance. At the top of Mount Lovcen, you'll find a mausoleum of Petar Njegos. He was a noble and cultural icon that was beloved by many Montenegrins in the 19th century. Although his poems had a following, most of his fame stems from modernizing Montenegro.
Finally, the views from this park are legendary. Do not forget your photography equipment at your accommodation. If you do, the vistas over the Bay of Kotor will have you kicking yourself!
Lovcen National Park is a short seven-kilometre drive from Cetinje, but take your time. The road there contains many steep, hairpin curves. Be sure to have 2 EUR ready for your entry fee when you arrive.
Back in Cetinje, check out the many branches of the National Museum of Montenegro. Curators have spread its collection across five buildings. The Vladin Dom, or Historical Museum of Montenegro, is one of the most impressive. Here, you'll find artifacts dating from the Stone Age through to modern times. Highlights include the tunic (complete with bullet holes) that Prince Danillo wore before a hitman assassinated him.
Other branches include an Ethnographic Museum, Artistic Museum, and the Museum of Petar II Petrovic Njegos. However, none come close to matching the magnificence of King Nikola's Palace. Also known as the Museum of King Nikola, it used to be a royal residence – in 1926, authorities converted it into a museum.
The structure itself is an attraction. This palace contains elements of Art Nouveau, historicism, and neoclassicism in its design. Within, this museum will confront you with its regal connection straight away. As you walk in, the Montenegrin Crown Jewels are displayed, front and centre. Other displays show off the king's clothes, furniture, and even his hunting guns.
The admission fee to this museum is 5 EUR. While this is a reasonable price given the grandeur of this institution, it also comes with a guided tour in English. Pay attention, and you'll come away with a greater appreciation for this place.
Fans of religious attractions will not want to miss The Monastery of Saint Peter while in Cetinje. Ivan Crnojevic, a significant figure in Montenegrin history, founded this institution in the 15th century.
For centuries, as you might expect, it was a centre of Christian worship in the Cetinje area. However, this monastery played a central role in wars fought between the Venetians and the Ottoman Turks. T
The first time they captured Cetinje, they set out to rob the monastery of its relics. However, lightning struck as they went to take its cross. They took it as a sign and backed off. The Venetians retook Cetinje shortly after.
In the second war between Venice and the Ottoman Empire, the latter party again took control of Cetinje. This time, it was a negotiated surrender, but with a deadly twist. After the Venetians left, the Ottomans streamed into the monastery, determined to pillage it. However, they didn't know that the Venetians left a time bomb hidden in the building's structural supports. When it exploded, many Ottomans died.
Today, the monastery offers limited access to visitors. Only the outer courtyard and a couple of external chapels are open to the public. However, the exterior of this complex, plus the frescoes in the chapels, make a short visit here worth it.
Other Attractions
Lovers of outdoor activities will also want to consider a visit to Lipa Cave. Not to worry – you won't have to do any hardcore spelunking, as this is a vast cavern. The darker parts are lit, with accessible pathways in the early sections.
In all, there are up to 2.5 kilometres of pathways that are open to visitors. Be sure to bring warm clothes, though – temperatures inside average between 8 to 10 degrees Celsius!
While in Cetinje, satisfy your inner nerd with a visit to this city's Money Museum. Housed inside a former branch of the Central Bank of Montenegro, you'll find Montenegrin money from different periods. But, that's not all – its displays also have bills and coins from countries around the world.
Finally, take a selfie with a Montenegrin nation icon at the Monument to Ivan Crnojevic. As mentioned earlier, built The Monastery of Saint Peter. However, he was also a Montenegrin noble who founded Cetinje and fought in the wars against the Ottomans. As a result, Montenegrins see him as a founding father of modern-day Montenegro.