Welcome to Copenhagen, the vibrant capital city of Denmark! Situated on the eastern coast of the island of Zealand, Copenhagen is a city where rich history, innovative design, and a laid-back Scandinavian lifestyle converge. With its charming canals, stunning architecture, and world-renowned attractions, Copenhagen offers a unique blend of old-world charm and modern sophistication.
As you explore Copenhagen, you'll encounter a city that effortlessly combines historical landmarks with contemporary urban living. From the picturesque Nyhavn waterfront district lined with colorful 17th-century buildings to the majestic spires of Christiansborg Palace, the city's architectural gems tell stories of centuries past.
Copenhagen is renowned for its commitment to sustainability and quality of life. It is consistently ranked as one of the world's greenest and most livable cities, with an extensive cycling infrastructure and an abundance of green spaces. Discover the beauty of King's Garden, stroll along the lively Strøget shopping street, or relax in one of the city's many parks, such as the tranquil Tivoli Gardens or the lush Frederiksberg Gardens.
The city's cultural scene is thriving, with world-class museums, galleries, and performing arts venues. Explore the National Museum of Denmark to delve into the country's fascinating history, visit the impressive works of art at the Louisiana Museum of Modern Art, or catch a performance at the iconic Royal Danish Opera House.
Copenhagen is also celebrated for its culinary delights. Experience the innovative Nordic cuisine at Michelin-starred restaurants or sample traditional Danish dishes like smørrebrød (open-faced sandwiches) and Danish pastries. Don't miss a visit to the vibrant food markets, such as Torvehallerne, where you can savor local produce, cheeses, and artisanal creations.
With its progressive mindset, Copenhagen offers a wealth of experiences that cater to every traveler's interests. Whether you're interested in history, design, gastronomy, or simply immersing yourself in the Danish way of life, Copenhagen promises to captivate and inspire you.
So, grab your bike, embrace the hygge (coziness), and embark on a journey to uncover the wonders of Copenhagen. From its captivating sights and cultural treasures to its warm and welcoming atmosphere, the city invites you to experience the magic of Danish hospitality and create lasting memories.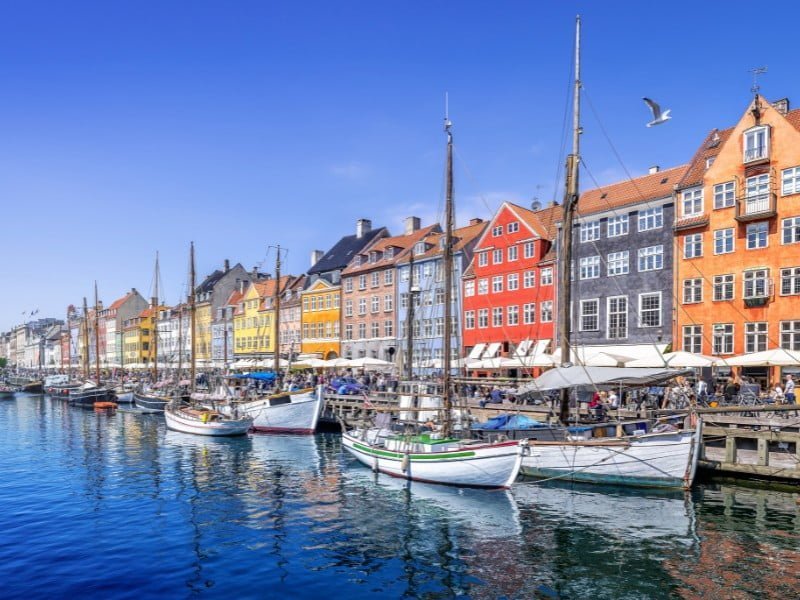 Copenhagen City Guide: A Brief History Of Copenhagen, Denmark
For travelers seeking to explore the rich history of Copenhagen, the city offers a captivating story that spans centuries. From its humble beginnings as a Viking fishing village to its rise as a powerful trading hub and the modern capital of Denmark, Copenhagen's history is filled with fascinating tales of triumph, resilience, and innovation.
Copenhagen's origins can be traced back to the 10th century when it was founded as a small settlement known as "Havn" (meaning harbor) by the Vikings. Over time, it grew in significance as a strategic location for trade and defense due to its proximity to the Baltic Sea and the Øresund Strait.
In the 12th century, Copenhagen was fortified with defensive walls and became a prosperous trading center. The city's growth was further propelled by the establishment of the Hanseatic League, a powerful trading alliance. During the reign of King Christian IV in the 17th century, Copenhagen underwent a major transformation. Grand buildings, such as Rosenborg Castle and the Round Tower, were constructed, shaping the city's distinctive architectural character that can still be admired today.
Copenhagen's maritime history played a crucial role in shaping its identity. The city's naval prowess was evident during the reign of King Christian IV, who initiated a significant expansion of the Danish navy. This era also witnessed the construction of iconic landmarks like the famous Nyhavn canal, which served as a bustling port and commercial hub.
In the 19th century, Denmark underwent a period of social and political change, transitioning from an absolute monarchy to a constitutional monarchy. During this time, Copenhagen experienced rapid industrialization and urban development. Notable landmarks, such as the City Hall and the famous amusement park Tivoli Gardens, were built, further enriching the city's architectural landscape.
Copenhagen played a significant role in World War II, as Denmark was occupied by Nazi Germany. However, the city's resistance movement and the rescue of the Danish Jewish population exemplified the spirit of courage and compassion during this challenging period.
In recent decades, Copenhagen has garnered international acclaim for its commitment to sustainability, urban planning, and quality of life. The city's architectural achievements, including modern landmarks like the Copenhagen Opera House and the Royal Danish Playhouse, reflect its ongoing dedication to innovative design and urban development.
Today, Copenhagen stands as a vibrant and cosmopolitan city, blending its rich history with a forward-thinking mindset. As travelers explore its cobblestone streets, historic buildings, and cultural attractions, they will discover a city that embraces its past while embracing the possibilities of the future.
Copenhagen Top Attractions and Best Places to Visit in Denmark
Serving as the capital of one of the world's happiest countries, the biggest city in Denmark is a friendly place that validates the former assertion.
From regal palaces to hippie communes, Copenhagen has plenty of cityscapes that will please visitors of all persuasions.
With an easygoing nature, you'll have a great time so long as you go with the flow, so adopt the attitude of the locals and spend a few days discovering its main attractions and hidden secrets.
Begin your cultural tour of Copenhagen by exploring Rosenborg Castle. Built in the Dutch Renaissance style in the 17th century, it was used as a royal residence until the 18th century, at which point it was only used by the royal family during national emergencies, such as when the British invaded in 1801.
Rosenberg is known to locals for two reasons: it is home to the nation's oldest royal garden, and it is also home to the crown that Christian IV wore when he was on the throne.
If exploring Rosenberg Castle only increased your appetite to see more of the properties that the Danish Royal Family has held over the years, then Christiansborg Palace should be next on your itinerary.
Serving as the present home of the Danish government and the Supreme Court, there are parts that are off limits to the public, but there are other sections of this beautiful complex that can be toured.
Of note here is the Throne Room, where monarchs are coronated and foreign diplomats are entertained, the Great Hall, where fine tapestries hang, and the Alexandra Hall, where state dinners are held.
Hans Christian Andersen is one of Denmark's most revered authors, so it's no surprise that there is a bronze statue in its harbour that honours The Little Mermaid, which was one of his most enduring stories.
Standing just four feet tall on a rock just off the Langelinie Promenade, this small but popular bust is one of the city's more popular landmarks, so be sure to come by earlier in the morning or later on in the day in order to get a good photograph of this iconic sight.
Other Cultural Attractions: Trip to Copenhagen, Denmark
When the time comes to relax and enjoy some peace during your stay in Copenhagen, make your way down to the Nyhavn district.
Formerly the heart of Copenhagen's commercial port where goods were loaded and offloaded from ships, it serves the city as an entertainment hub in the present day.
Brilliantly painted, there are many different sorts of restaurants, pubs and boutiques that can be found here, in addition to home and flats that used to be home to some of Denmark's most famous artists, not the least of which was Hans Christian Andersen. Be sure to stop by at Christmas, as the city's market sets up in the midst of its cobblestoned streets.
When a military base became disused in the early 1970's, counter culture activists moved in and squatted in the abandoned buildings. This act marked the birth of Freetown Christiania, a mostly self-governed commune that has become known for its freewheeling nature.
This has occasionally led to confrontations with the authorities, but for virtually all visitors, their time in Christiania will be a peaceful one.
Attractions of note here include murals, theatre groups, and art galleries, all of which embrace the hippie mentality of this community that has been around for more than forty years.
For those that are traveling with their families, or for those that are simply young at heart, a full day trip to Tivoli Gardens will keep kids and fun-loving adults engaged during your trip to the Danish capital.
Famous as the second oldest amusement park in the world (it was founded in 1843), this park offers an atmosphere of unbridled fun that left an indelible impression on Walt Disney, who then went on to found Disneyland back in America.
Ride one of the world's oldest roller coasters, or get an exhilarating view of Copenhagen from the top of the Star Flyer, which is the second tallest swing ride on Earth.

source: Global Village on YouTube
Top 26 Things To Do in Copenhagen, Denmark For Visitors
Here are the top 26 things to do in Copenhagen:
Explore Nyhavn: Immerse yourself in the vibrant atmosphere of Nyhavn, a historic waterfront district. Admire the colorful 17th-century buildings, enjoy a meal or drink at one of the waterfront restaurants or cafes, and take a canal boat tour to see the city from the water.
Visit Tivoli Gardens: Step into a fairytale world at Tivoli Gardens, a charming amusement park and garden. Experience thrilling rides, enchanting gardens with beautiful flowers and fountains, and nightly performances, including concerts and fireworks.
Discover the Little Mermaid: Pay homage to Hans Christian Andersen's beloved fairy tale by visiting the iconic Little Mermaid statue perched on a rock by the harbor. Marvel at the sculpture's grace and snap a photo with this Copenhagen icon.
Tour Christiansborg Palace: Dive into Danish history by exploring Christiansborg Palace, the seat of the Danish Parliament. Visit the royal reception rooms, the stunning Royal Chapel, and the ruins beneath the palace. Don't miss the chance to enjoy panoramic views from the tower.
Wander through Strøget: Indulge in a leisurely stroll along Strøget, one of Europe's longest pedestrian streets. Browse through an array of shops, from high-end fashion boutiques to Danish design stores, and enjoy street performers and lively street scenes.
Visit the National Museum of Denmark: Delve into Danish heritage at the National Museum of Denmark. Discover artifacts spanning from prehistoric times to the present day, including Viking treasures, ancient Egyptian mummies, and fascinating displays of Danish culture and history.
Admire the Rosenborg Castle: Step back in time at the magnificent Rosenborg Castle, a 17th-century royal residence surrounded by exquisite gardens. Explore the lavishly decorated rooms, view the Danish Crown Jewels, and enjoy a leisurely stroll through the manicured gardens.
Experience the Round Tower: Climb the unique spiral ramp of the Round Tower (Rundetårn) for panoramic views of Copenhagen's rooftops. The tower also houses a small observatory and hosts art exhibitions and cultural events.
Explore the Frederiksborg Castle: Venture outside of Copenhagen to Hillerød and visit the breathtaking Frederiksborg Castle. Admire the impressive Renaissance architecture, explore the opulent halls and chambers, and stroll through the beautifully landscaped gardens.
Discover the National Gallery of Denmark: Immerse yourself in art at the National Gallery of Denmark (SMK). Marvel at the extensive collection of European art, including masterpieces by Danish and international artists, spanning from the Middle Ages to the present.
Visit Amalienborg Palace: Witness the royal grandeur at Amalienborg Palace, the official residence of the Danish royal family. Watch the Changing of the Guard ceremony, explore the Royal Reception Rooms, and learn about Denmark's monarchy at the Amalienborg Museum.
Explore Christiania: Experience the bohemian atmosphere of Christiania, a self-governing neighborhood known for its alternative lifestyle and creative spirit. Walk through the colorful houses, visit art galleries and workshops, and enjoy the vibrant community atmosphere.
Enjoy the Carlsberg Brewery: Take a tour of the Carlsberg Brewery, where you can learn about the history of Carlsberg beer, explore the brewing process, and visit the Old Carlsberg Museum. Don't forget to taste some of their famous brews along the way.
Marvel at the Church of Our Saviour: Climb the winding staircase of the Church of Our Saviour (Vor Frelsers Kirke) for panoramic views of Copenhagen. Admire the stunning Baroque architecture and intricate details of the church's interior.
Visit the Royal Danish Opera House: Immerse yourself in the world of performing arts at the Royal Danish Opera House. Catch an opera, ballet, or classical music performance in this modern architectural masterpiece located on the waterfront.
Explore the Louisiana Museum of Modern Art: Venture outside the city to the Louisiana Museum of Modern Art, known for its impressive collection of contemporary and modern art. Wander through thought-provoking exhibitions, admire the stunning sculpture park, and enjoy panoramic views of the Øresund Strait.
Take a Canal Cruise: Embark on a leisurely canal cruise to discover Copenhagen's captivating architecture, charming neighborhoods, and iconic landmarks. Relax as you glide along the picturesque canals, passing by notable sites such as the Copenhagen Opera House and Christianshavn's picturesque houses.
Visit the Open-Air Museum, Frilandsmuseet: Step back in time at Frilandsmuseet, an open-air museum showcasing historic buildings from different regions of Denmark. Explore the traditional houses, farmsteads, and windmills, gaining insight into rural Danish life throughout the centuries.
Discover the Experimentarium: Unleash your curiosity at the Experimentarium, a hands-on science and technology museum. Engage with interactive exhibits, participate in science experiments, and delve into the wonders of physics, biology, and technology.
Shop at Torvehallerne: Indulge in a culinary journey at Torvehallerne, a bustling food market offering a wide array of gourmet delicacies. Sample Danish specialties, fresh produce, artisanal cheeses, and delectable pastries while immersing yourself in the vibrant atmosphere.
Relax at the Botanical Garden: Escape the city bustle and unwind in the peaceful oasis of the Botanical Garden. Wander through the beautifully landscaped gardens, marvel at the diverse plant species, and find a tranquil spot for a picnic or a leisurely stroll.
Explore the National Aquarium Denmark, Den Blå Planet: Dive into the underwater world at Den Blå Planet, Northern Europe's largest aquarium. Encounter mesmerizing marine life from around the globe, including sharks, colorful tropical fish, and playful sea otters.
Discover the Royal Reception Rooms at Christiansborg Palace: Marvel at the opulence of the Royal Reception Rooms in Christiansborg Palace. Admire the lavish interiors, exquisite tapestries, and royal artifacts that reflect Denmark's regal heritage.
Take a Bike Tour: Embrace the cycling culture of Copenhagen by joining a bike tour. Pedal your way through the city's bike-friendly streets, explore hidden gems, and gain insights into the city's history, culture, and urban planning.
Visit the Medical Museion: Step into the intriguing world of medical science at the Medical Museion. Discover the history of medicine, explore medical artifacts and exhibits, and learn about groundbreaking discoveries that have shaped modern healthcare.
Enjoy a Concert at Vega: Experience Copenhagen's vibrant music scene by catching a live concert at Vega. This popular music venue hosts a diverse range of local and international artists across various genres, offering memorable performances in an intimate setting.
These are just a few of the many exciting things to do and explore in Copenhagen. With its rich history, cultural treasures, and innovative spirit, the city invites you to embark on a memorable journey of discovery.
What To Eat and Drink in Copenhagen, Denmark
Copenhagen is a culinary hotspot that delights visitors with its diverse range of gastronomic offerings. From traditional Danish dishes to innovative Nordic cuisine, the city is a paradise for food lovers. Here are some must-try foods and drinks in Copenhagen:
Smørrebrød: Indulge in the Danish classic of smørrebrød, open-faced sandwiches topped with a variety of ingredients such as pickled herring, roast beef, smoked salmon, and creamy herb spreads. Sample these flavorful combinations at traditional Danish eateries like Aamanns or Schønnemann.
Danish Pastries: Treat yourself to delicious Danish pastries, known as wienerbrød. These flaky delights come in various forms, including cinnamon rolls (kanelsnegle), custard-filled buns (spandauer), and twisted pastries (kringle). Visit renowned bakeries like Meyers Bageri or Lagkagehuset to savor these sweet treats.
Smoked Fish: Copenhagen's proximity to the sea means you can enjoy an abundance of fresh seafood. Try smoked fish, such as smoked salmon (røget laks) or smoked eel (røget ål), for a true taste of the sea. Visit Fiskebaren or the Copenhagen Street Food market for a seafood feast.
Danish Hot Dogs: Grab a Danish hot dog, known as pølse, from one of the many street food stalls scattered around the city. Served in a bun with a variety of toppings like remoulade, crispy onions, pickles, and mustard, it's a quick and tasty snack.
New Nordic Cuisine: Copenhagen is renowned for its innovative approach to cuisine, known as New Nordic Cuisine. Experience the creations of talented chefs who emphasize local, seasonal ingredients and inventive techniques. Restaurants like Noma, Geranium, and Amass offer unforgettable dining experiences.
Smørrebrød Beer Pairing: Enjoy a traditional smørrebrød meal with a carefully selected beer pairing. Copenhagen's craft beer scene is thriving, and many restaurants and bars offer expertly chosen beers to complement the flavors of the smørrebrød. Try places like Øl & Brød or Fermentoren for this unique culinary experience.
Danish Cheese: Explore the world of Danish cheese, known for its quality and variety. Sample different types, such as Danablu (blue cheese), Havarti, or the creamy cow's milk cheese known as Arla Unika. Visit specialty cheese shops like Ostebørsen or indulge in a cheese platter at a local wine bar.
Aquavit: Raise a glass of aquavit, a traditional Scandinavian spirit flavored with herbs and spices. Enjoy it as a shot or sipped slowly, and experience the unique flavors of this iconic Nordic liquor. Try renowned brands like Aalborg or distilleries like Njord for a taste of Denmark's heritage.
Craft Beer: Copenhagen has a thriving craft beer scene, with numerous breweries and beer bars offering a wide selection of locally brewed beers. Visit Mikkeller, Warpigs, or Brus for a taste of the city's craft beer culture.
Danish Coffee Culture: Embrace Copenhagen's coffee culture by enjoying a cup of rich, aromatic coffee at one of the city's cozy cafes. The Danes take their coffee seriously, and you'll find a wide range of specialty coffee shops like Coffee Collective or Democratic Coffee to satisfy your caffeine cravings.
Rugbrød: Sample rugbrød, a traditional Danish rye bread known for its dense texture and rich flavor. Enjoy it as a base for smørrebrød or paired with various toppings like cheese, smoked salmon, or pickled herring.
Danish Pølsevogn: Experience the quintessential Danish street food culture by visiting a pølsevogn, a hot dog cart. Try different types of sausages, including rød pølse (red sausage) or medisterpølse (fried sausage), and customize your toppings with ketchup, mustard, remoulade, and crispy onions.
Frikadeller: Sink your teeth into frikadeller, Danish meatballs made from a mixture of ground pork or beef, onions, and spices. Often served with potatoes, gravy, and pickles, they are a comforting and flavorful dish.
Flødeboller: Indulge your sweet tooth with flødeboller, fluffy marshmallow treats coated in chocolate. These delicious confections come in various flavors like vanilla, raspberry, and licorice and are perfect for satisfying your dessert cravings.
Gammeldags Æblekage: Try gammeldags æblekage, a traditional Danish apple dessert. Layers of stewed apples, whipped cream, and crumbled biscuits create a delightful combination of sweet and tangy flavors.
Danish Craft Gin: Join the gin renaissance in Copenhagen and taste locally distilled craft gins. Explore botanical-infused spirits with unique flavors, such as Herbie Gin or Njord Gin, and enjoy them straight or in creative cocktails.
Nordic Seafood: Copenhagen is a seafood lover's paradise, offering a wide array of fresh and delicious catches from the surrounding waters. Sample Nordic specialties like smoked salmon, marinated herring, or succulent shrimp at seafood restaurants like Kødbyens Fiskebar or Fiskebaren.
Danish Pastry Cooking Class: Learn the art of Danish pastry making through a cooking class. Discover the secrets behind flaky croissants, cinnamon snails, and other mouthwatering pastries and bring the skills back home with you.
Craft Cocktails: Copenhagen boasts an exciting cocktail scene with bars that specialize in creative concoctions. Sip on expertly crafted cocktails made with local spirits, innovative flavors, and artistic presentations at places like Ruby, Lidkoeb, or Curfew.
Licorice Treats: Embrace Denmark's love for licorice by trying a variety of licorice-flavored candies and treats. From sweet to salty and mild to strong, there are licorice options to suit every palate. Visit specialty candy shops like Lakrids by Bülow for a unique licorice experience.
Danish Craft Beer Tasting: Immerse yourself in Copenhagen's craft beer revolution by participating in a beer tasting. Visit beer bars and breweries like BRUS, Warpigs, or Mikkeller Baghaven to sample a wide range of local craft brews.
Danish Ice Cream: Treat yourself to creamy Danish ice cream. Indulge in flavors like classic vanilla, chocolate, or unique combinations such as licorice or elderflower. Visit popular ice cream shops like Vaffelbageren or Istid for a refreshing sweet treat.
Copenhagen's culinary scene is diverse and constantly evolving, with a mix of traditional flavors and cutting-edge gastronomy. Whether you're seeking classic Danish dishes or contemporary Nordic creations, the city offers an array of culinary delights to satisfy every palate.
Top Restaurants In Copenhagen, Denmark
Copenhagen is home to a thriving culinary scene, with a wide range of restaurants that cater to diverse tastes and preferences. Here are some top restaurants in Copenhagen known for their exceptional cuisine:
Noma: Internationally acclaimed, Noma has been awarded multiple Michelin stars and has consistently been ranked among the world's best restaurants. Led by chef René Redzepi, Noma offers a unique dining experience with innovative Nordic cuisine using locally sourced ingredients.
Geranium: Another Michelin-starred gem, Geranium showcases the culinary brilliance of chef Rasmus Kofoed. Located on the eighth floor of a building in Fælledparken, Geranium offers breathtaking views of the city alongside its meticulously crafted dishes.
Amass: With a focus on sustainable dining, Amass delights diners with its inventive and seasonal dishes. Headed by chef Matt Orlando, a former Noma sous chef, the restaurant showcases modern Nordic cuisine with a touch of international flavors.
Relæ: This Michelin-starred restaurant, led by chef Christian Puglisi, is known for its innovative and experimental approach to Danish and European cuisine. Relæ offers a unique tasting menu that highlights the flavors of locally sourced organic ingredients.
Alchemist: Alchemist is a culinary journey that combines food, art, and science. Chef Rasmus Munk creates an immersive dining experience with a multi-course menu that surprises and delights the senses, pushing the boundaries of traditional cuisine.
Kadeau: Offering a taste of the Danish island of Bornholm, Kadeau presents a refined menu inspired by the island's unique terroir and nature. With its focus on local produce and craftsmanship, Kadeau offers an exceptional dining experience.
108: From the team behind Noma, 108 offers a more casual dining experience while still showcasing the culinary creativity and commitment to quality. The restaurant serves inventive dishes using seasonal and locally sourced ingredients.
Barr: Located in the historic former home of Noma, Barr celebrates the heritage of Nordic cuisine. The restaurant offers a menu that reinvents traditional recipes with modern twists, accompanied by a wide selection of beers from around the world.
Höst: With its cozy and rustic ambiance, Höst captures the essence of Danish hygge. The restaurant offers a menu that emphasizes simplicity and seasonality, with dishes that reflect the best of New Nordic cuisine.
AOC: AOC presents a fine dining experience with a focus on contemporary Nordic cuisine. The restaurant offers a tasting menu that highlights the use of local and sustainable ingredients, resulting in beautifully presented and flavorful dishes.
These are just a few examples of the top restaurants in Copenhagen, each offering its unique culinary approach and dining experience. It's recommended to make reservations in advance, as these popular establishments tend to fill up quickly.
Tours For Visitors To Copenhagen, Denmark
When visiting Copenhagen, there are various tours available that offer unique perspectives on the city's history, culture, and attractions. Here are some popular tours for visitors to Copenhagen:
City Sightseeing Bus Tour: Hop on a city sightseeing bus tour to explore Copenhagen's main landmarks and attractions. Enjoy the convenience of a hop-on-hop-off bus, allowing you to disembark at various stops and explore at your own pace.
Canal Boat Tour: Experience Copenhagen from its picturesque canals on a boat tour. Glide past iconic sights like the Little Mermaid statue, Christianshavn's charming canals, and the colorful buildings of Nyhavn while learning about the city's history from knowledgeable guides.
Walking Tour of the City Center: Embark on a guided walking tour of Copenhagen's city center to discover its hidden gems and historical landmarks. Stroll through the charming streets, visit landmarks like Amalienborg Palace, the Round Tower, and City Hall, and learn about the city's fascinating history and culture.
Christiansborg Palace Tour: Explore the impressive Christiansborg Palace, which houses the Danish Parliament, Supreme Court, and Royal Reception Rooms. Take a guided tour to discover the opulent interiors, royal artifacts, and historical significance of this architectural gem.
Food Tour: Indulge in a food tour to savor the flavors of Danish cuisine and explore Copenhagen's culinary scene. Sample traditional dishes, visit food markets, and learn about the city's gastronomic traditions and trends from local guides.
Bike Tour: Join a bike tour to experience Copenhagen like a local. Pedal through the city's bike-friendly streets, visit iconic landmarks, and explore neighborhoods such as Nørrebro and Vesterbro while learning about the city's history, culture, and urban lifestyle.
Rosenborg Castle and Gardens Tour: Visit the majestic Rosenborg Castle and its beautiful gardens on a guided tour. Explore the lavishly decorated royal chambers, view the Danish Crown Jewels, and enjoy a leisurely walk through the meticulously landscaped gardens.
Carlsberg Brewery Tour: Discover the history and brewing process of Carlsberg beer on a tour of the Carlsberg Brewery. Learn about the brand's legacy, visit the Old Carlsberg Museum, and enjoy tastings of their famous brews.
Christiania Walking Tour: Gain insight into the unique community of Christiania on a guided walking tour. Explore the self-governed neighborhood, learn about its alternative lifestyle, vibrant street art, and cultural significance from local guides.
Design and Architecture Tour: Copenhagen is renowned for its design and architecture. Take a tour that focuses on the city's iconic modern buildings, such as the Royal Danish Opera House, the Black Diamond, and the Royal Library Garden, to appreciate the city's innovative design scene.
These tours offer engaging and informative experiences that allow you to discover the best of Copenhagen's history, culture, landmarks, and culinary delights. Choose the tours that align with your interests and preferences to make the most of your visit to this captivating city.
Copenhagen Accommodations Guide: Hotels, Guesthouses and Hostels
Copenhagen, the capital of Denmark, offers a variety of accommodations to suit every traveler's needs and preferences. From luxury hotels to budget-friendly options, here's a comprehensive guide to help you find the perfect place to stay in Copenhagen:
Luxury Hotels: Copenhagen is home to several luxurious hotels that offer a combination of elegance, comfort, and top-notch amenities. Some notable options include Hotel d'Angleterre, Nimb Hotel, and Hotel Sanders. These properties provide spacious rooms, exceptional service, fine dining options, and often feature amenities such as spas, fitness centers, and stunning views.
Boutique Hotels: For a more personalized and intimate experience, consider staying in one of Copenhagen's boutique hotels. These unique properties often showcase stylish decor, distinct themes, and a cozy atmosphere. Hotel SP34, Hotel Kong Arthur, and Manon Les Suites are popular boutique hotels known for their character and attention to detail.
Design Hotels: Copenhagen is renowned for its design and architecture, and there are several design hotels that reflect this aesthetic. The Radisson Collection Royal Hotel, famously designed by Arne Jacobsen, is an architectural gem. Other design-focused options include AC Hotel Bella Sky Copenhagen and Skt. Petri Hotel, known for their contemporary and stylish interiors.
Budget-Friendly Accommodations: If you're traveling on a budget, Copenhagen offers a range of budget-friendly accommodations without compromising on comfort. Wakeup Copenhagen, Urban House Copenhagen, and CABINN City are affordable hotel options that provide clean and comfortable rooms, convenient locations, and basic amenities.
Apartment Rentals: For a more independent and home-like experience, consider renting an apartment or vacation home in Copenhagen. Platforms like Airbnb and Vrbo offer a wide selection of apartments and houses that allow you to live like a local, with the added convenience of amenities such as kitchens and living spaces.
Hostels: Copenhagen has a vibrant hostel scene, making it an ideal choice for budget-conscious travelers or those seeking a social atmosphere. Generator Copenhagen, Copenhagen Downtown Hostel, and Steel House Copenhagen are popular hostels that offer dormitory-style or private room accommodations, communal areas, and organized activities.
Bed and Breakfasts: Experience Danish hospitality by staying at a charming bed and breakfast in Copenhagen. These cozy accommodations often provide comfortable rooms and a delicious homemade breakfast. Sankt Annæ B&B, Ibsens Hotel, and Bedwood Hostel & Apartments are well-regarded options in the city.
Waterfront Hotels: Copenhagen's waterfront offers a captivating backdrop for your stay. Consider booking a waterfront hotel like Copenhagen Island Hotel, CPH Studio Hotel, or Copenhagen Admiral Hotel to enjoy beautiful views, proximity to the harbor, and easy access to waterfront attractions.
When choosing accommodations in Copenhagen, consider factors such as location, budget, amenities, and personal preferences. It's advisable to book in advance, particularly during peak travel seasons, to secure your desired accommodation. With its diverse range of options, Copenhagen has something to offer for every traveler, ensuring a comfortable and memorable stay in the Danish capital.
Day Trips From Copenhagen, Denmark
Copenhagen's central location and efficient transportation system make it an excellent base for exploring the surrounding areas. Here are some popular day trips from Copenhagen:
Frederiksborg Castle: Located in Hillerød, just a short train ride from Copenhagen, Frederiksborg Castle is a stunning Renaissance palace surrounded by beautiful gardens. Explore the opulent interiors, visit the Danish Museum of National History within the castle, and enjoy a leisurely stroll through the Baroque gardens.
Kronborg Castle: Journey to Helsingør, known as Elsinore in Shakespeare's Hamlet, and visit Kronborg Castle. This UNESCO World Heritage Site is one of Northern Europe's most important Renaissance castles. Explore the fortress, learn about its history, and enjoy the panoramic views of the Øresund Strait.
Roskilde: Just 30 minutes by train from Copenhagen, Roskilde offers a glimpse into Danish history and culture. Visit the impressive Roskilde Cathedral, a UNESCO World Heritage Site, and explore the Viking Ship Museum, where you can see reconstructed Viking ships and learn about their seafaring traditions.
Louisiana Museum of Modern Art: Head north of Copenhagen to Humlebæk and visit the renowned Louisiana Museum of Modern Art. Enjoy the museum's impressive collection of contemporary and modern art, explore the sculpture park, and savor the beautiful coastal views.
Malmö, Sweden: Take a short train ride across the Øresund Bridge to Malmö, Sweden's third-largest city. Stroll through the charming streets of the Old Town (Gamla Staden), visit Malmöhus Castle, or relax at the picturesque Kungsparken.
Stevns Klint: Venture south of Copenhagen to Stevns Klint, a UNESCO World Heritage Site known for its dramatic white chalk cliffs and fossil-rich geological formations. Explore the scenic coastal area, visit the Stevns Lighthouse, and learn about the site's significance in geological history.
Helsingborg, Sweden: Take a ferry from Copenhagen to Helsingborg, a charming Swedish city across the Øresund Strait. Explore the medieval Kärnan tower, stroll along the promenade, and enjoy the picturesque views of the coastline.
Dragsholm Castle: Located on the northwest coast of Zealand, Dragsholm Castle is a historic fortress surrounded by beautiful countryside. Explore the castle's intriguing history, dine at its renowned restaurant, and enjoy the peaceful surroundings.
Dyrehaven: Escape to the tranquil nature reserve of Dyrehaven, located just north of Copenhagen. This royal hunting ground offers beautiful woodlands, open meadows, and a population of free-roaming deer. Enjoy a leisurely walk or rent a bike to explore the scenic landscapes.
The Swedish Riviera: Discover the picturesque coastal towns of the Swedish Riviera, such as Mölle, Båstad, and Torekov. Relax on sandy beaches, explore charming villages, and enjoy fresh seafood along the scenic coastline.
These day trips offer a variety of experiences, from exploring historic castles to immersing yourself in art and nature. With easy access from Copenhagen, you can enjoy the diversity of the region and return to the comforts of the city by evening.
Copenhagen Transportation Guide
Copenhagen offers a well-developed and efficient transportation system that makes it easy to navigate the city and its surrounding areas. Here's a transportation guide to help you get around Copenhagen:
Metro: Copenhagen's metro system is one of the most convenient ways to travel within the city. It consists of two lines, M1 and M2, which connect various neighborhoods, tourist attractions, and the Copenhagen Airport. Trains run frequently, especially during peak hours, and are known for their cleanliness and reliability.
Trains: Denmark has an extensive rail network, and trains are an excellent option for traveling to destinations outside of Copenhagen. The main train station in Copenhagen is called Copenhagen Central Station (Københavns Hovedbanegård), and it offers connections to domestic and international destinations.
Buses: Copenhagen's bus network covers the entire city, including areas that are not serviced by the metro. Buses are a convenient option for reaching specific neighborhoods or attractions. Bus routes and schedules are available on the official website of Movia, the public transportation company.
S-trains: The S-train system is an integral part of Copenhagen's public transportation network. These suburban trains connect the city center with the surrounding suburbs and neighboring towns. S-trains run frequently and provide easy access to popular destinations like Frederiksborg Castle and Helsingør.
Bicycles: Copenhagen is renowned for its bike-friendly infrastructure, and cycling is a popular mode of transportation. You can rent bicycles from numerous rental shops or use the city's public bike-sharing system called Bycyklen. Copenhagen's flat terrain and well-marked bike lanes make it easy and enjoyable to explore the city on two wheels.
Taxis: Taxis are widely available in Copenhagen, and you can find them at designated taxi stands or book them through taxi apps. Taxis are metered, and prices can be relatively high compared to other modes of transportation. It's recommended to use licensed taxi companies to ensure fair prices and reliable service.
Ferries: Copenhagen is situated on the water, and ferries offer a unique way to travel around the city and to nearby areas. For example, you can take a ferry from Nyhavn to the picturesque neighborhood of Christianshavn or venture across the Øresund Strait to visit Malmö, Sweden.
Car Rental: While Copenhagen has an excellent public transportation system, if you prefer the flexibility of a car, rental services are available throughout the city. However, keep in mind that parking in central Copenhagen can be limited and expensive.
Walking: Copenhagen is a compact city with many attractions located within walking distance of each other. Exploring the city on foot allows you to soak up the atmosphere, discover hidden gems, and enjoy the beautiful architecture and vibrant neighborhoods.
It's worth noting that Copenhagen has an integrated ticketing system called Rejsekort, which allows you to use a single card for multiple modes of transportation. You can also purchase single-ride tickets or tourist passes for unlimited travel within a specified period.
Copenhagen's transportation system is reliable, user-friendly, and designed to cater to both locals and visitors. Whether you prefer the convenience of the metro, the flexibility of a bicycle, or the scenic views from a ferry, you'll find an option that suits your needs to explore the city and its surroundings.
Copenhagen 1 Day Travel Itinerary
If you have just one day to explore Copenhagen, start your morning in the charming district of Nyhavn. Take a leisurely stroll along the picturesque canal, admire the colorful buildings, and soak up the lively atmosphere. Grab a Danish pastry and a cup of coffee from one of the cozy cafes and enjoy the waterfront view.
From Nyhavn, make your way to Amalienborg Palace, the official residence of the Danish royal family. Witness the changing of the guard ceremony, which takes place at noon, and explore the palace square. Marvel at the beautiful architecture and learn about the royal history of Denmark.
Just a short walk from Amalienborg Palace, you'll find Frederik's Church, also known as the Marble Church. This impressive church features a stunning dome and intricate architecture. Step inside to admire the grand interior and consider climbing to the top of the dome for panoramic views of the city.
In the afternoon, head to Christiansborg Palace, located on the island of Slotsholmen. Explore the opulent Royal Reception Rooms, discover the archaeological ruins beneath the palace, and visit the Royal Stables. Don't miss the opportunity to climb the tower for breathtaking views of Copenhagen.
Next, venture to Tivoli Gardens, one of the world's oldest amusement parks. Immerse yourself in the nostalgic ambiance, take a ride on the vintage roller coaster, and explore the beautifully landscaped gardens. If you're visiting during the summer, catch one of the park's live performances for an added touch of entertainment.
For a break and a taste of local flavors, visit Torvehallerne, a bustling food market. Indulge in a variety of delicious options, from fresh seafood to Danish specialties, and enjoy the vibrant atmosphere of this popular culinary destination.
As the evening approaches, head to the trendy neighborhood of Nørrebro. Explore the lively streets filled with boutiques, cafes, and bars. Take a peaceful stroll through the Assistens Cemetery, the final resting place of notable Danes, including Hans Christian Andersen.
For dinner, Nørrebro offers a diverse culinary scene. Choose from traditional Danish dishes to international cuisines, and enjoy a memorable meal in one of the neighborhood's vibrant restaurants.
To end your day, immerse yourself in the vibrant nightlife of the Meatpacking District (Kødbyen). This former industrial area is now a hub for bars, clubs, and restaurants. Join the locals for a drink, listen to live music, or dance the night away in this energetic district.
Although limited to one day, this itinerary provides a taste of Copenhagen's iconic landmarks, cultural experiences, culinary delights, and vibrant neighborhoods. Remember to check the opening hours of attractions and consider purchasing a Copenhagen Card to make the most of your day with free or discounted entry to various sites and unlimited public transportation.
Copenhagen 3-4 Days Travel Itinerary
If you have 3-4 days to explore Copenhagen, you can delve deeper into the city's attractions and discover more of its hidden gems. Here's a suggested travel itinerary:
Day 1:
Start your day at Nyhavn, the iconic waterfront district. Enjoy a leisurely breakfast at one of the charming cafes and soak up the atmosphere. Take a canal boat tour to get a different perspective of the city and its landmarks.
Visit the Rosenborg Castle and Gardens, a beautiful Renaissance castle surrounded by lush gardens. Explore the richly decorated rooms, admire the royal treasures, and take a relaxing stroll through the park.
Head to the National Museum of Denmark, located in the heart of Copenhagen. Discover the country's history and culture through the museum's extensive collection of artifacts, including Viking treasures and ancient Egyptian mummies.
In the afternoon, explore the vibrant neighborhood of Nørrebro. Visit the Superkilen urban park, known for its diverse and colorful installations, and explore the unique boutiques, cafes, and street art that give the area its distinctive character.
Day 2:
Begin your day by visiting Christiansborg Palace, the seat of the Danish Parliament and a treasure trove of history and culture. Take a guided tour to explore the royal reception rooms, the palace chapel, and the ruins beneath the building.
Venture to the island of Slotsholmen and explore the cultural district known as "Kunsthal Charlottenborg." This contemporary art center hosts rotating exhibitions and offers a glimpse into Denmark's vibrant art scene.
Discover the charming neighborhood of Christianshavn, known for its canals, narrow streets, and historic houses. Visit the Church of Our Savior and climb its famous spiral staircase for panoramic views of the city.
End your day by experiencing the unique atmosphere of Freetown Christiania, a self-governing community known for its alternative lifestyle. Explore the vibrant street art, relax by the lake, and learn about the community's history and values.
Day 3:
Explore the trendy district of Vesterbro, known for its hipster vibes and diverse culinary scene. Visit the trendy boutiques, browse through the vintage shops, and enjoy a delicious brunch at one of the local cafes.
Make your way to the Carlsberg Brewery and join a guided tour to learn about the history and brewing process of Denmark's famous beer. Explore the brewery's exhibitions, visit the stables with the Carlsberg horses, and enjoy a beer tasting session.
Visit the National Gallery of Denmark (SMK), one of the largest art museums in Scandinavia. Discover a vast collection of Danish and international art, including works by renowned artists such as Rembrandt, Picasso, and Hammershøi.
In the evening, explore the trendy Meatpacking District (Kødbyen), filled with bustling restaurants, bars, and live music venues. Enjoy a memorable dinner at one of the acclaimed restaurants, and soak up the vibrant atmosphere.
Day 4 (optional):
If you have an extra day, consider taking a day trip to the picturesque coastal town of Helsingør, home to Kronborg Castle. Explore the castle's impressive Renaissance architecture, stroll through the charming streets of the old town, and enjoy the coastal views.
Alternatively, you can take a day trip to the Louisiana Museum of Modern Art, located in Humlebæk. Immerse yourself in the world of contemporary art, explore the museum's stunning sculpture park, and enjoy the beautiful views of the Øresund Strait.
This 3-4 day itinerary allows you to experience the highlights of Copenhagen, from its historic landmarks and cultural attractions to its vibrant neighborhoods and culinary delights. Feel free to adapt it to your preferences and pace, and make the most of your time in the city. Remember to check the opening hours of attractions, and consider purchasing a Copenhagen Card for free or discounted entry to various sites and unlimited public transportation.
Throughout your stay, take advantage of Copenhagen's bike-friendly infrastructure and rent a bicycle to explore the city like a local. This will allow you to easily navigate the streets and visit different neighborhoods at your own pace.
Additionally, don't forget to indulge in the city's culinary scene. Sample traditional Danish dishes like smørrebrød (open-faced sandwiches), Danish pastries, and local seafood specialties. Explore the vibrant food markets, such as Torvehallerne, to taste a variety of flavors and international cuisines.
Whether you're immersing yourself in the historic charm of Nyhavn, delving into the vibrant neighborhoods, or exploring the art and cultural offerings, Copenhagen has much to offer. Enjoy the city's unique atmosphere, friendly locals, and its perfect blend of old-world charm and modern innovation.
Copenhagen 1 Week Travel Itinerary
If you have one week to explore Copenhagen, you have ample time to immerse yourself in the city's rich culture, history, and vibrant atmosphere. Here's a suggested one-week travel itinerary for Copenhagen:
Day 1: Explore the Heart of Copenhagen
Start your day at Nyhavn, the iconic waterfront district. Enjoy breakfast at one of the charming cafes and take a boat tour to get acquainted with the city's landmarks.
Visit the Amalienborg Palace and witness the changing of the guard ceremony at noon.
Explore the historic district of Frederiksstaden, home to the Marble Church and the royal residences.
Spend the afternoon strolling along Strøget, one of Europe's longest pedestrian streets, and indulge in shopping and people-watching.
Day 2: Cultural Delights
Begin your day with a visit to the National Museum of Denmark, where you can delve into Danish history and culture.
Explore the Christiansborg Palace, including the Royal Reception Rooms and the ruins beneath the palace.
Visit the Tivoli Gardens, an enchanting amusement park with beautiful gardens, thrilling rides, and live entertainment.
Day 3: Neighborhoods and Art
Explore the vibrant neighborhood of Nørrebro, known for its diverse cultural scene, boutiques, and cafes.
Visit the Assistens Cemetery, where notable Danes, including Hans Christian Andersen, are buried.
Discover the contemporary art scene at Kunsthal Charlottenborg and explore the unique exhibitions.
Day 4: Royal Residences and Gardens
Spend the day visiting the beautiful Rosenborg Castle and its stunning gardens.
Explore the King's Garden and enjoy a picnic or leisurely walk.
Visit the nearby Round Tower for panoramic views of Copenhagen.
Day 5: Food, Beer, and Museums
Start your day with a food tour, exploring Copenhagen's culinary scene and sampling local delicacies.
Visit the Carlsberg Brewery for a guided tour and beer tasting session.
Explore the National Gallery of Denmark (SMK) and admire the impressive art collection.
Day 6: Day Trip to Castles and Coastline
Take a day trip to Frederiksborg Castle in Hillerød, one of the most magnificent Renaissance castles in Denmark.
Visit the charming coastal town of Helsingør and explore Kronborg Castle, known for its connection to Shakespeare's Hamlet.
Enjoy the scenic views along the coast and relax by the waterfront.
Day 7: Modern Art and Relaxation
Visit the Louisiana Museum of Modern Art, located in Humlebæk, and immerse yourself in contemporary art and the stunning sculpture park.
Spend the afternoon relaxing in the peaceful surroundings of the Frederiksberg Gardens or visit the Copenhagen Zoo.
Throughout the week, make sure to savor Danish cuisine at local restaurants, cafes, and food markets. Embrace Copenhagen's bike-friendly culture and rent bicycles to explore the city's neighborhoods and parks at your own pace.
This one-week itinerary allows you to experience the highlights of Copenhagen, from its historic landmarks and cultural attractions to its vibrant neighborhoods and culinary delights. Feel free to adapt it to your preferences and pace, and make the most of your time in this captivating city.
Is Copenhagen A Safe City To Visit?
Copenhagen is generally considered a safe city to visit. Denmark, in general, has a low crime rate and is known for its safety and security. However, as with any city, it is always important to take common-sense precautions to ensure your personal safety and well-being. Here are some tips to help you stay safe while visiting Copenhagen:
Be aware of your surroundings: Stay vigilant and aware of your surroundings, especially in crowded areas or tourist attractions. Keep an eye on your belongings and be cautious of pickpockets.
Use reliable transportation: Copenhagen has a well-functioning public transportation system, including buses, trains, and the metro. Stick to official taxis or reputable ride-sharing services if needed.
Secure your belongings: Keep your valuables secure and avoid displaying expensive items openly. Use hotel safes or secure lockers when available, and be cautious of your belongings in public areas.
Respect local laws and customs: Familiarize yourself with local laws, customs, and cultural norms. Show respect for the local culture and traditions, and follow any guidelines or regulations in public spaces.
Stay in well-lit and populated areas: Stick to well-lit and populated areas, especially at night. Avoid walking alone in unfamiliar or isolated areas, and use common sense when navigating the city.
Drink responsibly: If you choose to consume alcohol, do so responsibly. Be cautious of your alcohol consumption and take care of your personal safety while enjoying the city's vibrant nightlife.
Emergency contact information: Make note of emergency contact numbers, including local police and medical services, and keep them easily accessible in case of any emergencies.
It is always advisable to stay informed about the current travel advisories and follow any recommendations or guidelines provided by your embassy or consulate. By practicing basic safety precautions and using common sense, you can enjoy a safe and enjoyable visit to Copenhagen.
When Is The Best Time To Visit Copenhagen?
Copenhagen offers different experiences depending on the time of year you visit. Here's a more detailed breakdown of the seasons to help you choose the best time for your visit:
Summer (June to August): Summer is the peak tourist season in Copenhagen, and for good reason. The weather is generally pleasant, with average temperatures ranging from 15°C to 25°C (59°F to 77°F). Days are long, with up to 17 hours of daylight, allowing you more time to explore the city's attractions, parks, and waterfront areas. The city comes alive with outdoor festivals, live music performances, and vibrant street life. You can enjoy the Tivoli Gardens at their best, dine at outdoor cafes, and relax in the city's many parks. However, it's important to note that summer also attracts larger crowds, especially in popular tourist spots, so be prepared for longer queues and higher prices.
Spring (April to May) and Autumn (September to October): Spring and autumn offer milder temperatures and fewer crowds compared to the summer months. In spring, the city blooms with beautiful cherry blossoms and colorful flowers. Temperatures range from 8°C to 15°C (46°F to 59°F), and you can enjoy exploring the city's parks and gardens, such as the King's Garden or the Botanical Garden. Autumn brings cooler temperatures ranging from 10°C to 16°C (50°F to 61°F) and stunning foliage as the leaves change color. It's a great time to enjoy cozy cafes, visit museums, and immerse yourself in the local culture. Keep in mind that weather can be unpredictable, so pack layers for varying temperatures.
Winter (December to February): Winter in Copenhagen is cold, with temperatures ranging from -2°C to 5°C (28°F to 41°F). However, the city embraces the festive spirit with beautiful holiday decorations, Christmas markets, and cozy atmospheres. Explore the festive Nyhavn area, enjoy ice-skating in parks or at Tivoli Gardens, and warm up with hot drinks and traditional Danish treats. The winter months offer a quieter and more intimate experience, with fewer tourists and the opportunity to experience hygge, the Danish concept of coziness and comfort. Keep in mind that daylight hours are shorter during this time, with only around 7 hours of daylight per day.
It's worth considering your preferences for weather, crowd levels, and the types of activities you'd like to enjoy when choosing the best time to visit Copenhagen. Each season has its own unique charm and offers a range of attractions, cultural experiences, and culinary delights.
Where To Visit After Your Trip To Copenhagen?
Here are a few more destinations you can consider visiting after your trip to Copenhagen:
Malmö, Sweden: Located just across the Øresund Bridge, Malmö is a charming Swedish city with a mix of modern architecture and historic landmarks. Visit the iconic Turning Torso skyscraper, explore the beautiful waterfront area of Västra Hamnen, and wander around the medieval streets of Gamla Staden.
Aarhus, Denmark: Denmark's second-largest city, Aarhus, offers a vibrant cultural scene and fascinating museums. Explore the ARoS Aarhus Art Museum, visit the historical open-air museum of Den Gamle By, and enjoy the lively atmosphere of the Latin Quarter.
Gothenburg, Sweden: Situated on the west coast of Sweden, Gothenburg is a vibrant city known for its charming canals, green spaces, and thriving culinary scene. Visit the Liseberg amusement park, explore the picturesque Haga district, and take a boat tour around the archipelago.
Lübeck, Germany: Located in northern Germany, Lübeck is a UNESCO World Heritage site known for its well-preserved medieval architecture. Stroll through the charming Old Town, visit the Holstentor gate, and try the famous marzipan, a local specialty.
Oslo, Norway: As mentioned earlier, Oslo is easily accessible from Copenhagen and offers a wealth of attractions. Explore the fascinating Viking Ship Museum, stroll along the trendy Aker Brygge waterfront, and take a ferry to explore the nearby fjords.
Bornholm, Denmark: This Danish island in the Baltic Sea is known for its picturesque landscapes, sandy beaches, and charming villages. Rent a bicycle and explore the island's scenic routes, visit the medieval Hammershus Castle, and indulge in delicious local seafood.
Schwerin, Germany: Located in northern Germany, Schwerin is known for its fairytale-like Schwerin Castle situated on an island in Lake Schwerin. Explore the castle's stunning interiors, stroll around the surrounding gardens, and enjoy the peaceful atmosphere of this charming city.
Bergen, Norway: Known as the gateway to the fjords, Bergen is a picturesque city surrounded by mountains and fjords. Explore the colorful Bryggen Hanseatic Wharf, take a scenic train journey on the Flåm Railway, and enjoy the stunning views from the top of Mount Fløyen.
Gdansk, Poland: Located on the Baltic Sea, Gdansk is a historic port city with well-preserved medieval architecture. Stroll along the beautiful Long Market, visit the Gothic-style St. Mary's Church, and explore the historic shipyard area, where the Solidarity movement began.
Riga, Latvia: The capital of Latvia, Riga is known for its well-preserved medieval old town and Art Nouveau architecture. Explore the cobblestone streets of the Old Town, visit the impressive Riga Cathedral, and relax in one of the city's many parks.
Helsinki, Finland: Just a short ferry ride away from Copenhagen, Helsinki offers a blend of Scandinavian and Russian influences. Visit the iconic Helsinki Cathedral, explore the charming market square, and take a stroll along the waterfront promenade.
Tallinn, Estonia: Another Baltic gem, Tallinn is famous for its well-preserved medieval old town. Explore the winding cobblestone streets, visit the impressive Alexander Nevsky Cathedral, and enjoy panoramic views from Toompea Hill.
Lund, Sweden: Located only a short distance from Malmö, Lund is a charming university town with a rich history. Explore the Lund Cathedral, wander around the medieval streets, and visit the Lund University Botanical Garden.
Hamburg, Germany: Known for its maritime history and vibrant cultural scene, Hamburg is a dynamic city to explore. Visit the impressive Elbphilharmonie concert hall, stroll along the historic Speicherstadt district, and take a boat tour on the Alster Lake.
Kraków, Poland: Known for its well-preserved medieval architecture, Kraków offers a rich history and vibrant cultural scene. Visit the stunning Wawel Castle, explore the historic Main Market Square, and take a somber trip to Auschwitz-Birkenau, a former Nazi concentration camp.
Stockholm Archipelago, Sweden: Just outside of Stockholm, the Stockholm Archipelago is a picturesque collection of over 30,000 islands and islets. Take a boat tour, go island-hopping, and enjoy the serene nature, charming fishing villages, and beautiful beaches.
The Hague, Netherlands: Known for being the seat of the Dutch government and housing many international institutions, The Hague offers a mix of history, culture, and stunning architecture. Visit the iconic Peace Palace, explore the Mauritshuis Museum, and take a stroll along the Scheveningen beach.
St. Petersburg, Russia: If you're up for a longer journey, St. Petersburg is a city of imperial grandeur and cultural richness. Visit the breathtaking Hermitage Museum, explore the elaborate Peterhof Palace, and immerse yourself in the city's rich history and art.
Dublin, Ireland: Known for its friendly atmosphere and rich literary heritage, Dublin is a city with a vibrant pub culture and historical landmarks. Visit the Guinness Storehouse, explore Trinity College and the Book of Kells, and enjoy the lively atmosphere of Temple Bar.
Prague, Czech Republic: With its charming cobblestone streets, stunning architecture, and vibrant culture, Prague is a must-visit destination. Explore the Prague Castle, wander through the historic Old Town Square, and soak in the views from Charles Bridge.
Lisbon, Portugal: Explore the vibrant capital of Portugal, known for its charming neighborhoods, historic landmarks, and delicious cuisine. Visit the historic Belém Tower, wander through the narrow streets of Alfama, and take in panoramic views from the São Jorge Castle.
Vienna, Austria: Immerse yourself in the rich cultural heritage of Vienna, known for its elegant architecture, classical music, and coffeehouse culture. Visit the iconic Schönbrunn Palace, attend a performance at the Vienna State Opera, and indulge in delicious Viennese pastries.
Florence, Italy: Discover the birthplace of the Renaissance in Florence. Marvel at magnificent art at the Uffizi Gallery, visit the iconic Duomo and the Accademia Gallery to see Michelangelo's David, and take a stroll along the picturesque Ponte Vecchio.
Budapest, Hungary: Experience the beauty of the "Queen of the Danube." Visit the Hungarian Parliament Building, relax in the thermal baths, and explore the historic Buda Castle district. Don't miss a sunset cruise along the Danube River.
Dubrovnik, Croatia: Explore the stunning walled city of Dubrovnik, known as the "Pearl of the Adriatic." Walk along the city walls, visit the Old Town's main street, Stradun, and take a cable car ride to Mount Srđ for panoramic views.
Zurich, Switzerland: Discover the vibrant city of Zurich, located on the shores of Lake Zurich. Explore the charming Old Town, visit the Kunsthaus Zurich art museum, and enjoy a boat ride on the lake.
Santorini, Greece: Experience the breathtaking beauty of the Greek islands in Santorini. Enjoy stunning views of the caldera, explore the white-washed villages of Oia and Fira, and relax on the black sand beaches.
These nearby destinations offer a variety of experiences, from cultural attractions to natural beauty, making them great choices to complement your visit to Copenhagen.
Copenhagen Travel Guide: Final Thoughts
Copenhagen, with its seamless blend of history, culture, and modern design, captivates the hearts of travelers. As you conclude your journey through this enchanting city, allow these final thoughts to guide you:
Embrace the Essence of Danish "Hygge": Immerse yourself in the cozy and intimate atmosphere that characterizes Danish culture. Allow the warmth of a cup of perfectly brewed coffee to envelop you in a local café, wander through the vibrant and picturesque streets of Nyhavn, and delight your taste buds with the buttery layers of a freshly baked Danish pastry.
Discover the Treasures of History: Explore the city's iconic landmarks that tell the stories of Copenhagen's past. Stand in awe before the iconic Little Mermaid statue, meander through the meticulously manicured gardens of Tivoli Gardens, and step into the regal splendor of Rosenborg Castle. And do not miss the opportunity to witness the grace and elegance of the Changing of the Guard at the majestic Amalienborg Palace.
Indulge in Danish Design: Copenhagen's reputation as a design powerhouse is well-deserved. Immerse yourself in the Danish Design Museum and the Designmuseum Danmark, where the minimalist and functional aesthetics of Danish design come to life. Marvel at the sleek lines and timeless elegance that have defined Danish contributions to modern design.
Delight in Culinary Delicacies: Embark on a culinary journey through the heart of Danish cuisine. Savor the exquisite flavors of smørrebrød, artfully crafted open-faced sandwiches showcasing the finest local ingredients. Indulge in the flaky layers and delicate sweetness of Danish pastries, a testament to the mastery of pastry chefs. And be sure to relish in the national pride encapsulated in the juicy frikadeller, Danish meatballs brimming with tradition.
Pedal Through the City: Embrace Copenhagen's status as a haven for cyclists by embarking on a two-wheeled adventure. Rent a bicycle and become one with the rhythm of the city as you traverse its winding paths, exploring hidden gems and experiencing the city's green spaces firsthand.
Immerse Yourself in the Cultural Tapestry: Allow Copenhagen's rich cultural scene to envelop you in its embrace. Dive into the depths of Danish history at the National Museum of Denmark, where ancient artifacts unveil tales of the past. Lose yourself in the thought-provoking exhibits of contemporary art at the Louisiana Museum of Modern Art. And let your senses be stirred by the emotive performances at the Royal Danish Opera or the Copenhagen Concert Hall.
Venture Beyond the City's Borders: Consider expanding your horizons and exploring the treasures that lie just beyond Copenhagen's limits. Traverse the iconic Øresund Bridge to discover the modern architecture and vibrant culinary scene of Malmö in Sweden. Or venture to the historic city of Roskilde, where the towering Roskilde Cathedral and the Viking Ship Museum transport you back in time.
Before bidding farewell to this enchanting city, remember to acquaint yourself with local guidelines and recommendations, ensuring a seamless and enjoyable experience. Copenhagen's captivating blend of history, design, culinary delights, and warm hospitality will undoubtedly leave an indelible mark upon your soul, forever evoking cherished memories of your time spent in this remarkable destination.
In the land of Danish dreams, where tales unfold, Lies Copenhagen, a city of stories untold. With cobblestone streets and waters so blue, It beckons travelers to uncover its view.
Oh, Copenhagen, where history breathes, Whispers of the past carried on gentle breezes. From the Little Mermaid by the harbor's edge, To Rosenborg Castle, where regal tales are pledged.
Embrace the Danish "hygge," a feeling so rare, Cozy cafes, where warmth fills the air. Sip coffee with locals, in Nyhavn's embrace, As vibrant facades reflect on the canal's grace.
Design flourishes, a Danish legacy, Clean lines and elegance, a sight to see. Explore the museums, where art takes flight, Danish design's beauty, a captivating sight.
Indulge in culinary delights, oh, what a treat, Smørrebrød's delicate layers, a flavor so sweet. Pastries and delicacies, a feast for the senses, Danish gastronomy, a true culinary essence.
Pedal through the city, like a local in the flow, Bicycles dancing through streets, to and fro. Discover hidden corners, the city's heart and soul, Copenhagen's charm, a story to behold.
Immerse in culture, let it wash over your being, National Museum's treasures, centuries revealing. Opera's grandeur, concerts that stir the soul, Copenhagen's cultural tapestry, a captivating role.
Venture beyond, explore the world nearby, Malmö's modern marvels, so close, oh my! Roskilde's ancient wonders, a Viking legacy, Copenhagen's allure extends beyond its boundary.
Oh, Copenhagen, a city that enchants, Where travelers find solace in its captivating dance. With each step, a tale to unravel and share, In the Danish capital, where dreams take to the air.
So, journey to Copenhagen, with open hearts and minds, And let its wonders leave an indelible bind. For in this city of Danish dreams, you will find, A piece of your soul, forever intertwined.