Corfu Travel Guide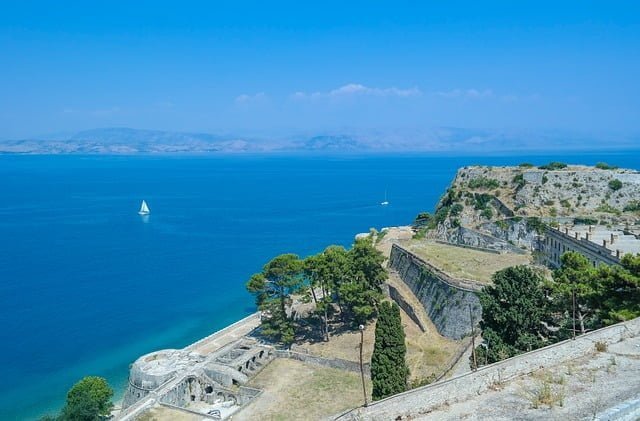 Introduction
In modern times, Corfu is a household name. Some are surprised to learn about its rich past, as most only know the island for its beaches.
From an Old City with UNESCO-worthy architecture to impregnable castles, there is much to see and do here.
Come check out our Corfu travel guide as we cover the best things to do in Corfu, Greece.
Top Attractions
After arriving, begin your visit by spending your first day exploring Old Town of Corfu. The primary town on the island has a storied history, which is something many visitors don't realize. As you walk its narrow streets, you'll see how this city earned its UNESCO World Heritage Site designation.
Many of the buildings that surround you date back to Byzantine and Venetian times. Of them, the Royal Palace of Corfu stands out the most. Today, it longer houses nobility, but rather, a museum containing Asian art.
After a long day of wandering the streets of the Old City, find a spot to eat on Esplanade. It faces a park in the centre of town, making it a popular place for locals to gather. As such, those into people-watching will be in their element here.
Corfu was never conquered, despite constantly being in the crosshairs of invaders. The existence of Angelokastro played a huge role in maintaining this island's freedom over the years. This ancient fortress sits atop the highest sea cliffs on the northwest coast of Corfu. Standing over 1,000 feet above the ocean, it had sweeping views to the south, northwest, and northeast.
The importance of this citadel cannot be understated. It shrugged off pirates easily and repelled the Ottomans on three separate occasions. Whenever invaders or raiders threatened, locals simply waited them out within the safety of Angelokastro's walls.
Eventually, modern advances in warfare made this castle obsolete. As such, Mother Nature laid waste to its walls, doing what no human enemy could.
Want to see an important religious site of interest while in Corfu? If so, check out the Paleokastritsa Monastery. You'll find it atop a hill above Paleokastritsa Beach, which is one of the most popular in Corfu. The creators of this picturesque monastery dedicated it to the Virgin Mary in the 13th century.
Today, apart from its beautiful architectural forms and panoramic views, it is also home to a museum. Within, you'll find several Byzantine-era relics, like bibles dating back to that period. You'll also get to see a working olive oil press, which makes good use of olives from nearby trees.
These days, you'll find most of the action in Corfu on the coast. In years past, though, many avoided the seashore, fearing disease-carrying mosquitoes. When authorities conquered these infections and tourism created jobs, people abandoned these settlements.
Old Perithia was among many that became ghost villages. It dates to the 14th century, which places its origin in the Venetian-era. Thanks to the efforts of locals, it has avoided the degradation that afflicted other sites.
The elderly caretakers do more than maintain the buildings. They carry on with creating local foodstuffs, just as they've always had. Try walnut cake, drink some ginger beer, or buy some local honey. All of these items help keep this village afloat.
Feel like moving in? You can also buy one of the stone houses. However, they come "as is", so be prepared to put some work into anything you purchase!
Other Attractions
Not done checking out religious landmarks in Corfu? Make room for the Vlacherna Monastery in your itinerary. Virtually all visitors to the island see this cute church on their descent into Corfu Airport. If you decide to visit in person, you'll find a small 17th-century building.
Compared to more prominent attractions, there's not much to it. But, it is a quiet place amid the hustle and bustle of Corfu Town. If you wish, you can light a candle and pray. For most, though, the biggest attraction is the front row seats it grants to plane spotters. Situated along the flight path of Corfu Airport, you'll get great photos of every aircraft that lands.
Travelling families and animal lovers will want to visit Corfu Donkey Rescue. In 2004, it was founded to give dignity to the island's abandoned donkeys. Today, it provides a peaceful sanctuary for 500 of these beautiful animals.
That isn't all, though – they take in rabbits, cats, and dogs as well. They take donations, so be sure to leave a generous gift during your visit here.
Most know Corfu for its fantastic beaches. Of them, Paleokastritsa Beach gets the most attention. It is well-serviced by bars and restaurants, which provide menus to visitors in sun loungers. The water is cold by Greek standards, but visitors love it for its clarity.
Party lovers will want to visit La Grotta Beach. This beach features a communal diving board, on-beach clubs, and plenty of beautiful people to party with. Want to bare it all? Make for Mirtiotissa Beach. Although it isn't as popular as it was in the 1960s, a solid quarter of visitors still tan au naturel.