Dresden Travel Guide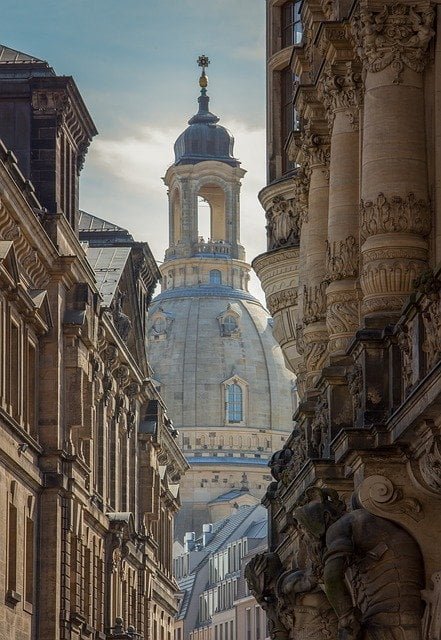 Introduction
Dresden is a major city in Eastern Germany. Despite extensive bombing in World War II, it remains a destination with scores of historic attractions.
Within city limits and in the surrounding area, you'll find multiple palaces, many of which are Baroque-era gems.
Come check out our Dresden travel guide as we cover the best things to do in Dresden, Germany.
Top Attractions
Begin your trip to Dresden by swinging by The Zwinger. Its amusing name refers to the Middle Age term for the space between inner and outer fortress walls. Its builders called it this, despite the fact it did not serve this function.
This palace complex is best known for its architecture and its gardens. Experts hold up the Zwinger as one of the most stunning examples of design during the Baroque period. Its constructors completed it in the early 18th century, during the reign of Augustus the Strong. Go slow here, as this attraction's fountains, statues, and greenery take time to appreciate.
Next, make your way to the Green Vault. This attraction is a self-described treasure trove like no other. Augustus the Strong, a monarch of the Kingdom of Saxony and Poland, established this museum in the 18th century. Its highlights include exquisite brooches, diamond-studded swords, and other historic specimens.
However, the contents of this institution haven't always been safe here. After the fall of Germany in World War II, the Soviets confiscated everything they found. In 1958, they returned with some of the items they took. In modern times, an epic heist saw thieves make off with more than 1 billion EUR in royal jewellery.
To better protect the remaining collection, curators have implemented a timed entry system. This wrinkle makes getting in harder than you might think, but trust us, it is worth the effort.
After the Green Vault, head over to the Frauenkirche Dresden. This church is the most significant Lutheran hall of worship in the city, looming 91 metres above ground level. Its historic appearance can fool those not familiar with Dresden's recent past. Its existence is a testament to the skill of its restorers, as bombs flattened this church in 1945.
Other Attractions
While exploring The Zwinger, drop by Gemaldegalerie Alte Meister. This attraction is an art museum situated within its grounds. This institution, whose name translates to "Old Masters Picture Gallery" in English, is home to 750 paintings from art masters. These artists include the likes of Raphael, Van Eyck, and Rembrandt.
If you aren't an art history major, request an audio guide at the entrance. Over the course of a few hours, you'll learn plenty about history's greatest creatives.
After that, move onto Dresden Castle. For centuries, this magnificent building used to be home to the Kings of Saxony and Poland. Its constructors and renovators used building styles that ranged from Neo-Renaissance to Baroque.
Given the utter destruction that the Dresden firebombings brought in 1945, its survival was nothing short of a miracle. While sections collapsed under intense bombardment, its restoration post-war went well. The aforementioned Green Vault is its biggest attraction – don't miss it. But, if you have more time, see the Coin Cabinet, Armoury, and State Apartments as well.
After making the most of your time at Dresden Castle, move along to Pillnitz Castle next. Located on Dresden's east side, this Baroque palace once served as a summer getaway for Saxon and Polish royals.
Its interior is well worth seeing, as it contains Chinese and Baroque elements. It also has a robust art collection, period crafts, and a cute Catholic chapel. Outside, its Baroque-influenced gardens and river views will end your visit in fine fashion.
Even fans of street art aren't let down by Dresden. In an alley called Kunsthofpassage, you'll get to check out the work of local artists. While you'll find many alternative pieces here, the Singing Drain Pipes are the highlight. As water channels through them, they create delightful sounds.
What To Eat
If you're feeling brave, join Dresden locals as they snack on Fettbemme. This savoury dish coats a slice of bread with beef/pork lard, and tops them with pickled cucumbers. Seasoned with salt, it's a test to see if you truly are a Dresdener.
Are you super hungry after a day filled with sightseeing? Banish your hunger pangs by ordering Wiegebraten. When this dish arrives at your table, it will present you with up to three kinds of meat. In its creation, Dresdener Wiegebraten combines minced pork, veal, and beef. Coated in breadcrumbs and eggwash, your cook will then roast this mixed-meat puck in butter. Have a defibrillator at the ready – you may need it.
If you have room for dessert, have some Eierschecke. This cake, often enjoyed with coffee, offers sweet whipped egg, and vanilla pudding in its middle layer.