El Nido Travel Guide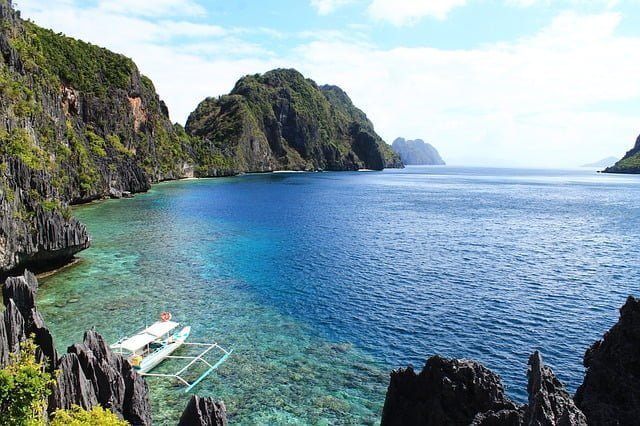 Introduction
While it may have fewer limestone islands than Ha Long Bay in Vietnam, El Nido has sunnier skies and clearer water than its counterpart of the mainland. It also helps that these isles at the top of Palawan have no shortage of dream beaches and hidden lagoons, giving this place a vibe increasing numbers of travellers are discovering every year.
While the place certainly has changed versus five years ago, don't let the reports of crowds discourage you – with a bit of strategy and emphasis on going where fewer people go, a trip to El Nido can still be an enjoyable one.
Top Attractions
Once an isolated fishing village at the northern tip of Palawan island, El Nido is now a bustling town which has grown to service ever increasing amounts of tourists eager to go on island hopping tours to the many karst islands which lie just off its shores.
Note there are four separate itineraries to choose from: A, B, C, and D. It is best if you have the time to experience all four, but if you are pressed for time, both A and C are held in high regard by past visitors – pick both on a two-day visit, and you'll come away from El Nido with tonnes of amazing pictures and memories!
However, we wish to warn you beforehand that this activity has become immensely popular; this means once quiet beaches, caves, and lagoons are now overrun by dozens of visitors at a time, killing the magic which once existed here.
Truth be told, you can still have a fantastic experience if you are willing to pony up the cash for a private tour. By hiring your own boat for you and your travel buddies, you'll be able to ask the driver to do whichever itinerary you choose in reverse order – this will ensure you avoid crossing paths (for the most part) with the other tours, allowing your group to experience the islands of El Nido in the way they were meant to be experienced.
There are countless highlights on each of the four tours, but ensure you get a chance to visit Entalula Island. Included as part of Tour B, the sand on this gem is quite possibly the whitest of the lot. As gorgeous as its palm-lined eastern strip of sand is, this isn't even the best beach this isle has – that honour is reserved for the one occupied by the most exclusive private resort in El Nido.
While absurdly expensive, believe us when we say it is well worth the price to spend a night or two in this peaceful place.
Of all the stops in the island hopping tours, Miniloc Island is among the most popular. Composed from a sizable chunk of limestone, it is home to a pair of lagoons and numerous beaches.
If you don't have the cash to stay at the aforementioned luxury resort, Miniloc Island is home to an eco-resort which will allow you to get away from the circus that the main town of El Nido can be and out into the peace of the islands. Just note the accommodation here is much more spartan, but once you get adjusted, we don't think you'll mind much.
If you take Tour D, Snake Island will undoubtedly be the highlight of your day out on the water. The name may be off-putting to some, but don't be afraid – you won't find any serpents on land or in the water here.
Rather, it got its name thanks to a long, serpentine sandbar which extends out from the isle towards the mainland. At low tide, it is possible to walk across it, as the depth of the water recedes to less than one foot at this time.
Named after a Japanese diver who met his tragic end while diving here, Simizu Island nonetheless remains a popular place to snorkel and SCUBA dive. Included as part of Tour A, you'll get a chance to check out blue starfish and colourful tropical fish amidst its extensive coral reefs.
Finally, Pinabuyutan Island may prove to be a highlight to those taking Tour B. The reefs off its shores will delight divers and snorkelers alike, but those who stay ashore will be taken by the local family who gets to call this paradise home.
Selling tourists fresh coconuts, it offers the rare chance for visitors to have an authentic experience with locals while abroad.
Other Attractions
Back on the mainland of Palawan, there are beaches you may want to check out if you have some extra time in town. Make your way to Marimegmeg Beach first, as it lies within a short drive of the main village.
Here, you'll find a modest level of development which complements the amazing tropical scenery you'll find here. With more than a few bars here willing to prepare an outstanding fruit shake for you, you'll have the sustenance you'll need to have an amazing day in the sun here.
Those looking for a bit more peace will find what they are looking for at Nacpan Beach. Further out of town than Marimegmeg, it is best known for being a beach with double frontage on the ocean and on a small bay, the photos you'll get from a nearby hill will be one of the better ones you'll get during your visit to El Nido.