Welcome to Florianopolis, a captivating island city nestled in southern Brazil. With its pristine white-sand beaches, crystal-clear waters, and breathtaking natural landscapes, Florianopolis is a paradise for beach lovers and nature enthusiasts alike.
Start your adventure by exploring the diverse range of beaches that dot the coastline. Visit the bustling Praia dos Ingleses, where you can enjoy a lively atmosphere, water sports, and beachside cafes. For a more tranquil experience, head to the picturesque Praia Mole, known for its scenic beauty and excellent surf conditions. If you're seeking a family-friendly beach, Joaquina Beach offers wide sandy shores and an ideal spot for sandboarding.
Beyond the beaches, immerse yourself in the rich culture and history of Florianopolis. Explore the charming historic center with its colonial architecture, winding cobblestone streets, and vibrant markets. Visit the 18th-century Florianopolis Cathedral, a prominent landmark that showcases exquisite religious art and design.
To truly understand the local culture, explore the traditions and folklore of Florianopolis. Witness the captivating Boi de Mamão, a traditional dance and theater performance that depicts a folk tale. Don't miss the opportunity to try the local delicacies, such as the mouthwatering seafood dishes or the famous açai bowls, bursting with fresh fruits and flavors.
For nature lovers, Florianopolis offers an array of natural wonders. Embark on a hike through the lush trails of the Serra do Tabuleiro State Park, where you can encounter diverse wildlife and revel in breathtaking panoramic views. Discover the enchanting lagoons, like Lagoa da Conceição, where you can enjoy activities such as kayaking, stand-up paddleboarding, or simply basking in the tranquil beauty of the surroundings.
As you explore Florianopolis, take time to appreciate the warm hospitality and genuine friendliness of the locals, known as "Floripa." Engage with them, learn about their traditions, and allow yourself to be embraced by the island's vibrant spirit.
This travel guide is your gateway to experiencing the best of Florianopolis, providing you with insider tips, must-visit attractions, and unforgettable experiences. Prepare for an adventure that combines relaxation, natural beauty, and cultural immersion in this captivating Brazilian island city. Boa viagem!
Florianopolis City Guide: A Brief History Of Florianopolis, Brazil
Florianopolis, located in southern Brazil, has a rich history that dates back centuries. Originally inhabited by indigenous tribes, the region witnessed the arrival of European explorers in the early 16th century. Understanding the city's history adds depth to your visit and allows you to appreciate its cultural heritage.
The first European settlement in the area was established by the Portuguese in 1673. Initially known as Nossa Senhora do Desterro, the settlement served as a strategic defense outpost against Spanish invasions. Over time, it developed into a prosperous village, attracting immigrants from Portugal and the Azores Islands.
During the 18th century, the island faced various challenges, including conflicts with the Spanish and indigenous populations. However, it gradually flourished, thanks to the cultivation of crops like rice and the expansion of the fishing industry.
Florianopolis gained significance during the mid-19th century when it became the capital of the newly formed province of Santa Catarina. It was renamed Florianopolis in honor of Floriano Peixoto, the second president of Brazil.
In the late 19th and early 20th centuries, Florianopolis experienced waves of immigration, particularly from Europe. Communities of Azorean, German, Italian, and Polish descent settled in the region, contributing to its cultural diversity.
The city's historical significance is reflected in its architecture and landmarks. The Florianopolis Cathedral, also known as the Metropolitan Cathedral, was constructed in the mid-18th century and stands as a testament to the city's colonial past. The Public Market, built in the early 20th century, showcases a blend of architectural styles and serves as a hub for local commerce.
Florianopolis also played a role in Brazilian history during the military dictatorship that lasted from 1964 to 1985. The island became a haven for intellectuals, artists, and activists who sought refuge and pushed for democratic reforms.
Today, Florianopolis is renowned for its natural beauty, vibrant culture, and thriving tourism industry. Its stunning beaches, preserved ecological areas, and preserved colonial neighborhoods attract visitors from around the world.
Exploring the history of Florianopolis allows travelers to appreciate the city's cultural tapestry, from its indigenous roots to its European influences. It adds depth to the experience, providing a broader understanding of the destination's heritage and the diverse communities that have shaped it over the centuries.

source: Alina Mcleod on YouTube
Florianopolis Top Attractions and Best Places to Visit in Brazil
While there are many places up and down Brazil's coast where surfing is practiced and enjoyed by the local populace, no place has landed on the global radar quite like Florianopolis has.
Possessing over 40 major beaches, many of which have exposure to the open Atlantic, surfers are not crowded on to a limited number of breaks, as there are plenty for the taking around the island.
Those that are less athletic will enjoy this diversity as well, as it provides a variety of service levels (urban to wild) and scenic backdrops that make this place a beach bum's dream come true.
Sprinkle in a few cultural and historic attractions to add a little variety to your holiday, and you have the makings of an unmissable waypoint in your Brazilian travel itinerary.
While many of the attractions surrounding Florianopolis have to do with its abundant beaches, there are number of cultural attractions that will keep those interested in art and history busy during their time in this popular Brazilian destination.
The first place that you should see is the Fortaleza de Sao Jose da Ponta Grossa, which was one of the most formidable fortifications defending this part of the country centuries ago.
Standing atop a hill overlooking Baia Norte, It had faced attack once in its history during the Spanish invasion of Brazil in 1777, and though it fell to the invaders, the fort continued to be used by the Portuguese after its reacquisition shortly thereafter.
Falling into ruin after being decommissioned in 1938, restorations began in the 1970's, and today, its cannon and stone ramparts hail back to an era when gigantic galleons where the biggest military threat to nation-states everywhere.
Those looking for some background on the human history of the area will do well to spend a bit of time walking around the hallways of Museu Historico Santa Catarina.
Painted in a light-hearted shade of pink, this former palatial residence (which used to play host to governors, nobles, and royalty) contains not only exhibits about the history of the communities that make up the Florianopolis area, but it is also filled with countless works of art, period furniture, stained glass windows, and even full suits of bronze knight's armor.
Long before the Portuguese or the Spanish had ever set foot on the island of Santa Catarina, indigenous people had made their home here for thousands of years prior.
The rock carvings that these civilizations had made can be viewed in the open air Museu de Arqueologia Costao do Santinho. Situated on a scenic promontory overlooking the open South Atlantic, there are many examples of this ancient art that are easily visible along a lengthy nature trail.
Though there are reliefs where one can get further background details on these rock carvings, they are all in Portuguese, so be sure to brush up on your language skills or download a language translation app on your smartphone before heading over to this museum.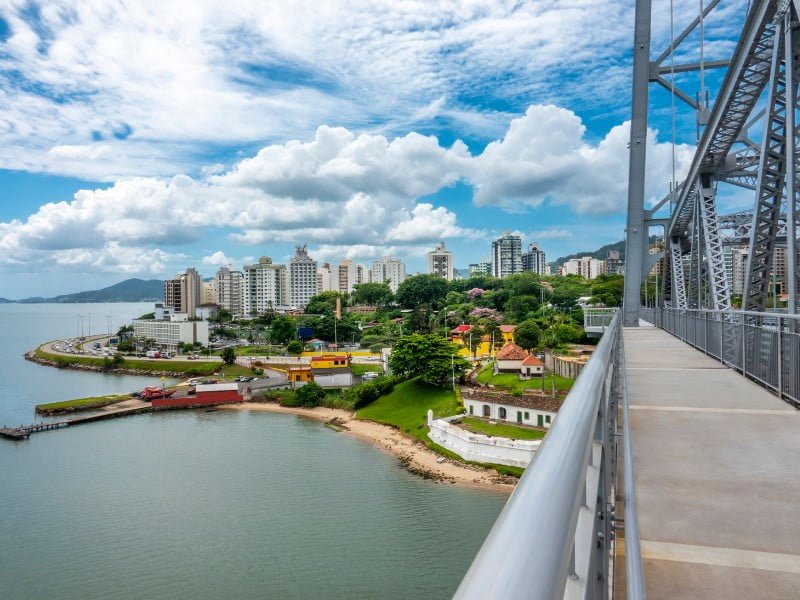 Other Cultural Attractions: Trip to Florianopolis, Brazil
When the time comes to hit the beach, the first place where you will probably roll out your towel will be on the sands of Praia dos Ingleses.
Named for a British sailing ship that ran aground on the shallow shoals located just offshore, this urban beach caters to all crowds, as one end of the beach is calm, making it suitable for families and those looking to swim in the ocean without having to battle the surf, while the other end of the beach routinely gets battered by swells from the ocean, making it an excellent place for seasoned surfers to carve them up all day long.
Located in a populated area, services such as restaurants and convenience stores are located close by, making this place a convenient one to spend a sunny day in Florianopolis.
However, this means that you will be sharing this popular beach with plenty of other sunbathers, which will be disappointing to those looking for a more peaceful experience.
Those seeking a mostly deserted beach will want to put in the effort that it takes to hike to Lagoinha do Leste. Depending on which trail head you use, it can take anywhere between one-and-a-half to two-and-a-half hours to reach this gem in Florianopolis' crown.
Along the way, you'll hike through Atlantic rainforest, and have views of the coastline and a freshwater lagoon before coming up on one of the more beautiful vistas that you will see in all of Brazil: a wave swept beach, hemmed in by mountains.
With a number of granite outcrops jutting out here, you'll have the opportunity to take one of the most epic selfies that you have ever shot of yourself or your friends; just be sure to watch your balance!
If you don't have the stamina for a hike, but you would like to take in a historic part of Santa Catarina island, then making your way to Santo Antonio de Lisboa will prove to be a worthwhile use of one of the days that you have during your visit to Florianopolis.
A center of Azorean immigration during the 19th century, this portion of the island has a character all its own, with plenty of colonial homes, churches, shops, and other photogenic buildings located along cobblestoned streets.
Strong fishing traditions endure here, supplying the many restaurants in this town with fresh seafood. With many alfresco options offering inspired waterfront views, make plans to have dinner here before you move on to your next destination in Brazil.

source: Swedish Gringo on YouTube
Top 33 Things To Do in Florianopolis, Brazil For Visitors
Here's a list of the top 33 things to do in Florianopolis, Brazil, for visitors:
Spend a day at Praia da Joaquina, known for its stunning sandy beach, towering sand dunes, and excellent surfing conditions.
Explore the historic center of Florianopolis, known as Centro, and immerse yourself in its colonial architecture, vibrant markets, and cultural attractions.
Visit the picturesque Praia Mole, a popular beach for sunbathing, beach sports, and surfing, surrounded by lush green hills.
Take a boat tour to the nearby Campeche Island and snorkel in its crystal-clear waters, discovering vibrant marine life and underwater caves.
Enjoy a leisurely stroll along the scenic waterfront of Beira-Mar Norte, lined with palm trees, charming cafes, and breathtaking views of the bay.
Marvel at the iconic Hercilio Luz Bridge, a historic landmark and one of the longest suspension bridges in Brazil, offering panoramic views of the city.
Embark on a hike in the Parque Municipal da Lagoa do Peri, a nature reserve with lush forests, serene lagoons, and picturesque waterfalls.
Explore the vibrant neighborhood of Lagoa da Conceição, known for its trendy bars, restaurants, boutique shops, and its beautiful lagoon.
Discover the rich Azorean heritage at the Ribeirão da Ilha neighborhood, characterized by its preserved colonial architecture, traditional fishing culture, and delicious seafood restaurants.
Immerse yourself in the lively atmosphere of the Mercado Público, a bustling market where you can indulge in fresh seafood, local delicacies, and artisanal products.
Take a scenic drive along the coast to visit the breathtaking beaches of Lagoinha do Leste and Praia Brava, surrounded by lush hills and pristine nature.
Relax and unwind at Praia dos Ingleses, a family-friendly beach with calm waters, soft sands, beachside amenities, and a vibrant atmosphere.
Visit the charming Santo Antonio de Lisboa neighborhood, known for its picturesque waterfront, historic buildings, and excellent seafood restaurants.
Explore the Tamar Project, a conservation center dedicated to protecting sea turtles, where you can learn about these fascinating creatures and their conservation efforts.
Take a boat tour to the secluded beaches of Ilha do Campeche, renowned for their turquoise waters, white sands, and archaeological sites.
Visit the historical Fortaleza de São José da Ponta Grossa, an impressive fortress offering panoramic views of the coastline and providing insights into Florianopolis' past.
Go hiking or join a jeep tour to explore the mesmerizing landscapes of the Costa da Lagoa, a scenic route surrounded by nature, waterfalls, and charming lakeside communities.
Immerse yourself in the pristine beauty of Praia Brava, an unspoiled beach loved by surfers for its powerful waves, rocky cliffs, and natural surroundings.
Discover the luxurious Jurere Internacional neighborhood, known for its upscale resorts, fine dining restaurants, high-end boutiques, and vibrant nightlife scene.
Enjoy the natural beauty of Morro das Pedras beach, where you can relax on the golden sands, take in breathtaking views, and experience the peaceful ambiance.
Take a boat tour to explore the mangroves and diverse wildlife of the Lagoa do Peri Ecological Park, a protected area offering hiking trails and natural beauty.
Visit the quaint fishing village of Barra da Lagoa, known for its charming atmosphere, colorful houses, fresh seafood, and excellent surfing conditions.
Take a scenic drive to the nearby town of Santo Amaro da Imperatriz and relax in its natural hot springs, known for their therapeutic properties and rejuvenating effects.
Explore the Parque Estadual do Rio Vermelho, a nature reserve with diverse ecosystems, hiking trails, stunning waterfalls, and opportunities for bird-watching and wildlife spotting.
Experience the vibrant nightlife of Florianopolis by visiting the bars, clubs, and live music venues in the Lagoa da Conceição neighborhood, where you can dance the night away to the rhythms of Brazilian music.
Soar above the city and coastline by going paragliding or hang gliding, and enjoy breathtaking aerial views of Florianopolis' natural beauty.
Discover the charming neighborhood of Sambaqui, known for its traditional fishing culture and picturesque waterfront, where you can enjoy fresh seafood and admire the colorful fishing boats.
Visit the secluded and pristine Galheta Beach, known for its natural beauty and clothing-optional policy, offering a tranquil and untouched coastal experience.
Explore the cultural exhibits and art galleries at the Museu de Arte de Santa Catarina (MASC), showcasing a diverse collection of contemporary and traditional Brazilian art.
Enjoy a sunset hike up the Morro da Cruz, a hilltop viewpoint that offers panoramic views of the city, the coastline, and the breathtaking sunset over Florianopolis.
Indulge in water sports such as stand-up paddleboarding, kayaking, and kiteboarding in the calm waters of Lagoa da Conceição or in the thrilling waves of Praia do Santinho.
Take a boat tour to the uninhabited Ilha do Arvoredo, a marine protected area known for its vibrant coral reefs, crystal-clear waters, and abundant marine life, offering excellent diving and snorkeling opportunities.
Immerse yourself in the local traditions and festivities by attending the vibrant and colorful Carnival celebrations in Florianopolis, filled with music, dance, parades, and cultural performances.
With its stunning beaches, captivating nature, rich cultural heritage, and vibrant nightlife, Florianopolis offers a myriad of experiences for every visitor. This list of top 33 things to do will help you make the most of your visit to this captivating Brazilian city. Enjoy your time exploring the beauty and diversity that Florianopolis has to offer.

source: Davidsbeenhere on YouTube
What To Eat and Drink in Florianopolis, Brazil
Florianópolis, affectionately known as the "Magic Island", is a gastronomic paradise that celebrates Brazil's multifaceted heritage. Nestled between the Atlantic Ocean and rolling hills, this island city not only offers picturesque views but also an exciting culinary journey for both aficionados and first-timers. Let's dive deeper into the flavors and traditions of Florianópolis.
Traditional Foods to Savor:
Sequência de Camarão (Shrimp Sequence):

Description: A flavorful parade of shrimp dishes presented sequentially.
Experience: It typically begins with a crispy shrimp pastel. As your appetite builds, you're introduced to shrimp sautéed in garlic and oil, followed by a creamy shrimp preparation. The finale is a hearty shrimp stew, perfectly complemented by rice, pirão, and a fresh salad.

Oysters:

Description: Recognized for their unmatched quality, the oysters in Florianópolis are a seafood lover's dream.
Experience: Relish them freshly shucked, or indulge in baked, grilled, or au gratin variations. Each preparation unveils the ocean's essence in every bite.

Berbigão:

Description: These native small clams are a staple of the region's cuisine.
Experience: Berbigão can be infused into a garlic and tomato rice dish or transformed into golden, mouthwatering patties.

Azorean Heritage Dishes:

Description: Florianópolis's ties to the Azores are celebrated through its culinary offerings.
Experience: Delight in the rich flavors of Caldeirada de Frutos do Mar (a robust seafood stew) or the aromatic Arroz de Marisco (seafood-infused rice).

Churrasco:

Description: Brazilian barbecue at its finest.
Experience: Visit a local churrascaria and indulge in an array of succulent meats, ranging from juicy sirloins to flavor-packed chicken hearts, all grilled to perfection.
Sweet Indulgences:
Quindim:

Description: A luscious, sunshine-yellow dessert radiating coconut goodness.
Experience: Its silky texture, derived from a blend of coconut, sugar, butter, and egg yolks, offers a tropical flavor explosion.

Cassava Cake:

Description: A tribute to the region's indigenous roots.
Experience: Relish the dense, moist consistency of this cake, where cassava melds seamlessly with coconut and condensed milk.

Cocada:

Description: A coconut confectionary delight.
Experience: Experience the chewiness of coconut, enhanced by fruity undertones from guava or pineapple infusions.
Beverage Bliss:
Caipirinha:

Description: Brazil's iconic drink, a symphony of cachaça, lime, sugar, and ice.
Experience: While the classic is always refreshing, Florianópolis offers twists incorporating local fruits or even a dash of oyster essence!

Chimarrão:

Description: A cherished beverage from southern Brazil.
Experience: Sip on this earthy yerba mate tea, traditionally consumed from a gourd with a metal straw, embodying centuries of tradition.

Tropical Juices:

Description: A journey through Brazil's lush orchards.
Experience: Refresh yourself with exotic flavors like acerola, guava, passion fruit, and cashew fruit.

Craft Beers:
Culinary Hotspots:
Mercado Público:

Atmosphere: A bustling hub where tradition meets modernity.
Must-try: Dive into stalls serving regional dishes, and don't forget to pick up local spices and crafts as souvenirs.

Lagoa da Conceição:

Atmosphere: A trendy enclave buzzing with energy.
Must-try: From traditional Brazilian eateries to avant-garde international cuisines, there's a gastronomic treasure waiting at every corner.

Beach Restaurants (Barracas de Praia):

Atmosphere: Dine with your toes in the sand and the symphony of waves in the background.
Must-try: Fresh seafood dishes, especially when they're caught just a stone's throw away!
Insider Tips:
Local Recommendations: Strike up a conversation with the locals. Their insights might lead you to off-the-beaten-path culinary wonders.
Brazilian Dining Etiquette: Meals are more than just food; they're an experience. Relish each bite, engage in lively conversations, and cherish the communal vibe.
Festivals: If your visit coincides with February, the local Oyster Festival is a must-attend. It's not just about the oysters, but also the vibrant cultural showcase of music and dance.
Street Food & Snacks: A Bite on the Go
Pastéis:

Description: Crispy, deep-fried pockets stuffed with an array of fillings.
Experience: While the shrimp pastel is popular, also try variants with cheese, meat, and even sweet fillings like guava and cheese.

Açaí:

Description: A rich, purple-hued bowl made from the açaí berry.
Experience: Often topped with granola, banana, and other fresh fruits, this Amazonian treat is both nutritious and delicious, perfect for recharging after a day at the beach.

Tapioca Pancakes:

Description: Soft, chewy flatbreads made from cassava flour.
Experience: Fillings can range from savory (cheese, meat, vegetables) to sweet (chocolate, fruits, condensed milk), making them versatile for any craving.

Pão de Queijo:

Description: Cheese bread balls made from cassava flour and cheese.
Experience: Best enjoyed warm, these little balls are a melt-in-the-mouth experience, oozing with cheesy goodness.
Seafood Extravaganza: A Dive into the Deep Blue
Moqueca:

Description: A rich seafood stew made with fish, shrimp, and sometimes crab, cooked in a clay pot with tomatoes, onions, garlic, and coriander.
Experience: The dish showcases a blend of indigenous and African influences, with the aromatic presence of coconut milk and dende oil.

Lagosta à Thermidor (Lobster Thermidor):

Description: Lobster meat combined with egg yolks and brandy, typically stuffed into a lobster shell.
Experience: A luxurious dish, it exemplifies the city's ability to infuse international flavors into its rich culinary repertoire.

Siri na Casca:

Description: Crab meat sautéed with spices and returned to its shell for serving.
Experience: This dish emphasizes the fresh taste of crab, complemented by the delicate blend of Brazilian spices.
Beyond Traditional: Modern Florianopolitan Cuisine
Gourmet Pizza with Regional Ingredients:

Description: Classic pizza crusts topped with local ingredients like heart of palm, tropical fruits, or Brazilian cheeses.
Experience: An exciting twist on a global favorite, bringing Florianópolis's character to every slice.

Artisanal Ice Creams:

Description: Creamy delights infused with native flavors.
Experience: Dive into scoops flavored with fruits like jabuticaba, caju (cashew apple), and pitanga or indulge in those inspired by traditional desserts like brigadeiro or quindim.

Fusion Restaurants:

Description: Establishments blending Brazilian ingredients with international cooking techniques.
Experience: Enjoy dishes where Brazilian flavors meet Mediterranean, Asian, or other global cuisines, reflecting Florianópolis's cosmopolitan spirit.
Coffee Culture: From Bean to Cup
Café com Leite:

Description: A simple yet satisfying blend of coffee and milk.
Experience: Often enjoyed during breakfast, it's a gentle introduction to Brazil's extensive coffee culture.

Espresso:

Description: A strong, concentrated coffee shot.
Experience: Sip on rich espressos often served with a tiny slice of cake or biscuit on the side.

Brazilian Coffee Houses:

Description: Local cafes celebrating Brazil's coffee legacy.
Experience: Venture into charming coffee houses, where you can sample beans from various Brazilian regions, each with its distinct flavor profile, while enjoying local pastries.
The streets, beaches, and restaurants of Florianópolis sing a melodious culinary symphony, resonating with tales of yesteryears and promises of tomorrow. As the waves crash onto its shores, so does the city continuously embrace and reinvent its gastronomic traditions, promising every visitor not just a meal, but a story to take home. Whether you're biting into a freshly-caught fish, sipping on a handcrafted brew, or simply letting the tropical sun kiss your face as you enjoy a bowl of açaí, Florianópolis promises an experience that's magical in every sense.
Florianópolis is not just a visual treat; it's a culinary journey waiting to be embarked upon. Each dish, drink, and dining spot tells a story, weaving together the rich tapestry of indigenous, Portuguese, and African influences. So, venture forth, take a bite, and let the Magic Island unveil its secrets to you.
Florianopolis Travel Guide: Final Thoughts
As we conclude this Florianopolis travel guide, we hope that it has provided you with valuable insights and inspiration for your visit to this captivating Brazilian city. Florianopolis offers a unique blend of stunning beaches, breathtaking natural landscapes, rich cultural heritage, and vibrant nightlife, making it a truly remarkable destination.
From relaxing on pristine sandy shores to exploring charming neighborhoods, indulging in delicious seafood, and immersing yourself in the local traditions and festivities, Florianopolis promises an unforgettable experience.
Take the time to explore the diverse range of beaches, each with its own character and charm. Immerse yourself in the rich history and colonial architecture of the city's historic center. Indulge in the vibrant food scene, savoring fresh seafood and local delicacies. And don't miss the opportunity to explore the breathtaking natural wonders, from hiking trails and waterfalls to secluded islands and marine reserves.
Florianopolis welcomes you with warm hospitality and a laid-back atmosphere, inviting you to relax, unwind, and embrace the natural beauty that surrounds you.
Remember to respect the local environment, follow sustainable practices, and engage with the local community to gain a deeper understanding of the island's culture and traditions.
We hope this travel guide has provided you with the necessary information, tips, and recommendations to make the most of your journey to Florianopolis. Prepare for an adventure filled with relaxation, natural beauty, cultural immersion, and unforgettable experiences. Boa viagem!
An Ode To Florianopolis
In Florianópolis, where sea winds blow, Magic's alive, as the tides ebb and flow. Azure waves dance, in their rhythmic trance, Welcoming travelers, beckoning a glance.
Oysters glisten, and beaches gleam, The Magic Island, where dreamers dream. Lush hills rolling, and sands golden-spun, Underneath the kiss of the tropical sun.
Hear the tales of old Azorean song, In this haven where legends belong. Chimarrão sips and caipirinha cheers, Echoes of laughter, whispers of years.
Lagoa's charm, and the Mercado's call, The spirit of adventure, waiting for all. Bridges connecting, cultures entwined, In every street, a new treasure to find.
Sunset's hue, a carnival of light, Stars serenade the sultry night. Florianópolis, with its stories to tell, A journey's song, a traveler's spell.
So, wanderer, with dreams in your eyes, Let the Magic Island be your prize. For in its embrace, you'll come to see, Endless tales, of land, heart, and sea.