Welcome to Fortaleza, a vibrant city nestled along the northeastern coast of Brazil. With its golden beaches, rich cultural heritage, and lively atmosphere, Fortaleza is a destination that captivates visitors from around the world.
As the capital of the state of Ceará, Fortaleza offers a delightful blend of modernity and tradition. Its stunning coastline stretches for miles, featuring beautiful sandy beaches such as Praia de Iracema and Praia do Futuro, where you can soak up the sun, take refreshing dips in the azure waters, and indulge in beachside activities.
Beyond the beaches, Fortaleza boasts a rich historical and cultural heritage. Explore the city's colonial past by wandering through the charming streets of the Centro neighborhood, where you'll find historic buildings, colorful architecture, and the iconic Mercado Central, a bustling market offering local handicrafts, spices, and regional delights.
Fortaleza is also renowned for its vibrant nightlife, with countless bars, restaurants, and clubs where you can dance to the infectious rhythms of forró and samba, experiencing the lively spirit of Brazilian music and dance.
For those seeking adventure, Fortaleza serves as a gateway to breathtaking natural wonders. Take a day trip to the mesmerizing Canoa Quebrada or Jericoacoara, where you can explore sand dunes, go on thrilling buggy rides, and witness awe-inspiring sunsets.
Throughout the city, you'll encounter mouthwatering culinary delights, with fresh seafood, tropical fruits, and traditional dishes like moqueca and tapioca. Don't miss the chance to sample the famous Brazilian barbecue, known as churrasco, and indulge in refreshing caipirinhas, Brazil's national cocktail.
With its warm climate, friendly locals, and an array of attractions, Fortaleza promises an unforgettable experience. This travel guide will provide you with essential information, insider tips, and recommendations to make the most of your visit to this captivating Brazilian city. Get ready to immerse yourself in the beauty, culture, and vibrant energy of Fortaleza. Boa viagem!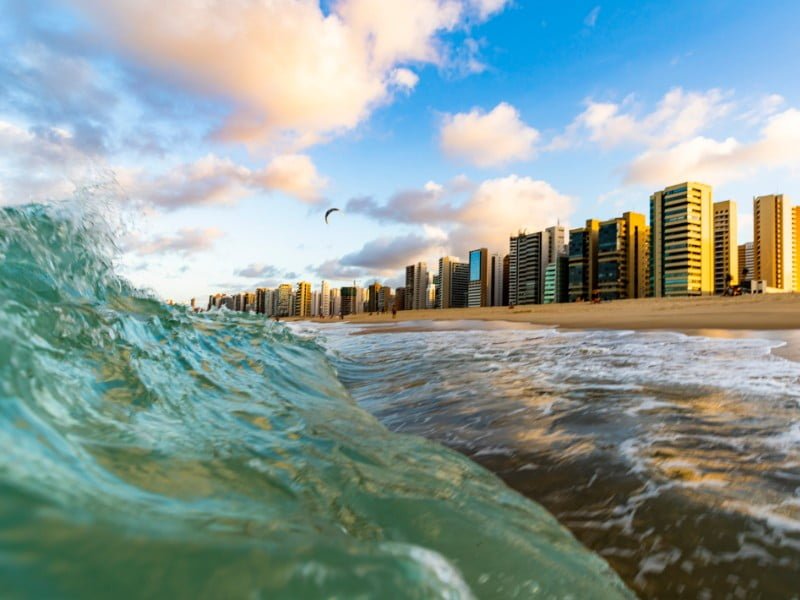 Fortaleza City Guide: A Brief History Of Fortaleza, Brazil
Fortaleza, located on the northeastern coast of Brazil, has a fascinating history that adds depth to the city's cultural fabric and attractions. Understanding its historical background allows travelers to appreciate the rich heritage and landmarks found throughout Fortaleza.
The area where Fortaleza now stands was originally inhabited by indigenous tribes, including the Tremembé and Potyguara peoples. In 1500, Portuguese explorers arrived in the region, claiming it as part of their expanding empire.
During the colonial era, Fortaleza became a strategic point for the Portuguese to defend their territories from potential invasions. In 1649, the Forte de Schoonenborch (later renamed Fortaleza de Nossa Senhora da Assunção) was constructed as a military stronghold to protect the settlement. The fort gave rise to the name "Fortaleza," meaning "fortress" in Portuguese, which eventually became the city's official name.
Fortaleza grew as a bustling port, playing a significant role in the trade of goods such as sugar, cotton, and cattle. Its strategic location facilitated connections with Europe, Africa, and other regions of Brazil. The city's prosperity attracted settlers from different backgrounds, including Portuguese colonists, indigenous people, African slaves, and immigrants from Europe.
In the 19th century, Fortaleza played a prominent role during Brazil's struggle for independence from Portugal. The city became an important center of revolutionary activity and witnessed several battles and uprisings.
As the city developed, its architecture began to reflect different styles and influences. Historic neighborhoods, such as Centro, showcase colonial buildings with ornate facades and colorful tiles. Notable landmarks include the Metropolitan Cathedral, a majestic example of neo-Gothic architecture, and the Iron Bridge, an iconic symbol of Fortaleza's industrial growth.
In the 20th century, Fortaleza experienced rapid urbanization and population growth. The city expanded beyond its historic core, leading to the development of modern neighborhoods, commercial districts, and entertainment areas.
Today, Fortaleza is a vibrant city that blends its historical roots with contemporary allure. Travelers can explore the rich architectural heritage, visit museums that depict the city's history, and engage with local traditions and festivities that celebrate Fortaleza's cultural identity.
Understanding the history of Fortaleza adds depth to your visit, allowing you to appreciate the city's landmarks, cultural heritage, and the resilience of its people. As you explore Fortaleza, you'll discover the layers of history that have shaped this captivating Brazilian city.
Fortaleza Top Attractions and Best Places to Visit in Brazil
Those looking for a taste of the equatorial tropics in Brazil will be well-served to set course for Fortaleza.
Situated only 3 degrees below the equator, those that are bound for its beaches only need to worry about whether it is wet or dry season; those arriving between the months of August to December are in luck in this regard, as almost no rain falls during this time.
Even so, those arriving during the wet season will still see plenty of sunshine outside of the torrential downpours that occur in the afternoon, evening, or overnight.
Outside of only a few hours a day when it is pelting down rain, those craving a little time on some of the most beautiful beaches in Brazil will still have plenty of opportunity to enjoy the best that Fortaleza has to offer.
Those looking for a taste of culture when in Fortaleza will want to spend at least one night at the Dragon of the Sea Cultural Center during their visit here.
Named for a man who played a key role in the emancipation of the slaves in northeastern Brazil in the 19th century, this facility is home to a contemporary art museum, theaters for stage productions, a cinema, a planetarium, and much more.
In the general vicinity of the Dragon of the Sea Cultural Center, one can also find many restaurants and bars, making this place the perfect spot to take in a little culture in the early evening, and then experience the lively nightlife that Fortaleza is famous for.
Another famous cultural institution in Fortaleza is Theatro José de Alencar. This art nouveau-style building is home to countless theater, opera, and ballet productions throughout the year, so if you don't find what you are looking for at the Dragon of the Sea Cultural Center, there's a good chance you'll find a show that is to your liking here.
While it might not appear to be a worthwhile attraction at first glance, you'll be glad that you gave the Catedral Metropolitana de Fortaleza a fair chance once you step inside.
This Gothic Roman style church was designed by French architect George Mounier in the early 20th century, and took 40 years to complete, with its final dedication taking place in 1978.
Notable for its ceiling mosaics, this massive cathedral is the third largest church in Brazil, with a total capacity of over 5,000 worshippers.
Other Cultural Attractions: Trip to Fortaleza, Brazil
The one attraction that Fortaleza is best known for are the quality of its beaches located within and close by to its the city center. While the urban beaches are acceptable enough, two of the best strips of sand can be found within a short day trip of its downtown core.
First on your list should be Morro Branco, which is held in high regard for the beauty of the cliffs that back this popular beach.
The cliffs and the dunes found here are composed of varying shades of colored rock and sand, adding to the visually stunning sights that you will see during the day that you spend out here.
Looking for a place that has more of a fishing village feel? If so, then spending a day at Praia de Cumbuco will be more up your alley.
In addition to the town itself, which makes for a charming walk, the chalk-white sands that you will find here will grant you the beach day that you always envisioned having when you first dreamt up a trip to Brazil.
Adventure sport fans will love this place too, as the sand hills located nearby are perfect for dune buggy riding, and the high winds that rip off the coast on a consistent basis make this place perfect for kite surfers and windsurfers.
Travelers that aren't looking for a day at the beach will still have a compelling day trip to go on, as a journey to the Cachaca Museum an hour inland from Fortaleza will get you acquainted with Brazil's signature alcohol.
Created from sugarcane, this institution will show you how Cachaca is distilled, and as you might suspect, the end of the tour comes with a series of complimentary cocktails made from this sweet but potent drink.

source: Wiki Peaks on YouTube
Top 33 Things To Do in Fortaleza, Brazil For Visitors
Here are 33 of the top things to do in Fortaleza:
Bask in the warm sun and relax on the pristine sandy beaches, such as Praia do Futuro and Praia de Iracema, savoring the breathtaking ocean views and indulging in beachside activities.
Immerse yourself in the rich history of Fortaleza by exploring the Centro neighborhood, where you can marvel at the Metropolitan Cathedral, a magnificent example of neo-Gothic architecture, and wander through the charming streets lined with colorful colonial buildings.
Immerse yourself in the vibrant cultural scene at the Dragão do Mar Cultural Center, a dynamic complex housing art exhibitions, theaters, cinemas, and live music venues, where you can witness the creativity and talent of local artists.
Delight your taste buds with the flavors of traditional cuisine in Fortaleza, sampling mouthwatering dishes like moqueca, a savory seafood stew, and tapioca, a popular local snack made from cassava flour.
Step back in time and explore Fortaleza's colonial heritage by visiting the Fortress of Nossa Senhora da Assunção, an impressive structure that played a pivotal role in defending the city during its early days.
Embark on a thrilling adventure by taking a buggy ride across the vast sand dunes of Cumbuco or Canoa Quebrada, feeling the adrenaline rush as you navigate the undulating landscapes and taking in the spectacular coastal vistas.
Experience the magic of a breathtaking sunset at Ponte dos Ingleses, an iconic landmark offering panoramic views of the shimmering ocean and the city's coastline, providing the perfect backdrop for a romantic evening.
Immerse yourself in the vibrant atmosphere of the Mercado Central, a bustling market where you can browse stalls filled with local crafts, spices, fresh produce, and regional delicacies, allowing you to immerse yourself in the flavors and scents of Fortaleza.
Venture out to the mesmerizing beach of Morro Branco on a boat tour, marveling at the intricate sand cliffs and colorful natural formations that adorn the shoreline, and exploring hidden caves and rock formations.
Experience the lively energy of Fortaleza's nightlife by exploring the bustling bars, clubs, and music venues in neighborhoods like Iracema and Praia de Futuro, where you can dance to the infectious beats of Brazilian music and savor the vibrant ambiance.
Find tranquility amidst nature at the Jardim Japonês, a serene Japanese garden where you can wander through beautiful landscapes, admire picturesque ponds, and find a peaceful moment of reflection.
Enjoy a refreshing swim in the crystal-clear waters and relax on the golden sands of Praia do Cumbuco, a stunning beach surrounded by swaying palm trees and offering a tranquil escape from the city's hustle and bustle.
Immerse yourself in the lively atmosphere of Feirinha da Beira Mar, a nighttime handicraft fair held along the Beira Mar Avenue, where you can browse an array of stalls offering local crafts, souvenirs, street food, and live entertainment.
Explore the architectural grandeur of the José de Alencar Theater, a historic cultural venue known for its exquisite design and hosting captivating theatrical performances, concerts, and ballets.
Uncover the fascinating history and cultural artifacts of the region at the Ceará Museum, where you can discover art collections, archaeological exhibits, and anthropological displays that shed light on the diverse heritage of Fortaleza and its surroundings.
Take a leisurely stroll along the iconic Beira Mar Avenue, a bustling promenade lined with palm trees, restaurants, bars, and shops, offering a vibrant atmosphere and captivating views of the ocean.
Experience excitement and thrills at Beach Park, one of the largest water parks in Latin America, featuring exhilarating slides, lazy rivers, wave pools, and fun-filled attractions for all ages.
Escape the city and embark on a day trip to the enchanting beach town of Jericoacoara, known for its pristine sand dunes, crystal-clear lagoons, and a laid-back atmosphere perfect for relaxation and water sports.
Discover the natural beauty of the Mangrove Park (Parque do Cocó), a vast green oasis where you can enjoy leisurely walks, bike rides, and birdwatching amidst the lush flora and fauna.
Learn the steps of forró, a popular Brazilian dance style, by attending a dance performance or joining a dance class to immerse yourself in the lively local culture.
Visit the Passeio Público, Fortaleza's oldest public park, featuring beautiful gardens, tranquil lakes, and a charming gazebo, providing a peaceful retreat in the heart of the city.
Immerse yourself in the local art scene by exploring Galeria Mariana Furlani, a contemporary art gallery showcasing works by regional artists, offering a glimpse into the vibrant artistic expression of Fortaleza.
Indulge in retail therapy along the Fortaleza boardwalk, known as the "calçadão," where you can find a variety of shops, boutiques, and handicraft stalls offering a range of souvenirs, clothing, and accessories.
Experience the electrifying atmosphere of a soccer match at the Castelão Stadium, home to Fortaleza's beloved soccer team, joining passionate fans as they cheer and chant in support of their team.
Immerse yourself in the local fishing culture by visiting the picturesque fishing village of Mucuripe, where you can witness the traditional arrival of the jangadas (sailboats) and even try your hand at fishing.
Immerse yourself in art, music, and theater at the Centro Cultural Banco do Nordeste, a cultural center hosting exhibitions, concerts, theatrical performances, and educational workshops, showcasing the diversity of regional talents.
Get your adrenaline pumping by trying sandboarding on the dunes of Parque Ecológico do Cocó, sliding down the sandy slopes and enjoying panoramic views of the surrounding natural landscapes.
Enjoy a leisurely walk along the Fortaleza boardwalk, where you can take in the breathtaking views of the coastline, watch the local fishermen at work, and witness the vibrant energy of street performers and vendors.
Take part in a guided tour or cultural workshop at the Center of Tourism, housed in a former prison complex, offering insights into the local crafts, traditions, and historical significance of Fortaleza.
Explore the picturesque fishing village of Mucuripe and witness the arrival of the jangadas (traditional fishing boats) as the local fishermen bring in their fresh catch of the day.
Immerse yourself in the local music scene by attending a live concert or performance at one of the city's music venues, experiencing the rhythmic beats of genres like forró, samba, and axé.
Explore the natural beauty of Fortaleza by visiting Parque Adahil Barreto, a sprawling urban park with lush greenery, walking trails, and recreational areas ideal for picnics and outdoor activities.
Capture beautiful memories by hiring a local photographer to take professional photos of you against the stunning backdrop of Fortaleza's beaches, landmarks, or colorful streets, preserving your visit in a unique and artistic way.
As you embark on your journey through this captivating city, make sure to savor the local cuisine, immerse yourself in the rhythms of forró, and take the time to appreciate the historical landmarks and natural wonders that make Fortaleza so unique.
This list of top 33 things to do in Fortaleza will guide you in creating unforgettable memories and discovering the diverse treasures this Brazilian coastal gem has to offer. Enjoy your time in Fortaleza, soak up the sun, embrace the vibrant culture, and leave with memories that will last a lifetime. Boa viagem!
Fortaleza Travel Guide: Final Thoughts
As we conclude this Fortaleza travel guide, we hope it has provided you with valuable insights and inspiration for your visit to this vibrant city on the northeastern coast of Brazil. Fortaleza offers a perfect blend of beautiful beaches, rich cultural heritage, exciting nightlife, and warm hospitality.
From the stunning coastline with its golden sands and crystal-clear waters to the charming historical neighborhoods and bustling markets, Fortaleza is a destination that captivates visitors with its diverse attractions.
Indulge in the local cuisine, dance to the rhythms of forró, explore the city's colonial past, and immerse yourself in the lively atmosphere of its nightlife. Don't forget to take advantage of the numerous outdoor adventures and day trips to nearby natural wonders, such as sandboarding on the dunes or visiting enchanting beach towns.
While enjoying all that Fortaleza has to offer, embrace the friendly local culture and interact with the warm-hearted people who call this city home. Allow yourself to be swept away by the beauty, energy, and vibrant spirit of Fortaleza.
We hope this travel guide has equipped you with the necessary information, recommendations, and tips to make the most of your journey to Fortaleza. Prepare to immerse yourself in the captivating charm and rich cultural tapestry of this Brazilian coastal gem. Boa viagem!