Welcome to the enchanting city of Freiburg, nestled in the idyllic landscapes of the Black Forest in southwestern Germany. As you embark on your journey to this picturesque destination, prepare to be captivated by its rich history, vibrant culture, and sustainable practices. This comprehensive travel guide will be your trusted companion, revealing the hidden treasures of Freiburg, guiding you through its charming old town, immersing you in its cultural heritage, inviting you to explore its breathtaking outdoor wonders, and enticing you with its delectable culinary delights.
Freiburg's crown jewel is its captivating old town, where cobblestone streets wind through medieval architecture, and lively squares are filled with the buzz of locals and visitors alike. Explore the magnificent Freiburg Minster, an iconic Gothic cathedral that towers over the city's skyline and offers breathtaking panoramic views from its tower. Wander through the picturesque Münsterplatz, the vibrant heart of the old town, where you can browse the bustling market stalls, sample local delicacies, and soak up the vibrant atmosphere.
Immerse yourself in Freiburg's rich cultural heritage by visiting its renowned museums and galleries. The Augustinermuseum houses an impressive collection of art and artifacts spanning centuries, while the Museum für Neue Kunst showcases contemporary works by both German and international artists. Don't miss the opportunity to explore the Historisches Kaufhaus, a beautifully preserved Renaissance building that now houses the City History Museum, offering insights into Freiburg's past.
Venture beyond the city's historic center, and you'll discover an outdoor paradise waiting to be explored. Freiburg is surrounded by the natural beauty of the Black Forest, offering endless opportunities for hiking, biking, and scenic walks. Embark on a journey through the dense forests, crystal-clear lakes, and rolling green hills, immersing yourself in nature's embrace. For panoramic views, head to the Schlossberg, a hill in the heart of the city, where you can hike to the top or take the funicular railway and enjoy sweeping vistas of Freiburg.
Freiburg's commitment to sustainability is evident throughout the city. As a leading "green" destination, it embraces eco-friendly practices and initiatives. Explore the Vauban neighborhood, a model of sustainable urban living, with car-free streets, solar-powered homes, and community gardens. Visit the Solarmobil-Freiburg, a museum dedicated to renewable energy and innovative transportation solutions. Indulge in the local culinary scene, where farm-to-table dining, organic markets, and regional specialties take center stage, showcasing Freiburg's dedication to sustainable and delicious gastronomy.
As we embark on this journey through Freiburg, prepare to be enchanted by its historical charm, amazed by its natural beauty, and inspired by its sustainable living. Whether you're strolling through its timeless streets, immersing yourself in its cultural treasures, or exploring the wonders of the Black Forest, Freiburg promises a truly unforgettable experience. So, pack your bags, embrace the spirit of sustainability, and get ready to discover the magic of Freiburg, where history, nature, and sustainability converge to create a destination like no other. Welcome to Freiburg, your gateway to a remarkable adventure.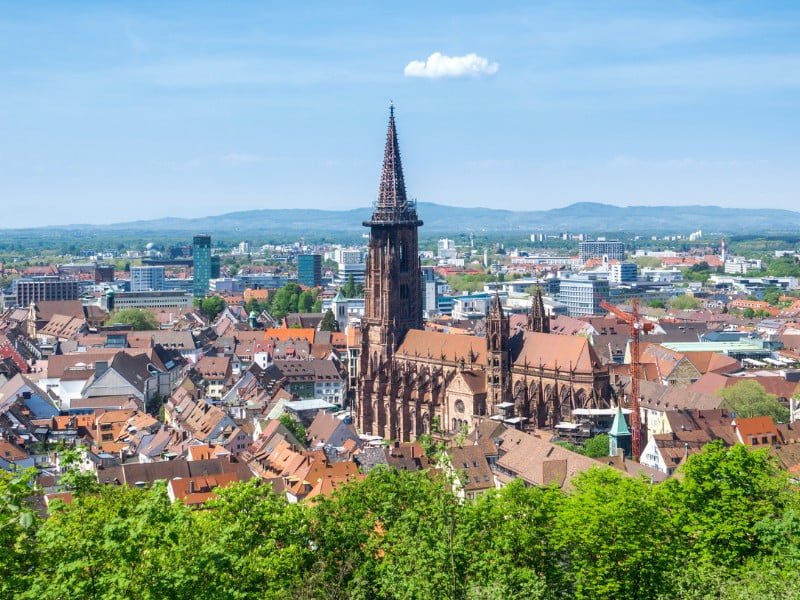 Freiburg City Guide: A Brief History Of Freiburg, Germany
As you embark on your journey to Freiburg, it's essential to understand the city's fascinating history, which has shaped its character and left an indelible mark on its streets and landmarks. Freiburg's history stretches back over 900 years, making it a city rich in historical significance. Let's delve into the captivating past of this remarkable destination, offering you insights that will enhance your experience as a traveler.
Freiburg was founded in 1120 as a free market town by the Duke of Zähringen, Conrad I. Its strategic location in the Dreisam River valley, at the edge of the Black Forest, made it a vital trading hub for merchants traveling between France, Switzerland, and the rest of Germany. The town quickly grew in prosperity, becoming a key center of commerce and attracting settlers from various backgrounds.
The influence of the Zähringen dynasty can still be seen in Freiburg's iconic landmark, the Freiburg Minster. Construction of the cathedral began in the 13th century and continued for over 300 years, resulting in a magnificent Gothic structure that dominates the city's skyline. Climbing the Minster's tower rewards visitors with breathtaking views of Freiburg and the surrounding landscapes.
Throughout the centuries, Freiburg experienced its share of challenges and triumphs. The city was a major player in the trade of goods such as salt, textiles, and wine, which contributed to its economic growth. However, the devastating Black Death plague in the 14th century and the turmoil of the Thirty Years' War in the 17th century took a toll on the city's population and prosperity.
In the 18th and 19th centuries, Freiburg witnessed a period of resurgence and cultural flourishing. The university, founded in 1457, became a renowned center for education and research, attracting scholars from around the world. The city also experienced architectural transformations during this time, with the construction of elegant Baroque and Renaissance-style buildings that still grace the streets of the old town.
The 20th century brought its own challenges to Freiburg. The city suffered significant damage during World War II, but unlike many other German cities, it was able to rebuild and restore much of its historic center to its former glory. Today, Freiburg stands as a testament to resilience and preservation, with its well-preserved old town showcasing a harmonious blend of architectural styles.
Freiburg is also known for its commitment to sustainability and environmental consciousness. It has earned a reputation as one of Germany's greenest cities, promoting sustainable practices, renewable energy, and eco-friendly initiatives. This dedication to sustainability is evident in the city's urban planning, transportation systems, and the strong emphasis on cycling and pedestrian-friendly infrastructure.
As you explore Freiburg's streets and landmarks, you'll encounter the stories of its past woven into its fabric. The charming old town, with its narrow alleyways, medieval buildings, and bustling squares, invites you to step back in time. The city's museums, such as the Augustinermuseum and the City History Museum, provide deeper insights into Freiburg's history and cultural heritage.
By embracing Freiburg's history, you'll gain a deeper appreciation for its present and a greater connection to its people. As you wander through the streets, immerse yourself in the stories of the past and allow the echoes of history to guide you through the remarkable city of Freiburg.

source: Before You Go on YouTube
Freiburg Top Attractions and Best Places to Visit in Germany
Nestled amidst the mountains of the Black Forest, Freiburg is a must-visit destination for travellers in Germany. From its picturesque town centre to the wilderness that surrounds the city, there is much to see and do here.
This city has many outstanding attractions, but among them, Freiburg Cathedral stands out. This stunning Christian hall of worship has stood here since the 13th century. At the time of its construction, builders began crafting it in the Romanesque Style. However, as the years wore on, it took on more of a Gothic look.
On its exterior, its intricately-carved gargoyles will capture your attention. Inside, this cathedral's stunning stained glass windows will do the same. Do try to time your visit properly, as this church holds a pipe organ concert every Saturday morning.
Next, make your way over to the Augustiner Museum. As the name suggests, authorities located this visual art institution inside a former Augustine monastery. Within, you'll find an exquisite collection of medieval paintings, textiles, and sculptures. In particular, its collection of stained glass panes are noteworthy.
To save money on entry to this museum, consider buying an all-access attractions pass from Freiburg tourism authorities. This way, you can maximize your value as you hop from one institution to another.
As you walk through the historic centre of Freiburg, a bright red building will stand out. This structure is the Historisches Kaufhaus or the Old Merchant's Hall. This building entered service in the 14th century as a venue for traders to ply their wares.
Commerce continues to go on here to this day. If you're into chamber music, inquire about tickets, as groups occasionally hold performances here in the evenings.
Back in the days of city walls, the Schwabentor served an important function, as it controlled the flow of people in and out of Freiburg. Today, it is one of two medieval gates remaining from that era. Be sure to get a selfie here before you go.
Other Cultural Attractions: Trip to Freiburg, Germany
Standing almost 1,500 feet above sea level, Schlossberg lords over Freiburg. So, if you want amazing views of the city and surrounding countryside, head to the top of this peak. You can do this via car, or if you are active, by trails heading up from the base.
Once you've reached the summit, head up into the observation tower for superior views over the entire region. With panoramic views from all angles, photographers won't want to miss this attraction. Afterwards, hit up the beer garden, where you can admire the views over a refreshing beverage.
If you are travelling through Freiburg as a family, make room in your schedule for a visit to Mundenhof. This attraction is the largest zoo in Baden-Württemberg state, spanning some 38 hectares of land. You'll find 30 species of animal here, which includes peacocks, crab-eating macaques, and llamas.
Not into sharing this space with kids? No worries – unlike most zoos, Mundenhof is open 24/7. Better yet, there is no entry fee – they fund their operations through donations. You can also help their cause by buying lunch at the concession – we recommend the currywurst.
Need to chill out a bit while exploring Freiburg? See an hour or two in Seepark. With 35 hectares of space, its easy to get away from the crowds here. Sit on a bench, or relax by their artificial lake. If you feel like exploring, check out its Japanese garden and/or its rose garden. Otherwise, grab a brew at the beer garden before renting a paddleboat.
Lastly, spend an evening checking out Münsterplatz. From street food to cafes to fine restaurants, there are plenty of venues to grab a meal here. Get whatever you're jonesing for, then watch the locals of Freiburg go about their business.

source: Cooking the World on YouTube
What To Eat in Freiburg, Germany
On the food front, locals exalt Freiburg for its side dishes. Start by ordering some Kartoffelpuffer with one of your meals. Quite simply, these are potato pancakes crafted from an eggs and flour batter. As such, you'll find them at street stalls and restaurants alike. Have them with applesauce, and as a side to stews or meat dishes. You'll be glad you did.
Kartoffelsalat is another side you'll encounter frequently during your time in Freiburg. Cooks make this potato salad by preparing it with beef broth, onions, white vinegar, mustard, and other ingredients. Usually, you'll find this side wherever vendors sell German sausages.
End your day with a sweet slice of Schwarzwälder Kirschtorte. Also known as Black Forest Cake, this marriage of dark chocolate and cherries will send your taste buds to heaven. Try to track down bakeries that soak their cake layers in Kirschwasser Brandy – those versions are divine.
Here's a deep dive into what you should eat when in Freiburg:
Badische Küche (Baden Cuisine):
Freiburg is situated in the Baden-Württemberg region, and the local cuisine, Badische Küche, is something you must try. It emphasizes fresh, regional, and seasonal produce.
Flädlesuppe: A savory pancake soup. Pancakes (or Flädle) are rolled up, sliced, and then added to a clear beef or vegetable broth.
Maultaschen: Often described as Swabian ravioli, these are pasta pockets filled with a mixture of meat, breadcrumbs, and spinach. They can be boiled or fried and are often served with potato salad.
Schäufele: A roasted pork shoulder dish, typically served with potato salad.
Black Forest Specialties:
Freiburg's proximity to the Black Forest means you get to taste some of the area's traditional treats.
Black Forest Cake (Schwarzwälder Kirschtorte): A rich, layered chocolate cake with whipped cream, cherries, and cherry schnapps.
Black Forest Ham (Schwarzwälder Schinken): A smoked, air-dried ham that's often served thinly sliced.
Bread & Pastries:
Bretzeln (Pretzels): These can be found in bakeries throughout the city. They are often soft, salty, and perfect with butter or cheese.
Kaiserbrötchen: These are crusty round rolls, ideal for sandwiches or to accompany soups.
Seelen: A type of bread roll seasoned with cumin or caraway seeds, and salt.
Vegetarian & Vegan:
Freiburg is a progressive city with a notable vegetarian and vegan scene. Many restaurants offer exclusively vegetarian or vegan menus, and local dishes are often available in vegetarian versions.
International Cuisine:
Freiburg is a cosmopolitan city, and its culinary scene reflects that. You'll find Turkish, Italian, Asian, and Middle Eastern restaurants sprinkled throughout the city. Don't miss out on Döner Kebabs and Falafel – they're quite popular.
Local Wine & Beverages:
Baden Wines: Freiburg is in one of Germany's top wine-producing regions. Do try the Spätburgunder (Pinot Noir) and Grauburgunder (Pinot Gris).
Apfelschorle: A refreshing drink made of apple juice mixed with sparkling water.
Schwarzwald Sprudel: This is the local mineral water and is widely available.
Sweet Treats:
Rote Grütze: A delightful dessert made from red berries, often served with cream or vanilla sauce.
Mohrenkopf: A chocolate-coated marshmallow treat similar to the French "tête de choco."
Cheese Delights:
The Black Forest region is not only about hams and cakes; it's also home to some divine cheeses.
Bergkäse: A hard, matured cheese reminiscent of the Alps. It's often enjoyed with bread and regional wines.
Handkäse: A sour milk cheese that's typically marinated in vinegar and onions. It has a very distinct smell and taste.
Sausages & Meat:
Freiburg, like much of Germany, has a rich history of meat and sausage production.
Bratwurst: A type of German sausage made of pork, beef, or veal. You can usually find vendors in the Münstermarkt grilling them.
Landejäger: A semi-dried sausage traditionally made in the Southern part of Germany. Perfect for a snack while hiking in the Black Forest!
Fish & Seafood:
While Freiburg is landlocked, thanks to the Rhine River and its tributaries, there are some freshwater fish delicacies to try.
Forelle (Trout): Often pan-fried or smoked and served with a variety of sides like potatoes or salads.
Street Food:
Currywurst: A popular German fast-food dish, it's essentially a steamed, then fried pork sausage seasoned with curry ketchup, regularly served with fries.
Local Cafes and Teahouses:
Schwarzes Café: A delightful spot for traditional German cakes and coffee. Its ambiance is quaint, reminiscent of old-world Germany.
Teehaus Freiburg: For tea lovers, this place offers a diverse range of teas from around the world. They also serve snacks and sweets to complement your brew.
More Dining Tips & Etiquette:
"Stammtisch" Tradition: In many traditional restaurants or pubs, you may notice a table marked with a "Stammtisch" sign. This table is often reserved for regulars.
Service Charges: In Germany, service charges are generally included in the bill, but it's still customary to leave a small tip (around 5-10%) if you're satisfied with the service.
Reservations: Popular local spots can get crowded, especially during weekends. It might be a good idea to make a reservation if you have a specific place in mind.
Local Festivals: Depending on the time of year you visit, you might get a chance to experience a local food festival or wine fest. This can be a unique way to sample a variety of local foods and drinks.
Where to Eat:
Markthalle: A food hall located in the city center, where you can find a plethora of international and local dishes.
Freiburger Münstermarkt: Surrounding the Freiburg Cathedral, this market is the place to get fresh regional produce, local cheeses, bread, and sausages.
Local Brauereien (Breweries): Freiburg and its surrounding regions have several breweries. Visit one of the traditional breweries to try some authentic Baden beer and regional dishes.
Vauban District: This eco-friendly district has numerous organic cafes and restaurants.
Tips:
When dining in Freiburg, don't forget to pair your meal with a local wine or beer. The region's beverages complement the cuisine perfectly.
Keep an eye out for seasonal specialties. Depending on when you visit, you might find special dishes highlighting asparagus, mushrooms, or other seasonal ingredients.
Freiburg's gastronomic scene offers an array of tastes that appeal to both traditional and contemporary palates. Its roots in the fertile Baden-Württemberg region ensure an emphasis on fresh, high-quality ingredients. As you stroll the cobblestone streets, allow the city's culinary charm to guide your senses, leading you to hidden gems and timeless classics alike. Enjoy every bite and sip in this gastronomic paradise!

source: Samuel and Audrey on YouTube
Top 44 Things To Do in Freiburg, Germany For Visitors
Here is a list of the top 44 things to do in Freiburg:
Marvel at the grandeur of Freiburg Minster, a stunning Gothic cathedral with its intricate details, including ornate stained glass windows and a soaring spire. Take the opportunity to climb the tower for breathtaking panoramic views of the city.
Explore the picturesque streets of Freiburg's historic old town. Admire the well-preserved medieval architecture, charming cobblestone lanes, and colorful facades. Don't miss the iconic Schwabentor and Martinstor gates, remnants of the city's medieval fortifications.
Immerse yourself in the vibrant atmosphere of Münsterplatz, the bustling square in front of the cathedral. On weekdays, browse the bustling market stalls offering local produce, flowers, and handicrafts. On Saturdays, experience the lively farmers' market.
Take a leisurely stroll along the banks of the serene Dreisam River. Enjoy the peaceful ambiance, soak in the scenic views, and perhaps find a spot for a picnic or a quiet moment of relaxation.
Discover the treasures of art and history at the Augustinermuseum. Marvel at the impressive collection of European artworks, including paintings, sculptures, and decorative arts spanning centuries.
Venture up the iconic Schlossberg, the hill in the heart of the city. Climb the scenic paths or take the Schlossbergbahn funicular for panoramic views of Freiburg and its surroundings. Explore the lush greenery, hidden ruins, and the Schlossbergturm, a tower offering stunning vistas.
Step into the Historical Merchants' Hall (Historisches Kaufhaus), an architectural gem from the Renaissance period. Admire its beautiful facade and explore the City History Museum within, which provides insights into the city's rich past.
Find tranquility in Colombi Park, a delightful green space adorned with elegant sculptures, blooming flowers, and a charming fountain. Take a leisurely stroll, relax on a bench, or enjoy a peaceful moment amidst nature.
Immerse yourself in the vibrant atmosphere of Rathausplatz, the square in front of the town hall. Take in the architectural beauty, soak up the bustling energy, and grab a seat at one of the cozy cafés to savor a drink or a meal.
Delve into contemporary art at the Museum für Neue Kunst. Discover thought-provoking exhibitions showcasing works by German and international artists, spanning a wide range of artistic disciplines and styles.
Experience the intellectual and cultural legacy of Freiburg by taking a guided tour of Freiburg University. Explore its historic buildings, picturesque courtyards, and renowned libraries, while learning about the university's storied past and prestigious academic programs.
Immerse yourself in the performing arts by attending a captivating performance at the Freiburg Theater. Enjoy opera, ballet, theater, or musical productions that showcase the city's rich cultural scene.
Escape to the tranquil oasis of Stadtgarten, a beautifully landscaped park. Wander along its winding pathways, admire vibrant flower beds, and find a peaceful spot to relax. Don't forget to visit the charming café nestled within the park.
Venture to the majestic Schauinsland, the highest peak in the Black Forest. Take a scenic cable car ride to the summit, where you'll be rewarded with breathtaking views of the surrounding valleys, forests, and even the Vosges Mountains in France on a clear day.
Embark on a botanical journey at the Botanical Garden of the University of Freiburg. Explore the diverse collection of plants, including rare and exotic species from around the world, set amidst beautifully curated landscapes.
Pedal your way through Freiburg's scenic cycling paths. Rent a bike and explore the city and its surroundings on two wheels, enjoying the fresh air and beautiful scenery along the way.
Expand your horizons at the Freiburg Planetarium. Immerse yourself in captivating shows that transport you into the depths of the universe, unraveling the mysteries of space and astronomy.
Explore the innovative and sustainable neighborhood of Vauban. Known for its eco-friendly practices, car-free streets, and solar-powered homes, Vauban offers a glimpse into sustainable urban living. Take a guided tour to learn about its green initiatives and community-focused design.
Indulge your taste buds with the flavors of the local cuisine. Visit traditional Freiburg restaurants and savor regional specialties such as Black Forest ham, hearty Swabian dishes, and delectable Black Forest cake. Pair your meal with a glass of locally produced Baden wine.
Immerse yourself in the vibrant atmosphere of the Freiburg Münstermarkt. Held around the cathedral square, this bustling market showcases a wide array of fresh produce, regional delicacies, artisanal goods, and charming crafts. Explore the stalls and indulge in the flavors of the region.
Delve deeper into history with a visit to the impressive Schloss Neuenburg. Located just outside Freiburg, this medieval castle offers a captivating glimpse into the past with its well-preserved architecture, extensive grounds, and intriguing exhibitions.
Experience the magic of the Freiburg Christmas Market. During the festive season, the city's squares and streets come alive with twinkling lights, charming stalls, and the aroma of mulled wine and gingerbread. Browse the unique gifts, enjoy traditional treats, and immerse yourself in the enchanting holiday spirit.
Engage with contemporary art at the Museum of Modern Art (Museum für Moderne Kunst). Discover thought-provoking exhibitions featuring works by renowned contemporary artists, showcasing a diverse range of mediums and artistic expressions.
Embark on a boat ride on the tranquil Titisee, a picturesque lake nestled in the heart of the Black Forest. Enjoy the serenity of the surroundings, take in the natural beauty, and perhaps indulge in a refreshing swim or a leisurely paddleboat ride.
Ascend the Schauinslandbahn, a scenic cable car that transports you to the summit of the Schauinsland mountain. Revel in awe-inspiring panoramic views of the Black Forest, the Rhine Valley, and even the Swiss Alps on clear days.
Immerse yourself in the world of performing arts at the Stadttheater Freiburg. Attend captivating theater productions, musical performances, or ballet shows that showcase the city's vibrant cultural scene.
Explore the historical wonders of Freiburg Waterworks (Historisches Wasserwerk), an architectural gem from the late 19th century. Discover the impressive engineering behind the city's water supply system and learn about its historical significance.
Engage with nature by visiting the Freiburg Botanic Garden. Explore its diverse collection of plants, including rare species and thematic gardens, while enjoying peaceful walks and serene surroundings.
Uncover the region's winemaking heritage with a visit to the Weingut Dr. Heger winery. Take a guided tour to learn about the winemaking process, taste a variety of wines, and gain insights into the unique terroir of the region.
Marvel at the innovative architecture of the Freiburg Concert House (Konzerthaus Freiburg). Attend a live performance, be it a classical concert, jazz recital, or contemporary music event, and immerse yourself in the world of music.
Escape to the tranquil beauty of the Seepark, a picturesque park and lake located on the outskirts of Freiburg. Take a leisurely walk around the lake, rent a paddleboat, or simply find a peaceful spot to relax and enjoy the serene ambiance.
Immerse yourself in history at the Museum of Archaeology. Discover ancient artifacts, explore reconstructed archaeological sites, and learn about the region's prehistoric past.
Discover the enchanting world of fairy tales at the Märchengarten im Colombipark. This whimsical garden features life-size sculptures and scenes from beloved fairy tales, providing a magical experience for visitors of all ages.
Explore the vibrant neighborhood of Wiehre, known for its beautiful streets lined with colorful townhouses and charming cafés. Take a leisurely walk through this picturesque district, visit the Wiehre Cemetery with its tranquil atmosphere, or relax in one of the local cafés.
Immerse yourself in the local brewing culture by visiting a traditional brewery such as Ganter Brauereiausschank. Take a brewery tour, learn about the brewing process, and sample a variety of locally crafted beers.
Dive into history at the Museum of Urban History (Stadtgeschichtliches Museum). Discover the city's past through interactive exhibits, historical artifacts, and multimedia displays, offering a fascinating insight into Freiburg's development over the centuries.
Discover the unique charm of Freiburg's vineyards by taking a wine tour. Visit local wineries, explore the vineyards, and learn about the winemaking process while indulging in tastings of exquisite regional wines.
Explore the vibrant culinary scene of Freiburg by joining a food tour. Sample local specialties, visit gourmet food shops, and learn about the culinary traditions and flavors that make Freiburg's gastronomy so special.
Immerse yourself in literature at the Freiburg City Library (Stadtbibliothek). Spend a peaceful afternoon browsing its extensive collection, reading in cozy corners, or attending literary events and workshops.
Take a refreshing dip in the Eugen-Keidel-Bad, a modern thermal bath complex nestled in a scenic forest setting. Enjoy the rejuvenating thermal pools, saunas, and wellness facilities, offering a perfect retreat for relaxation and pampering.
Explore the vibrant nightlife of Freiburg by venturing into the lively Günterstal and Wiehre neighborhoods. Discover cozy bars, live music venues, and bustling clubs, where you can dance the night away or enjoy a relaxed evening with friends.
Connect with nature at the Waldseilgarten Höllschlucht. Embark on an exhilarating high ropes course adventure, navigating through treetop obstacles and ziplines in a beautiful forest setting.
Immerse yourself in the world of science at the Explorhino Science Center. Engage in interactive exhibits, conduct experiments, and explore the wonders of physics, technology, and natural sciences in a fun and educational environment.
End your Freiburg journey with a relaxing visit to one of the city's thermal baths, such as the Caracalla Spa in neighboring Baden-Baden. Unwind in the soothing thermal pools, indulge in spa treatments, and rejuvenate your body and mind in a tranquil oasis.
With this diverse range of activities and experiences, Freiburg promises to captivate and delight every traveler. Immerse yourself in the city's history, culture, and natural beauty, creating unforgettable memories in this charming corner of Germany.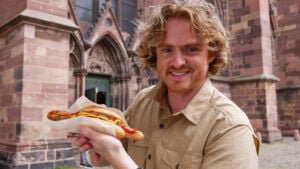 Freiburg Travel Guide: Final Thoughts
As we conclude this comprehensive travel guide to Freiburg, we hope that it has provided you with valuable insights, inspiration, and excitement for your upcoming visit to this captivating city. Freiburg offers a unique blend of history, culture, natural beauty, and sustainability, making it a truly exceptional destination.
From the awe-inspiring Freiburg Minster and the charm of the historic old town to the scenic beauty of the Black Forest and the vibrant cultural scene, Freiburg has something to offer every traveler. Whether you're immersing yourself in the rich history, exploring the picturesque streets, indulging in culinary delights, or connecting with nature, Freiburg promises a memorable and enriching experience.
Don't forget to embrace the city's commitment to sustainability, from its eco-friendly practices to its dedication to renewable energy. Freiburg's passion for sustainability is not only admirable but also serves as an inspiration for visitors to adopt more environmentally conscious habits.
As you explore Freiburg, take the time to engage with the friendly locals, who are proud of their city and always ready to share their insights and recommendations. Their stories and perspectives will add a special touch to your experience, offering a deeper understanding of Freiburg's spirit and character.
Whether you're visiting for a few days or a longer stay, Freiburg will leave a lasting impression on your heart. As you wander through its historic streets, soak in its natural beauty, and savor its flavors, may your journey be filled with unforgettable moments, new discoveries, and a sense of connection to this remarkable city.
We wish you a wonderful adventure in Freiburg, where history, culture, nature, and sustainability merge to create an extraordinary travel experience. Safe travels!
An Ode To Freiburg
In the heart of the Black Forest's embrace, Lies Freiburg, a city of grace. Cobbled streets and the Münster tall, Whisper tales of days of yore to all.
Nestled by hills, where vineyards creep, Its secrets and stories, ancient and deep. The Bächle flow, like memories clear, Guiding travelers, drawing them near.
In Markt, the scents of sausages fill the air, Warm pretzels, wines, a feast beyond compare. Golden sunsets paint the sky with hues, As Freiburg evenings bring charming news.
Vauban's green streets echo with song, Of a future sustainable, where all belong. Gaze upon the Schwarzwald's mighty sprawl, Where nature's voice beckons one and all.
So wanderer, as you tread this land, Let Freiburg's spirit take your hand. For in its alleys, dreams intertwine, With every shadow, in every sunshine.