Freiburg Travel Guide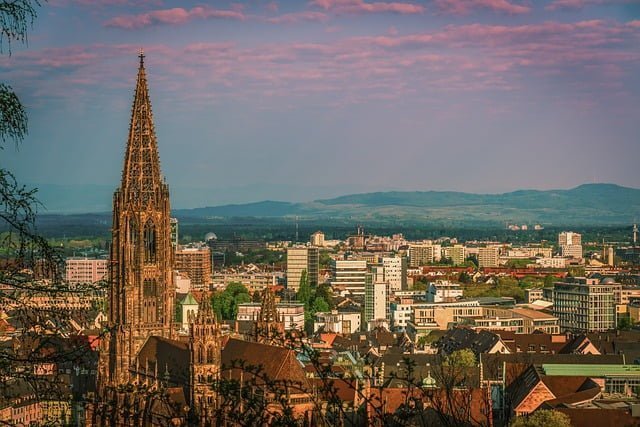 Introduction
Nestled amidst the mountains of the Black Forest, Freiburg is a must-visit destination for travellers in Germany. From its picturesque town centre to the wilderness that surrounds the city, there is much to see and do here.
Top Attractions
This city has many outstanding attractions, but among them, Freiburg Cathedral stands out. This stunning Christian hall of worship has stood here since the 13th century. At the time of its construction, builders began crafting it in the Romanesque Style. However, as the years wore on, it took on more of a Gothic look.
On its exterior, its intricately-carved gargoyles will capture your attention. Inside, this cathedral's stunning stained glass windows will do the same. Do try to time your visit properly, as this church holds a pipe organ concert every Saturday morning.
Next, make your way over to the Augustiner Museum. As the name suggests, authorities located this visual art institution inside a former Augustine monastery. Within, you'll find an exquisite collection of medieval paintings, textiles, and sculptures. In particular, its collection of stained glass panes are noteworthy.
To save money on entry to this museum, consider buying an all-access attractions pass from Freiburg tourism authorities. This way, you can maximize your value as you hop from one institution to another.
As you walk through the historic centre of Freiburg, a bright red building will stand out. This structure is the Historisches Kaufhaus or the Old Merchant's Hall. This building entered service in the 14th century as a venue for traders to ply their wares.
Commerce continues to go on here to this day. If you're into chamber music, inquire about tickets, as groups occasionally hold performances here in the evenings.
Back in the days of city walls, the Schwabentor served an important function, as it controlled the flow of people in and out of Freiburg. Today, it is one of two medieval gates remaining from that era. Be sure to get a selfie here before you go.
Other Attractions
Standing almost 1,500 feet above sea level, Schlossberg lords over Freiburg. So, if you want amazing views of the city and surrounding countryside, head to the top of this peak. You can do this via car, or if you are active, by trails heading up from the base.
Once you've reached the summit, head up into the observation tower for superior views over the entire region. With panoramic views from all angles, photographers won't want to miss this attraction. Afterwards, hit up the beer garden, where you can admire the views over a refreshing beverage.
If you are travelling through Freiburg as a family, make room in your schedule for a visit to Mundenhof. This attraction is the largest zoo in Baden-Württemberg state, spanning some 38 hectares of land. You'll find 30 species of animal here, which includes peacocks, crab-eating macaques, and llamas.
Not into sharing this space with kids? No worries – unlike most zoos, Mundenhof is open 24/7. Better yet, there is no entry fee – they fund their operations through donations. You can also help their cause by buying lunch at the concession – we recommend the currywurst.
Need to chill out a bit while exploring Freiburg? See an hour or two in Seepark. With 35 hectares of space, its easy to get away from the crowds here. Sit on a bench, or relax by their artificial lake. If you feel like exploring, check out its Japanese garden and/or its rose garden. Otherwise, grab a brew at the beer garden before renting a paddleboat.
Lastly, spend an evening checking out Münsterplatz. From street food to cafes to fine restaurants, there are plenty of venues to grab a meal here. Get whatever you're jonesing for, then watch the locals of Freiburg go about their business.
What To Eat
On the food front, locals exalt Freiburg for its side dishes. Start by ordering some Kartoffelpuffer with one of your meals. Quite simply, these are potato pancakes crafted from an eggs and flour batter. As such, you'll find them at street stalls and restaurants alike. Have them with applesauce, and as a side to stews or meat dishes. You'll be glad you did.
Kartoffelsalat is another side you'll encounter frequently during your time in Freiburg. Cooks make this potato salad by preparing it with beef broth, onions, white vinegar, mustard, and other ingredients. Usually, you'll find this side wherever vendors sell German sausages.
End your day with a sweet slice of Schwarzwälder Kirschtorte. Also known as Black Forest Cake, this marriage of dark chocolate and cherries will send your taste buds to heaven. Try to track down bakeries that soak their cake layers in Kirschwasser Brandy – those versions are divine.