Fukuoka Travel Guide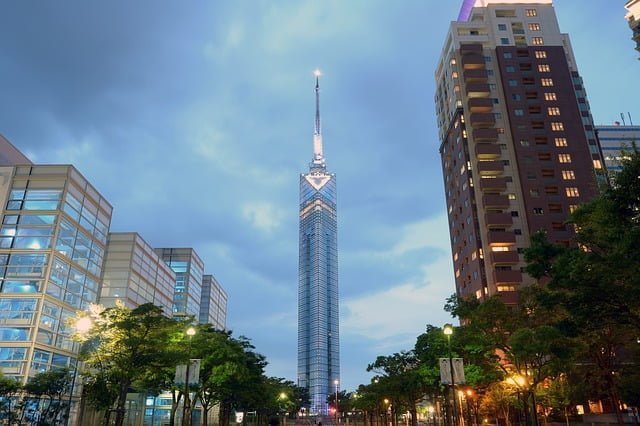 Introduction
Fukuoka is often the first city Korean visitors see in Japan, as it is a port of entry for ferries from Busan.
As the biggest city on Kyushu Island, you'll find plenty of museums, temples, gardens, and other attractions that will occupy your time here.
Come check out our Fukuoka guide for intrepid travelers as we cover the best things to do in Fukuoka, Japan.
Top Attractions
As a harbour city, Fukuoka has a strong connection to the sea. As such, you should start your visit by taking a ferry out to Nokonoshima Island. While it is located within a 10-minute ferry ride of Fukuoka port, this isle's rural nature sets it apart from the bustling city on the mainland.
While its charming town, museums, and petting zoos will amuse some, you'll want to ensure that the Nokonoshima Island Park is on your sightseeing agenda. Bursting with brilliant flowers and blossoms in peak season, it is well worth the 1000 yen that is charged for admission.
Destinations on this island can be spread out, so it is advised that you rent a bike. They come with power assists to help get you up the island's many hills but note that they are not allowed within the bounds of the flower park.
Back on the mainland, make the Fukuoka City Museum your next stop. Here, you'll get to learn about how the citizens of Fukuoka have lived their lives over the many centuries it has existed. In addition to tools and personal effects from previous generations, you'll find evidence of this port's role in connecting the Japanese to the Chinese and Korean peoples.
Of the artifacts that highlight these relationships, the Gold Seal is by far the most significant. Gifted to a Japanese emissary visiting Emperor Guangwu during the Han Dynasty (1st century AD), it was later found on an offshore island in the 18th century AD.
Take in the most prominent Shinto place of worship in Fukuoka by stopping by the Kushida Shrine. While it is a peaceful place to visit in any season, those who are here during the summer will get an opportunity to take in three of Fukuoka's most important festivals. At this time, floats are made for the parades that mark each celebration – even if you arrive before or after each one, there is a good chance you'll be able to check them out.
All is not lost if you come by during the winter, though – at this time, giant otabuku masks, which caricaturize plump women, are made for a popular festival called Setsubun Taisai. They are big enough to walk through, so give it a go if you happen upon them.
If you still have an appetite for religious points of interest during your visit to Fukuoka, make time to drop by the Tochoji Temple as well. Boasting a five-storey tiered pagoda as its main highlight, it is rumoured to be one of the oldest Buddhist temples in all of Japan.
This is entirely believable, as Fukuoka has been welcoming ships from the Asian continent for centuries. According to oral legend, a Japanese monk called Kobo-daishi built this temple so he could pray for the spread of Tantric Buddhism to Japan.
While it is not nearly as old as many of the Heian Period statues that dot the temple grounds, be sure to check out the Great Buddha of Fukuoka. Finished in 1992, this impressive depiction of the Buddha stands nearly 11 metres high and weighs almost 30 tons.
Other Attractions
Have an appetite to check out more isles in the Fukuoka area? Make your way over to Shika Island, as it was here where the Gold Seal of Fukuoka was found. You'll find numerous shrines along its walking trails, beaches along its shores, and seafood restaurants that serve up the freshest catches from the Sea of Japan.
If you are visiting Fukuoka as a family, consider paying a visit to Marine World Uminonakamichi. Many of the aquatic species featured are endemic to the Korea Strait, making it an interesting place for those interested in marine biology.
In addition to these exhibits, the dolphin/sea lion shows, shark tanks, otters, and spotted seals make this attraction an entertaining one.
After you have gotten your fill of the aquarium, linger for a while at Uminonakamichi Seaside Park. Offering ocean views, flower beds, jogging trails, and bike paths, it is a great place to relax, get in your daily workout, or in sakura season, admire the cherry blossoms with the locals.
Ohori Park is another green space worth checking out while in the Fukuoka area. Its name stands for moat, as it is centred around the ruins of Fukuoka Castle, but that isn't all it has to offer – a Japanese Garden containing Chinese influence will also capture your attention.