Welcome to the magnificent city of Geneva, nestled on the shores of Lake Geneva in Switzerland. As you step into this enchanting destination, prepare to be mesmerized by a harmonious blend of natural beauty, rich history, and a vibrant cosmopolitan atmosphere.
Geneva, often referred to as the "Capital of Peace," is renowned as a global center for diplomacy and international cooperation. It hosts the headquarters of numerous international organizations, including the United Nations and the Red Cross, making it a hub for global dialogue and collaboration.
The city's rich history is evident in its captivating Old Town, where you can wander through narrow medieval streets, marvel at the iconic St. Peter's Cathedral, and explore historic landmarks like Maison Tavel, the oldest house in Geneva.
Beyond its historical charm, Geneva embraces a modern and sophisticated spirit. The city boasts a thriving cultural scene, with world-class museums, art galleries, and theaters showcasing everything from contemporary art to classical performances.
Indulge in the city's culinary delights as you sample Swiss chocolate, savor exquisite cheese fondues, and delight in gourmet cuisine at Michelin-starred restaurants. Geneva's gastronomy reflects its international character, offering a diverse array of flavors and influences from around the world.
Nature lovers will be captivated by the stunning landscapes surrounding Geneva. The pristine waters of Lake Geneva provide a picturesque backdrop for leisurely boat cruises, lakeside strolls, and water sports activities. The nearby Alps offer breathtaking vistas and opportunities for outdoor adventures, including hiking, skiing, and snowboarding.
Shopaholics will be delighted by Geneva's luxury boutiques, renowned watchmakers, and upscale shopping districts like Rue du Rhône. From high-end fashion brands to exquisite jewelry, Geneva offers a haven for discerning shoppers.
With its commitment to sustainability, Geneva is also a leader in ecological initiatives. You'll find beautifully maintained parks and gardens, bike-friendly infrastructure, and a strong focus on green living.
As you explore Geneva, you'll be enchanted by its international flair, welcoming atmosphere, and the harmonious coexistence of tradition and innovation. So, immerse yourself in the city's unique blend of history, diplomacy, natural beauty, and cultural vibrancy. Geneva awaits with open arms, ready to inspire and captivate you at every turn.
Geneva City Guide: A Brief History Of Geneva, Switzerland
Steeped in history and nestled in the heart of Europe, Geneva is a city with a captivating past that dates back over 2,000 years. As you explore this enchanting destination, you'll discover a tapestry of stories that have shaped Geneva into the vibrant and cosmopolitan city it is today.
Geneva's origins can be traced back to Roman times when it was known as "Genava." The Romans recognized the strategic importance of the city, situated at the crossroads of major trade routes. Over the centuries, Geneva grew in prominence, becoming an important center of commerce and a hub for cultural exchange.
In the 16th century, Geneva emerged as a stronghold of the Protestant Reformation under the leadership of influential theologian John Calvin. The city became a refuge for Protestant reformers, attracting intellectuals, religious exiles, and merchants seeking religious freedom and economic opportunities. Calvin's teachings shaped the city's moral and cultural landscape, leaving a lasting impact that is still felt today.
During the turbulent times of the Reformation, Geneva witnessed clashes between Catholic and Protestant powers, and the city experienced political and religious upheavals. However, Geneva's commitment to neutrality and independence led to its recognition as a sovereign republic in the 16th century, known as the Republic of Geneva.
Throughout the centuries, Geneva became known as a center of political and diplomatic affairs. The city hosted crucial diplomatic negotiations, including the signing of the Geneva Conventions, which established humanitarian principles in times of war. Geneva's commitment to diplomacy earned it the status of the "Capital of Peace," hosting international organizations such as the United Nations and the International Red Cross.
Geneva's cultural heritage is also evident in its stunning architecture. The city boasts an enchanting Old Town, where you can wander through narrow cobbled streets, marvel at historic buildings, and visit landmarks like St. Peter's Cathedral, a magnificent example of Gothic architecture.
Today, Geneva is a thriving global city that blends its rich history with a modern and dynamic spirit. The city's international character is reflected in its diverse population, renowned educational institutions, and a thriving arts and culture scene.
As you explore Geneva, you'll find museums and galleries showcasing art and history, luxurious boutiques offering Swiss precision and craftsmanship, and a culinary landscape that delights the senses with Swiss chocolate, cheese, and international cuisine.
The history of Geneva is woven into the fabric of the city, and its legacy of neutrality, humanitarianism, and intellectual pursuits continue to shape its identity. So, as you venture through the streets of Geneva, take a moment to appreciate the stories that have unfolded here, and embrace the city's rich cultural heritage that welcomes travelers from around the world.
Geneva Top Attractions and Best Places to Visit in Switzerland
Geneva – for decades, this gorgeous Swiss city has mediated scores of international disputes. Over that time, the United Nations and other international organizations have set up a presence here. But even if you aren't interested in any of that stuff, this destination's natural setting will win you over.
Most people know Geneva for its role in global affairs. However, not all realize that this city is also home to CERN. As one of the planet's most important research institutes, its scientists do crucial theoretical and practical work daily.
If you're reading this, you can thank CERN – they played a key role in birthing the modern internet. However, most of their research involves particle physics – they helped to discover the Higg's Boson and created anti-hydrogen.
If you want to see their operations up close, though, you just can't show up. You must book a tour in advance – visitor services recommends doing so one month ahead of time. If it's too late for that, you can roll the dice and jump on a waiting list. If you get lucky, spaces may open up.
Before the United Nations existed, the League of Nations was the world's first attempt at international dialogue. During its brief tenure, the Palace of Nations in Geneva was its headquarters. Today, this stunning Classicist structure is the European HQ for the United Nations.
To tour the place, you need to go on a guided tour. Bring your passport (mandatory) to the ticket office and get a slot on a tour given in your language.
Next door to the Palace of Nations is the International Red Cross and Red Crescent Museum. This institution covers the history of one of the world's best-known humanitarian organizations. Get the audio guide, as it will explain its history of disaster response, advocating for POWs and political prisoners, and more.
If you're looking for a church to tour in Geneva, check out St Pierre Cathedral. Its builders created it as a Gothic Catholic church in the 12th century. However, during the Protestant Reformation, it converted to a Calvinist cathedral.
Other Cultural Attractions: Trip to Geneva, Switzerland
As cliche as it is, many know Switzerland for its watches. At the Patek Philippe Museum, you can learn about the history of this industry. Here, you'll get to see one of the oldest watches in existence – a piece from the 16th century.
Over three floors, you'll see a variety of wristwatches, pocket watches, as well as jewellery and music boxes. Note that this museum does not allow video or picture taking of any kind – so don't try. To enter, you'll need to pay an entrance fee of 10 CHF (9 EUR), so be sure you have enough on hand.
On a rainy day, a visit to Geneva's Museum of Natural History can help salvage your plans. Within, you'll find a collection of preserved insects and taxidermied animals that once belonged to famed Swiss/German naturalists.
The quality of these displays, which include animals like tigers, zebras, and even a two-headed tortoise, is astounding. Better yet, entry to these exhibits is free, making it an excellent option for families and budget travellers. Plan on spending at least a couple of hours here.
Garden lovers will want to spend some quality time out at Villa le Chene. The property here pales in comparison to its expansive grounds – its flower beds and theme gardens steal the show. In particular, the zen gardens and the tropical glasshouse stand out. If you have kids, a small animal park, which features ducks, goats, and deer, is also worth visiting.
On a warm sunny day, there's no better place to be than on the shores of Lake Geneva. Public beaches are available, as are private clubs. In the latter, enjoy fine food and drinks as you enjoy refreshing lake breezes – it's an exquisite experience.
Food Suggestions In Geneva, Switzerland
Eating in Geneva can be expensive. To save money – but enjoy a local delicacy – grab a Longeole. This sausage contains ground pork, pork rinds, and fennel seeds for seasoning. If you can't find it on the street, have it in a restaurant with potatoes – you'll thank us later.
If money is no object, find a fine dining establishment that serves Fondue Bourguignonne. Once a treat for hard-working farmhands, diners now pay loads of cash to cook their own dinner. On the table, you take raw cuts of fine beef (or other meats), cook them in oil on a table griddle, and dip them in fine sauces.
For dessert, leave room for some Wähe. This tart comes in sweet or savoury versions – the former comes with seasonal fruit, while the latter boasts spinach, cheese, and/or onions. If you opt for the sweet version, you'll enjoy local apples, apricots, or rhubarb.

source: Top Travel Europe on YouTube
Top 44 Things To Do in Geneva, Switzerland For Visitors
Here are 44 of the top things to do in Geneva:
Wander through the picturesque Old Town (Vieille Ville) and immerse yourself in the medieval charm of its narrow streets and historic buildings.
Visit St. Peter's Cathedral (Cathédrale Saint-Pierre) and climb the tower for breathtaking panoramic views of Geneva and the surrounding landscape.
Explore the Parc des Bastions, home to the famous Reformation Wall, where you can admire statues of key figures from the Reformation movement.
Take a leisurely stroll along the shores of Lake Geneva (Lac Léman) and enjoy the serene beauty of the water, framed by the stunning backdrop of the Alps.
Discover the fascinating world of horology at the Patek Philippe Museum, where you can marvel at a remarkable collection of watches and timepieces.
Immerse yourself in art at the Museum of Art and History (Musée d'Art et d'Histoire), which houses an extensive collection ranging from ancient artifacts to modern masterpieces.
Learn about the humanitarian efforts of the International Red Cross and Red Crescent at their dedicated museum, where interactive exhibits provide insight into their noble work.
Take a guided tour of the United Nations Office at Geneva, gaining a deeper understanding of the organization's global impact and its role in diplomacy.
Indulge in a luxury shopping experience on Rue du Rhône, where you'll find renowned watchmakers, high-end fashion boutiques, and exquisite jewelry stores.
Experience the lively ambiance of Carouge, Geneva's bohemian neighborhood, known for its colorful facades, trendy shops, and cozy cafés.
Embark on a scenic boat cruise on Lake Geneva, soaking in the breathtaking views of the lake, surrounding mountains, and picturesque lakeside towns.
Engage with the wonders of the natural world at the Museum of Natural History (Muséum d'histoire naturelle), where interactive displays showcase the region's biodiversity and geological heritage.
Attend a performance at the Grand Théâtre de Genève, an opulent opera house renowned for its world-class productions and stunning architecture.
Explore the English Garden (Jardin Anglais) and marvel at the exquisite L'Horloge Fleurie (Flower Clock), a symbol of Geneva's passion for precision and nature.
Immerse yourself in the art of ceramics and glassware at the Ariana Museum, which houses a vast collection of exquisite works from different time periods and cultures.
Discover the beauty and tranquility of the Conservatory and Botanical Garden of Geneva (Conservatoire et Jardin botaniques de Genève), home to a diverse array of plant species and peaceful walking paths.
Uncover the history of Geneva at Maison Tavel, the oldest house in the city that now serves as a captivating museum, offering insights into the city's past through multimedia exhibits.
Embark on a day trip to the charming town of Annecy in neighboring France, known for its enchanting canals, medieval architecture, and stunning Lake Annecy.
Bask in the peaceful ambiance of Parc La Grange, where beautifully manicured gardens, elegant trees, and stunning lake views create an idyllic setting for a picnic or a leisurely walk.
Learn about the humanitarian work of the International Committee of the Red Cross at the Museum of the International Committee of the Red Cross and Red Crescent, where interactive exhibits offer an immersive experience.
Marvel at the iconic Jet d'Eau, a magnificent water fountain shooting 140 meters into the air, providing a dazzling spectacle against the backdrop of Lake Geneva.
Discover the inner workings of international diplomacy with a guided tour of the Palace of Nations, the European headquarters of the United Nations, where you can explore the Assembly Hall and Council Chamber.
Immerse yourself in the world of digital art at the Museum of Digital Art (MAD), where interactive installations and immersive exhibits push the boundaries of artistic expression.
Delve into the vibrant atmosphere of the Plainpalais Flea Market, a treasure trove of vintage finds, antiques, books, and unique collectibles.
Rent a bike and enjoy a leisurely ride along the scenic paths that wind around Lake Geneva, taking in the fresh air and breathtaking views.
Join the annual Geneva International Motor Show, where automobile enthusiasts gather to witness the latest innovations and marvel at sleek and powerful cars from renowned brands.
Take a picturesque train journey to the nearby town of Montreux, renowned for its annual Jazz Festival, charming promenade, and proximity to the stunning Chillon Castle.
Explore the wonders of science and technology at the Museum of the History of Science, where interactive exhibits and historical artifacts shed light on groundbreaking discoveries.
Immerse yourself in cultural diversity at the Museum of Ethnography of Geneva, home to an extensive collection of ethnographic artifacts and exhibitions showcasing diverse cultures from around the world.
Treat yourself to a relaxing boat ride to the medieval village of Yvoire, nestled on the French side of Lake Geneva, and experience its enchanting ambiance and well-preserved architecture.
Experience the vibrant energy of the Carouge Market, where local vendors sell fresh produce, artisanal products, and delectable treats, offering a true taste of Geneva's culinary delights.
Capture the essence of Geneva's bike-friendly culture by renting a bicycle and exploring the city's well-maintained bike paths and scenic routes.
Attend the Geneva International Film Festival, a prestigious event that showcases an eclectic selection of international films and celebrates the art of cinema.
Immerse yourself in the enchanting world of the Museum of Ethnography of Geneva, which houses a diverse range of cultural artifacts and exhibitions.
Join a guided walking tour of Geneva's vibrant neighborhoods, such as Eaux-Vives or Les Pâquis, to discover hidden gems, local hotspots, and intriguing stories.
Step into the past at the Maison de Rousseau et de la Littérature, a museum dedicated to the life and works of the influential philosopher Jean-Jacques Rousseau.
Unwind in the serene Parc des Eaux-Vives, a beautiful park with lush greenery, stunning lake views, and elegant dining options.
Discover Geneva's rich musical heritage by attending a concert at the Geneva Opera House or catching a performance by the renowned Orchestre de la Suisse Romande.
Take a trip to the charming village of Coppet, home to the famous Château de Coppet and its beautiful gardens, where literary figures such as Madame de Staël once gathered.
Explore the vibrant Quartier des Grottes, known for its eclectic street art, trendy boutiques, and vibrant nightlife scene.
Engage in a cultural exchange at the Maison des Arts du Grütli, a contemporary arts center that hosts exhibitions, performances, and cultural events.
Sample the exquisite flavors of Geneva's chocolate heritage by embarking on a chocolate tasting tour, where you can savor the creations of renowned chocolatiers.
Join a guided tour of CERN, the world's largest particle physics laboratory, and gain insights into groundbreaking scientific research and discoveries.
End your day with a relaxing stroll along Geneva's beautiful promenades, where the lights of the city and the calming rhythm of the lake create a tranquil ambiance that invites reflection and appreciation for the beauty that surrounds you.
As you explore Geneva, you'll find that there is something for everyone. Whether you're drawn to its rich history, vibrant cultural scene, stunning natural landscapes, or culinary delights, this city has it all. From wandering through its charming Old Town to embarking on scenic boat rides, indulging in world-class art and museums to immersing yourself in the spirit of international diplomacy, Geneva promises an unforgettable experience.
So, whether you're a history enthusiast, an art lover, a nature seeker, or simply looking to soak up the cosmopolitan atmosphere, Geneva invites you to delve into its diverse offerings and create lasting memories. Embrace the city's unique blend of tradition and modernity, and let the enchanting spirit of Geneva captivate your heart.

source: Strictly Dumpling on YouTube
What To Eat and Drink in Geneva, Switzerland
Geneva, a cosmopolitan city nestled on the shores of Lake Geneva, is not only Switzerland's diplomatic hub but also a melting pot of cultures and culinary influences. Its rich history and its status as an international city have resulted in a plethora of delightful dishes and beverages for visitors to savor. Here's a deep dive into Geneva's culinary landscape.
Traditional Swiss Dishes
Fondue: This is perhaps the most iconic Swiss dish. It's made by melting Gruyère and Emmental cheese in white wine, flavored with garlic, and sometimes enhanced with a splash of kirsch (cherry brandy). Dip pieces of bread into the molten cheese with long forks. In Geneva, it's customary to drink tea or white wine with fondue, as locals believe it helps digestion.
Raclette: Melted cheese is also the star in Raclette. Wheels of Raclette cheese are heated, and the melted portion is scraped onto diners' plates. This is typically accompanied by small potatoes, pickles, and onions.
Rösti: Originating from German-speaking Switzerland, rösti is a crispy potato cake, somewhat similar to hash browns but with a creamier center. It can be embellished with cheese, bacon, or onions.
Geneva-style Lake Fish: Geneva, being on the shores of a vast lake, offers numerous freshwater fish dishes. The most famous are perch fillets, which are often fried and served with a lemon-butter sauce and accompanied by chips.
Local Delicacies Specific to Geneva
Longeole: This is a specialty sausage made with pork and flavored with aniseed. It's usually cooked with white wine and is a must-try for meat lovers.
Cardoon: It's a thistle-like vegetable native to the region, often used in gratins, especially during Christmas.
Desserts and Sweets
Swiss Chocolate: While not specific to Geneva, it would be a mistake not to mention Switzerland's world-renowned chocolates. Be sure to visit specialty chocolatiers in Geneva and indulge in pralines, truffles, and the iconic Swiss milk chocolate.
Marrons: These are candied chestnuts and a specialty of Geneva. They're often enjoyed as a sweet treat or used in various desserts.
Drinks
Wine: Geneva is the third-largest wine-producing region in Switzerland, mostly known for its white wines made from the Chasselas grape. The region also produces some excellent reds from the Gamay and Pinot Noir grapes. Many vineyards are open for tours and tastings.
Absinthe: Once banned, this anise-flavored spirit with a notorious reputation is produced in the nearby Val-de-Travers region. It's often enjoyed diluted with cold water, which turns the clear liquid into a milky concoction.
Rivella: A unique Swiss soft drink made from milk whey. It's a refreshing beverage that has a slightly fruity taste and is definitely worth a try.
Where to Eat
Bistros and Cafés: The Old Town has a plethora of quaint bistros and cafés, offering a range of Swiss and international dishes. These are ideal for soaking in the ambiance.
Lakefront Restaurants: For a picturesque dining experience, choose one of the many restaurants lining Lake Geneva. Here you can enjoy local fish dishes with a scenic backdrop.
International Cuisine: Given Geneva's status as a global city, it's no surprise that it's home to a vast array of international restaurants. From fine French establishments to exotic Thai eateries, there's something for every palate.
Local Farmers Markets: To truly immerse yourself in the local food culture, visit the farmers markets. The Plainpalais and Rive markets are particularly popular, offering fresh produce, cheeses, meats, and artisanal products.
Geneva offers a rich culinary experience that reflects both its Swiss heritage and its international influences. From traditional cheesy delights to world-class wines and chocolates, the city provides a gastronomic journey that is sure to delight every food enthusiast. So, when you visit, come with an appetite and leave with a treasure trove of flavorful memories.

source: Kelley Ferro on YouTube
Top Restaurants In Geneva, Switzerland
Geneva, the cosmopolitan heartbeat of Switzerland, is a city that boasts not only picturesque landscapes but also a culinary scene that's rich, diverse, and top-notch. The city's international character combined with Swiss precision and passion for quality ensures an unforgettable dining experience. Here are some of the top restaurants to explore:
Le Chat-Botté:

Cuisine: French
Ambiance: Elegant and sophisticated.
Specialty: Overlooking the Rhône, this restaurant is located in the Beau-Rivage Hotel. Chef Dominique Gauthier crafts exquisite French dishes that are both innovative and rooted in tradition.
Notable dishes: The lobster and the foie gras preparations stand out.

Auberge du Lion d'Or:

Cuisine: Mediterranean-inspired.
Ambiance: Historic yet chic with views of Lake Geneva.
Specialty: This Michelin-starred restaurant is renowned for its refined and flavorful dishes.
Notable dishes: Poultry from the Bresse region and Mediterranean fish dishes.

Rasoi by Vineet:

Cuisine: Indian.
Ambiance: Modern with a touch of Indian elegance.
Specialty: Vineet Bhatia, the Michelin-starred chef, offers a contemporary twist on Indian cuisine.
Notable dishes: Tandoori salmon and masala foie gras.

L'Armoire:

Cuisine: Swiss/French.
Ambiance: Cozy and intimate.
Specialty: Offers a mix of traditional Swiss dishes and contemporary French cuisine.
Notable dishes: The duck breast and perch fillets from Lake Geneva.

Il Lago at The Four Seasons Hotel des Bergues:

Cuisine: Italian.
Ambiance: Luxurious with a touch of classic European grandeur.
Specialty: It's renowned for its Northern Italian dishes and boasts a Michelin star.
Notable dishes: Homemade pasta and risottos.

Parfums de Beyrouth:

Cuisine: Lebanese.
Ambiance: Casual and friendly.
Specialty: Authentic Lebanese cuisine.
Notable dishes: Hummus, falafel, and grilled meats.

Café Papon:

Cuisine: Swiss.
Ambiance: Historic and charming, located in a building dating back to the 16th century.
Specialty: Traditional Swiss fare with a focus on regional specialties.
Notable dishes: Fondue and raclette, especially during winter.

Le Flacon:

Cuisine: Modern European.
Ambiance: Contemporary and relaxed.
Specialty: This Michelin-starred restaurant offers creative dishes crafted with precision.
Notable dishes: The tasting menu, which changes frequently based on seasonal ingredients.

Windows Restaurant at Hotel d'Angleterre:

Cuisine: International.
Ambiance: Elegant with stunning views of the Jet d'Eau.
Specialty: The diverse menu caters to international tastes with a blend of Swiss, European, and world dishes.
Notable dishes: The Sunday brunch is particularly renowned.

Izumi at Four Seasons Hotel des Bergues:
Cuisine: Japanese fusion.
Ambiance: Rooftop setting with panoramic views of the city.
Specialty: Nikkei cuisine, a blend of Peruvian and Japanese flavors.
Notable dishes: Ceviche with Japanese twists and teriyaki-spiced meats.
Tips:
Reservations: Given Geneva's bustling culinary scene, it's advisable to make reservations, especially for the more popular or Michelin-starred restaurants.
Dress Code: While some eateries like Parfums de Beyrouth have a relaxed dress code, upscale establishments like Le Chat-Botté or Il Lago may require more formal attire.
Local Produce: Many top Geneva restaurants prioritize local and seasonal produce, so you're assured of fresh, high-quality ingredients in your dishes.
Geneva offers an eclectic mix of culinary experiences, from the deeply traditional to the excitingly innovative. Whether you're in the mood for hearty Swiss comfort food, refined French cuisine, or flavors from further afield, Geneva's top restaurants promise a feast for both the eyes and the palate.

source: Attaché on YouTube
Tours For Visitors To Geneva, Switzlerland
Geneva, fondly referred to as the "City of Peace" due to its global significance in diplomacy, is a captivating destination blending rich history, stunning architecture, natural beauty, and cosmopolitan charm. To truly appreciate all its facets, guided tours can offer in-depth insights and experiences. Here are some recommended tours for visitors:
Guided City Tours:
Geneva City Tour: This basic tour typically covers major landmarks, including the Jet d'Eau, St. Pierre Cathedral, and the United Nations Office. Along the way, guides offer historical tidbits and stories that breathe life into the city's streets and monuments.
Old Town Walking Tour: Meander through the cobbled streets of Geneva's Old Town, visiting sites like Maison Tavel (the oldest house in Geneva) and the Town Hall. The guide will regale tales of Geneva's ancient history and its pivotal moments.
International Geneva:
UN and International Organisations Tour: Visit the European headquarters of the UN, the International Red Cross and Red Crescent Museum, and other international organizations. Understand Geneva's pivotal role in global diplomacy and humanitarian efforts.
Boat Tours:
Lake Geneva Cruise: Take a leisurely boat tour on the beautiful Lake Geneva. Many cruises offer panoramic views of the surrounding Alps and Jura mountains, with commentary highlighting key landmarks.
Culinary Tours:
Chocolate and Old Town Tour: Discover Geneva's chocolatiers and taste some of the world's finest chocolates. Along the way, learn about the city's rich history.
Fondue Tasting and Old Town Tour: Embark on a gastronomic journey, tasting traditional Swiss fondue while also exploring the city's ancient streets.
Nature and Adventure Tours:
Geneva Countryside Tour: Head to the serene countryside, visiting picturesque towns like Nyon and Yvoire. Some tours might even include wine tasting sessions at local vineyards.
Geneva Segway Tour: For those looking for a bit of adventure, explore Geneva's parks, lakeside, and urban areas on a Segway.
Surrounding Regions:
Day Trip to Montreux, Château de Chillon, and Chaplin's World: Dive into the cultural gems surrounding Geneva. Visit the stunning Château de Chillon, walk the scenic promenades of Montreux, and experience the world of Charlie Chaplin in Vevey.
Day Trip to Annecy: Known as the "Venice of the Alps," Annecy is a charming French town just a short drive from Geneva. Explore its canals, old-town, and the stunning Annecy Lake.
Custom Private Tours:
Private Geneva Tour: For those seeking a more personalized experience, many companies offer private tours tailored to your interests, be it history, gastronomy, or nature.
Seasonal Tours:
Geneva Christmas Market Tour: Visit Geneva's festive Christmas markets, tasting seasonal delights, shopping for gifts, and soaking in the Yuletide ambiance.
Tips for Touring Geneva:
Booking in Advance: Some popular tours, especially those involving international organizations, may require prior booking due to limited availability.
Travel Passes: If you're planning to stay in Geneva for a few days, consider purchasing the Geneva Transport Card or the Swiss Travel Pass, which offer unlimited travel on public transport and discounts on many attractions.
Dress Appropriately: For tours involving religious sites or international institutions, ensure you're dressed modestly and appropriately.
Local Guides: Opting for local guides often enhances the experience as they share personal stories and lesser-known facts, enriching the overall understanding of the place.
Geneva, with its multifaceted charm, has something to offer every visitor. From its rich political history to its gastronomic delights, from its pristine lakeside views to its surrounding alpine wonders, the city and its surroundings beckon travelers to delve deep. By embarking on these tours, visitors can truly appreciate Geneva in all its depth and diversity.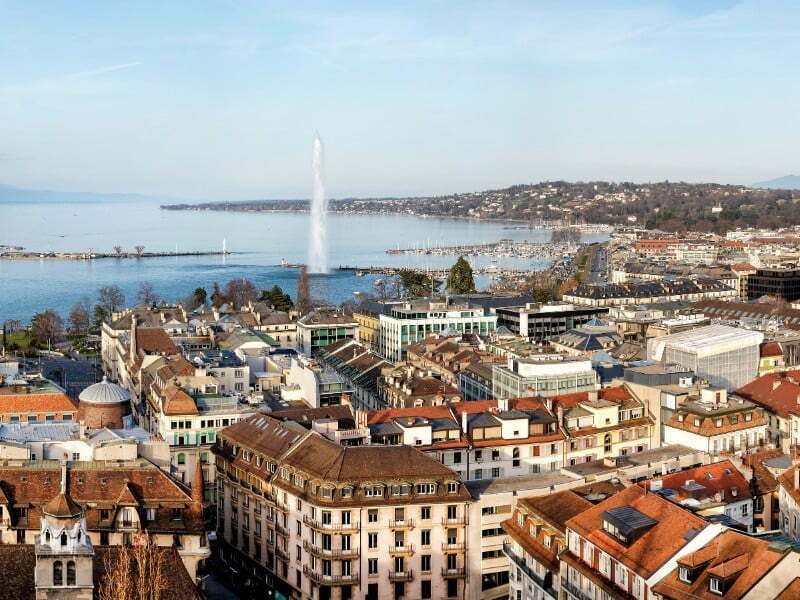 Geneva 3-4 Days Travel Itinerary
Geneva, the "City of Peace", is a mesmerizing blend of natural beauty, history, culture, and international significance. Here's a detailed itinerary to help you get the best out of a 3-4 day trip.
Day 1: Dive into the Heart of Geneva
Morning:

Jet d'Eau: Start your day with a visit to Geneva's iconic water fountain. Best viewed from the Quai du Général-Guisan.
Old Town Walking Tour: Wander through the narrow alleyways, exploring historic sites such as Place du Bourg-de-Four, Maison Tavel, and the Town Hall.

Afternoon:

St. Pierre Cathedral: Climb to the top for a panoramic view of Geneva. Don't miss the archaeological site beneath the cathedral.
Lunch at Café Papon: Savor some Swiss delicacies.
Museum of Art and History: Discover the rich artistic and cultural heritage of the region.

Evening:

English Garden: Relax amidst the vibrant flowerbeds and watch the L'Horloge Fleurie (Flower Clock).
Dinner at Le Chat-Botté: Enjoy exquisite French cuisine.
Day 2: International Geneva and Lake Adventures
Morning:

Palais des Nations (United Nations Office): Book a guided tour. Apart from understanding the international significance, the architecture and the surrounding Ariana Park are worth admiring.
Red Cross and Red Crescent Museum: Delve into the humanitarian missions of the International Red Cross.

Afternoon:

Lunch at Parfums de Beyrouth: Relish Lebanese cuisine.
Lake Geneva Cruise: Embrace the beauty of Lake Geneva, admiring the Jet d'Eau, the surrounding Alps, and possibly the Château de Chillon in the distance.

Evening:

Rue du Rhône: Indulge in some luxury shopping or window shopping.
Dinner at Rasoi by Vineet: Experience Michelin-starred Indian fusion.
Day 3: Nature, Science, and Culture
Morning:

Jardin Anglais (English Garden): A serene start with lush landscapes and impressive sculptures.
Museum of Natural History: Dive into the region's natural history, from geology to zoology.

Afternoon:

Lunch at Café du Soleil: Try a fondue in one of the city's oldest restaurants.
Patek Philippe Museum: Explore the world of horology and Geneva's rich watchmaking history.

Evening:

Bains des Pâquis: Relax at these public baths, and if you're brave, consider a swim in Lake Geneva.
Dinner at L'Armoire: Dive deeper into Swiss culinary traditions.
Day 4: Day Trip to Surrounding Areas
Option 1: Montreux and Château de Chillon

Morning: Take a train to Montreux. Enjoy a leisurely stroll on the promenade.
Afternoon: Visit the medieval Château de Chillon. Delve into its rich history and enjoy breathtaking views of Lake Geneva.

Option 2: Annecy

Morning: Drive or take a train to Annecy. Wander through the "Venice of the Alps" exploring its canals and historic buildings.
Afternoon: Boat tour on Annecy Lake or visit the Palais de l'Isle, a historic building on a tiny island.
Whether you're soaking in the stunning views from a cathedral, relishing world-class cuisine, or diving deep into Geneva's international significance, this itinerary ensures you experience the city's diverse offerings. And even with just 3-4 days, you can appreciate the essence of Geneva and its surrounding wonders. Safe travels!

source: The Traveling Swiss – Alexis & Louis on YouTube
Where To Visit After Your Trip To Geneva?
After soaking in the magnificence of Geneva, you might want to explore other enchanting destinations that are easily accessible from the city. Here's a list of places, ranging from bustling cities to tranquil towns, which can serve as excellent extensions to your Geneva itinerary.
Lausanne:
Distance from Geneva: Approximately 50 km.
Highlights:

Olympic Museum: Delve into the history of the Olympics at this interactive museum.
Lausanne Cathedral: Offers panoramic views from its tower.
Ouchy Promenade: A beautiful lakeside area ideal for strolling.

Stay for: 1-2 days.
Montreux:
Distance: Roughly 90 km.
Highlights:

Chillon Castle: A medieval fortress located on the shores of Lake Geneva.
Rochers-de-Naye: Accessible by a cogwheel train offering spectacular Alpine views.
Montreux Jazz Festival: If visiting in July, this world-famous event is a must.

Stay for: 1-2 days.
Zermatt and the Matterhorn:
Distance: About 230 km.
Highlights:

The Matterhorn: One of the most iconic peaks in the Alps.
Gornergrat Railway: Offers unparalleled views of the surrounding mountains.
Glacier Paradise: Europe's highest cable car station with an ice palace and observation deck.

Stay for: 2-3 days.
Zurich:
Distance: Around 280 km.
Highlights:

Old Town (Altstadt): Historic heart with medieval and renaissance buildings.
Lake Zurich: Beautiful lake offering boat tours.
Swiss National Museum: Learn about Swiss cultural history.

Stay for: 2-3 days.
Bern:
Distance: Approximately 160 km.
Highlights:

Medieval Old Town: A UNESCO World Heritage site.
Zytglogge: An ancient clock tower with guided tours.
Bear Park: A lovely park that is home to the city's symbolic bears.

Stay for: 1-2 days.
Lucerne and Lake Lucerne Region:
Distance: Roughly 300 km.
Highlights:

Chapel Bridge (Kapellbrücke): A picturesque wooden bridge.
Pilatus: A mountain offering panoramic views, reached by cogwheel railway or cable car.
Swiss Transport Museum: Exhibits on the history of transport and communication.

Stay for: 2-3 days.
Annecy, France:
Distance: About 40 km.
Highlights:

Palais de l'Isle: A historic palace on an island in the Thiou river.
Lake Annecy: Perfect for boating and picnics.
Annecy Old Town: Charming alleys, canals, and vibrant markets.

Stay for: 1-2 days.
Lyon, France:
Distance: Approximately 150 km.
Highlights:

Old Lyon (Vieux Lyon): Renaissance district with narrow passageways.
Basilica of Notre-Dame de Fourvière: Offers panoramic views of Lyon.
Lyon's Gastronomy: Don't miss the traditional "bouchon lyonnais" restaurants.

Stay for: 2-3 days.
Chamonix, France:
Distance: Around 80 km.
Highlights:

Mont Blanc: The highest peak in the Alps.
Aiguille du Midi: A cable car ride providing stunning views of Mont Blanc.
Mer de Glace: France's largest glacier, accessible by the Montenvers train.

Stay for: 2-3 days.
Basel:
Distance: Approximately 250 km.
Highlights:

Basel Minster: A Gothic cathedral with stunning views from its towers.
Kunstmuseum: Switzerland's oldest public art collection.
Rhine River: Enjoy a leisurely boat ride or walk along its banks.

Stay for: 1-2 days.
Geneva's Wine Country:
Distance: Just outside Geneva.
Highlights:

Lavaux Vineyard Terraces: A UNESCO World Heritage site, these terraced vineyards offer breathtaking views over Lake Geneva and the Alps.
Wine Tasting Tours: Visit local vineyards, indulge in wine tasting sessions, and learn about the region's rich viticulture.

Stay for: 1 day.
Jungfrau Region:
Distance: About 230 km.
Highlights:

Jungfraujoch: Known as the "Top of Europe", it offers views of three towering mountains: Eiger, Mönch, and Jungfrau.
Lauterbrunnen Valley: A picturesque valley with waterfalls, meadows, and quaint villages.
Grindelwald: A charming village perfect for hiking, skiing, and more.

Stay for: 3-4 days.
Lake Como, Italy:
Distance: Approximately 320 km.
Highlights:

Villa del Balbianello and Villa Carlotta: Historic villas with stunning gardens.
Bellagio: Known as the "Pearl of Lake Como", it's a must-visit village with charming streets and waterfront views.
Boat Tours: The best way to admire the beauty of the lake and its surroundings.

Stay for: 2-3 days.
Tips for Your Extended Travels:
Rail Travel: Switzerland's efficient rail network, combined with the Eurail and Swiss Travel Pass options, makes train travel a scenic and convenient choice.
Stay Flexible: Given the close proximity of many of these destinations, consider staying flexible in your plans. If a particular place captures your heart, extend your stay!
Language: While French is spoken in Geneva, remember that Switzerland has multiple official languages, including German, Italian, and Romansh. Meanwhile, in French destinations, obviously, French remains the primary language.
After Geneva, the heart of Europe opens up to you, offering a mix of historical cities, natural wonders, and cultural experiences. Whether you're drawn to the serene beauty of the Alps or the rich history of cities like Zurich or Lyon, the region promises a wealth of experiences to every traveler. Safe journeys ahead!
Geneva Travel Guide: Final Thoughts
Geneva, with its rich history, international flair, and breathtaking natural beauty, is a destination that offers a multitude of experiences for every traveler. From its picturesque Old Town and iconic landmarks to its renowned museums and vibrant cultural scene, the city presents a captivating blend of tradition and modernity.
As you explore Geneva, you'll be immersed in a world of diplomacy, with its headquarters of international organizations and diplomatic history shaping its identity. The city's commitment to peace and humanitarian efforts is reflected in its museums, showcasing the vital work of organizations like the Red Cross.
Beyond its diplomatic significance, Geneva's stunning natural landscapes will leave you in awe. The majestic Lake Geneva, framed by the snow-capped Alps, provides a serene backdrop for leisurely walks, scenic boat cruises, and moments of tranquility. The city's parks and gardens offer peaceful oases where you can unwind and connect with nature.
Geneva's cultural scene is thriving, with its museums, art galleries, and theaters showcasing a diverse range of artistic expressions. From classic art to contemporary installations, from orchestral performances to film festivals, there is something to inspire and captivate every artistic taste.
Indulge in the city's gastronomic delights, from Swiss chocolate and cheese to international cuisine. The culinary scene is vibrant and diverse, with numerous restaurants, cafes, and markets offering a feast for the senses.
Lastly, Geneva's central location makes it an ideal base for exploring the surrounding regions. Take day trips to the charming towns of Montreux and Annecy, venture into the stunning Swiss countryside, or even cross the borders to explore neighboring France or Italy.
As you bid farewell to Geneva, you'll carry with you memories of its historical landmarks, scenic vistas, cultural experiences, and warm hospitality. Geneva is a city that invites you to embrace its international spirit, immerse yourself in its cultural tapestry, and connect with its remarkable natural surroundings.
So, whether you're a history buff, an art enthusiast, a nature lover, or simply seeking a city that effortlessly combines the old and the new, Geneva promises a journey filled with discovery, inspiration, and lasting memories. Let the spirit of Geneva guide you as you embark on your unforgettable adventure.
Geneva's Song for Wanderers
In the heart of Europe's embrace, Lies Geneva, a city of grace, With the Jet d'Eau dancing high, Kissing the contours of the sky.
Mountains stand tall, in regal might, Glistening waters shimmer in light, Old Town whispers tales of yore, Every cobblestone, legends it bore.
By Lake Geneva's serene shore, The Alps beckon, with myths galore, Châteaux, vineyards, the rhythmic oar, Every moment, a dream to explore.
United Nations flags, side by side, In this city where peace and hopes reside, From the Pâquis to the Cathedral's bell, Stories of harmony and history swell.
So traveler, as you tread her streets, Feel the pulse, where the heart beats, For in Geneva, worlds converge, In a symphonic, multicultural surge.
Come with dreams, leave with memories, Of Alpine peaks and tranquil reveries, Geneva, a gem, in Switzerland's crown, Welcomes all, from every town.