Situated within the heart of New Zealand's North Island, Hamilton stands as a beacon of Kiwi culture, verdant landscapes, and a melding of historical relevance with modern dynamism. With the mighty Waikato River meandering through its heart, Hamilton is the perfect amalgamation of urban sophistication and the serenity of nature. As the fourth most populous city in New Zealand, it showcases an ever-evolving tableau of arts, cultural activities, and vibrant social scenarios. For the discerning traveler, Hamilton offers an intricate tapestry of experiences that are quintessentially Kiwi.
Natural Beauty and Scenic Landscape:
Hamilton is blessed with a natural splendor that's hard to rival. The city, built along the banks of New Zealand's longest river, the Waikato, boasts of lush gardens, scenic walking trails, and panoramic vistas that change with every season. The renowned Hamilton Gardens, not just a garden but a collection of gardens from different cultures and time periods, provides a captivating insight into the art and science of gardening. Then there's the serene beauty of Lake Rotoroa, popularly known as Hamilton Lake Domain, where one can indulge in picnics, boating, or simply enjoy the birdlife.
Cultural and Historical Significance:
Hamilton's rich Maori heritage is palpably felt throughout the city. The Waikato Museum, with its vast array of Maori art and historical artifacts, offers a deep dive into the indigenous culture and the city's historical narratives. The numerous Marae (Maori meeting grounds) scattered across the city serve as constant reminders of the land's original custodians and their age-old traditions.
Hamilton's urban center is an exciting hub of activity. With a thriving arts scene, the city plays host to numerous events, music festivals, and theatre productions. The nightlife in Hamilton is electric, with bars, restaurants, and clubs illuminating the streets after dark. Victoria Street, the city's main artery, is lined with eateries offering everything from traditional Kiwi meals to international cuisines. Meanwhile, the city's proximity to the famous Hobbiton Movie Set makes it an inevitable stop for 'Lord of the Rings' enthusiasts.
Hamilton is also home to the University of Waikato, a renowned institution that attracts students from all over the world. This infuses the city with a youthful energy, with student-run events, seminars, and workshops punctuating the city's calendar. Moreover, Hamilton's location in the Waikato region, one of the country's primary dairy farming areas, has made it a significant center for agricultural research.
Adventure and Activities:
For those inclined towards adventure, Hamilton serves as a gateway to the caves of Waitomo, where glowing worms create starry spectacles in subterranean caverns. Water-based activities such as jet-boating on the Waikato River and hot air ballooning over the city provide unique perspectives and adrenaline-pumping experiences.
In conclusion, Hamilton is not just a stopover city but a destination in its own right. With its blend of natural wonders, cultural depth, urban excitement, and historical significance, it provides a multifaceted experience for travelers. Whether you're a history buff, a nature lover, or someone seeking urban delights, Hamilton warmly invites you to uncover its many layers and treasures.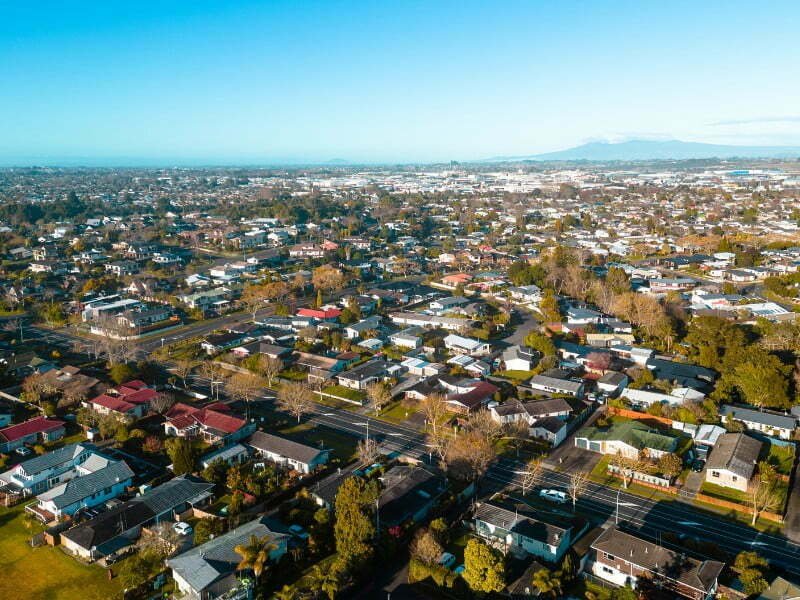 Hamilton City Guide: A Brief History Of Hamilton, New Zealand For Visitors
Steeped in history and echoing tales from a bygone era, Hamilton, New Zealand, stands as a testament to a rich and varied past that has shaped its present and future. To truly appreciate the city, one must delve into its historical tapestry, woven with indigenous Maori traditions, European settlers' influences, and the land's intrinsic agricultural significance.
The Early Inhabitants – Māori Settlement:
Hamilton's history begins with its indigenous Māori inhabitants. Long before European settlers graced its shores, the area was known as Kirikiriroa, meaning "long stretch of gravel." This name referenced the terrain along the banks of the Waikato River, which served as fertile grounds for gardens cultivated by the region's early Māori inhabitants. The Waikato tribes, particularly the Tainui iwi (tribe), established several pā (fortified villages) in the area, leveraging the river for transport and sustenance.
European Exploration and Settlement:
The first European to discover the Waikato River was Captain James Cook in 1770. However, it wasn't until the 1830s that European missionaries and traders began to frequent the area. The fertile lands of Hamilton became attractive for settlers, but it was not until after the Waikato Wars in the 1860s that significant European colonization began. The war saw the British Crown clash with local Māori over land rights and sovereignty, eventually leading to the confiscation of vast tracts of Waikato land by the Crown.
Following the wars, the British established the military settlement of Hamilton in 1864, naming it after Captain John Fane Charles Hamilton, a British naval officer killed in the Battle of Gate Pā. Initially, the settlement struggled, with swampy conditions and poor accessibility, but the completion of the railway in the 1870s transformed Hamilton from a fledgling community to a booming agricultural hub.
Given its location in the heart of New Zealand's most fertile region, Hamilton's growth has always been intrinsically linked to agriculture. The late 19th and early 20th centuries saw an exponential growth in dairy farming, leading to the establishment of several processing plants. As transportation improved, Hamilton became a crucial trading and export hub for the entire Waikato region.
20th Century Developments:
Throughout the 20th century, Hamilton expanded rapidly, its population swelling with both local and international migrations. The establishment of the University of Waikato in 1964 further cemented Hamilton's status as a center for education and research. This period also witnessed infrastructural development, modernization, and the diversification of the local economy.
The latter half of the 20th century and the early 21st century marked a renaissance of Māori culture within Hamilton. There was a renewed emphasis on preserving indigenous traditions, language, and art. This cultural revival was evident in the rise of Māori educational institutions, festivals, and increased representation in local governance.
Today, Hamilton stands as a city proud of its dual heritage, honoring its indigenous roots while also celebrating its European influences. The echoes of its past reverberate in its museums, cultural festivals, and even in the daily lives of its residents. For visitors, understanding Hamilton's history provides invaluable context, enriching their experience of this vibrant Kiwi city.
Hamilton Top Attractions: Best Places to Visit in Hamilton
Situated about 130 kilometres south of Auckland along the banks of the longest river in the country, Hamilton is the first major centre you'll encounter as you head south from the biggest city in New Zealand.
While it often gets overlooked in favour of destinations like Rotorua, Hamilton's under-the-radar status, small size, student population, and chilled out ambience makes it a great place to hang out for a few days.
Get a background on the history of the Hamilton area by spending time exploring the Waikato Museum. Here, you'll find plenty of Maori art, and a war canoe they used before the European arrived.
They also host a number of interesting travelling exhibits on an ongoing basis. Recent shows have included exhibits on Bob Marley and Leonardo Da Vinci, so be sure to drop in even if you only have a passing interest in local history. Chances are, you'll learn something interesting during your time here, even if it isn't 100% related to the Hamilton area.
Have a love for the golden age of automobiles? Check out some of the hottest car models from the 20th century by paying a visit to the Classics Museum while you are in Hamilton. On its floor, you'll find dozens of shapely hot rods and dream vehicles dating back to the 1950s and earlier, making it a must-see for gearheads visiting this city.
There's more, though, as you'll also find other artifacts of this period of the 20th century in this place. From antique petrol pumps to jukebox machines, visiting the Classics Museum in Hamilton will serve as a nostalgia trip for boomers and a peer into the era of the parents/grandparents of Millennials and Generation Z.
Want to get a taste of the diversity available in this corner of New Zealand? Be sure to check out the Hamilton Night Market, especially during the summer months. Situated in the car park underneath the local K-Mart department store, not only will you find a bewildering array of food that runs the gamut from churros to Indian curry, virtually all of it is affordable.
Most dishes going for less than $5 NZD, so if you are a backpacker looking to save money, we strongly recommend swinging by this market.
Other Cultural Attractions: Trip to Hamilton, New Zealand
New Zealand has a unique slate of plant species, as they have evolved separately from other biomes on other islands and continents for aeons. A trip to Hamilton Gardens will give you an education on this subject, as it shows off the Maori's approach to gardening.
When Europeans arrived, what is now known as the Hamilton River was lined by Maori gardens, in which food crops imported from Polynesia generations earlier were grown successfully, despite the cooler subtropical climate.
In addition to learning about the agricultural knowledge of the Maori, there are different sections which show off English, Japanese, and Italian Renaissance approach to gardening. There is also a colourful rose garden, which is amazing to see when it is in full bloom. As such, spring is a wonderful time to visit this attraction (starting in October – remember that seasons are reversed in the Southern Hemisphere).
If your green thumb craves more after visiting the Hamilton Gardens, head over to the Taitua Arboretum. A tranquil 20-hectare park situated just outside the city limits, locals consider this park one of Hamilton's best-kept secrets.
Filled with mature trees and lakes which give birds like black swans and ducks a home, it is perfect for runners, walkers, and for those looking for a place to clear their head. Be sure to drop by in the fall (starting in April), as the autumn colours here are nothing short of dazzling.
America excels at baseball. Canada eats, sleeps, and breathes hockey. In New Zealand, rugby is life. Want to share the passion locals in Hamilton have for this sport? Take in a rugby union game at Waikato Stadium.
Here, fans will shout, cheer, and ring cowbells as they urge their side on to victory. On occasion, New Zealand's national team, the All Blacks, will play a match here – do not miss a chance to see them in action should a game be on the schedule.

source: Before For Go on YouTube
Top 33 Things To Do in Hamilton, New Zealand For Visitors
Hamilton is a veritable treasure trove of experiences. From its lush gardens to its vibrant cultural scene, here are the top 33 things to do when visiting this captivating city:
Hamilton Gardens: Explore this sprawling expanse which showcases themed gardens from around the world, including Japanese, Chinese, and Italian Renaissance gardens.
Waikato Museum: Delve into the region's Maori and European history, art, and interactive science exhibits.
Hamilton Lake Domain: This picturesque lake offers walking trails, bird-watching opportunities, and serene picnic spots.
Hamilton Zoo: Meet exotic animals from around the globe and native species of New Zealand in naturalistic habitats.
Visit the Classics Museum: A haven for classic car enthusiasts, showcasing automobiles and vintage memorabilia.
Taitua Arboretum: Wander through this haven of mature trees, lakes, and birdlife.
Climb the Hamilton City Tower: Get panoramic views of the city.
Hamilton Night Market: Held every Saturday evening, it's a bustling spot for global cuisine and local crafts.
Enjoy the Local Theatre: Catch a play or musical at The Meteor or Clarence Street Theatre.
Victoria on the River: A beautiful urban park offering lovely river views, ideal for relaxation.
Go Kayaking on the Waikato River: Experience the serene waters of the mighty river.
Attend a Rugby Match: At FMG Stadium Waikato, immerse yourself in New Zealand's favorite sport.
Cocktail Hopping: Experience Hamilton's nightlife by visiting its eclectic bars like Wonder Horse and Keystone.
Boat Tours: Take a scenic boat tour along the Waikato River.
Riverside Walks: Walk along the beautiful Waikato River, taking in Hamilton's urban and natural beauty.
Visit the Temple View: A significant site for the Church of Jesus Christ of Latter-day Saints, it's known for its stunning architecture and the annual Christmas lights.
Hot Air Balloon Ride: See Hamilton from the sky, especially during the annual Balloons Over Waikato Festival.
Mystery Creek Events Centre: Attend one of the many events, including the iconic National Agricultural Fieldays.
Craft Beer Sampling: Visit local breweries like Good George and Brewaucracy.
Explore Hamilton East: This historic suburb is filled with boutique shops, quirky cafes, and old-world charm.
Biking: Rent a bike and explore the city's many cycling trails.
Climb Mt. Pirongia: A short drive from Hamilton, this is a great hiking spot with panoramic views.
Te Awa The Base: For shopping enthusiasts, this is one of New Zealand's largest shopping centers.
Visit the Hamilton Astronomical Society Observatory: Stargaze and learn more about the cosmos.
Spa Day: Relax and rejuvenate at one of Hamilton's luxury spas.
Join a Food Tour: Discover the best local eateries and Kiwi cuisine.
Partake in Festivals: Experience local culture during Hamilton Gardens Arts Festival or the Soundsplash Music Festival.
Hamilton Mini Golf: Engage in some light-hearted fun with family or friends.
Experience the Arts: Visit local galleries like ArtsPost, which showcases works from regional artists.
Discover Hidden Waterfalls: Like the Bridal Veil Falls or Wairere Falls, both accessible by short drives.
Hobbiton Movie Set Tour: Just outside Hamilton, visit the iconic movie set from 'The Lord of the Rings' and 'The Hobbit' trilogies.
Visit Waikato Stud: Gain insights into the equine industry and see champion thoroughbreds.
Maori Cultural Experiences: Attend workshops or tours that delve into the indigenous heritage of the region.
Whether you're an art enthusiast, nature lover, or simply looking to relax, Hamilton has something for every traveler. Embrace the city's fusion of urban sophistication and rural charm, and let Hamilton reveal its myriad wonders to you.

source: Peter and Yen on YouTube
What To Eat and Drink in Hamilton, New Zealand
Hamilton's culinary scene is a delectable fusion of its rich agricultural heritage and the modern multicultural influx, presenting a gastronomic journey that tantalizes the palate. Whether you're a seasoned foodie or someone who loves to dabble in local flavors, here's a guide to what you should eat and drink when in Hamilton.
1. Traditional Kiwi Delights:
Hangi: A traditional Māori method of cooking food using heated rocks buried in a pit oven. It gives the food (usually a combination of meat and root vegetables) a distinctive smoky, earthy flavor.
Pie: A Kiwi staple, try the classic mince pie or opt for gourmet varieties available at local bakeries.
Fish and Chips: A coastal influence means fresh seafood. Enjoy it the Kiwi way: battered and fried, accompanied by chunky chips.
2. Dairy and Meats: Given the Waikato region's agricultural prominence, make sure to savor:
Local Cheeses: From creamy camembert to sharp blue, the dairy products are top-notch.
Lamb: New Zealand lamb is renowned worldwide. Try it roasted, grilled, or in a stew.
3. Ethnic Flavors: Hamilton's multicultural demographic means you can enjoy a variety of international cuisines:
Asian Delights: From sushi to dim sum, Thai curries to Vietnamese pho, there's a plethora of options.
Indian Cuisine: For those who love a spicy kick, the Indian eateries offer sumptuous biryanis, buttery naans, and rich curries.
Mediterranean Fare: Enjoy dishes like falafel, kebabs, and fresh salads.
4. Cafes and Bakeries:
Flat White Coffee: This coffee beverage is something of a national obsession. It's creamier than a latte and an absolute must-try.
Sweet Treats: Indulge in Kiwi favorites like hokey pokey ice cream, lolly cake, or pavlova.
Brunch: Hamilton cafes, like Grey Street Kitchen and Two Birds, offer delicious brunch menus ranging from eggs benedict to smoothie bowls.
5. Craft Beers and Wines:
Local Breweries: Hamilton and the broader Waikato region have seen a rise in craft breweries. Places like Good George Brewing or Brewaucracy offer a range of IPAs, stouts, and more.
New Zealand Wines: While Hamilton isn't a wine-producing region, local eateries offer a selection from NZ's prominent wine regions, like Marlborough Sauvignon Blanc or Central Otago Pinot Noir.
6. Crafted Cocktails: Bars such as Wonder Horse or Keystone are known for their innovative and classic cocktails. Don't miss trying some concoctions using native ingredients.
7. Farmers' Markets: Experience the region's produce by visiting local markets:
Hamilton Farmers' Market: Held every Sunday, it's a place to buy fresh fruits, veggies, artisanal cheeses, bread, and pastries.
Craft Sodas: Look out for boutique producers offering crafted sodas with unique flavors.
8. Fresh Fruits and Produce: Depending on the season, indulge in:
Kiwifruit: Aptly named, this fruit is sweet and tangy.
Feijoa: A unique fruit with a flavor that's a mix between pineapple and guava.
Manuka Honey: Renowned for its health benefits, it's a sweet treat with a distinct taste.
Hamilton's culinary scene is a reflection of its rich agricultural backdrop, combined with a cosmopolitan vibrancy brought in by its diverse populace. Every meal and drink offers a chance to explore the city's unique flavors, making your gastronomic journey in Hamilton as memorable as the landscapes and experiences that the city presents.

source: Sonam Rottan on YouTube
Top Restaurants In Hamilton, New Zealand
Hamilton's food scene is vibrant, diverse, and reflective of the rich agricultural heritage of the Waikato region. Whether you're looking for a gourmet experience, international flavors, or comfort food, the city boasts a range of restaurants that cater to all palates. Here's an in-depth look at some of the top eateries in Hamilton:
Palate Restaurant:

Overview: One of Hamilton's finest dining establishments, Palate offers a contemporary New Zealand menu with an emphasis on local, seasonal ingredients.
Signature Dishes: Venison, duck, and fresh seafood.
Ambience: Sophisticated with a touch of rustic charm, the restaurant has a riverside location, offering picturesque views.

Madam Woo:

Overview: This establishment brings classic Malaysian flavors with a modern twist.
Signature Dishes: Laksa, roti canai, and the big Malaysian feast.
Ambience: Retro and lively, with murals and wooden interiors.

Gothenburg:

Overview: A tapas restaurant and bar that draws inspiration from global flavors.
Signature Dishes: Braised lamb shoulder, pork belly, and a variety of vegetarian tapas.
Ambience: Contemporary with an inviting atmosphere, perfect for both intimate dinners and group outings.

Victoria Street Bistro:

Overview: An award-winning bistro offering modern New Zealand cuisine.
Signature Dishes: Beef fillet, wild venison tartare, and seafood options.
Ambience: Elegant and intimate, with minimalist decor.

Chim Thai Café:

Overview: A must-visit for those craving authentic Thai flavors.
Signature Dishes: Green curry, pad thai, and sticky rice with mango.
Ambience: Relaxed and casual with traditional Thai decorations.

Hayes Common:

Overview: A modern eatery with a focus on fresh, local produce and craft beers.
Signature Dishes: Pulled pork pancakes, cured salmon, and a variety of burgers.
Ambience: Casual with a touch of industrial chic, featuring an open kitchen.

Iguana Street Bar & Restaurant:

Overview: A local favorite, this spot offers a diverse menu with a range of international dishes.
Signature Dishes: Ribs, seafood chowder, and hearty salads.
Ambience: Vibrant and eclectic with a variety of artworks adorning the walls.

Dough Bros:

Overview: A haven for pizza lovers, Dough Bros serves artisanal sourdough pizzas with a range of innovative toppings.
Signature Dishes: Lamb shoulder pizza, blue cheese and mushroom pizza.
Ambience: Rustic and relaxed, perfect for a casual night out.

Mr. Pickles Bar & Eatery:

Overview: Situated in the heart of Hamilton East, it's known for its modern dishes and extensive wine list.
Signature Dishes: Snapper, beef cheek, and duck liver parfait.
Ambience: Cozy and intimate, with vintage decor elements.

The Kirk Café:
Overview: Focusing on plant-based and health-conscious dishes, it's a gem for vegetarians and vegans.
Signature Dishes: Vegan bowls, raw desserts, and organic smoothies.
Ambience: Bright, airy, and relaxed with a homely touch.
Conclusion: Hamilton's culinary landscape is as diverse as its cultural tapestry. From gourmet experiences to casual diners, the city offers an array of options for every food lover. The emphasis on local produce, combined with global influences, ensures that dining in Hamilton is both a flavorful and memorable experience.

source: Glen and Mado on YouTube
Tours For Visitors To Hamilton, New Zealand
Hamilton offers visitors a blend of natural beauty, history, and contemporary experiences. While the city has plenty to explore independently, guided tours can provide deeper insights and convenience. Here's a detailed look at some top tours that visitors to Hamilton should consider:
Hamilton Gardens Guided Tour:

Overview: Delve deeper into the Hamilton Gardens with expert guides, learning about the history, design, and cultural significance of the various themed gardens.
Highlights: Explore gardens such as the Indian Char Bagh Garden, the Japanese Garden of Contemplation, and the English Flower Garden. Hear tales of the transformation of the land from a garbage dump to a world-class garden.
Duration: Typically 1.5 to 2 hours.

Waikato River Explorer Cruise:

Overview: Experience the beauty of the Waikato River on a scenic cruise, enjoying sights of the city, riverside properties, and natural landscapes.
Highlights: Themed cruises like the 'Sunset Cruise' or 'Coffee Cruise'. Opportunities to spot native birdlife and enjoy onboard commentary.
Duration: Varies, but most cruises last around 1.5 hours.

Hamilton City Walking Tour:

Overview: Explore Hamilton's urban heart with guides detailing its history, architecture, and vibrant arts scene.
Highlights: Art installations, historic buildings, the bustling Victoria Street, and hidden gems in the city.
Duration: Approximately 2 hours.

Hobbiton Movie Set Tour:

Overview: A short drive from Hamilton, this tour is a must for 'The Lord of the Rings' and 'The Hobbit' enthusiasts.
Highlights: Visit iconic set locations like the Green Dragon Inn, Bilbo Baggins' house, and the Party Tree. Some tours include a themed feast.
Duration: Around 3 hours, though extended tours are available.

Waitomo Caves Adventure:

Overview: Experience the world-famous glowworm caves situated just over an hour from Hamilton.
Highlights: Walks in the Glowworm Grotto, boat rides under the luminescent canopy, and for the adventurous, black-water rafting and caving experiences.
Duration: Ranges from 45 minutes to several hours, depending on the activity.

Te Awa Cycle Trail Tour:

Overview: An opportunity to cycle a portion of the stunning 70km Te Awa trail alongside the Waikato River.
Highlights: Panoramic river views, birdwatching, and historical landmarks. Bike rentals and guided tours are available.
Duration: Adjustable, from a few hours to a full day.

Māori Cultural Tours:

Overview: Connect with New Zealand's indigenous heritage through tours that offer insights into Māori culture, traditions, and stories.
Highlights: Traditional welcomes, learning about the significance of the Waikato River to the Tainui tribe, and experiencing a 'hāngī' meal cooked underground.
Duration: From a couple of hours to a full day.

Waikato Craft Beer Tour:

Overview: Explore Hamilton's burgeoning craft beer scene with a guided tasting tour.
Highlights: Visit local breweries like Good George and Brewaucracy, learn about brewing processes, and sample a variety of beers.
Duration: Usually around 3-4 hours.

Historical Hamilton Tour:

Overview: Dive into Hamilton's past, exploring its evolution from a military settlement to a vibrant city.
Highlights: Key historical sites, tales of early settlers, and the influence of Māori culture.
Duration: About 2-3 hours.

Hamilton Night Market Tour:
Overview: Experience the bustling Hamilton Night Market with a guide who can lead you to the best food stalls and artisans.
Highlights: Sample global cuisines, hear stories of local vendors, and shop for unique crafts.
Duration: 2 hours.
Hamilton's tours offer a blend of natural beauty, cultural insights, and epicurean delights. Whether you're drawn by the allure of Middle-earth, the serenity of the Waikato River, or the tales of yesteryears, there's a guided experience waiting to enrich your visit to this dynamic New Zealand city.

source: Glen and Mado on YouTube
Hamilton 3-4 Days Travel Itinerary
Day 1: Discovering Hamilton's Heart
Morning:

Breakfast: Start your day at Grey Street Kitchen with a hearty breakfast. Opt for their famous eggs benedict or a smoothie bowl, paired with a flat white coffee.
Hamilton Gardens: Dedicate your morning to exploring the magnificent Hamilton Gardens. Join a guided tour to delve deeper into the history and design of the themed gardens. Don't miss the Maori Garden and the Italian Renaissance Garden.

Afternoon:

Lunch: Head to Gothenburg for a delightful tapas lunch. Sample a mix of their seafood, vegetarian, and meat options.
Waikato Museum: Spend your afternoon learning about the region's art, history, and Maori culture. The museum has 13 galleries and frequently rotates its exhibitions.

Evening:

Dinner: Dine at Palate Restaurant, one of Hamilton's finest. Try their local lamb or fresh seafood dishes.
Stroll on Victoria Street: Experience the city's nightlife. Consider catching a live performance at Meteor Theatre if the timing aligns.
Day 2: A Journey Through Middle-earth
Morning:

Breakfast: Grab a quick breakfast at Mavis & Co. They offer a range of pastries, toasts, and coffee options.
Hobbiton Movie Set Tour: A short drive from Hamilton will take you to the iconic Hobbiton Movie Set. Explore the Shire, visit Bilbo Baggins' house, and conclude your tour with a drink at the Green Dragon Inn.

Afternoon:

Lunch: Enjoy a Hobbit-themed feast right on the set, included in certain tour packages.
Travel to Waitomo Caves: Spend your afternoon experiencing the world-famous glowworm caves. Opt for a guided boat tour, or if you're feeling more adventurous, try black-water rafting.

Evening:

Dinner: Once back in Hamilton, have a relaxed dinner at Chim Thai Café.
Relax: After a long day, you might want to relax at your accommodation or take a gentle walk along the Waikato River.
Day 3: Nature and Adventure
Morning:

Breakfast: Head to The Kirk Café, especially if you favor plant-based options.
Te Awa Cycle Trail: Rent a bike and cycle a section of this scenic trail. Enjoy views of the Waikato River, and if you're lucky, spot some native bird species.

Afternoon:

Lunch: Visit Hayes Common for a modern New Zealand lunch.
Hamilton Zoo: Spend your afternoon exploring the Hamilton Zoo. It's home to over 600 native and exotic animals, including the iconic Kiwi bird.

Evening:

Dinner: Try some Malaysian flavors at Madam Woo.
Visit a Local Pub: Head to Good George Brewing or Brewaucracy for a taste of local craft beer.
Day 4: Delving Deeper
Morning:

Breakfast: Indulge in a lavish breakfast at Mr. Pickles Bar & Eatery.
Hamilton Lake Domain: Start your day with a peaceful walk around the lake. The area is a haven for birdwatchers.

Afternoon:

Lunch: Grab a bite at Dough Bros and enjoy their artisanal pizzas.
Māori Cultural Tour: Engage in a half-day tour that provides insights into the region's rich Māori heritage. Experience traditional welcomes and rituals, and learn about the history and significance of the Waikato region to the indigenous people.

Evening:

Dinner: For your final dinner in Hamilton, Victoria Street Bistro offers a memorable dining experience.
Hamilton Night Market: If it's a weekend, the night market is a vibrant place to conclude your Hamilton adventure, sampling cuisines from around the world.
Hamilton and its surroundings are replete with natural beauty, cultural depth, and contemporary experiences. This 3-4 days itinerary ensures you experience the region's highlights, leaving you with cherished memories of New Zealand's Waikato heartland.

source: Expedia on YouTube
Where To Visit After Your Trip To Hamilton?
Hamilton's central location in the North Island of New Zealand makes it an ideal jumping-off point for exploring other vibrant and picturesque destinations in the vicinity. Depending on your interests, there are a multitude of options available. Here are some of the top places you can consider:
Rotorua:

Overview: Renowned for its geothermal activity, Maori culture, and adventure sports.
Highlights:

Geothermal Parks: Visit Wai-O-Tapu or Te Puia to witness bubbling mud pools, hot springs, and geysers.
Maori Experiences: Engage in cultural performances and traditional feasts called 'hāngī.
Adventure Activities: Try white-water rafting, mountain biking, or zorbing.

Travel Time from Hamilton: Approximately 1.5 hours by car.

Tauranga and Mount Maunganui:

Overview: Coastal gems offering golden beaches, hiking, and a relaxed atmosphere.
Highlights:

Mount Maunganui: Climb this extinct volcanic cone for panoramic ocean views.
Main Beach: A surfer's paradise and ideal for sunbathing.
Downtown Tauranga: Shop, dine, and enjoy the waterfront.

Travel Time from Hamilton: Just over 1 hour by car.

Auckland:

Overview: New Zealand's largest city is a hub of culture, cuisine, and coastal beauty.
Highlights:

Sky Tower: Offers a bird's-eye view of the city and an adrenaline-pumping skywalk.
Waiheke Island: Famous for its vineyards and beaches.
Auckland Art Gallery: Home to the country's most comprehensive collection of national and international art.

Travel Time from Hamilton: Approximately 1.5 hours by car.

Coromandel Peninsula:

Overview: Known for its pristine beaches, lush rainforests, and laid-back vibe.
Highlights:
Travel Time from Hamilton: Around 2 hours to reach the base of the peninsula.

Taupo:

Overview: Centered around New Zealand's largest lake, offering water activities, geothermal attractions, and adventure sports.
Highlights:

Lake Taupo: Enjoy fishing, sailing, or scenic cruises.
Huka Falls: Witness the powerful turquoise waterfalls.
Skydiving: For thrill-seekers, Taupo is one of the best places to skydive with a backdrop of the lake and mountains.

Travel Time from Hamilton: Approximately 2 hours by car.

Waitomo:

Overview: While you may have visited for the glowworm caves during your Hamilton stay, there's more to explore.
Highlights:

Ruakuri Cave: A large and captivating cave system.
Adventure Tours: Go beyond the usual with black water rafting or abseiling.

Travel Time from Hamilton: About 1 hour by car.

Raglan:

Overview: A surfer's paradise with a bohemian vibe.
Highlights:

Manu Bay: Famous for one of the longest left-hand breaks in the world.
Bridal Veil Falls: A stunning 55-meter waterfall just a short drive from Raglan.

Travel Time from Hamilton: Around 45 minutes by car.
Whether you're drawn to geothermal wonders, pristine beaches, vibrant cities, or adventure, the regions around Hamilton offer a plethora of choices to further enrich your New Zealand experience. Each destination brings its unique flavor, ensuring a diverse and memorable journey as you continue to explore the North Island.
Hamilton Travel Guide: Final Thoughts
Hamilton, a gem in the heart of New Zealand's North Island, stands as a testament to the harmony of natural beauty and urban sophistication. As the fourth-largest city in the country, it serves as a focal point in the Waikato region, offering a diverse range of experiences for the discerning traveler. As we wrap up this comprehensive guide, let's reflect on the myriad experiences Hamilton offers and its pivotal role in a quintessential New Zealand journey.
Natural Beauty & Scenic Landscapes:

The Mighty Waikato River: Hamilton's lifeblood, this river courses through the city and provides both tranquility and numerous recreational opportunities. Whether you're walking alongside its banks at sunset or cruising on its waters, the Waikato River is emblematic of the city's serene charm.
Hamilton Gardens: A true jewel in the city's crown. Few places globally capture the essence and variety of garden design so comprehensively and beautifully. From the intricacies of the Japanese Garden to the vibrant colors of the Indian Char Bagh Garden, it's a journey across cultures and epochs.

Rich Historical & Cultural Tapestry:

Maori Heritage: Hamilton stands on lands with deep significance to the Maori, particularly the Tainui tribe. This history is interwoven in the fabric of the city, from its landmarks to its cultural events.
Waikato Museum: A reflection of the region's art, culture, and history, the museum serves as a beacon for those wishing to delve deeper into the area's past and its evolving identity.

Culinary Delights & Vibrant Nightlife:

Diverse Cuisine: From high-end bistros to cozy cafes, Hamilton's culinary scene promises an exploration of flavors. The city's rich agricultural backdrop ensures that fresh, local produce is at the heart of many dishes.
Craft Breweries & Night Markets: The city's nightlife and local brew scene offer a contemporary vibe, ensuring evenings in Hamilton are as engaging as its days.

Strategic Location:

Gateway to Other Attractions: Hamilton's central location makes it a strategic starting point for various iconic attractions, from the mystical glowworm caves of Waitomo to the geothermal wonders of Rotorua.

Warm & Welcoming Community:

Kiwi Hospitality: Beyond the attractions and activities, it's the people of Hamilton that leave an indelible mark on visitors. The warmth, hospitality, and genuine interest make every interaction memorable.

Evolving & Growing:

Future Developments: Hamilton is a city on the move. With continued investments in infrastructure, tourism, and cultural initiatives, the city is poised for even more growth. Future visitors can expect even more attractions and amenities as the city continues to evolve.
Hamilton is more than just a stop on a New Zealand itinerary; it's a destination in its own right. A blend of urban and rural, modern and historic, leisure and adventure – the city offers a well-rounded experience. Whether you're a history buff, nature enthusiast, gastronome, or just someone looking to relax and take in the sights, Hamilton warmly welcomes you with open arms. As we conclude this guide, it's clear that a visit to Hamilton is not just about seeing a city; it's about experiencing the heartbeat of New Zealand's Waikato region.
Ode To Hamilton
In the heart of Waikato's embrace, Hamilton gleams, a vibrant place. Where the river winds its tale so long, Whispering stories, singing its song.
Majestic gardens bloom in radiant hues, Echoing tales from epochs we muse. From Maori legends to settlers of yore, Hamilton's heart has tales galore.
Mountains watch from a distance afar, While city lights shimmer, like a scattered star. From bustling streets to quiet green nooks, Every corner offers intriguing looks.
A traveler's delight, a haven so fine, Where urban and nature effortlessly entwine. Mystical caves and waves that crash, Moments to cherish, memories to stash.
Food that entices, melodies that sway, Hamilton beckons in a warm, inviting way. So journey forth, let your spirit be free, In Hamilton's embrace, find the joy you seek thee.