Hanover Travel Guide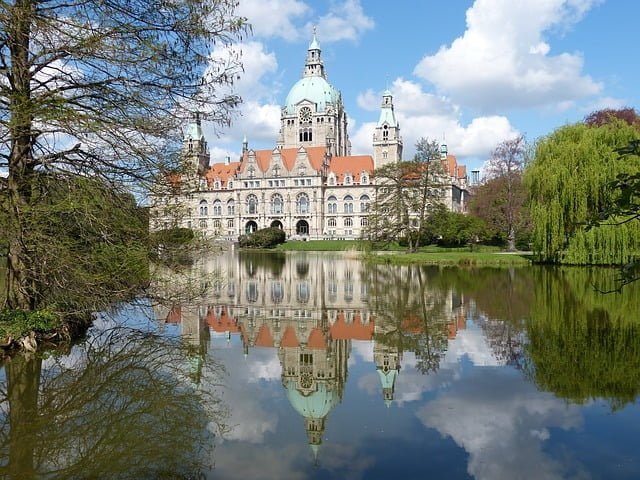 Introduction
Hanover had a rough go of things during the Second World War. As such, few reminders of its past linger in the present. That doesn't mean there's nothing historic to see – both its old and new town halls are gems.
Beyond that, its art collections are also worth your time, as is its gigantic urban forest park. Set aside a few days to make the most of your time in Hanover.
Come join us as our Hanover city travel guide covers the best things to do, see and eat in Hanover, Germany.
Top Attractions
Start your visit to Hanover with an excursion to the Herrenhausen Gardens. The Kings of Hanover created this green gem over 300 years ago for their own enjoyment. Eventually, they spanned over 135 hectares and grew to contain rare flora and a wide array of orchids.
The palace the once loomed over the park crumbled to bombs in World War II. Today, a museum stands in its place. While it is also worth a look, we'll think the English-style gardens will occupy most of your time. With an admission fee of only 8 EUR, this attraction is friendly to budget-conscious travellers.
Check out one of Germany's best modern art collections at the Sprengel Museum. This institution takes its name from Bernhard Sprengel, who donated his collection to start this place. Works by Pablo Picasso are the biggest draw, as are creations by Max Ernst, Paul Klee, and Max Beckmann.
The building itself is also an attraction, as its modernist architecture inspires some and baffles others. If you're looking to save money, visit on Fridays. On this day, admittance is free. Otherwise, expect to pay 7 EUR for entry.
Combine culture and history with a visit to the Lower Saxony State Museum. Its works, which contain contributions from luminaries like Peter Paul Rubens and Rembrandt, stretch back over 900 years. Its other galleries focus on human and natural history. In them, you'll find artifacts, exotic fish aquariums, and amphibian/reptile habitats.
On occasion, this museum also hosts temporary exhibitions. Captions on most exhibits are available in English, but be sure to have Google Translate at the ready.
Many older buildings in Hanover were lost to WWII. Aegidienkirche stands as a memorial to the destruction of war. Today, only its outer walls stand. Take pictures, but act respectfully.
Other Attractions
The New Town Hall of Hanover doesn't look that way but it certainly was novel back in the 1910s. At that time, it replaced a structure in use since the 15th century. The New Town Hall stands out with its architecture, as it is a fine example of Eclecticism.
Don't just snap a photo from the base – take its vintage elevator to the top. From there, you'll gain access to 360-degree views of Hanover. Beware, though – the elevator has a glass bottom. Don't look down!
After your visit to the New Town Hall, visit Altes Rathaus, or the Old Town Hall of Hanover. Despite heavy war damage, local restored this 500+ year old gem to its former glory in the 1950s. After taking photos of its stunning facade, head inside and have a filling meal at one of its restaurants.
If you are travelling as a family or love animals, pay a visit to the Erlebnis Zoo. Over 22 hectares, you'll find enclosures containing over 237 different species. With a history stretching back to 1865, this park has deep roots in Hanover.
Erlebnis Zoo features animals from faraway places like Africa. However, the most popular exhibits feature sea lions, penguins, and polar bears. However, do note that at 25 EUR per adult, this attraction is a bit on the expensive side.
If you are feeling stressed after a hectic day of sightseeing, unwind by walking through Eilenriede City Park. Sprawling over 640 hectares of land, it is one of the biggest urban forests in Europe. For context, that's twice the size of Central Park.
With over 80 kilometres of trails and 38 kilometres of cycle paths, it's easy to exercise and relax, too. Drop by in Autumn, when all its trees are ablaze in colour.
What To Eat
Hanover has more than its share of tasty, regional German cuisine. At dinner, track down a restaurant that serves Schlachteplatte. This dish is a meat lover's dream come true, as it features up to eight different sausages/meat cuts. It features pork belly, bacon, and multiple types of sausage (including bratwurst).
If you are visiting Hanover during winter, try Grunkohl Mit Bregenwurst. A local seasonal speciality, it combines kale with bacon, ham, and sausages. Do as the locals do and pair this meal with schnapps, a German fruit brandy.
End your day with a bowl of Welfenpudding. Cooks created this treat when the House of Guelph ruled over Lower Saxony. Its rich flavour, which features vanilla, lemon, whipped egg whites, and white wine, delights people to this day.