Nestled in the highlands of Zimbabwe, Harare stands as a city of contrasts—a heart where the pulse of modern Africa beats to the rhythm of tradition, a metropolis that hums with the hustle of contemporary life yet pauses to savor the slow grace of age-old customs. Harare, the capital city, invites travelers with its intriguing blend of the old and the new, making it a compelling destination for those seeking to immerse themselves in the rich tapestry of African culture, history, and natural beauty.
The Vibrant Metropolis
As you approach Harare, you may be struck by its unexpected skyline, where modern towers of glass and steel stand shoulder to shoulder with colonial-era buildings, their architecture a testament to a complex past. The city, originally called Salisbury, was founded at the end of the 19th century and has since evolved into a bustling urban center that maintains its connections to its colonial history while firmly stepping into its role as a forward-looking African city.
The heart of Harare beats strongest in its central districts, where the air is perfumed with the scent of street vendors' fare—freshly roasted maize and the tang of barbecue—mingling with the fragrance of blooming jacarandas that line the avenues. The CBD (Central Business District) is a hive of activity, with commerce, entertainment, and culture colliding in a dynamic display of urban life. The streets are a flurry of shoppers, businessmen, and market traders, each contributing to the city's lively atmosphere.
The Cultural Hub
Harare is not just an economic center; it's also a cultural hub. Its galleries and museums, such as the National Gallery of Zimbabwe, house a wealth of African art, showcasing the incredible talent of local and regional artists. The city celebrates its cultural heritage with pride, and visitors are often delighted by the array of performances, from traditional dance to contemporary theater, that can be enjoyed in various venues across the city.
The Book Café, a beloved local institution, was more than just a coffee shop—it was a space where poets, musicians, and thinkers congregated to share and inspire. Though it has closed, its spirit lives on in the creative corners of the city, inspiring a new generation of artists and intellectuals.
A Green Oasis
Harare's charm extends to its verdant spaces, earning it the nickname "Sunshine City." The city is interspersed with lush parks and gardens, such as the Harare Gardens, which provide a green lung in the city center, offering a serene respite from the urban buzz. The Botanical Gardens boast an impressive collection of native and exotic plants, inviting a leisurely stroll or a picnic under the shade of its majestic trees.
Beyond the city limits, the nature lover will find a world to explore. To the north, the serene Ewanrigg Botanical Gardens showcase an array of indigenous flora, while to the southeast, the rugged granite outcrops of the Balancing Rocks have been sculpted by time into a surreal landscape that is quintessentially Zimbabwean.
Gateway to Adventure
Harare is also the gateway to some of Zimbabwe's most awe-inspiring natural wonders and wildlife reserves. A short drive from the city will take you to the majestic Eastern Highlands, where rolling hills and mountain streams paint a picture of tranquil beauty. The famed Lake Chivero offers a sanctuary for wildlife and is a popular spot for boating and birdwatching.
For those willing to venture further afield, the UNESCO World Heritage Site of Great Zimbabwe— the ancient city that was once a center of a vast empire and from which the country takes its name—awaits. The Hwange National Park, a drive to the west, offers one of the finest safari experiences, home to one of Africa's largest elephant populations.
Culinary Delights
The city's dining scene is a reflection of its multicultural character. From the traditional sadza and nyama to gourmet international cuisine, there's something to satisfy every palate. Upscale eateries in Borrowdale and Avondale offer a more refined dining experience, while the buzzing restaurant strips in areas like Sam Levy's Village provide a more casual atmosphere, often with live music and outdoor seating.
Harare does not reveal its wonders ostentatiously but rather invites the discerning traveler to discover them. It's a city where business and leisure intertwine seamlessly, where the urban experience is enriched by easy access to nature, and where the warmth of Zimbabwe's people is as radiant as its sun. A visit to Harare is more than just a stopover; it is an introduction to a nation's soul, an invitation to experience the diversity and resilience that characterize Zimbabwe. Whether you're exploring its dynamic urban landscape, delving into its artistic heart, or embarking on excursions into the wilds beyond, Harare is a city that promises to leave an indelible mark on the canvas of your travels.
Harare City Guide: A Brief History Of Harare, Zimbabwe For Visitors
For visitors to Harare, understanding the city's history enriches the experience of exploring its streets and interacting with its people. Harare's history is not merely a timeline of events but a living, breathing influence on the character and identity of Zimbabwe's capital.
Pre-Colonial Beginnings
Long before it became known as Harare, the area was inhabited by the Shona people, one of Zimbabwe's major ethnic groups. These early inhabitants were primarily agriculturalists and ironworkers, and they established various states and trading routes across the region. The prosperity of these ancient cultures is still evident in the ruins of Great Zimbabwe, located to the south of modern-day Harare.
The legacy of the pre-colonial era endures in the city's surroundings, where rock art and artifacts bear witness to a rich cultural history that predates European influence. These early societies laid the groundwork for the complex socio-political structures that would define the region for centuries.
Colonial Footprint
The landscape of what is now Harare began to shift dramatically with the arrival of the Pioneer Column, a group of settlers and prospectors, in 1890. Led by the British South Africa Company under Cecil John Rhodes, these settlers established a fort and named it Salisbury after the then British Prime Minister, the 3rd Marquess of Salisbury. This marked the beginning of colonial rule, which would last for nearly a century.
Salisbury became the administrative and commercial hub for the company's holdings in the region, which it called Southern Rhodesia. As the town expanded, it witnessed the construction of significant colonial architecture, much of which still stands today, offering silent testimony to this period.
Struggle for Independence
The mid-20th century was a period of increasing unrest as African nationalist sentiment grew. The desire for independence led to the formation of political movements that would shape the future of the nation. The most prominent of these, the Zimbabwe African National Union (ZANU) and the Zimbabwe African People's Union (ZAPU), led the charge against colonial rule.
Tensions came to a head in the 1960s when the white minority government unilaterally declared independence from Britain, leading to international isolation and sanctions. This period, known as the Rhodesian Bush War or the Second Chimurenga, was marked by guerrilla warfare and political struggle. It wasn't until the Lancaster House Agreement in 1979 that a pathway to majority rule was established, setting the stage for the creation of the Republic of Zimbabwe in 1980.
Birth of Harare
With independence came a wave of renaming and reappropriation of spaces as the newly formed nation sought to shed colonial names and symbols. In 1982, Salisbury was renamed Harare after the Shona chieftain Neharawa. The city was now a symbol of a new era, the capital of an independent Zimbabwe with Robert Mugabe as its first Prime Minister and later its President.
Post-Independence Challenges and Triumphs
The years following independence were marked by initial optimism. Harare experienced a boom in construction and saw the growth of its cultural institutions. However, economic challenges soon surfaced. Land reform issues, economic sanctions, and internal political strife led to a period of significant economic downturn and hyperinflation in the early 2000s, which greatly affected the city's growth and development.
Despite these hardships, Harare continued to be a seat of learning, the arts, and culture. The University of Zimbabwe has remained a pillar of higher education in Africa, and events like the Harare International Festival of the Arts (HIFA) have brought global attention to the city's vibrant cultural scene.
Present-Day Harare
Today, Harare is a city where resilience shines through. Visitors can explore the National Archives to view a collection of historical documents, photographs, and relics that tell the story of Zimbabwe from the pre-colonial era to the present. The city's architecture remains a patchwork of eras, with colonial buildings juxtaposed against modern high-rises and informal settlements.
Despite economic difficulties, Harare is re-emerging as a place of enterprise and innovation. While the shadow of its recent history is ever-present, the city is also a canvas for contemporary Zimbabwean life—expressed through its art, music, and the indomitable spirit of its people.
For visitors, the history of Harare is not confined to the pages of textbooks; it is etched in its wide avenues, in the mix of its architecture, in the conversations in its cafes, and in the art that adorns its walls. To walk the streets of Harare is to walk through layers of history, to witness the endurance of a community through significant change, and to experience the heart of a nation that continues to evolve with each passing day.
Harare Top Attractions and Best Places to Visit in Zimbabwe
Introduction to Harare
While Harare has seen better days due to the strain that the economic hardships of the currency collapse wreaked on the city and country, recent years have seen the development of a slow but sure recovery. Its cultural institutions make this city worth a couple of days at the start or end of your trip to Zimbabwe.
Cultural Attractions in Harare
Check out some of the best works that the best creative minds in the country have created by browsing the halls of the National Gallery of Zimbabwe.
Opened as the National Gallery of Rhodesia by the Queen Mother in 1957, it has gone on to feature the best paintings, drawings and sculptors that this nation has to offer.
There are crafts and books on Zimbabwean art in the gift shop, and there is also an attached cafe where you can chill out after exploring the artistic talent of this country.
If your visit to the National Gallery of Zimbabwe has you looking for more art in Harare, then head over to the Shona Sculpture Gallery. A garden filled with all sorts of unique art pieces created by indigenous artisans, you'll enjoy spending an hour or two viewing these amazing creations.
The experience here is made even better by the hosts, who offer commentary on what the pieces represent, and offer homemade touches such as free drinks as you browse.
Finished your safari and/or your time at Victoria Falls, and ready to head home to your family and friends? If you realize that you are missing souvenirs for some of your loved ones, don't panic, as the Avondale Flea Market offers a last-minute chance to pick up a gift for them.
Situated at the top of the car park at the Avondale Shopping Centre, many of the stalls sell local clothing, but there are plenty of other that deal in local music, crafts, and other goods that are irrevocably Zimbabwean. Be prepared to haggle with the merchants, as practically none of the goods up for sale have price tags on them.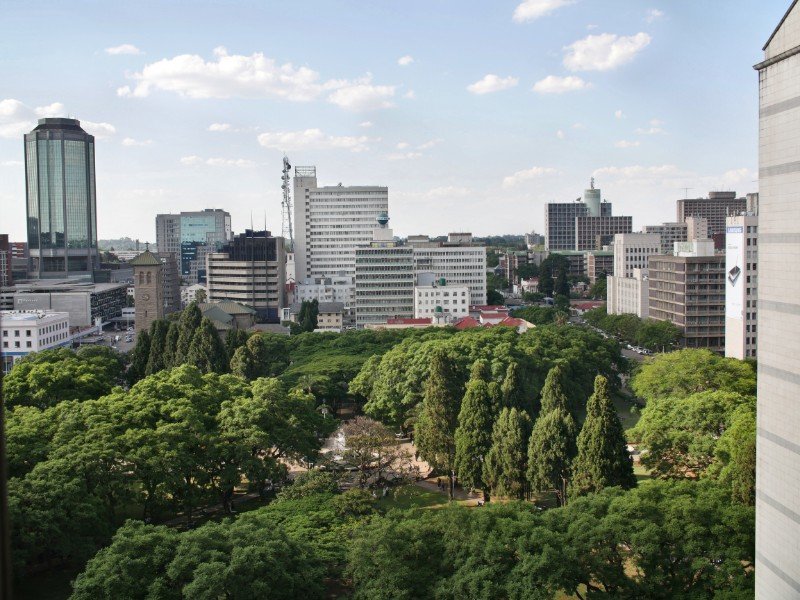 Other Cultural Attractions: Trip to Harare, Zimbabwe
While there appears to be an abundance of wildlife in Zimbabwe and in the rest of Southern Africa, there is a poaching problem that is getting progressively worse with each passing year. As the middle class rises in places like China, the demand for ivory has shot up, making it lucrative for hunters to illegally shoot elephants solely for their tusks.
If left unchecked, it is projected that elephants will be driven to extinction in the next 20 years. While enforcement action is on the various government stakeholders in Africa and Asia, non-profit organizations such as Wild is Life are aiming to repair the damage through breeding programs.
They are working to rebuild devastated elephant populations in Zimbabwe and across Africa, and they also take in orphaned baby elephants to raise them in captivity, away from the dangers of predation. Visitors can view the ongoing efforts by visiting their facilities in Harare, and in doing so, they'll also get the chance to interact with one of nature's most intelligent non-human species up close.
Kuimba Shiri Bird Sanctuary is another wildlife park in Harare that is well worth a visit. Started by Gary Stafford, a falconer that used to help produce wildlife documentaries for the BBC, this facility of the shores of Lake Chivero is home to over 460 species of birds that call the continent of Africa home. There is a restaurant and chalets on site, and fishers will find plenty of amazing angling on the waters of the lake as well.
Looking to a great place to unwind in the middle of downtown? The lushness of Harare Gardens is one of the best spots to both relax and get some amazing shots of the cityscape of Zimbabwe's capital. Plenty of flowers, monuments, and a replica of Victoria Falls are among the highlights here, but don't hang out here after dark, as ongoing economic difficulties make it an unwise place to be at night.

source: Prisca Ruvimbo on YouTube
Top 55 Things To Do in Harare, Zimbabwe For Visitors
Harare, a city pulsating with vitality and adorned with its unique charm, offers an abundance of activities for the visitor keen on diving into its cultural depths, natural beauty, and dynamic atmosphere. Here's an extensive list of 55 things to do in Harare, a guide to experiencing the city's best offerings.
1. National Heroes Acre: This iconic landmark is a burial ground and memorial to the heroes of Zimbabwe's liberation war. Take a guided tour to understand its significance and see the Tomb of the Unknown Soldier.
2. Harare Gardens: Harare's central park is a serene spot perfect for picnics, leisurely walks, and observing local life.
3. The National Gallery of Zimbabwe: Featuring contemporary African and Zimbabwean art, this gallery is a cultural treasure trove.
4. Mukuvisi Woodlands: Just 7 km from the city center, this environmental conservation area is great for walking safaris and horse rides among giraffes, zebras, and antelope.
5. Chapungu Sculpture Park: View stunning stone sculptures at this outdoor exhibition space, showcasing the work of Zimbabwean artists.
6. The Balancing Rocks: An extraordinary geological formation located in Epworth, perfect for a photo opportunity and to marvel at nature's artistry.
7. Sam Levy's Village: A shopping and entertainment complex with a European-style atmosphere, offering a range of boutiques, restaurants, and a cinema.
8. Avondale Shopping Center: A bustling area where you can shop, eat, and experience Harare's cosmopolitan vibe.
9. Joina City Shopping Mall: For a more modern shopping experience, visit this high-rise mall in the heart of the city.
10. Wild is Life Grand Zimbabwe: A sanctuary for rescued wildlife where you can have close encounters with elephants and other animals.
11. Longcheng Plaza: A multi-purpose complex where one can shop, dine, and entertain themselves, reflecting the city's growth.
12. Lake Chivero Recreational Park: Enjoy boating, fishing, or a lakeside barbecue just outside Harare.
13. Ewanrigg Botanical Gardens: Explore these lovely gardens which specialize in aloe and cycad plants.
14. Mbare Musika: Dive into the bustling atmosphere of Harare's largest market for an authentic local shopping experience.
15. The Book Café (now closed but with plans to reopen): Once a haven for artists and activists, keep an eye out for its return and similar vibrant cultural hubs.
16. The Kopje: Climb this granite hill for panoramic views of the entire city.
17. Borrowdale Race Course: Enjoy a day at the races or the occasional concert event at this venue.
18. Lion and Cheetah Park: A short drive from the city, it's a fun place for animal encounters.
19. Doon Estate: Home to various artists and craft shops offering unique Zimbabwean souvenirs.
20. Elephant Nursery – Wild is Life: Visit the nursery for a chance to see baby elephants being nurtured back to health.
21. The Jacaranda-lined Streets: In late spring, the city is awash with the purple bloom of jacaranda trees, a sight to behold.
22. Thetford Game Reserve: A bit outside Harare, offering game drives to see rhinos, giraffes, and more.
23. Harare Sports Club: Catch a cricket match or simply soak in the British colonial-era sports club atmosphere.
24. Raintree Venue: This beautiful outdoor venue often hosts weddings and corporate events but is also open for casual visits.
25. Cleveland Dam Recreational Park: Ideal for picnics, birdwatching, and peaceful walks.
26. Chiremba Balancing Rocks: Visit another set of balancing rocks, rich with historical and cultural significance.
27. Gallery Delta: For contemporary art in a beautiful setting, visit this gallery housed in a converted colonial home.
28. Zimbabwe Museum of Human Sciences: Learn about the local archaeology, history, and cultural heritage of Zimbabwe.
29. The Shona Sculpture Gallery: An exquisite collection of stone sculptures by various Zimbabwean artists.
30. Eastgate Centre: Designed by architect Mick Pearce, this building is known for its sustainable cooling system inspired by termite mounds.
31. Queen Victoria Museum: A small museum within the Harare Gardens with historical and cultural exhibits.
32. Greenwood Park: An amusement park with boating and family-friendly activities.
33. Tengenenge Art Community: Although a drive from Harare, this artist community is an essential visit for art lovers.
34. Harare City Library: For book enthusiasts, the library offers a quiet retreat with a good selection of African literature.
35. National Botanic Gardens: Spanning over 7 square kilometers, this garden houses over 900 species of wild trees and shrubs from all over the country.
36. Coronation Park: Another green space popular for relaxation and community gatherings.
37. Arundel Village: A charming shopping center with a variety of shops and eateries.
38. Bally Vaughan Animal Sanctuary: For a family day out, visit the sanctuary to learn about and interact with rescued animals.
39. Italian Club of Harare: Enjoy authentic Italian cuisine and culture, often with special event nights.
40. Varden Safaris: Embark on a horseback safari for a different kind of wildlife experience.
41. The Alliance Française de Harare: Immerse yourself in French culture, language courses, and events.
42. Amanzi Restaurant: For fine dining in a stunning setting, try this fusion restaurant set in a converted house with beautiful gardens.
43. Paula's Place: A stylish restaurant and bar known for its ambiance and quality food.
44. Harare Drive-In Cinema: Relive the nostalgia of the drive-in with the modern convenience.
45. The Rotary Walkway: Enjoy a peaceful walk or jog along this path that skirts a golf course and a small stream.
46. Kuimba Shiri Bird Park: Located on the shores of Lake Chivero, it's a delightful spot for bird lovers.
47. Marimba Shopping Center: An inviting place to shop, with a laid-back atmosphere and a mix of local and international goods.
48. Pariah State Bar & Restaurant: A lively spot for food, drinks, and often live music.
49. The Boma – Place of Eating: Sample traditional Zimbabwean food and enjoy interactive drumming sessions.
50. Chisipite Shopping Centre: A smaller, upscale shopping area known for boutique shops and quality produce.
51. Zimbabwe Golf Association: Play a round of golf or simply enjoy the greenery and facilities.
52. Sundowners at Meikles Hotel: Enjoy a cocktail with a view at this luxury hotel.
53. Reps Theatre: Check out a play or musical at this well-regarded community theatre.
54. Cresta Lodge Harare: A comfortable stay with good dining options and a lovely setting.
55. Jameson Hotel: Step back in time with a visit to the historic hotel, a staple of Harare's hospitality scene.
While exploring Harare, the convergence of cultural encounters, natural excursions, and the warmth of Zimbabwean hospitality makes for a rich and diverse experience. Always be mindful to check the current status of attractions, as circumstances can lead to changes in opening hours or availability.

source: Miss Josey on YouTube
What To Eat and Drink in Harare, Zimbabwe
In Harare, Zimbabwe, the culinary experience is a delightful journey through traditional African flavors blended with influences from British colonial history and international cuisines brought by various immigrants. Here's a comprehensive guide to what to eat and drink while in this vibrant city:
Traditional Zimbabwean Cuisine:
1. Sadza:
A staple food made from white maize meal, similar to polenta. It's usually served with a variety of relishes including beef stew, vegetables, or fish.
2. Nhedzi Soup:
A rich and flavorful wild mushroom soup, often enhanced with cream and onions.
3. Game Meat:
Try dishes made from impala, warthog, or kudu. Game meat is lean and flavorful, often prepared as steaks, stews, or biltong (dried and seasoned meat).
4. Mopane Worms:
For the adventurous eater, these caterpillars are a delicacy high in protein, typically fried until crunchy.
5. Dovi:
A traditional peanut butter stew usually made with chicken and vegetables. The rich, nutty sauce is a beloved comfort dish.
6. Mazondo (Cow Hooves):
Slow-cooked to tenderness, this is a rich and gelatinous dish often enjoyed for breakfast.
7. Bota:
A porridge flavored with peanut butter, milk, and sometimes jam or honey, eaten typically for breakfast.
8. Kapenta:
Tiny, sardine-like fish from Lake Kariba, served dried or stewed, and typically accompanied by sadza.
9. Vegetables:
Derere (okra), muboora (pumpkin leaves), and chomolia (kale) are common and served as side dishes.
Snacks and Street Food:
10. Maheu: – A traditional, non-alcoholic, fermented maize drink that's thick and filling, flavored with sugar or sour milk.
11. Maputi: – Popped maize kernels similar to popcorn but made with a local variety of maize.
12. Corn on the Cob: – Roasted or boiled, often sold by street vendors, and seasoned with chili, lime, and salt.
13. Roasted Nuts: – Almonds, cashews, and peanuts, often sold at roadside stalls, make for a tasty snack.
Drinks:
14. Whawha: – A traditional maize beer that's an important part of social and ceremonial functions.
15. Super: – A commercially produced sorghum beer that's a popular choice among locals.
16. Mazoe Orange Crush: – A sweet orange cordial that's a household name in Zimbabwe. It's mixed with water or used as a mixer in cocktails.
17. Zimbabwean Tea and Coffee: – Zimbabwe produces high-quality tea and coffee. Enjoy them black, with milk, or as a part of a tea service with scones and sandwiches.
International Cuisine:
18. Indian Food: – Influences from a sizable Indian community mean that there's a good selection of Indian restaurants in Harare offering curries, naan, and other subcontinental favorites.
19. Chinese Cuisine: – With a growing Chinese expatriate population, authentic Chinese dishes are readily available.
20. Italian Food: – Pizzerias and Italian restaurants serve pasta, risotto, and pizza with both local and imported ingredients.
Desserts:
21. Baobab Ice Cream: – Made from the fruit of the baobab tree, it has a unique tangy flavor.
22. Melktert: – A South African influence, this "milk tart" is a creamy dessert spiced with cinnamon.
23. Amarula Desserts: – Look out for desserts flavored with Amarula, a cream liqueur made from the fruit of the African marula tree.
Modern Zimbabwean Cuisine:
24. Fusion Restaurants: – Chefs in Harare are innovating by combining traditional ingredients with modern techniques, creating a fusion that's distinctly Zimbabwean yet contemporary.
Dining Experiences:
25. Braai: – Similar to barbecue, a braai is not just about grilling meat but also a social event. Enjoy boerewors (sausages), steaks, and chicken at specialized braai restaurants or at communal gatherings.
26. Fine Dining: – For those looking for an upscale experience, Harare has several fine dining establishments that offer both local and international dishes made with premium ingredients and artistic presentation.
Beverages and Nightlife:
27. Cocktails: – Harare's bars and lounges offer a selection of cocktails, from classics to new creations using local spirits and flavors.
28. Wine: – Zimbabwe's proximity to South Africa, a major wine producer, ensures a good selection of African wines in restaurants and bars.
When indulging in Harare's food scene, visitors should consider trying out the weekly specials at local eateries, visiting food markets, and joining food festivals that often occur in the city. This gastronomic exploration offers not just a taste but a deep insight into the heritage and daily life of Harare's residents.

source: SylviaBox on YouTube
Top Restaurants In Harare, Zimbabwe
Harare, the bustling capital city of Zimbabwe, offers a surprisingly diverse and sophisticated dining scene. Its restaurants cater to a variety of tastes, incorporating an array of international cuisines, along with showcasing the rich flavors of traditional Zimbabwean fare. Below is an elaborative guide to some of the top restaurants in Harare, where visitors can enjoy a memorable culinary experience.
Amanzi Restaurant
Ambiance and Specialties: Amanzi has a reputation for being one of the most stylish and serene restaurants in Harare. Set in a beautifully landscaped garden, it offers a tranquil dining experience. The menu is a fusion of European, Asian, and African flavors, with an emphasis on fresh, locally-sourced ingredients.
Notable Dishes:
Start with a mezze platter or the delectable tempura prawns.
Indulge in their signature dishes like the Moroccan lamb shank or the pan-seared bream.
For dessert, the passion fruit crème brûlée is a must-try.
Victoria 22
Ambiance and Specialties: Victoria 22 is housed in a charming converted house and is known for its elegant setting and gourmet cuisine. The menu often changes to reflect the freshest produce and contemporary trends.
Notable Dishes:
The rack of lamb and the beef fillet come highly recommended.
The wine list is extensive, offering excellent pairings with your meal.
The Boma – Place of Eating
Ambiance and Specialties: The Boma offers a truly Zimbabwean dining experience, complete with traditional dance performances, interactive drumming, and an exotic array of local dishes. It's perfect for tourists seeking an immersive cultural experience.
Notable Dishes:
Sample the game meat platter or the traditional Zimbabwean stew.
Don't miss out on the mopane worms if you're adventurous.
Their buffet spread is a great way to try a little bit of everything.
Organikks
Ambiance and Specialties: This contemporary, chic restaurant focuses on organic and health-conscious meals without sacrificing flavor. They offer a variety of vegan and gluten-free options.
Notable Dishes:
The quinoa salad and the grilled salmon with a side of zucchini noodles are popular choices.
Their smoothies and fresh juices are perfect for a refreshing boost.
Shangri-La Chinese Restaurant
Ambiance and Specialties: For those who crave authentic Chinese cuisine, Shangri-La is the go-to place. Their menu boasts a range of traditional dishes made with finesse.
Notable Dishes:
The Peking duck is a standout, served with all the classic accompaniments.
The dim sum menu is also extensive, making it a perfect place for a leisurely lunch.
Coimbra
Ambiance and Specialties: A Harare institution, Coimbra offers a slice of Portugal in Zimbabwe. It's best known for its peri-peri chicken, marinated in traditional Portuguese spices.
Notable Dishes:
The peri-peri chicken is a must-have, with its spicy, tangy flavors.
The prawn rissoles and the trinchado (beef cubes in a spicy sauce) are also excellent.
Emmanuels Restaurant
Ambiance and Specialties: Located in the lush Bronte Hotel, Emmanuels exudes elegance and offers a fusion of international and local dishes.
Notable Dishes:
For starters, try the blue cheese and pear tart.
Main courses like the grilled impala and the pan-fried bream are beautifully prepared.
Their dessert menu, featuring delights like the Baobab sorbet, is a splendid way to end your meal.
Paula's Place
Ambiance and Specialties: Paula's Place is a fashionably decorated restaurant with a menu that spans across Mediterranean, Portuguese, and African cuisines.
Notable Dishes:
Their peri-peri chicken liver starter is a spicy delight.
Seafood lovers will appreciate the prawn curry or the calamari grilled in lemon butter.
The Mozambican-style grilled chicken is another flavorful choice.
The Butcher's Kitchen
Ambiance and Specialties: True to its name, The Butcher's Kitchen is a paradise for meat lovers, offering expertly grilled steaks and other carnivorous delights.
Notable Dishes:
The rib-eye steak is a popular choice, known for its succulent flavor.
They also offer a variety of burgers and meat combos, which are great for sharing.
La Fontaine Grillroom
Ambiance and Specialties: Located in the Meikles Hotel, La Fontaine Grillroom is one of Harare's most sophisticated dining spots. They specialize in fine dining with a menu that features French and Mediterranean influences.
Notable Dishes:
The Chateaubriand for two is a special treat, served with classic béarnaise sauce.
For a lighter option, the Nicoise salad is a flavorful choice.
Indulge in their selection of French cheeses for a decadent finish to your meal.
Garwe Restaurant
Ambiance and Specialties: For those seeking an authentic taste of Zimbabwe, Garwe Restaurant serves up traditional dishes in a relaxed, family-friendly environment.
Notable Dishes:
Sadza with tender beef stew and greens is a hearty local favorite.
The braised oxtail is another comforting dish, rich and flavorful.
40 Cork Road
Ambiance and Specialties: This is more than just a restaurant; it's an art gallery and a lovely garden setting where diners can enjoy creative dishes made with organic produce.
Notable Dishes:
The menu changes frequently, but look for the freshly made pastas and imaginative salads.
They also offer a range of artisanal pizzas with unique toppings.
Fishmonger
Ambiance and Specialties: As the name suggests, Fishmonger is Harare's seafood authority, offering the freshest catch prepared in a variety of styles, from Mediterranean to Asian.
Notable Dishes:
The grilled calamari is tender and flavorful, often highlighted by diners as a favorite.
The seafood platter gives you a taste of everything, from prawns to lobster.
When dining in Harare, it is advisable to reserve a table, especially at high-end restaurants, as they can get quite busy, especially on weekends and holidays. It's also worth noting that some establishments offer outdoor seating, which can be particularly enjoyable in Harare's pleasant climate. Additionally, these restaurants not only offer excellent food but also provide an ambiance that complements the overall dining experience, whether it's a romantic dinner, a business meeting, or a family gathering.

source: Top Tourist Places on YouTube
Tours For Visitors To Harare, Zimbabwe
For visitors to Harare, Zimbabwe, the city and its surrounding areas offer a plethora of tour opportunities that range from cultural experiences to wildlife adventures. Here's a detailed guide to the variety of tours that one can enjoy while in Harare:
City Tours
Harare City Tour: A comprehensive city tour is a perfect introduction to Harare. These tours typically include visits to landmarks such as the National Heroes Acre, the Shona Sculpture Gallery, the Balancing Rocks in Epworth, and the bustling Mbare Musika market. Guides offer insights into the city's history and contemporary culture.
Walking Tours: For those who enjoy exploring on foot, guided walking tours can take you through Harare's downtown, showcasing colonial architecture, street art, and various shops and cafes.
Cultural Tours: These tours dive deeper into the local lifestyle, offering experiences such as cooking classes featuring traditional Zimbabwean cuisine, visits to local artists' studios, or joining in on a traditional dance and music workshop.
Nature and Garden Tours
Ewanrigg Botanical Gardens: A short drive from Harare, the Ewanrigg Botanical Gardens are home to a vast collection of indigenous and exotic plants, particularly known for their aloe and cycad collections. It's a haven for bird watchers and plant lovers.
Mukuvisi Woodlands: Guided tours through the Mukuvisi Woodlands offer a slice of the wilderness within the city limits, with opportunities to spot wildlife such as giraffes, zebras, and antelopes.
Wildlife Safaris and Animal Sanctuaries
Wild Is Life Trust and ZEN Sanctuary: A sanctuary for rescued wildlife, Wild Is Life offers an intimate encounter with elephants, lions, giraffes, and more. Tours here often end with a high tea, overlooking a serene setting with animals roaming in the vicinity.
Snake Park and Reptile Sanctuary: For a more slithery experience, the Harare Snake Park educates visitors on the various snakes and reptiles native to Zimbabwe. Guided tours explain the importance of these creatures to the ecosystem.
Lion and Cheetah Park: A short drive from the city center, this park offers guided tours where you can see lions, cheetahs, and other animals. Some tours may offer 'lion encounters' under strict supervision.
Historical and Heritage Tours
Kuimba Shiri Bird Park: On the shores of Lake Chivero, the Kuimba Shiri Bird Park is a bird sanctuary with guided tours that provide information on bird species and their habitats. The lake itself is a historical site, with nearby rock art that dates back thousands of years.
National Archives: History buffs can take guided tours through the National Archives to view exhibits on the country's history, including its colonial past and the liberation struggle.
Art and Craft Tours
Tengenenge Art Community: Although a bit of a journey from Harare, this unique artists' community is where you can see sculptors at work and purchase pieces directly from the artists. Tours include round-trip transport and give a comprehensive look at the art-making process.
Gallery Hopping: Harare boasts several art galleries that feature contemporary African art. A guided gallery hopping tour might include stops at the National Gallery of Zimbabwe, Delta Gallery, and First Floor Gallery.
Food and Beverage Tours
Coffee Farm Tours: Zimbabwe's coffee is renowned for its quality. Coffee enthusiasts can take tours to nearby farms to learn about coffee production and enjoy tastings.
Winery Tours: The area surrounding Harare is home to several wineries. A tour can take you through the vineyards with tastings and an understanding of the winemaking process in this part of the world.
Adventure Tours
Imire Rhino and Wildlife Conservation: For those willing to venture a bit further, Imire offers the chance to learn about rhino conservation efforts. These tours can be day trips or overnight stays, with the opportunity to track rhinos and other wildlife on foot.
Chinhoyi Caves Expedition: This tour takes you to the mystical Chinhoyi Caves, known for their deep blue underwater pools. The more adventurous can even arrange for scuba diving expeditions in the caves.
Overnight and Multi-Day Tours
Great Zimbabwe Ruins: Several tour operators offer multi-day trips to the Great Zimbabwe Ruins, the ancient city that stands testament to a bygone civilization. These tours can also include other attractions such as the Eastern Highlands and Lake Mutirikwi.
Zambezi Valley Safari: Organized tours can take you on a journey to the Zambezi Valley for a few days of safari, where you can witness the rich wildlife of Zimbabwe in natural reserves such as Mana Pools National Park.
When booking tours in Harare, it's essential to select reputable companies with experienced guides, especially for wildlife-related activities. Additionally, some tours are seasonal or depend on certain conditions (like weather or animal migrations), so it's best to plan accordingly. Always confirm the details, safety protocols, and what is included in your tour package. Tours not only offer the sights but also the stories and experiences that make the memories of visiting Harare truly unforgettable.

source: Top Rated Online on YouTube
Harare Accommodations Guide: Hotels, Guesthouses and Hostels
In Harare, visitors will find a range of accommodations that cater to different preferences and budgets, from the luxurious hotels that offer every imaginable amenity to guesthouses that provide a homely atmosphere, and hostels that are friendly to the wallets of budget travelers. Here's a detailed guide to navigating the accommodation landscape of Zimbabwe's capital city.
Luxury Hotels
Meikles Hotel: One of Harare's most iconic five-star hotels, Meikles is a symbol of elegance and luxury. It overlooks Africa Unity Square and offers state-of-the-art facilities, including two swimming pools, a spa, several restaurants, and executive lounges. Rooms and suites are exquisitely furnished, providing guests with panoramic views of the city or the park.
The Rainbow Towers Hotel and Conference Center: Another five-star establishment, The Rainbow Towers, is designed to cater to the needs of both business and leisure travelers. With a range of rooms and suites, an in-house casino, tennis courts, and a conference center that can host up to 4,500 people, this hotel is a popular choice for those seeking full-service accommodations.
The Bronte Hotel: The Bronte is an oasis of tranquility with its lush gardens and calming water features. It offers a boutique hotel experience with rooms that blend African flair and contemporary comfort. Two swimming pools, a fitness center, and a choice of two restaurants make it a preferred choice for travelers who appreciate attention to detail.
Mid-Range Hotels
Cresta Oasis Hotel: This hotel stands out for its central location and solid amenities at reasonable rates. Rooms are modern, with all the necessary facilities for a comfortable stay. The hotel has meeting rooms and a business center, making it a good choice for corporate travelers.
Holiday Inn Harare: A reliable name in hospitality, Holiday Inn offers contemporary rooms with all standard amenities. The hotel's location is convenient for accessing Harare's main attractions and business district. It also features a pool, a gym, and several dining options.
The Monomotapa Hotel: Overlooking Harare Gardens, the Monomotapa offers well-appointed rooms, several dining options, and a unique Portuguese architecture that sets it apart. Its location makes it perfect for those who wish to explore the city on foot.
Guesthouses and Bed & Breakfasts
York Lodge: Nestled in the suburbs of Harare, York Lodge is known for its personal service and beautiful surroundings. The colonial-style lodge offers spacious rooms and a home-like atmosphere, with a lovely garden and pool.
Willow Lodge: Ideal for those seeking a quiet and personalized experience, Willow Lodge provides a warm and intimate setting. The guesthouse offers home-cooked meals and prides itself on its peaceful environment.
Armadale Boutique Lodge: This boutique option in the northern suburbs is perfect for those seeking luxury in a more intimate setting. With beautifully decorated rooms, a pool, and a private garden, it's like a home away from home.
Hostels and Budget Accommodations
It's a Small World Backpackers Lodge: This is a go-to for budget travelers and those looking to meet fellow adventurers. The lodge offers dormitory-style rooms, private rooms, camping options, and a communal kitchen. It's a great place to get travel tips and to book tours.
Harare Backpackers: Offering a comfortable and affordable stay, this backpackers hostel has a mix of dorms and private rooms. It is also a hub for travel information and has a friendly staff that helps with organizing trips and activities.
Self-Catering Apartments and Lodges
Sunbird Guest House: This establishment offers self-catering options with the convenience of hotel-like amenities. It's ideal for longer stays or for those who prefer to cook their own meals.
Simba Harare Lodge: On the outskirts of the city, this lodge offers spacious rooms and a quiet environment. It's a great choice for those with their own transport or who don't mind the commute into the city.
Camping and Caravan Parks
Kuimba Shiri Bird Park: While primarily a bird sanctuary, it also offers camping facilities for those who want to sleep under the African sky. It's a bit further from the city, but it offers a unique chance to connect with nature.
Lake Chivero Recreational Park: Not far from Harare, this park offers camping sites next to the lake. It's perfect for fishing, boating, and bird watching.
When booking accommodation in Harare, consider your transportation options, especially if you are staying outside of the city center, as public transport can be limited and taxis can be expensive. It's also wise to book in advance, particularly during peak tourist seasons or when major conferences or events are happening in the city. Always check recent reviews and ensure that the accommodation provides adequate security, as this is an important consideration in Harare.
Each type of accommodation in Harare has its charm and advantages, whether it's the lavish comforts of a luxury hotel, the cozy atmosphere of a guesthouse, the affordability of a hostel, or the independence of a self-catering apartment. Your choice will depend on your budget, travel style, and the kind of experience you want to have in this vibrant African city.
Harare 3-4 Days Travel Itinerary
Planning a three to four-day itinerary in Harare, Zimbabwe, offers an opportunity to experience the city's rich culture, history, and natural beauty. Here's a detailed guide to help you make the most of your visit.
Day 1: Discovering the Heart of Harare
Morning:
Breakfast at a Local Café: Start your day with a hearty breakfast at a café like Veldemeers, which offers a range of pastries and good coffee.
Harare Gardens: After breakfast, take a leisurely stroll through the Harare Gardens, the city's largest public park, to experience a slice of tranquility and the daily life of the locals.
National Gallery of Zimbabwe: Spend the morning immersing yourself in Zimbabwean art and heritage at the National Gallery, which showcases a mix of traditional and contemporary African art.
Afternoon:
Lunch at The Eatery: Head to The Eatery for lunch, where you can sample a fusion of local and international cuisine.
City Walking Tour: Post-lunch, engage in a guided walking tour of the city to see the blend of colonial architecture and modern buildings, the bustling streets of the central business district, and significant landmarks such as the Cathedral of St Mary and All Saints.
Evening:
Dinner at Coimbra: Enjoy a Portuguese-inspired dinner at Coimbra, a local favorite famous for its peri-peri chicken.
Sunset at The Kopje: End your day with a drive to The Kopje, a granite hill offering panoramic views of Harare, perfect for a sunset view.
Day 2: Cultural Insights and Artistic Endeavors
Morning:
Breakfast at Emmanuel's: Kick-off with breakfast at Emmanuel's, where the omelets and fresh juices are quite popular.
Chapungu Sculpture Park: After breakfast, visit the Chapungu Sculpture Park in Msasa to see the famous Shona stone sculptures in an outdoor setting.
Afternoon:
Lunch at Shangri-La Chinese Restaurant: Taste some of Harare's best Chinese food for lunch.
Doon Estate: Spend your afternoon at Doon Estate, known for its assortment of shops selling high-quality Zimbabwean crafts, from textiles to jewelry and sculptures.
Evening:
Dinner at Amanzi Restaurant: Enjoy your dinner at Amanzi, set in a beautiful water garden, offering a mix of African and Asian cuisine.
Explore the Nightlife: If you're up for it, explore some of Harare's nightlife in areas like Borrowdale, which have a variety of bars and clubs.
Day 3: Nature and Wildlife Experience
Morning:
Early Breakfast: Have an early breakfast at your hotel or a packed breakfast to go.
Wild Is Life Trust and ZEN Sanctuary: Spend your morning at the Wild Is Life Trust, an animal sanctuary where you can have close encounters with wildlife and learn about conservation efforts. Pre-booking is essential.
Afternoon:
Picnic Lunch: Have a picnic lunch at the sanctuary or at a nearby spot.
Mukuvisi Woodlands: In the afternoon, visit the Mukuvisi Woodlands. You can enjoy a guided horseback safari or a walking tour to see some of Zimbabwe's indigenous animals and birdlife.
Evening:
Dinner at Paula's Place: Dine at Paula's Place, which offers a cozy atmosphere and a menu with a variety of options.
Day 4: Adventure or Leisure
Depending on your interests, you can choose to spend your fourth day on an adventure or taking it easy.
Option 1: Adventure Day
Chinhoyi Caves: Take a day trip to the Chinhoyi Caves, a marvel of limestone and dolomite. Here you can explore the caves and even dive in the "Sleeping Pool" if you're a certified diver.
Option 2: Leisure Day
Golfing or Spa Day: If you prefer a leisurely day, consider spending it at one of Harare's golf courses or having a spa day at a local wellness center for some relaxation and pampering.
High Tea: In the afternoon, enjoy a high tea experience at a place like the Victoria 22 or Meikles Hotel, which offer an elegant setting and a selection of teas and treats.
Shopping and Pre-Departure: Use any remaining time for some last-minute shopping at Sam Levy's Village or Avondale Shopping Center, where you can pick up souvenirs or local artworks.
Each day concludes with a dinner suggestion that takes you to some of Harare's best culinary spots, allowing you to unwind and reflect on the day's experiences. This itinerary balances cultural immersion, nature exploration, and leisure, ensuring a well-rounded visit to Harare. Always check the opening times and availability of the attractions ahead of your visit, as some places may require prior booking, and opening times can vary.

source: Samuel and Audrey on YouTube
Where To Visit After Your Trip To Harare?
After soaking in the urban vibes of Harare, you might be ready to explore more of what Zimbabwe and its neighboring countries have to offer. Here is a detailed guide on destinations you can visit after your trip to Harare, tailored to diverse interests and the adventures they promise.
Victoria Falls
No trip to Zimbabwe is complete without witnessing the majestic Victoria Falls, one of the Seven Natural Wonders of the World. The town of Victoria Falls serves as a great base for exploring this natural phenomenon. Here, you can engage in a myriad of activities such as:
Viewing the Falls: The main attraction is the falls themselves, with various viewpoints along the rainforest.
Adventure Activities: Bungee jumping, white-water rafting on the Zambezi, and helicopter rides over the falls.
Cruises: Sunset cruises on the Zambezi are a perfect way to end your day.
Cultural Experiences: Visit the local craft market or take a village tour to learn about the local culture.
Great Zimbabwe Ruins
Dive into the history by visiting the Great Zimbabwe Ruins near Masvingo, a UNESCO World Heritage Site. These ancient stone structures were once the capital of the Kingdom of Zimbabwe during the country's Late Iron Age.
Archaeological Interest: Explore the ruins and the Great Enclosure, believed to have been royal palaces or a fortress.
Museum Tour: Visit the onsite museum that displays artifacts from the site's past.
Lake Mutirikwi: Enjoy a picnic or a boat tour at nearby Lake Mutirikwi.
Matobo National Park
Located south of Bulawayo, Matobo National Park is a unique landscape of balancing rocks and ancient San rock art. It's also home to a significant population of black and white rhinoceroses.
Rhino Tracking: Go on guided walks to track rhinos on foot.
Rock Art: Visit the caves that house ancient San Bushmen rock paintings.
Cecil Rhodes' Grave: Hike to the grave of Cecil Rhodes, situated at the summit of Malindidzimu Hill.
Hwange National Park
Zimbabwe's largest national park, Hwange, offers one of Africa's top safari experiences with large herds of elephants and other diverse wildlife.
Game Drives: Take guided game drives to see lions, giraffes, and potentially the Big Five.
Bird Watching: The park is a haven for bird enthusiasts with over 400 species recorded.
Cultural Interaction: Some lodges offer cultural visits to local villages.
Mana Pools National Park
This UNESCO World Heritage Site is known for its wildlife-rich floodplains along the lower Zambezi River. In the dry season, animals congregate around the water sources, making for exceptional wildlife viewing.
Canoe Safaris: Paddle down the Zambezi and get up close to hippos and crocodiles.
Walking Safaris: Experience the unique thrill of tracking animals on foot.
Fishing: Try your hand at catching tigerfish on the Zambezi.
Lake Kariba
A massive man-made lake and a favorite holiday spot for relaxation and water sports.
Houseboat Holidays: Rent a houseboat and enjoy several days floating on the lake.
Fishing: It's an angler's paradise, especially known for tigerfish and bream.
Matusadona National Park: Explore this park on the shores of Lake Kariba, which is accessible by boat and offers excellent wildlife viewing.
Eastern Highlands
A beautiful region of mountains, waterfalls, and green tea estates, the Eastern Highlands offer a refreshing climate and scenic beauty.
Trekking: The region has excellent trekking trails through the Bvumba Mountains and Nyanga National Park.
Golfing: Play a round of golf at one of the country's most scenic courses.
Trout Fishing: The clear streams are perfect for fly fishing.
Beyond Zimbabwe: Regional Trips
Botswana: The Okavango Delta and Chobe National Park are excellent for safaris. Mozambique: For those looking to relax on pristine beaches, head east to Mozambique. Zambia: Consider visiting the Zambian side of Victoria Falls or venturing into South Luangwa National Park for a different safari experience. South Africa: Fly to Johannesburg to explore a major urban center, or venture to Kruger National Park for more wildlife.
Victoria Falls Extended Activities:
Devil's Pool: During the dry season, it's possible to swim in this natural infinity pool on the edge of the falls (on the Zambian side), an experience that's both thrilling and picturesque.
Livingstone Island: Named after the explorer David Livingstone, you can take a boat trip to this island and stand where he first viewed the falls.
Local Crafts and Cuisine: Explore the open-air curio markets to purchase unique souvenirs. Try local specialties like crocodile curry or mopane worms for the adventurous eater.
Exploring the Depths of Great Zimbabwe Ruins:
Hill Complex: The oldest part of the ruins, the Hill Complex, offers a stunning view over the valley and other ruins.
Valley Ruins: A series of living ensembles spread out at the foot of the hill, some of which have been reconstructed.
Nighttime Visits: Some operators offer nighttime tours of the ruins, which provide a different perspective and atmosphere of the ancient city.
Matobo National Park's Hidden Gems:
Bulawayo Side-Trip: Zimbabwe's second-largest city offers a change of pace and a chance to see the Natural History Museum, one of the best in Africa.
Granite Landscapes: The park's unusual rock formations, like the Mother and Child Kopje, make for excellent photography.
Hwange National Park's Conservation Efforts:
Painted Dog Conservation: Learn about the conservation of African wild dogs at the Painted Dog Conservation center near Hwange.
Cultural Experience: Visit the local school or village supported by the park's community programs.
Mana Pools' Wild Exploration:
Stargazing: With little light pollution, the night skies are a marvel for stargazing enthusiasts.
Photography Safaris: Specialized safaris cater to photographers, taking advantage of the park's incredible landscapes and light.
Lake Kariba's Unique Attractions:
Sanyati Gorge: Take a boat trip into the stunning Sanyati Gorge, where steep walls rise from the water's edge.
Crocodile Farm: Visit a crocodile farm on the shores of Lake Kariba to learn about these ancient reptiles.
Eastern Highlands' Rich Landscape:
World's View: Visit the viewpoint known as World's View in Nyanga for sweeping views of rolling hills and valleys.
Horse Riding: Some lodges offer horse riding through the scenic landscapes, suitable for all experience levels.
Beyond Zimbabwe – Deeper Regional Insights:
Botswana's Moremi Game Reserve: Part of the Okavango Delta, known for its stunning wetland ecosystem.
Mozambique's Ilha de Moçambique: A UNESCO World Heritage site with a compelling history, reflective of the Swahili coast's past.
Zambia's Lower Zambezi National Park: Offers canoe safaris and exceptional game viewing with a backdrop of the beautiful Zambezi escarpment.
South Africa's Cape Town: After the wilds of Zimbabwe, consider the cosmopolitan flair of Cape Town, with its iconic Table Mountain, vineyards, and Robben Island.
Each of these destinations offers a unique perspective on the natural beauty and cultural richness of southern Africa. When traveling from Harare to these sites, consider the modes of transportation available: domestic flights can save time, while road trips allow for more in-depth exploration of the countryside. Cross-border travel will require a bit of planning regarding visas and travel documentation, so it's best to prepare these in advance. Regardless of where you choose to go after Harare, you're guaranteed a continuation of your African adventure with diverse and enriching experiences.
Harare Travel Guide: Final Thoughts
Concluding your visit to Harare, it's vital to reflect on the tapestry of experiences the city and its surroundings offer. Harare is not just a stopover but a gateway to understanding the heart and soul of Zimbabwe. Here's a detailed encapsulation to tie together your journey through this dynamic city and its environs.
Cultural Vibrancy: Harare is a microcosm of cultural fusion, reflecting the resilience and warmth of its people. From the pulsating rhythms of the mbira played at a local bar to the contemporary art exhibited at the National Gallery, the city vibrates with creativity. Engaging with the local artisans at markets like Mbare Musika not only gives you a piece of Zimbabwean artistry to take home but also a story, a connection to the hands that crafted it.
Historical Tapestry: As you walk through Harare's streets, you walk alongside history. The colonial architecture of the city center tells tales of a bygone era, while the monuments and museums whisper the struggles and triumphs of a nation that fought hard for its identity. The visit to the Heroes' Acre or the Mukuvisi Woodlands doesn't just offer a glimpse into the past or nature; they serve as live classrooms of patriotism and conservation.
Culinary Delights: Harare's culinary scene is an underrated gem. Dining here is to traverse the continent's flavors, from indigenous staples like sadza and game meat to the influences brought by migrants, encapsulated in Indian, Chinese, and Mediterranean cuisine found across the city. The food is an echo of Zimbabwe's diverse society, each dish promising a narrative of its own.
Bustling Streets: The everyday life in Harare is a ballet of organized chaos. Street vendors call out the day's bargains, cars hoot rhythmically in traffic, and the laughter and banter of residents fill the air. The energy is infectious, and visitors are often swept up in the earnest bustle of the city's heartbeat.
Surrounding Wonders: Harare, while entrancing on its own, is also the starting point to many excursions into the wild and beautiful landscapes of Zimbabwe. The balancing rocks at Epworth, the serene Lake Chivero, and the wildlife sanctuaries that lie a short drive away offer an easy escape to nature's embrace.
Festivals and Events: Throughout the year, Harare comes alive with various festivals and events that celebrate everything from arts and culture to fashion and food. HIFA (Harare International Festival of the Arts), for example, is a testament to the city's reputation as a hub for cultural expression in Africa.
Challenges and Resilience: No travel guide should gloss over the challenges faced by the residents of Harare. Economic difficulties, infrastructure woes, and other socio-political issues are part of the city's fabric. Yet, it's in the resolve and ingenuity with which the locals navigate these hurdles that a visitor finds the true spirit of Harare.
Conservation and Community: Tourism, when done responsibly, can be a tool for conservation and community development. By choosing eco-friendly tours, staying at establishments that support local communities, and engaging with conservation efforts, visitors can contribute to the sustainable development of the city and its outskirts.
Final Reflections: Leaving Harare, carry with you the sensory memories—the sight of the Jacarandas in bloom, the sound of laughter in a local eatery, the touch of hand-woven textiles, the scent of wood smoke on a cool evening, and the taste of freshly ground peanut butter from the market.
Harare, with its complexities and contrasts, is not just a destination but a narrative woven from the threads of natural beauty, urban tenacity, and the warmth of Zimbabwean hospitality. It challenges perceptions, rewards curiosity, and often leaves a lasting imprint on those who walk its avenues and explore its secrets.
Your travel guide, in all its length and detail, is but an outline; the real adventure is in the spaces between these words, in the stories you'll collect, and in the personal experiences you'll gather—these are what transform a visit into a journey. And as you venture forth, remember that each traveler to Harare contributes a verse to its ongoing story, a city ever-evolving, forever enduring.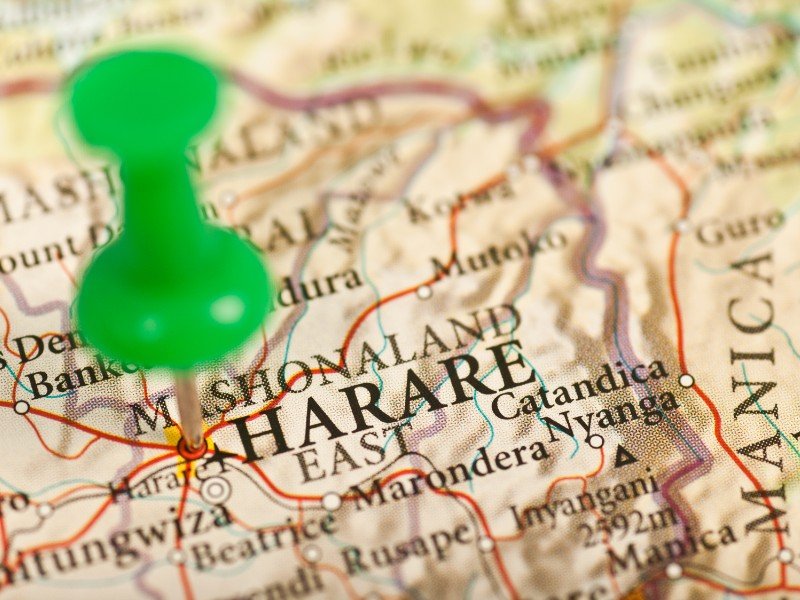 Whispers of Harare
Beneath the wide and watchful skies,
Where Jacarandas grace the streets with violet hues,
There lies a city, heart of Zimbabwe,
Harare, where every alley has its muse.
Whispers of the ancestors, tales untold,
Rustle through the leaves of Msasa trees,
As the city hums to the rhythm of the bold,
The pulse of progress, the silent pleas.
In bustling markets, the craftsmen weave
Stories into baskets, colors into lore,
While the aroma of sadza, on a warm eve,
Unites the city, rich and poor.
Cafés chatter with political discourse,
As laughter lilts over steaming cups of tea,
The city's fabric, resilient at its source,
Threads of hope, tenacity, and glee.
Mbare Musika, a tapestry of trade,
Where the fruits of the earth are artfully displayed,
Voices barter, a harmonious cascade,
In this mosaic, the spirit of Harare is relayed.
The galleries echo with artistic dreams,
Paintings and sculptures of zeal undefined,
A testament to the creative streams,
That mirror the city's reflective mind.
Nights are lanterns, lit with stars,
Music from a local bar strums into the soul,
Jazz and chimurenga, healing scars,
In Harare, every note makes you whole.
Venture out to the city's green embrace,
Where the Mukuvisi Woodlands await,
Wildlife roams with majesty and grace,
In this urban oasis, nature narrates.
As the sun casts its golden net at dawn,
Harare awakens to the chatter of the day,
Visitors and locals, together drawn,
To the city's charm, in its own unique way.
Harare, where every moment is a discovery,
A poem etched upon the traveler's heart,
Here, history, culture, and life marry,
In the city's canvas, you'll find your part.
So wander through this land of endless stories,
Where every street corner plays its part,
In Harare, with all its complexities and glories,
You'll leave pieces of your heart.