Heraklion Travel Guide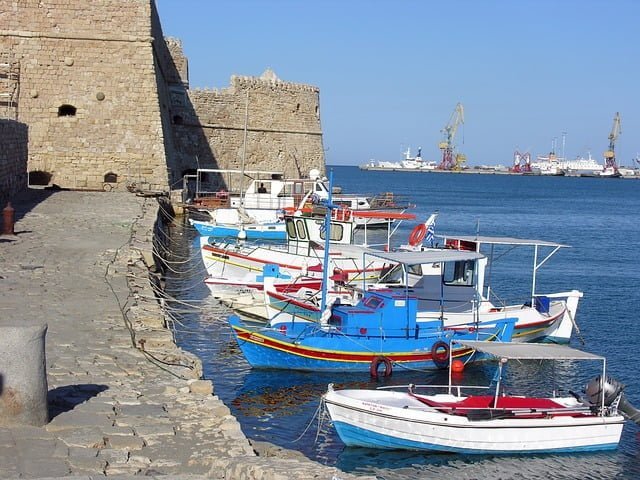 Introduction
Heraklion is one of Crete's top resort areas. It is also home of its most culturally rich centres. While most know the place for its hedonistic delights, you can explore world-class ruins and museums here, too.
From the Minoan city of Knossos to countless churches, Heraklion has it all.
Come check out our Heraklion travel guide as we cover the best things to do on Heraklion, Greece.
Top Attractions
Many people come to Heraklion to soak up rays on the beach. However, this city is also rich in history and culture. When you aren't working on your tan, take an entire day to explore the ruins of Knossos. This ancient city was once the centre of the Minoan civilization. More than 3,000 years ago, though, a series of cataclysmic natural disasters brought their time to an end.
According to carbon dating, though, humans settled here as far back as 9,000 years ago. It wasn't until 2,000 BC (4,000 years ago) that the area blossomed into a Bronze Age civilization. Despite being worn after more than 3,000 years of abandonment, the ruins of Knossos have held up well.
Throughout, you'll see more than just foundations. Pillars, excavated pottery, and even some wall paintings are visible as you walk through the ruins.
While some uncovered artifacts are on display in Knossos, archaeologists moved most items indoors. The Heraklion Archaeological Museum is the place where you'll find most of these treasures. Nowhere in the world will you see as much Minoan art and artifacts as you will here.
Here, displays preserve frescoes, bronze statues, jewellery, and other items from this civilization. However, you'll also get to see artifacts from the Neolithic period, as well as items from Roman times. This facility is a joy to visit, as curators have arranged it in chronological order. It is also well air-conditioned, making it a great escape from humid summer days.
Next, check out Castello del Molo, which is an impressive fortification in Heraklion. Historians put its age between the 9th and 10th centuries, a time when Arabs controlled Crete. After inheriting it from the Byzantines, the Venetians expanded its defences. The castle's final occupants were the Ottoman Turks, who captured this fort in the 17th century.
Today, authorities have kept the castle in top shape. From the ramparts, you'll have commanding views over the harbour and the city. Within, pieces of Greek pottery and cannonballs give this place added character. At only 2 Euro per entry ticket, the admission fee for this attraction is well worth the cost.
Finally, learn about the geology and geography of the Heraklion area at The Natural History Museum of Crete. While it covers all the bases, this institution is known locally for two exhibits: Its dinosaur and earthquake gallery.
In the former, you'll find animated mock-ups of the prehistoric lizards that used to roam this isle. In the latter, a simulator allows you to experience the surreal horror of an earthquake. If you are travelling as a family and the weather is bad, this place is a holiday saver.
Other Attractions
Still, haven't gotten your fill of history? If you have extra time to kill in Heraklion, drop by the Historical Museum of Crete. This beautiful neoclassical building contains art and historical artifacts stretching from the 4th century AD to WWII.
In general, you'll find a ton of coins, jewellery, ceramics, sculptures, and manuscripts. But, its best-known gallery contains a pair of paintings by El Greco. Both are paintings depicting religious themes, a topic he delved into throughout much of his career.
Next, pay a visit to the Church of Agios Titos. This Christian landmark dates to the 9th century AD, after the Byzantines took back Crete from the Caliphate. When control passed to the Venetians, it became Roman Catholic, and then it was a mosque under the Ottomans.
In 1925, it assumed its present form – a Greek Orthodox church. Within, you'll find a holy relic, which is the skull of St. Titus. Initially in the church before the Ottomans took over, it was smuggled to Venice, where it was kept safe.
The Cathedral of St. Minas is yet another church you should visit while in Heraklion. Its creators named it after St. Minas, a martyr who once served in the Roman Legion. When the Emperor suddenly made Christians enemies of the Republic, he refused to capture and kill his brethren.
After living as a mountain hermit for decades, God called him to be a martyr. He openly proclaimed his faith, which earned him days of torture before the Romans executed him. The faithful believe St. Minas protected his church during WWII. A bomb fell in the church but failed to detonate. That (disarmed) munition is still on display to this day.