Kagoshima Travel Guide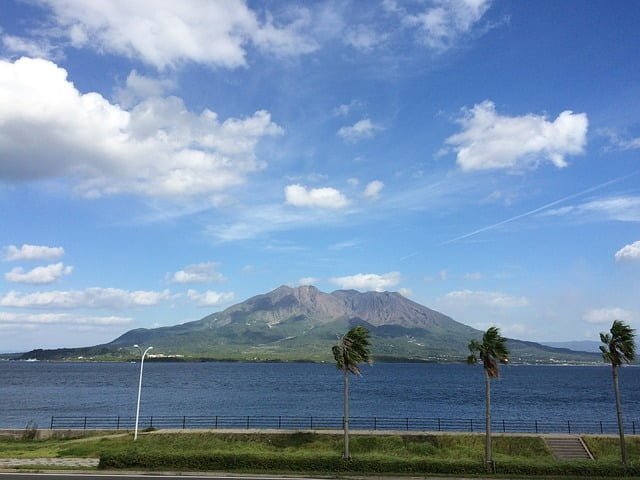 Introduction
Sitting in the shadow of one of Japan's most active volcanoes, Kagoshima is a destination that every geological enthusiast should have on their Japanese itineraries.
With daily eruptions practically guaranteed, those wanting to see this wonder of nature up close won't be disappointed.
Come check out our Kagoshima travel guide as we cover the best things to do in Kagoshima, Japan.
Top Attractions
To most Japanese, Kagoshima is defined by the massive volcano that looms over it. Its name is Sakurajima – translating as Cherry Blossom Island, the peace of this quiet isle was shattered forever in 1914, when a massive eruption overcame the settlement located here.
It destroyed over 600 homes, chasing their inhabitants to the mainland. Over the next several months, lava flows filled in the narrow channel between Sakurajima and the mainland, connecting it to the Osumi Peninsula.
To this day, this volcano is one of the most active in all of Japan. Steam rises from its crater steadily, and occasional small eruptions of ash occur several times per day. While scientists predict another major eruption is possible within the next 30 years, it is currently safe enough to approach within 2-3 kilometres of the crater.
On Sakurajima, trails can be hiked along the 1914 lava flow, photographers can attempt to photograph one of the daily eruptions from observation points, and there is onsen where you can bath in water heated by this irate peak.
Before leaving the island for Kagoshima, make sure to check out the Buried Shrine Gate. Mostly buried by the pyroclastic flows released by the initial violent eruption in 1914, a torii gate is all that remains of Sakurajima's Shinto shrine.
Standing ten feet high before the eruption, only the top cross beam is now visible above the now-firmly packed volcanic soil. Initially, there were plans to excavate this holy structure – the village elder vetoed them, opting to leave it as a reminder to future generations of the destructive power of Sakurajima.
Protected by a series of wooden bumpers, the old torii gate is delicate in its old age – stay well clear so its integrity can be preserved for years to come.
As recently as the mid 19th century, Kagoshima and Japan as a whole were little more than a feudal society not unlike Europe in the Middle Ages. Learn how they made the quick jump from this system to modernity by spending time exploring the Museum of the Meiji Restoration.
Within, you'll find displays that describe life as it was near the end of the Edo Period, the resistance movement that led a rebellion against the shogunate nationwide, and the period of rapid change that thrust Japan into the modern era in the space of a few decades.
Highlights include Shohei-maru, the first Western-style warship built in Japan, and animatronic models of Kagoshima political figures who did their part to bring about the Meiji Restoration.
Kagoshima isn't an important place when it comes to Buddhist or Shinto places of worship. If you have time, though, Terukuni Shrine is worth a visit. Defined by its massive white torii, this Shinto holy place is on the younger side, as it was founded in 1864.
Its kami is also one of the youngest of all the Shinto shrines of Japan, as it is the home of the spirit of Lord Shimazu Nariakira, who died in 1858. Those visiting Kagoshima in late October are in luck, as the festival honouring him occurs at this time. Other celebrations of note include a lantern festival in July and the Setsubun Festival (spring festival) in February.
Other Attractions
Love an immaculately kept green spaces? Don't leave Kagoshima without taking a stroll through Senganen Garden. Using Sakurajima as a backdrop, this traditional garden was created in the mid-17th century for the Shimazu Clan, the rulers of this corner of Japan from the 12th century to the Meiji Restoration.
Its ponds, bamboo groves, and pavilions will induce a sense of peace in those who visit. Drop by as early as late January, and you may catch the beginning of cherry blossom season breaking out on its many trees.
Catch a long distance view of Sakurajima from the Yunohira Lookout. In addition to getting a great view of the volcano, you'll also get to include Kagoshima city in the foreground of photos taken from here.
Those travelling with families may want to include Kagoshima Aquarium in their plans. A great plan B if Sakurajima is socked in by clouds, this attraction boasts seven floors of tanks that show off local marine life. This includes electric eels, sea otters, and dolphins, the latter of which perform shows three times daily.
Hirakawa Zoo is another great option for those travelling with kids. With over 141 different species represented here, your children will have a chance to see animals they'd never have the opportunity to see otherwise. Highlights include a petting zoo, a koala house, and rare white tigers.