Katowice Travel Guide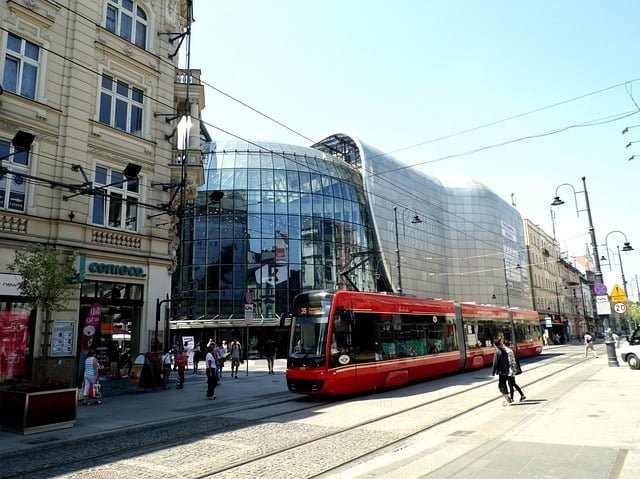 Introduction
Many travellers write off Katowice as an industrial city. This is a shame, as this centre is the biggest centre in the historic region of Silesia. As such, it also contains more than its share of cultural institutions. As a result, plan on spending a few days in this off-the-beaten-track gem.
Top Attractions
Katowice and region have always been a proud place. So when Germans attempted to exercise authority over the region, locals were having none of it. This led to three separate rebellions in three years – 1919, 1920, and 1921.
In the modern-day, the Silesian Insurgents' Monument remembers their restiveness. Each of these massive bronze wings represents the three insurrections that occurred in those years. Impressive in scale, they are impossible to miss as you make your way around Katowice.
However, as awe-inspiring as the Insurgents' Monument is, there are no displays that explain what these works mean. For background on them and the local culture, spend time exploring the Silesian Museum.
Initially, backers started this institution in 1929. However, it didn't last long – soon after Nazi Germany secured Poland, they sought to send a message to Katowice. So, they removed the museum's artifacts and demolished the entire building.
It took until 1984 to reinstate this museum. Until 2015, it called the Grand Hotel home. But that year, it moved into its modernist home. Here, you'll learn about the region's coal-mining past, its artists, and more.
Learn more about the city at the Museum of the History of Katowice. Located in a tenement dating from the early 20th century, you'll get to see how middle and upper-class citizens of Katowice lived in that period.
Before leaving Katowice, take in a show at the Polish National Radio Symphony Orchestra. Initially located in Warsaw before WWII, it moved here afterwards. With decades of peacetime ahead, it grew roots here, playing scores of shows per year. Attend a concert and you'll be in for a treat – the acoustics are among the best in Europe.
Other Attractions
Love guitar music? Katowice may not be the first place that pops to mind when you think about it, but it has a great Guitar History Museum. Started by a private collector, you need an appointment to tour this place.
Inconvenient as that may be, the effort will be worth it. In all, there are 100 specimens on the walls – and you can play them! If you're lucky, you might be able to get in a jam session with the owner. If not, he also sells a CD with his compositions in the gift shop.
Feel like taking in a concert or a sporting event while in Katowice? If so, check out Spodek. Like the Insurgents' Monument, this building is impossible to miss – it looks like a flying saucer. In fact, the word Spodek translates to English as "saucer". Prior to 2014, it was the largest arena in Poland until (the Krakow Arena stole that title).
In winter, this place is home to HC GKS Katowice, this city's hockey team. The rest of the year, the arena hosts concerts for big label acts passing through the region. Past acts include names like Deep Purple, Pearl Jam, and The Smashing Pumpkins.
Need to escape the hustle and bustle of Katowice during your stay? Spend a few hours exploring the Valley of Three Ponds. As the name suggests, three ponds are the centrepiece of this well-loved city park. With plenty of tree cover and numerous paths, it is an ideal place for a walk or jog.
End your time in Katowice by touring Nikiszowiec. Originally a worker's estate for nearby coal mines, these red-brick buildings attained municipal protection in the late 1950s. Today, travellers can explore its central church, museums, and enjoy treats at numerous cafes.
What To Eat
During your visit to Katowice, it won't take much to work up an appetite. At lunch, refuel with a hearty bowl of Żurek. This sour soup usually contains potatoes, mushrooms, and meats like bacon, ham, or sausage. Not all restaurants serve this meal year-round – you'll have the best luck finding it around Easter.
For dinner, find a place that serves Rolada z Modrą Kapustą. Native to Silesia, cooks make this dish by stuffing thinly sliced beef with diced bacon & sausage, pickled cucumber, onions, and mustard. After initially frying it, they slow cook it in a spiced sauce with onions. Served with potato dumplings and red cabbage, it's a meal that requires a big appetite.
If you have room for dessert, order some Racuchy. These sweet treats vary in consistency between a pancake and a crepe, but they usually contain apples. Alternatively, they come with pears or bananas, and are dusted with powdered sugar – yum!