Kazan Travel Guide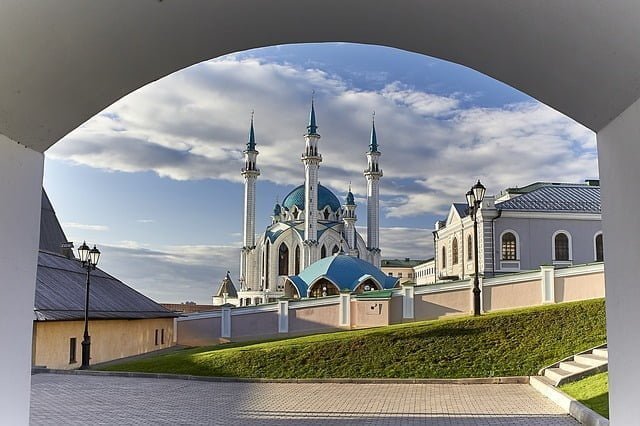 Introduction
Kazan is a culturally significant city in Russia, as it is the capital of Tatarstan. As the name suggests, this region is home to the Tartars, a Muslim minority within Christian-dominated Russia.
Within its Kremlin, you'll find a reconstruction of a long-razed mosque, interesting museums, and much more.
Come check out our Kazan travel guide as we cover the best things to do in Kazan, Russia.
Top Attractions
The Kazan Kremlin contains many of Kazan's most prominent attractions within its walls. This fortification kept this city safe throughout the 450 years that followed. Despite being a recent addition to this city's collection of sights, start your time here by visiting the Kul Sharif Mosque.
The mosque that stands today is a decidedly modern structure, with hints to its rich past. The original masjid, named for a Kazan scholar, was razed in the 16th century by Ivan the Terrible's forces. It was only rebuilt in 1996, with the United Arab Emirates and Saudi Arabia footing much of the bill. To this day, it remains a major cultural icon for Kazan's population of Tatar Muslims.
The mosque authorities do conduct tours here. However, note that mosque authorities require that you cover your knees, chest, and shoulders before entering. Women are also required to wear a head covering, or hijab. Coverings are available for those that lack them but do your best to dress respectfully before arriving on their doorstep.
After exploring the mosque, take a second to peruse the on-site Islamic Museum as well. It lacks English captions, but that's nothing that Google Translate can't tackle.
Ever wondered what life under Communism was like? Learn from the Soviet perspective by visiting the Soviet Lifestyle Museum. Contrary to Western media reports, the old USSR did have a contemporary culture. You'll find kitschy knick-knacks in this museum dedicated to Soviet pop culture.
While there is a heavy propagandistic undertone to what they display, it is fascinating nonetheless. As you walk through, you'll find 1980 Summer Olympics paraphernalia, video games, musical instruments, and so much more.
Want to learn about the history of Tatars in Kazan and vicinity? If so, a quick visit to Museum Tatarskaya Sloboda is a must. The guides speak three languages, but English isn't one of them. Don't be deterred, though, as its galleries do a good job explaining this region's history. Your tour will end with a tea ceremony with a "virtual Tatar grandma" – it's definitely a unique experience.
Move from the human history of Kazan to its natural history by visiting the Natural History of Tatarstan Museum. Again, you likely won't find any English-speaking guides, but you can rent an English audio guide. As you explore, you'll find skeletons of dinosaurs, minerals, and mock-ups of sabre-toothed tigers. These highlights and other displays make this place a great spot on rainy days.
Other Attractions
Kazan has many impressive buildings, but the Agricultural Palace takes the cake. Built with Baroque and Renaissance influences, it is a piece of architectural art. Its defining feature – a 20-metre high bronze tree at its core.
Sadly, this building, used for governmental purposes, is off-limits to the general public. However, it is a favoured location for selfies and photography. You'll see why come evening, when spotlights bathe the entire structure in light.
As you move about Kazan, you might see a structure that looks like a ceramic bowl on a pedestal. That is none other than the Kazan Family Center, a building constructed expressly to serve wedding parties.
There's more to this place than its dazzling, peculiar exterior, though. You can access its upper level, which permits 360-degree views of Kazan and the surrounding area. However, do note that there is no elevator, making it inaccessible to those with mobility issues.
After a long day spent exploring Kazan and vicinity, enjoy a lively evening on Bauman Street. A beloved pedestrian street, locals pack it on summer evenings, weekends, and holidays. It links the city's Kremlin with Tukay Square, making it easy to see as you sightsee during the day.
As you walk along its car-free length, enjoy its many shops, restaurants, cafes, and bars. Afterwards, take in a street performance – buskers are famous for setting up shop here.
Are you looking for a place that's more chill? Spend some time on the Kremlyovskaya Embankment. With plenty of quiet places to walk along the Kazanka River, you can find peace easily. However, locals also cycle, rollerblade, and jog here.
If you feel like being more sociable, this promenade has a selection of cafes and bars as well. At sunset, it is a popular place to be!