Koblenz Travel Guide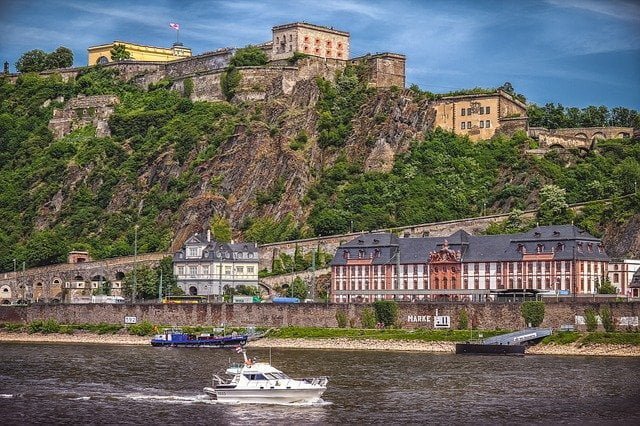 Introduction
Koblenz doesn't draw as many tourists as other destinations in Rhineland. This is a shame, as this hidden gem offers much to the patient traveller. Here, you'll find castles, forts, museums, and millennia-old churches.
To make the most of your time, give this spot at least 3-4 days.
Top Attractions
Begin your visit to Koblenz by exploring Schloss Stolzenfels. In 1823, this ruined fortification came into the possession of Frederick William, the crown prince of Prussia. Using his wealth, he converted it into a Gothic Revival masterpiece.
For decades, it served as his summer residence. Today, this palace is a UNESCO World Heritage Site. During your visit, we advise taking a guided tour. By doing this, you'll learn more about its history.
The Koblenz area has been strategically important for thousands of years. Anyone able to control the Rhine/Mosel confluence has wielded significant power. So, in the 19th century, the Prussians built Ehrenbreitstein Fortress.
Unlike previous forts, the might of this fortification discouraged attack. As such, it lasted its entire service life without seeing action. Because of its reputation, it protected items of cultural value through WWII.
Today, the former fort isn't just a tourist attraction – it hosts museums, restaurants, and even a hostel. If you're on a budget, stay here for a truly unique experience.
If you're looking for a church to visit while in Koblenz, drop by the Basilica of St. Castor. This UNESCO World Heritage Site is this region's oldest church – its builders laid its cornerstone in the 8th century. Because of this, this landmark boasts Romanesque architecture – a rare find these days.
World War II did a number on the Basilica. Thankfully, restoration efforts brought it back to its former glory. After admiring its twin towers, head inside and check out its organ and pulpit.
War buffs will want to check out the Wehrtechnische Studiensammlung. In this museum, visitors will find an impressive collection of modern era military hardware. From artillery to tanks, it's all here. Remember your passport – this museum is on an army base, so you require photo ID for entry.
Other Attractions
Take a glimpse at the lengthy history of Koblenz by visiting the Historiensäule. The state government installed this stone column in 1992 to mark the 2000th anniversary of Koblenz. As you check it out from top to bottom, you'll find carvings that mark each period of its existence.
From Roman times to the present day, the Historiensäule puts the age of younger continents in perspective. As you explore the Koblenz area, include this stunning monument in any walking tours you take.
Want to surprise your travel friends? Include Schangelbrunnen in your sightseeing plans. This attraction is a fountain that appears rather unassuming. On top of its pedestal is a statue of a young boy.
But, this sculpture hides a mischievous secret – it spits water out of its mouth at regular intervals. If your friends stand in the "wrong spot", they will be on the receiving end of an unexpected shower. Just be sure they aren't holding any electronics when you set them up.
As discussed earlier, Koblenz has long had strategic importance. Thanks to its position on the junction of the Mosel and the Rhine, powers have struggled over its control. Today, the confluence is home to Deutsches Eck or the German Corner.
Originally, local authorities founded this park to honour William I. This emperor unified Germany back in the 19th century. However, as we all know, WWII saw the country split in two once again. Bombardments destroyed the monument that once stood on the Deutsches Eck. However, when Germany unified once more in the 20th century, authorities restored the statue.
Before leaving the area, take a ride on the Koblenz Cable Car. This tram connects the river bank to the Ehrenbreitstein Fortress. Along the way, the views make for excellent photo ops.
What To Eat
As a city in Rhineland, Koblenz offers many regional favourites. If you're feeling adventurous, try some Leberknodelsuppe. Translating literally to "liver dumpling soup", this lunch meal may be too much for some. But, if you love organ meat, you'll find its blend of pork liver, nutmeg, and marjoram quite satisfying.
For the rest of us, Flammkuchen offers a much more accessible treat. Called "German Pizza", this meal tops bread dough with creme fraiche, cheese, pork fat, and thinly-sliced onions. Other versions add mushrooms and sweet ingredients. However you have it, though, you're bound to love it.
Finish your meal with some Kirschenmichel. This dessert is a bread pudding that contains sour cherries, sugar, and milk. Restaurants top it with a vanilla sauce, making it a divine treat.