Welcome to Koh Lanta, a tropical paradise in Thailand's Andaman Sea. With its pristine beaches, crystal-clear waters, lush jungles, and serene ambiance, Koh Lanta is the perfect destination for those seeking relaxation, adventure, and a genuine taste of island life. This travel guide will help you discover the wonders of Koh Lanta and provide valuable information and recommendations for your unforgettable journey.
Located in the Krabi Province, Koh Lanta consists of several islands, with Koh Lanta Yai being the largest and most popular. Known for its laid-back atmosphere, friendly locals, and stunning natural beauty, Koh Lanta offers a peaceful escape from the hustle and bustle of more crowded Thai islands.
Koh Lanta is famous for its pristine beaches, stretching along the western coast. Relax on the powdery sands, swim in the turquoise waters, and soak up the tropical sun. The island is also home to lush rainforests, picturesque waterfalls, and diverse marine life, making it a paradise for nature lovers.
While it may be tempting to spend your days lounging on the beach, Koh Lanta has much more to offer. Embark on snorkeling or diving adventures to explore vibrant coral reefs and encounter colorful marine species. Venture into the interior to discover hidden waterfalls, hike through dense jungles, or take part in a yoga or wellness retreat to rejuvenate your body and mind.
The island also boasts a vibrant culinary scene, with numerous restaurants serving delicious Thai and international cuisine. Sample fresh seafood, savor authentic Thai flavors, and indulge in beachfront dining experiences while enjoying stunning sunset views.
Koh Lanta's warm and welcoming locals, coupled with its relaxed atmosphere, create a sense of true island hospitality. Immerse yourself in the local culture by visiting traditional fishing villages, exploring local markets, or participating in cooking classes to learn the secrets of Thai cuisine.
Whether you're seeking tranquil beaches, thrilling adventures, cultural experiences, or simply a tranquil retreat, Koh Lanta has it all. Use this travel guide as your companion to navigate the island's attractions, plan your itineraries, and make the most of your time in this tropical paradise. Embrace the island's natural beauty, immerse yourself in its unique culture, and create memories to last a lifetime on the enchanting island of Koh Lanta.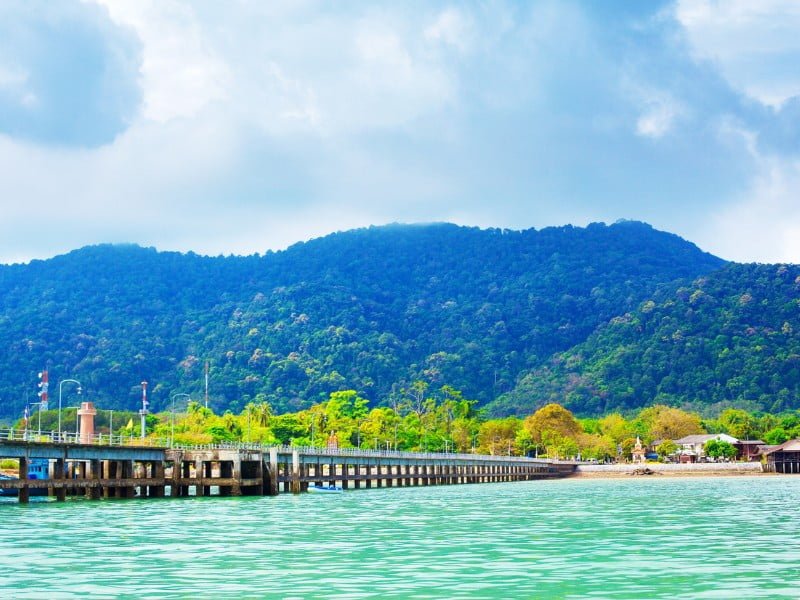 Koh Lanta Island Travel Guide: A Brief History Of Koh Lanta, Thailand
Koh Lanta has a rich history that spans centuries. Originally inhabited by sea gypsies, known as Chao Leh, the island was a haven for fishing communities and a stopover point for traders traveling along the Andaman Sea.
During the 19th century, Koh Lanta became an important trading hub for merchants from China, Malaysia, and Arabia. The island's strategic location along major trade routes allowed it to flourish as a center for commerce and cultural exchange.
In the early 20th century, the island experienced an influx of immigrants from Chinese and Muslim communities. These communities brought their customs, traditions, and culinary influences, enriching the cultural fabric of Koh Lanta.
During World War II, Koh Lanta played a role as a base for the Thai Navy, serving as a lookout point for potential invasions. After the war, the island returned to its quiet fishing villages and agricultural way of life.
With the rise of tourism in Thailand in the latter half of the 20th century, Koh Lanta began to attract visitors seeking an alternative to the more developed and crowded tourist destinations. The island's pristine beaches, untouched natural beauty, and laid-back atmosphere made it a perfect destination for those seeking tranquility and an authentic island experience.
Today, Koh Lanta has evolved into a popular tourist destination while still retaining its charm and authenticity. The local communities continue to preserve their cultural heritage, and the island maintains strict environmental regulations to protect its natural resources.
Visitors to Koh Lanta can explore the island's rich history through interactions with the local communities, visits to traditional villages, and experiences of the island's cultural events and festivals. The warm hospitality of the locals and their pride in sharing their heritage adds to the unique experience of immersing oneself in the island's history and culture.
As you explore Koh Lanta, take the time to appreciate the island's past, the traditions that have been passed down through generations, and the resilient spirit of the local communities. Koh Lanta's history, combined with its stunning natural landscapes, will provide a deeper understanding of the island's identity and a more enriching travel experience.
Koh Lanta Top Attractions and Best Places to Visit in Thailand
Despite its location in Southern Thailand and its gorgeous beaches, Koh Lanta is still something of an unknown quantity to those who run in mass tourism circles. With Phuket sucking in much of the development dollars and tourism arrivals several hours to the northwest, this quiet corner of Southern Krabi province has remained delightfully unspoiled.
While the van transfer from Krabi airport will be a bit on the long side, once you arrive at the cable ferry, you'll know you've arrived at what will soon likely become your favourite tropical island on the planet.
While most come to Koh Lanta to enjoy its quiet beaches, travellers who enjoy culture will want to rent a motorbike or catch a songthaew and head over to the eastern side of the island to check out the Lanta Old Town.
As the administrative centre of Koh Lanta, this settlement has been around for a while. Thanks to an effort to preserve its historic structures, its main street is lined with traditional wooden homes and shop houses, giving it an atmosphere which is conspicuously missing from many major centres in Thailand.
Long a centre of trade, the shopping here is much better than you would expect for such a small place – if you are looking for unique souvenirs to bring home, this is the place to come.
The weekly Monday Night Market in the fishing and ferry port of Saladan is another shopping experience you won't want to miss while on Koh Lanta. Mostly catering to locals, the food you'll find here can get on the adventurous side, so if you're looking to shoot that Instagram photo of you eating grubs or a scorpion, this is the place to do it.
There is another night market which happens in Saladan on Wednesday evenings and in other parts of the island on different nights, but these tend to cater more to visitors, so be sure to check out the Monday night event if cultural authenticity is important to you.
While Koh Lanta lacks the major temples, ruins, or other historic structures which make those destinations intriguing to culture vultures, the accessibility of Muay Thai fights here makes it easy to take in this cornerstone of Thai life.
The main arena for fights on Koh Lanta is Klong Dao Stadium, and while foreigners pay more to get in than Thais do, this is no show put on for the entertainment of tourists – the stands are packed with locals for every card, and they hang on every kick and punch delivered. This makes for an unbeatable atmosphere – check it out once even if combat sports aren't normally your thing.
Another way to connect with the local Thai culture while in Koh Lanta is to take a cooking class during your stay. Together with a fellow group of travellers, you'll learn how to craft amazing Thai dishes from scratch, all under the guidance of an experienced teacher.
After a fun day spent chopping, frying, and cooking various meals, you'll have the knowledge to reproduce your favourite Thai dishes once you return home to your country of origin.
Other Cultural Attractions: Trip to Koh Lanta, Thailand
Throughout your Thai travels, you'll likely notice something heartbreaking – the number of stray dogs and cats running around. Some of them suffer from the effects of fights with other animals, while others contract disfiguring diseases like mange.
On Koh Lanta, Lanta Animal Welfare was founded to help combat the problems faced by the island's stray population, while helping to find homes for as many of them as possible.
If you want to spend part of your holiday helping (and let's be honest, cuddling) cute kitties and doggos, volunteering with this outfit will give you an opportunity to do just that.
When you aren't exploring Koh Lanta underneath its waves, slip beneath its earth by spelunking into the Khao Mai Kaew Cave. While there are more than a few tight squeezes on the way down, going on this trek is worth it for the huge spiders, bats, and geological features you'll get to spot once inside.
Just remember this activity is no walk in the park – leave your flip flops at home. Instead, don some hiking boots (or at least, a good pair of sneakers), and you'll avoid taking spills on the slippery rocks situated within this cavern.
While Koh Lanta is a beautiful place by itself, there are several outlying islands you'll want to visit on one of the many boat tours offered here. Taking you to gems like Koh Rok and Koh Jum, you'll have access to fine white sand beaches, excellent snorkelling and diving, and opportunities to spot wildlife like monitor lizards.
Finally, its quiet, sane beaches are the biggest reason why many repeat travellers make an effort to come to Koh Lanta year after year. While the lengthy sands of Long Beach are popular, many consider Haad Nui to be the best beach on the island. A short but sweet strip backed by sheer cliffs, its vibrant waters complete the scene of what you will likely place as one of the best beaches you have ever visited.
Kantiang Bay is another favourite of habitual visitors to Koh Lanta. A broad crescent beach located in far south of the island, its clean water entertains swimmers by day, while its selection of bars and restaurants will keep the party going by night.

source: Dabble and Travel on YouTube
Top 33 Things To Do on Koh Lanta, Thailand For Visitors
Here is a detailed list of the top 33 things to do on Koh Lanta, Thailand:
Relax on Long Beach: Unwind on the expansive Long Beach, one of the island's most popular and beautiful stretches of sand. Lounge under the shade of a palm tree, take a dip in the turquoise waters, and enjoy stunning sunsets.
Snorkel at Koh Rok: Embark on a snorkeling excursion to Koh Rok, a nearby island known for its crystal-clear waters and vibrant marine life. Swim among colorful coral reefs, spot tropical fish, and marvel at the underwater beauty.
Explore Koh Lanta National Park: Discover the natural wonders of Koh Lanta National Park. Hike through lush rainforests, encounter wildlife, and visit the picturesque lighthouse for panoramic views of the surrounding islands.
Visit the Old Town: Explore the historic Old Town, a charming district with traditional wooden houses and a rich cultural heritage. Wander through the narrow streets, browse local shops, and enjoy waterfront dining.
Dive at Hin Daeng and Hin Muang: For experienced divers, explore the renowned dive sites of Hin Daeng and Hin Muang. These underwater pinnacles offer an opportunity to encounter manta rays, whale sharks, and vibrant coral reefs.
Kayak in the Mangrove Forest: Paddle through the tranquil waters of the island's mangrove forests. Explore the maze-like waterways, spot wildlife such as monkeys and birds, and learn about the importance of mangroves in the ecosystem.
Visit the Sea Gypsy Village: Learn about the unique culture and way of life of the local sea gypsy community. Visit their traditional village, interact with the residents, and gain insights into their customs and traditions.
Take a Sunset Cruise: Set sail on a relaxing sunset cruise around the island. Enjoy the breathtaking views as the sun dips below the horizon, sip on refreshing drinks, and indulge in a delicious dinner onboard.
Explore the Four Islands: Join a boat tour to visit the Four Islands – Koh Ngai, Koh Mook, Koh Kradan, and Koh Mah. Discover their pristine beaches, snorkel in the clear waters, and explore the Emerald Cave in Koh Mook.
Visit Mu Ko Lanta National Park: Venture to Mu Ko Lanta National Park on the southern tip of the island. Discover beautiful beaches, hike nature trails, and swim in the turquoise waters of Tanod Cape.
Relax at Klong Khong Beach: Enjoy the laid-back vibes of Klong Khong Beach. Lounge on the sandy shores, take a refreshing swim, and experience the local beach bars and live music scene.
Explore the Lanta Old Town Pier: Take a leisurely stroll along the Lanta Old Town Pier, lined with shops, restaurants, and cafes. Enjoy the scenic views, indulge in local cuisine, and shop for unique souvenirs.
Go Rock Climbing: Challenge yourself with a rock climbing adventure on Koh Lanta. Test your skills on the island's limestone cliffs and enjoy breathtaking views from the top.
Take a Thai Cooking Class: Learn the art of Thai cuisine by joining a cooking class. Visit local markets, select fresh ingredients, and master the techniques to recreate authentic Thai dishes.
Discover Kantiang Bay: Visit the picturesque Kantiang Bay, known for its pristine beach and relaxed atmosphere. Swim in the calm waters, enjoy beachside massages, and savor delicious seafood at waterfront restaurants.
Volunteer at an Animal Rescue Center: Contribute to animal welfare efforts by volunteering at one of the island's animal rescue centers. Help care for injured or abandoned animals, participate in feeding programs, or assist with rehabilitation efforts.
Go on a Fishing Trip: Join a fishing excursion and try your hand at catching your own dinner. Spend a day out at sea, cast your line, and enjoy the thrill of reeling in a big catch. It's a great way to experience the local fishing culture and enjoy the beautiful waters surrounding the island.
Visit the Khlong Chak Waterfall: Venture into the lush jungle to discover the Khlong Chak Waterfall. Trek through the dense foliage, listen to the sounds of nature, and reward yourself with a refreshing swim in the cool, natural pools at the base of the waterfall.
Experience a Traditional Thai Massage: Treat yourself to a traditional Thai massage, a therapeutic and relaxing experience. Let skilled therapists work their magic as they incorporate stretching, acupressure, and rhythmic movements to relieve tension and promote a sense of well-being.
Attend a Beach Yoga Class: Engage in a rejuvenating beach yoga session. Join a class led by experienced instructors, feel the gentle breeze on your skin, and find inner peace as you practice yoga against the backdrop of the serene ocean.
Explore the Mu Ko Lanta Marine Park: Take a boat trip to the Mu Ko Lanta Marine Park, a protected area renowned for its stunning coral reefs and marine biodiversity. Snorkel or dive among colorful fish, sea turtles, and vibrant corals, and experience the beauty of Thailand's underwater world.
Indulge in a Beachside Massage: Treat yourself to a soothing beachside massage. Relax under the shade of a beach umbrella as skilled masseuses work their magic, easing away tension and leaving you feeling rejuvenated.
Visit the Koh Lanta Cultural Center: Immerse yourself in the island's cultural heritage by visiting the Koh Lanta Cultural Center. Learn about the traditions, history, and customs of the local community through exhibits, artifacts, and interactive displays.
Explore the Old Lanta Village: Discover the rustic charm of Old Lanta Village. Wander through the quaint streets lined with traditional wooden houses, browse local shops for handmade crafts, and enjoy authentic Thai cuisine at cozy restaurants.
Take a Thai Boxing Class: Engage in the ancient martial art of Muay Thai by joining a Thai boxing class. Learn the techniques, practice strikes and kicks, and experience the physical and mental discipline of this traditional combat sport.
Visit the Koh Lanta Animal Welfare: Support animal welfare efforts by visiting the Koh Lanta Animal Welfare organization. Learn about their work in rescuing and caring for animals, interact with furry friends, and contribute to their mission through donations or volunteer work.
Go on a Sunset Kayaking Tour: Paddle along the tranquil waters during a sunset kayaking tour. Enjoy the stunning colors of the sky as the sun sets over the horizon, and witness the magical transition from day to night.
Explore the Caves of Koh Talabeng: Join a boat trip to the nearby Koh Talabeng and explore its mysterious caves. Marvel at the stalactites and stalagmites, navigate through narrow passages, and learn about the geological formations.
Attend a Thai Cooking Demonstration: Watch a Thai cooking demonstration where skilled chefs showcase the art of preparing local dishes. Learn about the ingredients, techniques, and flavors that make Thai cuisine so unique.
Volunteer for a Beach Cleanup: Contribute to the preservation of Koh Lanta's pristine beaches by participating in a beach cleanup initiative. Help collect litter, raise awareness about environmental conservation, and contribute to a cleaner and greener island.
Take a Motorbike Tour: Rent a motorbike and explore the island at your own pace. Cruise along scenic coastal roads, visit hidden beaches, and discover secluded viewpoints for panoramic vistas of the island's natural beauty
Experience the Koh Lanta Night Market: Explore the vibrant Koh Lanta Night Market, where you can indulge in delicious street food, shop for local handicrafts, and immerse yourself in the lively atmosphere. Try popular Thai dishes like Pad Thai, satay, and mango sticky rice while enjoying live music and entertainment.
Enjoy a Sunset Dinner Cruise: Treat yourself to a memorable sunset dinner cruise around Koh Lanta. Set sail on a traditional longtail boat or a luxurious yacht, savor a delectable meal prepared by skilled chefs, and soak in the breathtaking views as the sun paints the sky with vibrant hues.
These top 33 activities offer a diverse range of experiences to make the most of your time on Koh Lanta. Whether you seek relaxation on pristine beaches, underwater adventures, cultural immersion, or thrilling outdoor activities, the island has something for everyone. Immerse yourself in the island's natural beauty, embrace the warmth of the local community, and create unforgettable memories during your journey through the captivating island of Koh Lanta.
Koh Lanta Travel Guide: Final Thoughts
Koh Lanta is a tropical paradise that offers a perfect blend of natural beauty, relaxation, adventure, and cultural experiences. With its stunning beaches, lush jungles, vibrant marine life, and warm hospitality, Koh Lanta provides an idyllic escape from the hustle and bustle of everyday life.
This travel guide has provided you with a comprehensive overview of the top things to do on the island, from beach relaxation and water activities to exploring national parks, immersing in local culture, and enjoying the island's culinary delights. Whether you seek adventure, tranquility, or a mix of both, Koh Lanta has something for every type of traveler.
Take the time to explore the island's diverse landscapes, interact with the friendly locals, and savor the flavors of Thai cuisine. Dive into the crystal-clear waters, hike through lush jungles, and indulge in relaxation by the beach. Koh Lanta offers a wealth of experiences that will leave you with cherished memories.
As you plan your visit to Koh Lanta, use this guide as a valuable resource to navigate the island's attractions, plan your itineraries, and make the most of your time in this tropical paradise. Embrace the island's laid-back vibes, immerse yourself in its rich culture, and create lifelong memories during your journey through the captivating island of Koh Lanta.