Koh Lanta Travel Guide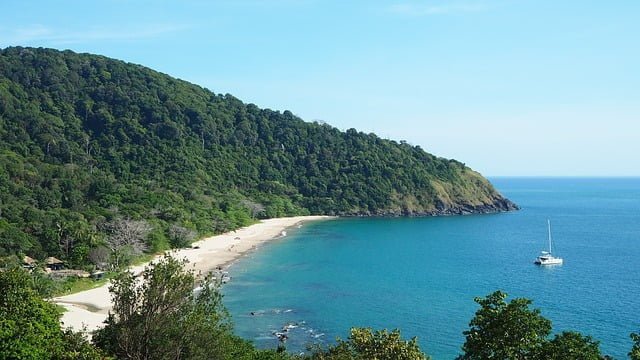 Introduction
Despite its location in Southern Thailand and its gorgeous beaches, Koh Lanta is still something of an unknown quantity to those who run in mass tourism circles. With Phuket sucking in much of the development dollars and tourism arrivals several hours to the northwest, this quiet corner of Southern Krabi province has remained delightfully unspoiled.
While the van transfer from Krabi airport will be a bit on the long side, once you arrive at the cable ferry, you'll know you've arrived at what will soon likely become your favourite tropical island on the planet.
Cultural Attractions
While most come to Koh Lanta to enjoy its quiet beaches, travellers who enjoy culture will want to rent a motorbike or catch a songthaew and head over to the eastern side of the island to check out the Lanta Old Town.
As the administrative centre of Koh Lanta, this settlement has been around for a while. Thanks to an effort to preserve its historic structures, its main street is lined with traditional wooden homes and shop houses, giving it an atmosphere which is conspicuously missing from many major centres in Thailand.
Long a centre of trade, the shopping here is much better than you would expect for such a small place – if you are looking for unique souvenirs to bring home, this is the place to come.
The weekly Monday Night Market in the fishing and ferry port of Saladan is another shopping experience you won't want to miss while on Koh Lanta. Mostly catering to locals, the food you'll find here can get on the adventurous side, so if you're looking to shoot that Instagram photo of you eating grubs or a scorpion, this is the place to do it.
There is another night market which happens in Saladan on Wednesday evenings and in other parts of the island on different nights, but these tend to cater more to visitors, so be sure to check out the Monday night event if cultural authenticity is important to you.
While Koh Lanta lacks the major temples, ruins, or other historic structures which make those destinations intriguing to culture vultures, the accessibility of Muay Thai fights here makes it easy to take in this cornerstone of Thai life.
The main arena for fights on Koh Lanta is Klong Dao Stadium, and while foreigners pay more to get in than Thais do, this is no show put on for the entertainment of tourists – the stands are packed with locals for every card, and they hang on every kick and punch delivered. This makes for an unbeatable atmosphere – check it out once even if combat sports aren't normally your thing.
Another way to connect with the local Thai culture while in Koh Lanta is to take a cooking class during your stay. Together with a fellow group of travellers, you'll learn how to craft amazing Thai dishes from scratch, all under the guidance of an experienced teacher.
After a fun day spent chopping, frying, and cooking various meals, you'll have the knowledge to reproduce your favourite Thai dishes once you return home to your country of origin.
Other Attractions
Throughout your Thai travels, you'll likely notice something heartbreaking – the number of stray dogs and cats running around. Some of them suffer from the effects of fights with other animals, while others contract disfiguring diseases like mange.
On Koh Lanta, Lanta Animal Welfare was founded to help combat the problems faced by the island's stray population, while helping to find homes for as many of them as possible.
If you want to spend part of your holiday helping (and let's be honest, cuddling) cute kitties and doggos, volunteering with this outfit will give you an opportunity to do just that.
When you aren't exploring Koh Lanta underneath its waves, slip beneath its earth by spelunking into the Khao Mai Kaew Cave. While there are more than a few tight squeezes on the way down, going on this trek is worth it for the huge spiders, bats, and geological features you'll get to spot once inside.
Just remember this activity is no walk in the park – leave your flip flops at home. Instead, don some hiking boots (or at least, a good pair of sneakers), and you'll avoid taking spills on the slippery rocks situated within this cavern.
While Koh Lanta is a beautiful place by itself, there are several outlying islands you'll want to visit on one of the many boat tours offered here. Taking you to gems like Koh Rok and Koh Jum, you'll have access to fine white sand beaches, excellent snorkelling and diving, and opportunities to spot wildlife like monitor lizards.
Finally, its quiet, sane beaches are the biggest reason why many repeat travellers make an effort to come to Koh Lanta year after year. While the lengthy sands of Long Beach are popular, many consider Haad Nui to be the best beach on the island. A short but sweet strip backed by sheer cliffs, its vibrant waters complete the scene of what you will likely place as one of the best beaches you have ever visited.
Kantiang Bay is another favourite of habitual visitors to Koh Lanta. A broad crescent beach located in far south of the island, its clean water entertains swimmers by day, while its selection of bars and restaurants will keep the party going by night.