Welcome to Koh Phangan, a tropical paradise located in the Gulf of Thailand. Known for its stunning beaches, vibrant nightlife, and rich cultural heritage, Koh Phangan offers an unforgettable experience for travelers seeking relaxation, adventure, and a taste of Thai island life. This travel guide will provide you with valuable information and recommendations to make the most of your visit to this enchanting destination.
Koh Phangan is renowned for its iconic Full Moon Party, a monthly celebration that draws revelers from around the world. However, there is much more to this island than just its legendary party scene. With its pristine beaches, lush jungles, and diverse marine life, Koh Phangan offers a range of activities and experiences to suit every traveler's preferences.
Discover the island's natural beauty by visiting its picturesque beaches. From the bustling shores of Haad Rin to the tranquil bays of Thong Nai Pan and Haad Salad, there is a beach to suit every mood. Relax on the soft sand, swim in the turquoise waters, or indulge in water sports such as snorkeling, diving, or paddleboarding.
Koh Phangan is also home to several stunning waterfalls, such as the popular Phaeng Waterfall and the hidden gem of Than Sadet Waterfall. Embark on a hike through lush jungles to reach these cascades, where you can cool off with a refreshing dip in the natural pools and marvel at the surrounding scenery.
Immerse yourself in the island's cultural heritage by exploring its temples and traditional villages. Visit the Chinese Temple in Thong Sala, admire the stunning views from Wat Khao Tham, or witness the spiritual ceremonies at Wat Phu Khao Noi. Engage with the friendly locals, learn about their traditions, and sample the local cuisine for a true taste of Koh Phangan's authenticity.
For adventure enthusiasts, Koh Phangan offers a range of thrilling activities. Embark on a jungle trek to explore the island's rugged interior, go cliff jumping at Bottle Beach, or take a boat trip to neighboring islands for snorkeling and diving adventures. The island's surrounding waters are teeming with vibrant coral reefs and marine life, providing an unforgettable underwater experience.
When the sun sets, Koh Phangan comes alive with its vibrant nightlife. Beyond the Full Moon Party, the island offers a variety of bars, clubs, and beach parties that cater to different tastes. Dance under the stars, enjoy fire shows, or simply relax with a cocktail on the beach while listening to live music.
Whether you're seeking relaxation, adventure, cultural exploration, or a vibrant nightlife, Koh Phangan has it all. Use this travel guide as your companion to navigate the island's attractions, plan your itineraries, and make the most of your time in this tropical paradise. Embrace the island's natural beauty, immerse yourself in its unique culture, and create lifelong memories during your journey through the captivating island of Koh Phangan.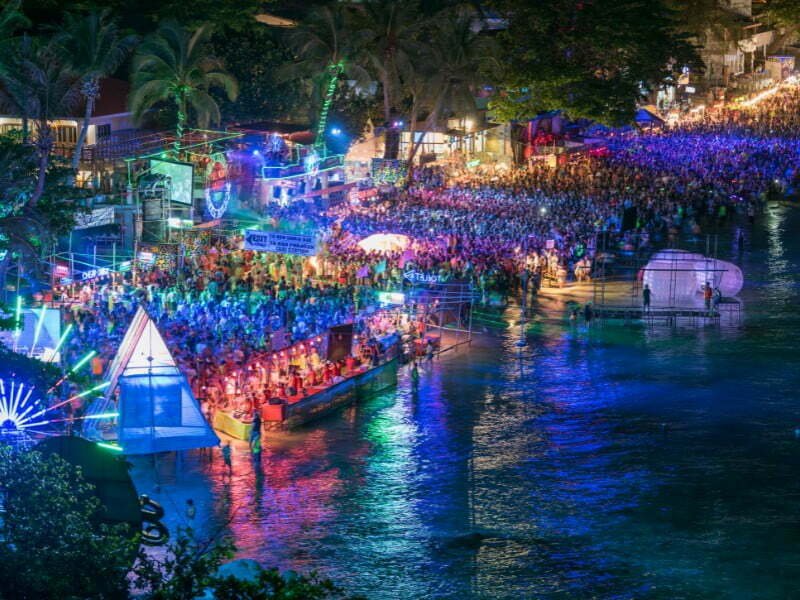 Koh Phangan Travel Guide: A Brief History Of Koh Phangan, Thailand
Koh Phangan is an island located in the Gulf of Thailand, off the eastern coastline of the country. The history of Koh Phangan is relatively recent, with the island transitioning from a quiet fishing community to a popular tourist destination over the past few decades. Here's a brief overview of its history:
Early Settlement and Fishing: Koh Phangan was originally inhabited by sea gypsies, a nomadic group known as the Chao Leh. They were primarily engaged in fishing and lived off the resources provided by the sea. The island remained sparsely populated for centuries.
Coconut Plantations: In the early 20th century, settlers from nearby Koh Samui arrived on Koh Phangan and established coconut plantations. The island's fertile soil and favorable climate made it suitable for coconut cultivation, and coconut production became a significant economic activity.
First Resorts: In the 1970s, travelers began to discover the pristine beaches and natural beauty of Koh Phangan. The island started attracting a small number of backpackers seeking an escape from the more developed Koh Samui. Basic bungalow-style accommodations were established to cater to these early tourists.
Full Moon Party: In the 1980s, the now-famous Full Moon Party was born. A group of tourists organized a beach party during the full moon night, and it quickly gained popularity among backpackers. The event grew larger over the years, attracting thousands of partygoers from around the world. The Full Moon Party put Koh Phangan on the map as a vibrant nightlife destination.
Tourism Boom: As news of the Full Moon Party spread, more and more travelers began to visit Koh Phangan. The island's tourism industry experienced rapid growth, leading to the development of additional resorts, restaurants, and entertainment venues. Despite the party scene, Koh Phangan also attracted visitors looking for a quieter and more relaxed experience.
Sustainable Tourism: In recent years, there has been a shift towards more sustainable tourism on Koh Phangan. The local community and authorities have taken measures to protect the island's natural environment and preserve its unique charm. Initiatives such as beach clean-ups, waste management programs, and eco-friendly practices have been implemented to ensure the long-term sustainability of tourism on the island.
Today, Koh Phangan continues to attract a diverse range of visitors, from backpackers to luxury travelers. Its stunning beaches, lush jungles, and vibrant atmosphere make it a sought-after destination for those looking for a mix of relaxation and excitement.
Koh Phangan Top Attractions and Best Places to Visit in Thailand
Infamous for being the home of the mother of all beach parties, Koh Phangan has been unfairly typecast as a destination only fit for young, gap-year backpackers.  And that's a shame.  With the Full Moon Party only being held for one night per lunar cycle, and only in one central location on the entire island, it leaves a lot of time and largely unexplored space where one can have an unforgettable holiday, rather than just one night where most of the details are lost in a haze of alcohol and other (illegal) drugs.
From quiet, untrammeled temples, to lofty peaks reaching up into the clear, blue sky, there are many things that make this tropical paradise worth an extended stay.  And apart from the beach that everybody and their mother knows about, there's tonnes of largely empty beaches, surrounded by lush jungle and limestone outcroppings, that are just waiting to host you and your desire to escape the hectic rigours of everyday life.
So go ahead.  Have a blast raving at the Full Moon Party when our biggest satellite is at its brightest.  The rest of this isle's treasures will still be there waiting for you when you recover from your 2 day hangover after one of the most epic parties on planet Earth.
Natural and Cultural Experiences in Koh Phangan
Believe it or not, there are some cultural highlights that can be seen on Koh Phangan.  You will not hear about them much, but they are there.  First, make your way to Wat Khao Noi, which is the oldest temple on the island.  It has some well-constructed stone spires, making it a fine specimen to photograph for temple enthusiasts.
Next, we run into a style of Buddhism that varies from the Thai (Theravada) brand, at Wat Paa Sang Tham.  Being the centre of worship for the island's Chinese Buddhists, it features different designs than its Thai cousins, bearing golden statuettes of dragons, red coloured beams, and orange-tiled roofs with green trim.  Completing the scene is its location within the mountainous interior of Koh Phangan, making the location very serene indeed.
Finally, be sure to stop at Wat Pho, just off the main road between Thong Sala and Haad Rin (not to be confused with their bigger brother in Bangkok). Here, you will find monks that specialize in the art of herbal massage, where an invigorating rubdown is combined with a relaxing sauna afterward.
Moving on to this island's natural assets, head inland via motorbike to Than Sadet-Koh Phangan National Park.  Here, you can see many spectacular waterfalls, and then continue on to climb many of this island's highest peaks.  From the top, you'll get an unmatched view of the settlements and beaches below, and the surrounding Gulf of Thailand, and on an exceptionally clear day, you might be able to see the protected islands of the Ang Thong archipelago, which inspired the novel "The Beach" by Alex Garland.
In Phaeng National Park, you will delighted to find Phaeng Waterfall, which is a favourite among visitors for cooling off.  After a long day hiking up and down mountains, it will surely be the moment of relaxation that will make the day the best in your trip to this incredible island.
Finally, there are tonnes of beaches to explore along the lengthy coast of this tropical haven, but the one that stands out above all the rest for a combination of relative seclusion and straight-out beauty would be Bottle Beach.  With only a few bungalow resorts here, and access only possible via a lengthy boat ride or a rickety track through the jungle, you can feel free to act out your deserted beach fantasies here, while knowing that you have a sufficiently stocked resort to back you up at night!
Parties in Koh Phangan
In Haad Rin town, where many travelers to Koh Phangan end up staying while waiting for the Full Moon Party to arrive, there are no shortage of tour operators that offer activities designed to keep you entertained until the festivities begin.  As mentioned earlier, the hauntingly beautiful island of Ang Thong National Marine Park lies just offshore, and tour purveyors offer day tours of these deserted gems, complete with meals, drinks, and trips to prime snorkeling grounds.  Divers are well taken care of as well, with diving outfitters taking their charges deeper into the depths that surround these islands, with colourful schools of reef fish and exquisite growths of coral being their just reward.
28 days is a long time to wait for a big party, so there are smaller, but no less festive occasions held beforehand across the island.  There are half moon parties when the crest of the moon is at half staff, and parties when it disappears from view (Black Moon Culture).  These two parties take place in locations that are completely different than the full moon party itself, so consult the handbills prior to their occurrence for details on the exact location!
Finally, when the moon shines at its absolute fullest for the month, the Full Moon Party revs into high gear on the sands of Sunrise Beach in Haad Rin.  Buckets of alcohol + Red Bull/Coke are widely available for disgustingly cheap prices, and the throngs of partygoers (which can swell to as big as 30,000 people on busy nights) grooves to dance, trance, and electronic music until the sun rises the next morning.  Be sure to (a) secure your valuables (b) watch your drink at all times, and never buy from a bucket vendor that mixes your drink out of sight and (c) stay away from drugs at all costs, as they can be spiked and undercover police are everywhere on this night.  Despite the risks, countless people have the night of their lives here: take care and you'll likely have a similar experience!

source: Travel Stories on YouTube
Top 33 Things To Do on Koh Phangan Island, Thailand For Visitors
Here's a list of 33 things you can do on Koh Phangan Island:
Explore the Beaches: Koh Phangan is known for its stunning beaches. Visit popular ones like Haad Rin, Thong Nai Pan, and Haad Salad, or discover hidden gems like Bottle Beach or Haad Yao. Each beach has its own charm and offers opportunities for swimming, sunbathing, and relaxation.
Attend the Full Moon Party: Join the legendary Full Moon Party held monthly on Haad Rin Beach. Dance the night away with thousands of partygoers, enjoy fire shows, and immerse yourself in the vibrant atmosphere.
Experience Water Sports: Engage in various water sports such as snorkeling, diving, kayaking, and paddleboarding. Explore the colorful coral reefs, discover marine life, or simply enjoy the crystal-clear waters surrounding the island.
Visit Ang Thong Marine Park: Take a day trip to the nearby Ang Thong Marine Park, a stunning archipelago of 42 islands. Go on a guided tour, hike to viewpoints, kayak through hidden lagoons, or snorkel in the vibrant coral reefs.
Explore Than Sadet Waterfall: Visit Than Sadet Waterfall National Park, a beautiful natural attraction on the island. Enjoy a refreshing dip in the pools or take a leisurely hike through the lush jungle to discover different levels of the waterfall.
Discover Phaeng Waterfall: Another scenic waterfall on Koh Phangan is Phaeng Waterfall. Hike through the tropical forest to reach the waterfall and take a swim in the cascading pools.
Take a Yoga or Meditation Retreat: Koh Phangan is known as a spiritual and wellness destination. Attend a yoga or meditation retreat and rejuvenate your mind, body, and soul in the serene surroundings.
Explore the Jungle: Embark on a jungle trekking adventure and discover the island's lush interior. Several hiking trails offer opportunities to spot wildlife, visit viewpoints, and immerse yourself in nature.
Visit Wat Phu Khao Noi: Explore the island's temples, including Wat Phu Khao Noi. This hilltop temple offers panoramic views of Koh Phangan and neighboring islands. Experience tranquility and admire the beautiful architecture.
Visit Chinese Temple: Pay a visit to the colorful and ornate Chinese Temple, located in Thongsala. Admire the intricate decorations, ornamental dragons, and Chinese-inspired architecture.
Try Thai Cuisine: Savor the delicious Thai cuisine available on the island. Indulge in local specialties like Pad Thai, Green Curry, Tom Yum Soup, and Mango Sticky Rice. Visit the night markets or beachside restaurants for an authentic culinary experience.
Explore Thong Sala Night Market: Immerse yourself in the vibrant atmosphere of Thong Sala Night Market. Sample local street food, shop for souvenirs, and soak up the lively ambiance.
Visit Wat Kow Tham: Experience a unique meditation retreat at Wat Kow Tham International Dharma Hermitage. Learn about Buddhism, join meditation sessions, and enjoy the peaceful surroundings.
Go Island Hopping: Take a boat tour and explore the neighboring islands of Koh Tao and Koh Samui. Discover their unique attractions, relax on their beaches, or indulge in snorkeling and diving adventures.
Enjoy Sunset Views: Koh Phangan offers breathtaking sunset views. Find a beachside bar or viewpoint and witness the mesmerizing colors of the setting sun.
Visit the Nightlife Spots: Koh Phangan has a diverse nightlife scene beyond the Full Moon Party. Explore the beach bars, nightclubs, and live music venues, especially in Haad Rin and Thong Sala.
Try Muay Thai: Koh Phangan is home to several Muay Thai training camps. Sign up for a class or watch live fights to experience the traditional martial art of Thailand.
Take a Thai Cooking Class: Learn the secrets of Thai cuisine by enrolling in a cooking class. Discover the vibrant flavors, herbs, and spices used in traditional Thai dishes.
Go on a Fishing Trip: Join a fishing excursion and try your hand at deep-sea fishing. Spend a day on a boat, cast your line, and see if you can catch some fresh seafood.
Visit the Secret Mountain: Take a trip to Khao Ra, the highest peak on Koh Phangan. Hike to the summit for panoramic views of the island and its surrounding beauty.
Enjoy a Thai Massage: Treat yourself to a traditional Thai massage. Koh Phangan has numerous spas and wellness centers offering a variety of massage techniques to relax and rejuvenate your body.
Experience the Waterfall Party: Attend the Waterfall Party, an alternative to the Full Moon Party. Dance under the stars, enjoy electronic music, and cool off in the natural pools of the waterfall.
Explore the Night Market in Srithanu: Visit the Srithanu Night Market, where you can browse through local handicrafts, clothes, jewelry, and enjoy delicious street food.
Volunteer at a Turtle Conservation Center: Koh Phangan is home to turtle conservation projects. Get involved by volunteering at a center, helping protect endangered species and their natural habitats.
Rent a Motorbike: Explore the island at your own pace by renting a motorbike. Cruise along scenic coastal roads, visit remote beaches, and discover hidden spots off the beaten path.
Take a Boat Tour to Koh Ma: Join a boat tour to Koh Ma, a small island connected to Koh Phangan by a sandbar. Snorkel in the vibrant coral reefs surrounding the island or relax on the secluded beach.
Visit a Herbal Sauna: Experience the healing benefits of a herbal sauna. These traditional saunas use aromatic herbs and natural ingredients to detoxify and rejuvenate the body.
Practice AcroYoga: Engage in AcroYoga, a combination of acrobatics, yoga, and Thai massage. Join a class or participate in workshops to learn and practice this unique form of partner yoga.
Explore the Night Sky: Koh Phangan offers clear skies perfect for stargazing. Find a peaceful spot on the beach or join an organized stargazing excursion to marvel at the constellations.
Attend a Sound Healing Session: Koh Phangan is renowned for its sound healing and meditation retreats. Experience the power of sound therapy to relax, reduce stress, and promote holistic well-being.
Go Stand-Up Paddleboarding: Try stand-up paddleboarding (SUP) along the calm waters of Koh Phangan's coastline. Enjoy a unique perspective of the island and soak in the tranquility of the ocean.
Visit the Coconut Plantations: Explore the coconut plantations that once formed the backbone of the island's economy. Learn about the harvesting process and taste fresh coconut water and meat.
Relax and Unwind: Lastly, don't forget to simply relax and soak up the island's laid-back vibe. Whether it's lounging on the beach, reading a book in a hammock, or indulging in a spa treatment, take time to unwind and enjoy the serenity of Koh Phangan.
Attend a Cacao Ceremony: Experience the mystical and spiritual side of Koh Phangan by participating in a cacao ceremony. This sacred ritual involves drinking raw cacao and immersing yourself in meditation and self-reflection.
Discover Secret Beaches: Venture off the beaten path and explore the island's lesser-known beaches. These hidden gems offer solitude and pristine natural beauty, perfect for those seeking tranquility.
Join a Ecstatic Dance Event: Dance your heart out at one of the ecstatic dance events held on the island. These gatherings allow participants to express themselves through free-flowing, uninhibited movement.
Experience Thai Boxing Matches: Watch an authentic Muay Thai fight at a local stadium. Witness the power and skill of trained fighters as they compete in Thailand's national sport.
Visit the Koh Phangan Animal Care Clinic: Support the local animal welfare efforts by visiting the Koh Phangan Animal Care Clinic. Learn about their initiatives, interact with rescued animals, and consider making a donation.
Explore the Coral Reefs: Go on a snorkeling or diving adventure to explore the vibrant coral reefs surrounding Koh Phangan. Discover a kaleidoscope of marine life, including colorful fish, turtles, and even reef sharks.
Participate in a Ecological Conservation Project: Get involved in conservation efforts on the island by joining a volunteer project. Help with beach clean-ups, coral reef restoration, or tree planting initiatives.
Learn Thai Massage: Enroll in a Thai massage course and learn the ancient art of healing touch. Gain skills in traditional Thai massage techniques and promote relaxation and well-being for others.
Attend a Sound Healing Gong Bath: Immerse yourself in the healing vibrations of a gong bath session. Allow the resonating sounds to wash over you, promoting deep relaxation and balance.
Visit a Permaculture Farm: Explore the sustainable farming practices of Koh Phangan by visiting a permaculture farm. Learn about organic farming techniques, eco-friendly practices, and the importance of self-sustainability.
Participate in a Beach Cleanup: Contribute to preserving the natural beauty of Koh Phangan by joining a beach cleanup initiative. Help remove litter and plastic waste from the shores, making a positive impact on the environment.
Try Fruit Carving: Learn the art of fruit carving, a traditional Thai craft. Take a class and discover how to transform ordinary fruits into intricate and beautiful works of art.
Take a Boat Trip to Sail Rock: Join a boat trip to Sail Rock, a famous diving site between Koh Phangan and Koh Tao. Dive into the deep waters and witness the stunning vertical pinnacle known for its rich marine biodiversity.
Visit the Phaeng Maeng Waterfall: Explore the lesser-known Phaeng Maeng Waterfall, tucked away in the island's interior. Enjoy a refreshing dip in the pools and admire the cascades surrounded by lush greenery.
Join a Vipassana Meditation Retreat: Experience the transformative power of Vipassana meditation by joining a silent retreat. Disconnect from the outside world and embark on an inner journey of self-discovery and mindfulness.
Attend a Fire Dancing Performance: Watch mesmerizing fire dancing performances on the beach. Be captivated by the skillful manipulation of fire poi, fire staffs, and other fiery props.
Indulge in a Beachfront Massage: Treat yourself to a relaxing massage right on the beach. Listen to the soothing sound of the waves as skilled therapists help melt away tension and stress.
These are just some of the many activities and experiences available on Koh Phangan Island. Whether you're seeking adventure, relaxation, spirituality, or cultural immersion, this tropical paradise has something for everyone
Koh Phangan Travel Guide: Final Thoughts
Koh Phangan is a captivating island in the Gulf of Thailand that offers a diverse range of experiences for travelers. From its pristine beaches and crystal-clear waters to its vibrant nightlife and spiritual retreats, there's something to suit every taste and interest.
As you plan your visit to Koh Phangan, remember to respect the local culture and environment. The island has made efforts towards sustainable tourism, and it's important to play your part in preserving its natural beauty. Dispose of waste responsibly, choose eco-friendly activities, and support local initiatives that promote conservation and community development.
Be sure to pack appropriate clothing for the tropical climate, including light and breathable attire, swimwear, sunscreen, and insect repellent. Consider renting a motorbike or using taxis for transportation around the island, but always prioritize safety and wear a helmet if riding a motorbike.
Keep in mind that Koh Phangan's popularity can vary depending on the time of year. The Full Moon Party draws large crowds, so if you prefer a quieter experience, it's advisable to avoid visiting during this period. Check the island's events calendar and plan your trip accordingly to align with your preferences.
Whether you seek adventure, relaxation, cultural immersion, or a combination of it all, Koh Phangan has much to offer. Take the time to explore its beaches, waterfalls, temples, and local markets. Engage in wellness activities like yoga and meditation, taste delicious Thai cuisine, and create memories that will last a lifetime.
Remember, this travel guide serves as a starting point, and there are always new experiences and discoveries to be made on the island. So, embark on your Koh Phangan adventure with an open mind and embrace the beauty and magic that this tropical paradise has to offer.